We research, evaluate and select travel destinations based on a number of factors, including our writers' experience, user reviews and more. We may earn a commission when you book or purchase through our links. See our editorial policy to learn more.
Was this article helpful?
---
Minnesota summers are short, but this list of exciting and unique places to stay is certainly not.
Minnesota is the state of 10,000 lakes, Minnesota Nice, and the progressive streets of the Twin Cities. The unique connection between the state's largest cities, Minneapolis and St. Paul, means endless places to eat exceptional food, sip craft libations, and live up the city life.
On top of that, this friendly Midwestern state boasts thousands of acres of untouched Northwoods and a miles-long stretch of shore along Lake Superior. So, whether you're seeking a city break or a quieter getaway to nature, these unique places to stay in Minnesota will have you sayin' "you betcha."
Related Read: 12 Charming Barndominiums for Your Next Rural Getaway
1. Lofty Lodge Treehouse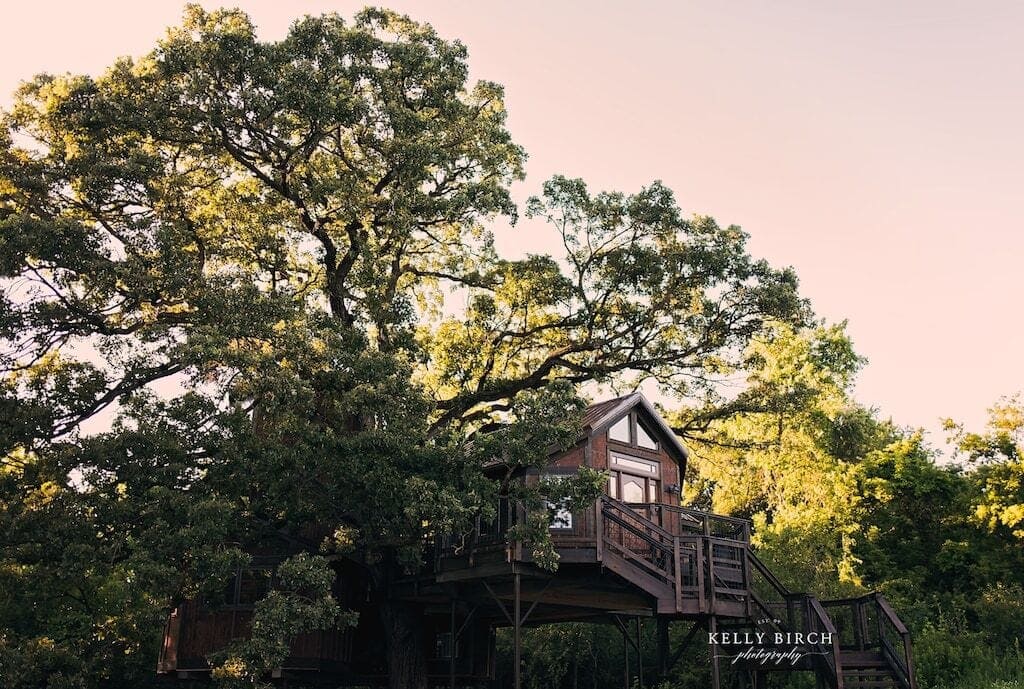 Why you should stay: A magical treehouse mansion with a 40-foot high observation deck and four levels of living space.
Location: Cottage Grove
Sleeps: 4
Minimum stay: 1 night
Rates start from: $299/night
The Lofty Lodge Treehouse is an incredible place to stay that's built within the canopy of a 150-year old oak tree. This lavish one-bedroom is filled with upscale features like glittering chandeliers, two fireplaces, gleaming wooden elements, and a jacuzzi tub. This impressive wonder even has a full kitchen where you can whip up home-cooked meals 40 feet in the air.
There's also an outdoor deck with seating that offers a cozy place to sip coffee or chat with a loved one. Near the property, countless attractions provide plenty to do like disc golf, regular golf, and a large lake stocked with fish. The sprawling natural wonder of the Cottage Grove Regional Park is also right next door.
Check Availability
Related Read: 8 Amazing Cabins in Northern Minnesota for a Relaxing Getaway
2. 300 Clifton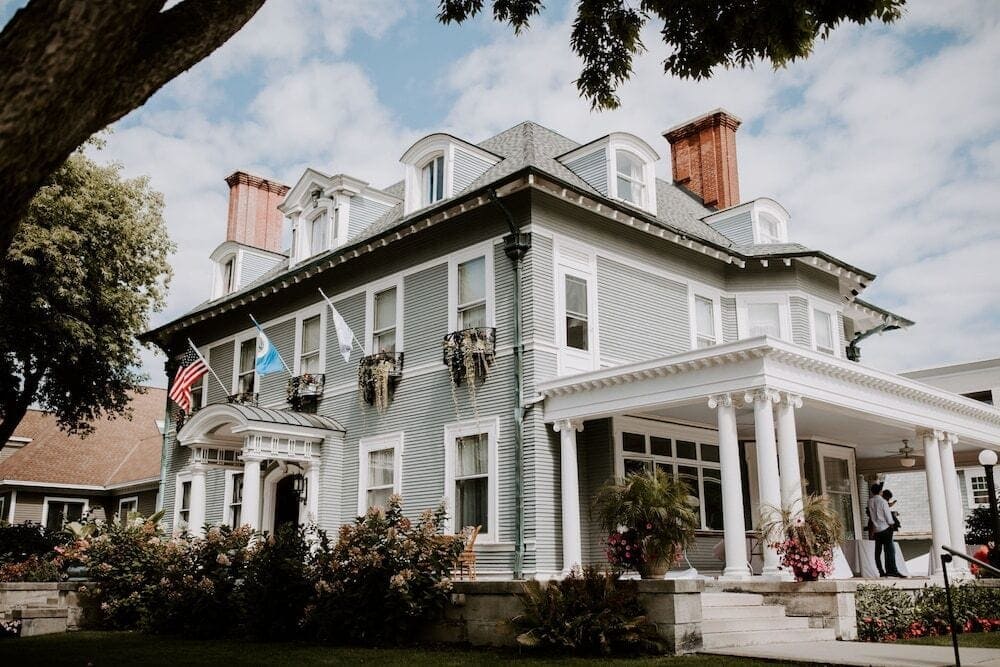 Why you should stay: An intimate stay in a restored and allegedly haunted 1800s mansion in downtown Minneapolis.
Location: Minneapolis
Sleeps: 2
Minimum stay: 1 night
Rates start from: $119/night
The 300 Clifton's distinctive Queen Anne-revival style architecture and quaint interior make this a classic bed and breakfast. Nestled within the Loring Park neighborhood of Minneapolis, this historic building is so iconic that it's been recognized by the National Register of Historic Places.
Inside, vintage elements, such as elegant crown molding, chandeliers, and standalone bathtubs, catch your eye. Those who ain't afraid of no ghost can opt to take a tour of the mansion's various areas, like the basement and servant's quarters, where paranormal activity has been reported. For something a bit more romantic, guests can also book in-room massages.
Check Availability
Related read: 7 Best Camping Spots Near Duluth, Minnesota
3. Lora
Why you should stay: A boutique red-brick hotel that pampers both humans and pups in the heart of downtown Stillwater.
Location: Stillwater
Sleeps: 2-4
Minimum stay: 1 night
Rates start from: $135/night
Lora's rustic stone walls and modern décor meld seamlessly to create a uniquely Minnesotan stay. The hotel property is also mere feet away from the scenic St. Croix River, where it's possible to walk, bike, and simply take a moment to breathe. Furry friends that stay at the Lora receive exceptional treatment that includes access to a loaned pet bed, food dish, and even a special treat.
On top of that, you'll find locally sourced and gourmet eats at Lora's restaurant, The Feller, as well as a craft cocktail bar and a hip café. Stillwater is a short 35-minute drive from downtown Minneapolis and offers a fantastic city escape for those seeking a slower way of life.
Check Availability
Follow 'em: @lora_hotel
4. Graduate Minneapolis
Why you should stay: A four-star hotel where retro elegance meets fun décor in the heart of the U of M campus.
Location: Minneapolis
Sleeps: 2+
Minimum stay: 1 night
Rates start from: $99/night
Nestled within the lively Dinkytown district, the Graduate Minneapolis is a stylish, red brick boasting excellent reviews. Not only do guests appreciate the surrounding electric atmosphere thanks to the nearby University campus, but also the impressive decor and amenities.
The hotel's on-site gastropub, The Beacon, is an excellent place to enjoy a delicious meal, delish cocktails, and a game of pool. During your stay, you can also get your sweat on in the well-equipped fitness center or with a round of TopGolf in the adjacent Top Golf Suite. There's also a fire pit in the courtyard for cozy fireside evenings.
Check Availability
Follow 'em: @GraduateHotels
5. Naniboujou Lodge
Why you should stay: Vibrant colors and traditional Native American patterns amaze at this seasonal northern Minnesota lodge.
Location: Grand Marais
Sleeps: 1-3
Minimum stay: 2 nights
Rates start from: $250
Escape to Minnesota's picturesque North Shore at the historic Naniboujou Lodge. Dating back to 1927, this wilderness resort aimed to connect visitors with the great outdoors for hunting, fresh air, and pure relaxation.
As was part of the original lodge, the great room continues to feature colorful and traditional Cree Indian designs artfully painted on the walls and towering ceilings.
The lodge grounds are made up of a sprawling nine acres complete with a solarium and a restaurant where you can see the largest fireplace in the state. Nightly rates at the Naniboujou Lodge are semi-inclusive packages that include breakfast and dinner every day of your visit.
Check Availability
Follow 'em: @Naniboujou.Lodge
6. Magical Minneapolis Retreat
Why you should stay: Soak up the artsy vibes of the Northeast district in an urban oasis that oozes charm and rocks a hand-built sauna.
Location: Minneapolis
Sleeps: 4
Minimum stay: 2 nights
Rates start from: $100/night
Picture this: a wood-fired sauna, a homemade cocktail, and a lush backyard that come together to create the perfect place to kick back and relax. That's what's on offer at this Magical Minneapolis Retreat, a unique getaway in the heart of the Twin Cities.
This Airbnb listing is for the lower level of a duplex apartment featuring modern decor, a sunny interior, and high ceilings. Other fantastic amenities include a fire pit and a swing chair. Guest Kristi shares, "I absolutely loved this place, and it might be an all time fave of mine. The books! The plants in the windows! The creaky floors! It was all vibes."
Check Availability
Related Read: The 10 Best Airbnbs in Minneapolis, Minnesota
7. Covington Inn
Why you should stay: Stay aboard a three-story boat with impressive views of St. Paul.
Location: St. Paul
Sleeps: 2
Minimum stay: 1 night
Rates start from: $145/night
At the Covington Inn, homey staterooms and exceptional extras make this towboat floating on the Mississippi a unique experience. With only four units available for booking, the Covington is known for its quiet and intimate experience and attentive hosts.
Each stateroom is uniquely furnished, but all feature a toasty fireplace, private bathroom, and deck access. Not to mention a fresh and hot breakfast so you can kick off your day right. The inn also offers additional services like romantic welcome packages or in-room massages to make your trip all that more special.
Check Availability
Follow 'em: @covingtoninn
8. Stylle Hytte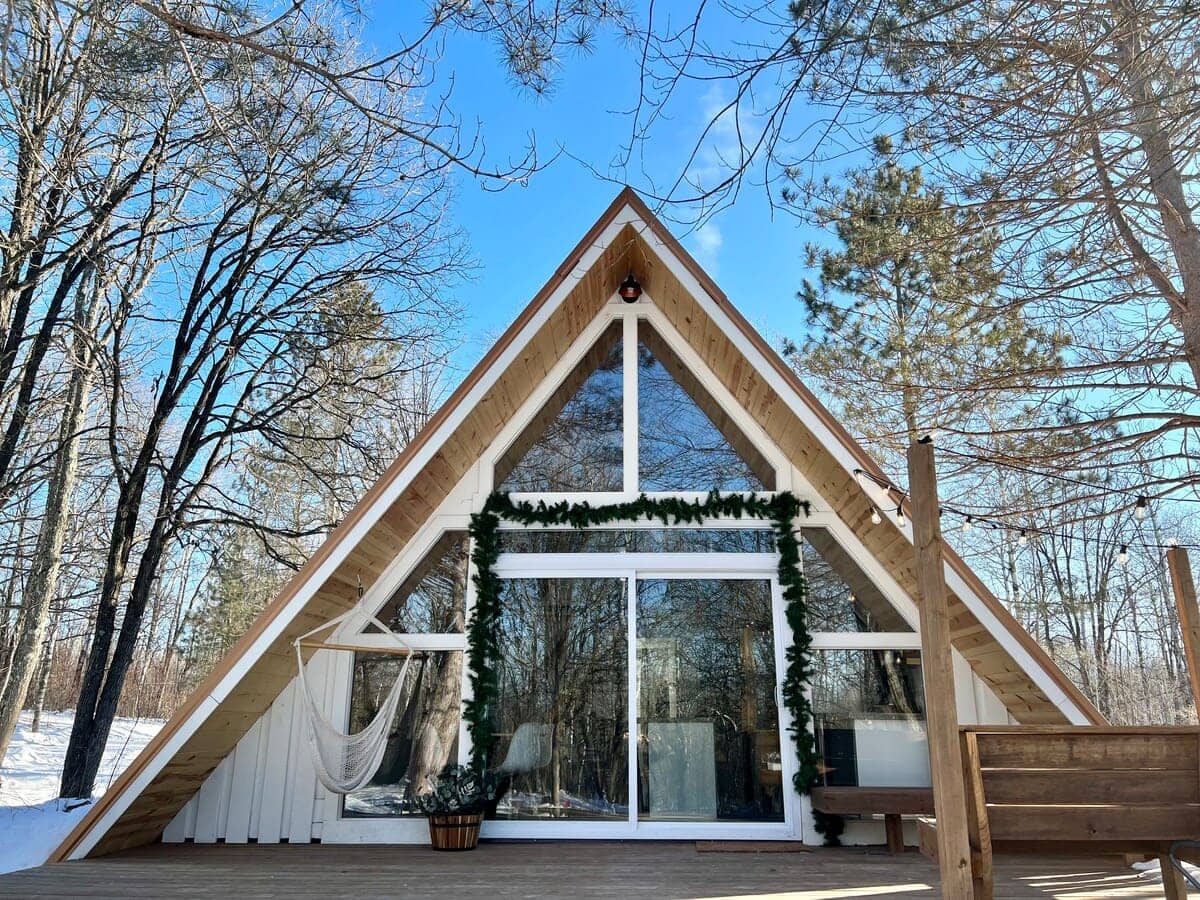 Why you should stay: A cozy and secluded A-Frame with modern and upscale features that make this more than your average backwoods cabin.
Location: Brook Park
Sleeps: 4
Minimum stay: 2 nights
Rates start from: $225/night
Runaway from life's stressors at Stylle Hytte, a bright and airy cabin that provides a wonderful place to relax. This sweet, sweet A-frame has a stunning wall of windows and is equipped with heated floors, a mid-century modern fireplace, and an outdoor barrel sauna.
Hiking the trails that dot this five-acre wooded property and paddling the bordering Snake River is a favorite pastime of guests. The hosts also provide three kayaks and life jackets for even more water-based adventures. Outdoorsy folk will also appreciate the spacious deck and the fire pit. You can find this hidden gem just over an hour north of Minneapolis.
Check Availability
Follow 'em: @thehavens.co
9. Northern Rail Traincar Inn
Why you should stay: Stay in converted train boxcars with modern conveniences perfectly placed in the heart of the Northwoods.
Location: Two Harbors
Sleeps: 2-4
Minimum stay: 1 night
Rates start from: $92/night
The Northern Rail Traincar Inn offers a unique opportunity to sleep in a rustic train car-turned hotel. This unusual destination features 15 boxcars that boast their own personality and styling. However, the promise of sleeping in an old train car isn't the only draw.
Each morning, guests wake up to a comprehensive continental breakfast. And if you're lucky, you may catch sight of exciting creatures like moose or bears. Top attractions like Duluth, Gooseberry Falls State Park, and Split Rock Lighthouse are also all within driving distance away and ready to entertain.
Check Availability
Follow 'em: @NorthernRailTraincarInn
10. Lighthouse B&B
Why you should stay: Wake up with Lake Superior views in a cherry red lighthouse that dates back to 1892.
Location: Two Harbors
Sleeps: 2-8
Minimum stay: 1 night
Rates start from: $175/night
Learn a bit about the history of Lake Superior at the Lighthouse B&B, a historic landmark that's considered Minnesota's oldest lighthouse in operation. Situated a short drive from Duluth, the lighthouse overlooks the peaceful waters of Agate Bay.
This bed and breakfast features three distinct accommodation options. Take your pick between the property's Skiff House, the Keeper's Quarters which connects to the actual lighthouse tower, or both for ample space.
Guests Sue and Tim share, "It was a great treat to stay in an operating lighthouse! It was especially neat to see the light on the trees outside of our window last night."
Check Availability
Related Read: 7 of the Most Romantic Getaways in Minnesota
Explore Minnesota
Get epic travel ideas delivered to your inbox with Weekend Wanderer, our newsletter inspiring more than 10,000 readers every week.
Was this article helpful?
---