We research, evaluate and select travel destinations based on a number of factors, including our writers' experience, user reviews and more. We may earn a commission when you book or purchase through our links. See our editorial policy to learn more.
---
A forested haven where three of America's Great Lakes come together, the Upper Peninsula of Michigan is a great place to enjoy the great outdoors.
Whether you're a Yooper who's grown up amongst the natural beauty of Michigan's Upper Peninsula, or visitor from elsewhere, there's a lot to love this far north. In the summers, Lake Michigan, Lake Superior, and Lake Huron beckon with the promise of fantastic fishing, boating, swimming, and beach time.
As the short summer months quickly turn to fall, the leaves of the surrounding national forest change to vibrant shades of orange, red, and yellow, offering a wonderful sight to behold. And for snow lovers, ATV trails become snowmobile trails as the landscape turns into a snowy winter wonderland. You also can't miss seeing the fantastic Eben ice caves and ice formations of the Pictured Rocks National Lakeshore.
Before you set off for what  will be a Michigan adventure of a lifetime, don't miss these charming cabin rentals in the Upper Peninsula to make your trip all the more memorable.
Related Read: Michigan National Park Guide: Everything You Need to Know
1. Lux Little Chalet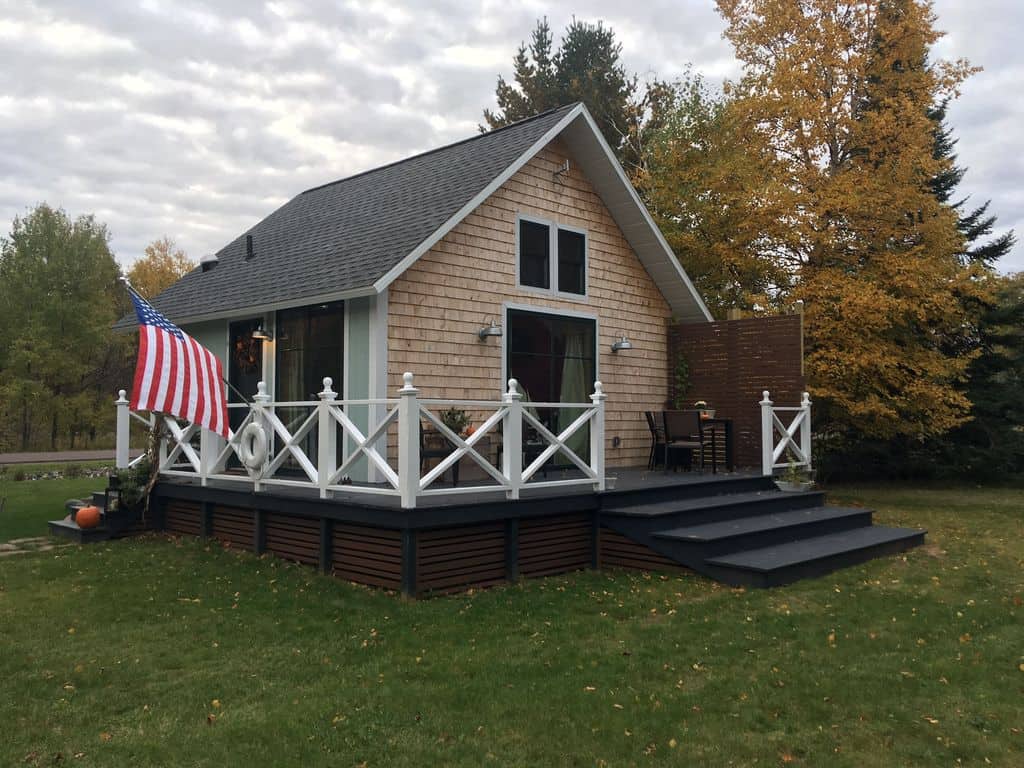 Why you should stay: Brand new tiny cottage facing the lake with a stunning interior.
Sleeps: 4
Minimum stay: 2-7 nights
Pets allowed: no
The Lux Little Chalet may be small, but the interior is filled with big personability that'll make you momentarily forget you're in a cabin in the Upper Peninsula. The beautifully decorated home features elegant patterned wallpaper, exposed wooden beams, and a modern kitchen with marble countertops.
Large windows and French doors allow natural light and lake views to pour in to create a bright and cozy atmosphere. There is one bedroom with a queen bed, plus a sleeper sofa for two more guests in the living room. Visit Lake Superior in style!
Check Availability
Related Read: 9 Unique Places to Stay in Michigan for an Extraordinary Escape
2. Cedarville Chalet Cabin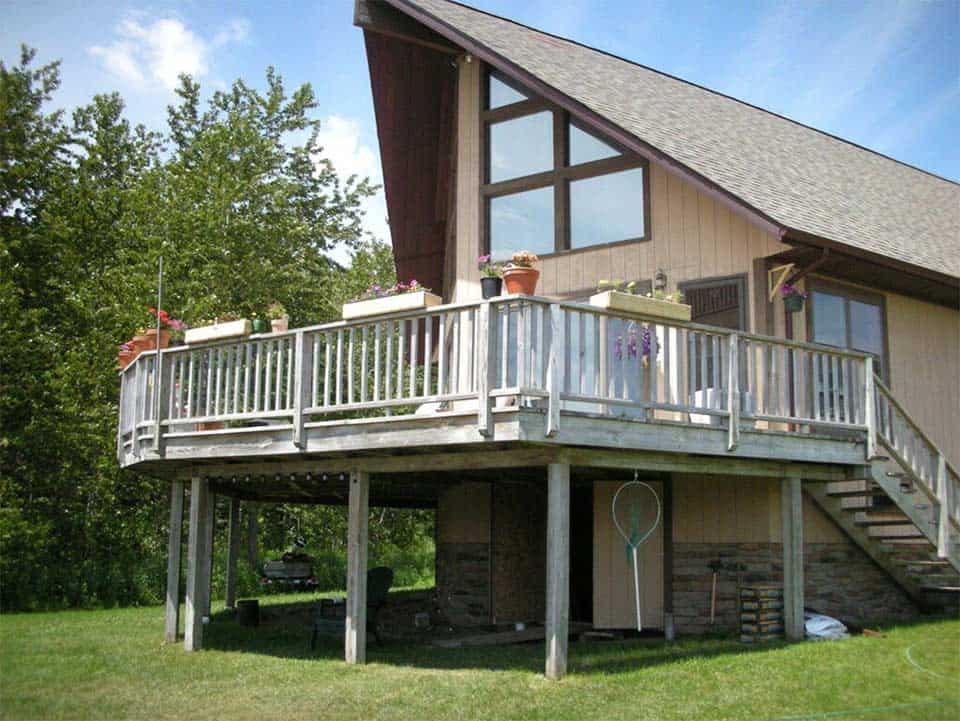 Why you should stay: Take in panoramic views of Cedarville Bay from this spacious chalet.
Sleeps: 8
Minimum stay: 3 nights
Pets allowed: no
This Cedarville chalet cabin situated right on Lake Huron's shores offers guests a fantastic location on the eastern side of Michigan's Upper Peninsula. Not only can you enjoy convenient lake access and fires next to the water, but downtown Cedarville is also a short walk away where grocery stores, restaurants, bars, and more are ready to entertain.
The home has three bedrooms and two bathrooms plus a sleeper sofa to comfortably accommodate eight guests. There's even an entertainment room complete with pool table, dartboard, and home gym for those pesky rainy days or urgent workout sessions.
Check Availability
Related Read: 11 Cozy Pet-Friendly Cabin Rentals in Michigan
3. UP Log Cabin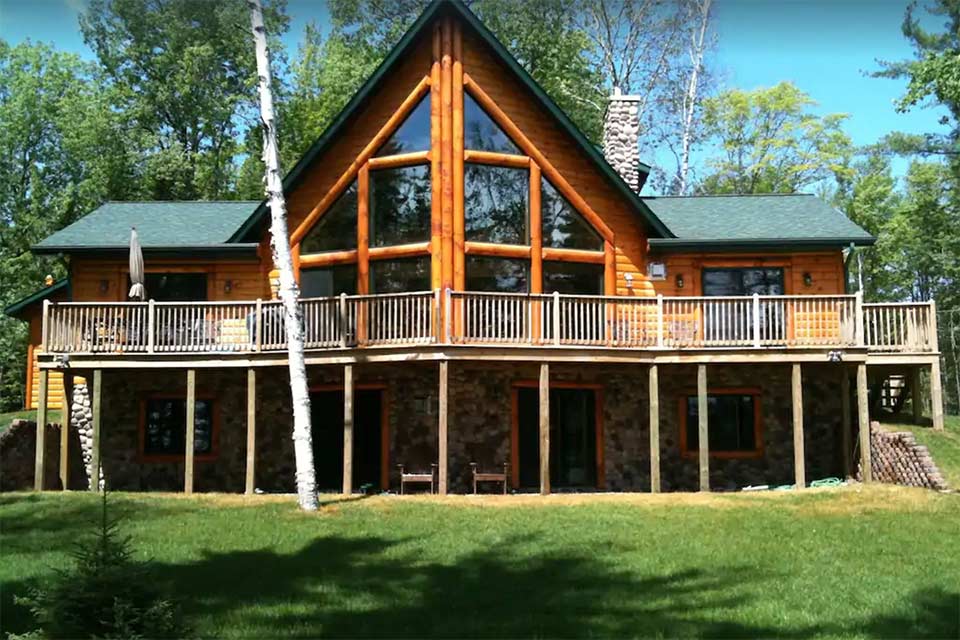 Why you should stay: Enjoy 9 acres of seclusion on Michigan's chain of lakes in Wetmore.
Sleeps: 8
Minimum stay: 3 nights
Pets allowed: no
It doesn't get much better than this at this classic UP log cabin in Wetmore, Michigan. Gorgeous chalet-style windows act as the focal point of this cabin rental allowing natural light to fill the space. Enjoy your trip with a kayak or canoe ride around the lake, a hike through the forest, and a fire under the stars.
You'll find three total bedrooms and spacious living areas for ultimate relaxation. Curl up next to the stone fireplace in the living room or cook up a gourmet meal in the fully-equipped kitchen. A large balcony deck offers a prime location to enjoy your meals or your morning coffee.
Check Availability
4. Anam Cara
Why you should stay: Luxury wilderness retreat on the shores of Spruce Lake featuring a Finnish sauna.
Sleeps: 10
Minimum stay: 2-7 nights
Pets allowed: no
Escaping it all has never been more luxurious than at Anam Cara, a cabin destination in Michigamme with nearly a mile of private lakeshore on Spruce Lake. Aside from having private access with your own dock, this cheery red home also features an outdoor sauna that'll soothe your tired body after a long day on the trails.
Inside, three bedrooms and a detached apartment welcome up to ten guests to the UP. Each room has hotel-grade mattresses with down-filled bedding that'll cradle you gently to sleep each night. The home's other noteworthy features include a lovely lakeside deck and firepit.
Check Availability
5. Quiet Log Cabin
Why you should stay: Pet-friendly log cabin with private access to Aleck Lake in Hiawatha National Forest.
Sleeps: 4
Minimum stay: 2 nights
Pets allowed: yes
This quiet log cabin makes for a great home base for classic UP activities. Located just minutes from trails for snowmobiling, ATVing, hiking, and biking, there's even birdwatching and waterfalls steps from your door too! Downtown Munising is a 20-minute drive away where you'll find local restaurants and the famous Pictured Rocks National Lakeshore.
It's all dirt roads to the property where cell service is spotty but not nonexistent. You'll also find a kayak, fishing poles, picnic table, and BBQ grill for free use during your stay.
Check Availability
6. Lake Superior Log Home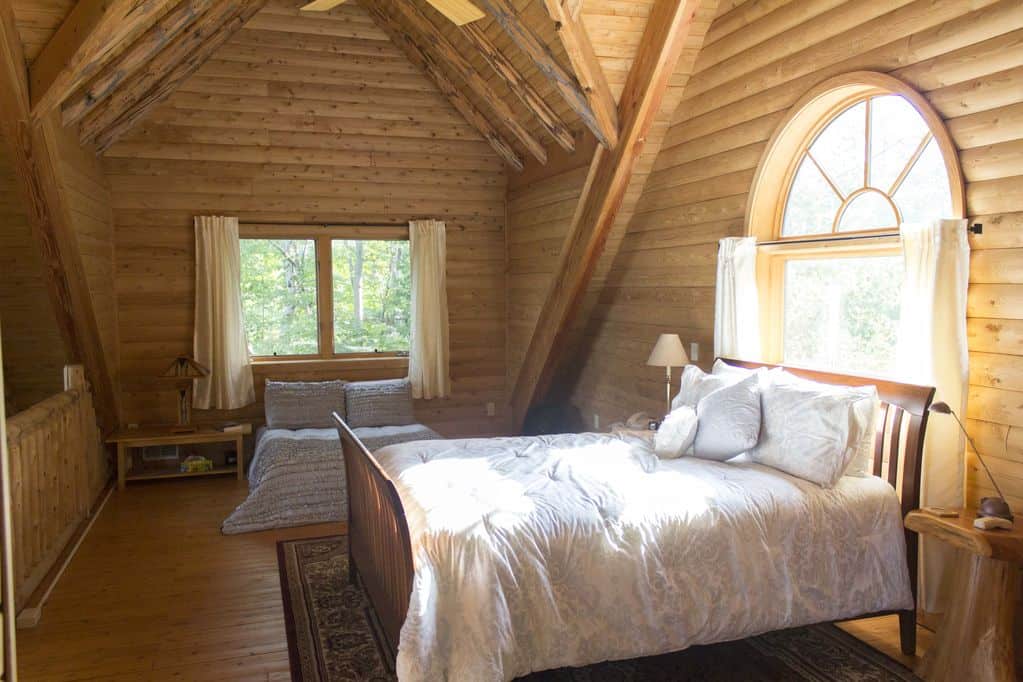 Why you should stay: Experience the beauty of a Great Lakes' sunset from the comfort of this luxury cabin rental.
Sleeps: 6
Minimum stay: 4-7 nights
Pets allowed: no
This Lake Superior log home exudes warmth from every corner as cedar logs, and hardwood floors capture your attention. We have a feeling that you'll also love the floor to ceiling windows that let Lake Superior views flood into the living room. The home also features a well-appointed kitchen, crackling fireplace, and a cozy outdoor deck.
This cabin rental has two bedrooms and one bathroom for up to six guests. There's also an air mattress available in the basement for two.
Check Availability
7. The Fish House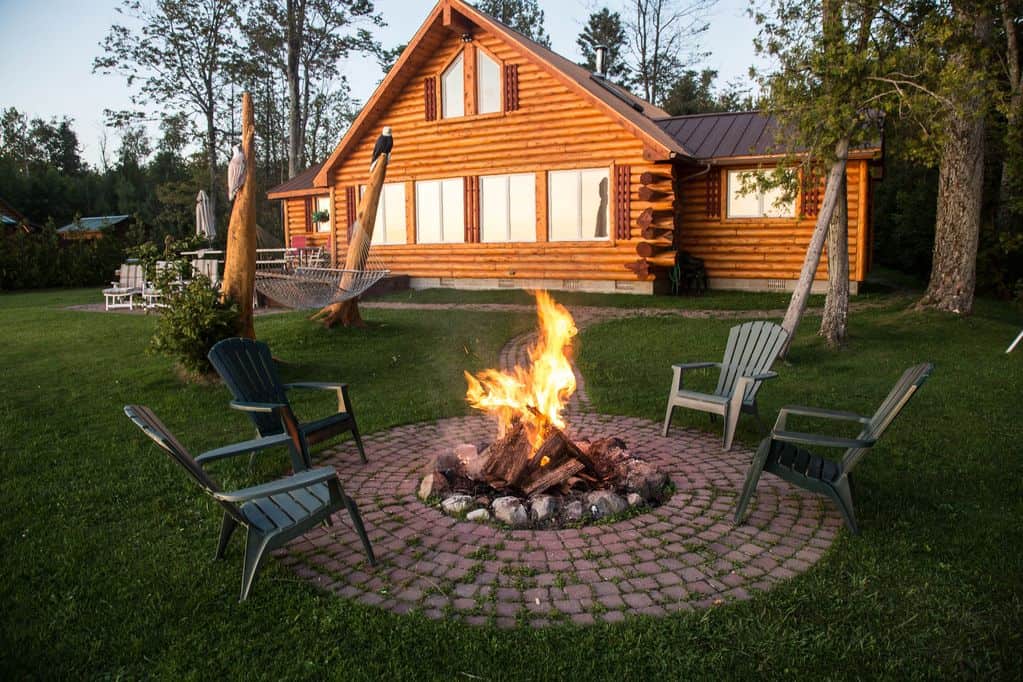 Why you should stay: Kayak and enjoy a bonfire along the shores of Brevort Lake in this knotty pine cabin.
Sleeps: 6
Minimum stay: 3 nights
Pets allowed: yes
The Fish House  is an attractive knotty pine log home on the shores of Brevoort Lake, a 4400 acre swimming and fishing lake that's quiet and peaceful. From the comfy patio seating, enjoy campfires, nightly stargazing, and wildlife viewing.
If you're traveling with kiddies, they'll love the swing set, large yard, and swinging hammock. The Fish House is a top-notch place to stay in the UP.
Check Availability
8. Lake Superior Cabin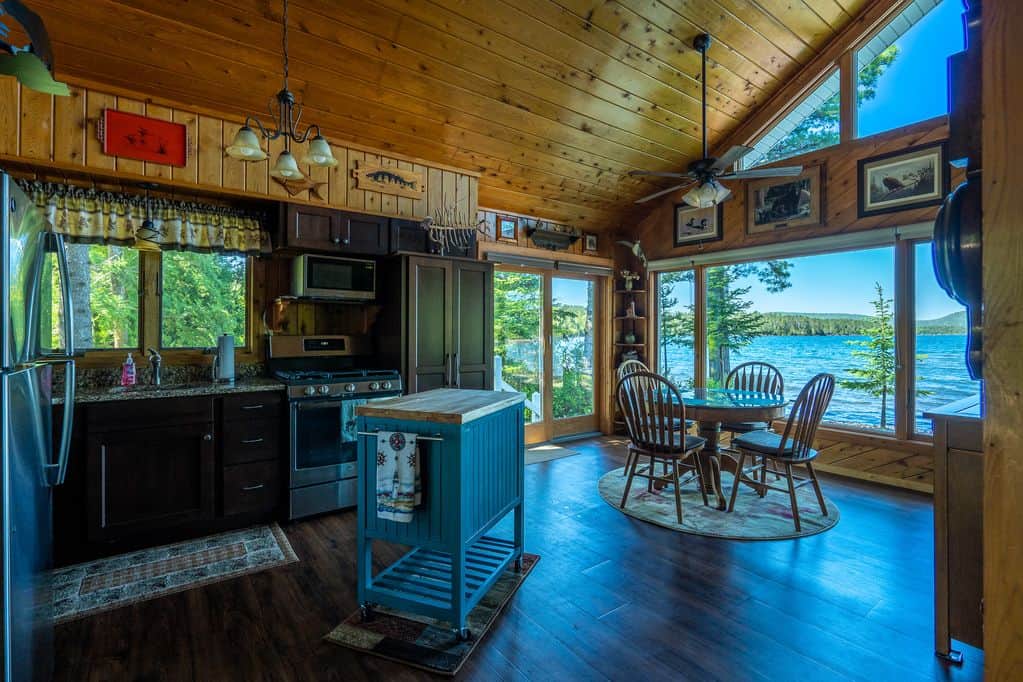 Why you should stay: Beautiful cabin for six with views of Brockway Mountain and the Copper Harbor Lighthouse.
Sleeps: 6
Minimum stay: 3 night
Pets allowed: yes
Overlooking Copper Harbor, this Lake Superior cabin rocks impressive views of the Great Lake from most rooms. Six guests can enjoy the private seclusion of two bedrooms and an open loft. Comfy cabin decor makes you feel right home the moment you step through the door.
The town of Copper Harbor is a short bike ride away from the property, and Fort Wilkins State Park is also within walking distance. Depending on the time of year, you might just get lucky and see the vibrant colors of the northern lights.
Check Availability
9. Huron Horizons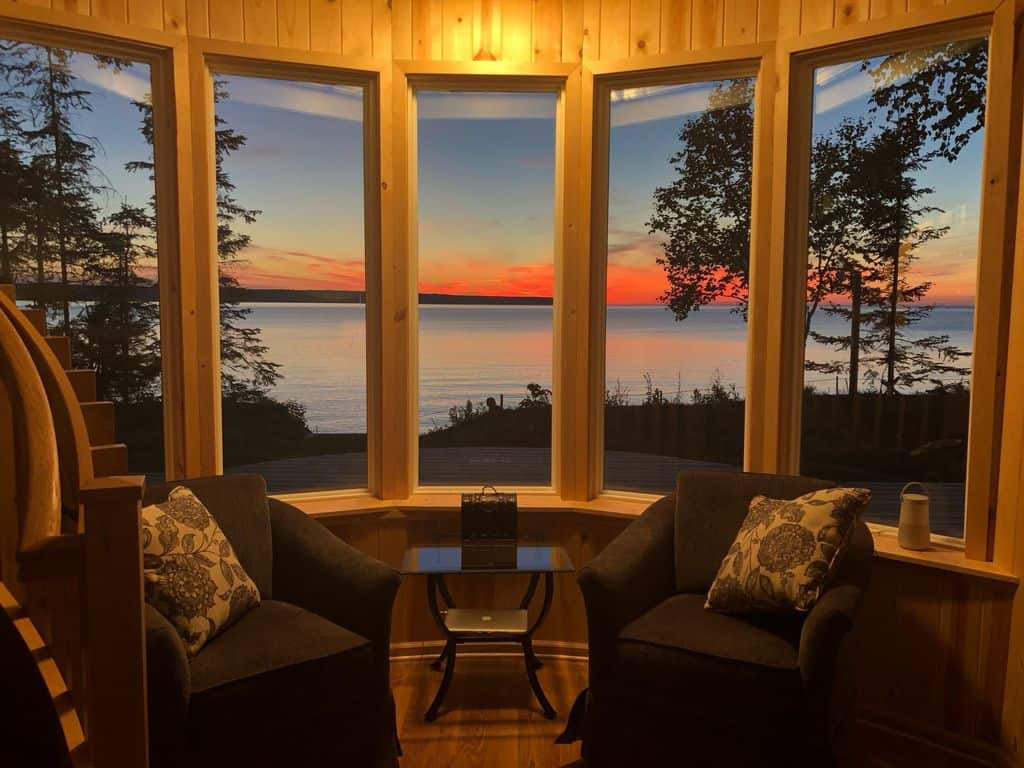 Why you should stay: A stunning lakefront cabin overlooking Lake Superior's Big Bay.
Sleeps: 6
Minimum stay: 5 nights
Pets allowed: no
Perched above the jaw-dropping views of the lake, Huron Horizons is an incredible cabin. The backyard is perfectly set up for outdoor fun, with a beautiful stone fire circle, outdoor deck, and screened-in gazebo.
Inside, climb the spiral staircase to the master bedroom where lake views shine in and can be enjoyed from the private attached balcony. The college town of Marquette is 30 minutes away as well as some pretty impressive Michigan attractions.
Check Availability
10. Cabin in the Woods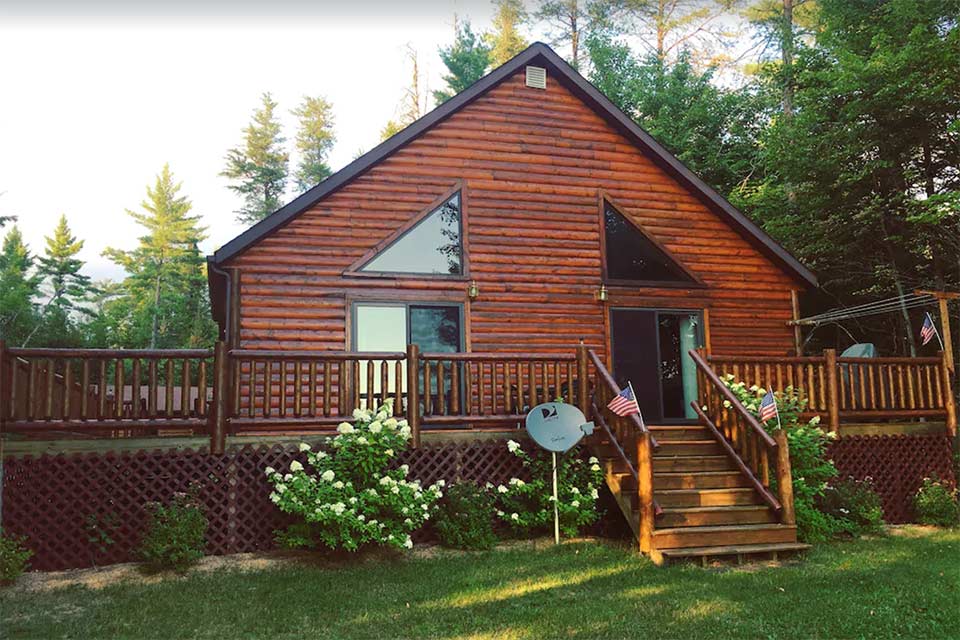 Why you should stay: Four-season getaway nestled in a national forest that's gorgeous year-round.
Sleeps: 8
Minimum stay: 2 nights
Pets allowed: yes
As cabins in the woods go, this one in Hiawatha National Forest is pretty darn charming. Situated in between two of the UP's best towns, 40-minutes from Marquette and 20-minutes from Munising, you'll be staying smack dab in the middle of the peninsula.
On the premises, you have a private lake and paddleboat at your disposal. Enjoy fishing, swimming, and boating at your leisure. Off the lake, fire up the BBQ grill on the outdoor deck, head out on a forested hike or explore the nearby scenery.
Check Availability
11. The Reel Inn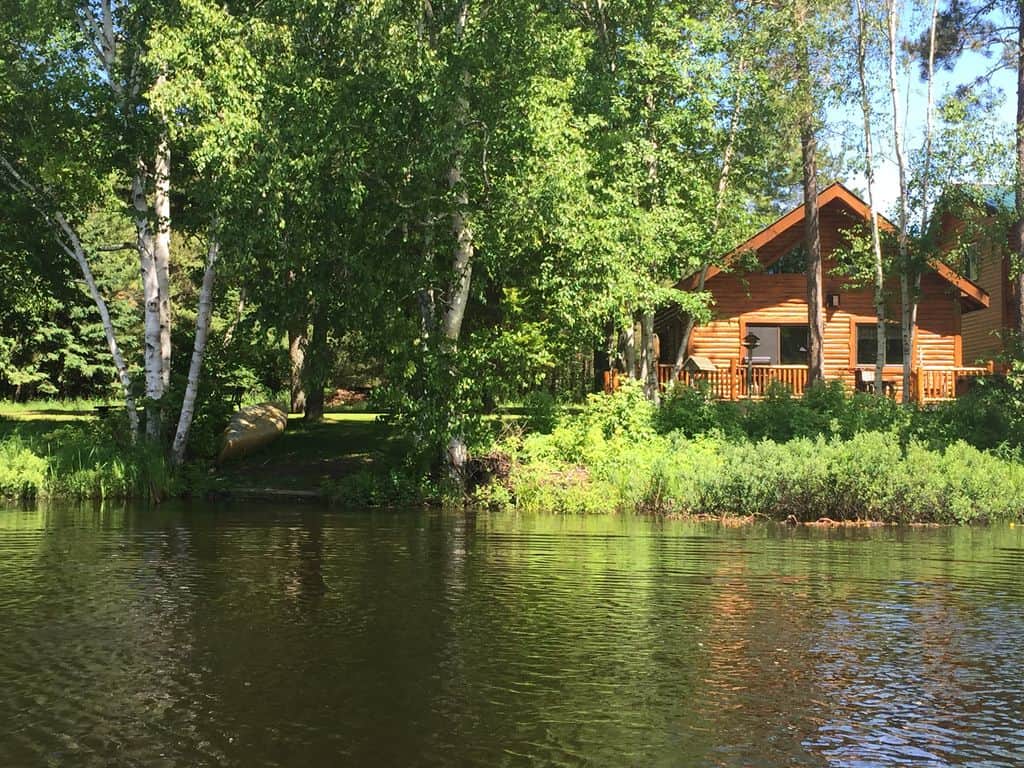 Why you should stay: Cabin rental on the banks of Au Train River just ten minutes from downtown Munising.
Sleeps: 6
Minimum stay: 2-3 nights
Pets allowed: yes
The Reel Inn is a classic Michigan cabin getaway in Au Train, ten minutes from Munising. Known as one of the best places in Michigan for kayaking and canoeing, the Au Train River is just feet away from the property. The hosts have on deck kayak rentals for those interested, as well as a complimentary paddle boat and canoe for use.
The home has three queen-sized beds, one in the bedroom and two in the loft, plus a fully-equipped kitchen with granite countertops. Pets are welcome with prior approval for families traveling with their furry friends.
Check Availability
12. Great Lakes Home
Why you should stay: Fabulous location near to some of the UP's best attractions.
Sleeps: 12
Minimum stay: 3-7 nights
Pets allowed: yes
This classic Great Lakes home puts you right where you want to be in the UP. Located just minutes from scenic gem Mackinac Island, easily hit up Tahquamenon Falls, Whitefish Point, and Pictured Rock Lakeshore during your stay.
Or if you're more keen to relax at home, this Michigan vacation rental is nestled along 100 feet of the sandy shoreline of Brevort Lake. Kick back and relax on the spacious deck overlooking the lake, or get some exercise kayaking and swimming. There are three bedrooms and enough space for any large group of 12.
Check Availability
13. Rapid River Log Cabin
Why you should stay: Sleep on 160-acres of pristine land with a 2-acre pond.
Sleeps: 8
Minimum stay: 7 nights
Pets allowed: no
The Rapid River log cabin has everything you need for an eventful yet relaxing escape to nature. From the home's front deck, take in nothing but sweeping views of lush forests, lush green grass, and your very own private pond.
The open floor plan and tall ceilings make the 1,450 square ft of space feel homey and inviting. Upstairs, the lofted sleeping space for the kiddos holds three twin beds, and there are also two bedrooms for mom and dad or traveling couples. This place takes you out of the chaos of life and into the peace of nature.
Check Availability
Plan Your Trip to the Upper Peninsula
No matter the season, there's adventure to be had in the UP. Check out our top recommendations of the best things to do in the Upper Peninsula in Michigan.
Bordering on three of America's Great Lakes, the UP is a fantastic place to enjoy water sports and beach activities  on Lake Michigan, Lake Superior, and Lake Huron.
Venture to the Upper Peninsula's most charming small towns of Copper Harbor, Munising, and Newberry.
Go hiking on some of the best trails in the UP, such as  Mount Baldy, Bare Bluff, and Beaver Lake Loop.
Enjoy the local ice caves, skiing, and snowmobiling in the winter.
Make the trek to see the stunning limestone cliffs along the Great Lakes at either of the region's national parks, such as Pictured Rocks National Lakeshore in Michigan or Apostle Islands National Lakeshore across the pond in Wisconsin.
Spend a day exploring the university town of Marquette where picturesque Presque Isle Park and Sugarloaf Mountain overlook Lake Superior.
Check out the beautiful state parks in the UP, such as Tahquamenon Falls, Palms Book, Porcupine Mountains, and others.
More Incredible Cabins
Sign up for our free email to join 100,000+ readers getting epic travel, hiking, camping and gear ideas every month.
---