We research, evaluate and select travel destinations based on a number of factors, including our writers' experience, user reviews and more. We may earn a commission when you book or purchase through our links. See our editorial policy to learn more.
---
Minnesota is a land of many things: 10,000 lakes, Midwest hospitality, and frigid winters, as well as unique tiny house rentals bursting with charm.
There's something to the saying, "live tiny, dream big." With fewer material items to worry about and a smaller living space to fill, the design potential becomes limitless. Which means that tiny home rentals often come with unique amenities you can't enjoy in any old hotel. With such small real estate to manage, tiny homes also have the potential to be placed in far-flung locales or smack dab in the heart of beloved tourist destinations.
And there are a lot of destinations to love in Minnesota. The Gopher State boasts scenic wonders centered around lakes of all sizes, the mighty Mississippi River, and dense forests. Not to mention the exciting attractions found in the Twin Cities. All in a region that experiences the beauty of four distinct seasons that dramatically change the landscape every few months.
From luxurious saunas to riverfront settings, these tiny house rentals in Minnesota prove that we could all do with a little less stuff and a little more home.
1. Bundo's Cabin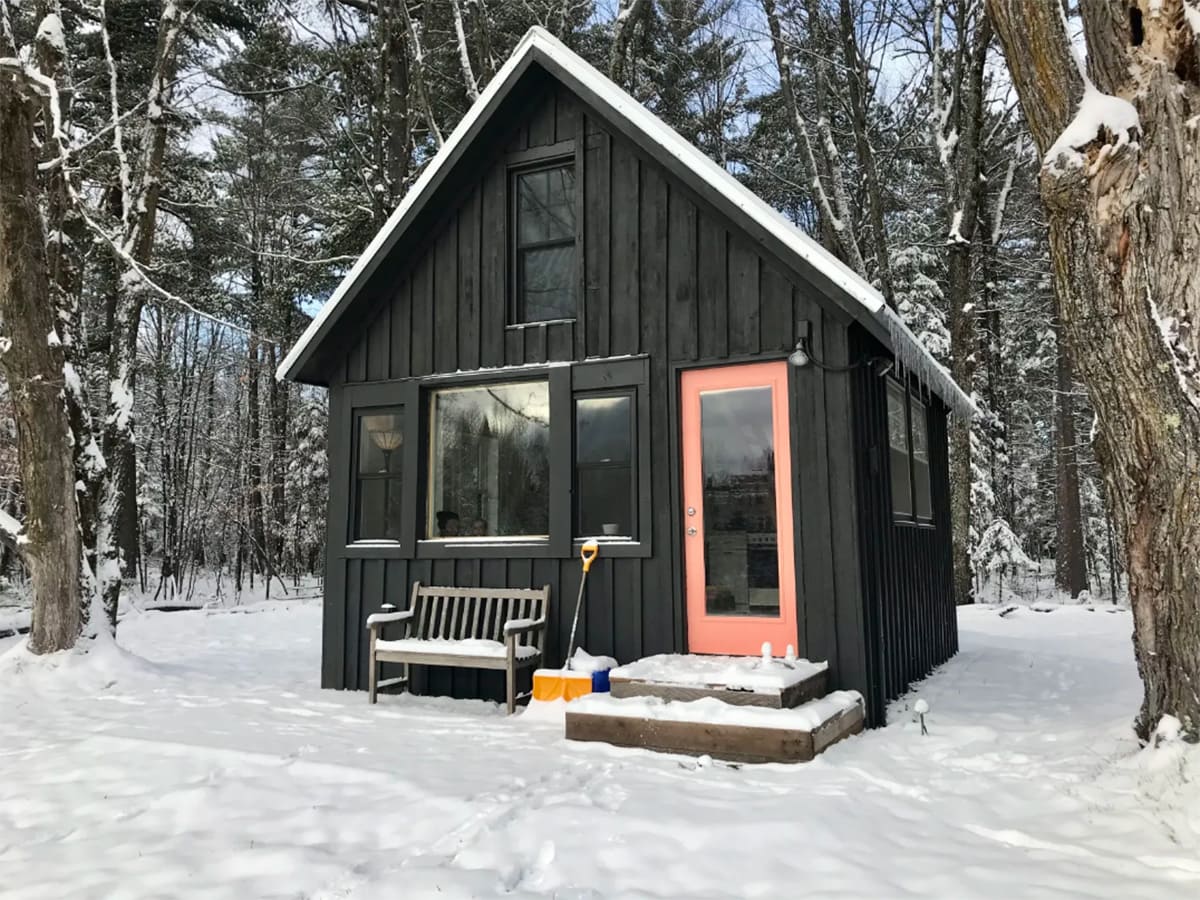 Why you should stay: A pet-friendly tiny cabin on 10 acres near Banning State Park.
Location: Finlayson
Sleeps: 4
Minimum stay: 2 nights
Rates start from: $119/night
Escape to the north with a glamping trip to Bundo's Cabin in the Woods. This modern tiny cabin features a minimalistic palette of whites and blacks complimented nicely by wooden ceilings and natural views. Although small, the house has a separate living area, kitchen, and lofted bedroom, allowing maximum comfort during your stay.
The property has an outdoor bathroom, a composting toilet and sink, and a seasonal outdoor rain shower. Larger groups with additional guests are free to pitch a tent out in the yard, where a thick tree line provides ample privacy. This quiet getaway is conveniently between the Twin Cities and Duluth.
Check Availability
Related Read: 8 Spectacular Places to See Fall Colors in Minnesota
2. Acro Cabin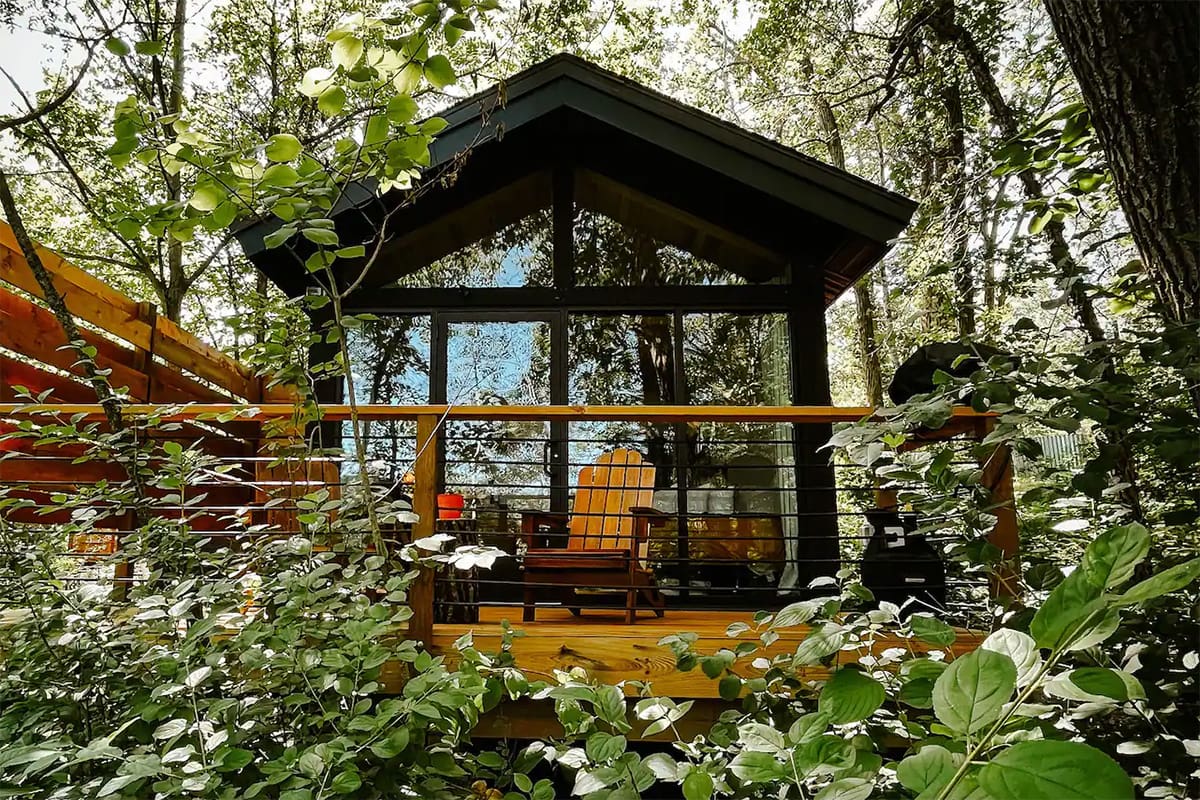 Why you should stay: One of five beautiful tiny homes offering small-town fun and outdoor adventure.
Location: Crosby
Sleeps: 2
Minimum stay: 2 nights
Rates start from: $320/night
Perfect for mountain biking enthusiasts but open to all, the Acro Cabin is a charmer. The home's sliding glass doors and expansive windows allow natural light to our inside and lead to a private balcony with forest views. The host's thoughtful attention to detail means guests enjoy high-speed WiFi and a Tuft & Needle mattress. However, the tiny home's nicest amenity is the outdoor redwood sauna, where you can soothe your tired bones and relax after a long day.
This luxurious tiny home is on Minnesota's vast network of biking trails, not far from downtown Crosby and the attractions of Brainard. Whether you arrive by bike or car, the Acro Cabin is a Minnesota tiny home not to be missed.
Check Availability
Related Read: 7 of the Most Romantic Getaways in Minnesota
3. Potluck String Lodge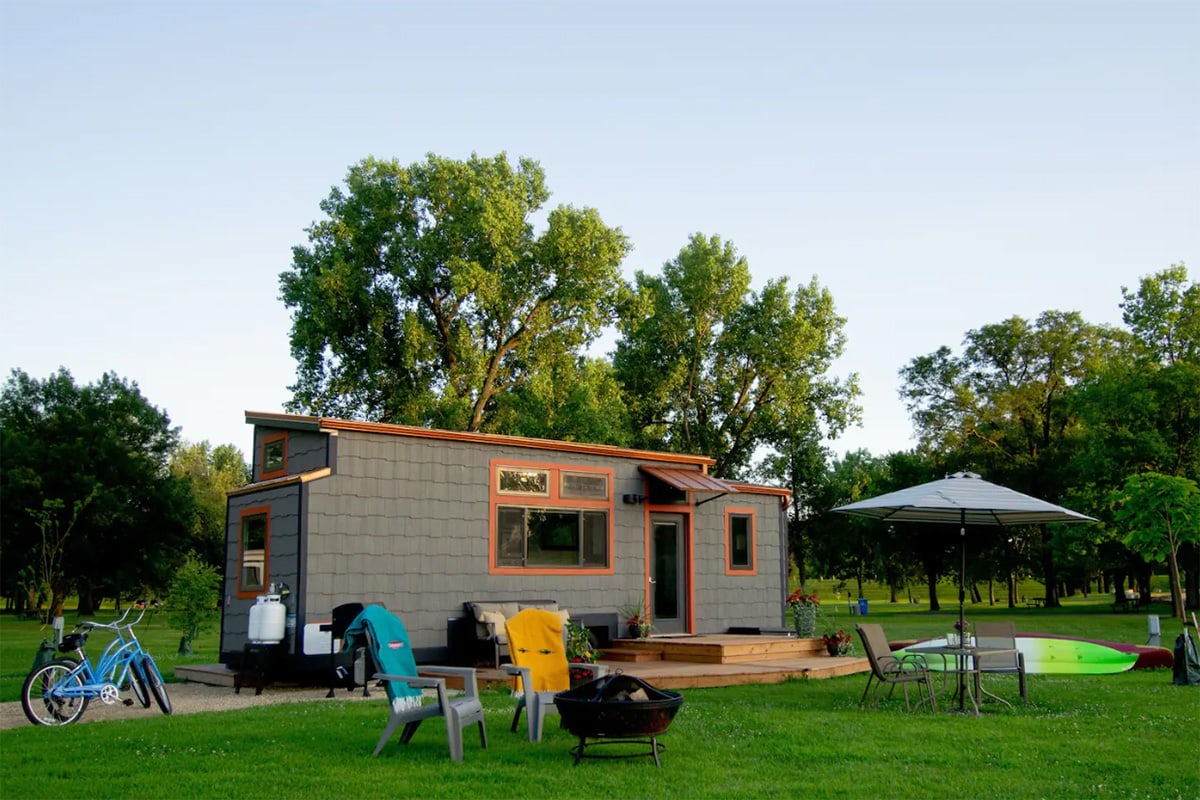 Why you should stay: A two-bedroom tiny home on a modern campground along the majestic Mississippi River.
Location: Winona
Sleeps: 5
Minimum stay: 2 nights
Rates start from: $175/night
There's plenty to keep you happily entertained at the Potluck String Lodge. Outfitted with a canoe, kayak, and two bikes, the hosts have made it easy for guests to relish the beauty of the Mississippi River. The tiny home sits on a spacious plot of land that overlooks the water and is furnished with a fire pit, outdoor dining table, and grill.
Every weekend in the summer, the campground hosts various events like live music, yoga, and nature classes, adding more fun to your stay. The campground also has a camp store offering camping essentials and gear rentals for stand-up paddle boards and bikes. This cozy tiny home can be found in Minnesota's striking bluff country, not far from the iconic Sugar Loaf Bluff.
Check Availability
Related Read: 11 Charming Cabin Rentals in Alexandria, Minnesota
4. Old Blue Tiny House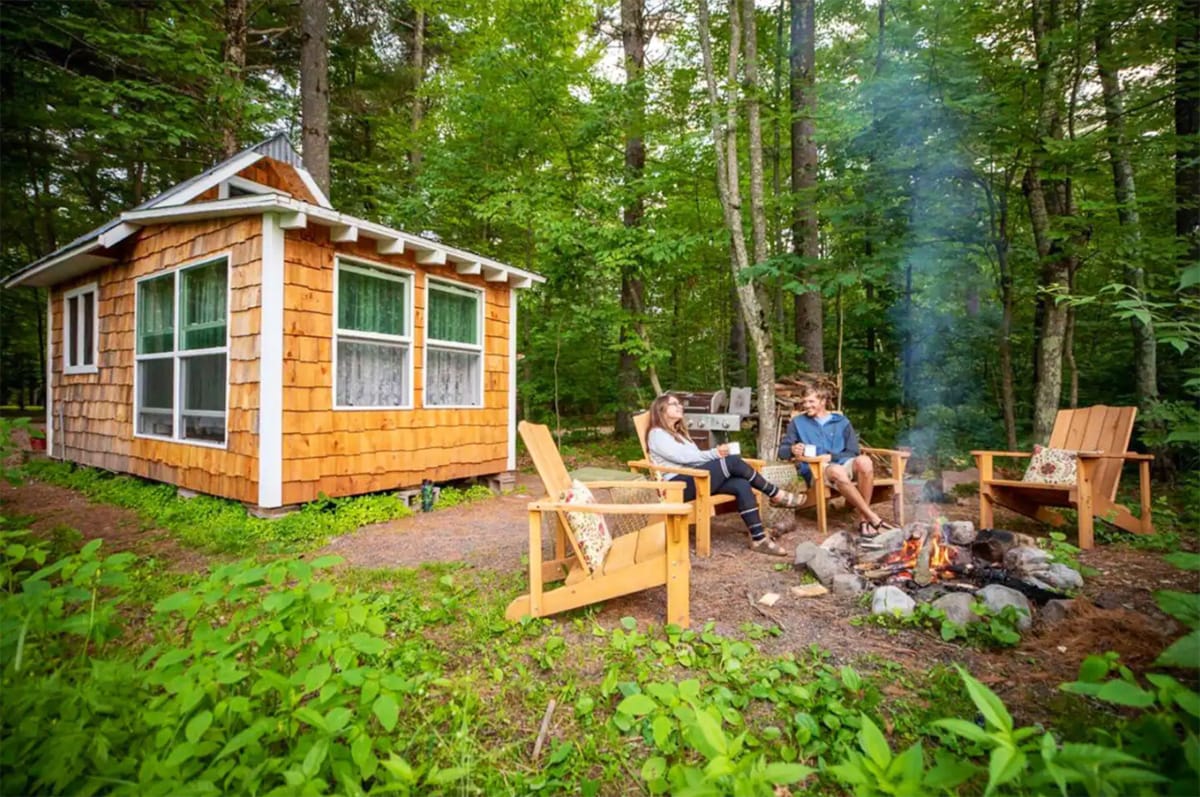 Why you should stay: A quaint tiny home in the woods with all the comforts of home plus two kayaks.
Location: Pine City
Sleeps: 4
Minimum stay: 1 night
Rates start from: $117/night
The Old Blue Tiny House is a quiet retreat in the wild that looks pulled from the pages of a storybook. This tiny home has a rustic charm that can be felt in every exquisite detail, like the wooden shingles and retro decor. Ideal for small groups, the home features a private bedroom and lofted sleeping space. A composting toilet and seasonal shower can be found in the sparkling clean bathhouse.
Guest Ladonna shares, "We stayed in Ol Blue, and it was every bit as picturesque as you could imagine. The cabin is fully stocked with the essentials and has a wonderful fire ring in the back for absorbing the peaceful surroundings."
Check Availability
Related read: 6 Unique Treehouse-Style Rentals in Minnesota
5. The Tiny Tuloon Cabin
Why you should stay: An Amish-built cabin tucked away in Minnesota's North Woods where the cell service is weak.
Location: East Cook
Sleeps: 3
Minimum stay: 2 nights
Rates start from: $149/night
Go off the grid at The Tiny Tuloon Cabin, a warm and inviting space for those itching to disconnect from the outside world. Inside, knotty pine walls and a gas heating stove sets the scene for a classic up north getaway. A log bunk bed with a futon on the bottom provides a comfortable place to lay your head at night. You won't find a shower at this tiny home. However, long-term guests have access to the shower in the host's main house.
A screened-in porch at the front entrance allows you to relax in the fresh air protected from skeeters. Those visiting in the winter can book the unique opportunity to experience dog sledding through the local woods. This cabin isn't far from Grand Marais and Lutsen, two beloved North Shore destinations that are particularly beautiful to see in the fall.
Check Availability
Related Read: 14 Best Places to Visit in Wisconsin
6. Mökki Birdhouse
Why you should stay: A simple yet cheerful A-frame cabin within walking distance from the shores of Lake Superior.
Location: Grand Marais
Sleeps: 2
Minimum stay: 1 night
Rates start from: $218/night
Nestled in downtown Grand Marais, the Mökki Birdhouse makes for an excellent jumping-off point for exploring Minnesota's beautiful North Shore. The cabin is within walking distance not only to Lake Superior but popular trails like the Gunflint Trail. While you're out and about, be sure to stop into the Dockside Fish Market and World's Best Donuts for Grand Marais favorites.
Back at the birdhouse, the tiny home's natural wooden facade is complimented nicely by pops of warm colors. Inside, a rustic atmosphere makes you feel right at home in the north. One unique feature is the deep soaking tub in the living room, where you can enjoy a romantic soak. And from the expansive windows, soak up views of the Grand Marais harbor.
Check Availability
7. The Hygge Haven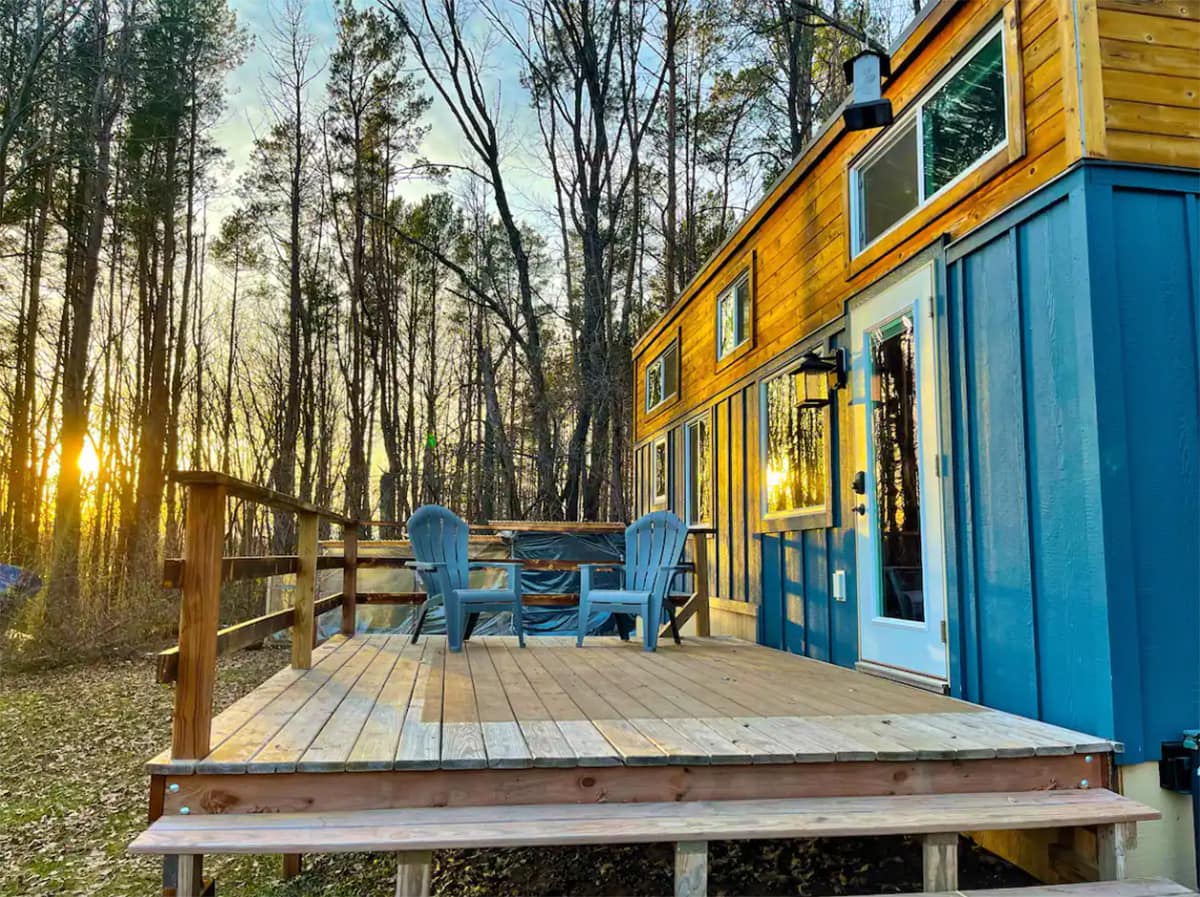 Why you should stay: A well-appointed tiny home with incredible amenities like a hot tub and a treehouse.
Location: Mora
Sleeps: 4
Minimum stay: 2 nights
Rates start from: $217/night
The Hygge Haven lives up to its name as a cozy oasis just an hour and fifteen minutes north of Minneapolis. Although located in a small town, it's conveniently near exciting attractions like Banning State Park and the Sapsucker Farms and Cidery. The tiny home's interior is marked by its white shiplap walls and pops of natural elements like potted plants and tree details.
On the ground floor, a sofa and TV allows for cozy movie nights. A full tiny kitchen with an oven and fridge makes cooking a breeze. And upstairs, two separate sleeping lofts welcome small groups and families. This tiny home even has laundry facilities, putting it on par with full-sized vacation rentals, only cuter.
Check Availability
Related Read: 11 Best Weekend Road Trips From Minneapolis, Minnesota
8. The Tiny House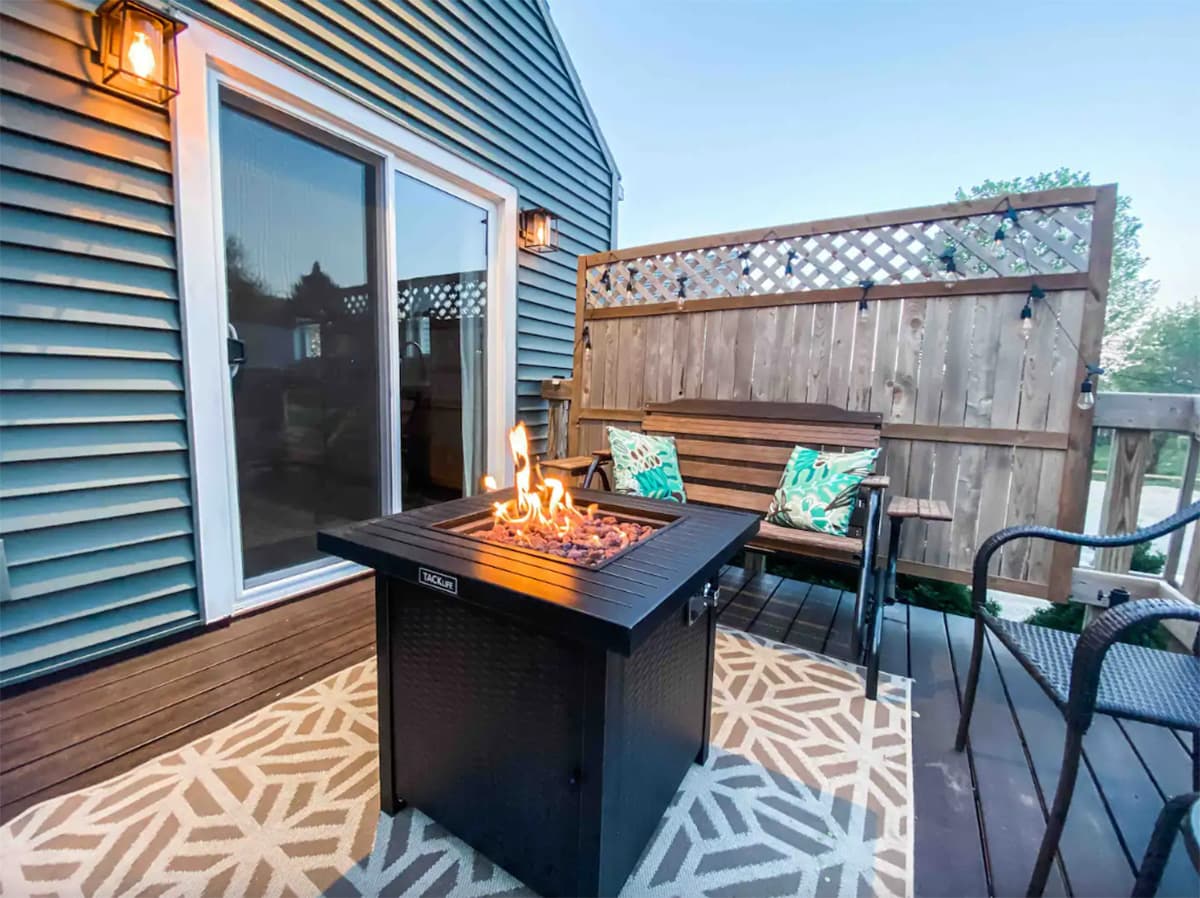 Why you should stay: A homey one-bedroom in southern Minnesota 30 minutes from Whitewater State Park.
Location: Rochester
Sleeps: 2
Minimum stay: 5 nights
Rates start from: $138/night
High-end touches abound at The Tiny House, a city escape in the Apple Hill neighborhood of Rochester. This residential tiny home oozes modern farmhouse aesthetic and features exposed red brick accents and natural wood finishes. Guests enjoy complimentary coffee and teas as well as welcome beverages on arrival. And those that come with work will appreciate the high-speed internet and marble countertops that double as a desk.
Through sliding glass doors, a porch with a fire table and grill provides a lovely spot to relax. Best known as the home of Mayo Clinic, Rochester has other noteworthy attractions, including the Quarry Hill Nature Center and the Rochester Art Center. The city is also home to a thriving brewery scene with top spots like Little Thistle.
Check Availability
Find More Midwest Getaways
Get epic travel ideas delivered to your inbox with Weekend Wanderer, our newsletter inspiring thousands of readers every week.
---