Embark on a backcountry journey through Vacationland by heading out on your own two feet and a pack on your back.
Maine has the highest ratio of forests of any state in America. About ninety percent of Maine is covered in forests and woods where wildlife roams free, without abandon. In many areas within the Pine Tree State, there are more moose than there are people. There is even a whole section called "Moose Alley" where it's rare to not see a moose.
Wildlife aside, Maine is also full of panoramic views and various ecosystems to suit anyone's preferences. There are craggy cliffs along the coast, big summits with breathtaking views, and meadows filled with blueberries and wildflowers. So whether you want a quick, overnight jaunt along the ocean or a full-on, 10-day excursion in one of the most remote areas of America, Maine has got it all. As with any backcountry adventure, make sure you know common trail etiquette and always Leave No Trace.
Related Read: 6 Backpacking Trips in the White Mountains That are Unforgettable
1. The 100-mile Wilderness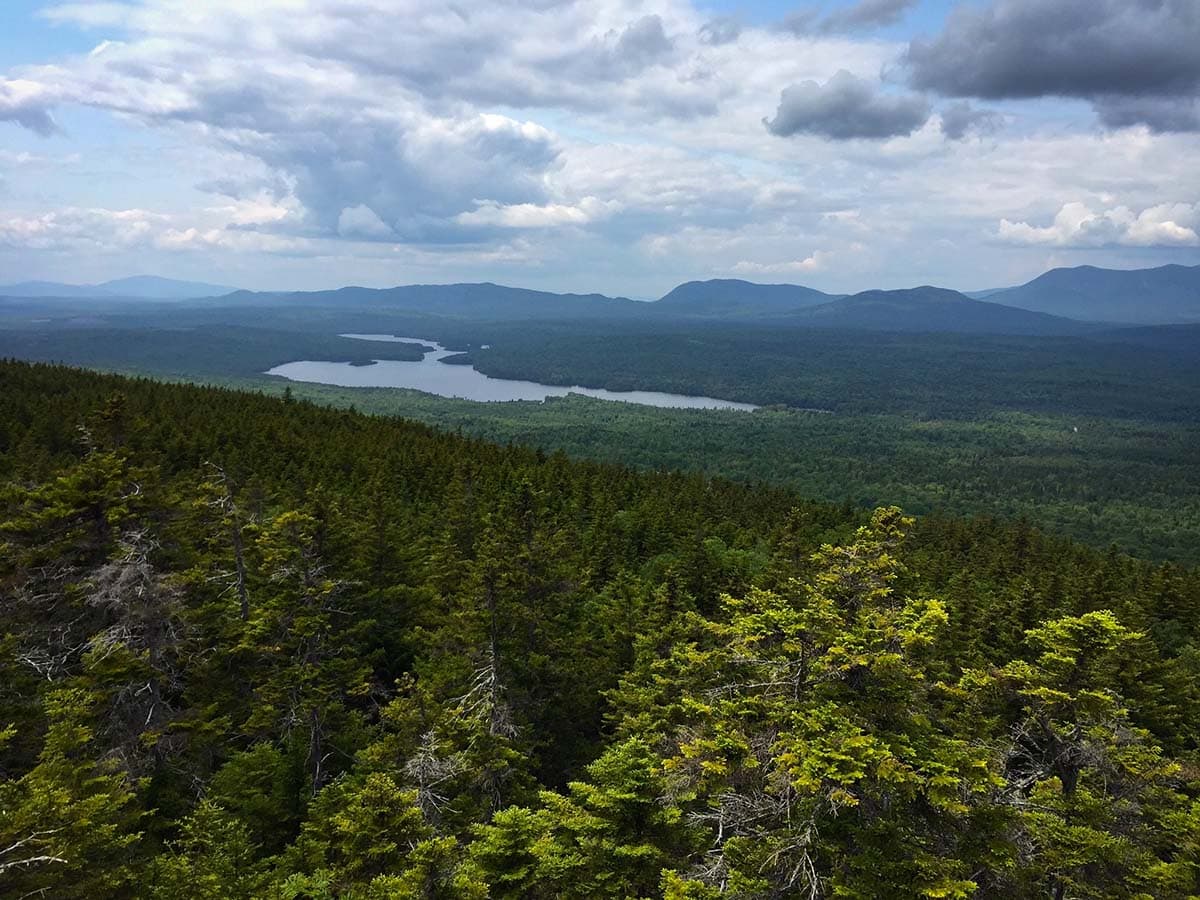 Why you should go: experience some of the most remote and wild places in the United States.
Distance: 100 miles (point-to-point)
Elevation gain: 16,000'
Difficulty: strenuous
Days on the trail: around 10 days
There's a reason this area is called the 100-mile Wilderness and it isn't for its crowded trails. Starting in the town of Monson and ending on the southern border of Baxter State Park lies the most secluded and beautiful section of the Appalachian Trail. The 2,190-mile trail is a beast in and of itself, but those last 100 miles are something else.
As its name suggests, the 100-mile Wilderness doesn't have any stops/towns along the way. You are truly immersed in nature, which means you'll have to pack all your stuff for a 10-day backpacking trip. Your backpack will be heavy and clunky in the beginning. If you can't hike at least 10 miles and upwards of 3,000' of elevation gain in a day, this backpacking trip is not for you. Many people have been rescued from this area due to their lack of preparation, so make sure you know what you're doing before you head out.
Pro tip: Plan your trip for late June/early July to avoid black fly season (late May/early June). They are the single most annoying animals on Earth. If their bite doesn't make you annoyed, the constant buzzing will. Also, by going in late June/early July, you'll miss the crowds of thru-hikers finishing off their AT journey.
More information: Appalachian Mountain Club, AllTrails, Section Hiker
2. Cutler Coast
Why you should go: just as gorgeous as the cliffs along Acadia National Park but without the crowds.
Distance: 10 miles (loop)
Elevation gain: 1,075'
Difficulty: easy
Days on the trail: 2 days (although you can stay up to 14 days)
Of Maine's 228 miles of coastline, there are many places to admire the craggy cliffs jutting out into the Atlantic Ocean. But nothing compares to the ones along Cutler Coast — although Acadia National Park has its own perks.
Cutler Coast Reserved Public Land is located at the easternmost tip of Maine, just north of the more famous Acadia National Park. It's so far east that you can see Grand Manan Island off the coast. But don't worry, this backpacking trip keeps you solidly in the United States. There are a few trails you can traverse within the public lands but the best backpacking route is the Fairy Head Loop. Here, you can stay overnight at one of the five designated tent sites which are first come-first serve.
The trail takes you through open meadows and forests before traversing along the rocky coast. It provides 3.4 miles of coastline hiking where you might catch a glimpse of a whale breaching off the coast. The park is open year-round for backpacking but winter (as you might've guessed) brings bone-chilling cold. If you head up during late summer, you might be able to grab a few wild blueberries that Maine is known for.
Pro tip: You'll have your best chance at viewing whales if you come in the summer during their annual migration.
More information: Maine Department of Agriculture, Conservation, & Forestry, AllTrails
3. Maine Hut-to-Hut Trail
View this post on Instagram
Why you should go: your backpack will be less heavy without having to worry about bringing a tent, sleeping pad, or food for dinners/breakfasts.
Distance: 26.3 miles (point-to-point)
Elevation gain: 2,000'
Difficulty: moderate
Days on the trail: 4 days
If you're one of those people who enjoy getting out into nature but don't want to trouble yourself with clunky backpacks filled to the brim, this hike is for you. There are several huts/lodges in New England, including ones in the White Mountains of New Hampshire and the Berkshires in Massachusetts (both run by the Appalachian Mountain Club). These ones in Maine are owned and operated by Maine Huts and Trails and are spread along almost 50 miles in the western interior of the state.
If you start at the Route 27/Stratton Brook Trailhead, it's only three miles of hiking to the Stratton Brook Hut. But the elevation gain is significant in the short hike so be prepared to go slow. Thankfully, when you reach the hut, you won't have to worry about anything other than relaxing. The next day, you'll walk eight miles to Poplar Hut where the bulk of the trail is downhill. Trekking poles might be useful for some hikers because of the constant incline/decline.
The next section takes you almost 12 miles to the Flagstaff Hut. The trail is much milder in this section compared to the other two days. After your stay at Flagstaff, head out to the Big Eddy/Grand Falls trailhead where you can return to your car. Most years, you could tack on an extra day at Grand Falls Hut, but it is currently undergoing maintenance and is expected to reopen during the summer.
Pro tip: You can do this in the winter with far fewer folks on the trail. The huts are open year-round and do full-service (meaning staff will cook dinner/breakfast) on the weekends.
More information: Maine Huts
4. Grafton Loop Trail
Why you should go: experience the most rugged terrain of the Appalachian Trail.
Distance: 34 miles (loop)
Elevation gain: 11,250'
Difficulty: strenuous
Days on the trail: 3 to 4 days
There are two sections to this trail – the eastern and western parts, which can be done as separate trips. However, the most rewarding way to do this trail is by hiking the whole thing. Most people start the trail off Route 26 just north of Newry. If you travel further along the road, the second trailhead is found within the Grafton Notch State Park boundary.
Start the hike going in a counterclockwise direction where the first views will be atop Puzzle Mountain. Here, you'll find several ledges with spectacular views of the Bear River Valley to the south and the Presidential Mountains to the west. The trail continues and you'll summit several more mountains including East Peak, Long Mountain, West Peak, Old Speck Mountain (the only four-thousand-footer on the trail), and more.
Seven campsites dot the trail along with one shelter. They are all first come-first serve, so be sure to come prepared to keep walking to the next campsite if one is full. Weekends can be quite crowded on the trail so if you want to ensure the campsites are free, go during the week.
More information: Maine Department of Agriculture, Conservation, & Forestry, AllTrails
5. Mount Katahdin / Pond Loop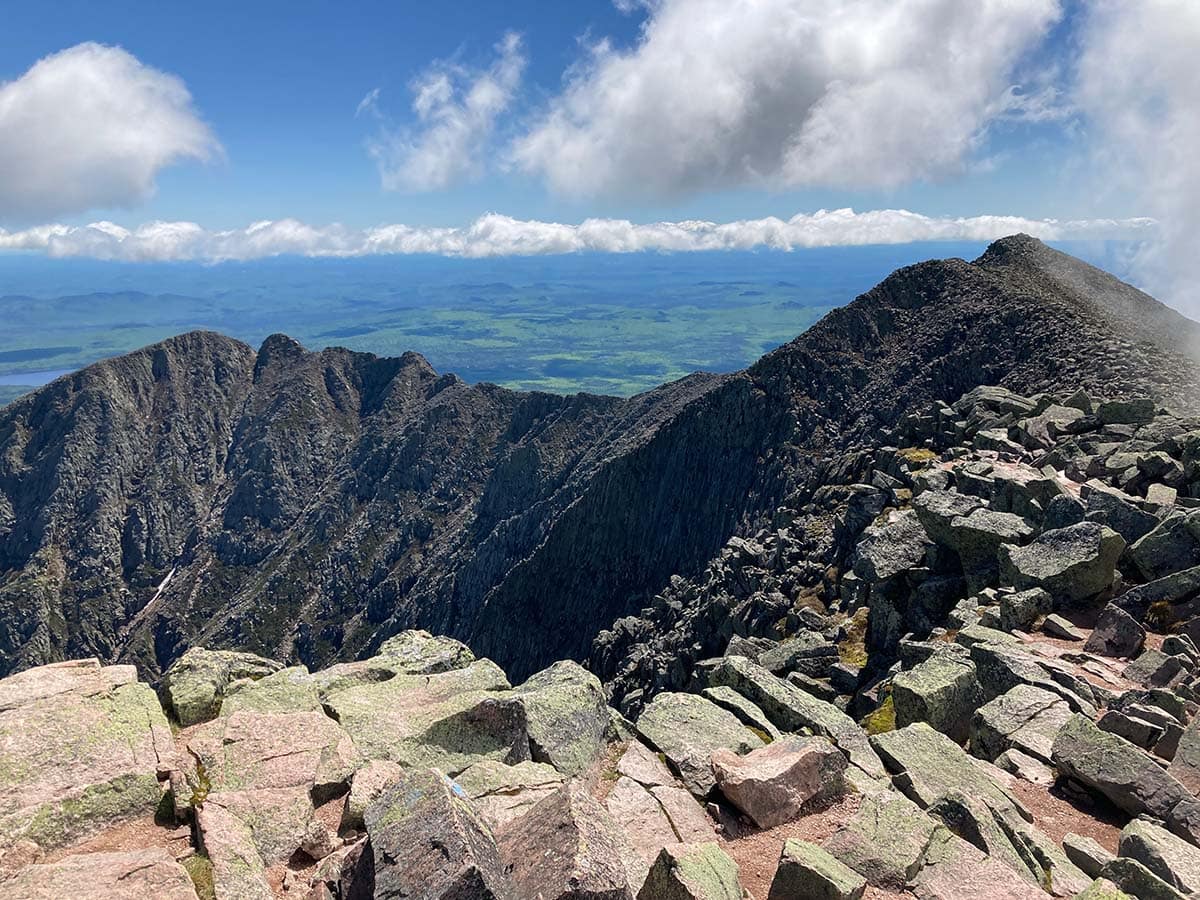 Why you should go: stand on top of Maine and at the end of the Appalachian Trail.
Distance: 22 miles (loop)
Elevation gain: 5,300'
Difficulty: moderate to strenuous
Days on the trail: 3 days
While everyone else is headed towards Acadia National Park, take the less crowded trip to Baxter State Park. It's home to Mount Katahdin, Maine's highest summit, and a rugged hike in and of itself. But you can also take a longer route up the mountain and visit a few other iconic places within the park by doing this backpacking trip.
Backpackers start at the Roaring Brook Campground where you check in at the ranger station. The first trail starts out heading north towards Russell Pond in a counterclockwise direction. This part of the trail brings you along beautiful forests where moose roam freely.
You'll stay the night at the Russell Pond backcountry campground. The trail then heads south along Wassataquoik Stream where you'll stay right at the fork to follow the Northwest Basin Trail. You'll have to cross the stream several times throughout this portion. At some point, the trail lands down into the valley and at the banks of Davis Pond where you can pitch a tent for the night.
The last day is the roughest of the three but also the most rewarding. After leaving Davis Pond, the trail steeply ascends the northern side of Hamlin Peak. Once on top of Hamlin, you can see your destination to the south – Mount Katahdin and the Knife Edge. After you've summited and taken hundreds of photos to prove you made it, make your way back down to the Roaring Brook Campground to head home.
Pro tip: Ask the ranger about water levels because you will have to ford the Wassataquoik Stream at one point. Depending on water levels, it could potentially be dangerous to cross.
More information: Baxter State Park, AllTrails
Explore More New England Adventures
Get epic travel ideas delivered to your inbox with Weekend Wanderer, our newsletter inspiring thousands of readers every week.
Was this article helpful?
---