The landscapes of Big Sur are nothing short of magical.
From the fuzzy red bark of coastal redwood trees to the cliff's-edge ocean views, it's easy to see why famous creatives like Henry Miller, Hunter S. Thompson, and Jack Kerouac found solace here during the bohemian revolution of the 1960s.
The entire coastline feels timeless and otherworldly.
These days, Big Sur is a year-round mecca for hikers, road-trippers, and backpackers looking to soak up some of those famous coastal vistas of impossibly blue surf.
It's home to Esalen, a high-end hippie retreat center with manicured grounds and magnificent ocean-view hot springs, as well as foodie-friendly restaurants like Nepenthe and Sierra Mar.
It's a choose your own adventure locale with everything from beaches to glamping to mountaintop hikes. Just look out for poison oak! It's a common sight in the area.
There's only one main road that cuts trough the center of town: California's fabled Highway 1, a serpentine motorway suspended in mid-air that hugs the rocky cliffs of the coast.
Landslides cut off the town for nearly a year, but as of mid-2018, Big Sur is back in action.
Thanks to low elevation and proximity to the ocean, Big Sur rarely freezes, which makes it a fantastic year-round destination when the Sierras are socked in with high snow levels.
Each season adds a unique flavor to the area. Spring brings wildflowers and moderate temperatures, summer is home to great weather and huge crowds, fall offers cooler temps and some seasonal color, and winter features few crowds, more rain, and gray whale watching.
Fire restrictions are often in place all over Big Sur, during which time campers must use caution and only burn wood in designated campfire rings.
It's also worth noting that firewood should be purchased within the town of Big Sur, rather than brought in from far away. This helps reduce the impact that foreign insects can do to this delicate ecosystem.
The secret's out on this California hot spot, meaning campsites regularly book up 6-12 months in advance, especially during summer months and on weekends.
Campgrounds in Big Sur generally fall into two categories: private campgrounds and public parks, the latter of which covers the area's state parks and national forest land.
Public parks are usually hook-up free and more rustic, while the bevy of private camping options offer more amenities and city comforts.
We'll explore the ins and outs of the best of them here.
For tips on day hiking and backpacking in Big Sur, check out:
The Best State Park Campgrounds in Big Sur
1. Kirk Creek Campground
Why you should camp here: Perched on a bluff overlooking the Pacific Ocean, this 33-site campground is adjacent to Big Sur's best hiking trails.
Reservations accepted: Yes
Best season: Spring, summer, fall
Campsite type: Tents, car camping, RV
RV hookups: None
If you're in Big Sur for rustic ocean views, redwoods, and hiking trails, look no further than Kirk Creek Campground.
Set a few miles south of Big Sur's main drag, Kirk Creek is convenient for those driving up from Los Angeles or San Diego and offers easy access to beach and mountain trails.
Stroll along babbling Mill Creek, gaze at the impossibly emerald moss blanketing the trees near Limekiln, or cross the street and conquer the strenuous 10 mile round trip trek up to Vicente Flat's old growth redwood trees.
All of the 33 sites at Kirk Creek are single family, nonelectric sites on surfaces of gravel and grass. Accessible grills, pit toilets, and scenic overlooks are all available, so everyone can enjoy this majestic area.
A short walk to a rocky beach or a quick drive to Sand Dollar Beach will put you right at the apex of everything – mountains, ocean, and sky.
Reserve Now
Related Read: 14 Epic Campgrounds Near Los Angeles, California
2. Limekiln State Park Campground
Why you should camp here: Soak up the cool and quiet of an ancient redwood forest at this 29-site haven.
Reservations accepted: Yes
Best season: Spring, summer, fall
Campsite type: Tents, car camping, RV
RV hookups: None
Full of history and just 52 miles south of Carmel, Limekiln State Park is a wooded wonderland for hobbit-types looking to bask in the glory of tall trees, electric green ferns, and cascading waterfalls.
While camped at Limekiln, you can sleep at the foot of towering redwoods, hike to the ruins of historic, centuries-old limekilns, and stroll to the beach to catch a glimpse of a sea otter — all without ever getting into your car.
Ocean-view campsites cost a bit more than redwood sites, but trust us — it'll all be worth it when you watch the orange glow of the sun melt into the deep blue Pacific at dusk.
Campsites here are smaller (eight person maximum) and only hold two passenger vehicles or one RV (up to 24 feet long). The trailer length limit is 15 feet and is strictly adhered to.
Pit toilets and picnic tables are available for all guests, while a steaming hot shower will cost you a small fee.
The rustic facilities and easy trails in the area make this an excellent campground for families with smaller kids who'd rather soak up a variety of sights and sounds than push big miles.
Reserve Now
Related Read: 11 Epic Winter Camping Spots in California
3. Julia Pfeiffer Burns State Park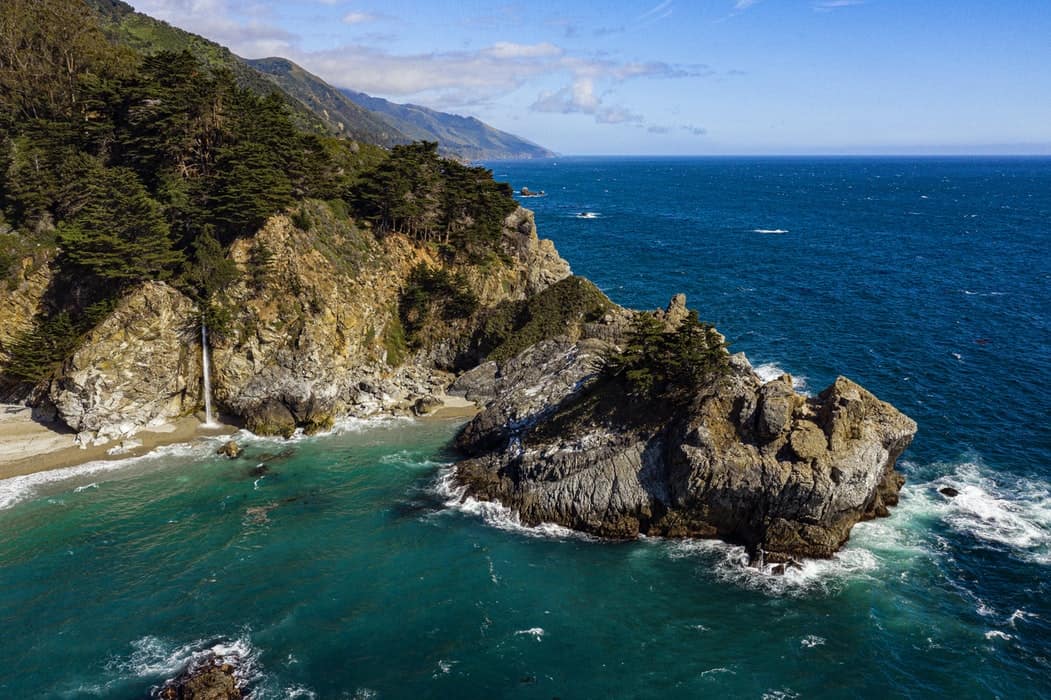 Why you should camp here: Located just steps away from McWay Falls, these two environmental campsites are the best Big Sur has to offer – if you can nab one!
Reservations accepted: Yes
Best season: Spring, summer, fall
Campsite type: Tents, car camping
RV hookups: None
No trip to Big Sur would be complete without a short hike to the overlook point to witness the rocky crags and secluded sandy beach surrounding McWay Falls.
This iconic landmark is one of the most sought after vacation photos and selfie hot spots for visitors to Big Sur, and for the two people lucky enough to snag one of these hike-in environmental campsites, the area is all yours after dark.
Marvel at the Milky Way on moonless nights and hear the playful crashing of the nearby 80-foot waterfall.
Day adventures within the park abound, too.
Scan the rugged coastline for kelp and sea otters, hike among giant redwoods on the Tan Bark or Ewoldsen Trails, or rock hop on the hunt for tide pools near Partington Cove.
Though parking is available nearby, campers here must carry their gear and tents a short distance.
Due to the small size of each site, only four people are allowed per reservation.
Though the sites are primitive, bathrooms and food storage boxes are available nearby, making this the best bet for solitude with a touch of creature comforts in Big Sur!
Reserve Now
Related Read: The 10 Best Camping Spots in Santa Barbara, California
4. Pfeiffer Big Sur State Park Campground
Why you should camp here: Relax in the serenity of this large, riverside campground that's set in a grove of giant redwood trees.
Reservations accepted: Yes
Best season: Spring, summer, fall
Campsite type: Tents, car camping, RVs
RV hookups: None
Just because this campground hosts 189 sites for tents and RVs (plus one rustic cabin) doesn't mean that reservations at Pfeiffer Big Sur will come easy.
Campsites typically fill up six months in advance, even in wintertime. But all of the planning will be worth it the moment you set foot out of your car.
This gorgeous, wooded area is right in the middle of some of the best hiking and coastal views that Big Sur has to offer.
The Big Sur River snakes its way down the center of the camp itself, delighting visitors with its peaceful white noise.
Each site is equipped with a parking space for one vehicle (additional vehicles cost extra), a picnic table, and a fire pit with a half-grill.
A short walk will bring you to other communal amenities like potable fresh water, toilets, and hot showers (for a fee).
Once you've set up your tent (and maybe your hammock, too), you'll find yourself at the epicenter of all the things that make Big Sur magical.
A short drive will bring you to McWay Falls or Pfeiffer Beach, while other activities can be accessed by simply unzipping your tent and stepping out into the world.
The Pine Ridge, Mt. Manuel, and Valley View Trails are all a stone's throw from the campground, but we won't tell anyone if you skip the sweat to lounge in the shade under this epic canopy of trees.
Reserve Now
Related Read: The 9 Best Cabin Rentals Near Big Sur, California
5. Plaskett Creek Campground
Why you should camp here: Just minutes from Sand Dollar Beach, this grassy, tree-lined campground is great for hikers and families alike.
Reservations accepted: Yes
Best season: Spring, summer, fall
Campsite type: Tents, car camping, RVs
RV hookups: None
Set a bit south of the town of Big Sur, Plaskett Creek Campground offers easy beach access to the largest sandy beach in Big Sur.
If fishing, condor-watching, or lounging in the sand are your game, this epic, family-friendly location is perfect for you.
It's located just a short drive from the coastal redwoods and hiking trails that make Big Sur a welcome escape for outdoor lovers.
Individual campsites here are large, grassy, and great for people bringing kids (each reservation is good for up to six people and one vehicle).
They come equipped with a picnic table and a fire ring with a half-grill, perfect for afternoon hot dogs and sunset smores.
Flush toilets are on-site and a quick walk from the tent sites.
In addition to the dozens of single-family sites here, they also offer three group campsites that can accommodate up to 40 people (and 10 vehicles) with multiple tables, grills, and campfire circles.
Gaze up at the nearby Monterey pine and cypress trees, saunter down to the aquamarine ocean waves, or take a short drive and explore the trails of the Ventana Wilderness and Los Padres National Forest.
This is an excellent jumping off point for all of it.
Reserve Now
Related Read: 12 Best Bay Area Camping Spots Near San Francisco, California
The Best Private Campgrounds In Big Sur
6. Riverside Campground and Cabins
Why you should camp here: Nestled in a forest setting in the town of Big Sur, this charming riverside campground is great for tenters and RVers alike.
Reservations accepted: Yes
Best season: Spring, summer, fall
Campsite type: Tents, car camping, cabins, RVs
RV hookups: Electric and water
Though a bit more expensive than the neighboring state parks, Big Sur's Riverside Campground and Cabins still delivers oodles of rustic woodland charm.
Set a bit inland in the town of Big Sur proper, this location features 34 campsites and 11 adorable, wooden cabins for those seeking the Big Sur magic with a few more amenities.
Each site is equipped with a picnic table and fire pit, and the central camp store will be happy to sell campers firewood, groceries, or camping supplies you forgot to pack. Laundry services and hot showers are also available for a small fee.
Visitors here will pay a slight premium for those tantalizing riverside tent spots, but we think it's worth it to kick back in your hammock, gaze up at the cloudy sky, and listen to the babbling sounds of rushing water.
During the day, there are a multitude of activities nearby.
From legendary Big Sur restaurants like Nepenthe and Deetjen's to leg-busting hiking trails and sandy Pfeiffer Beach, there's something for everyone at this family-friendly spot.
Reserve Now
Related Read: 15 Best Glamping Spots in Northern & Southern California
7. Fernwood Resort and Campground
Why you should camp here: This shady, meadow-view campground has everything adventurers need – even a bar and grill!
Reservations accepted: Yes
Best season: Spring, summer, fall
Campsite type: Tents, car camping, cabins, glamping, RVs
RV hookups: Electric and water
Fernwood Resort is a quaint, centrally located gem designed with visitors' needs at the forefront of their minds.
Of all the spots we reviewed, Fernwood was the most committed to ADA accessibility, with an accessible general store, restaurant, restrooms, and even showers so that everyone can enjoy the timeless wonder of Big Sur.
The options are endless here, with a 12-unit motel, six shabby-chic cabins, Instagram-worthy glamping tents, basic tent cabins, RV sites, and regular old tent sites to choose from.
Laundry facilities, a general store, and hot showers are available on site as well.
They've even got a bar and grill right off Highway 1 with a deck overlooking the river, as well as a stage area for music, yoga, karaoke, and special events.
It's a festive atmosphere that's great for weddings, parties, or family reunions.
When you've had enough fun exploring the grounds, you're only a hop, skip, and a jump from all that elven goodness that Big Sur is bursting with.
Amble along the Buzzard's Roost Trail for an up-close look at towering coastal redwoods, elusive river salamanders, sunny Sycamore Canyon, and those famous panoramic ocean views.
Reserve Now
Related Read: 14 Epic Campgrounds Near Los Angeles, California
8. Ventana Campground
Why you should camp here: A lush grove of enormous redwood trees frames this central, tent-only campground.
Reservations accepted: Yes
Best season: Spring, summer, fall
Campsite type: Tents, car camping, glamping
RV hookups: None
Escape the buzz of RVs at this divine 40-acre site situated in the middle of a redwood canyon.
Only small camper vans, passenger vehicles, and tent campers are allowed here, giving it that bohemian feeling of yesteryear's Big Sur.
60 rustic campsites with picnic tables and fire rings are dappled along the edge of Post Creek, which runs trough the grounds.
Three modern bath houses are scattered around as well, with toilets and shower facilities.
If you're seeking a more refined nature experience, Ventana Campground hosts some of the loveliest, high-end glamping in Big Sur, with 15 safari-style canvas tents tucked into a redwood grove.
This section of Big Sur is ripe with opportunities to explore and worth spending a few days in.
The Henry Miller Library and Pfeiffer Beach are only a mile away, the Post Creek and Coast Ridge Trails are a short walk from the campground, and The Sur House restaurant is a fit-for-foodie haven next door at the elegant Ventana Big Sur Resort.
Reserve Now
Related Read: 14 Unforgettable Hikes in Northern California
9. Big Sur Campground and Cabins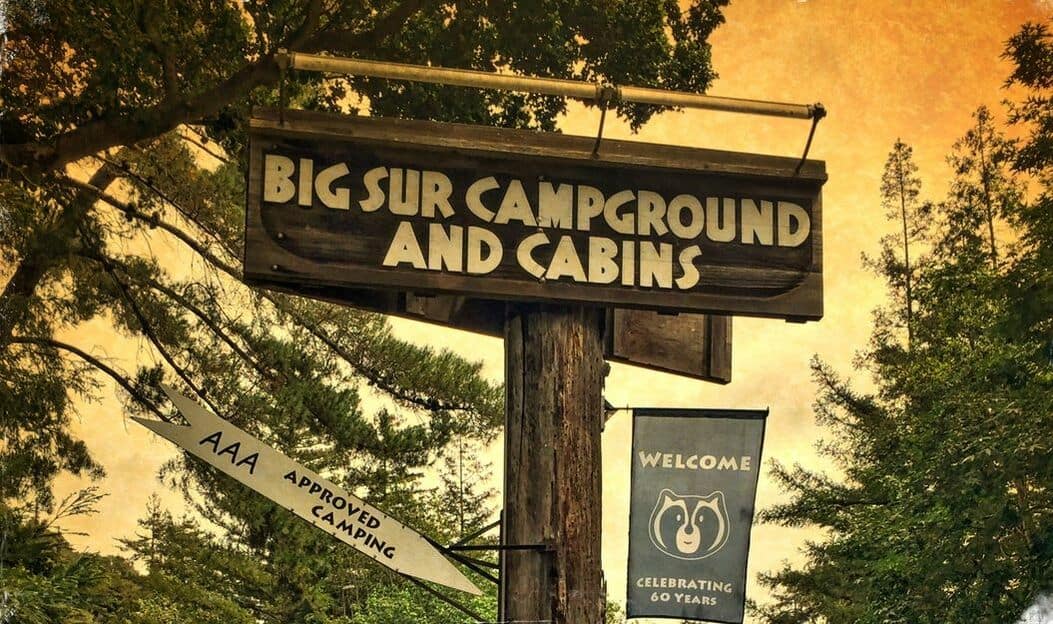 Why you should camp here: Dating back to 1953, this woodsy, vintage campground is full of charm and tucked into a forest utopia.
Reservations accepted: Yes
Best season: Spring, summer, fall
Campsite type: Tents, car camping, cabins, RVs
RV hookups: Full
The family-friendly Big Sur Campground is locally run and brimming with quaint details like basketball, volleyball, and a great little playground for kids.
They pride themselves on strict quiet hours from 10pm to 8am, making this a great place to stay if you've got little ones and value your precious shut-eye.
Rent an inner tube and swim in the river on warm summer days, tell spooky stories around the campfire, and enjoy a plethora of great hiking just a quick drive down Highway 1.
Though the facilities are rustic, each campsite comes well equipped with a fire ring and picnic table, plus easy access to two different bathroom areas.
"Camping cabins" dot the area for explorers who want a few homey comforts on a budget, while wood-paneled cabins with heat, bathrooms, and kitchens are also available.
A small camp store is onsite and ready to sell you all the snacks, groceries, and camping supplies you may have left at home.
Reserve Now
Related Read: The 20 Best Places to Camp in Southern California
10. Treebones Resort
Why you should camp here: Dripping with bohemian strangeness and quirky features, Treebones Resort is a refined, modern take on the folksy Big Sur of the 60s.
Reservations accepted: Yes
Best season: Spring, summer, fall
Campsite type: Tents, glamping yurts
RV hookups: None
Treebones Resort is one of those freaky, fabulous Big Sur spots that doesn't feel like it should exist, and yet you're so glad it does.
This yurt-filled haven for glampers offers a tranquil massage studio, frequent yoga classes, and two of the best restaurants in the area: Wild Coast Restaurant and The Sushi Bar.
Walk-in tent sites with picnic tables are available for those wanting a more primitive camping experience, and they all feature incredible views of the Pacific coast and come with use of the resort facilities and self-serve breakfast.
The real attraction here is the gaggle of yurts perched high on a hilltop overlooking the deep sapphire waves of the ocean. You won't find a better sunset in town.
Though a bit pricey, these yurt cabins are full of the quirky bohemian spirit that make Big Sur great.
Adorned with thoughtful accents like gear hooks, redwood decks, cozy comforters, and colorful quilts, each round cabin will quickly feel like your home away from home.
Yurts not weird enough for you? Treebones also offers a few more experimental campsites.
There's a twig hut fit for a hobbit family, as well as a human-sized bird nest with a mattress for star gazing.
Reserve Now
Related read: 7 Dreamy Glamping Spots in Big Sur, California
Explore More in California
Get epic travel ideas delivered to your inbox with Weekend Wanderer, our newsletter inspiring more than 10,000 readers every week.
---