We research, evaluate and select travel destinations based on a number of factors, including our writers' experience and expertise, user reviews and more. We may earn a commission when you book or purchase through our links. See our editorial policy to learn more.
---
San Jose has a secret. The city is known as the heart of Silicon Valley, but it's also home to some of the best hikes in the entire Bay Area.
That's right! Though tech giants like eBay and IBM steal the city's spotlight, the South Bay marshes and surrounding hills are home to many spectacular trails.
City-dwellers need to escape the fast-paced hustle and bustle of the workweek every once in a while, and Silicon Valley programmers are no exception. What better respite than a trek on a local trail?
Miles upon miles of trails lie in wait just a short drive from downtown San Jose. Wildlife sanctuaries, open space preserves, and state parks adorn the city's surrounding landscapes.
Easy walks and gentle jogs along the South Bay's shoreline serve as great brain breaks in the middle of the workday. Longer weekend hikes into the Bay Area's cradling hillscapes can revitalize both body and mind with their natural settings and stellar views.
We've laid out the best hikes near San Jose below. The mild Bay Area climate keeps these hiking locations accessible year-round, and many act as starting points for delving into large wilderness areas with longer trails to explore.
Related Read: 7 Awesome Weekend Road Trips from San Francisco, California
1. Almaden Lake Loop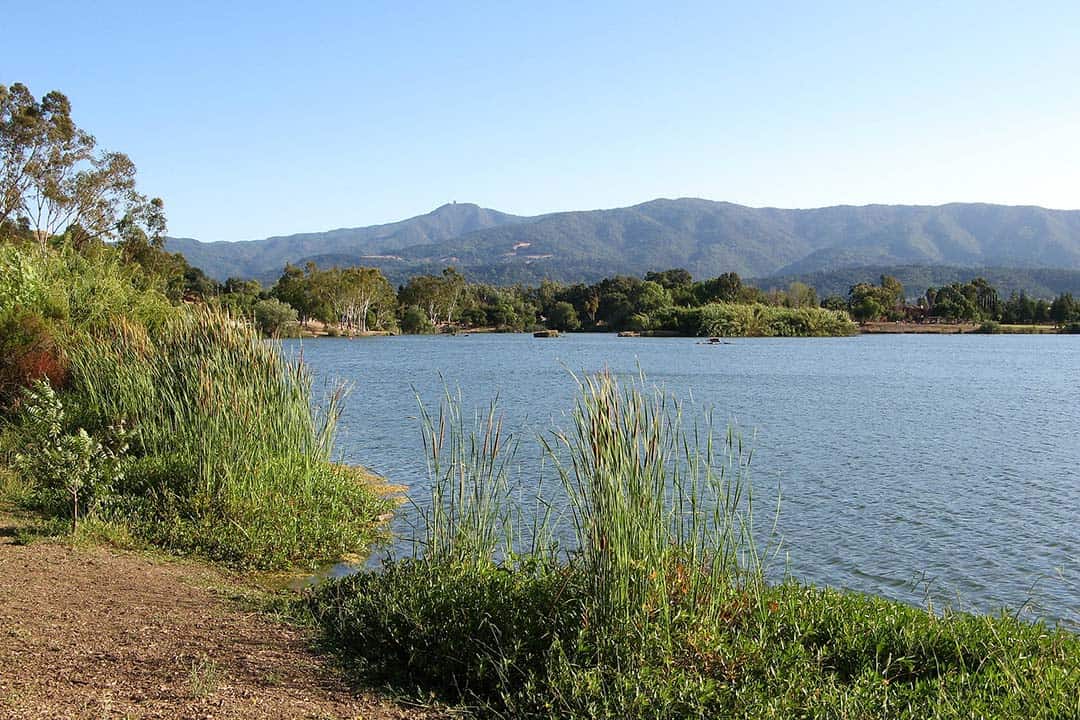 Why you should go: This paved trail is accessible to everyone and has an abundance of wildlife to see.
Distance: 1.3 miles
Elevation Gain: 36 feet
Difficulty: Easy
A simple walk around a peaceful lake can, at times, be the most soothing activity in the world. If that's what you're in the mood for today, a jaunt on the Almaden Lake Loop will do you good.
This fully-paved path features a newly-constructed bridge over Los Alamitos Creek that completes the loop. Visitors will likely spot plenty of waterfowl and other lake-loving creatures.
The west side of this park is a Wildlife Sanctuary which is great for bird watching, but it also means that you'll have to leave your dog at home. There is also a beach to relax on during warm, sunny days.
Related Read: 13 Best Airbnb Rentals in San Jose, California
2. Alviso Slough Trail
Why you should go: Walk miles out into the bay waters on this raised path outside of Silicon Valley.
Distance: 9 miles
Elevation Gain: 72 feet
Difficulty: Easy
A long, flat walk with endless scenery, the Alviso Slough Trail in Alviso Marina County Park is a peaceful getaway that's only minutes from downtown San Jose and all of Silicon Valley.
Packed dirt rises above the shallow waters of the South Bay where an array of wildlife calls home. You'll walk for miles on top of the water. While there is no shade, the consistent, cool bay breeze provides sweet heat relief.
Area residents adore this trail for its close proximity to Silicon Valley's skyscrapers. Whether you walk, jog, or bike, this trek makes for an excellent lunchtime or end-of-the-workday outdoor workout that's away from the noise of the city.
Related Read: 14 Unforgettable Hikes in Northern California
3. Eagle Rock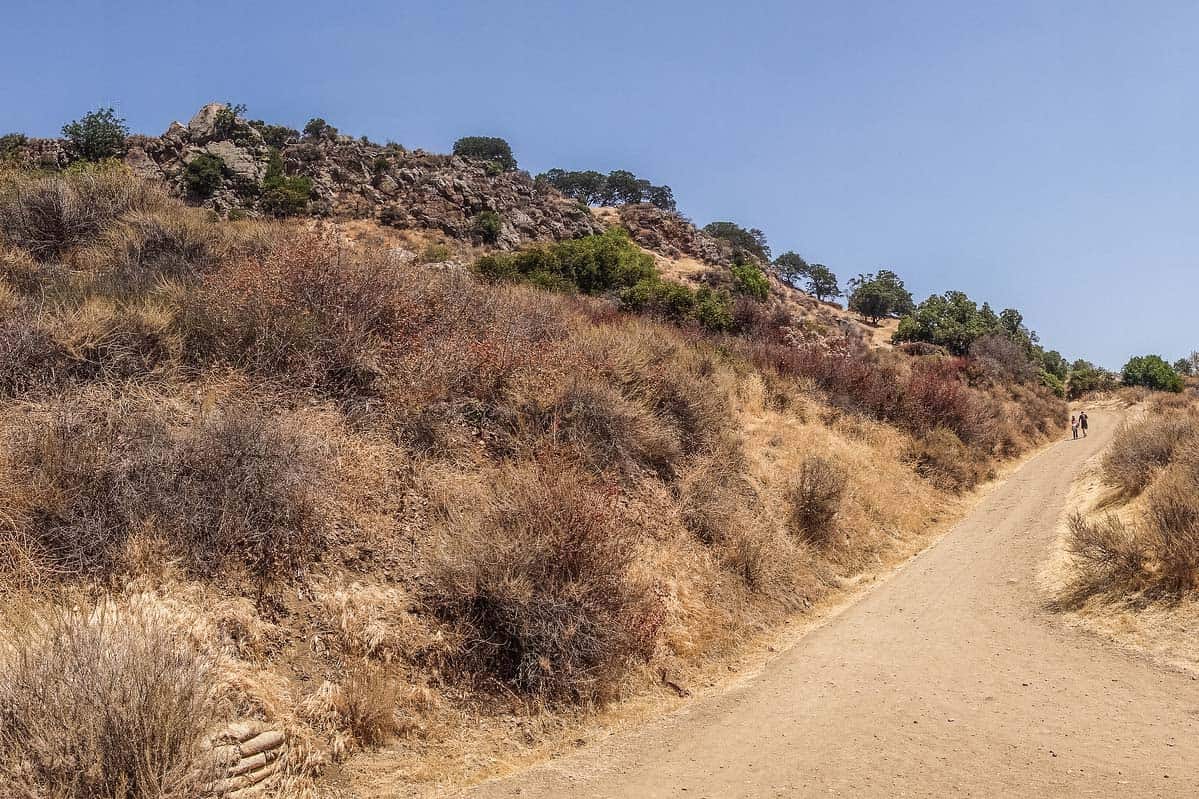 Why you should go: Enjoy one of the least-challenging hikes up to high elevation views of the Bay Area.
Distance: 3.3 miles
Elevation Gain: 177 feet
Difficulty: Easy
The popular Eagle Rock hike is well-regarded for its impeccably maintained trails and stunning Bay Area views. This trail may appear intimidating at first glance from the parking lot, but it is easier than it looks.
The wide, swooping North Rim Trail leaves from the Eagle Rock parking area and slowly works its way uphill toward the ridge. Passing by creeks, swaths of forest, thick understory, and interesting rock protrusions, you'll be well intrigued on your journey toward the peak.
At the top of the hike, Eagle Rock provides a wealth of different viewpoints among the many large rocks. Find your own spot away from the crowd and soak in the sweeping views before you.
Related Read: The 11 Best Day Trips from San Francisco, California
4. Bayview Loop at Coyote Hills Regional Park
Why you should go: Explore the bay as it originally was before modern civilization paved over it.
Distance: 4.9 miles
Elevation Gain: 337 feet
Difficulty: Easy
A quaint little gem that doesn't see a ton of foot traffic, Coyote Hills Regional Park is an awesome marshland experience.
The Bayview Loop traverses most of the park. There is a ton of wildlife to see here as it is one of the last wetland refuges amidst the urban sprawl that is the Bay Area. The inland marsh is home to a plethora of bird species, everything from migrating waterfowl to colorful orioles and hovering kites.
Channels of water runoff hide large carp which look like creepy bog slugs when they breach the water's surface, and many types of rodents call the marsh grass home.
Over the hills on the Bayview Trail, you'll find ducks, geese and much more swimming in the shallow waters of the south end of the San Francisco Bay.
Related Read: 9 Adventurous Things to Do in Yosemite National Park, California
5. Penitencia Creek Trail
Why you should go: Walk creekside through a suburban neighborhood on paved pathways.
Distance: 3.5 miles
Elevation Gain: 262 feet
Difficulty: Easy
A serene, meandering walk along the Penitencia Creek, this trail will make for a lovely stroll with the kids and grandparents. The gently-graded trail is paved for most of its route and provides many opportunities for bird watching and bench sitting.
Visitors will hike along the creek, around a few percolation ponds which teem with wildlife, and past the Wildlife Center of Silicon Valley in Berryessa Park.
This suburban trek is a convenient way to get outside without having to travel far from the main thoroughfares of the South Bay.
Related Read: The 12 Best Camping Spots Near San Francisco, California
6. Quicksilver Loop
Why you should go: Quintessential California hiking landscape with views of the Guadalupe Reservoir.
Distance: 4.5 miles
Elevation Gain: 728 feet
Difficulty: Moderate
An abundance of rolling hills defines the landscape of Almaden Quicksilver County Park. This somewhat technical and occasionally challenging trail rewards hikers with unobstructed views of the expansive pastures and Guadalupe Reservoir.
Though arid conditions result in brown grasslands and dusty trails for most of the year, don't let that disparage your intent to hike this trail. This is California, after all. You'll find plenty of wildlife amid the low grass including ground squirrels, snakes, and tarantulas.
Most people prefer to travel this loop in a counter-clockwise fashion, especially during the heat of the summer. This direction will have you traverse the exposed, unshaded section of the trail first, followed by the cooler portions near the reservoir which have some shaded stretches of trail.
Related Read: 9 of the Best Airbnbs Near Monterey, California
7. Santa Teresa County Park Loop
Why you should go: A trail with a variety of terrain and vistas of San Jose and the neighboring valleys.
Distance: 8.3 miles
Elevation Gain: 1,768 feet
Difficulty: Moderate
Rising above southern San Jose in the Santa Teresa Hills, the highlights of this county park are the upland prairies which provide excellent views of downtown San Jose as well as the Almaden and Santa Clara Valleys.
Find seclusion high on the hills where few people decide to roam among the grazing cattle. Down low near the parking area, the trail passes by the historic Bernal-Gulnac-Joice Ranch and the lovely Santa Teresa Spring which is among the largest springs in all of the Bay Area.
The diversity of terrain and views makes this an interesting hike across its entire length.
Related Read: 16 Spectacular Northern California Camping Spots
8. Sierra Vista Boccardo Loop
Why you should go: You don't mind hiking alongside and sharing views with a friendly cow or two.
Distance: 3.9 miles
Elevation Gain: 987 feet
Difficulty: Moderate
Over 1,600 acres of undulating pastures fill the landscape of the Sierra Vista Open Space Preserve. Sitting atop the deep canyons and rocky outcroppings of Alum Rock Park, this open space hosts sweeping views of the Bay Area and herds of grazing cattle.
The wide-open, dirt road-like trails of the Sierra Vista Boccardo Loop are easy to follow, even after dozens of cows trample through and form their own paths.
Hiking the loop can be a sweaty affair on hot days due to the rolling hills and lack of shade. The absence of tree cover does leave hikers exposed to the elements, but it also sets the stage for some grand, unobstructed views.
Related Read: The Ultimate Los Angeles to San Francisco Road Trip
9. Sequoia Trail
Why you should go: Walk under ancient giants toward a whispering waterfall on a well-maintained path.
Distance: 4.3 miles
Elevation Gain: 603 feet
Difficulty: Moderate
Located in the heart of Big Basin Redwoods State Park, the Sequoia Trail is a trek underneath some of the tallest trees on Earth and features a lovely waterfall.
This is one of many awe-inspiring trails to choose from in the park, all of which showcase the enormous redwood and sequoia trees visitors come from around the world to see.
The Sequoia Trail is on the lighter side of moderate difficulty, making it one of the easier trails in the park. It also features numerous benches and restrooms along its length.
Related Read: 7 Gorgeous Spots to See Fall Colors in California
10. Berry Creek Falls Loop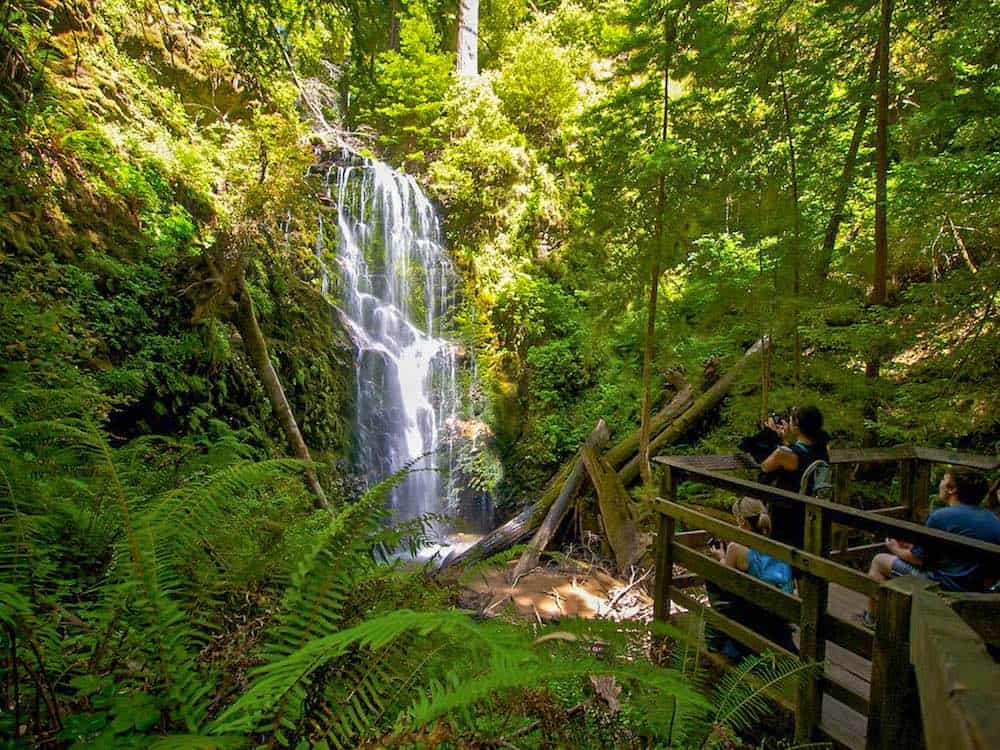 Why you should go: Redwoods and sequoias and waterfalls, oh my!
Distance: 10.2 miles
Elevation Gain: 2,335 feet
Difficulty: Moderate
Numerous redwood groves and breathtaking waterfalls grace this long trek. The length may be too difficult for some people to endure, but the overall difficulty of this trail is moderate as it is well-traveled and gently graded.
Those who undertake the journey will find many beautiful, Instagram-worthy photo opportunities. Berry Creek Falls is an absolute wonder of a waterfall, and the other lesser-known falls along the trail are nearly as beautiful.
This trail is well-shaded and the waterfalls provide coolings mists, making this an incredible respite from the hot California sun. Though a popular trail, the length of Berry Creek Falls Loop keeps the path from feeling crowded.
Related Read: Surf's Up! 10 Great Airbnbs in Santa Cruz, California
11. Black Mountain via Rhus Ridge
Why you should go: Climb high above the heart of Silicon Valley.
Distance: 9.2 miles
Elevation Gain: 2,506 feet
Difficulty: Moderate
Escape the workday grind of Silicon Valley by taking a hike to Black Mountain's peak. At the height of the trail, you'll be standing miles above the campuses of tech giants like Apple and Google.
On crystal clear days you'll be able to look down on far more than Silicon Valley. San Jose and San Francisco come into full view from the peak when conditions are right. There's a certain type of calm that washes over you when you get to look down at the busy cities from these scarcely populated heights.
The workout that this hike provides combines with a serenity brought on by the sky-high views, supplanting your inner anxieties with newfound confidence.
From up above, it's easy to see how small the rest of the world is. The feeling is awe-inspiring.
Related Read: The 10 Best Hikes in Redwood National Park, California
12. Seven Springs Loop Trail
Why you should go: Diverse hillside landscapes and rural estates make this an interesting hike that's flush with eye-candy.
Distance: 2.6 miles
Elevation Gain: 561 feet
Difficulty: Moderate
The Seven Springs Loop Trail passes through a variety of terrains and ecosystems as it winds around elaborate estates and small wineries.
From rolling hills to grass-filled pastures and dense coniferous forests, there's quite a lot to see along the trail. Wild turkeys abound, and you're likely to spot some deer or snakes during your hike as well.
This trail is located within the Fremont Older Preserve, a section of land that is woven between large swaths of private property. You'll pass near a number of exquisite hillside homes and catch some awesome views of the East Bay below.
Related Read: 9 Soak-Worthy Hot Springs in California
13. Mission Peak
Why you should go: Hike hard toward one of the best views in the entire Bay Area.
Distance: 5.8 miles
Elevation Gain: 2135 feet
Difficulty: Challenging
One of the most popular hikes in the area, and also one of the most difficult, the trudge up to Mission Peak is a steep ascent that rewards stubborn hikers with what may be the best view of the San Francisco Bay.
As seen from San Jose and its surrounding towns, Mission Peak rises above everything else in the East Bay. A perpetual train of hikers can be spotted, looking like a line of marching ants, scaling the mountain's steep switchbacks on a daily basis.
This hike isn't about the journey, but about the destination. The 360-degree sights are world-class. To the west, the entire Bay Area and its 10 million residents lie below. To the east, the Ohlone Wilderness appears vast, wild, and empty.
For those who want a less steep ascent, park at nearby Ohlone College where a different trail climbs to the peak from its northern flank. This route is a couple of miles longer, but it is far less traveled and easier on the knees.
Related Read: 11 Epic Winter Camping Spots in California
14. New Almaden Trail
Why you should go: Wind through densely-forested hills that will leave you feeling far removed from the city.
Distance: 13.5 miles
Elevation Gain: 2,043 feet
Difficulty: Challenging
Your search for a South Bay forested escape has come to an end. The New Almaden Trail winds through a dense forest comprised primarily of oak and alder as it climbs its way to the heights of Almaden Quicksilver County Park.
The route is graced on occasion by interpretive signage highlighting the historic mining operations which once took place in these hills, but the vast majority of the trek serves to remove you from civilization as you delve deeper into the forest.
You'll cross over a number of flowing streams, many with the aid of short footbridges until you climb to where the terrain becomes more rugged and the ascent steepens. Fantastic Bay Area views and more trail options are your rewards for reaching the top of this hike. Solitude, too, will likely be found.
Related read: 7 Adventurous Islands to Explore in California
Hike More in California
Get epic travel ideas delivered to your inbox with Weekend Wanderer, our newsletter inspiring more than 10,000 readers every week.
---