We research, evaluate and select travel destinations based on a number of factors, including our writers' experience and expertise, user reviews and more. We may earn a commission when you book or purchase through our links. See our editorial policy to learn more.
---
As one of the only alpine communities in sunny Southern California, Big Bear has become famous for its winter ski slopes and summertime hiking trails, all just a few hours from Los Angeles.
Because it's so close to LA, Big Bear is many people's go-to hub for when they need an escape from the city, and in recent years, the vacation rental scene in this small town has boomed, offering mountain lovers of all sorts hundreds of options for a little R&R in the crisp mountain air.
Whether you're hoping for an Instagram-worthy mid-century marvel or a budget-friendly log cabin that'll fit the whole family, we've narrowed down the competition to our top picks on the biggest online vacation rental sites. So, grab that fishing pole, lace up your hiking shoes, and check the tire chain restrictions, because the mountains are calling, and this list will make you want to go!
1. Newly Remodeled Honeycomb Cabin
Sleeps: 6
Minimum stay: 2 nights
Rates from: $150/night
We were floored by the price of this two-bedroom honeycomb charmer that's fully stocked with kitchen essentials (yes, there's even a Belgian waffle maker), covered parking, and plenty of board games and streaming services on the flatscreen for cozy nights indoors when the weather outside is frightful. Located within walking distance from Big Bear Snow Play, this cozy chalet also boasts plentiful outdoor seating for summertime al fresco dining.
Hoping to hit the slopes? The Honeycomb Cabin is a mere three-mile drive to both Snow Summit and Big Bear Mountain. More of a lace-up-your-boots hiker type? Loads of national forest hiking trails are just a five-minute drive away.
Check Availability
Related Read: The 11 Best Hikes Near Big Bear Lake, California
2. Balsam Bungalow with Hot Tub
Sleeps: 4
Minimum stay: 1 night
Rates from: $274/night
It can be difficult to find a vacation home for your crew that checks all the boxes, but Balsam Bungalow, with its woodsy mountain views, bubbling hot tub, cozy fireplace, massive deck, and close proximity to skiing, is sure to impress even the choosiest in your group.
With Big Bear skiing and snowboarding less than a mile away and plenty of hiking trails a brief 2-block jaunt from the property, there's no shortage of things to do here. After sunset, fix up a feast on the home's gas-powered grill and kick back on the chic, mid-century furnishings before hitting the hay.
Check Availability
Related Read: 12 Unique Places to Stay in California for an Epic Escape
3. Large Log Cabin in Moonridge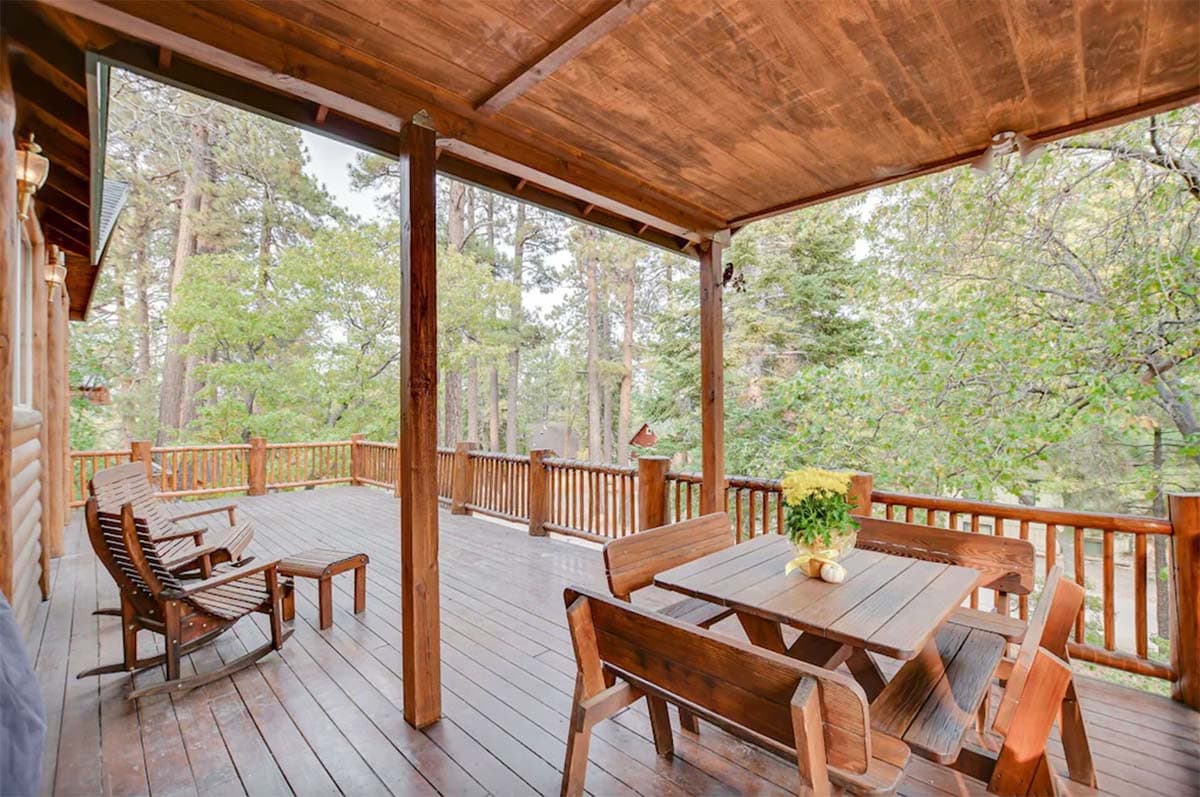 Sleeps: 9
Minimum stay: 2 nights
Rates from: $281/night
Travelers will be hard-pressed to find a cooler cabin with space for the entire family to spread out. This split log cabin in Big Bear's Moonridge neighborhood provides all that and more. A large wooden deck with an outdoor seating area beckons for summertime soirees, while inside, a huge, eat-in kitchen leads to an open-plan living room with a flat-screen and fireplace for snuggly winter sojourns.
Not only does this chalet boast two full bathrooms and one half-bath (a rarity in the area – most homes have just one), but its three spacious bedrooms are also thoughtfully laid out, with a king in the master, a queen in the guest room, and a kids room with two sets of large bunk beds.
Check Availability
Related Read: 11 Places that Get Snow in California to Fuel Your Winter Wanderlust
4. A-Frame Cabin near Ski Slopes
Sleeps: 4
Minimum stay: 2 nights
Rates from: $251
A-frames are all the rage this season, and we fell in love with this luxuriously appointed one-bedroom stunner that's situated just a few minutes downhill from the ski slopes that make Big Bear such a popular winter destination. The décor is elegant, yet hip (think antler chandeliers, dried flowers, a wood-burning stove, and Edison bulbs in the bathrooms), and up to four guests can sprawl out between the queen bed and sofa bed.
When you're not soaking up the phenomenal sunset views from the private deck, you're sure to be kicking back in the outdoor jacuzzi (perfect for any season) or enjoying the fit-for-a-chef kitchen.
Check Availability
5. Chic, Newly Renovated Cabin with Views
Sleeps: 2
Minimum stay: 2 nights
Rates from: $94/night
If you're seeking a well-priced modern couple's retreat in Big Bear's wooded wonderland, look no further. This newly renovated one-bedroom is chock-full of hip textiles, comfy sitting areas, and a full kitchen, perfect for unplugging and unwinding in the mountains.
Inside, visitors will find a lovely brick fireplace to set the mood, and a washer and dryer that make longer stays a breeze. Outside, there's loads to do too (excuse the pun), as the cabin is nestled a short eight-minute drive from Snow Summit, a five-minute drive from gorgeous hiking trails, and a ten-minute drive from the adorable shops and tasty restaurants of Big Bear Village.
Check Availability
Related Read: 11 Best Airbnb Rentals in Big Bear Lake, California
6. Lakefront Home on Metcalf Bay
Sleeps: 7
Minimum stay: 2 nights
Rates from: $550/night
Part of the fun of a Big Bear getaway is enjoying panoramic lakefront views you won't find anywhere else in SoCal. This luxe three-bedroom, two-bathroom home is set right on the shoreline of Big Bear Lake, perfect for water lovers of all ages to reap the fabulous benefits of its prime location.
Go for a swim at the property's private beach, use the grill and dine outdoors, lounge with a cocktail in the private hot tub, or take in unparalleled sunset views around the outdoor fire pit. Inside, guests will find clean, modern furniture adorned with just a hint of woodsy flair. Comfy mattresses, plentiful seating nooks, and a cobblestone-lined fireplace will have you feeling right at home.
Check Availability
7. Stōkhaus – Retro Retreat
Sleeps: 4
Minimum stay: 2 nights
Rates from: $285/night
This season, step inside the Stōkhaus, bruh. It's loaded with all the fab 60s wood paneling and décor your little mountain-loving heart most desires, with modern amenities to match. Inspired by the property's picture-perfect vintage red Swedish fireplace, this cabin rental offers guests two groovy queen beds, a full kitchen, a shady porch, and two fireplaces (one wood-burning, one electric).
Not only is this rental pet-friendly (there's a $40 pet fee), but the kitchen is thoughtfully stocked with all the plates, flatware, and pots you might need, and the living area is decked out with a 4K Roku HDTV and tons of board games for when you're not shredding it on the slopes. Outside, you'll find two shady hammocks for summertime reading and lounging.
Check Availability
Related Read: 8 Epic Weekend Road Trips from Los Angeles, California
8. Sunny, Two-Bedroom Forest Cottage
Sleeps: 5
Minimum stay: 1 night
Rates from: $234/night
Located right between Big Bear Mountain and Snow Summit, this light-filled two-bedroom is full of all the comforts of home, set amidst the towering pines and mountain vistas you'd expect from the quaint village of Big Bear. Plus, it's hosted by Big Bear Vacations, so you're sure to get hotel-caliber service at this vacation rental.
Outside, a two-car driveway with EV charging greets visitors upon arrival, and a hot tub and rocking chairs beckon guests to bask in the sunshine. Inside, a modern living room with woodsy cabin accents (think black bear motifs and chic pops of plaid) opens into a spacious dining room and full kitchen. When it's time to catch some Z's, spread out on a large king bed, two double beds, and a pull-out sofa bed.
Check Availability
Related Read: 9 Best Cabin Rentals Near Los Angeles for a Secluded Getaway
9. Decked-Out Mountain Modern Cabin
Sleeps: 5
Minimum stay: 2 nights
Rates from: $269/night
When a listing makes it onto Airbnb Plus, we pay attention, and this uber-chic chalet in the heart of Big Bear Lake is full of the thoughtful details and high-end design we've come to expect from these cherry-picked properties. Mid-century furniture blends perfectly with exposed wood beams and unique, mountain-inspired artwork to create an epic escape for couples and families alike.
Some of our favorite amenities at this mountain haven are the Smart TV, dine-in kitchen with espresso machine, and air conditioning (for those balmy summer afternoons), though we wouldn't shake a stick at the slick outdoor dining area and gas-powered grill, either.
Check Availability
Related Read: The Most Scenic Los Angeles to Yosemite Road Trip Itinerary
Things to Do in Big Bear Lake, California
Now that your accommodation has been squared away, it's time to plan your trip to Big Bear Lake.
Big Bear Lake's natural location makes it a true outdoor haven. Visitors enjoy everything from snow sports to hiking and biking adventures, days on the lake, and more.
Here's a rundown of the top ten best things to do and places to visit in Big Bear Lake.
Explore More
Sign up for Weekend Wanderer to join thousands of readers getting epic travel ideas every week.
---