We research, evaluate and select travel destinations based on a number of factors, including our writers' experience and expertise, user reviews and more. We may earn a commission when you book or purchase through our links. See our editorial policy to learn more.
Was this article helpful?
---
With its spellbinding coastal views and funky bohemian history, it's impossible not to be charmed by the woodsy quirks and forested mountains of Big Sur.
Originally called "el pais grande del sur" (the big country to the south) by Spanish settlers from Monterrey, Big Sur has managed to maintain its remote wildness in the modern era. The scenic stretch of California's central coast hosts a labyrinth of trails full of mossy boulders, enormous redwood groves, and rocky coastline.
There's one main road that cuts through the town of Big Sur proper: California's famous coastal Highway 1. It's a winding, 569-mile cliffside ride down almost the entirety of the California coast, though most tourists opt to only drive the section between Malibu and Monterey. Best to take your time on this legendary highway and enjoy the sweeping views of cerulean blue waves crashing against the beach.
Once you've arrived in Big Sur, it's worth checking in at one of the ranger stations to see if any trails or roads are closed. Frequently (especially in winter months) rain can cause huge landslides and downed trees that block off popular areas like Sykes Hot Springs, which has been closed for years now.
Due to its rugged remoteness, there are a few things that may surprise you about Big Sur. Namely, the fact that there's no cell service for miles. Come prepared with downloaded offline maps, print-outs, or purchased paper maps if you're going to be exploring the trails.
Also, poison oak is rampant in the Big Sur area. You'll often see the terraforming plant popping up near streams or recent burn zones, reclaiming soil that was once in motion.
Lastly, ticks are a common sight in wilderness areas, so check yourself or get cozy with a friend before going to bed each night.
For tips on backpacking or car camping in Big Sur, check out these articles:
Big Sur's Best Hiking Trails
From epic day hikes through the trees to backpacking trips full of panoramic vistas, there's no shortage of amazing trails to explore along California's most secluded stretch of coast. Here's a list of our favorite local hikes, ranging from a quick-and-easy afternoon jaunts to extended trails that make for a fantastic overnighter.
1. McWay Waterfall Trail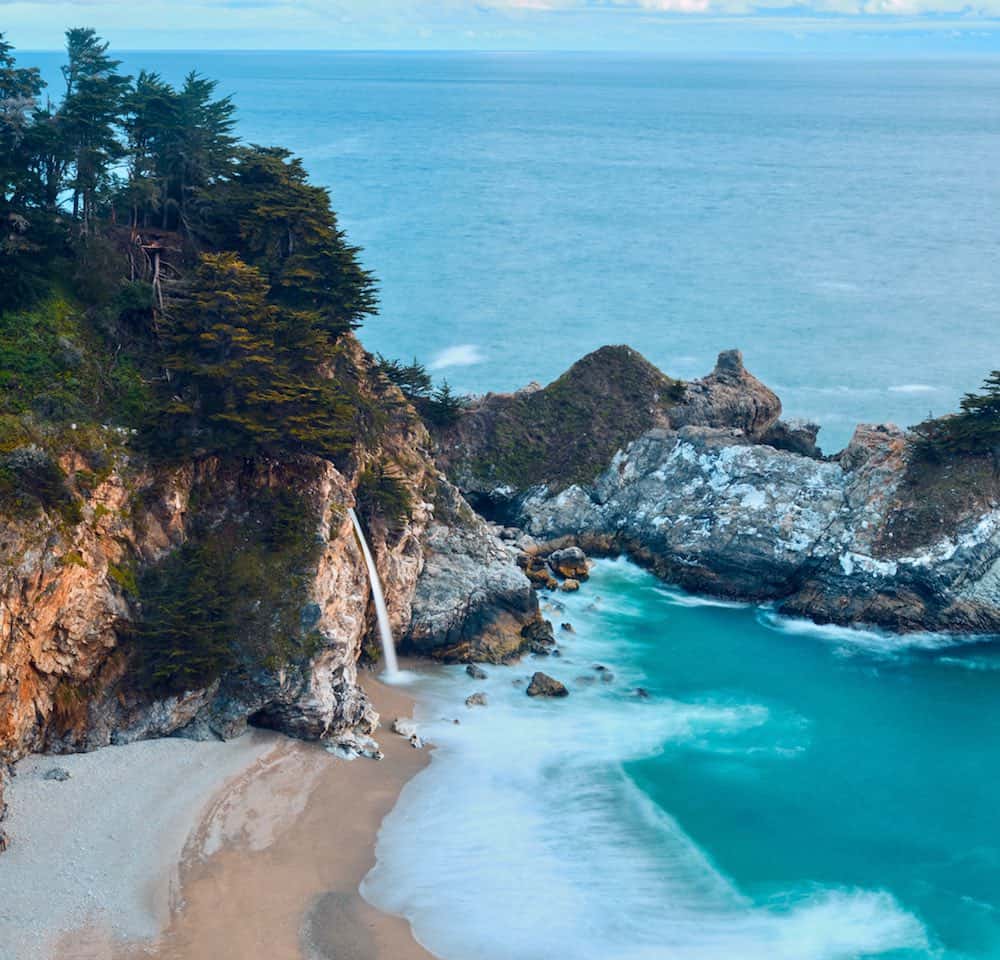 Why you should go: Perhaps the most iconic viewpoint in all of Big Sur, this easy, family-friendly stroll offers the best look at McWay Falls.
Distance: 1.1 miles
Elevation Gain: 50 feet
Difficulty: Easy
It's likely the first image you saw when you began Googling images of Big Sur's stunning coastline — that delicate trickle of McWay Falls, framed by jagged cliffs, a sandy cove, and aquamarine waves. If you're just passing through and want an easy roadside stop, this is the one "must see" path in the whole area.
Pay to park at Julia Pfeiffer Burns State Park (they'll let you come in for free if you've visited another state park the same day), then look for a sign marking the Overlook/Waterfall Trail. You'll hike down a few wooden steps, under the freeway, and then amble along an easy path with several great spots to turn out and look at the falls. Keep walking a few hundred feet, and you'll come to the ruins of the historic Waterfall House.
When you've had enough, simply hike back the way you came. If you'd like to extend the hike, consider a side trek to the Pelton Wheel House or the more southern vantage point of McWay Falls.
Related read: 7 Dreamy Glamping Spots in Big Sur, California
2. Tanbark Trail and Tin House Loop
Why you should go: Get your moss on and marvel at a multitude of redwoods on this longer loop that also passes by a historic house.
Distance: 5.9 miles
Elevation Gain: 1,600 feet
Difficulty: Moderate
Want an all-day hike full of deep green forests, fuzzy redwood trees, coastal views, and Big Sur history? Look no further than the Tanbark Trail loop.
Beginning just across the street from the parking area for Partington Cove (another noteworthy excursion), the Tanbark Trail is well-signed and a great workout for hikers who want to push bigger miles than the shorter trails down south.
Almost immediately, hikers here will be transported to a wooded wonderland as they parallel the south fork of Partington Creek. You can listen to the gentle babbling sounds of the water and allow all city noise to melt away.
Nearly a mile into the trek, you'll come face to face with the sign for the McLaughlin Grove of redwoods, a massive group of spiral-bark trees that shoot straight up into the sky.
Around three miles from the trailhead, hikers will take a left onto a fire road and pass the Tin House, a relic from 1944 that was built by Lathrop Brown, the same man who built the house near McWay Falls. Turn around and head back down the fire road towards Highway 1, finally descending through the trees for some incredible views of the California coast.
When you're finished soaking in the views, hike back along the trail on the west side of the freeway to your vehicle.
More Information: Redwood Hikes
3. Ewoldsen Trail
Why you should go: This trail is the equivalent of a Big Sur "greatest hits" album, teeming with redwoods, old growth forest, and phenomenal ocean and canyon views.
Distance: 5.5 miles
Elevation Gain: 1,550 feet
Difficulty: Moderate
After you've taken a peek at the most famous waterfall in all the land, McWay Falls, hop back under the freeway into Julia Pfeiffer Burns State Park and get ready to explore a more rugged and "real" trail that passes through the spectacular and varied ecosystems that help make Big Sur so unique.
The Ewoldsen Trail begins by winding along the mellow flow of McWay Creek through a verdant, old growth forest. Opt to take a 0.1 mile side trek to check out Canyon Falls, if waterfalls are your thing. Then, get ready to climb up, up, up, crossing the creek about a mile and a half in.
Due to a series of wildfires in 2008, there may be some rough areas of trail or downed trees. Stay vigilant and try your best to avoid poison oak – it's all part of the adventure!
The trail opens up considerably around two miles in, blessing hikers with panoramic ocean views as the terrain shifts from forest to chaparral. Reapply your sunscreen and enjoy the California poppies and lupine flowers as you amble across the hills.
Jump onto the Lookout Trail at the top of the ridge, sit on the bench, have a snack, and take it all in before heading back downhill the way you came.
Pro tip: Be sure to call the ranger station to check on trail closures and current conditions before attempting this hike.
More Information: Hiking in Big Sur
4. Andrew Molera Loop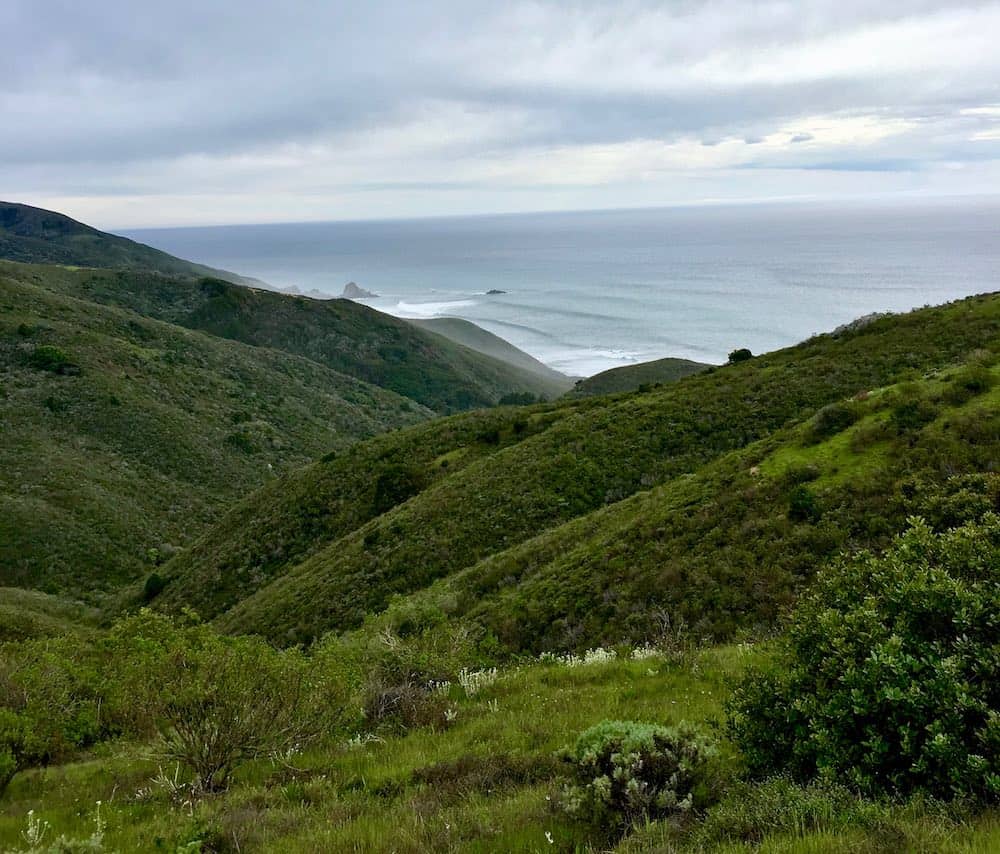 Why you should go: Enjoy remote beaches and big views of Point Sur with its coastal bluffs on this all-day hike set in the middle of Big Sur.
Distance: 8.8 miles
Elevation Gain: 1,100 feet
Difficulty: Moderate
Start the Andrew Molera Loop by crossing the Big Sur River on the seasonal bridge. Come prepared to get your feet wet if the bridge isn't available.
After crossing the bridge, turn left along the River Trail and enjoy a walk along the bank. Veer right almost immediately onto the Creamery Meadow Trail, following it to a secluded beach. When you've had enough sand, head south along the Bluffs Trail, climbing up and into the hills.
From here, the trek passes through enchanting meadows and lush hillsides as you ascend towards live oaks and a few, smaller redwood trees higher up.
Have your camera ready for fantastic views of Point Sur as you romp up and down a set of switchbacks along the coast. Edge onto the Panorama Trail and take a selfie and a lunch break at the wooden lookout bench at the very top.
Complete the loop by heading down the Ridge Trail, enjoying the uniquely Californian chaparral and stellar views of the Santa Lucia Mountains.
More Information: Hiking in Big Sur
5. Vicente Flat Trail
Why you should go: This leg-busting hike delivers great views and giant redwoods, and it's a fantastic backpacking adventure if you have the time to make it an overnighter.
Distance: 10.1 miles
Elevation Gain: 3,308 feet
Difficulty: Challenging
Due to camping restrictions in many of the state parks, finding a good backpacking trail in Big Sur can be quite the chore. Fortunately, the Vicente Flat Trail across from Kirk Creek Campground is easily the best in town.
Carefully park your vehicle along the highway, borrow the pit toilets at the campground, and get ready to gain some serious altitude.
The Vicente Flat Trail starts climbing immediately and doesn't quit until it's gained 3,000 feet in just 3.5 miles.
The good news is that the views are incredible the whole way up because of the climb. Gaze down at the aquamarine surf as you make your way up a series of switchbacks that climb through California poppies, lupines, blackberries, and western columbines.
Around the three-mile mark, the trail takes an abrupt turn inland, heading towards an ancient grove of old growth redwood trees.
If you've had enough hiking for the day, you could set up camp at mile 3.25 (Espinosa Camp). We recommend going the distance and enjoying the more level trail all the way to Vicente Flat Camp, nestled right against a rushing stream under a canopy of enormous trees.
When you're ready to go home, just turn around and head back the way you came. Alternately, you can keep going to Goat Camp or the summit of Cone Peak if you're looking to push big miles.
More Information: Redwood Hikes
6. Mill Creek Trail
Why you should go: Escape the crowds on this shady, tree-filled hike through towering redwoods, maples, and sycamores.
Distance: 3.3 miles
Elevation Gain: 610 feet
Difficulty: Easy
When summer heats up and you're looking for a hike that's hidden entirely under a shady forest canopy, look no further than this mellow jaunt up Mill Creek. Set several miles south of the town of Big Sur, this tree-lined trek is just out of the way enough to avoid the throngs of tourists you might find on other hikes in the area.
The trailhead can be tricky to find, set casually off the edge of a dirt turnout just 0.8 miles up Nacimiento-Fergusson Road. Look closely or you might miss it!
Park in the turnout and head upstream, eventually finding yourself following a dirt path that parallels Mill Creek and heads straight up the canyon.
You'll be shrouded in an old growth forest full of huge redwood trees, sycamores, and maples, hiking into a canyon that's dense with vegetation. Be on the lookout for downed trees and creek crossings so that you can stay on the trail and avoid any poison oak that's common in the area.
When you're done exploring, simply turn around and head back towards your car.
The Mill Creek Trail feels timeless and almost magical, somehow, providing a unique look at a centuries-old Big Sur woodland.
More Information: Redwood Hikes
7. Pfeiffer Falls and Valley View Trail
Why you should go: Nab the best view of Big Sur Valley, Pfeiffer Falls, and a grove of creekside redwoods on this short hike through the hills.
Distance: 2.5 miles
Elevation Gain: 550 feet
Difficulty: Easy
Park at Pfeiffer Big Sur State Park or at Big Sur Lodge and look for the signed trail heading towards Pfeiffer Falls.
Climb past the Ernst Ewoldsen Nature Center and cross a service road to find yourself suddenly spit out into a grove of redwood trees set along the banks of a small, burbling creek. Enjoy the immensely green carpet of ferns and sorrel before the trail crosses a wooden bridge and grows steeper.
After what feels like a long climb on a dusty trail through chaparral and lovely live oak trees, the trail bends back downhill and stops just at it enters another redwood grove and approaches Pfeiffer Falls. This is a great spot to catch your breath after all the climbing and have a snack — you've earned it!
From here, turn around and be on the lookout for a spur trail to your right heading up yet another steep and dusty path towards Valley View and its famous lookout bench. Enjoy the panoramic view of the valley below and the Pacific Ocean as you climb towards the lookout point, topping out at a wooden bench set at the perfect angle to gaze out at the coast to the northwest.
Once you've had enough of these magnificent views, turn around and hike back towards the parking lot, skipping the falls trail this go-around.
Pro tip: Check with the ranger station to see if there are any trail closures before embarking on this hike.
More Information: Hikespeak
8. Sand Dollar Beach Trail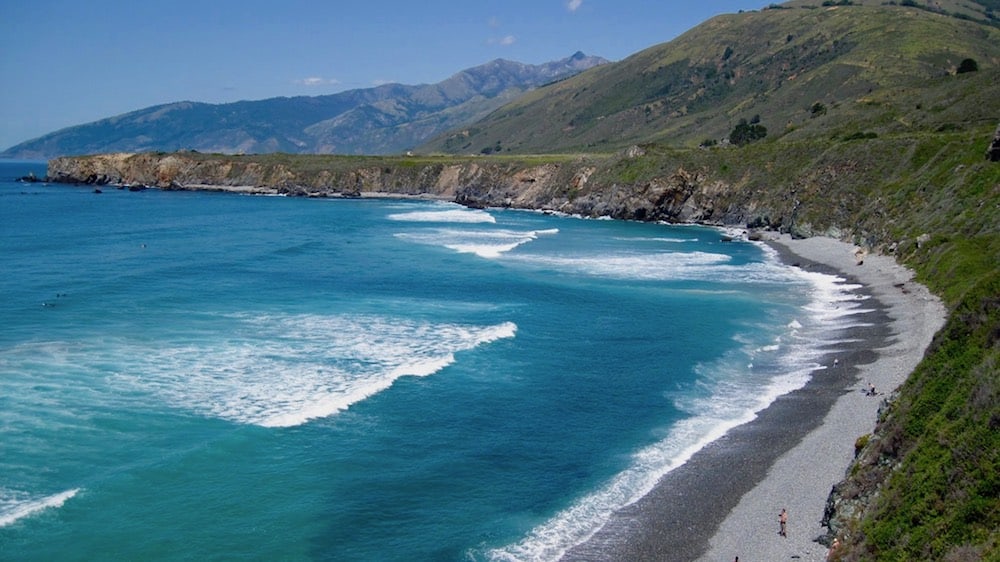 Why you should go: Perhaps the most epic beach hike in Big Sur, this short but sweet trail heads along the coast and down to the area's largest sandy beach.
Distance: 0.7 miles
Elevation Gain: 152 feet
Difficulty: Easy
Park in a small lot just off Highway 1, then look for an odd set of wooden steps set right into the fence line. You'll see a sign marked "beach access" with symbols reminding you to keep your dog on a leash and that no overnight camping is allowed.
From here, meander along a grassy, sandy stretch of trail that forks right and heads towards a stunning little viewpoint on the bluff.
Be sure to have your camera handy, as this point overlooks the entire coast, giving you a great opportunity to snag an epic Big Sur craggy beach shot. If you're lucky, you might even see dolphins or humpback whales as they make their way along the coast over summer.
When you're ready for some sun and sweet beach action, turn around and take a sharp right towards the trail that heads downhill to the beach itself. A set of stairs will take hikers down the steepest bit, and soon you'll find yourself on the surf-lined shore of Sand Dollar Beach.
Take a sunset stroll, hunt for jade gemstones along the cliffs, or set up a towel and enjoy the cool breeze. A short, uphill hike will return you to your car whenever you're ready.
More Information: Hikespeak
9. Salmon Creek Trail
Why you should go: Offering amazing views of canyon and coast, this steep out-and-back trail also doubles as a great overnight backpacking trip.
Distance: 6.5 miles
Elevation Gain: 2,077 feet
Difficulty: Challenging
Located about 18 miles north of Hearst Castle in San Simeon (a worthy day trip if you've never been), the Salmon Creek Trail is one of the southernmost in the area and a worthy stop for any hiker looking to get their sweat on.
Trailhead parking is just off Highway 1 at Salmon Creek, where visitors will be greeted by a brown, metal sign boldly stating the distance to Spruce Camp (two miles) and Estrella Camp (3.25 miles).
A short spur trail will take you to the lovely Salmon Creek Falls before you begin the intense climb up the canyon towards the first camp. Pass through grasslands and hilly chaparral before the trail intersects with Spruce Creek near the first campground area.
Veer left at this section of trail and continue the long ascent towards Estrella Camp, stopping occasionally to explore creekside pools and small waterfalls as the trail grows ever steeper.
Adventuresome hikers who make it all the way to Estrella Camp will be greeted by a lush meadow, lovely campsites, and great opportunities to hop in the nearby creek.
The hike back down is somehow more stunning than the hike in. Follow the same path back the way you came, but this time, the ocean will be in front of you, meaning you get those mountain and surf views Big Sur is famous for.
More Information: Hiking in Big Sur
10. Limekiln Trails
Why you should go: Explore a dense forest, gaze up at massive redwoods, and learn a bit about Big Sur history on this easy series of trails in Limekiln State Park.
Distance: 2-3 miles
Elevation Gain: 150-200 feet
Difficulty: Easy
One of the best things about Limekiln State Park's short and sweet trails is that they offer the best of Big Sur in tiny, bite-sized packages that are easy enough for the whole family to enjoy. Each trail is only half a mile long, and ends at a different, unique landmark that is quintessentially "Big Sur."
Hare Creek lets hikers get up close and personal with some of the largest and oldest redwood trees in all of Big Sur.
Limekiln Falls is a breathtaking 100-foot waterfall cascading down a rugged limestone cliff, and the limekilns give a fascinating look at the early days of industry in this central California town.
Park and walk east past the kiosk to the beginning of the trail, then cross a short bridge and turn right to head up towards Hare Canyon, gazing up at a grove of enormous older redwoods.
From here, turn around and head up towards the falls. If you'd rather not get your shoes wet on the creek crossings, skip it and veer left to check out the nearby limekilns. These four turn of the century kilns were used by the Rockland Lime and Lumber Company to purify limestone before hauling it down to the coast to ship off to bigger cities.
If these three shorter trails haven't tuckered you out yet, consider a quick excursion under the freeway on a trail that leads down to a rocky beach where you can enjoy the waves.
More Information: Hiking in Big Sur
Before heading out to the coast, don't forget to pick up a copy of the Big Sur trails map!
Hike More of California
The Golden State is filled with world-class hikes. For more tips on where to find the best trails, check out our California hiking guides:
Sign up for our free email to join thousands of readers getting epic travel, hiking, camping and gear ideas every week.
Was this article helpful?
---