With nicknames like the Great Lake State and the nation's Third Coast, there are some pretty incredible swimming lakes in Michigan that promise endless hours of fun in the sun.
Did you know that Michigan has over 11,000 inland lakes and is carved out by four of the five Great Lakes? That's a whole lotta water. So much, in fact, that it's not surprising that many of Michigan's most beautiful destinations are found not far from the shore.
And come summertime, Michiganders and fellow Midwesterners take advantage of the short-lived warm weather with trips to the lake. Thankfully, with such an abundance of clear lakes and sandy beaches, you don't need to travel far to enjoy a refreshing dip.
This bucket list of Michigan swimming lakes will ensure that your summer is going to be filled with endless water-based adventures.
1. Lake Michigan
There's no better place to kick off a round-up of swimming lakes in Michigan than with Lake Michigan itself. The shores of this impressive body of water measure nearly 1,600 miles and are dotted with many beloved beach towns, namely Saugatuck and Traverse City. The lake even has a unique ecosystem consisting of sand dunes, striking bluffs, and hundreds of islands.
One of the best places to experience the magic of this Great Lake is Sleeping Bear Dunes National Lakeshore. Besides beaches, this federally protected stretch of shore boasts boardwalk trails and impossibly tall sand dunes that tower 450 feet above the lake. Other worthwhile places to cannonball into Lake Michigan include Ludington State Park and Warden Dunes State Park.
Related Read: 8 Cozy Cabins Near Chicago Offering an Escape to Nature
2. Lake Superior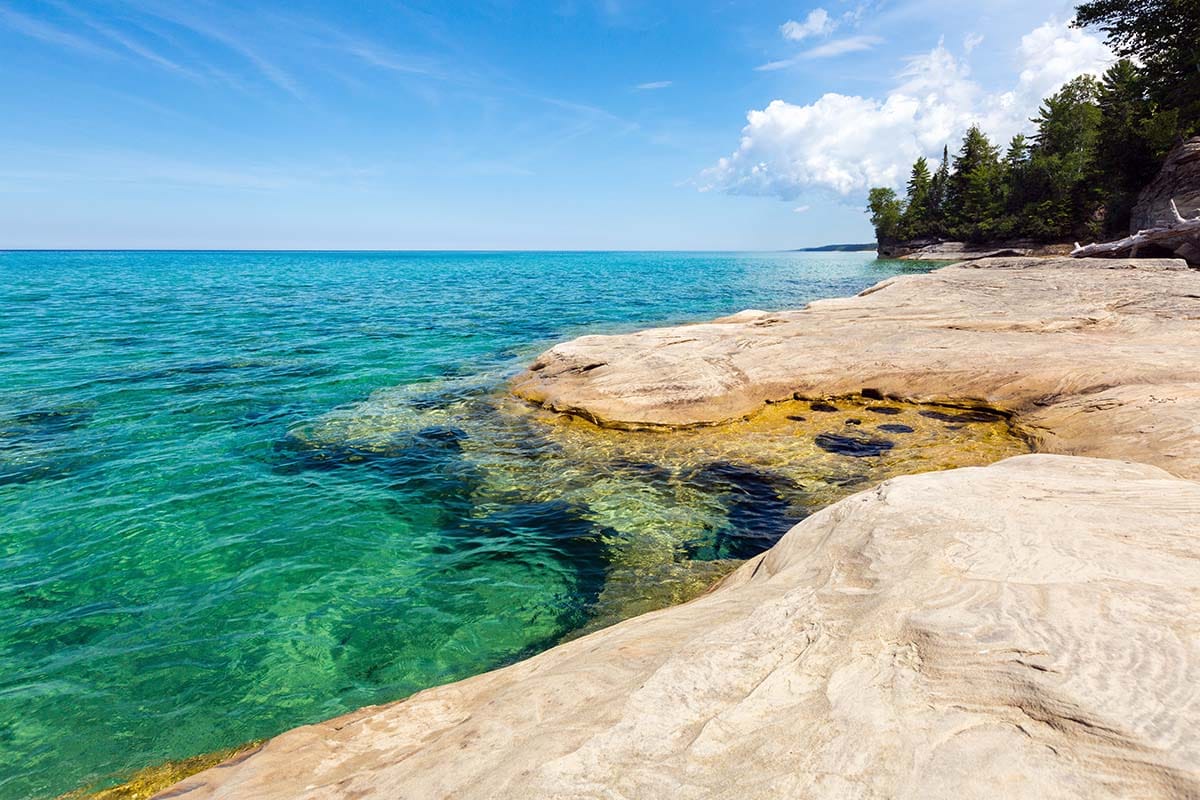 Making up the northern border of Michigan's Upper Peninsula, Lake Superior is not often at the top of travelers' lists as a swimming destination. However, as the world's largest freshwater lake by surface area, it's home to more than 70 beaches and an infinite number of outdoorsy things to do. During peak summer months, the region enjoys temps warm enough for a swim – at least by Midwestern standards! During winter, those brave enough can even take the Polar Plunge for a good cause.
Arguably the best Lake Superior beach destinations are along the Pictured Rocks National Lakeshore, where scenic spots like Sand Point Beach and Twelvemile Beach attract thousands of visitors each year. While at the national lakeshore, be sure to make time for non-beach activities and witness the beauty of the park's colored sandstone bluffs, historic lighthouses, and picturesque waterfalls.
Related Read: The Best Great Lakes Islands for a Scenic Midwest Vacation
3. Lake Huron
Lake Huron sits on the state's eastern border. Here you can expect to find sweeping dunes and family-friendly beaches. Some of the most popular beaches on Lake Huron include Oscoda Beach Park and Lakeside Park, both of which feature facilities like picnic tables, restrooms, and a splash pad.
Expand your day at the lake with an overnight visit to some of Lake Huron's cutest resort towns, like Port Austin or Mackinac Island. Port Austin is a quiet getaway nestled at the tip of Michigan's thumb, home to Port Crescent State Park's sandy three-mile beach. Mackinac Island is a beloved vacation destination that floats between Michigan's Upper and Lower Peninsulas. The island is famously car-free and is home to the scenic Mackinac Island State Park where you can swim, kayak, and boat from its rocky shores.
Related Read: 7 Best Great Lakes Destinations for an Unforgettable Vacation
4. Lake Michigamme, Marquette, and Baraga Counties
View this post on Instagram
About a 45-minute drive from Marquette lies Lake Michigamme. As one of Michigan's largest inland lakes, it's a popular spot for swimming, boating, and fishing. It boasts three beaches, but the best is at Van Riper State Park, where 1.5 miles of lake frontage and over 1,000 acres of protected land offer plenty to do.
The park also features a spacious campground, recreational facilities, and the opportunity for moose sightings. If you stay over, consider checking out nearby Craig Lake State Park, where a more remote setting promises peace and quiet on the water.
Related Read: 5 Epic Campervan Rentals Near Madison, Wisconsin
5. Lake Charlevoix, Charlevoix
Lake Charlevoix is often considered one of Michigan's prettiest inland lakes and is unique because it's separated from Lake Michigan only by a narrow stretch of land. So a visit to Lake Charlevoix means you can swim in both impressive lakes. Those visiting with kiddos may want to head over to Ferry Beach, where a playground, picnic area, and concession stand promise great fun for the littles.
Those seeking adventure on and around the water should check out Young State Park, an excellent place to boat and waterski. If you have more time to spare, venture over to the nearby shores of Lake Michigan, where Fisherman's Island State Park and Michigan Beach Park are popular summertime haunts for locals seeking sunshine.
6. Torch Lake, Torch Lake Township
Torch Lake is another body of water that lies close to the shores of Lake Michigan, nearly touching Grand Traverse Bay. It boasts incredibly clear and vibrant turquoise waters that look like they belong in a tropical paradise instead of the Midwest.
One of the best things to do at Torch Lake is to park your boat along the beautiful, two-mile-long sandbar nestled in the middle of the water. Swimmers visiting the beach without a boat should check out Torch Lake Township Day Park, located along the lake's northwest shore. This region of Michigan is best known for its sprawling vineyards and charming small towns.
7. Long Lake, Portage
View this post on Instagram
Surrounding Portage, Michigan, a small town just outside of Kalamazoo lies a cluster of swimmable lakes. One of the best for families is Long Lake, where the popular Ramona Park offers picnic spots, sports courts, and concessions.
Visitors can also rent water gear during the summer, including stand-up paddle boards and kayaks. Parents of young kids will appreciate that the beach has lifeguards on duty. Not far from Long Lake are even more places to swim, boat, and fish, including Austin Lake and West Lake.
8. Crystal Lake, Frankfort and Benzonia
View this post on Instagram
There are actually quite a few Crystal Lakes in Michigan, but the one near Frankfort and Benzonia is the largest and best for swimming. Locals particularly love this lake for its bright blue color and the colorful sunsets that frequently dance across the sky. At the lake's easternmost tip lies Beulah Beach, a public stretch of shoreline with a dock and bathroom facilities.
Before jumping in the water, consider warming up with a hike along the scenic Betsie Valley Trail that encircles the lake. Another worthwhile thing to do is to drive to the historic Point Betsie Lighthouse overlooking Lake Michigan. Crystal Lake is about 40 minutes from the breathtaking Sleeping Bear Dunes National Lakeshore and an hour from Traverse City.
9. Higgins Lake, Roscommon County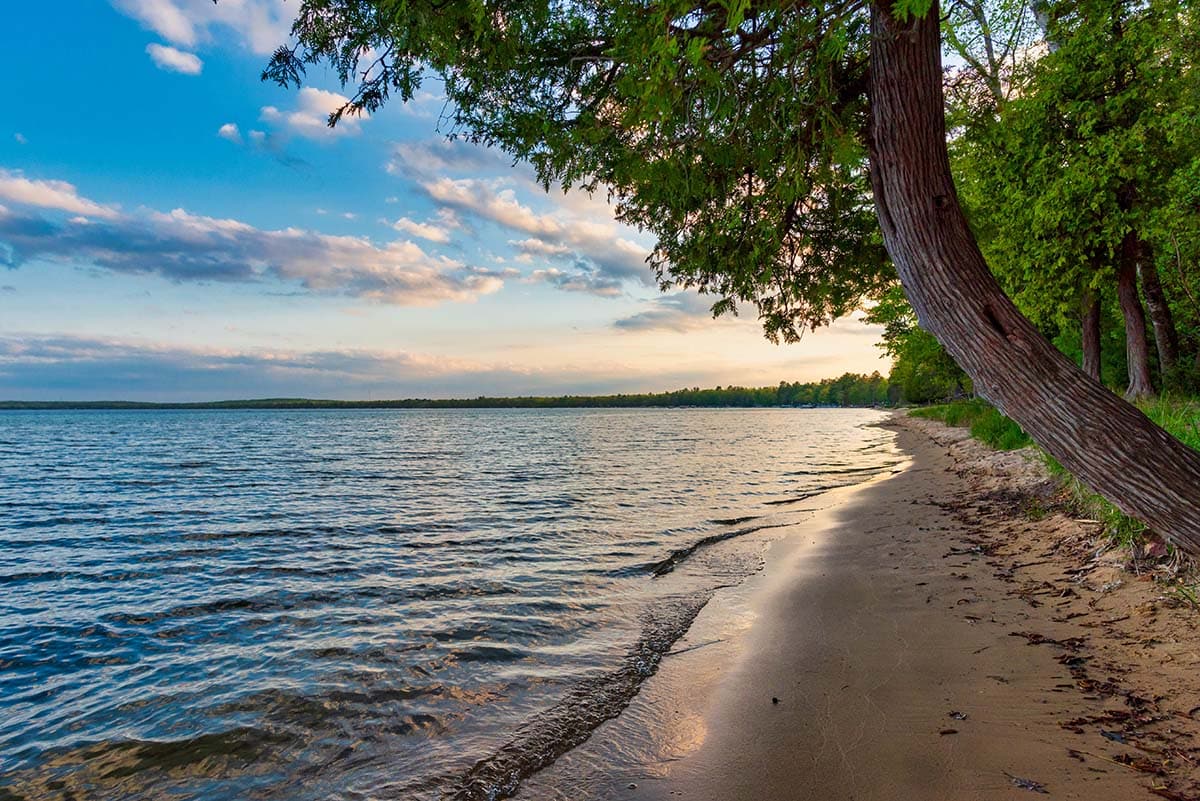 Higgins Lake is a crystal clear body of water known for its clean, bright, and deep waters. When visiting Higgins Lake, you have two beach options to choose from, one of which lies along the northern border and the other in the south. North Higgins Lake State Park is smaller and promises a quieter experience, whereas South Higgins Lake State Park offers more amenities and campsites.
Lake Higgins is not only an excellent place to go swimming but is also known for fishing too, where anglers can catch rainbow and lake trout. For more to do, consider playing a round at the Forest Dunes Golf Club or driving to the seasonal Lakeland Recreation, where you can play mini golf and race go-karts.
10. Silver Lake, Mears
Silver Lake offers visitors the opportunity to experience a natural oasis vastly different from much of Michigan. As a designated state park, there are over 2,000 acres of incredible dunes to explore, all of which lie between the shores of Silver Lake and Lake Michigan. Silver Lake's ideal location also means that beachgoers can choose to take a dip in either lake.
Outside of swimming, thrill-seekers can rent dune buggies and other all-terrain vehicles for an exciting dune adventure. The state park also features the historic Little Sable Lighthouse as well as a modern campground with RV hookups and sites right on the lakefront.
Explore More in the Midwest
Get epic travel ideas delivered to your inbox with Weekend Wanderer, our newsletter inspiring more than 10,000 readers every week.
---