We research, evaluate and select travel destinations based on a number of factors, including our writers' experience, user reviews and more. We may earn a commission when you book or purchase through our links. See our editorial policy to learn more.
Was this article helpful?
---
In Michigan, locals live life by the simple motto: Great Lakes, great times. And what better way to have a great time than at an out-of-the-ordinary place to stay?
The Great Lake state is known for many things, most notably its two peninsulas and distinctive mitten-shape carved by the world's largest freshwater lakes. No big deal. But Michigan is also uniquely home to gentle rolling hills, charming beach towns, and a thriving wine scene.
If you think that's pretty cool, the state also hosts many unique places to stay that offer a memorable experience in its own right. And conveniently, many of these incredible vacation rentals, B&Bs, and inns, are situated not far from the beautiful attractions that make Michigan special.
Shake things up on your next adventure with one of these unique places to stay in Michigan.
Related Read: 9 of the Best Cabin Rentals in Michigan
Big Bay Point Lighthouse Bed and Breakfast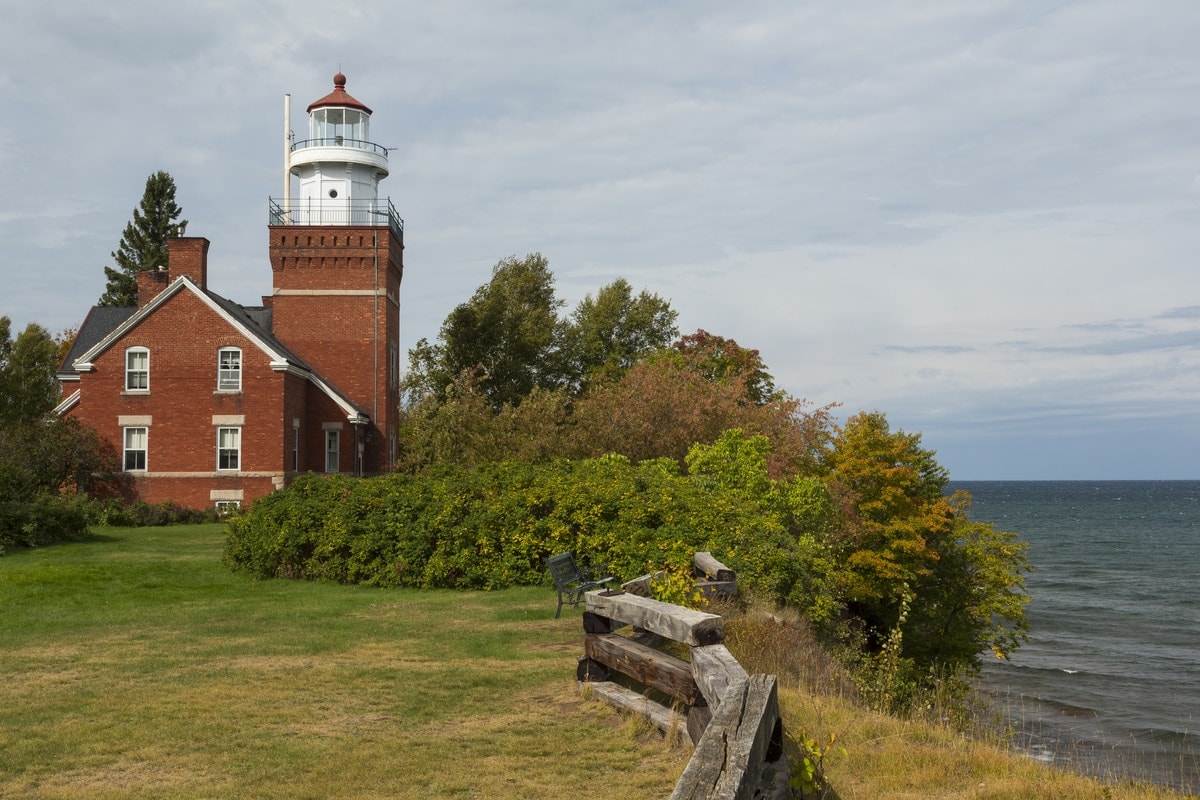 Why you should stay: A historic bed and breakfast housed in an 1882 lighthouse on the shores of Lake Superior .
Location: Big Bay
Sleeps: 2+
Minimum stay: 1 night
Rates start from: $205/night
The Big Bay Point Lighthouse Bed and Breakfast is consistently considered one of Michigan's coolest places to stay. This brick lighthouse manually led passing boats to safety, and continues that tradition today, albeit now completely automated. The hotel sits on 40 acres of wooded property, where guests are free to hike and roam.
If you're interested, it' even possible to climb the lighthouse tower and see the panoramic views 120-feet above the ground. A twist to this unique place to stay in Michigan is that the lighthouse is rumored to be haunted. Marquette, the UP's largest city, is about a 45-minute drive away.
Check Availability
Related Read: 10 Secluded Cabin Rentals in Amazing Michigan
Michigan A-Frame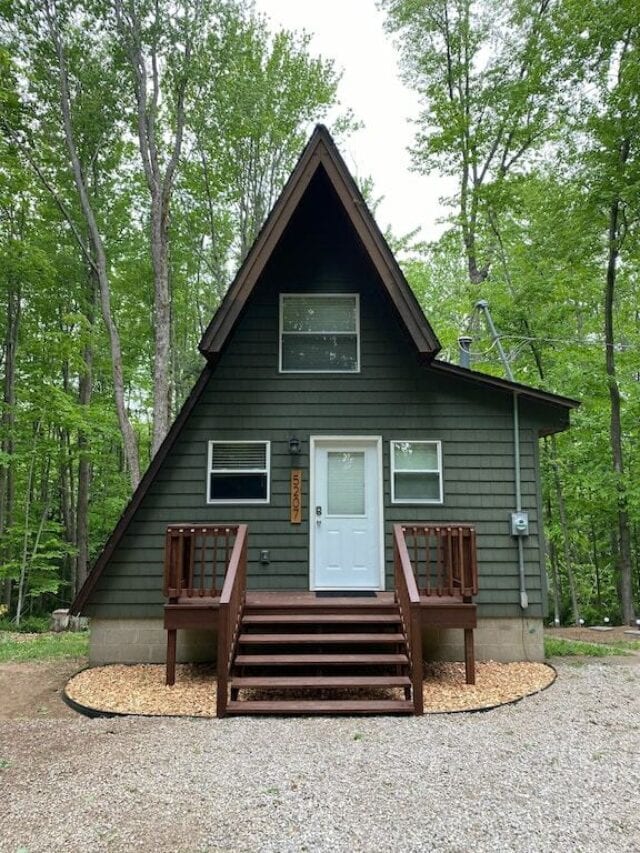 Why you should stay: A lovely A-Frame cabin on a private wooded lot with access to Manistee Lake.
Location: Kalkaska
Sleeps: 4
Minimum stay: 2 nights
Rates start from: $138/night
This Michigan-A-Frame is a cozy, treehouse-esque home less than an hour east of Traverse City. It offers a classic remote cabin getaway with an elevated deck, a grill, and a campfire circle with tree trunk stools. The home's layout is ideal for small families or groups, with one private bedroom and a loft furnished with two twin beds.
The home is within walking distance to the grassy shores of Manistee Lake, where shallow swimming and excellent fishing allow for family-friendly lake time. The hosts even have on the property four kayaks for free use. Other local attractions include golfing, winery tours, and Kalkaska's Cherry Street Market.
Check Availability
Related Read: 8 Best Scenic Drives in Michigan for Dashboard Eye Candy
Henderson Castle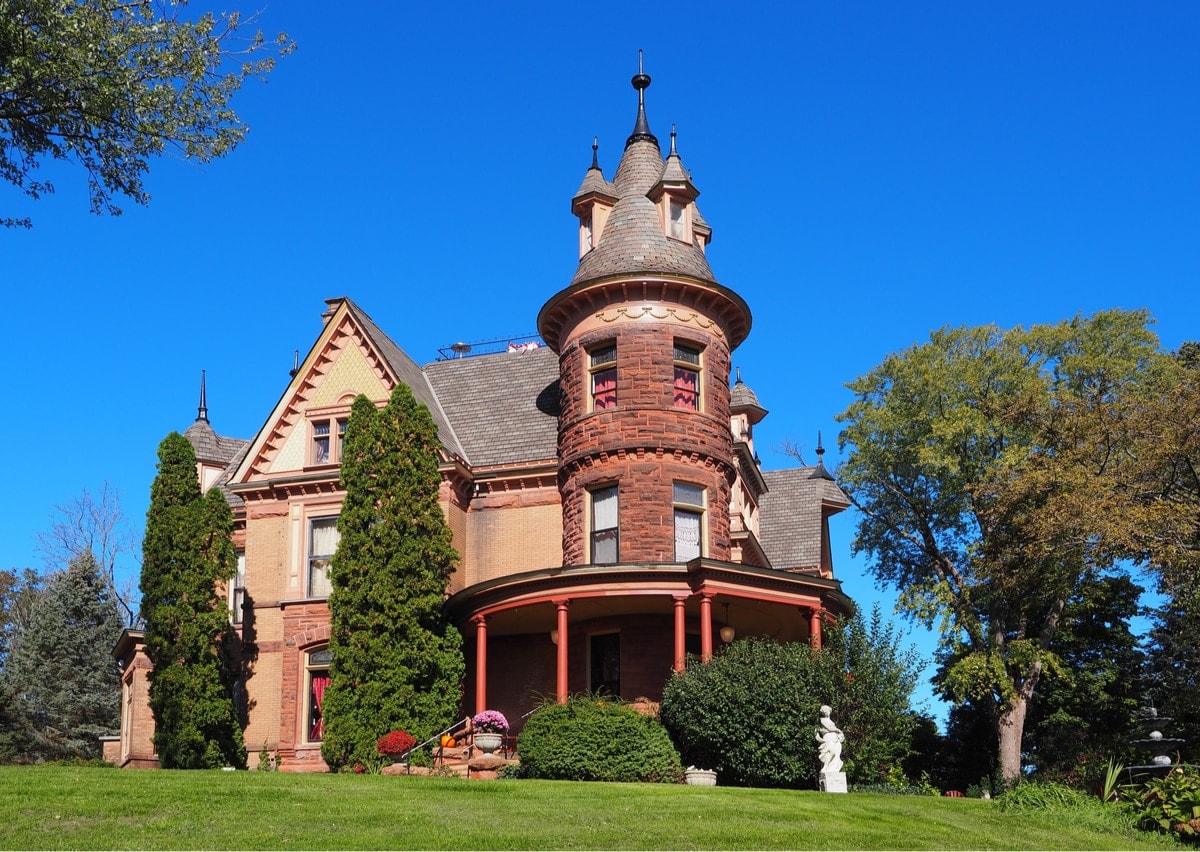 Why you should stay: A castle-like mansion turned quaint bed and breakfast in the heart of Kalamazoo.
Location: Kalamazoo
Sleeps: 2+
Minimum stay: 1 night
Rates start from: $129/night
Live like royalty at the Henderson Castle, a gorgeous Queen Anne house with origins that date back to 1895. The original owner appreciated the finer things, a trait you can feel in the home's ornate construction. Examples of upscale finishes you can find at the castle include rich mahogany elements, marble floors, and the use of Lake Superior sandstone on the exterior.
The castle's unique appearance has caught the attention of filmmakers, and the hotel has thus been featured in three different scary movies. Guests staging at the castle can find ultimate relaxation at the onsite steam room and sauna, as well as with a soak up on the rooftop hot tub. There's also a restaurant on the property that serves afternoon tea, breakfast, and occasional dinner.
Check Availability
Related Read: 9 Amazing Places to See Fall Colors in Michigan
Primrose
Why you should stay: A luxurious vacation home near the beach that looks like it belongs in California.
Location: Union Pier
Sleeps: 16
Minimum stay: 2 nights
Rates start from: $2,000/night
Located just over an hour north of Chicago, Primrose is a glamorous vacation rental for those seeking a staycation in one of Michigan's beach towns. The first thing to catch your eye is the impeccable interior design and modern elements throughout this spacious home. In the living room, a wall of windows allows natural light to stream in and create a bright and airy atmosphere. The home's game room allows guests to partake in competitive fun with pool and ping pong.
However, the real magic begins outside in the fenced-in yard. Here you'll find a luxurious pool deck complete with a heated in-ground swimming pool and sun loungers. The backyard also features two hot tubs, a fire pit, a fireplace, two outdoor showers, and ample places to sit and relax.
Check Availability
Related Read: 11 Cozy Pet-Friendly Cabin Rentals in Michigan
Tree House Ridge Resort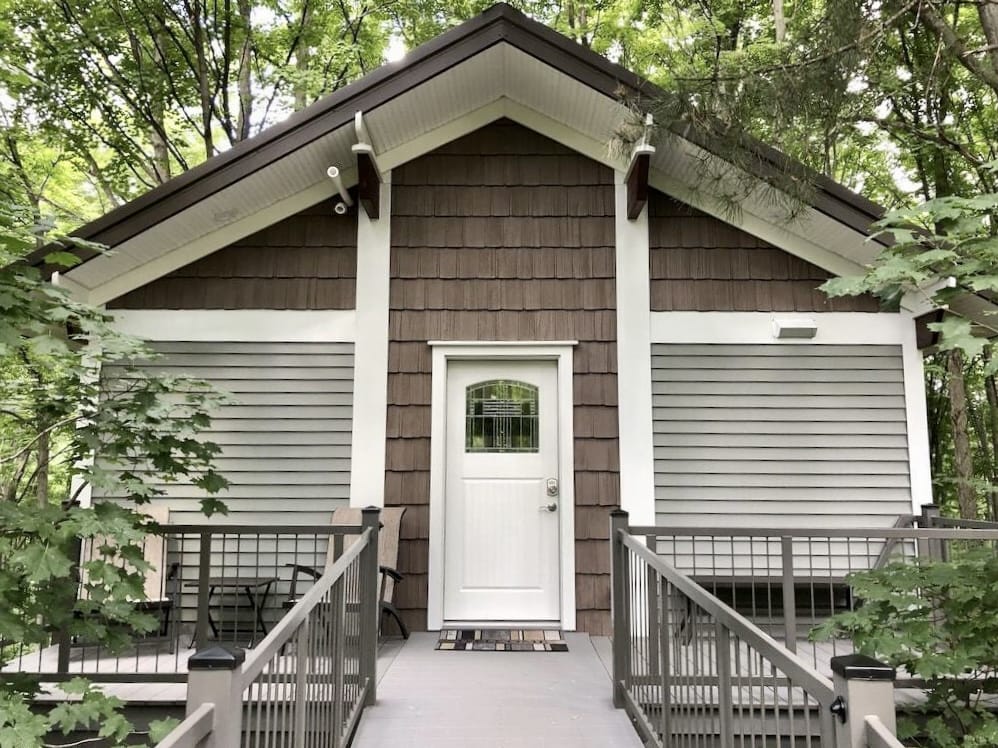 Why you should stay: All the comforts of home in the unique setting of Michigan's first treehouse resort.
Location: Thompsonville
Sleeps: 4
Minimum stay: 2 nights
Rates start from: $275/night
Surrounded by the vast expanse of the Huron-Manistee National Forest, the Tree House Ridge Resort is an up-and-coming vacation destination in Northern Michigan. The resort is a family affair, headed by a father and son lovingly constructing each treehouse by hand.
The 500-square-foot treehouse is equipped just like any other vacation rental and includes two queen beds and onsite laundry machines. However, the treehouse's balcony is where you're going to want to spend all your time. Spacious and furnished with comfy seating, it's the place to sip morning coffee or have a cookout amongst the treetops.
Check Availability
Related read: 7 Magical Treehouse Rentals in Michigan
Stafford's Bay View Inn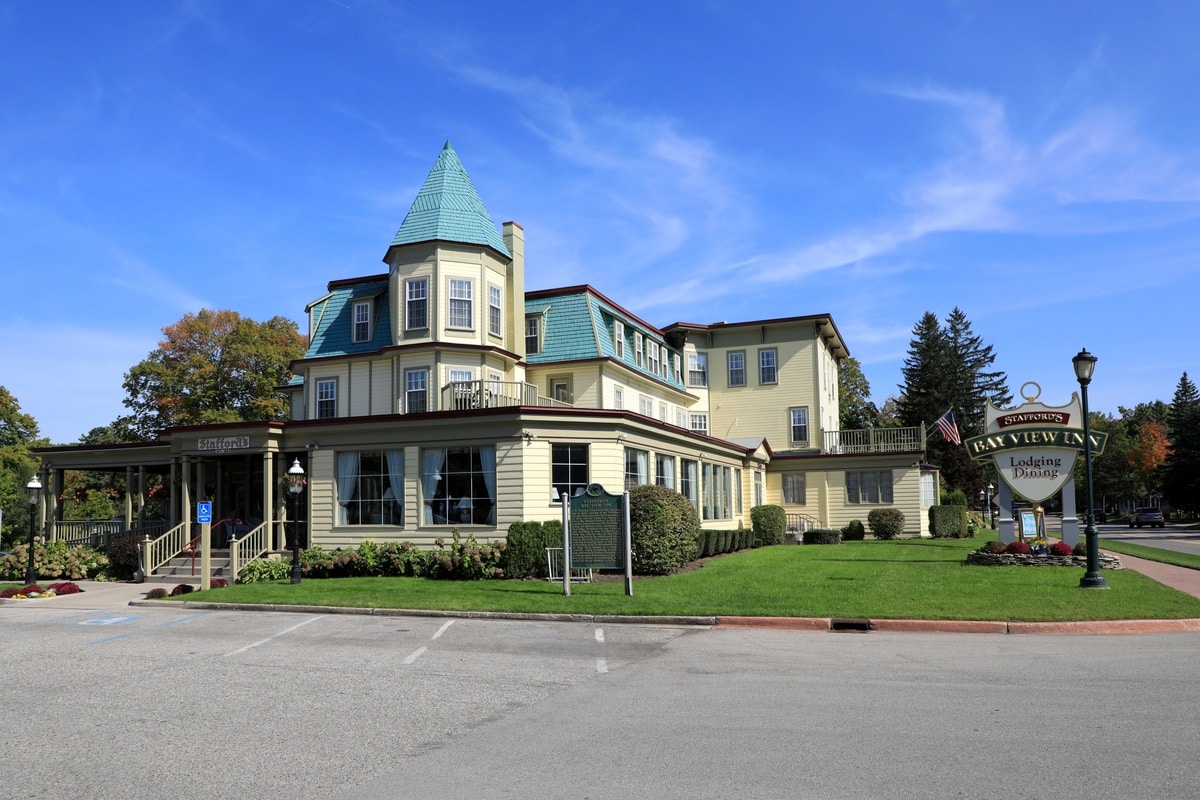 Why you should stay: A quaint inn that dates back over 135 years, nestled along Michigan's scenic Little Traverse Bay.
Location: Petoskey
Sleeps: 2+
Minimum stay: 1 night
Rates start from: $119/night
Stafford's Bay View Inn is a family-owned and operated hotel with a history that spans nearly 140 years. The inn is a classic example of Victorian architecture and is filled with beautiful antiques as a testament to its origins. It's located not far from downtown Petoskey and makes for a lovely place to stay along the northern shores of Lake Michigan.
You won't find T.V.s in the rooms at the inn, allowing for complete and total disconnection from the outside world. There are a variety of suites available, each designed differently. Upgrade options are equipped with a fireplace or a jetted tub for two.
Check Availability
Follow 'em: @StaffordsHospitality
Chateau Chantal Winery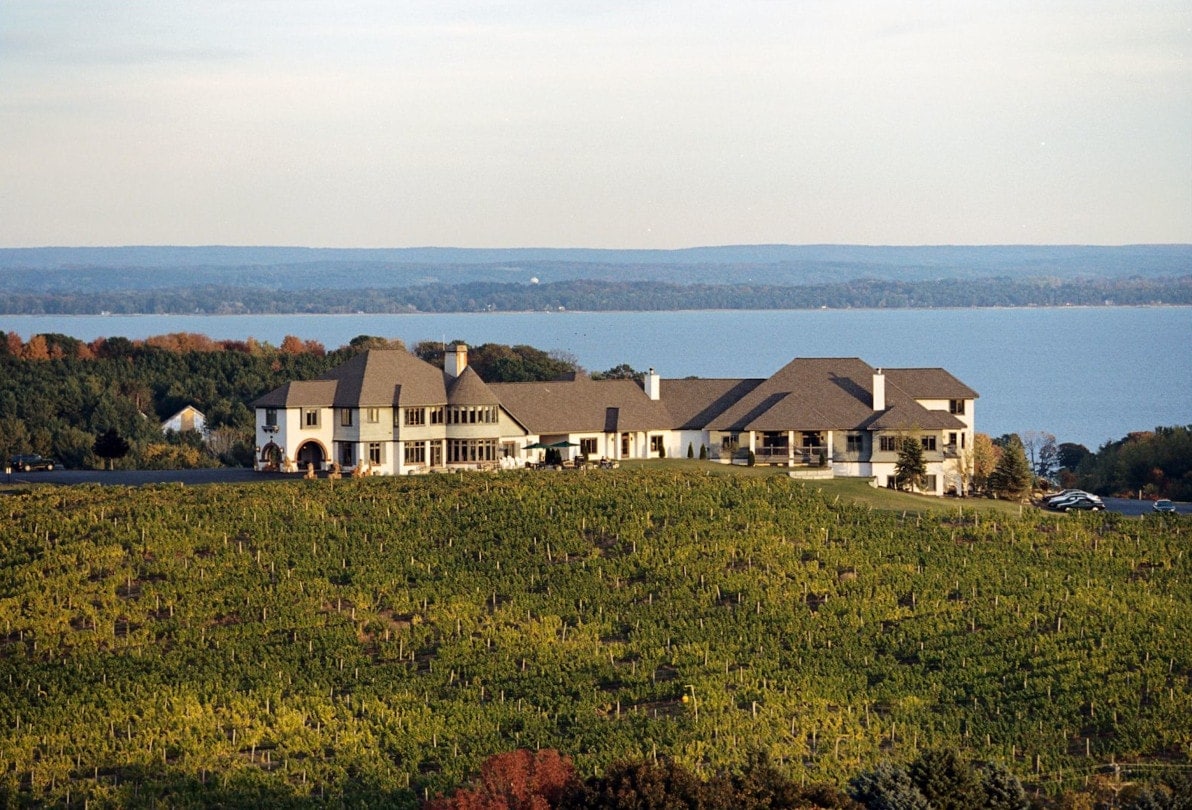 Why you should stay: Wake up in Michigan's wine county with views of sprawling vineyards and Traverse Bay.
Location: Traverse City
Sleeps: 2+
Minimum stay: 1 night
Rates start from: $165/night
Wine connoisseurs looking for a lovely place to stay in Michigan should head straight to the Chateau Chantal Winery. Located at the end of the Old Mission Peninsula just north of Traverse City, this upscale B&B is known for its exceptional guest service and surrounding beauty. Standard guest rooms are the norm, but an apartment unit is available and features a full kitchen and a living room with a fireplace.
During your visit, be sure to make time for the winery's tasting room, which is open daily until 5 pm. And if you're visiting in the summer, Thursday jazz nights are a must. The winery hosts themed wine dinner events, complete with gourmet dishes and delish wine pairings.
Check Availability
Related read: 10 Best Weekend Road Trips From Detroit, Michigan
The Caboose Inn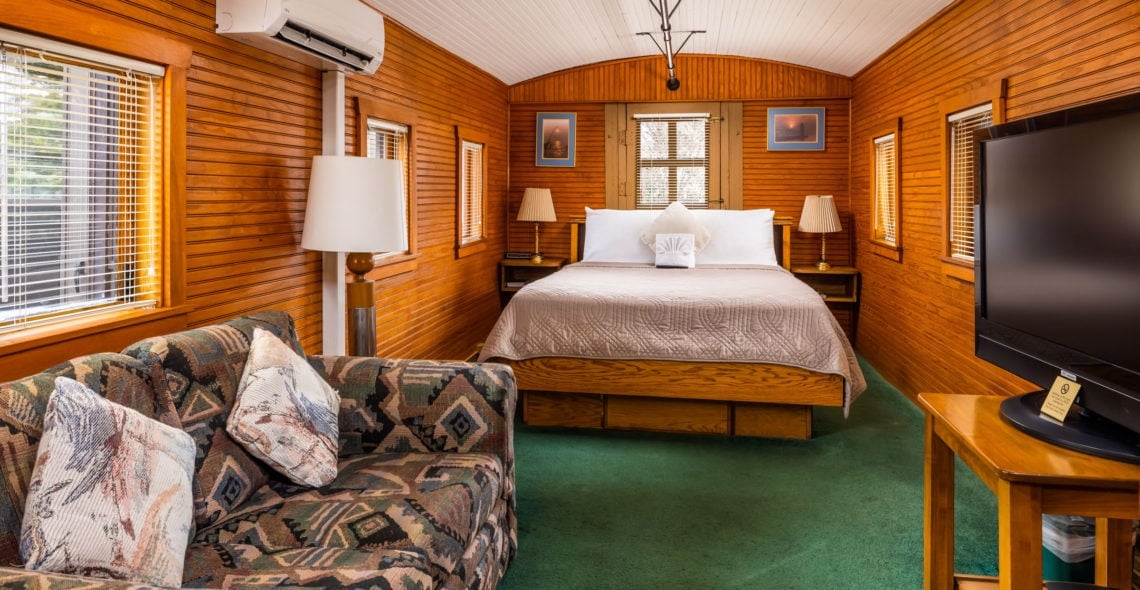 Why you should stay: Wake up in a restored caboose found in downtown South Haven's Marina District.
Location: South Haven
Sleeps: 2+
Minimum stay: 2 nights
Rates start from: $229/night
All aboard at The Caboose Inn! This unique hotel offers hotel-level hospitality in a historic train car. Painted a bright cherry red on the outside and laid with gorgeous wooden walls on the inside, you'd never know this caboose was once operational. The interior has also been upgraded to feature a kitchenette and a screened-in porch. There are two caboose suites available for booking as part of the Old Harbor Inn, so be sure to book in advance!
You can find these train cars parked in the Depot, South Haven's historic railroad station, which adds to the charm of this train car hotel. Those new to the charming beach town of South Haven will appreciate the area's sandy Lake Michigan beaches, numerous wineries, and fascinating maritime history.
Check Availability
Explore Michigan
Get epic travel ideas delivered to your inbox with Weekend Wanderer, our newsletter inspiring more than 10,000 readers every week.
Was this article helpful?
---