Even those who love San Francisco need to get out of the big city every once in a while.
Let's be honest: a person could spend a lifetime in San Francisco and never run out of things to do. The city is teeming with art and culture, and there are many wonderful outdoor spaces within the confines of the city. From Golden Gate Park to the Exploratorium to Chinatown and underground tiki bars, there's plenty to do.
But there are a lot of awesome spots in and around the rest of the Bay Area worth a visit, too. Whether you're looking to relax or to recreate, you'll find that there are many great day trip destinations just to the north, south, and east of the city — you'll get a little wet if you go west. Below is a detailed rundown of the best day trips from San Francisco, all of which are less than a couple of hours from downtown.
Related read: 8 Epic Weekend Road Trips from Los Angeles, California
1. Point Reyes National Seashore
Distance from San Francisco: 37 miles
Just a short drive north on Highway 1 across the Golden Gate, Point Reyes National Seashore is a vast and varied coastal landscape with miles of sandy beaches, acres of grassland, and over 1,500 species of native plants and animals.
Near Point Reyes, stop at the Bear Valley Visitor Center, a great place to gather information on the area and plan your day. The Morgan Horse Ranch is another popular point of interest, though you could also hike through an elk refuge or grab a buffalo milk ice cream from the Palace Market.
The Point Reyes Lighthouse and Tomales Point are home to boundless, breathtaking scenery. Aside from all these easy-to-access hot spots, there are many miles of hiking trails and waterways in the area, too. Take a hike, ride your bike, or bring a kayak for a day full of adventure.
Related read: The Ultimate Los Angeles to San Francisco Road Trip
2. Mount Diablo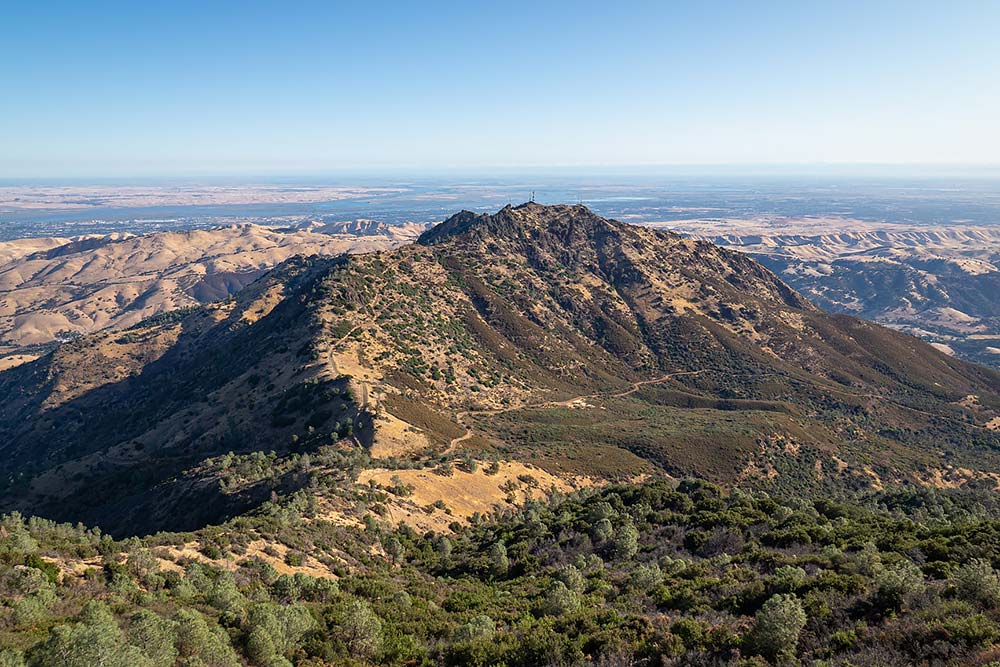 Distance from San Francisco: 40 miles
Take a day trip through the urban East Bay and beyond to the isolated peak of Mount Diablo State Park. Standing at 3,849 feet above sea level, the mountain is visible from most of the Bay Area and its summit provides the most sweeping panoramic views you'll find within day-trip distance.
Driving to Mount Diablo's peak is certainly the high point of this day trip. On a clear day, you can easily see from San Francisco to San Jose, and you can see the craggy granite peaks of the Sierra Nevada to the east. It's a breathtaking view (and literally breathtaking if you make the 10-mile hike to the top.)
There are telescopes on the observation deck so you can sightsee to your heart's content. The visitor's center has an array of interesting exhibits, and Mitchell Canyon is a starting hub for various trails and outdoor exploits. There's also a small museum at the trailhead.
Related read: 7 Awesome Weekend Road Trips from San Francisco, California
3. Napa Valley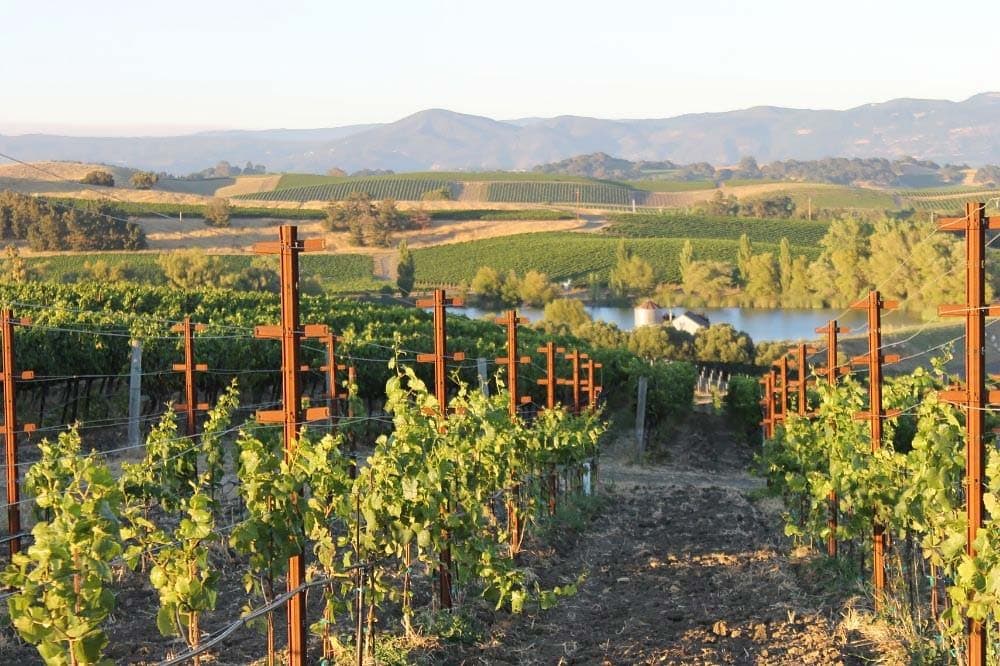 Distance from San Francisco: 53 miles
A trip to Napa Valley is all about love. Whether it's romantic love, self love, or simply a love of wine and finer things, Napa Valley is the paragon of refined indulgences.
Lying between the Vaca and Mayacamas mountains, the gorgeous landscape of Napa Valley is decorated with award-winning wineries and Michelin-starred restaurants. You could spend your entire day within the town of Napa itself, but there are four other noteworthy villages in the valley with their own attractions as well as plenty or rural vineyards.
Also nearby is Napa's sister valley of Sonoma. The entire region is home to some of North America's best wine and food. One day trip won't be enough to experience it all, so try to make a list of which of the many, many vineyards and wineries you want to visit. You'll certainly be back again.
4. Big Basin Redwoods State Park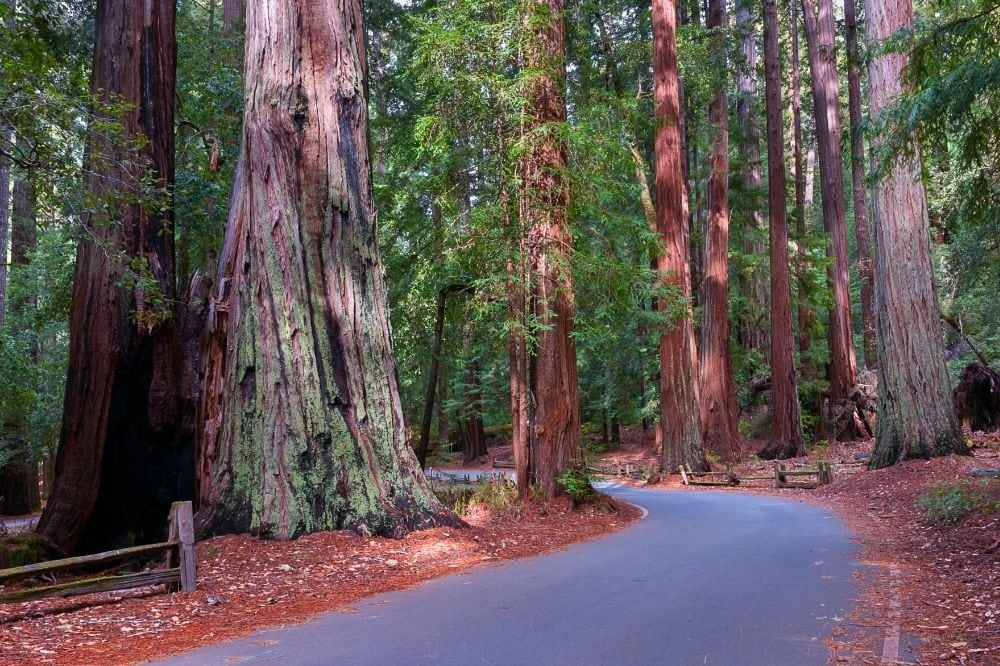 Distance from San Francisco: 58 miles
California's oldest state park is also one of its most beautiful and beloved. Big Basin Redwoods State Park draws travelers from across the country who come to see the ancient and enormous coastal redwood trees that Northern California is famous for. If you love nature, it's one of the best day trips from San Francisco as trees this big are very, very rare.
Located deep in the Santa Cruz mountains, this park feels a world away from the urban din of San Francisco. Though recent fires have wreaked havoc in the park, there are many awe-inspiring hiking trails past trees, waterfalls and notable redwoods. Just be sure to pick up a trail map when you bike or drive in.
Though wildfires cause destruction, they're a necessary aspect of the redwood ecosystem. When you need a break from the trails, learn about how fires impact and help the landscape at the park's Nature Center and History Museum.
Related Read: 7 Gorgeous Spots to See Fall Colors in California
5. Santa Cruz
Distance from San Francisco: 72 miles
In the mood for a day at the beach and a fun amusement park romp at the pier? Then there's no better place near San Francisco than Santa Cruz. With plenty to do for adults and kids alike, Santa Cruz is the perfect summer day trip for families seeking some fun in the sun.
The beach boardwalk is Santa Cruz's most popular selling point. The beachfront log flume ride, Ferris wheel, arcade, and cotton candy vendors are timeless and iconic – and maybe a bit overpriced, but hey, it's part of the experience.
There's more to Santa Cruz beyond the boardwalk, too. The thriving arts scene, world-famous surfing museum, DeLaveaga Golf Course, and amazing hiking and mountain bike trails ensure you won't be at a loss for how to fill your days.
6. Big Sur
Distance from San Francisco: 140 miles
Big Sur may be a bit far for a day trip for some, but you'll be well-rewarded if you don't mind the drive. And if you've never been, you should certainly get out and see this magnificent stretch of unmarred coastline as soon as you can. It gets very crowded, so it's best to visit midweek. Plan to arrive early if you're hoping to find parking at popular areas like Julia Pfeiffer Burns State Park or Point Lobos Reserve (both of which have a $10 parking fee.)
The diverse and dramatic landscapes are what draw people to Big Sur. Though millions of people visit every year, there isn't much in the way of human development. You'll find a few restaurants and galleries along some of the more popular waysides, but much of the landscape remains untouched. If you want more development you can make a stop in Carmel-by-the-Sea on the way down, but otherwise, Big Sur is one of the best road trips from San Francisco to find peace and tranquility. Go get lost in its natural beauty (figuratively, of course.)
7. Mount Tamalpais State Park
Distance from San Francisco: 15 miles
Probably the closest of all San Francisco day trip destinations, Mount Tamalpais is a quick and highly rewarding escape from the confines of the city. Affectionately known as Mt. Tam, this across-the-Golden-Gate getaway is ideal for a simple nature break.
While the mountain itself is often the primary destination, the state park is massive. It's also home to the equally awesome Muir Woods National Monument, which tends to be a lot cooler than other parts of the coast, literally. Dress accordingly.
There are over 60 miles of trails to hike within Mount Tam State Park. Its border stretches all the way down to the shoreline, making it a fantastic day trip destination to pair with some time at the laid-back surf town of Stinson Beach.
8. Lake Berryessa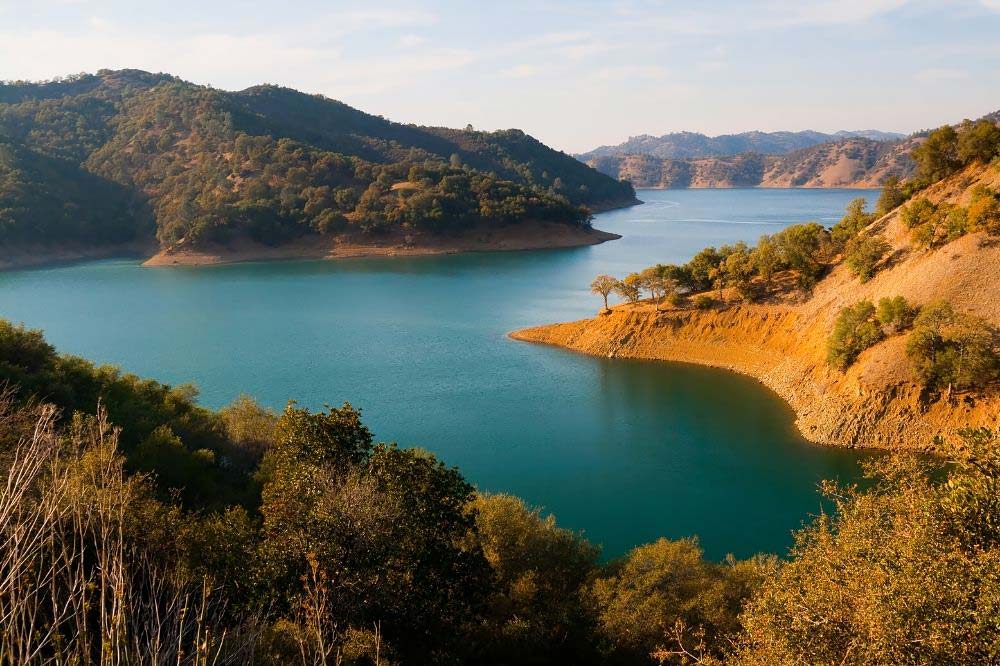 Distance from San Francisco: 80 miles
San Francisco Bay has its charms, but it can be a bit rough and intimidating for water-bound activities. That's why Lake Berryessa is the ultimate day trip from San Francisco for Bay Area residents in search of a relaxing day at the lake.
Picnics, swimming, fishing, and water sports are on offer at Lake Berryessa. The outdoor recreation opportunities are limitless, but there's also plenty in the way of amenities. With Napa Valley just around the bend, there are plenty of places to wine, dine, and unwind in the area. St. Helena is the closest wine region on the western side of the lake.
For a more exciting day out, you could rent a party boat and spend your day drifting across the expansive lake with friends and family. Kayak, paddleboat, and paddleboard rentals are also available in the spring, summer and fall in case you want to power yourself around the lake while working on your tan.
9. Sunol Regional Wilderness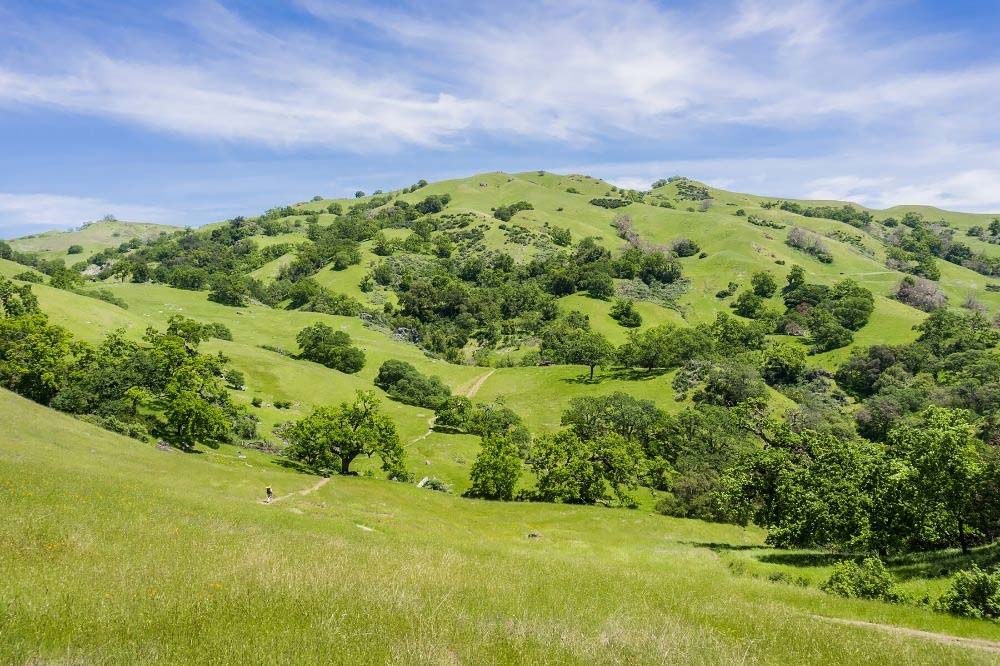 Distance from San Francisco: 47 miles
The Sunol Regional Wilderness is an East Bay secret tucked behind the immensely popular day-hiking area of the Mission Peak Regional Preserve. This less-crowded wilderness area offers a true look back in time at the forests and grasslands of the Bay Area as they were before the city sprang to life in the 1870s and '80s.
There are multiple trails, picnic areas, and scenic areas in the vicinity, and you can find information about all of them at the Sunol Visitor Center. The park often hosts naturalist-led programs highlighting the flora, fauna, and indigenous history of the wilderness. The hikes in the park are quite short (only one is longer than three miles), so you can combine a few different trails and see a lot of the wilderness area in just one day.
10. Half Moon Bay
Distance from San Francisco: 30 miles
All of Northern California's wonders collide at Half Moon Bay, which is why it's among the most popular day trips from San Francisco. At Half Moon Bay, you'll find long stretches of sandy beach, oceanfront dining, seaside golf courses, hiking trails, giant redwood trees, sport-fishing charters, whale watching tours, and so much more. And since it's so close to the city you can come back as often as you'd like.
In fact, you might find after your first trip that you plan to swap the cities on your next trip – stay in Half Moon Bay and visit the city for a day. It's classic northern California at its absolute finest.
11. Monterey and Carmel-by-the-Sea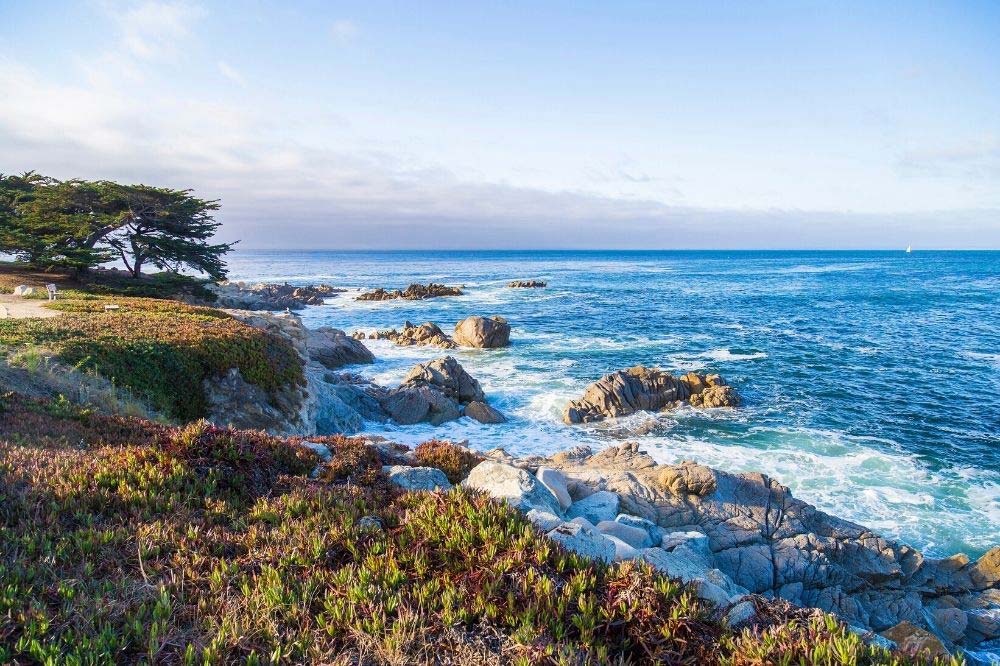 Distance from San Francisco: 113 miles
Home to the world-renowned Pebble Beach golf course, Cannery Row, and the Monterey Bay Aquarium, the Monterey and Carmel area is more than simply another collection of beach towns. The history and culture of the area are unique to this region of the California coast.
Opulence, too, is another characteristic of the area, especially so in the high-end but low-key village of Carmel-by-the-Sea. Though it looks like a simple village, it's actually a very high-end former artist commune. It's now quite elegant and has very political liberally laws and regulations that prohibit chain businesses, unnatural architecture, and even wearing high heels (though the latter isn't enforced very often anymore.) It's also one of , and maybe the, most dog-friendly town in California. It has dozens of tasting rooms plus luxury shops and lavish eateries.
Plan Your Next Adventure
Sign up for Weekend Wanderer, our free email newsletter offering thousands of readers epic travel and airbnb ideas every week.
---