We research, evaluate and select travel destinations based on a number of factors, including our writers' experience, user reviews and more. We may earn a commission when you book or purchase through our links. See our editorial policy to learn more.
---
Hiking the Oregon Coast Trail is like navigating through an eternal conflict between the forces of chaos and serenity.
There exist calm days where blue skies and quiet ocean waters coincide with a peaceful hike among the beach grass and snowy plovers, and there will be times when dark skies foster blustering winds that beget roaring waves and sandblasted cheeks.
Dotted with small towns and countless waysides along its 382 mile length, the Oregon Coast Trail is accessible to everyone. With literally hundreds of pullover points just off US Highway 101 visitors can take in the craggy cliffs, sandy beaches, and shore pine forests at parking lot vistas.
Of course, those who hike miles away from such spots will find secrets few get to witness such as hidden caves and tide pools teeming with colorful sea life.
Aside from nature's coastal beauty, the quaint Oregon seaside towns are not to be overlooked. Tourist strips lined with knick-knack shops and fried fish joints decorate the main roads in just about every town, and trail-goers will find unique coastal village sites like mountains of harvested clam shells and century-old fish canneries that add to the trail's wonder.
Related: Personal Growth in Nature: A Q&A with OutPass Trekking
What to Expect
Weather
There are two seasons on the Oregon coast, rain and wind. Leave your bikini and beach volleyballs at home because an Oregon beach vacation isn't your typical summer fun in the sun.
Visiting the Oregon coast anytime between November and April? Bring a reliable raincoat. Hikers can expect constant wet weather not only from the seasonal rains, but also from heavy fog and spraying ocean mists as those powerful Pacific waves crash into the rocky shoreline. This is the best time of year to catch some epic ocean scenery.
Summer travelers will see plenty of sun, but there is an ever-present fog wall that hangs over the ocean horizon until mid-afternoon when, like clockwork, it engulfs the majority of coastline. The fog is often thick enough to soak through anything that lingers in its territory for long. Winds can get quite strong this time of year as the hot weather in the neighboring Willamette Valley clashes with the cool ocean climate.
The best time of year to traverse the Oregon Coast Trail is in the Spring or Fall, though you'll need to walk a fine line to catch the best weather. Around the months of May and September, there exist short-lived respites between the seasons of rain and wind when the coast is at its warmest and most inviting. Good luck trying to find them!
Trail Conditions
The Oregon Coast Trail is mostly comprised of sandy stretches that are connected by paved roadways at each town. At the mercy of wind and tides, the beaches that comprise the bulk of the trail are always shifting, though, outside of extreme incidents, there is little risk of bad weather causing the beach to become impassable.
By law, all Oregon beaches are open for the public use — from seawater to vegetation. Remain respectful of private property and wildlife. Be aware of restrictions like the snowy plover nesting season which restricts beach usage to protect sensitive species.
Heavy rains will cause creeks and rivers to swell, at times making fords risky or impossible. Side trails or roads are always an option for bypassing these dangerous waterways. Don't let your pride be your downfall.
There is little mud and muck to worry about on actual trail segments as most of the ground is comprised of sand and rock. Many of these trail segments are connected to roads or parking areas and are well-maintained, but be prepared to skirt around blackberry thorns and prickly gorse in some places. At the right time of year you can snack on an endless supply of blackberries and huckleberries during these segments if you know what to look for, just avoid snagging your raincoat!
The road walks are arguably the most dangerous portions of the trail, and at the moment they make up a large portion of a complete thru-hike of the Oregon Coast Trail, though the state is working to make the trail safer by closing these gaps. Wear bright colors whenever you need to walk along a road and avoid roadwalking in the dark when possible.
Beach Safety
Road safety is well-ingrained into our brains at this day in age, but if you're new to the coast it would be best to read up on beach safety before putting your life at risk.
Whether you're a day visitor or thru-hiker, Oregon beaches are dangerous. Don't take this warning lightly. The ocean metronome can lull you into a sense of safety, allowing you to convince yourself that you can predict waves heights and are safe from the impending hide tide. This false sense of security has taken many lives on the Oregon coast.
Sneaker waves are unpredictable influxes of ocean water that surprise even the most weathered beach goer. They're real, unstoppable, and not all that uncommon. Scaling beach-buried rocks not only kills the clinging marine life like muscles and sea anemone, but it also puts you at risk of being stranded during a sneaker wave. Watch for large logs and other driftwood that can easily be carried by a small wave and crush you with its bulk.
Be smart and read up on more beach safety tips before venturing to the Oregon coast.
Day Trips
The Oregon Beach Bill of 1967 declared the entirety of the Oregon coastline as public land, making it so that you can visit any point of the coast and spend a day exploring the Oregon Coast Trail.
Littered with beach access points, Oregon's Highway 101 is a road tripper's dream. We covered 25 Stunning Oregon Coast hikes with you day hikers in mind, and potential thru-hikers can gain some insight from this highlight reel of Oregon's top coastal hikes.
Beach Towns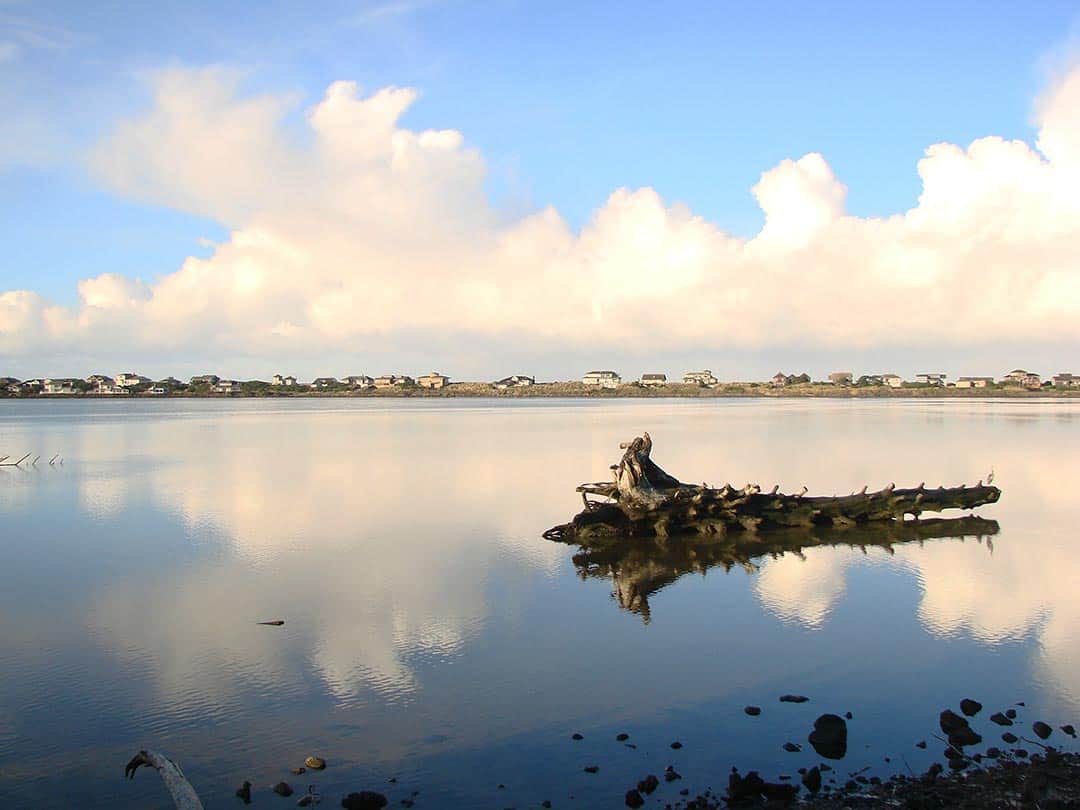 Each coastal town is a part of the Oregon Coast Trail and has its own uniquely local elements that distinguish it from the rest. For adventurers who don't mind mixing in a little small town society into their wild wanderings, the Oregon Coast Trail offers an abundance of Americana unlike any other long trail.
Take a break from the trail to walk the Promenade in Seaside, tour the cheese factory in Tillamook, and catch crab off the pier in downtown Bandon. I'd recommend you stick to the trail when weekend warriors from Portland and Salem crowd the towns' tourist hot spots, then plan for a crab-shack-detour when weekday lines are at a minimum.
State Parks and Campgrounds
Most of the coast is free to access, however, fees are collected at state campgrounds and protected sections such as Shore Acres State Park and Yaquina Head Outstanding Natural Area. Thru-hikers don't have to worry about these fees unless they're spending the night, though day visitors should be prepared to pay to park.
Whether a long-distance hiker is planning to spend the night at a campground or merely passing through, these locations are reliable sources of clean water, restrooms, and showers.
Listen here thru-hikers: Townsfolk appreciate clean hikers! Take the opportunity to wash up when you can and you'll catch your next hitchhike no problem.
Waysides
Don't want to pay to walk the beach? No worries! Skip the landscaped lawns and paved paths of the state parks and stop by one of the countless wayside parking areas.
Waysides can be found in town or along the highway and are simply places to park your vehicle and access the beach. Waysides serve as a great jumping off point for short hikes along the Oregon Coast Trail and often have trail markers to guide long-distance hikers from the beach to town, forest trails, and road walks.
Thru-Hiking the Oregon Coast Trail
The Oregon Coast Trail is a fantastic journey for first-time thru-hikers. While still both a physical and mental challenge, the OCT is rife with ample water sources, frequent resupply points, and temperate weather. These qualities and more create an experience that will leave a lasting impact on those who undertake the journey without requiring the time and endurance needed for a massive thru-hike along one of the big boys like the Pacific Crest or Appalachian trails.
The Journey
Thru-hiking the entire Oregon Coast Trail takes about four weeks for those determined individuals who are in it purely for the undertaking. Hikers who want to take their time can spend many extra days and weeks enjoying the coastal towns where there are historic museums and seafood restaurants aplenty. Hike your own hike and enjoy the journey.
Though it is possible to thru-hike the entire trail at any time of year, most people opt for the summer months when rainfall is almost non-existent. Not only does dry weather bode better for your morale (no one enjoys hiking while perpetually soggy), but it's safer, too. Creeks dry up during summer and become easier to cross.
Along with hiking in the summer, many thru-hikers choose to travel north to south from the mouth of the Columbia River to the California border. This direction will keep the northerly winds at your back, for the most part. Logistically, the further north you are on the Oregon coast, the more populated it is. By hiking north to south you'll be starting where towns are more frequent and ending in a more wild and solitary environment.
Preparation
Planning for a thru-hike of the Oregon Coast Trail is a fairly minimal process as there are no necessary permits to attain and little foresight needed for camping and resupply. You are about to walk 400 miles, much of it on the beach, so a certain level of physical fitness is recommended, but, with the exception of a few big climbs, you'll be hanging around at sea level elevation for the majority of the trip. The air is easy to breathe down low!
The Route
You'll want to grab a copy of the Oregon Coast Trail maps. Take note of how many miles are between each trail-accessible town so that you know how much food to carry. It'll also be good to note the different campgrounds along the route as they often provide hiker/biker campsites and reliable water sources.
Camping is allowed on Oregon beaches, but restrictions do apply. Local word-of-mouth will tell you that beach camping is fine as long as you're not within sight of someone's home. Officially, the OCT maps state:
"Beach camping is restricted within city limits, state park boundaries, and near snowy plover habitat areas (avoid orange fenced areas during nesting). Fires are not allowed upwind or near driftwood piles."
Simply put: be respectful, take note of any posted signs or otherwise known restrictions, and be prepared to move if asked.
Water Hazards
There are numerous bays and rivers along the trail. Walking around these large bodies of water can add dozens of miles to your trip. Unless you're someone who believes that every step matters, it is possible to cut across these waters by ferry or with the help of a recreational boater. It doesn't hurt to ask!
Get your hands on a regional tide table. Make sure you understand how to read it and refer to it often, especially if you plan on camping on the beach. High tides come at different heights depending on the location, time of day, and time of year.
Look for signs of the high tide line before camping on the beach (where the highest ocean-debris line rests). Not only will high tide consume most of the beach, but it can cause other waterways to swell, making some areas impassable for several hours at a stretch.
What Gear to Bring
Consider the Oregon Coast Trail to be a month-long string of back-to-back day hikes. That's what most thru-hikes really are, but on the OCT towns and state parks pop up so often that the description really rings true here.
You are going to need the basics such as good hiking shoes, layers of outdoor clothing, a backpack, tent, a first aid kit, and sleeping gear. Those are your givens. Oregon Coast Trail specific necessities include:
If the rain doesn't get you, the fog will:
Rain Jacket
Rain Pants
Waterproof Pack Cover
Ziploc Bags
Nature calls even when no restroom is in sight:
Trowel
Toilet Paper
Hand Sanitizer
Logistics:
That just about covers it. I'd always recommend a compass, though in this case the ocean will be like your north star (more like your east or west star, depending on your direction), however, it's still worth keeping a small compass in your pack for emergencies. Multi-tools are always handy, as well.
If you're accustomed to carrying a stove on backpacking trips, this would be the ideal excursion to leave it at home if you're feeling inclined to go ultralight. With the frequency of hot deli sandwiches and McBurgers along the trail, you won't be short on hot meals.
A Hike to Remember
The Oregon Coast Trail is a fantastic work-in-progress that guides visitors across Oregon's majestic coastline and through its quaint seaside villages. It's a wet and wild walk packed with local flavor, rugged coastline, and mysteries around every bend.
My favorite Oregon Coast Trail encounter was when I discovered a beached blue whale on the sands north of Gold Beach. To see such a rare and amazing creature was an experience I will never forget. You'll find seabirds, sea lions, and seashell galore, and maybe your own whale is your timing is right.
Whether you're taking a day hike or backpacking the entire coast, each experience on the Oregon Coast Trail will be uniquely your own and you'll go home with a story to tell.
Need a place to stay when you visit the coast? Check out our favorite Oregon Coast cabin rentals.
---