We research, evaluate and select travel destinations based on a number of factors, including our writers' experience, user reviews and more. We may earn a commission when you book or purchase through our links. See our editorial policy to learn more.
---
Just east of Phoenix, the rugged Superstition Mountains shoot nearly 6,000 feet into the sky.
Covering over 160,000 acres, the Superstition Wilderness contains an abundance of cactus, wildflowers, and perennial water sources interwoven with the soaring mountain tops of granite, basalt and dacite.
Summer days may offer unforgiving heat or violent thunderstorms. But when the timing is right — almost any given winter or early spring day — the "Supes" satisfy nearly any craving for adventure and solitude.
Mountains Steeped in Legend
Tales of gold, mystery and phenomena defines the lore of the Superstitions. Legend has it the Peralta family — originally from northern Mexico — came to these mountains in search of gold in the 1840s. Indeed, their mining expeditions reaped prosperity. However, the Apache people also inhabited the area and the Peraltas' mining activity did not go unnoticed.
At the end of their final expedition in 1848 — as the Peraltas prepared to take home their gold — a band of Apaches attacked. Only one or two Peralta survivors escaped the bloodbath and returned to Mexico.
About 20 years after the attack, Jacob Waltz — now known as "The Dutchman" — caught wind of the mine's location. According to the legend, Waltz and his partner successfully extracted gold and supposedly hid a stash somewhere in the Superstition Mountains. Before Waltz died, he allegedly told his neighbor the mine's location.
Over the next century, his confidant and thousands of other determined parties have searched for the gold only to come up empty. Some explorers have even faced their death in search of "The Lost Mine." So while we don't recommend looking for gold yourself, you are certain to find the promised land here in you're looking for a great hike.
The 20 hikes we offer in our guide are just a starting point to the hundreds of different trails, routes and loop options available to Supes hikers. Not to mention the opportunity for off-trail exploration, too — be sure to pick up a Superstition Wilderness trails map to help you navigate.
Day hikes can turn into backpacking trips, and vice versa. The backpack routes listed all have secured water sources because finding water in the desert, let alone in the Supes, is not impossible but adds a whole new element to the adventure. Without further ado, our favorite hikes in the Superstitions.
Related Read: 12 Best Hikes in Arizona, From Desert to Tundra
1. Wave Cave Trail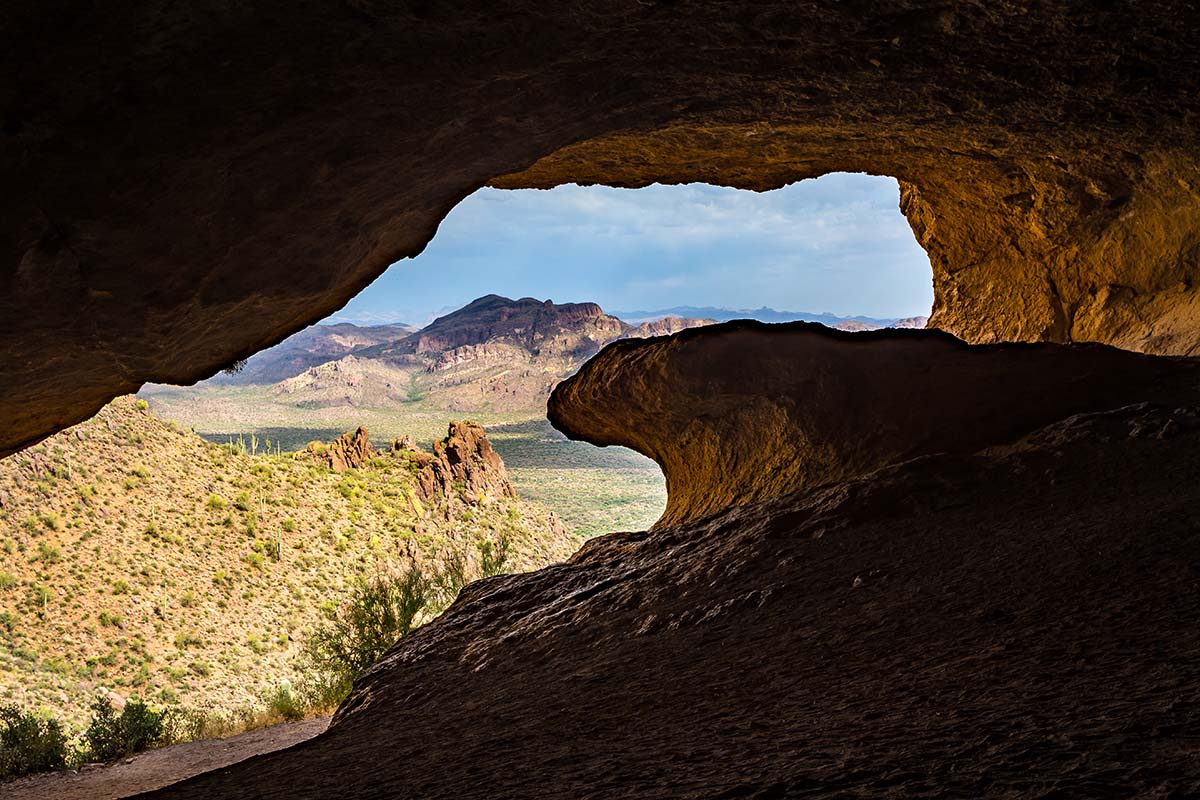 Why you should go: Instagrammable "surfing the wave" photo-op in a giant cave.
Distance: 3 miles
Elevation gain: 846 feet
Difficulty: Moderate
This is a wake up at dawn and be back for brunch kind of hike — you can conquer it within a few hours. This trail has a magnetic pull because of the cave at the end, so I recommend the early start if you want to avoid the masses. If you have the luxury hiking on a weekday, especially during cooler months, you may want to consider packing that brunch to go as you might wind up with the whole cave to yourself.
The first three-quarters of this hike is relatively flat. Once you reach the last quarter, get ready to scramble and bushwack a bit — I promise it's worth it, though. Some solid glute and quad strengthening never hurt anyone. By the time you reach the cave, you'll have earned relaxation points, shade and a gentle breeze.
This hike dubs its name from a huge, wave-shaped boulder projecting out of the cave floor. Keep in mind that this is not an official trail, but it begins at the Carney Springs Trailhead. A bit of trail navigation may be necessary. Look for a ridgetop slanting downward from left to right — at its base and off to the right you'll see a small horizontal opening. That's the cave!
Additional Info: Wave Cave Trail
2. Siphon Draw Trail & Flatiron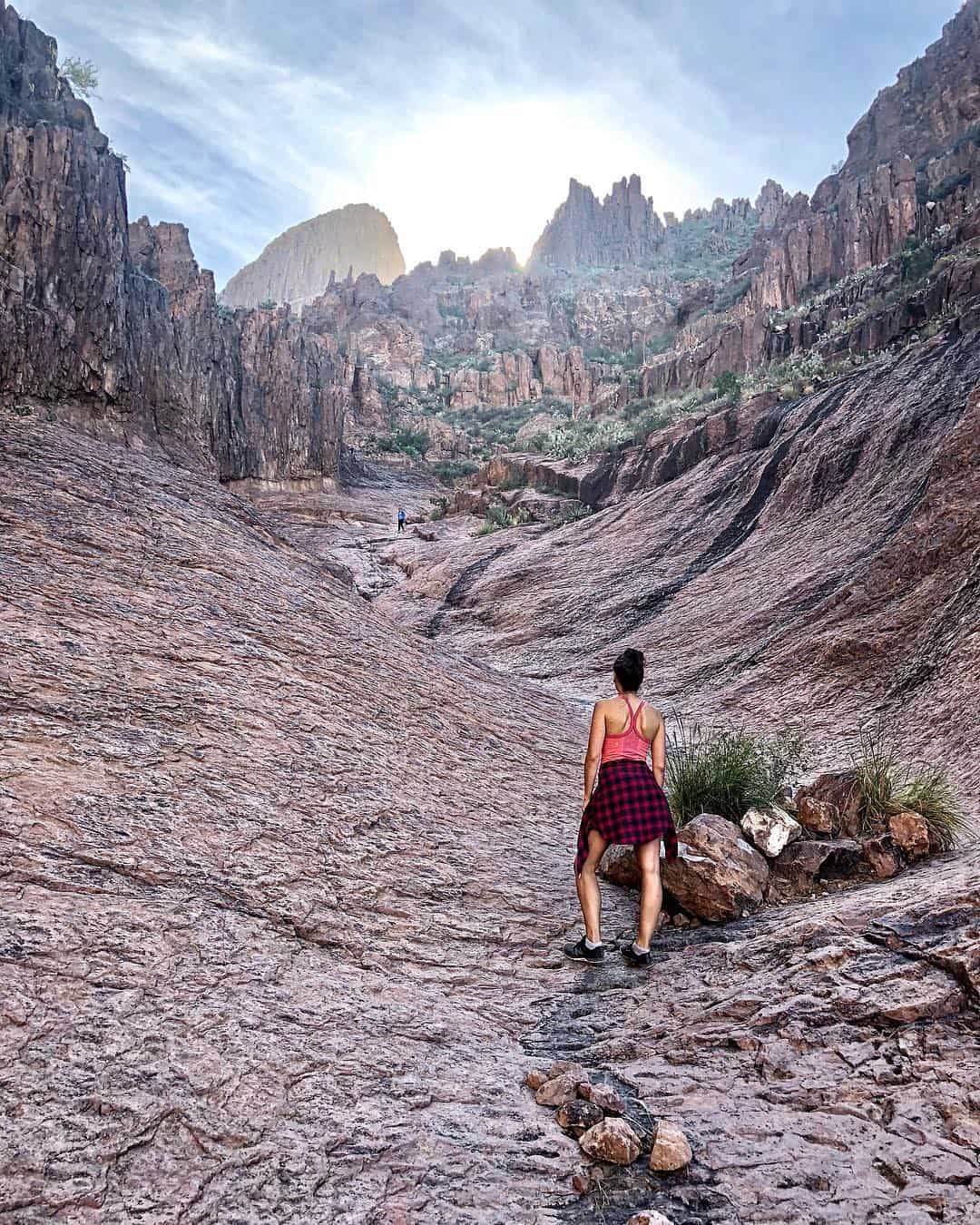 Why you should go: Rainy-day cascades in Siphon Draw and impressive views atop Flatiron.
Distance: 4 miles / 6 miles
Elevation: 1,070 feet / 2,638 feet
Difficulty: Challenging
This is a wake up at dawn and be back for an early dinner kind of hike, or at least that was my experience the first time I summited Flatiron. I also pulled a muscle in my quad on the descent, so maybe that had something to do with it. But don't let my misstep dissuade you from giving it a go. Yes, this excruciatingly steep hike is a heart-pumper, but it's rewarding as can be — and still worthwhile if you choose to only go to the end of the Siphon Draw Trail section.
For $7 per vehicle, parking is available at Lost Dutchman State Park. Or, you can park at the Crosscut Trailhead for free, but you'll add 2.6 additional miles roundtrip. From LDSP, the trail begins flat and slowly starts to rise.
Before too long, you'll be using your hands and feet to hoist yourself up, but the views don't fall short at any point during this hike. In the beginning, the towering western face of the Supes stares back at you. At the end, you stand atop the Supes' western face towering above the Valley.
The views up top are incredible, but don't sleep on the traverse through Siphon Draw. The slickrock surface is fun to walk (or crawl) across, and is incredibly scenic. If you do this hike during after recent rains, you can settle into the sounds of running water in the Draw. It's worth hanging out a few extra minutes to soak up the sights and sounds before continuing to Flatiron's flat-topped summit.
Additional info: Siphon Draw/Flatiron
3. Superstition Ridgeline
Why you should go: Conquer the toughest hike on this list.
Distance: 12 miles
Elevation: 4,480 feet
Difficulty: Challenging
If Flatiron isn't enough for you, we've got you covered with this hike. One of the hardest treks in the Supes, the Ridgeline isn't for the meek or uninitiated. But the toughest challenges also reap the best rewards, right? For every moment you push yourself on this hike, you'll have another moment soaking up spectacular views.
This hike is reserved for the most experienced hikers — physically and navigationally speaking. To complete it, you'll need some off-trail route finding skills and a shuttle car. Park the car at the Carney Springs parking area off of Peralta Road, and then drive to the Siphon Draw Trailhead in Lost Dutchman State Park to start the hike.
You can do this the other way around, too. This is just one option. Once you've reached the turnoff for Flatiron, just keep going up. You're almost there, and the views are unparalleled.
Additional info: Superstition Ridgeline Trail
4. Treasure Loop Trail
Why you should go: Springtime wildflowers and craggy rock formations.
Distance: 2.4 miles
Elevation gain: 460 feet
Difficulty: Easy
Looking for a fairly gentle hike just a bit of umph? Try this one out. Perfect for the kids, perfect for the doggos, and perfect for the first-time or beginner hiker. Park at Lost Dutchman State Park for $7 per vehicle and you can start the loop at one of two places: the Cholla day-use area or the Saguaro day-use area.
I recommend lacing up your boots in the springtime for this one. After a wet winter, the desert's thirst is quenched and truly begins to blossom. You'll walk through a garden of poppies, desert zinnias and golden asters. Even the cacti bloom with flowers and fruit. And if you're considering the hike any other time of year, catching the sunset is the next best alternative. The towering crags of the Superstition Mountain glow brilliantly opposite the setting sun.
In case you want to crank up the heat while you're out there, there are several trails that shoot off from the loop trail and up toward the base of the mountains. Just be careful — these trails can be slippery and tricky to follow. You may even catch some climbers top roping the Praying Hands rock formation.
Additional info: Treasure Loop Trail
5. Hieroglyphic Trail
Why you should go: Short climb to a seasonal pool and Hohokam petroglyphs.
Distance: 2.8 miles
Elevation: 567 feet
Difficulty: Easy
This is another great hike for families, pups and beginner hikers. If you ever have company from out-of-state, this hike will give them the perfect dose of the desert. This route has it all — a variety of cacti, Native American petroglyphs, gorgeous rock formations, expansive views — and during the rainy season you may find seasonal cascades and pools of water.
Archaeologists claim the petroglyphs date back to 900 A.D when the Hohokam people inhabited the area. We'll never know exactly why they etched these pictures — perhaps artistic purposes, or to tell stories, or to symbolize tribal societies and ways of life. Regardless, they're gorgeous and well worth the effort. Just be sure to look but not touch so the petroglyphs stay intact for future visitors.
Take note that you will weave through a neighborhood to get to the trailhead — down South Kings Ranch Road off US 60 East. It may seem like you're lost in suburbia, but you'll get there eventually.
Additional info: Hieroglyphic Trail
6. Peralta Trail to Fremont Saddle
Why you should go: Arguably the best view of Weavers Needle.
Distance: 5 miles
Elevation: 1,571 feet
Difficulty: Moderate
This is possibly the most popular hike in the Superstitions, and for good reason. While solitude isn't always in the cards on the Peralta Trail, it does offer a journey through a mystical canyon and a desert wonderland — even the drive to the trailhead feels like a gift.  And once you've reached Fremont Saddle, you can marvel at Weavers Needle. Trust me, you'll want to stay awhile, so I suggest packing a lunch for this one.
Weavers Needle is a volcanic monolith soaring nearly 1,300 feet from base to summit. It presents an adventure for rock climbers, too, some of which have even camped out at the top. According to Arizona Highways, Weavers Needle is named after Paulino Weaver, "a famed mountain man, scout, trapper and miner."
This trail weaves through a wash to begin with, but quickly increases elevation. Before you know it, you'll be surrounded by the canyon walls in all their glory. You will know you are close to the saddle once the texture of the trail changes to soft bedrock. Then, after a few switchbacks, you're there. Enjoy the view and explore the saddle to see all the vantages.
Additional info: Peralta Trail to Fremont Saddle
7. Cave Trail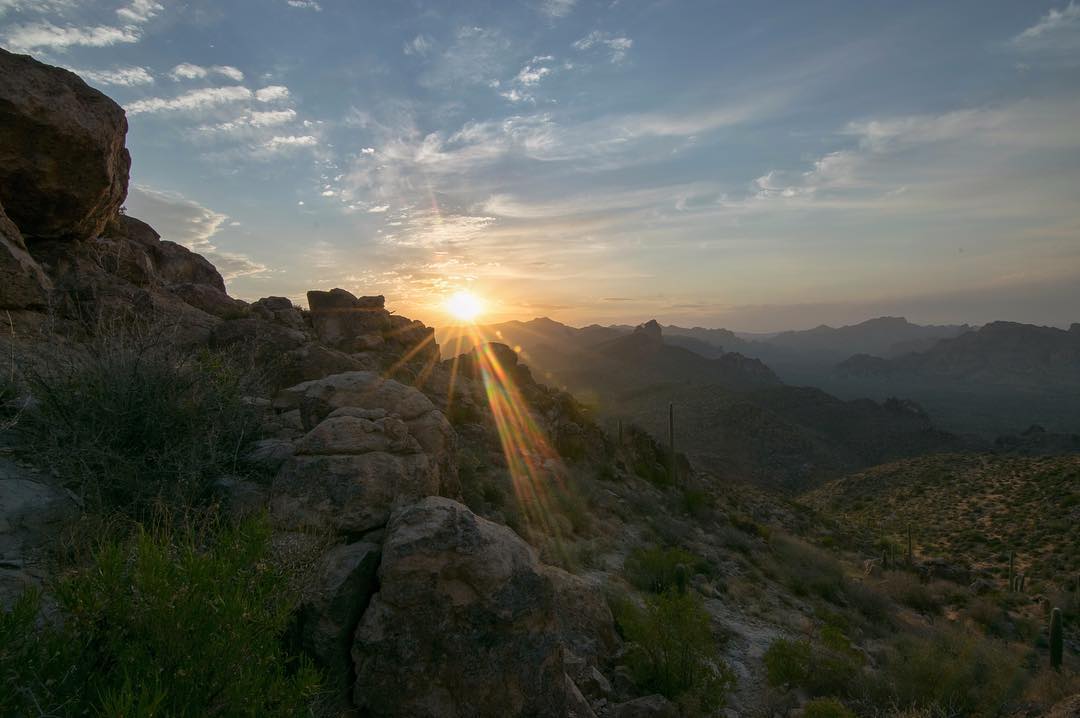 Why you should go: Get a dose of "cave" therapy.
Distance: 1.8 miles
Elevation: 860 feet
Difficulty: Moderate
I suggest doing this trail as one-way, and you'll need to hike up the Peralta Trail before giving it a whirl. So, you've just reached Fremont Saddle. You can simply go back the way you came, or you can tackle the Cave Trail.
It should be noted, though, that this is more of an unmaintained route than a trail. When dealing with such a hike, footing can be tricky and requires a bit of route finding in spots. All we're saying is, please be careful and do not attempt this on a rainy day.
Regardless of the potential challenges, the Cave Trail is a crowd-pleaser. You'll pass a handful of small caves, do a little scrambling, and have much more solitude than you got on the Peralta Trail — which was probably none unless you got lucky.
The points of direction for this trail are far from few. There are some cairns and it's nearly impossible to get lost, but we are going to leave it up to our pals over at HikeArizona to do the navigation honors.
Additional info: Cave Trail
8. Battleship Mountain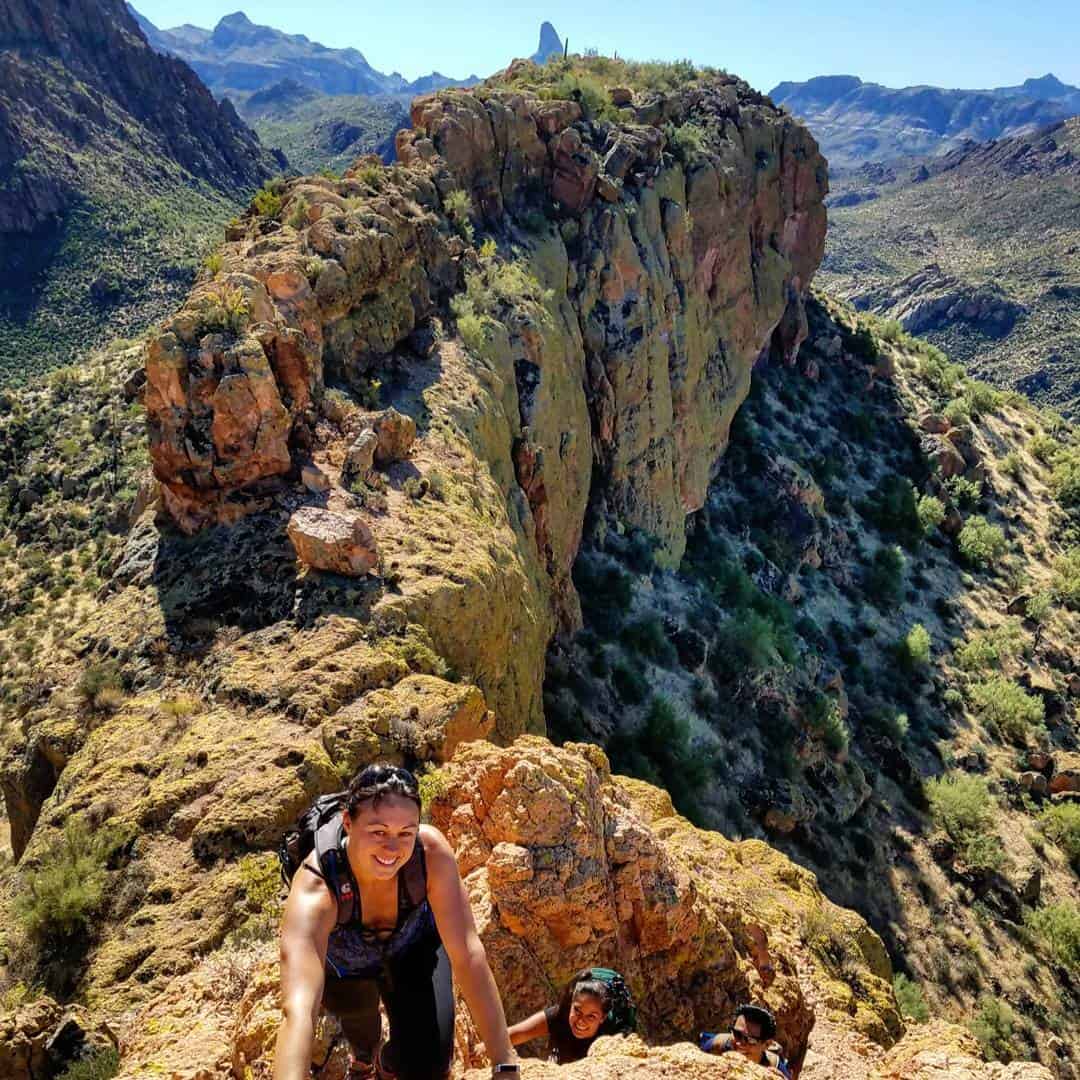 Why you should go: An exposed adrenaline rush for adventurous souls.
Distance: 12 miles
Elevation: 1,863 feet
Difficulty: Challenging
If you're afraid of heights, summiting the Battleship may indeed be a battle. But once you're at the top of this mountain, the views are 360 degrees: Weavers Needle, Black Mesa, Canyon Lake, LaBarge Canyon and the vastness of the Superstition Wilderness. Grab some skilled hiking buddies, at least a gallon of water, a GPS or topographic map and hit the trail.
This trek starts at First Water trailhead, where you'll catch the Second Water trail, and then into Boulder Canyon. Or, you can start with the Boulder Canyon Trail, which is accessed from across the Canyon Lake Marina parking area. Once in the canyon, this is where navigation gets complex.
It's common to get into a flow while hiking — one foot in front of the other and glance up here and there for the views. But while you're flowing, keep your eyes as peeled as possible for the cairns, or you may miss the turnoff to the summit.
The climbing is not technical — no need for ropes or rock climbing shoes. But you'll need to manage a handful of moves on your way up. This is also the point in which fear of heights might kick in, but you can do it. I believe in you. Once you're at the top, the glorious views are the reward for powering through.
Additional info: Battleship Mountain
9. Boulder Canyon Trail
Why you should go: Rocky, roller coaster trail with a good chance at solitude.
Distance: 7.3 miles
Elevation: 620 feet
Difficulty: Moderate
Anyone who has hiked in the Supes knows that the terrain is unique — in a harsh way. It's rocky, sharp and unforgiving. For all the Supes veterans, give yourselves a pat on the back, because it's rough out there. But, it's also humbling. This trail, in particular, keeps me humbled and healed. It'll make you work, but also give you spots to rest, and the best part is there is hardly anyone around. When in solitude, the desert speaks.
The trail begins across the street from the Canyon Lake Marina parking. Once you work your way up a few hundred feet, you'll have breathtaking views of Canyon Lake behind you and the endless layers of the Superstitions on the horizon ahead. Look out for epic views of Weavers Needle, too.
Eventually, you'll descend into the riverbed (keep in mind that during the rainy season, or during storms, there is a high chance for flooding). This might deem a good turn around point for some, or you can keep on trekking. Similar to Battleship Mountain, navigation gets a little finicky in the river bed, so watch for cairns.
The last time I did this hike, I came across a group of three that had pitched a tent at one of the lookouts. Maybe I'm late in the game, but I was very impressed with this idea. Imagining the sunset on the evening of a full moon, and also catching the sunrise, left me speechless. It's now on my to-do list. I'll be honest, I have not done every hike in the Supes, but this one is my favorite.
Additional info: Boulder Canyon Trail
10. Massacre Falls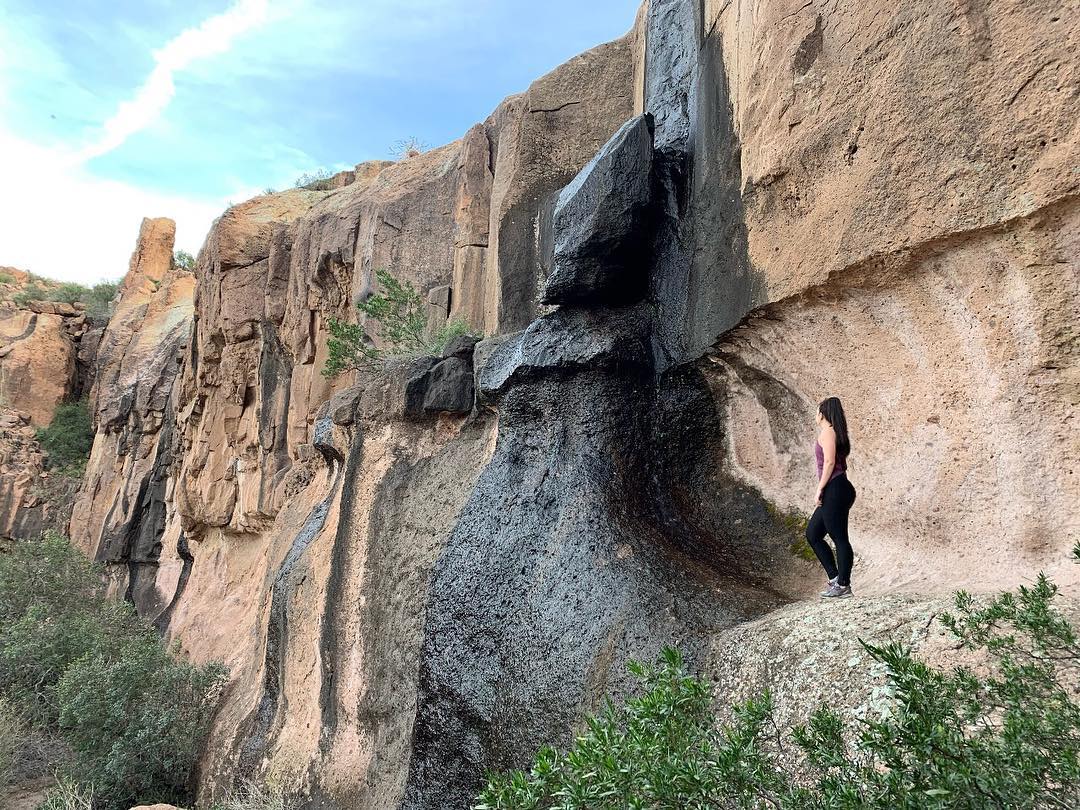 Why you should go: A rare, seasonally-flowing waterfall and haunting history.
Distance: 5.5 miles
Elevation: 1,120 feet
Difficulty: Easy
I recommend doing this hike after, or during, some rainfall for a couple of reasons. For one, when it's overcast and/or raining, the desert is radiating in color and life. This is probably my favorite time to hike generally. And two, a grand waterfall is the destination. A big one, too.
It's seasonal, though, so that's why it's best to go after some rain or snowmelt. If you decide to go during a warmer day, there may be a trickle. Hopefully, it's enough to cool you off a bit. If not, there's some nearby shade. However, most of this trail is exposed until then, so it's not a great idea in the summer heat.
There is a gloomy tale that surrounds this area. As mentioned in the intro, members of the Peralta family regularly mined these mountains before falling victim to a murderous ambush by a band of Apaches. This event took place on what is now known as Massacre Grounds.
Most of this trail is relatively flat and easy. Toward the end, the incline straddles the line between easy and moderate. Either way, it's a fruitful hike all around — but you could say that about every Supes hike! You'll get started at the Crosscut Trailhead off of First Water Road.
Additional info: Massacre Falls
11. Reavis Ranch (Via 109 North)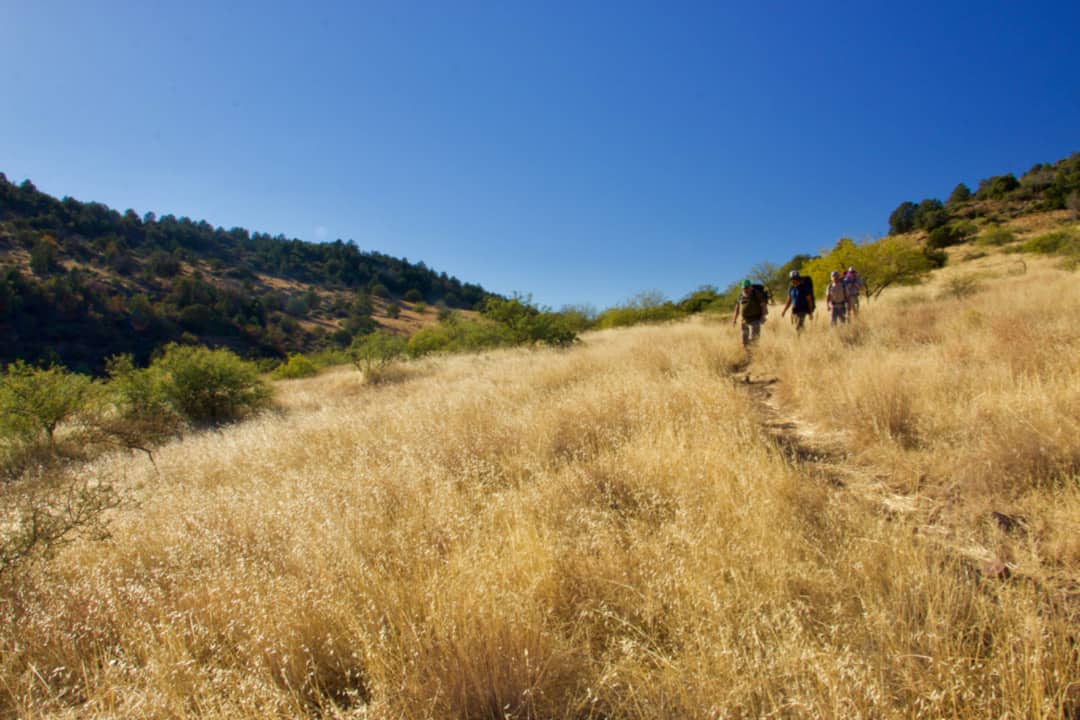 Why you should go: Fresh apple picking and a refreshing pine forest.
Distance: 20 miles
Elevation: 3,000 feet
Difficulty: Moderate
These next few hikes are closely related and make for killer backpacking trips. Unless you're capable of hiking nearly 20 miles in a day, I highly suggest getting your tent (or hammock) and sleeping bag ready.
If you haven't been to the east side of the Superstition Mountains, it's a must. You swap out a sea of cactus for high desert grading into lush forest. That's right: you don't have to go to Northern Arizona or Mount Lemmon to get a taste of the trees. There is a creek, too, mind you. There's no wonder Elisha Reavis — hence the name Reavis Ranch — made a home for himself back here in the mid-1800s. He's also the one who planted the apple orchard.
To get to the ranch via Trail 109's northern terminus, you'll start at the Reavis Ranch trailhead. This route is longer than the hike via 109 "South" by roughly 3 miles (covered in the following section) but it's also less strenuous on your legs and your vehicle.
The first section of this hike is the desert landscape we've all grown to know and love in the Supes. But after a few miles of uphill hiking, you'll find yourself walking amongst the trees. The ranch has a variety of dispersed camping, so take your pick.
Here are some pro tips for this backpacking trek:
Timing is everything. Fall is usually the best time. It's not scorching and the apples are in season.
There is an aquifer-fed spring/creek to refill water, but be sure to pack plenty regardless.
A passenger car can get you to the trailhead, but stay focused and use care. A high clearance vehicle is recommended.
A GPS download and a map will come in handy. AllTrails is a great resource.
Along the way, you'll come to sign labeled "Plow Saddle" which is the start to an alternative hike, but for the one I am describing, just keep heading straight.
If you have enough time, stay two nights. You can spend day two exploring some one-off trails and enjoying the creek.
Additional info: Reavis Ranch Via 109 North
12. Reavis Ranch (Via 109 South)
Why you should go: The more scenic way to Reavis, and you can still get apples.
Distance: 14 miles
Elevation: 2,455 feet
Difficulty: Moderate
Another way to Reavis Ranch, just starting from the south instead of the north. It starts at Rogers Trough Trailhead, and a high clearance with 4WD is recommended to get back here, especially after a good rain. This hike is shorter than the north side, too, by 3 miles.
However, it's also steeper. If you have 4WD locked and loaded and don't mind more of an uphill climb, than this path has your name all over it. Everything else you need to know about Reavis Ranch is in the prior description—including a lay of the land, some history and pro tips!
Additional info: Reavis Ranch (Via 109 South)
13. Reavis Falls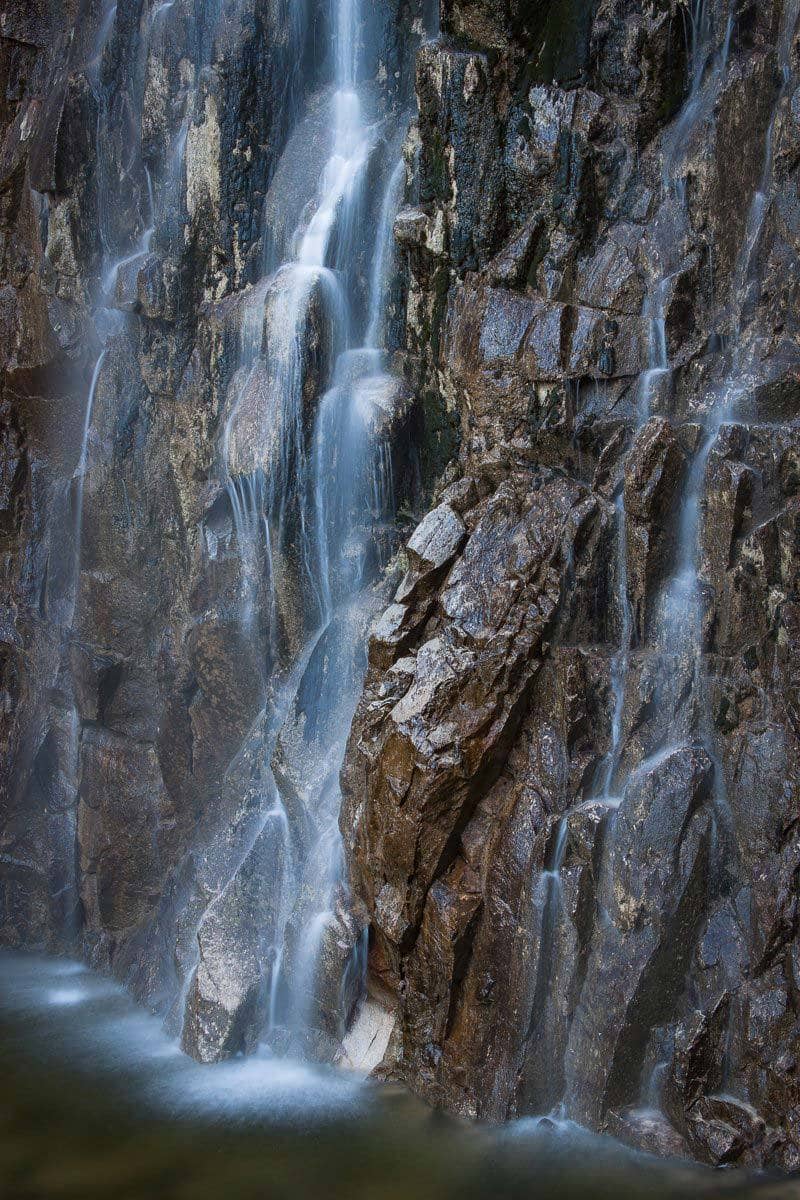 Why you should go: Desolation and a seasonally flowing 196-foot waterfall.
Distance: 13.8 miles
Elevation: 1,637 feet
Difficulty: Challenging
For all the Arizona waterfall lovers, this one's for you. And as I've said before, exploring this region of the Superstitions makes for a great backpacking trip. Just bear in mind the waterfall is seasonal. Rainfall will get it going, but it's mostly dependent on snowfall melting from the nearby high peaks. Only after a few weeks of consistent winter storms will the waterfall be roaring.
You'll start down Reavis Ranch via 109 North at the Reavis Ranch trailhead. About 3.5 miles in, a trail enters from the east — this is the turnoff. The trail crests a high ridge after a quarter-mile, and makes a rugged 2-mile descent into Cedar Basin.
It's easy to mistake the small drainage at bottom as your destination, so be sure to continue another half-mile over the next hill to Reavis Creek. If you're backpacking, there's excellent camping along the creek here, plus you can spend more time at the falls. Just be prepared for a bushwhack on an intermittent trail along the creek to get to the waterfall.
Additional info: Reavis Falls
14. Charlebois Spring (Via Peralta Trailhead)
Why you should go: Sip fresh spring water and enjoy some petroglyphs.
Distance: 14 miles
Elevation: 790 feet
Difficulty: Moderate
The Superstition Wilderness is known as a hiding place for secrets. Just when you think you have an understanding the Supes, you find another piece of territory to blow you away. That's how I felt during this trek. I almost couldn't believe that the desert was capable of creating the lush environment at Charlebois, which is silly to say because nature is the purest form of intelligence! But either way, around every corner is a different piece of the landscape waiting to be unveiled.
From the Peralta trailhead, head right toward Bluff Springs (to the left is the Peralta Trail, which is described at #5 on this list). The first section will get your blood flowing, but the views of the east side of the mountains will motivate you.
Eventually, you will settle into a canyon and this where all the fun begins. There are three springs on this trail, two of which will require a little bit of navigation but will be necessary if you decide to turn this into an overnight trip. Just past the springs, there are also some pools of water, and camping spots are scattered at the base of Charlebois Canyon.
One more note about this hike — the petroglyphs, otherwise known as the "Master Map." The site of these glyphs can be a little challenging to find, but that's part of the adventure, right? I will say, though, that it's not far from Charlebois Spring with a Forest Service sign next to it. No one really knows the source of the carvings, but it's still a magnificent piece of history and a memory to take home.
Additional info: Charlebois Spring (Via Peralta trailhead)
15. Charlebois Spring (Via First Water Trailhead)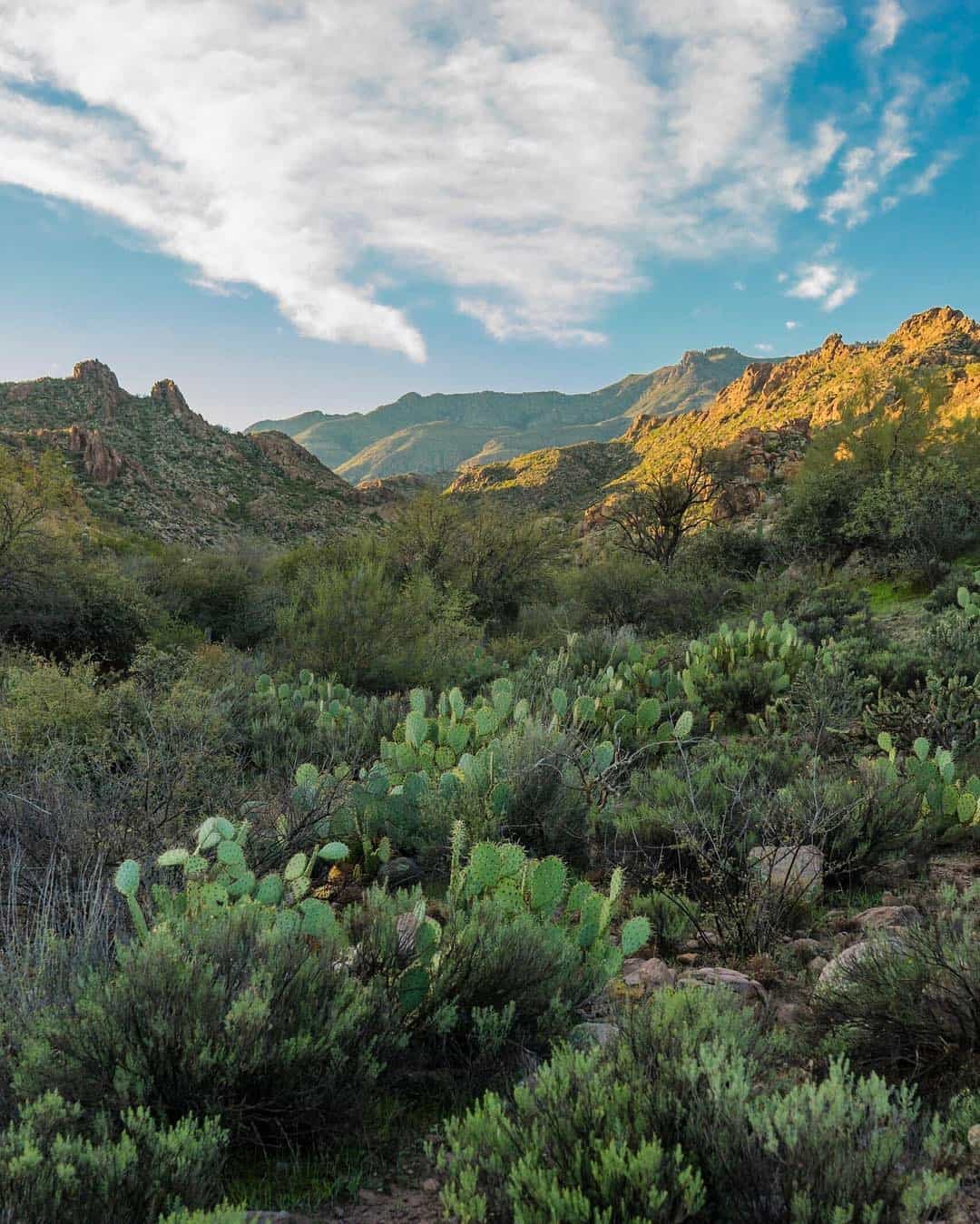 Why you should go: A great way to approach Charlebois following recent rains.
Distance: 16 .7 miles
Elevation: 550 feet
Difficulty: Moderate
Backpacking in the Supes is a one-of-a-kind experience. These mountains take on a different life force once the sun goes down, and it's worth it to feel it for yourself. But these trips also present a challenge because the region has areas where water is seldom found. So, when we know water is squared away, we have to take advantage of it.
To start this trek, you'll park at First Water trailhead. The turn off is a little ways past Lost Dutchman State Park. The most straightforward way is to take Dutchman's Trail (#104), but you can also get there via the Second Water Trail, which is a wonderland of waterfalls after recent rains. The savviest of hikers will make this a loop.
Depending on how long you'd like to stay, or what you'd like to see there are numerous route and side trip options. It can be as straightforward or as sporadic as you want.
Additional info: Charlebois Spring (Via First Water trailhead)
16. Parker Pass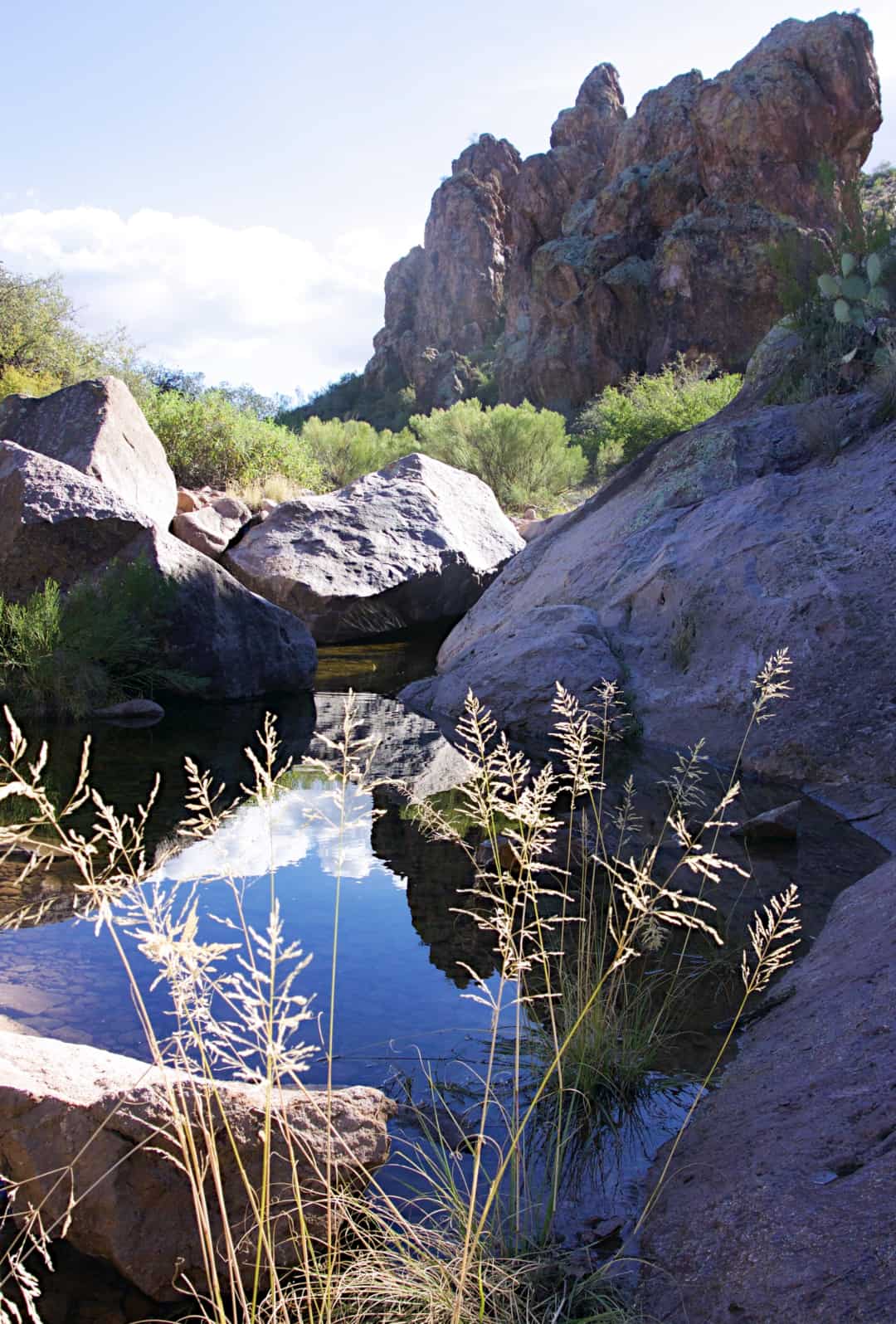 Why you should go: Family-friendly jaunt with possible creek time on rainy days.
Distance: 4.6 miles
Elevation: 337 feet
Difficulty: Easy
So, let's say you don't want to go as far as Charlebois Springs (previous hike) and you'd like to bring the kids along, but you still want to explore the wonders of the western Supes. Parker Pass is a great option.
You will take the same approach as Charlebois, i.e. starting at First Water Trailhead and taking the Dutchman's Trail. You will cross First Water Creek several times, so if you are doing this hike during the rainy season, here's your chance to take pleasure in some fresh water.
Eventually, you will reach a saddle, but this isn't Parker Pass. Keep going another .7 miles to the higher pass. Once you are there, relax, marvel at the views and nibble on the snacks you packed. If you get going early enough, you'll be home in time for lunch!
Additional info:  Parker Pass
17. Barks Canyon Loop
Why you should go: In just four miles, you get some of the Supes' sweetest sights.
Distance: 4 miles
Elevation: 640 feet
Difficulty: Moderate
As with any low-grade canyoneering route, navigation and bushwhacking can present a challenge and problem-solving. But don't let that turn you off from this hike— you will most definitely get an incredible return on your investment.
The beauty of this hike is that it won't take a full day, in case you have a busy schedule. You will still get some elevation change, trek past pools of water, look out upon the vastness that is the Superstitions, tour through a canyon, and last but not least, experience solitude. The off-trail aspect gives this one an especially adventurous flavor.
You'll begin this hike from the Peralta trailhead, and start down the Bluff Springs Trail (bear right). About a mile in, you will come to a creek bed. This creek bed turns into the "trail" going south. The first time I attempted this hike, I did not navigate properly and continued straight, across the creek bed, instead of following the creek bed.
This choice turned a 4-mile hike into a 9-mile one. Quite a big difference if you ask me, so don't make the same mistake I did. Unless you want to go for the long haul, I talk about that hike next! Make the right turn, plan it after a recent rain, and you'll experience some of the finest pools and pour-offs in the Supes.
Additional info: Barks Canyon Loop
18. Miners Needle Loop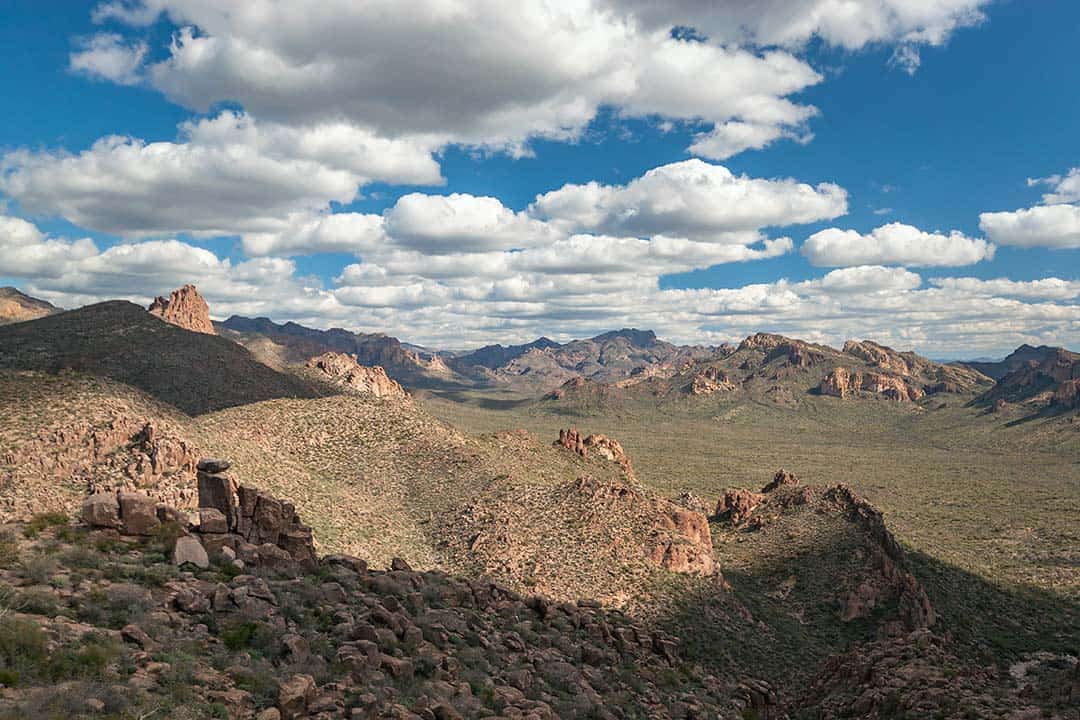 Why you should go: A potpourri of Superstition grandeur.
Distance: 9 miles
Elevation: 1,141 feet
Difficulty: Moderate
Miners Needle Loop gives you a little bit of everything. Expansive views, canyon walls, valley floors, switchbacks, desert trees, and a saguaro forest. Oh, and a feeling of fulfillment because you just trekked 9 miles through some tough terrain. Reward yourself afterward.
If you read the previous hike description, you'll notice that I did this hike by accident, but I wasn't the least bit disappointed. However, in the beginning, my friends and I had no idea what we were in for. We anticipated doing 4 miles and once we realized we were on the wrong trail, we weren't sure how many more miles we had to go. Our only option was to just keep hiking, and eventually we wound up back at the car. It was definitely an adventure for the books.
Two of my friends were from out of town and they said it was one of the most beautiful hikes they've done. However, they said it was the last time they would allow me to pick the trail. I don't blame them.
Additional info: Miners Needle Loop
19. Fish Creek (from Apache Trail)
Why you should go: To appreciate the sound of running water.
Distance: 6.3 miles decide
Elevation: 950 feet
Difficulty: Moderate
If someone invites me to go hiking, and they tell me we'll be water wading, swimming, or even hiking parallel to a creek, I'm always in. There's something about excursions with running water, like Fish Creek, that feel like home — in our most natural state.
Fish Creek isn't much of a trail and there is no real destination point, which, in my opinion, is a positive aspect. You choose your adventure!  It's all about boulder hopping, scrambling and scouting the best way to keep moving forward.
The route you choose will also determine the difficulty and length. Challenge yourself if you're up to it. Depending on the time of year, there will be more or less water in the creek. This creek is prone to flash flooding, so do not enter if it's raining, or if there is a chance of rain.
Getting to Fish Creek is pretty easy, too. From AZ 88, or Apache Trail, you will eventually cross a bridge. Underneath the bridge is Fish Creek. There is a handful of parking spots on the other side of the bridge, but on a busy weekend, parking may be more difficult to come by. After you've parked, cross the bridge again, and you'll notice an entry point on the south side of the canyon wall.
An anecdote about Fish Creek is that it is a source of native fish — the Apache Trout. Barriers have been placed at any confluences to ensure introduced fish do not hybridize with this native species.
Note: the distance and elevation may vary dependent upon the distance you choose to travel.
Additional info: Fish Creek (via Apache Trail)
20. Hackberry Spring
Why you should go: An old windmill, an abandoned corral, an oasis in the desert!
Distance: 5 miles
Elevation: 700 feet
Difficulty: Easy
Folks from other States might assume that water is impossibly hard to find in Arizona, especially in the Sonoran Desert, and let alone the Superstition Wilderness. A trip to Hackberry Spring is enough to prove otherwise.
There's history on this hike. At the sign for the Black Mesa Trail is where you'll spot the remains of ancient ruins. If you look around closely, you may even find pieces of pottery (look but leave them where they lay). Others have noted that as you continue on the north side of First Water Creek, a tunnel that leads to an old mine operation.
To get to this hideaway, you'll start at the First Water Trailhead off of AZ 88, like some of the other great hikes on this list. Reviewers of this hike have claimed the navigation is like solving a hard puzzle. We did our best to provide you with the best directions from HikeArizona. It may be wise to have a map and GPS as well.
Additional info: Hackberry Spring
Explore More of Arizona
Sign up for our free email to join thousands of readers getting epic travel, hiking, camping and gear ideas every week.
---