Territory Supply is reader-supported and may earn a commission when you book or purchase using our links. Learn more about our editorial policies here.
---
Yurt glamping is the best way to experience the rustic beauty of the Washington.
That's because yurts combine the luxuries of upscale hotels with the #optoutside lifestyle. In a well-appointed yurt, you can stay warm and cozy while witnessing first-hand the tumultuous weather and elusive wildlife of the region. It's like tent camping, only your tent is a Bohemian-inspired permanent yurt, and instead of freezing on the ground, you're toasty warm next to a wood-burning stove. Lying in bed in a yurt while heavy rains pelt the exterior canvas and a crackling fire supplies heat – that's an experience worth seeking.
Whether you're looking for an island-hopping adventure across the Puget Sound or are planning a remote escape near one of the state's volcanic behemoths, you'll definitely find you new happy place on this list of the best yurt rentals in Washington state.
Related Read: 9 Amazing Lake Camping Sites in Washington
1. Dreamy Island Yurt
Why you should stay: Upscale accommodations on a mini-farm on Bainbridge Island.
Nearest town: Bainbridge Island
Sleeps: 2
Minimum stay: 3 nights
Rates from: $130/night
This Dreamy Island Yurt is immaculate both inside and out, with an especially tasteful interior. Unlike many more rustic yurt rentals in Washington, this one is fairly heavy on amenities as guests are granted access to a private kitchen and restroom in the adjacent home's basement. Oh, and there's a hot tub, too.
You'll find this island escape to be a quiet and peaceful respite from the outside world. That said, the yurt is located on a tiny farm, so you'll surely hear the friendly goats and mini-pigs as they go about their day.
Check Availability
2. Forested Nature Retreat
Why you should stay: Be inspired and delighted by the conifer forests and charming Whidbey Island.
Nearest town: Langley
Sleeps: 4
Minimum stay: 2 nights
Rates from: $98/night
Find privacy solace at this woodland yurt on the edge of an organic farm in the island's forested interior. Though it feels remote, this property is only minutes away from the picturesque town of Langley and the Clinton ferry terminal.
There's much to enjoy in this neck of the woods. Just down the road are fantastic wineries, scenic beaches, and organic farmer's markets. The island is also home to Deception Island State Park, the most visited state park in all of Washington.
Check Availability
Related Read: 14 Best Airbnbs in Washington For Unique Evergreen State Getaway
3. Unique Urban Oasis
Why you should stay: Find peace and serenity at this sanctuary within West Seattle.
Nearest town: Seattle
Sleeps: 4
Minimum stay: 1 night
Rates from: $99/night
Only several blocks away from the popular Alki Beach, this Unique Urban Oasis is like a portal to another time and place – or maybe multiple times, since the decor ranges from mod 70s patterns to mid-century furniture. But it's plush and comfortable; you'll feel right at home.
Despite being surrounded by an urban jungle, this yurt and its neighboring "hobbit sauna," as the host calls it, are like something out of a fairy tale. If there were a place where magic was born in the Seattle metro area, this would be it. The garden is vibrant, the location is ideal, and the vibe is truly out of this world.
Check Availability
Related Read: 11 Best Glamping Spots in Washington for a Natural Getaway
4. Sustainable Farm Homestead
Why you should stay: A lovely agrarian landscape with adventure at every turn.
Nearest town: Chewelah
Sleeps: 6
Minimum stay: 1 night
Rates from: $98/night
This yurt rental in Washington is basically an outdoor enthusiast's dreamcation. You can participate in nearly any type of outdoor recreation activity near this eastern Washington Sustainable Farm Homestead as the Colville National Forest, Columbia River, and North Mountain Ski Resort lend themselves to all sorts of outdoor fun. Hikers, fishers, hunters, and skiers alike will find limitless opportunity in the area.
Spokane isn't far away, either, so it's easy to spend a day of your stay exploring the city's eclectic districts, hiking its many wonderful trails, or catching a show downtown.
Check Availability
5. Magical Mountain Retreat
Why you should stay: Private top-tier accommodations on eight acres of wilderness.
Nearest town: Granite Falls
Sleeps: 4
Minimum stay: 2 nights
Rates from: $127/night
A slice of utopia on the bank of the Stillaguamish River, this Magical Mountain Retreat is heaven on Earth. The spacious yurt is fitted with a full kitchen, dining area, and wraparound deck. A few steps away is the cedar plank bathroom and laundry building.
But enough about the yurt — take a look at that view. Snow-capped Mount Pilchuck can be seen in all its glory from the riverbank, and the moss-covered forest is a delight any time of year. Big Four Ice Caves is an amazing hiking destination only about 20 minutes away.
Check Availability
Related Read: 9 of the Best Airbnbs in Seattle, Washington
6. Paisley Paradise Yurt
Why you should stay: A resort-like getaway on 20 woodland acres near Mount Rainier National Park.
Nearest town: Yelm
Sleeps: 4
Minimum stay: 1 night
Rates from: $105/night
The Paisley Paradise Yurt one of the most well-appointed and thoughtfully decorated yurt rentals in Washington. An elaborately tiled bathhouse with an antique clawfoot tub shares a covered walkway with the yurt, turning this tent into a two-room backcountry condo of sorts.
The property also features a manicured garden, multiple walking trails through the forest, and several resident chickens that roam through the common areas shared between the yurts. Find seclusion by sticking to your yurt, or spend your time swapping stories with the other guests in the evenings. It's a friendly place.
Check Availability
7. Rustic Chateau at Rivendell
Why you should stay: Solitude and serenity in this luxurious hand-crafted abode.
Nearest town: White Salmon
Sleeps: 4
Minimum stay: 2 nights
Rates from: $147/night
You may feel like you're walking into a magic world from "Lord of the Rings" thanks to the unending natural beauty that surrounds the Rustic Chateau at Rivendell. Tolkien references aside, the landscape here is absolutely bewitching, and the yurt itself is splendid.
The south-central location of this Washington yurt places it within close proximity to the Columbia River Gorge, Wild and Scenic White Salmon and Klickitat Rivers, Mount Adams, and the Goat Rocks Wilderness. The bucolic towns of Hood River and Trout Lake are also close, either, though you'll find the yurt to be quite remote. There's electricity, but probably not much cell service – though there is a private teak-wood hot tub.
Check Availability
Related Read: The 10 Best Pet-Friendly Cabins in Washington
8. Mount Moriah Yurt
Why you should stay: Get off the grid at this hideaway near Loon Lake.
Nearest town: Loon Lake
Sleeps: 2
Minimum stay: 2 night
Rates from: $95/night
The well-stocked Mount Moriah Yurt has all the necessities for off-grid living. The 20-acre woodland property is completely private and remote. Though you won't see a soul near the yurt during your stay, there's a resort at Loon Lake that provides beach access and basic amenities, and the town of Loon Lake isn't much further away.
You'll have views of Loon Lake and Mount Spokane while you lounge away on the wrap-around deck. Feel free to explore the forest, and the lake is ripe for recreation opportunities. There's no Wi-Fi, but there are Adirondack chairs for lazing the day away with one of the provided books.  It's certainly one of the most affordable yurt rentals in Washington.
Follow 'em: Instagram
Check Availability
Related Read: The 10 Best Scenic Drives in Washington
9. Authentic Mongolian Yurts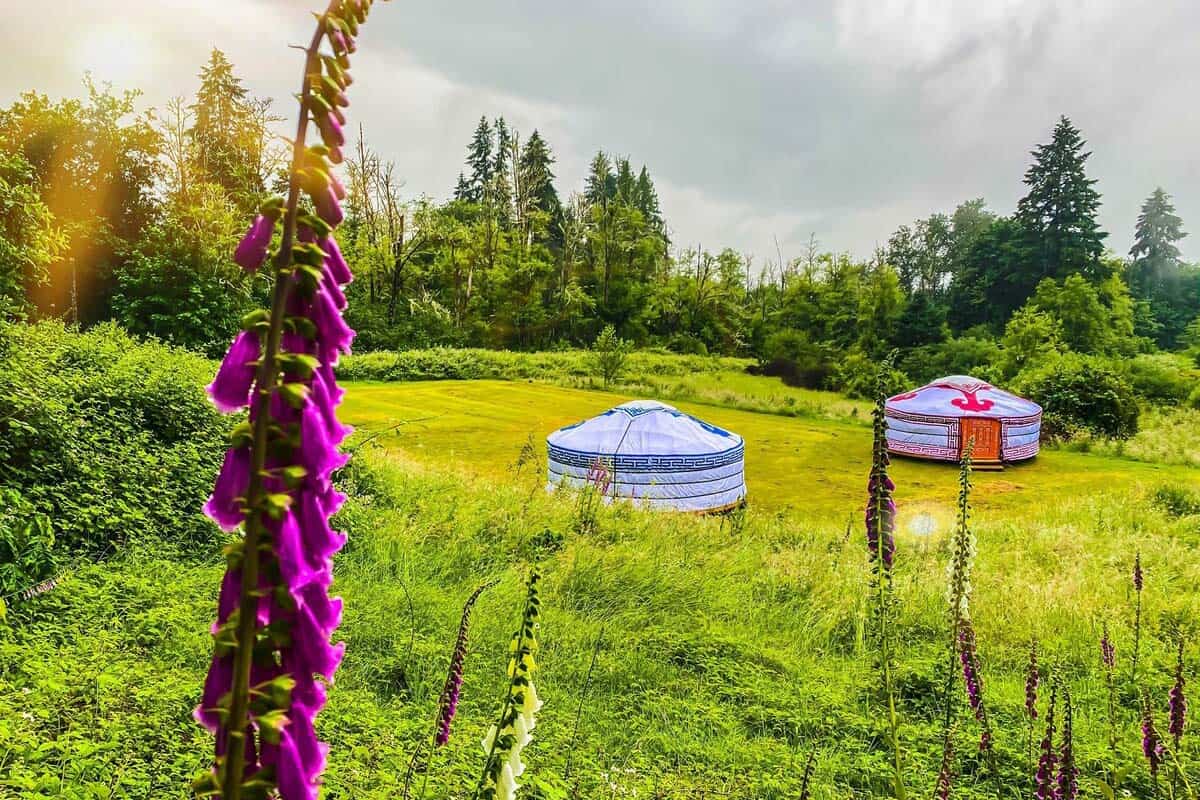 Why you should stay: Possibly the most authentic yurt experience you can have outside of Mongolia.
Nearest town: Woodland
Sleeps: 8
Minimum stay: 1 night
Rates from: $189/night
The hosts imported these Authentic Mongolian Yurts from across the globe and updated them with all the modern necessities needed for the ultimate glamping experience. The whole property is designed with families in mind, with lawn games, plus an indoor playground and basketball court, climbing wall, and even space for bocce ball. The hosts actually lived in Mongolia for several years, so these "gers" are pretty darn authentic. But that also means there's no plumbing, so prepare to walk to the nearby restrooms and use water from the jugs provided.
Check Availability
10. Huckleberry Yurt
Why you should stay: A modern yurt near Mount Rainier with multiple "rooms" and even an indoor bathroom.
Nearest town: Ashford
Sleeps: 2
Minimum stay: 2 night
Rates from: $167/night
Perfectly positioned on the edge of Mount Rainier National Park near the banks of the Nisqually River, the Huckleberry Yurt is an ideal getaway location for those seeking adventure and solitude. The yurt is on a private 6.5-acre property exceptionally close to the park entrance. In addition to fabulous indoor space, there's a fire pit with seating for two plus a private covered Jacuzzi hot tub. It's be a great date spot for a weekend getaway.
Check Availability
11. Devils Mountain Yurt
Why you should stay: A pastoral retreat for a quick getaway from Seattle.
Nearest town: Mount Vernon
Sleeps: 2
Minimum stay: 1 night
Rates from: $95/night
Seattleites will appreciate the tranquility of the Devils Mountain Yurt, and out-of-state visitors will find it to be a rural alternative to staying in the big city. This yurt provides quick access to the Emerald City, the Salish Sea, and the northern Washington Cascades.
Just about anyone can make a case for this to be the place they want to stay in the Seattle area. Skiers have Mount Baker, business travelers are close to the city, and adventurous souls have a wealth of places to explore. And Seattle's food scene is nothing to sneeze at, either.
Check Availability
More Incredible Stays
Sign up for the Territory Supply Newsletter and join thousands of readers getting epic travel and Airbnb ideas every week.
---