We research, evaluate and select travel destinations based on a number of factors, including our writers' experience, user reviews and more. We may earn a commission when you book or purchase through our links. See our editorial policy to learn more.
Was this article helpful?
---
With a slogan like Pure Michigan and the beauty of three Great Lakes to contend with, it's no wonder that cabin stays in Michigan have such allure.
A cabin immersed in nature evokes a feeling of nostalgia and relaxation. It embodies the spirit of the great outdoors and the peace we find in it — away from the monotony of daily life. And when searching for a cabin rental in Michigan, it's not hard to find one that can attest to the Midwest's love for a stay in nature.
The Great Lakes state is known for its charming beach towns, acres of national forest, and thousands of miles of coastline, and that's just in the lower portion of the state. Even more untouched wilderness awaits in Michigan's Upper Peninsula with incredible attractions like Pictured Rocks Lakeshore and the Keweenaw Peninsula.
Thankfully, it's more than easy to escape amidst the state's abundance of natural beauty with one of the best cabin rentals in Michigan.
Related Read: 10 Secluded Cabin Rentals in Amazing Michigan
1. Chart House
Why you should stay: A cozy two-bedroom cabin part of an outdoor resort on the scenic Keweenaw Peninsula in the UP.
Location: Calumet
Sleeps: 8
Minimum stay: 2 nights
Rates from: $200/night
The Chart House is a lovely cabin situated along the shores of Lake Superior near Michigan's northernmost point. Inside, cozy touches provide a warm welcome. In the living room, a gas fireplace framed in stone ensures guests stay comfy, and outdoorsy decor on the walls makes a statement. The kitchen's black and white checker floor is also a sight to see.
Outside, a partially covered deck wraps around from the front to the side of the home, and a grassy yard offers a perfect place for pets to play. The hosts have furnished the property with incredible outdoor amenities that include a picnic table and a grill. There's also a designated walkway leading to a sandy strip of shore where you can take a dip in the Great Lake or start a beach bonfire.
Check Availability
Follow 'em: @NorthShoreCottages
2. Boyne Mountain Cabin
Why you should stay: A family-friendly cabin conveniently located on the ski slopes and hiking trails around Boyne Mountain.
Location: Boyne Falls
Sleeps: 9
Minimum stay: 2 nights
Rates from: $654/night
Ideal for large groups, this Boyne Mountain cabin is a spacious vacation rental in northern Michigan. Featuring four bedrooms, a great room with a stone fireplace, and a finished basement with a minibar, there is plenty of room for your family to spread out and relax.
This homey Michigan cabin rental also has a deck behind the home equipped with a private hot tub that'll warm your bones after a day of adventure. Aside from the Boyne Mountain Resort, Michigan destinations such as Gaylord State Forest Area and the Avalanche Bay Indoor Waterpark are nearby, offering plenty to do.
Check Availability
Related Read: 9 Unique Places to Stay in Michigan for an Extraordinary Escape
3. Black Lake Cabin Retreat
Why you should stay: An idyllic log cabin with multiple outdoor areas a short walk from the shores of Black Lake.
Location: Onaway
Sleeps: 6
Minimum stay: 3 nights
Rates from: $150/night
The Black Lake Cabin Retreat is a classic cabin in the woods filled with beautiful log furniture, knotty pine surfaces, and wilderness-inspired accents. Travelers with pets are more than welcome at this home, which also has two bedrooms and two futons in the living room if needed.
This cabin shares a 40-acre property with another home. However, it enjoys its own strip of lakeshore, which can be reached via a staircase and designated trail. At the lake, guests can utilize the kayaks, paddleboard, beach toys, and life jackets provided by the hosts. The shoreline is also set up with a nice seating area complete with a fire pit and a dock.
Check Availability
Related Read: 8 Best Scenic Drives in Michigan for Dashboard Eye Candy
4. Peaceful Log Cabin
Why you should stay: A homey three-bedroom log cabin within walking distance to a private, non-motorized lake.
Location: Farwell
Sleeps: 8
Minimum stay: 2 nights
Rates from: $185/night
Find refuge from the daily grind at this peaceful log cabin nestled within a gated community. With its chalet-style windows, all-wooden interior, and exposed rafters, you'll immediately feel at ease in the woods. The highlights of this home are the master suite with a private bathroom and jacuzzi tub, the fully-stocked kitchen, and the dedicated dining room.
Surrounding the cabin is a picturesque forest and a yard equipped with a fire pit and tree stump seating. During your stay, be sure to take advantage of the community swimming pool and gaming facilities that include pool and ski ball. Grand Rapids and Lansing are only about an hour and a half away, making this an excellent spot to get away for a weekend.
Check Availability
Related Read: 11 Cozy Pet-Friendly Cabin Rentals in Michigan
5. Lakefront Log Cabin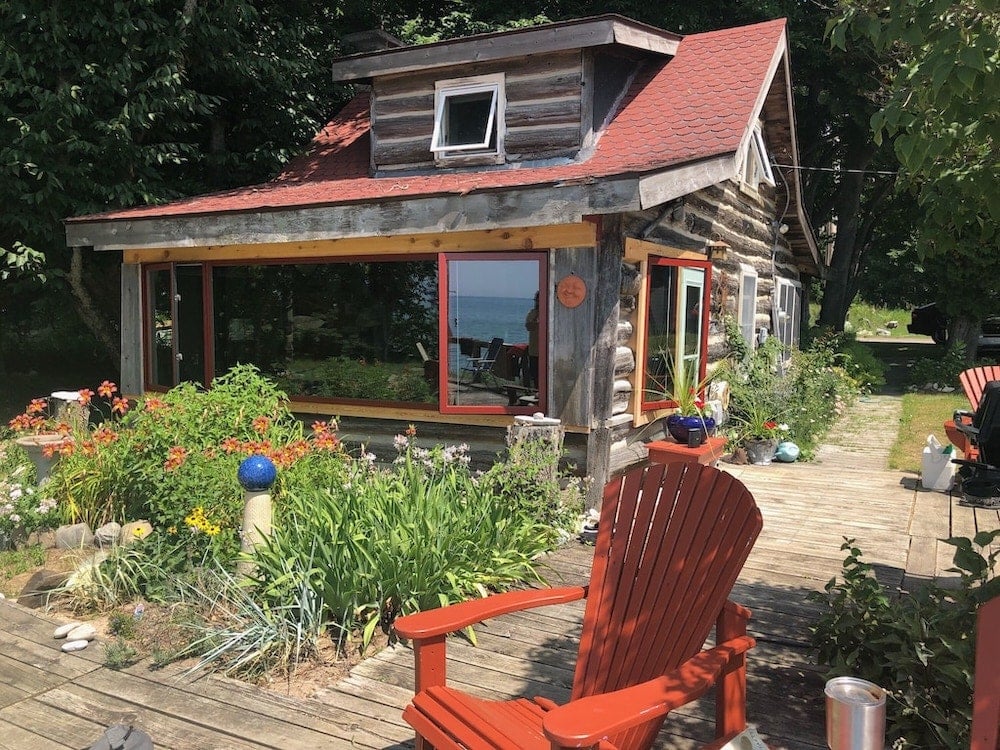 Why you should stay: A rustic, lakeside log cabin near scenic M-22 highway not far from Arcadia Dunes and the Inspiration Point lookout.
Location: Arcadia
Sleeps: 6
Minimum stay: 2 nights
Rates from: $200/night
Old-world charm is a major draw to this lakefront log cabin, as well as its location along the shores of the great Lake Michigan. Original log work can be found both inside and out, catching your eye the moment you arrive. A stone fireplace, quaint decor, and expansive windows drive home the point that this Michigan cabin is all about the great outdoors.
This pet-friendly two-bedroom also features a small grassy yard with a wooden deck, fire pit, and grill, all perfectly placed to overlook the lake. From here, you can take the wooden staircase down to a second deck area right next to the water.
Check Availability
6. Rainbow Reel
Why you should stay: A three-bedroom cabin that welcomes dogs and sits on the White River an hour north of Grand Rapids.
Location: White Cloud
Sleeps: 9
Minimum stay: 2 nights
Rates from: $200/night
At Rainbow Reel, enjoy a quiet, family-friendly cabin getaway on a 3.5-acre property. This home features beautiful vaulted ceilings with double-height windows, leather furniture, and thoughtful touches like coffee and s'mores essentials.
Outside, curl up in the hammock or on the freestanding porch swing and simply watch the river pass by. The home's fire circle is surrounded by Michigan Adirondack chairs and offers a fantastic opportunity to roast marshmallows under the stars. Nearby attractions include the idyllic hiking trails of Newaygo State Park and Fremont Lake Park.
Check Availability
7. Northern Michigan Tiny Home
Why you should stay: An inviting and semi-remote tiny cabin minutes from the shores of Lake Superior just outside of Charlevoix's center.
Location: Charlevoix
Sleeps: 2
Minimum stay: 2 nights
Rates from: $130/night
Experience the charm of going tiny at this northern Michigan tiny home. It may be small, but it does not sleep on cozy amenities and even has a full kitchenette and bathroom. A wooden ladder leads up to the main sleeping loft with a queen-sized bed, and a second smaller loft features a single. There is also a padded seating area next to the window where you can sit and relax.
The hosts provide games, complimentary breakfast, and coffee supplies with every stay. You'll also find a helpful travel guide sharing top recommendations for things to do and places to eat. The tiny home sits on a lovely property with a fire pit and has easy access to nearby walking trails.
Check Availability
8. Holland Cottage
Why you should stay: A beautifully decorated cabin with a spacious yard within walking distance to the shores of Lake Michigan.
Location: Holland
Sleeps: 12
Minimum stay: 2 nights
Rates from: $350/night
This Holland cottage is a modern five-bedroom home that embodies the Scandinavian spirit of Hygge. Bright white walls pair wonderfully with the home's natural wooden elements and abundance of sunlight. An open floor plan helps make the space feel larger than it is. Noteworthy amenities include laundry facilities and a second living room with games and a work area.
This Michigan cabin rental is near top attractions like Holland State Park, sweeping sand dunes, and the vibrant Big Red Lighthouse. Guest Krissy shared, "We absolutely love the style and tranquil vibe of this beautiful Holland cabin and spent much of the weekend cozied up in front of the fireplace."
Check Availability
9. Hidden Dunes Resort
Why you should stay: A private log cabin tucked away in one of Michigan's beloved beach towns not far from Saugatuck Dunes State Park.
Location: Saugatuck
Sleeps: 8
Minimum stay: 2-3 nights
Rates from: $285/night
Knotty pine and exposed beams welcome you at the Hidden Dunes Resort, a cozy four-bedroom vacation rental. The spacious ground floor is open, connecting the living room, kitchen, and dining area to bring the whole family together. In the basement, guests are wowed with a modern setup complete with a game table, plush sofas, a minibar, and a second fireplace.
Out in the yard, a thick forest provides a wall of cover as you sit around the blazing bonfire. When the weather is uncooperative, a screened-in porch with a dining table and patio sofa protects you from the elements as you enjoy the great outdoors. Goshorn Lake is within walking distance from the home, and downtown Saugatuck is about a six-minute drive.
Check Availability
Explore More
Sign up for Weekend Wanderer to join 10,000+ readers getting epic travel ideas every week.
Was this article helpful?
---