Living in Los Angeles can feel like a road trip in and of itself — friends live on the East Side but you're based in Venice? Expect a two-hour drive, and don't forget to hit the road with plenty of snacks and water.
But even diehard Angelenos need to escape the sprawl at some point. With mountains and desert to the east and some of the world's most stunning coastline to the city's north and south, taking a road trip from Los Angeles in any direction will lead you somewhere relaxing, worthwhile, or breathtakingly beautiful.
And for the most part, you don't even have to leave the state. Whether it's the chic environs of Santa Barbara or the rugged weirdness of the Salton Sea, these weekend road trips from LA offer something for everyone. And you only have to cross state lines for one of them (hello, Las Vegas! There's more to it than ringing, dinging, glittering casinos.)
And for clarity's sake, the road trips from Los Angeles below leave from downtown, but as any Angeleno knows, YMMV (your mileage may vary.) While every option here is doable in a weekend from the city, do take traffic and business into account: if you leave very early in the morning or, even better, late at night, you'll likely cut hours off your drive time.
By the way, remember to practice Leave No Trace principles at all of these destinations, but especially in Tahoe and at the national parks. Make sure you're aware of wildlife and campfire rules, too.
Related Read: 11 Best Resorts in California for Rest & Relaxation
1. Joshua Tree National Park
Just under 800,000 acres and larger than the state of Rhode Island, this national park crosses two deserts (the Mojave and the Colorado), and is named for its most famous flora: the Yucca brevifolia tree of Dr. Seuss-like proportions.
Joshua trees are native to the higher, cooler Mojave Desert section of the park, but the Colorado Desert's lower elevation to the east offers attractions of its own. There, avid hikers can do a loop around scenic Cottonwood Spring or take in a panorama of the Coachella Valley and San Andreas Fault from Keys View — and on a weekend road trip from Los Angeles, you should have plenty of time to explore vast sections of both sides of the park.
In addition to camping gear, just be sure to pack according to your interests. Joshua Tree, one of the best national parks near Los Angeles, is beloved for rock climbing, bouldering, stargazing, and birdwatching. There are even campgrounds with designated areas for horses, though keep in mind if you plan to ride that its BYOH (bring your own horse). If a vacay rental is more your style, Joshua Tree is a mecca for vintage-themed Airbnbs, and there are plenty with their own pools too.
As you're planning your road trip out to the park, be sure to check the weather — spring and fall are typically temperate, while winter nights get down to freezing and summer days can hit 100 degrees. Advance reservations for a site in one of the park's nine different campgrounds are always good idea. The closest entrance by car from Los Angeles is the park's main entrance in the town of Joshua Tree itself.
There, you can stock up on supplies at the Saturday morning farmer's market, enjoy a last restaurant meal at a funky diner-with-a-twist (Crossroads Cafe), or get a sense of the area's longstanding status as a haven for artists and other creatives with a visit to the Noah Purifoy Desert Art Museum of Assemblage Art. It's a vast outdoor sculpture museum devoted to a local artist who spent the last 15 years of his life creating these massive works in the Mojave Desert.
Distance from Los Angeles: 131 miles
Drive time without stops (or traffic): 2 hours, 10 mins
Related Read: The Ultimate Los Angeles to San Francisco Road Trip
2. Death Valley National Park
For an even more intense weekend road trip desert experience, head to Death Valley National Park. It's a more extreme environment than Joshua Tree, a little farther away, and at over three million acres, a whole lot bigger. But you can see plenty here in a weekend, whether you're interested in canyons, waterfalls, or otherworldly sand dunes.
Just keep in mind as you're planning when to go that summer temperatures can reach 120 degrees Fahrenheit and hiking is inadvisable after 10 a.m. Also, the Furnace Creek Campground takes reservations during the fall and winter, but all other campgrounds in all seasons are first-come, first-served. Luckily, road trippers who would prefer to forgo camping entirely have a couple great options right in the park: the historic Inn at Death Valley (yes, they have a pool) and the more rustic Panamint Springs Resort.
In the park itself, get ready to hike. The Mesquite Flat Sand Dunes is an easy-to-moderate two-mile trail where you'll get to see the dunes that are visually synonymous with Death Valley's landscape. More advanced hikers can take on Panamint Dunes, an eight-mile trail of moderate difficulty (you'll need a high clearance vehicle to access the trailhead).
Looking for more of a mix of activities on your Death Valley road trip? There's plenty to do nearby. Visit the Eastern California Museum to get a sense of surrounding Inyo County's natural and cultural history. Enjoy a night at the theater at the historic Amargosa Opera House. And for breakfast, lunch, and dinner in the park itself, the recently renovated Last Kind Words Saloon brings a bit of the Old West to mealtime.
Distance from Los Angeles: 214 miles
Drive time without stops (or traffic): 3 hours, 30 mins
Related Read: 12 Ideas for How to Spend One Day in Death Valley National Park
3. San Diego
Combine a mini beach vacation with a city break on a weekend road trip from Los Angeles down to San Diego. It may sound cheesy, but there's truly something for everyone here, and in a mere couple hours from Los Angeles, you'll find yourself in a city with a very different feeling from the one you just left.
So, culture first. In Balboa Park, pay a visit to the San Diego Museum of Art, the San Diego Air and Space Museum, or any one of the other 17 different arts and cultural venues you'll find here. Balboa Park is also home to the San Diego Zoo (you'll want a half-day just for the zoo's 100 acres and 12,000 animals), or if you'd prefer to keep it moving, get the lay of the land by hiking one of Balboa's many trails.
For a more outdoorsy experience, a half-hour drive from downtown San Diego lands you at Torrey Pines State Natural Reserve, set on 1,750 acres of incredible oceanfront. Looking for something a bit more chic? Spend a day at La Jolla Cove, a quaint village as well known for its shops and restaurants as it is for its stunning cliffs (great for sunset photos and snorkeling with sharks). If you want a true surf town vibe, head down to Ocean Beach to sit outside at a beach bar or watch the dogs play at the bayside dog beach.
If that's not enough, there's still plenty to do. Catch a movie at the old-school South Bay Drive-In, take a historic ferry to reach Coronado's white-sand beaches, get a literal sense of local flavors at one of the city's many farmer's markets, and plunge into the past at Mission Basilica San Diego de Alcalá, the oldest Franciscan mission in the state.
Distance from Los Angeles: 129 miles
Drive time without stops (or traffic): 2 hours
Related Read: 7 Awesome Weekend Road Trips from San Francisco, California
4. Santa Barbara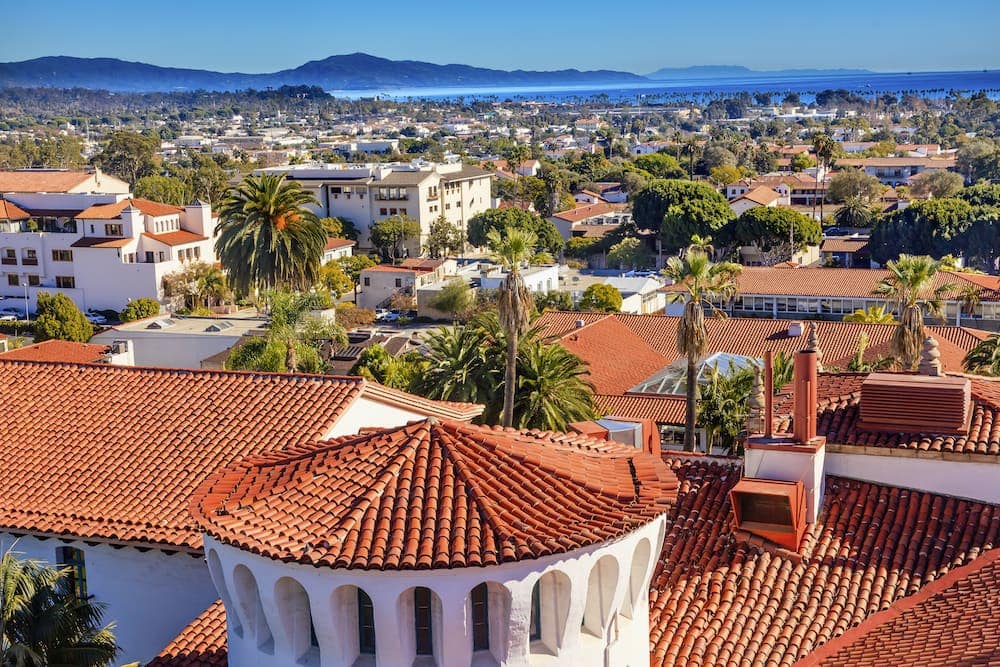 For a chic weekend getaway, take a drive up the coast to Santa Barbara, a pleasant haven of beaches, vineyards, and historic architecture. If you're traveling with your pup, you're in luck — make your first stop the dog-friendly Arroyo Burro Beach (known to locals as Hendry's Beach). East Beach, meanwhile, is ideal for families, thanks to its lifeguard stations, playgrounds, and volleyball courts.
Less than an hour inland, you'll find yourself in the middle of Santa Barbara wine country. The tasting rooms at Andrew Murray Vineyards and Babcock Winery are just two options to get you started (assuming you have a designated driver, of course.) Back in town, the city's urban wine trail makes it easy to taste a variety of local vintages at tasting rooms while leaving the car parked at your hotel. Start at Santa Barbara Winery and go from there.
For a sense of the area's Spanish colonial history, pay a visit to the Old Mission Santa Barbara, founded in 1786, then explore the 11-acre estate Casa del Herrero in neighboring Montecito. Back in town, no Santa Barbara road trip is complete without a stroll down Stearns Wharf, and if you still haven't gotten your culture fill, be sure to spend at least an hour at the Santa Barbara Museum of Art.
Distance from Los Angeles: 95 miles
Drive time without stops (or traffic): 1 hour, 50 mins
Related Read: The 10 Best Camping Spots in Santa Barbara, California
5. Palm Springs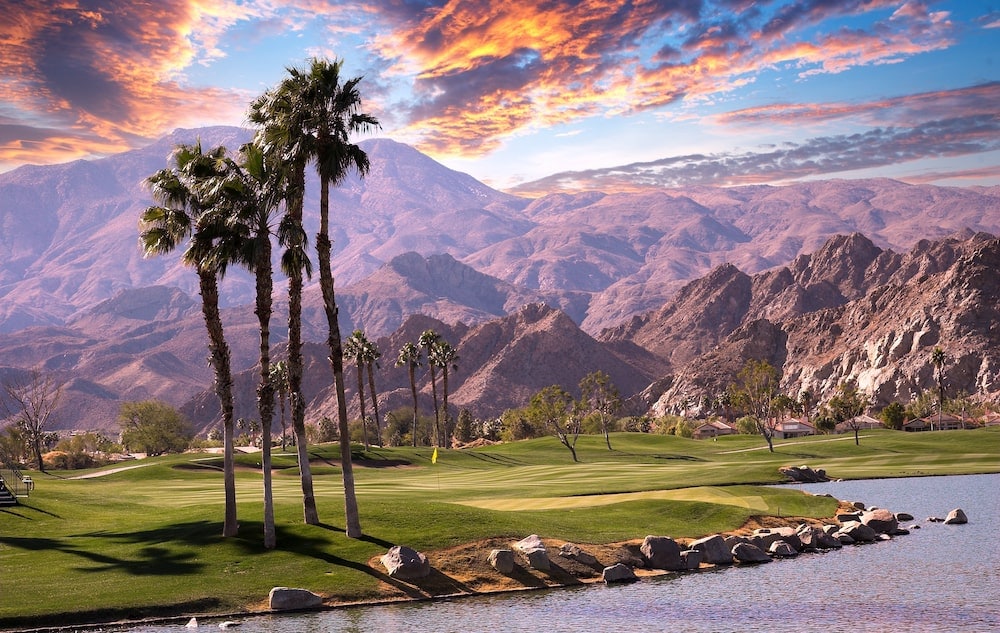 Thought you were done with the desert? Not so fast. Palm Springs, a city oasis in the Sonoran Desert, is less than two hours from the city and ideal for a relaxing weekend road trip from Los Angeles.
Known for its midcentury architecture, funky pool hotel scene, hot springs, and spas, the most scenic way to get the lay of the land is with a ride aboard the Palm Spring Aerial Tramway. After your ride, head into Downtown Palm Springs, where you can visit the Palm Springs Art Museum and the Agua Caliente Cultural Museum, in addition to plentiful bars, shops, and restaurants.
The culture museum displays the history of the Agua Caliente Band of Cahuilla Indians, since more than 10 percent of the city of Palm Springs is on reservation land. This part of town is also home to plentiful galleries and antique store peddling midcentury wares.
From there, you can take your trip in a number of different directions. Greater Palm Springs actually comprises nine different cities (Palm Springs, Desert Hot Springs, Cathedral City, Rancho Mirage, Palm Desert, Indian Wells, La Quinta, Indio, and Coachella), so no shortage of options.
But you won't want to miss the mineral waters that first put Palm Springs on the map as a healing destination. Head to Desert Hot Springs (less than 20 minutes from Downtown Palm Springs by car), where you can sit in the healing waters at hotels like The Spring and the Desert Hot Springs Spa Hotel. Finally, take in the area's natural beauty with a hike in Indian Canyons, where you'll find a variety of trails suitable for all levels.
Distance from Los Angeles: 107 miles
Drive time without stops (or traffic): 1 hour, 45 mins
Related Read: 11 Best Scenic Drives in Southern California
6. The Salton Sea
Get ready to get weird. The Salton Sea, a lake created by accidental irrigation inflow from the Colorado River during the early 20th century, first blossomed into a resort town in the mid-20th century. But it then experienced a massive wildlife die-off thanks to contamination from local farms, spelling the end of the lake's status as a Riviera-like destination. But despite being viewed as one of California's worst ecological disasters ever, it's worth a weekend road trip.
To kick off your time at the lake, start at the Salton Sea State Recreation Area, a genuinely beautiful stretch of shoreline great for fishing, kayaking, hiking and birdwatching (you can also camp.) To get a sense of the lake's more elegant past alongside its offbeat present, take a drive to Bombay Beach. It's where you'll find the ruins of a former resort now home to a tiny community of artists — conveniently, they even stage the Bombay Beach Biennale on an annual basis.
For a weirder bit of local culture, stop into the International Banana Museum, which is exactly what it sounds like: a space devoted to a collection of over 25,000 banana-related items.
But this area is as scenic as it is unusual. For a moderate hike to caves formed around the same time as the Salton Sea, head to a ghost town (Durmid), which marks the beginning of the Bat Caves Buttes loop trail.
The Sonny Bono Salton Sea National Wildlife Refuge is both an important migratory route for numerous bird species and home to Rock Hill (an inactive volcano.) And finally, though it's about a 25-minute drive from the art of Bombay Beach, visit the Salvation Mountain, a 50-foot-tall painted clay hill created by local sensation Leonard Knight.
Distance from Los Angeles: 163 miles
Drive time without stops (or traffic): 2 hours, 40 mins
Related Read: 12 Best Camping Spots in Anza-Borrego Desert State Park
7. Las Vegas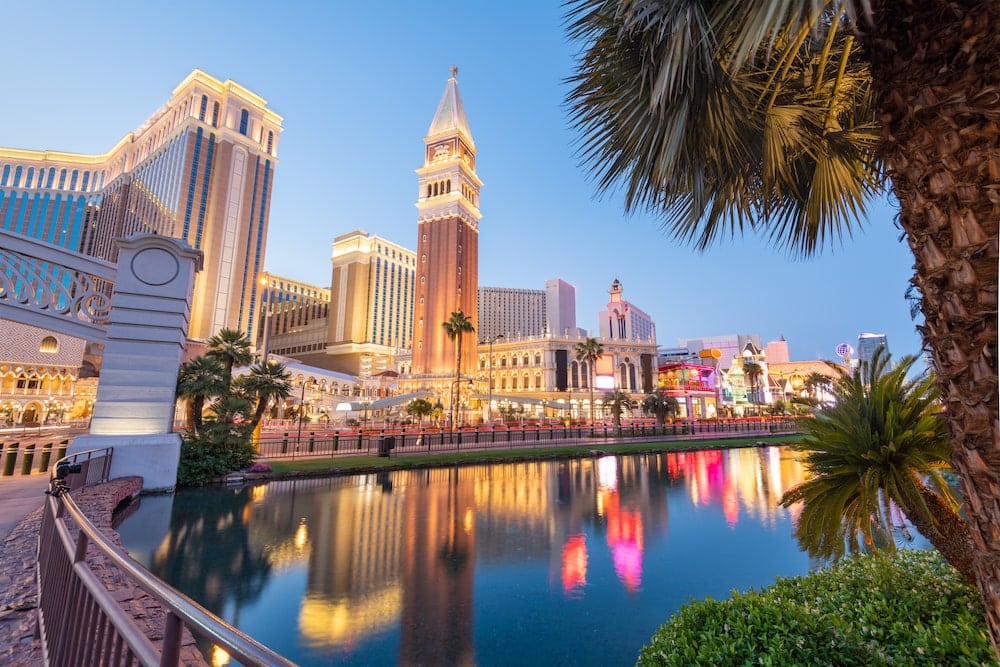 Viva Las Vegas! A weekend road trip here doesn't have to include a single pull of a slot machine if you aren't interested in gambling. Check out the Bellagio's fountain or on-site botanical garden, see the Venetian's legit indoor canal, go for a ride on the 550-foot-tall Caesar's Palace Ferris wheel (the High Roller), then move on to other, non-casino sights.
There's no cultural venue more fitting to its environs than the Neon Museum, a collection of about 120 neon signs. Next, walk the Aria Fine Art Collection, a self-guided outdoor tour of 21 public art sites. When you're ready to take a dip, you can buy day passes to area resorts or just pay the admission fee at places like the Citrus Grand Pool Deck and Circa's Stadium Swim.
If you've had your fill of 24-hour neon, take a deep breath and head out to the Desert National Wildlife Refuge, an enormous wilderness home to mountain lions, hundreds of bird species, and 500 different kinds of plants. You may also want to catch a Cirque de Soleil show, eat at one of the city's award-winning restaurants, or go hiking in Red Rocks. You can even hit the slopes at Lee Canyon (formerly called Ski Las Vegas.)
Distance from Los Angeles: 269 miles
Drive time without stops (or traffic): 4 hours, 15 mins
Related Read: Hit the Nature Jackpot: 15 Hikes Near Las Vegas, Nevada
8. South Lake Tahoe
Okay, it's technically a bit too long to be a weekend road trip from Los Angeles. But if you have a few extra days to spare, South Lake Tahoe is a great choice for those interested in the outdoors who don't want to rough it. Depending on the season, you should be able to make the most of the lake's opportunities for beaches, skiing, kayaking, mountain biking, and hiking, among other adventures.
In the Sierra Nevada Mountains on the California-Nevada border, Lake Tahoe is the largest alpine lake in North America. One of its most popular (and admittedly most crowded) beaches is Sand Harbor, on the north side of the lake. Get there very, very early if you want parking on a weekend; cars start lining up around 7 a.m. to get a spot. Back over the border in California, Pope Beach is a mere three miles from the city of South Lake Tahoe. Road tripping in winter?
The mountains around the lake are home to numerous resorts. Skiers and riders can give the 3,600 acres and 30 lifts at Squaw Valley Alpine Meadows a try or ski across state lines at Heavenly Resort. No matter the season, don't deprive yourself of the unmatched views from a ride either of the resort's aerial tram rides (which are open to non-skiers.)
Lake Tahoe is an outdoor paradise, but you'll also find historical and cultural offerings dotted around the lake. Visit the Tahoe Heritage Foundation's Tallac Historic Site to get a sense of what life was like here a century ago, then head to Vikingsholm on the aptly named Emerald Bay. Open for tours during the summer, this 1929 mansion gives a peak into the lives of rich vacationers who first put Tahoe on the map as a resort destination.
Keep in mind that Tahoe names can be a bit confusing. Lake Tahoe is the name of the lake, but there's no actual town called "Lake Tahoe." South Lake Tahoe is a town on the south shore, and Tahoe City is on the north shore. Driving from one end of the lake to the other can take about 90 minutes each way in the summer, and South Lake Tahoe is much closer to LA than the north shore.
Distance from Los Angeles: 440 miles
Drive time without stops (or traffic): 8 hours
Related Read: 11 Breezy Oceanfront Camping Spots in California
Plan Your Next Weekend Getaway
Sign up for Weekend Wanderer to join thousands of readers getting epic travel and gear ideas every week.
---