We research, evaluate and select travel destinations based on a number of factors, including our writers' experience, user reviews and more. We may earn a commission when you book or purchase through our links. See our editorial policy to learn more.
---
Are you dreaming of a Colorado cabin getaway but don't want to deal with the bustle of the state's popular ski resort towns? Book a stay at one of these Grand Lake cabins for your Rocky Mountain high — without the crowds.
Grand Lake itself is Colorado's deepest and largest natural lake and with that comes plenty of opportunities to enjoy your lakeside retreat. In the summer, you can head out boating, fishing, or paddling. In the winter, bring your snowmobile (or rent one) and your ice fishing tent to try your angler's luck.
The town of Grand Lake has a variety of cute shops, art galleries, and local eateries to enjoy, and as the "western gateway to Rocky Mountain National Park," you aren't far from miles of hiking trails and some prime wildlife viewing, too.
If you're looking for a Rocky Mountain retreat that's a bit off the beaten path and not (yet) as touristy as Estes Park or Colorado's better-known resort destinations, Grand Lake offers equally majestic mountain views and unbeatable access to all sorts of outdoor recreation.
Related Read: 12 Extraordinary Cabin Rentals in Colorado
1. Lakeshore Cabin with Private Dock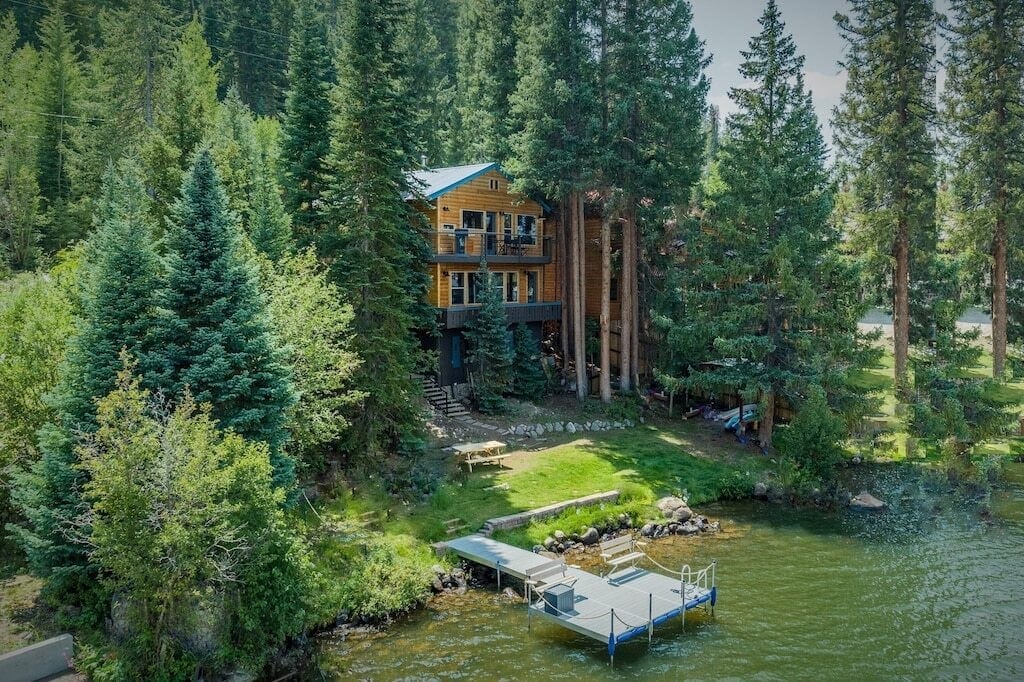 Why you should stay: A secluded slice of lakefront with stellar views.
Sleeps: 6
Minimum Stay: 3 nights
Rates from: $730/night
A Grand Lake cabin stay can't get much better than this lakeshore cabin (check out those views across the water). From your vantage point tucked among the evergreens, you can enjoy the scenery from the secluded back deck or private dock. On a calm day, the blue sky reflection on Grand Lake is nothing short of sublime.
And thanks to the prime location, all you have to do is step out the door to hit the water (or ice). In the summer, you can take advantage of the complimentary canoe or kayaks to push off from the dock. In the winter, pack your snowshoes or cross-country skis for a romp in the powder. And Grand Lake is only a mile away if you want an evening out on the town.
Check Availability
Related Read: 7 Cabin Rentals in Aspen, Colorado for Every Budget
2. Lemmon Lodge
Why you should stay: Snuggle up in a cabin that is the epitome of cozy.
Sleeps: 6
Minimum Stay: 2 nights
Rates from: $340/night
The Lemmon Lodge takes the concept of a cozy cabin and outdoes itself. Though small, this cabin is thoughtfully laid out and full of homey touches with a rustic mountain vibe. The party piece is definitely the roof-top deck which has a great view of the lake. From the backyard, you can stroll down to the North Inlet or take a short walk to a fishing point where you can enjoy the views of Mt. Baldy.
If you're lucky, you might spot local wildlife like moose, fox, deer, and elk. And though it might feel as if you've escaped to the wilderness, you are minutes from town where you can go shopping, antiquing, or catch a show at the Rocky Mountain Repertory Theater.
Check Availability
Related Read: 12 Magical Cabin Rentals in Manitou Springs, Colorado
3. Cozy Hilltop Cabin
Why you should stay: A comfortable cabin in a must-see location.
Sleeps: 6
Minimum Stay: 2 nights
Rates from: $199/night
If a deluxe log cabin on a hilltop strikes your fancy, this home delivers on both the cabin-y vibes and the lake views. From the fabulous back deck, you'll overlook Shadow Mountain Lake, a stunning reservoir that is located adjacent to Grand Lake. Inside, the cabin doesn't skimp on the bear and moose decor so you'll feel appropriately outdoorsy whether you are inside or out.
The cabin is a short 10-minute walk from downtown Grand Lake. Between the two lakes, you have over 150-miles of shoreline to explore, perfect if you love boating, sailing, fishing, or simply walking around the marina. In the winter, bring your ski or snowboard gear. If carving groomers or crushing moguls is your jam, Winter Park Ski Resort is just under an hour's drive away
"My family and I fell in love with this cabin. The views of the mountains and lakes from the living room and kitchen are amazing!"
Check Availability
Related Read: 10 Relaxing Cabin Rentals in Breckenridge, Colorado
4. Sandy's Ski Haus
Why you should stay: A contemporary cabin that loses none of that old-school cabin cool.
Sleeps: 7
Minimum Stay: 2 nights
Rates from: $236/night
Sandy's Ski Haus is a fun mix of modern design and funky cabin-esque touches. From the pops of bright color to the minimal yet cozy design, you'll feel like you've been transported to a European ski chalet or a hip beachside bungalow. Plus, it's located a mere two blocks from the Grand Lake Marina so you'll have plenty of activities right out your front door no matter the season.
Speaking of seasons, if you visit in the winter, Grand Lake, which is also known as the "Snowmobile Capital of Colorado," is home to some fabulous snow-packed terrain that is also great for snowshoeing, sledding, and cross-country skiing. For summer fun, bring your ATV, book a horseback ride, or hit the greens at the Grand Lake Golf Course. For some real local flavor, hit up a lively game of B-I-N-G-O hosted by the Rotary Club of Grand Lake every Friday, Saturday, and Sunday night in the summer.
Check Availability
Related Read: 7 Incredible Glamping Destinations Near Denver, Colorado
5. Lake and Mountain View Cabin
Why you should stay: Unwind at your own private mountain paradise — complete with a hot tub.
Sleeps: 16
Minimum Stay: 2 nights
Rates from: $678/night
This spacious cabin has room for the entire extended family plus a few friends. And though you certainly might have some squabbles over who gets to relax in the back deck hot tub (which has some of the best views), there are lots of other cozy nooks and quiet spots that the whole family can enjoy.
If you are visiting in the spring, summer, or fall (and even in the winter if the weather holds and the roads are clear), don't miss the chance to take a tour around Rocky Mountain National Park. From the western entrance, you have access to trails and scenic viewpoints, and you likely won't have to drive too far into the park to spot some local wildlife including deer, elk, and moose.
Check Availability
Related Read: 9 Best Resorts in Colorado for Rocky Mountain R&R
6. Historic Downtown Cabin
Why you should stay: Old-timey charm with all the comforts and conveniences of home.
Sleeps: 5
Minimum Stay: 2 nights
Rates from: $211/night
From the wood-burning fireplace to the bright, cheery loft, this historic cabin has plenty of spaces to put your feet up and unwind. In keeping with the rustic exterior, you can find plenty of tasteful antique decorations throughout the home. The private porch and outdoor fire pit aren't too shabby either.
You'll adore the location too as downtown Grand Lake is within walking distance. That means you can stroll to the Grand Lake Town Beach for sun tanning in the summer or a hot meal and adult beverage after a day out skiing in the winter. If you want a downtown treat that still feels like you're tucked away in the mountains, this cabin fits the bill.
"We spent a wonderful beach weekend this past weekend. The location is the best, we could walk to town to get ice cream or stop at the bakery for breakfast."
Check Availability
Related Read: 11 Outstanding Cabin Rentals Near Pagosa Springs, Colorado
7. Eagles Landing Lodge
Why you should stay: A properly decked-out family-style lodge perfect for a reunion or holiday shindig.
Sleeps: 12
Minimum Stay: 3 nights
Rates from: $475/night
The Eagles Landing Lodge is equipped with fun activities for the kids, adults, and adults who are kids at heart. Whether you're playing foosball, roasting s'mores, or simply soaking in the fantastic views of the Continental Divide and Mt. Baldy from that spacious back deck, this cabin has a little something to please everyone.
The property is situated near the shore of Columbine Lake, and you are a short drive from both the entrance to Rocky Mountain National Park and the town of Grand Lake. A short walk will get you to the Grand Lake Golf Course or you can visit Winding River Ranch right up the road for horseback trail rides and cowboy cookouts. In the winter, the kids will love hitting up the tubing hill, and you'll love exploring the 21 miles of groomed trails at the nearby Grand Lake Nordic Center.
"This was a great house for our large family. Plenty of room to spread out but enough room to be together play games and have fun. Beautiful scenery!"
Check Availability
Related Read: 9 Natural Hot Springs in Colorado for Soaking Away Your Troubles
8. Rocky Mountain Cabin with Hot Tub
Why you should stay: A spacious cabin with modern amenities and great outdoor spaces.
Sleeps: 6
Minimum Stay: Varies
Rates from: $243/night
Staying at this divine cabin will certainly not feel like you are roughing it in the mountains. Leave all your 9-5 cares behind and unplug in the serene setting of this wooded mountain retreat located just outside of Grand Lake. The covered back deck, complete with fireplace and hot tub, might just be your new favorite spot.
In the winter, you can make the trek out to downhill ski at Granby Ranch. Or stick closer to your home-away-from-home and hit up the local snowmobiling and snowshoeing trails. In the summer and fall, the nearby East Inlet Trail is a popular out-and-back hike that takes you to Adams Falls and past several scenic lakes.
Check Availability
Related Read: 9 Cozily Romantic Stays Near Denver, Colorado
9. Cozy Canoe Cabin
Why you should stay: A dog-friendly modern mountain gem in a prime location.
Sleeps: 7
Minimum Stay: 2 nights
Rates from: $261/night
This refined rustic cabin has plenty of personality — and a killer location just two blocks from Grand Lake. As you are nearly right downtown, it isn't the most private spot on the block. But if you're sociable and don't mind a few close neighbors, you'll enjoy all the benefits of being within walking distance of downtown.
For some fun on the water, rent stand-up paddleboards for the day and hit the lake. The Continental Divide National Scenic Trail also runs through the area. With access to both Rocky Mountain National Park and Indian Peaks Wilderness, you can put in as miles of exploration as you want. Of course, we won't judge if you'd rather skip the strenuous adventures and just walk downtown for some ice cream or adult libations. It's your vacation after all.
"The location is unbeatable. Grab coffee at the Hub, walk to the marina, rent a kayak for an hour."
Check Availability
Related read: 9 Woodsy Cabin Rentals Near Durango, Colorado
10. Grand Lake Cabin
Why you should stay: A gorgeous cabin within walking distance of downtown.
Sleeps: 7
Minimum Stay: 3 nights
Rates from: $269/night
This modern cabin has all the right touches in an updated style — from luxurious wood and stunning stone accents to the covered back patio and indoor fireplace. If you like your cabin to feel more like a five-star hotel, this Grand Lake stay doesn't skimp on the setting.
And speaking of setting, you are minutes from downtown Grand Lake. Take a walk to treat yourself to coffee, ice cream, or dinner. From this cozy cabin, you can take advantage of all the area's great activities whenever you desire.
Check Availability
Find Your Next Cabin Getaway
Get epic travel ideas delivered to your inbox with Weekend Wanderer, our newsletter inspiring more than 10,000 readers every week.
---