We research, evaluate and select travel destinations based on a number of factors, including our writers' experience, user reviews and more. We may earn a commission when you book or purchase through our links. See our editorial policy to learn more.
Was this article helpful?
---
Well-known for diverse mountain landscapes and abundant outdoor recreation, Colorado is the perfect place to book an extended vacation.
In the winter, you have your pick of ski resorts to chase fresh powder. In the summer, hit up the trails at one of Colorado's 42 state parks.
Whether you are looking for a secluded Rocky Mountain getaway or you'd rather just soak in the views of the mountains from a rooftop bar in LoDo, these are some of the coolest spots to enjoy all the Centennial State has to offer.
Related Read: 10 Tiny House Rentals in Colorado
1. The Ridge Cabin
Why you should stay: Panoramic views from nearly every room in the house.
Location: Pagosa Springs
Sleeps: 5
Minimum stay: 2 nights
Rates from: $205/night
Best for: Small families looking for a secluded getaway.
The Ridge Cabin is built on 72 prime mountain acres just outside the town of Pagosa Springs. The astonishing views from the living room with its two-story wall of windows might just be your favorite feature although the house has plenty of other top-notch amenities too. Built on the top of a hillside, you have access to a 1.5-mile private nature trail right from the front door. The home is kid and pet friendly — just be sure to email the host to okay your four-legged friend before booking.
Located in the southwestern Colorado mountains, you can take a short drive to get to downtown Pagosa Springs if you're interested in checking out the local shops and restaurants. In the winter, head deeper into the mountains to shred the slopes at Wolf Creek Ski Resort. In the summer, pack your hiking boots to explore the many nearby trails in the rugged San Juan mountains.
For a more relaxed afternoon, bring your fishing rod for some trout fishing on the Upper San Juan River or pack your swimsuit for a dip in the mineral hot springs at The Springs Resort and Spa.
Check Availability
Related Read: 11 Dreamy Treehouse Rentals in Colorado
2. San Miguel Riverfront Cabin
Why you should stay: Rustic riverfront vibes with prime access to the San Juans.
Location: Placerville
Sleeps: 4
Minimum stay: 2 nights
Rates from: $187/night
Best for: Couples or families looking for a peaceful basecamp for their outdoor adventures.
This rustic cabin is situated right on the San Miguel River. The cozy home is tucked into the woods with towering conifers and cottonwoods that give the cabin a secluded feel. The back deck extends right out to the river where you can enjoy a lazy afternoon in an Adirondack chair by the water or bring your fly rod to try your hand at some fishing.
The cabin is only 20-minutes from Telluride, and you can catch the local bus or drive into this historic Colorado town for shopping, restaurants, art galleries, festivals, and much more. In the winter, hit the slopes at the world-class ski resort. In the summer and fall, pick any of the nearby trails for a hike up above the valley for stunning wildflowers and outstanding views overlooking the town. And make sure to pay a visit to the stunning 365-foot Bridal Veil Falls, the tallest free-falling waterfall in Colorado.
"This place is absolutely magical! The location couldn't get any better and it was the perfect little getaway from the city."
Check Availability
Related Read: 7 Cabin Rentals in Aspen, Colorado for Every Budget
3. The Lofthouse in Black Forest
Why you should stay: An ultra-modern home in a perfect location.
Location: Colorado Springs
Sleeps: 5
Minimum stay: 2 nights
Rates from: $190/night
Best for: Folks looking to pack their vacation itinerary with lots of activities.
Book a stay at the Lofthouse for a secluded getaway minutes from Colorado Springs. The Scandinavian-inspired contemporary design gives this home a bright, welcoming aesthetic, and the outdoor spaces, complete with hammocks, rocking chairs, and an outdoor dining set, are the perfect place to unwind in the shade of the ponderosa pines.
Though you might feel like you are deep in the woods, you are only a short drive from downtown Colorado Springs. Head into town to explore the shops, dining, and local breweries. And no trip to the Springs would be complete without a stop off at Garden of the Gods. In the summer, plan a drive up to the top of Pikes Peak or, if you are ambitious, tackle the challenging Manitou Incline on foot. For the kids, an afternoon at Cheyenne Mountain Zoo is sure to be memorable.
"This is the nicest Airbnb I've ever stayed at. (It might be the nicest place I've stayed at period!) It's like living in a magazine."
Check Availability
Related Read: 12 Best Cabin Rentals Near Colorado Springs, Colorado
4. Highlands Custom Home
Why you should stay: Five-star luxury minutes from downtown Denver.
Location: Denver
Sleeps: 8
Minimum stay: 2 nights
Rates from: $799/night
Best for: Folks eager to explore the LoDo scene.
This stylish custom home has a lot going for it. Between the stellar patio space and private movie theaters to the large private deck where you can enjoy views of downtown Denver from a hot tub, this is the kind of luxury you'd expect from a five-star hotel. Located in Denver's hip Highlands neighborhood, you have easy access to all the restaurants, bars, and shops of LoHi.
If you are looking to explore the big city, you are minutes away from Denver's world-class cultural attractions, dining, bars, and craft breweries. Known for being a foodie's paradise, the Mile High City boasts many chef-owned restaurants. Check out the hopping music scene, walk 16th Street Mall, check out one of the many museums, or catch a show at the Denver Center for the Performing Arts. If sports are more your style, catch a game or event at Coors Field or the Pepsi Center.
"What an amazing home! This eclectic space was just what we were looking for. An amazing location with easy access to plenty of restaurants and bars in the Highlands neighborhood."
Check Availability
Related Read: Traveler's Guide to the Best Colorado National Parks
5. Cliffside Boulder Home
Why you should stay: A unique, secluded hideaway minutes from downtown Boulder.
Location: Boulder
Sleeps: 8
Minimum stay: 3 nights
Rates from: $899/night
Best for: Families who love getting outdoors and exploring a laid-back town.
Welcome to the most Boulder house ever — this modern home is actually built around a boulder, giving new meaning to getting back to nature. Though the house is cleverly built into the hillside, the stunning space has an open floor plan that lends itself to beautiful panoramic views of the foothills and city. Be sure to catch a sunrise from the back deck.
Located a short drive up Sunshine Canyon, you are minutes away from miles of world-class hiking trails at Chautauqua Park and Mount Sanitas. If you're more interested in shopping and dining, head into town to walk Pearl Street for all the fine dining and craft beer you can consume. And if you're looking for a scenic way to spend an afternoon, take a drive up Boulder Canyon and trade the hipster vibe of Boulder for the quirky personality of Nederland. From here, you can jump off to all sorts of outdoor adventures on the trails along the Continental Divide.
"The first thing I have to say is that the home is amazing, not only the space but the character and decor. In addition, this home has the most amazing sunrise I have ever seen."
Check Availability
Related Read: 10 Unique Swimming Holes in Colorado
6. High Point Hideaway
Why you should stay: Classic ski-chalet vibes in a stunning setting.
Location: Breckenridge
Sleeps: 6
Minimum stay: 2 nights
Rates from: $405/night
Best for: Families looking to ski, board, hike, or bike Breck.
This classic 1970's A-frame is reminiscent of an old-school ski condo but with all the upgrades you'd expect from a modern retreat. The interior is charming and the outdoor spaces, including a private hot tub under the pines, make this the quintessential mountain getaway. From your high point on the hill just east of the town of Breckenridge, you have views of wooded hillsides and clear starry night skies.
From the Breckenridge Heights neighborhood, you can pop into town to stroll on the historic main street for a stop off at the many shops, restaurants, and art galleries. The area is known for world-class skiing and snowboarding at Breckenridge Resort, as well as amazing hiking and biking trails in and around the Ten Mile Range.
Take a trip up Boreas Pass Road in the summer or fall for some spectacular scenery. Or learn more about the history of the area on a mine or ghost town tour. For a memorable winter outing, check out the annual International Snow Sculpture Championships or head out for a dog-sled tour of the area.
Check Availability
Related Read: 10 Relaxing Cabin Rentals in Breckenridge, Colorado
7. The Glasshouse Sanctuary
Why you should stay: Can you really beat these views?
Location: Winter Park
Sleeps: 8
Minimum stay: 1 night
Rates from: $946/night
Best for: Families who want to put some miles skiing, hiking, or biking.
This minimal and modern mountain sanctuary overlooks the Fraser River Valley with Winter Park Ski Resort in the background. You can choose where you want to soak up the stunning view — from the cozy living room, the outdoor hot tub, or the upstairs patio. If you visit in the winter, you'll be treated to your choice of snow-based sports. Catch some fresh powder at the resort, head out on a snowmobile tour up the Continental Divide, or get a workout on the groomed nordic trails of nearby Devil's Thumb Ranch or Snow Mountain Ranch.
In the summer, pack your bike gear for downhill fun at Trestle Bike Park or tour the many multi-use trails in nearby Arapaho National Forest. Hikers can stick to the valley and wooded slopes or tackle the higher reaches with a hike to the summit of Byers Peak. Both small towns of Winter Park and Fraser have a variety of laid-back dining options where you can grab a bite to eat after your day out exploring.
Check Availability
Related Read: 9 Natural Hot Springs in Colorado for Soaking Away Your Troubles
8. Sage Canyon Cliff House
Why you should stay: A modern cliffside dwelling for all desert lovers.
Location: Cortez
Sleeps: 3
Minimum stay: 2 nights
Rates from: $313/night
Best for: Couples looking for a secluded getaway for reflection and restoration.
This one-of-a-kind private house is built into the red rock cliffside, bringing a bit of desert charm right into the living room. This beautiful cabin has some truly special touches that ensure you will enjoy the inside spaces just as much as the outside ones.
As far as location goes, this private alcove is tucked in a quiet corner of southwestern Colorado. You can take a short walk to see 1000-year-old petroglyphs on the property, and you are a short drive from all the hiking trails and other attractions of the Canyon of the Ancients National Monument. Though you might just find that sitting and reflecting from the Cliff House is the perfect place to appreciate the red sandstone rock outcroppings in all their glory.
Check Availability
Related Read: 9 Woodsy Cabin Rentals Near Durango, Colorado
9. Mountain View Cabin Home
Why you should stay: Unwind with mountain views from your own private spa.
Location: Idaho Springs
Sleeps: 4
Minimum stay: 3 nights
Rates from: $272/night
Best for: Couples looking for a remote, romantic getaway.
Get off the beaten path and into your own private mountain paradise. This stylishly renovated A-frame cabin offers a delightful mix of comfort and luxury. You can enjoy the mountain views from the comfort of the living room, loft bedroom, or hot tub. And don't forget to unwind even more with the on-property sauna!
Located off Interstate-70, near St. Mary's Glacier, you can head further into the mountains for an afternoon out hiking, biking, fishing, or off-roading. Alternatively, you can head back to I70 for a trip into Idaho Springs, Georgetown, Evergreen, or Black Hawk for shops, restaurants, breweries, and cool historical tidbits at these unique mountain and mining towns.
"This cabin is so cozy and a great getaway! Very stylish and has all the amenities you would need. The hot tub is amazing and the views are great!"
Check Availability
Related Read: 12 Amazing Cabins in Colorado with Hot Tubs
10. Riverside Home
Why you should stay: A stunning getaway in a prime spot for all sorts of entertainment.
Location: Black Hawk
Sleeps: 4
Minimum stay: 1 night
Rates from: $456/night
Best for: Couples or families looking for a luxurious stay.
All the details of this modern home have been carefully selected to mesh rustic mountain vibes with 21st-century luxury. Whether you are soaking in the scenery from the hot tub or grilling up dinner on the back deck, you'll be treated to fabulous views overlooking the nearby river.
Centrally located, this home is a great jumping-off point for some quintessentially Colorado adventures. Head into the town of Nederland for tasty food, brews, and quaint shops. In the winter, Eldora Mountain Resort is about 15 minutes away. In the summer, you can enjoy fabulous hiking in Golden Gate State Park. And if gambling (or historic mining towns) are more your style, head into Black Hawk and Central City to check out the casinos.
Check Availability
Related Read: 12 Best Places to Visit in Colorado for Unforgettable Adventures
11. Romantic Mountain Retreat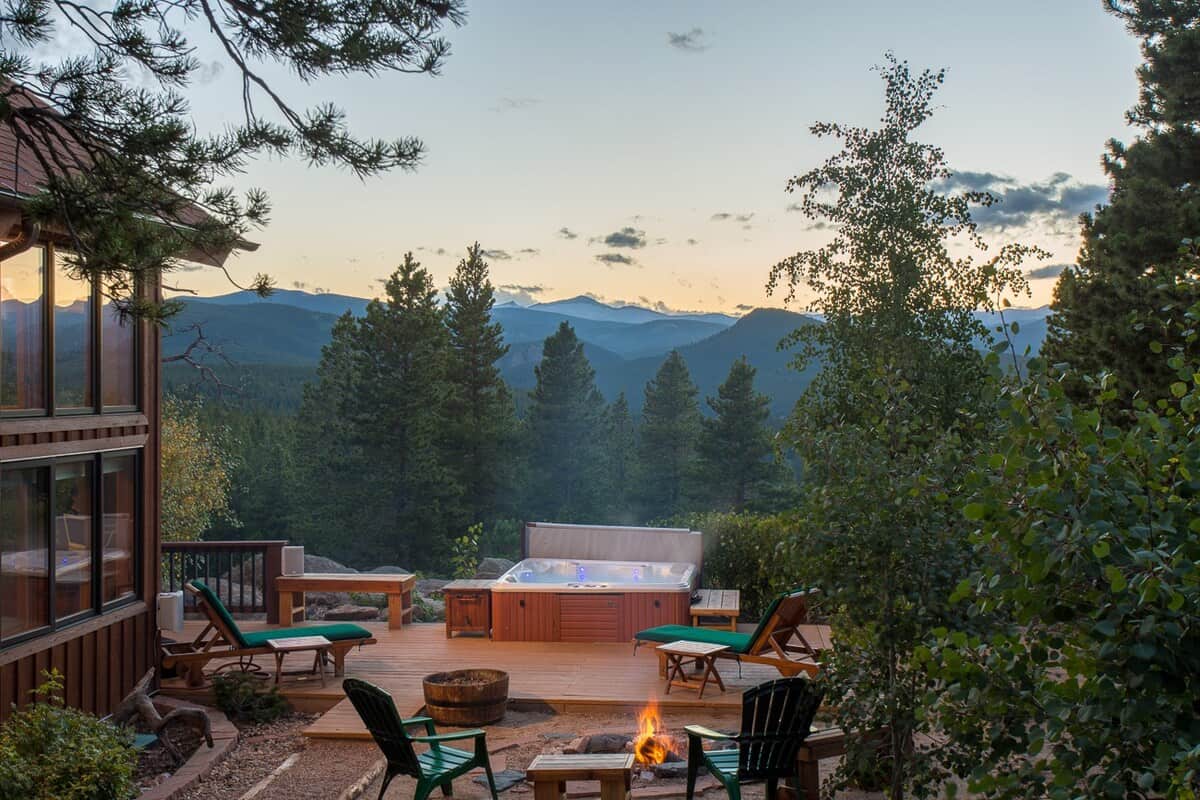 Why you should stay: Unbelievable views from every spot on the property.
Location: Black Hawk
Sleeps: 2
Minimum stay: 1 night
Rates from: $611/night
Best for: Couples looking to unplug and escape at a private retreat.
If you are looking for a mountain getaway that truly takes you away from the bustle of daily life, this 54-acre retreat should do the trick. The cozy log cabin has plenty to offer, including an indoor hot tub and views from every window. But the outdoor spaces are the real show-stoppers with a jaw-dropping patio, private deck, fire pit, outdoor hot tub, hammock, lounge chairs, and more.
On the property, you can head out hiking or take an ATV tour in the summer. Bring your snowshoes for a tramp around in the winter. You can find plenty of spots with outstanding views, and you may spot wildlife passing through.
If you do want to compliment your secluded stay with some on-the-town entertainment, you are a short drive from the shops and restaurants of Nederland or the casinos of Black Hawk. If skiing or snowboarding is more your winter style, Eldora Mountain Resort is right up the road. Pets are also allowed here, making it one of the more unique dog-friendly Airbnbs in Colorado.
Check Availability
Related Read: 10 Gorgeous Cabin Rentals in Grand Lake, Colorado
Watch on YouTube
Explore More
Sign up for Weekend Wanderer, our free email newsletter inspiring thousands of travelers every week with fresh adventure ideas.
Was this article helpful?
---