We research, evaluate and select travel destinations based on a number of factors, including our writers' experience, user reviews and more. We may earn a commission when you book or purchase through our links. See our editorial policy to learn more.
---
As the gateway to America's incredible Great Smoky Mountains, Gatlinburg treats visitors to untouched nature and pleasant creature comforts.
It's hard to believe that Gatlinburg was once a quiet logging community nestled amongst the foothills of the Appalachian Mountains. Today, this famous mountain town has transformed into a bustling resort destination that attracts approximately 12 million people every year. Its claim to fame is its close locale to the Great Smoky Mountains National Park, but the town offers so much more than that.
Gatlinburg is also known for incredible restaurants, family-friendly attractions, and delightful places to stay. Visitors can take their pick from highly-rated resorts to private vacation rentals that range from rustic cabins to upscale homes. But no matter where you choose to stay, many of Gatlinburg's accommodations boast a distinct charm and incredible features.
Make your trip to the Smokies extra special with one of these unique places to stay in Gatlinburg, Tennessee.
Related Read: 8 Incredible Glamping Spots Near Gatlinburg, Tennessee
1. Gatlinburg Cottage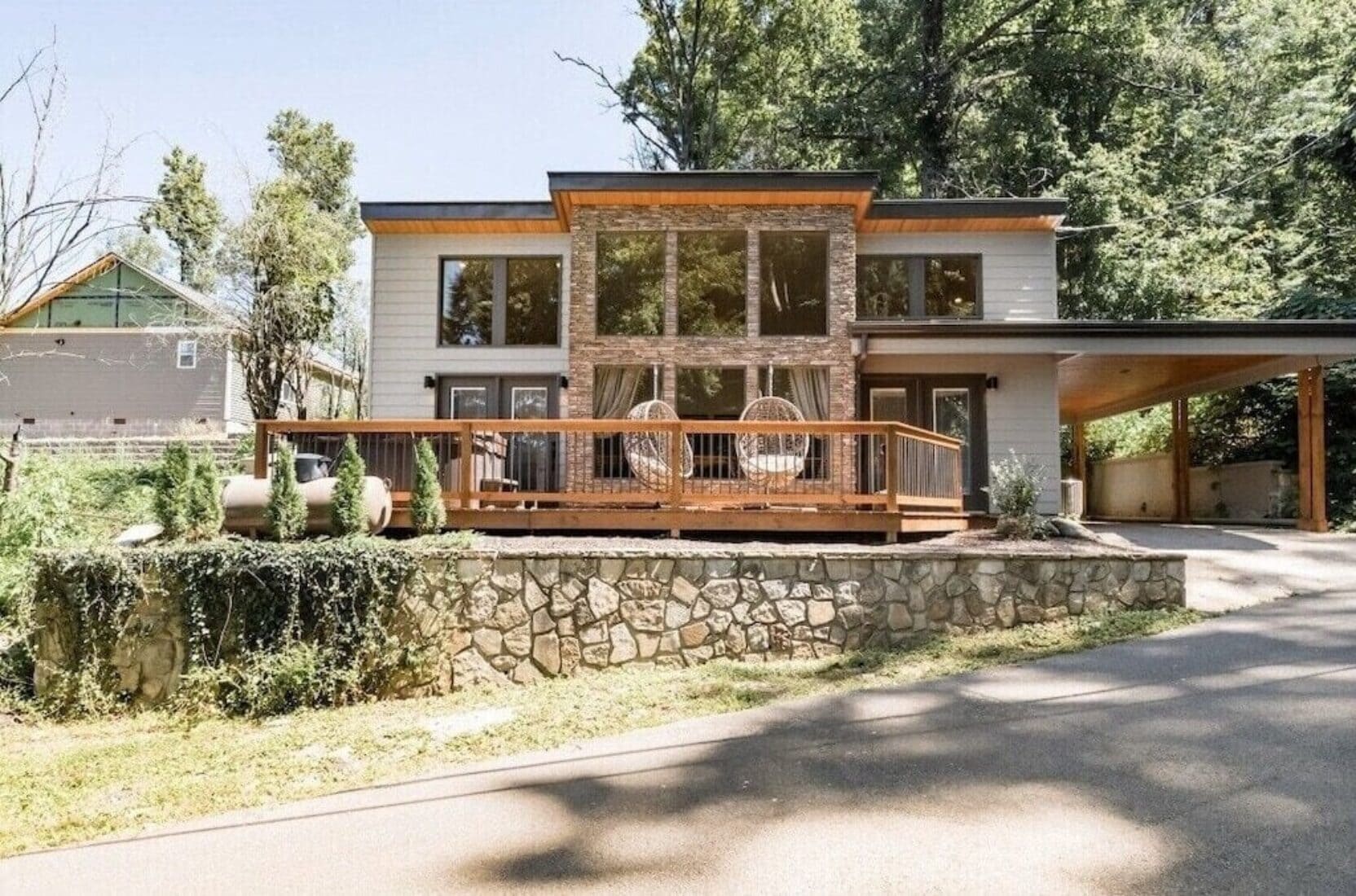 Why you should stay: A bright and airy cottage within walking distance to some of Gatlinburg's top attractions.
Sleeps: 6
Minimum stay: 2 nights
Rates start from: $240/night
This contemporary cottage offers guests a dreamy escape conveniently located to Gatlinburg and the national park entrance. The home features a beautiful stony facade and wall of windows that will catch your eye. The magic continues inside, where endless sunshine brightens every corner and illuminates the mid-century modern decor and upscale leather furnishings.
This modern cottage has two bedrooms, one of which has a queen bunk bed to accommodate large groups. Fun touches like a retro record player, a gas fireplace, and oversized games make your stay extra homey. But the hanging wicker chairs and bubbling hot tub out on the deck are where you'll want to spend most of your time.
Check Availability
Related Read: 11 Exciting & Unique Places to Stay in Tennessee
2. Barnwood Ridge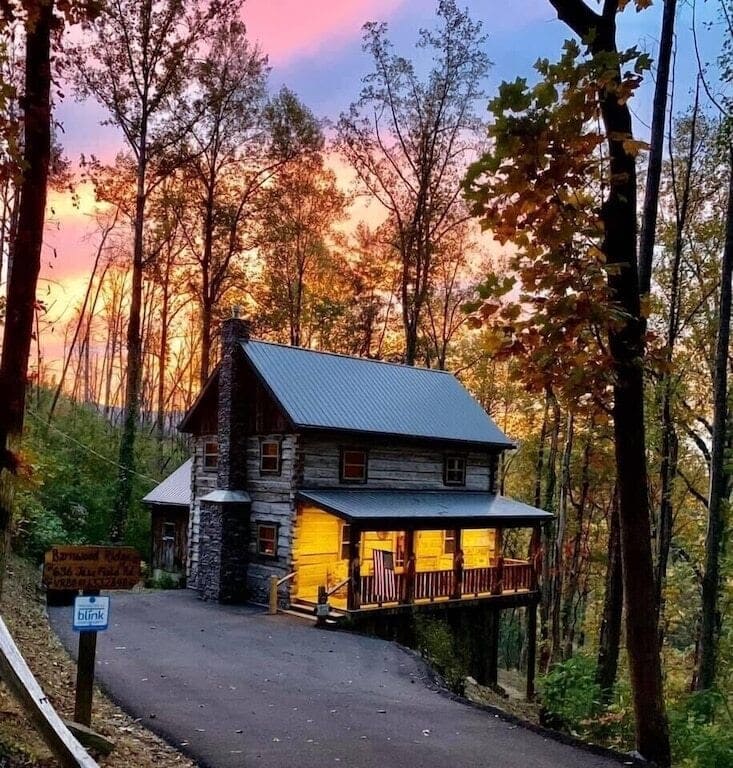 Why you should stay: A rustic three-bedroom vacation rental with a hot tub in the privacy of the secluded backyard.
Sleeps: 6
Minimum stay: 3 nights
Rates start from: $275/night
Down narrow and winding mountain roads, you'll find the cozy Barnwood Ridge. This charming log cabin dates back to the 1800s but was severely damaged by wildfires that swept the area in 2016. Thankfully, the crew of DIY Network's hit show, Barnwood Builders, came to the rescue and restored this antique log cabin to its original glory.
Today, visitors can revel in the cabin's old-world charm, where hewn log walls and a stone fireplace make you feel at one with the mountains. During your stay, pull up a rocking chair on the lovely covered porch and take in the serenity of the surrounding woods. This property feels remote yet is only located three miles from the attractions of downtown Gatlinburg.
Check Availability
Related Read: 11 Peaceful Cabins with Hot Tubs in Gatlinburg, Tennessee
3. The Seclusion
Why you should stay: A charming, treehouse-esque bungalow with luxurious amenities.
Sleeps: 2
Minimum stay: 2 nights
Rates start from: $322/night
The Seclusion is a unique, yurt-like cabin with fantastic amenities to help you relax after a long day in the mountains. One of the best things to do here is to take in the excellent panoramic views from the elevated deck. The deck is also furnished with plush patio chairs and a hot tub that will soothe your tired bones.
Inside, get a game of pool started as a crackling fire sets the mood. Other noteworthy features include the memory foam mattress and the recently renovated bathroom with a walk-in shower. Not to mention, the home's indoor jacuzzi tub helps make this one of the best romantic escapes in the Smoky Mountains.
Check Availability
Related Read: 10 Incredible Glamping Spots Near Asheville, North Carolina
4. Night Owl
Why you should stay: A luxury cabin with a colorful meets elegant interior nestled in Gatlinburg's Chalet Village.
Sleeps: 8
Minimum stay: 2-4 nights
Rates start from: $403/night
The Night Owl is an architecturally stunning modern cabin with unique asymmetrical lines and vaulted ceilings. The open ground floor comprises the kitchen and living room, accented by the home's wall of windows and contemporary decor. More unique touches fill the space, including a groovy marble wall behind the glass fireplace and a game room accented with pops of orange and a wet minibar.
Outside, a wraparound deck and a firepit area provide the perfect place to breathe in the fresh mountain air. Guests enjoy a complimentary Adventure Power Pass, which means free entrance to one local participating attraction every day of your stay.
Check Availability
Related Read: 10 Can't-Miss Glamping Sites Near Great Smoky Mountains National Park
5. The Cedar Treehouse
Why you should stay: A quaint treehouse made of cedar nestled within Treehouse Cove.
Sleeps: 4
Minimum stay: 1-2 nights
Rates start from: $492/night
Wake up amongst the treetops at The Cedar Treehouse, where your childhood dreams are made a reality. But this treehouse isn't your standard kiddie fort because it's equipped with modern conveniences that include hot showers and a fully stocked kitchenette.
A gently sloping walkway leads to the entrance, cutting out the hassle of climbing a vertical ladder. However, the lofted primary bedroom does require a bit of a climb. This two-bedroom is surrounded by other treehouses situated along the babbling Norton Creek. You'll find this dreamy treehouse in the Norton Creek Resort, which is a short 15-minute drive from Gatlinburg.
Check Availability
Follow 'em: @Treehouse_Grove
6. The Historic Gatlinburg Inn
Why you should stay: An iconic hotel in the center of the Gatlinburg, feet from the SkyBridge.
Sleeps: 2-4
Minimum stay: 1 night
Rates start from: $139/night
The Historic Gatlinburg Inn has been a staple in the community since 1937. It's considered one of the oldest hotels in Gatlinburg and has hosted many famous musicians and celebrities like Liberace since first opening its doors. The Inn continues to attract visitors thanks to its homey accommodations and prime location in the heart of the action.
Take your pick between standard hotel rooms or spacious suites perfect for families. With your booking, you'll wake up to a complimentary, piping hot breakfast every morning to ensure you're fully fueled and ready to embark on your mountain adventure.
Check Availability
Related Read: 8 Best Resorts in Tennessee for Every Traveler
7. The Appy Lodge
Why you should stay: A classic hotel with indoor and outdoor swimming pools just off the Great Smoky Mountains Parkway.
Sleeps: 2-4
Minimum stay: 1night
Rates start from: $113/night
The Appy Lodge is a two-star hotel that welcomes travelers to Gatlinburg with its understated charm and classic resort amenities. Guestrooms feature hardwood floors and are equipped with a Keurig coffee maker, a mini-fridge, and a microwave for a taste of home during your stay.
There are also upgrade options available that include a fireplace, a private balcony, or a jacuzzi tub. The hotel boasts exciting facilities like an indoor hot tub and an outdoor free-form swimming pool with a water slide that the kiddos will love. Plus, there's an outdoor terrace outfitted with many cafe tables and a community fire pit.
Check Availability
Follow 'em: TheAppyLodge
8. Bearskin Lodge on the River
Why you should stay: A relaxed resort with a lazy river, minutes from the national park entrance.
Sleeps: 2-4
Minimum stay: 1 night
Rates start from: $162/night
Bearskin Lodge is an exciting place to stay in Gatlinburg that's been in the same family for decades. The hotel exudes an outdoorsy vibe to match its surroundings, which feature clear views of Mount LeConte filled with the babble of a passing mountain stream.
One of the best things about the Bearskin Lodge is the heated pool with a lazy river where you can float to your heart's content. However, this hotel also has a fitness center, fire pits, and complimentary grab-and-go breakfast that you can take with you into the park.
The hotel is conveniently located along the famous Gatlinburg Trolly route, which transports visitors to top attractions in the downtown area.
Check Availability
Related Read: 8 Impressive Glamping Spots Near Nashville, Tennessee
9. Buckberry Lodge
Why you should stay: An outdoorsy lodge with spacious suites that have been awarded the AAA Four Diamond Award.
Sleeps: 2-6
Minimum stay: 2 nights
Rates start from: $230/night
The Lodge at Buckberry Creek takes the privacy of a vacation rental and marries it with the luxury of a resort stay. Boasting an impressive four-star rating that's caught the eye of AAA, you can rest assured that you'll enjoy utmost comfort during your visit.
Each suite is outfitted with a fireplace, soaking tub, and a private balcony with jaw-dropping mountain views.
Guests also enjoy a well-appointed kitchenette in their suite that features a Keurig coffee machine and full-sized appliances. This intimate resort only has 14 suites guaranteeing peace and quiet. It also sits on a sprawling 27 acres that overlooks the epic Mount LeConte, all while situated away from the bustle of downtown Gatlinburg.
Check Availability
Follow 'em: BuckberryLodge
Explore Tennessee
Get epic travel ideas delivered to your inbox with Weekend Wanderer, our newsletter inspiring more than 10,000 readers every week.
---