Looking to make your next Rocky Mountain vacation even more memorable? Book one of these unique places to stay in Colorado for a mile-high retreat you won't soon forget.
There's something to be said for enjoying life's little luxuries, especially when you're on vacation. And these stunning lodging options definitely deliver on luxury.
From gorgeous glamping to deluxe one-of-a-kind homes, these 10 unique places to stay in Colorado are sure to make your downtime just as enjoyable as your time on the mountain — or in the stream, or on the water, or in the desert…
Related Read: 9 Woodsy Cabin Rentals Near Durango, Colorado
1. Dunton Hot Springs
Why you should stay: Historical mining town turned exclusive and luxurious hot springs resort.
Location: Dolores
Sleeps: 2+
Minimum stay: 1 night
Rates from: $1,375/night
Colorado is chock-full of old mining towns that have more-or-less become ghost towns, but you won't find many like this one. Founded in the late 1800s, Dunton Hot Springs was once a ghost town but is now an ultra-luxurious resort.
From the exquisitely furnished, hand-hewn log cabins to the restored 19th-century bathhouse, this unique place to stay in Colorado meshes historic Colorado charm with high-end amenities. You can choose from 13 unique and elegant cabins, each full of historic artifacts and over-the-top furnishings.
The resort, which is set in a stunning alpine valley in the heart of the San Juan Mountains, offers plenty of activities, too. In the summer, take your pick of hiking, mountain biking, rock climbing, rafting, fly fishing, or horseback riding. In the winter, hop into the Dunton snowcat for a day out cross-country skiing or snowshoeing.
And for optimal relaxation and maximal pampering, follow up a yoga or pilates session with a trip to the spa. Most activities and all your meals are included in the rate.
Check Availability
Related Read: 11 Perfect Romantic Getaways in Colorado
2. Sage Canyon Cliff House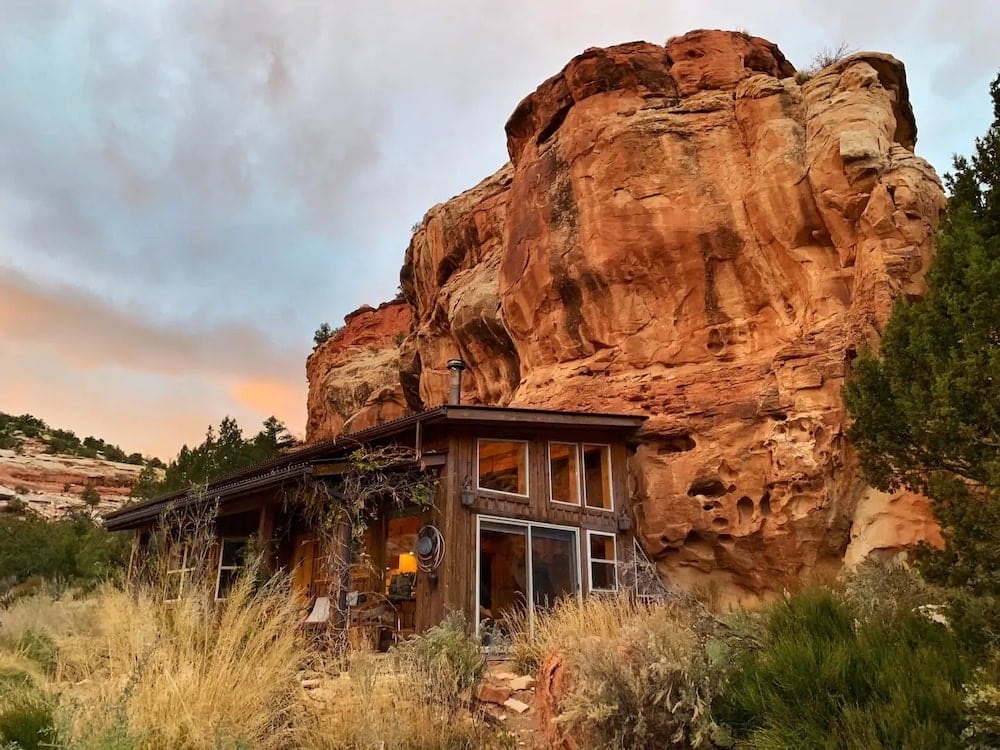 Why you should stay: This nature-inspired retreat rocks.
Location: Cortez
Sleeps: 3
Minimum stay: 2 nights
Rates from: $299/night
Calling all rock hounds, geologists, and lovers of nature — the Sage Canyon Cliff House is the spot for you. This super cool home is built into the cliff wall of your own private canyon, and you'll be hard-pressed to decide which indoor or outdoor space is your favorite.
Step out on the front porch to enjoy the sweeping views down the canyon or cozy up in the living room, where the overhanging cliff wall brings the best of the outdoors inside.
"This is a wonderful cabin in a breathtaking setting. Well, calling it a cabin is a massive understatement. It is an amazingly unique, cool space."
It's less than an hour drive from both Mesa Verde National Park and the town of Cortez, so this exceptionally unique place to stay in Colorado is an ideal jumping-off point for exploring the southwestern part of the state.
If you've always wanted to explore the high deserts and red rock landscapes of the Four Corners area, you won't find a more unique place to say for your adventures.
Check Availability
Related Read: 12 Best & Most Unique Airbnbs in Colorado
3. Thimble Rock Pointe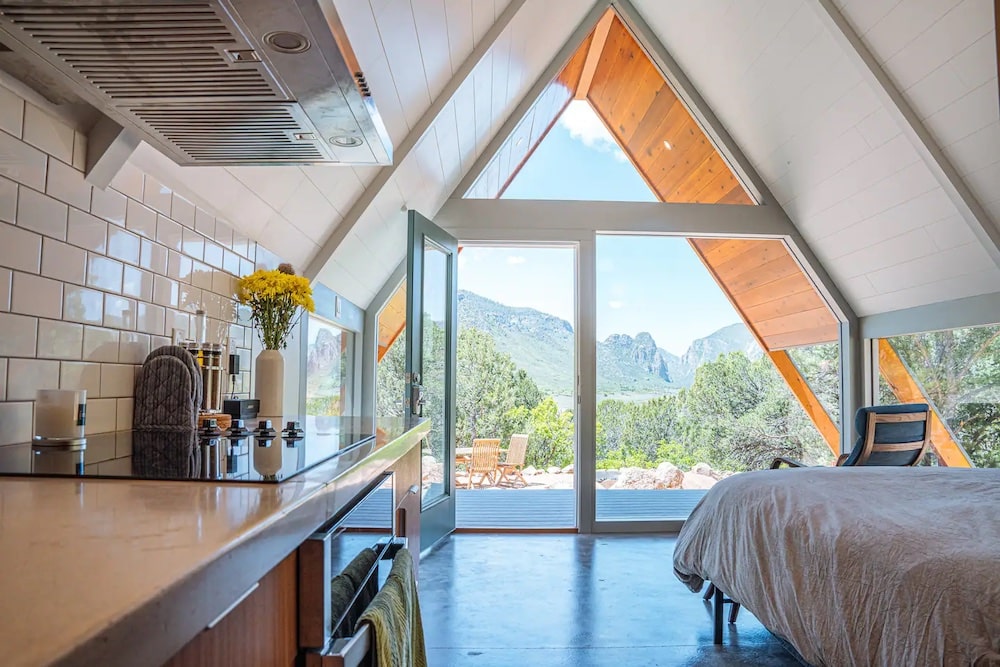 Why you should stay: Soak in the solitude of this hip and remote Colorado canyon escape.
Location: Mesa County
Sleeps: 4
Minimum stay: 2 nights
Rates from: $265/night
This modern home will delight you with simple luxuries and includes everything you need and nothing you don't. While the unique home is stunning and the architecture of the A-frame is certainly a big draw, it's the views down canyon are the real showstopper.
And thanks to the wall of windows that wraps around the house, you'll get to enjoy those views from nearly every angle.
"This place is amazing. Unique cabin, views, firepit – all you need to relax and unwind."
The private property backs up to public open space so you can plan as many adventures as you can dream up — hiking, mountain biking, and rock climbing are some of the most popular activities in the area. Of course, you may find that unwinding at the A-frame is just as fulfilling, especially with your feet up by the fire pit under a starry night sky.
Check Availability
Follow 'em: @thimblerockpoint
4. The Broadmoor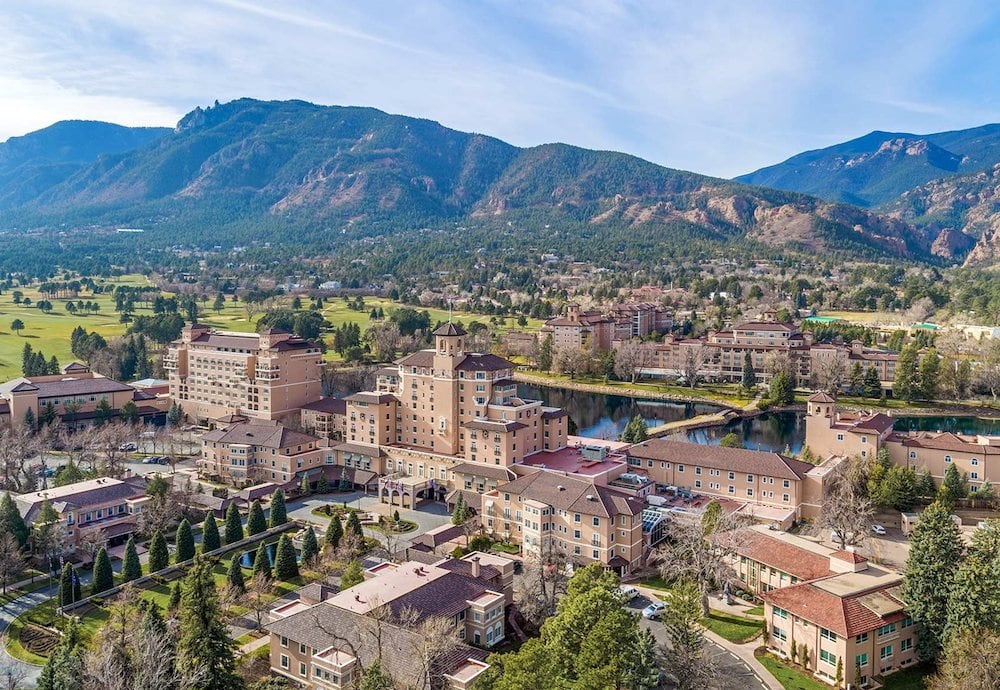 Why you should stay: Elegant and sophisticated stay at the foot of the Rocky Mountains.
Location: Colorado Springs
Sleeps: 2+
Minimum stay: 1 night
Rates from: $280/night
Part high-end resort, part historical site, The Broadmoor is a little slice of the American West. The hotel is regularly touted for its five-star service and has been since it started welcoming guests in 1918.
This iconic resort has expanded its offerings since its opening day but still remains one of the premier destinations to stay on the Colorado Front Range. The Broadmoor offers a wide range of accommodations from single rooms to spacious suites and cottages to fit various budgets.
It's in the western foothills of Colorado Springs, so it has prime access to both mountain adventures and urban escapades. On-site, you can book a treatment at the spa, head out for a round of golf, take a dip in the pools, or hit up the shops and art galleries.
For an outdoorsy day, hike, drive, or ride the cog railway on Pikes Peak or visit Garden of the Gods. For fine dining and the best breweries of the Springs, head downtown for an epicurean evening in Colorado's second-largest city.
Check Availability
Related Read: 12 Best Cabin Rentals Near Colorado Springs
5. The Hygge Chalet & Sauna
Why you should stay: Snuggle up and enjoy the simple pleasures in life — like a steam sauna.
Location: Grant
Sleeps: 4
Minimum stay: 4 nights
Rates from: $215/night
Tucked on 3.5 forested acres in the heart of the Rocky Mountains, the beautifully finished Hygge Chalet delivers when it comes to details. From the cozy vibe to the superb views, it's easy to see why this unique place to stay is extremely popular. And the outdoor steam sauna certainly sweetens the deal.
"The Hygge Chalet is what you wish every Airbnb (and your own home) was like. It's unique, it's stylish, it's comfortable, it's gorgeous, it's clean, it's well-stocked and well-curated — it's everything you could ask for from a relaxing mountain getaway."
Depending on your vacation agenda, you might appreciate that the Hygge Chalet is equidistant from Denver and several major ski resorts. Or for a closer outing, take a scenic drive up Guanella Pass or head out to explore South Park.
The area boasts great hiking and fishing in the summer and snowshoeing and snowmobiling in the winter. In the fall, the aspen-covered slopes of Kenosha Pass are a popular spot for autumn leaf peeping.
Check Availability
Related Read: 13 Secluded Cabin Rentals in Colorado for Remote Getaways
6. The Stanley Hotel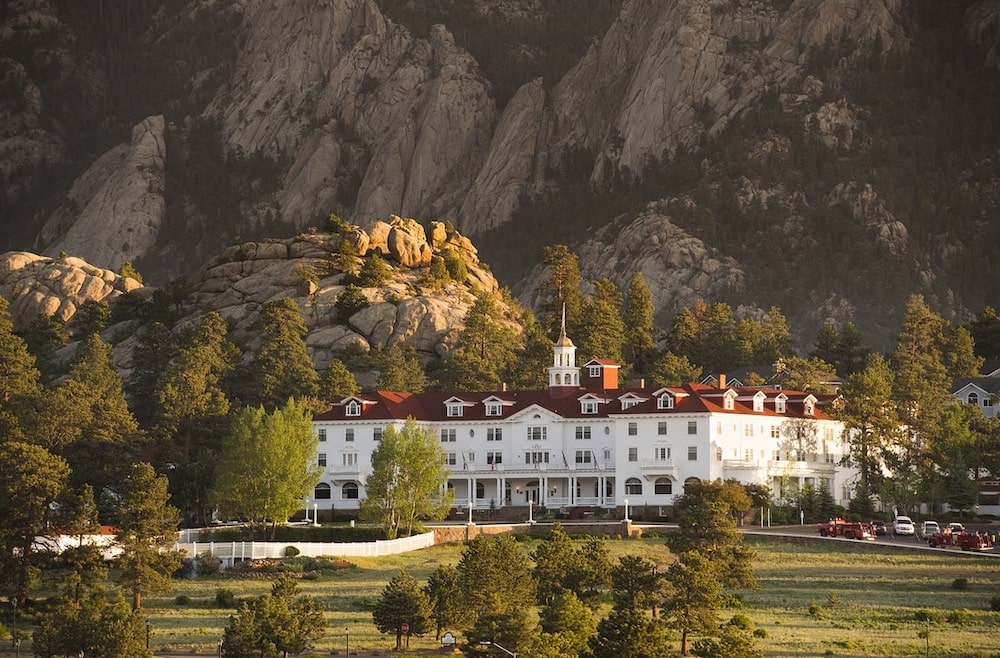 Why you should stay: For a hauntingly good time in a world-class location.
Location: Estes Park
Sleeps: 2+
Minimum stay: 1 night
Rates from: $339/night
The Stanley Hotel was originally built in 1909 and has welcomed guests to Estes Park ever since. The historic building offers a variety of classic rooms and spacious suites, including a handful of rooms with high paranormal activity — like the Stephen King Suite.
Interestingly, the film "The Shining," wasn't actually filmed here, though the hotel is closely associated with the 1977 novel and movie that came along three years later. Steven King stayed at the Stanley just before it closed down for the season (which may sound familiar if you've seen the movie) and based much of his fictional Overlook Hotel on the physical characteristics of the Stanley.
But don't let King's spooky experiences turn you off, though they do make it one of the most unique places to stay in Colorado. But ghostly selling points aside, it's an especially good place to stay if you want to explore Rocky Mountain National Park or the town of Estes Park.
The Stanley also offers a variety of guided tours in partnership with the Kent Mountain Adventure Center, so if you aren't quite sure where to start or if you want to try something new, you can book vacation activities led by an outdoor expert.
Check Availability
Related Read: 10 Best Cabin Rentals in Estes Park
7. Royal Gorge Cabins at Echo Canyon
Why you should stay: Mountain escape with all the luxuries of home (and then some).
Location: Cañon City
Sleeps: 4
Minimum stay: 1 night
Rates from: $399/night
The high-end cabins at Echo Canyon are decked out with all the conveniences you expect from a five-star resort. From king beds to flatscreen TVs and fast Wi-Fi, your private cabin balances modern amenities with stellar mountain views. And thanks to the private patio and the pass-through indoor/outdoor fireplace, you can find the perfect cozy corner to enjoy the scenery.
Though the peaceful setting will transport you away from life in the fast lane, it's near a variety of fun activities, whether you want adventure, relaxation, or a day out in Cañon City. Adrenaline junkies can set up a zipline tour or book a white water rafting trip in Royal Gorge.
For a more laid-back outing, opt for a scenic train ride or head into town to check out the shops and restaurants. If you aren't exactly sure what you want to do, your hosts at Royal Gorge Cabins are happy to help plan your dream vacation and assist with plans for where to eat and what to see and do.
Check Availability
Related Read: 10 Best Dog-Friendly Colorado Cabin Rentals
8. Old World Pikes Peak Home
Why you should stay: Ritzy family retreat near Pike's Peak.
Location: Woodland Park
Sleeps: 6
Minimum stay: 3 nights
Rates from: $433/night
If the kids are just as keen to have a unique place to stay in Colorado, this decked-out home in Woodland Park should do it. Of course, it's also equally accommodating as a private or romantic retreat.
The three-bedroom home is decorated with "Old World" charm, which goes heavy on design touches like exposed wooden beams, stone doorways, and a wine cellar to add a distinctly European flavor to the unique mountain home.
"First class accommodations and couldn't ask for more. Beautiful home and beautiful location."
But don't worry about losing out on the fact that you're in Colorado, as the well-furnished back deck and patio area allow ensure you can't miss the mountain views. The kids will love the game room and the home theatre, and adults will love the hot tub and fire pit with prime views of Pike's Peak.
Check Availability
Related Read: 7 Must-See Day Trips From Denver
9. Lost Valley Ranch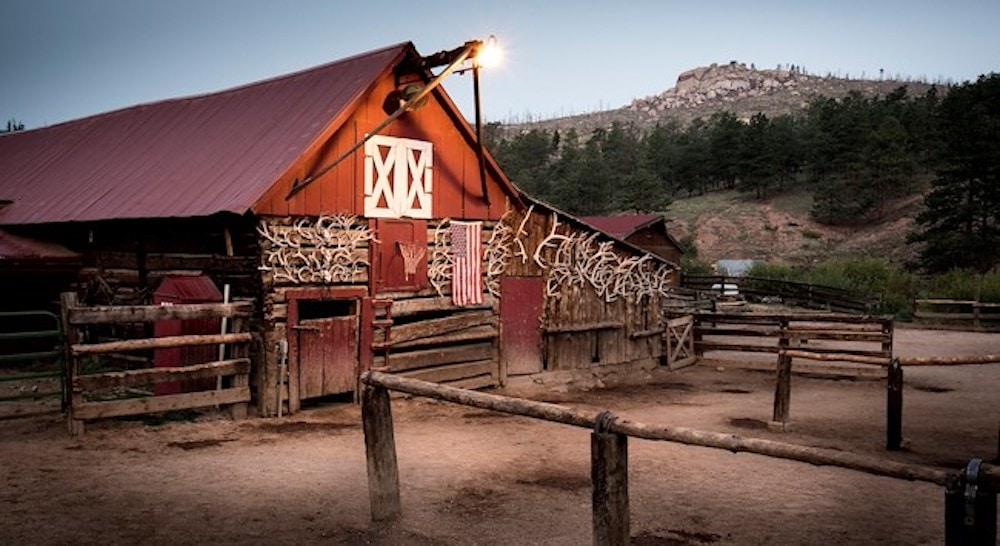 Why you should stay: Saddle up and enjoy a taste of the Old West at this unique dude ranch.
Location: Sedalia
Sleeps: 2+
Minimum stay: 2+
Rates from: $210/night
If you want much more than just a place to spend the night, Lost Valley Ranch is a guest ranch that dishes up western hospitality in an unforgettable setting.
With rustic cabins with up to three bedrooms, you can choose a romantic escape for two or bunk up with family or friends. And don't worry about who's going to wrassle up dinner as your all-inclusive stay dishes up three square (and delicious) home-cooked meals each day.
The ranch also hosts a variety of activities that change with each season. In the summer, you can head out on a trail ride or go on a guided hike — or try your luck at trap shooting or archery. Plan to end the day with s'mores around a bonfire, line dancing, or a soak in the hot tub.
In the fall, if you want to feel like a real cowboy or cowgirl, the ranch offers specialty weeks where you can participate in a cattle round-up. You might as well earn those chaps.
Check Availability
Follow 'em: @LostValleyRanch
10. The Crawford Hotel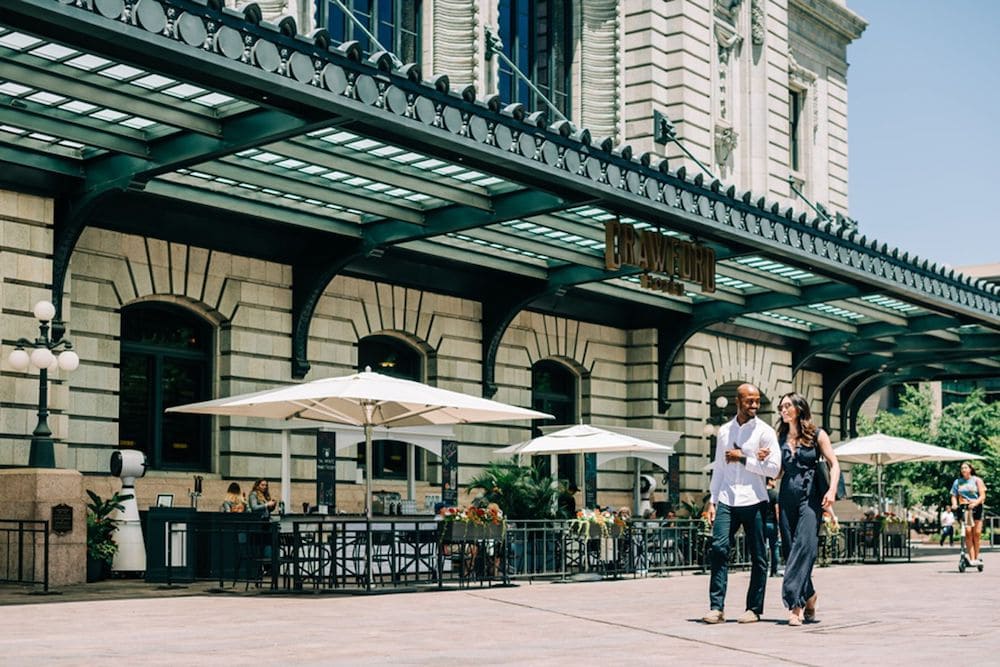 Why you should stay: Sleep in a secret hotel above a historic train station, plus free beer.
Location: Denver
Sleeps: 2+
Minimum stay: 1 night
Rates from: $306/night
You might not think that booking a stay above a busy railway station is the best idea, but that's just because you've never seen The Crawford Hotel. This fashionable and revitalized hotel is on the top floor of Union Station.
The décor in the rooms retains historic touches and it couldn't be more convenient to wherever you want to go in town. Oh. and all stays include unique amenities like courtesy Tesla transportation and a free beer every day during happy hour at the building's Terminal Bar.
From the hotel, you're within easy walking distance to shops, restaurants, bars, museums, and galleries. It's easy to catch a show at the Denver Center for the Performing Arts or a game or concert at Ball Arena.
If you're there on a runner summer day, walk the paths of Confluence Park to enjoy the sights of downtown. This unique stay is all about living the glamorous city life.
Check Availability
Related Read: 10 Best Cabins to Rent Near Denver
Discover More in Colorado
Sign up for Weekend Wanderer to join thousands of readers getting epic travel ideas every week.
---