We research, evaluate and select travel destinations based on a number of factors, including our writers' experience and expertise, user reviews and more. We may earn a commission when you book or purchase through our links. See our editorial policy to learn more.
---
Glamping sometimes gets a bad rap. What's the point of spending time in nature if you're just going to have air conditioning and Wi-Fi, right?
But why not take a beat and reframe your thinking? After all, just because you like camping doesn't mean you have to dislike glamping. And it doesn't have to be an either-or situation. Mix a few glamping stays into your West Coast road trip, or consider booking a glamping trip if you're ready for an outdoorsy weekend trip but have some travelers in your crew who aren't big on camping.
Glamping rentals are often the best option for scenic budget travel, particularly in places where hotels can be pricey — like the Los Angeles area. Plus, if you're headed inland in summer, you're going to quickly see what the point of having air conditioning is. And if it's the beach you're after, well, it's not exactly legal to pitch a tent right next to the Pacific in LA.
So, it's off to well-appointed yurts and restored caravans you go! From Joshua Tree to Ojai, here are nine great glamping spots near Los Angeles, California.
Related Read: 14 Epic Campgrounds Near Los Angeles, California
1. Desert Sky Escapes
Why you should stay: Pastel-perfect bell tent a mere 15 minutes from Joshua Tree National Park.
Location: Joshua Tree
Sleeps: 4
Minimum stay: 1 night
Rates from: $75/night
With a fire pit and a picnic table, this yurt is a great base for hiking and rock climbing in Joshua Tree by day and relaxing in the desert at night. Your hosts even provide the firewood. Do be ready to use a shared portable bathroom and enjoy the night sky, as the yurt doesn't have electricity.
Bring a solar charger for daytime use and your devices will stay plenty powered. It also comes with yoga mats for some pretty epic morning sun salutations.
Check Availability
Follow 'em: @DesertSkyEscapes
2. Moon Camp
Why you should stay: Multi-structure glamping camp for an off-grid experience near Joshua Tree.
Location: Joshua Tree
Sleeps: 6
Minimum stay: 2 nights
Rates from: $400/night
Book this popular off-grid camp with a few friends for an unusual desert getaway. With two bedrooms, five beds, a lounge area, and two bathrooms spread between a dome house and two shipping containers, this Joshua Tree glampsite is a good option for small groups. It books quickly, so make your plans as early as possible.
The camp is solar-powered; water and gas are delivered. There's a roomy fire pit — although guests are advised to be exceedingly cautious of wildfire risks — as well as a BBQ grill, hammocks, loungers, and a telescope for stargazing. It's about three hours from LA to Joshua Tree.
Check Availability
Related Read: 15 Incredible Glamping Spots in California for a Retreat from Civilization
3. Wonderlust Airstream
Why you should stay: Privacy, views, a Jacuzzi, a covered deck — yeah, this is why people like glamping.
Location: Joshua Tree
Sleeps: 3
Minimum stay: 2 nights
Rates from: $300/night
All right, one more Joshua Tree option for good measure (and a dose of privacy). This well-designed setup on five acres offers everything you need for a relaxing weekend away, including a hot tub and stock tank pool, multiple decks, ready-to-go propane grill, outdoor shower, and private fire pit.
The Airstream itself is set up with a queen bed and a sofa bed as well as a functioning kitchen. If you're looking for a place to glamp near Los Angeles where it feels like you have the whole world to yourself, this is your spot.
Check Availability
Related Read: When is the Best Time to Visit Joshua Tree National Park?
4. Waypoint Ventura
Why you should stay: Dog-friendly vintage trailers with private terraces near the beach.
Location: Ventura
Sleeps: 5
Minimum stay: 1 night
Rates from: $175/night
Do restored trailers even count as glamping? Answer: who cares, because the trailers at Waypoint Ventura are charming as can be. The oldest option on site dates to 1946, so these mobile homes are genuinely vintage.
Spend your days surfing, visiting the Ventura Botanical Gardens, exploring the local area on one of the property's complimentary loaner bikes, or taking the to the Channel Islands, then come home and cool off in your well-appointed, air-conditioned trailer. At night, head over to the communal BBQ and fire pit for some lawn games, s'mores, and good times with your fellow hip SoCal guests.
Check Availability
Follow 'em: @WaypointVentura
5. El Capitan Canyon
Why you should stay: Multiple glamping spots with two hours of L.A. with tons of unique amenities, including llamas.
Location: Santa Barbara
Sleeps: 7
Minimum stay: 1 night
Rates from: $170/night
Set between the coast and the Santa Ynez mountains, El Capitan Canyon offers the guests who stay in its cabins, yurts, and safari tents a full spectrum of activities.
Take a swim or visit the spa, rent a bike, hike the Selma Rubin Trail, try your hand at the ropes course, or drop in on a yoga class. The wilderness resort has a playground for kids, wine tastings for adults, and a seasonal concert series guests of all ages can enjoy. And all guests regardless of accommodation have access to the heated pool, on-site market, an organic garden, and even a llama farm.
Check Availability
Related read: The Meditative Joys of Llama Trekking with Blue
6. Caravan Outpost
Why you should stay: Hip Aistream in a lush garden in funky Ojai.
Location: Ojai
Sleeps: 4
Minimum stay: 1 night
Rates from: $179/night
Equipped with both queen and fold-out beds, Caravan Outpost offers a good option for families and small groups. And in fact, there's also a tiny house on site that sleeps up to five people should you need more space. This is one of the best places to glamp near Los Angeles if you love classic California small towns. It's about 80 miles north of the city.
In Ojai, line up a few wine tastings at local organic vineyards, go hiking or mountain biking, and explore downtown Ojai's museums and galleries — both the Ojai Valley Trail and the city itself are in walking distance of the property. Note that there are 10 campers on the site, so while you get great proximity to the town, there's not too much privacy.
Check Availability
Follow 'em: @CaravanOutpost
7. Oceanside RV Resort
Why you should stay: Safari tents on the ocean with a pool and a hot tub.
Location: Oceanside
Sleeps: 6
Minimum stay: 2 nights
Rates from: $75/night
The Oceanside RV Resort installed a couple glamping tents for incoming visitors without their own wheels, but they hardly seem like an afterthought. And at less than 90 minutes by car from LA, you may very well be getting the best deal in southern California.
After a day at the beach and an evening of grilling and chatting at the communal barbecue area and fire pit, retire to your tent's private deck, get a couple cold ones from the mini-fridge, and enjoy the sunset. It's one of the best glamping spots near Los Angeles or San Diego — it's only 35 minutes north of the latter.
Check Availability
Related Read: The 10 Best Camping Spots in Santa Barbara, California
8. Be Well Yurt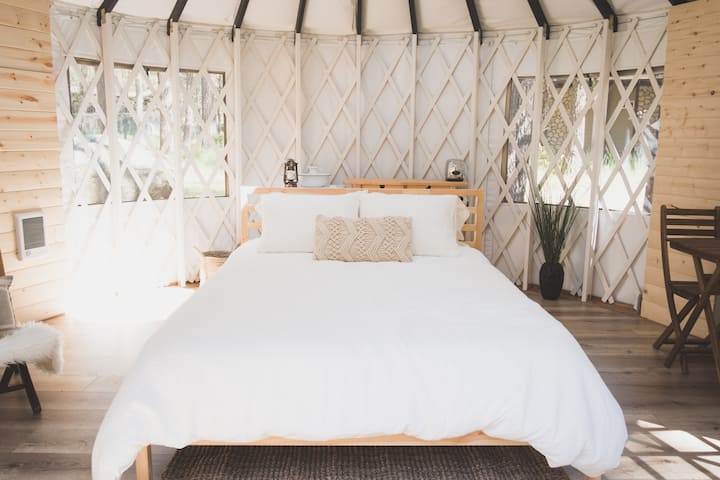 Why you should stay: Mountain livin' two hours from LA in the San Jacinto Mountains.
Location: Idyllwild-Pine Cove
Sleeps: 2
Minimum stay: 2 nights
Rates from: $100/night
With a translucent dome, private deck, and a hammock, this yurt is a great option for a couples' getaway. There's no bathroom in the home, but you only have to walk on a lit path for about 30 seconds to reach the private full bathroom.
In summer, fans and ventilation keep the space cool, and in winter, electric heat and insulated walls keep it cozy inside. The private kitchen means guests aren't reliant on local restaurants (although there are plentiful charming options nearby), and you'll have views of scenic Strawberry Creek through the pines. When you want to venture out, you'll have everything in Idyllwild at your fingertips, from hiking to stargazing to beer-tasting at local breweries.
Check Availability
Follow 'em: @wildlandorganics
9. Le Haute Desert Aerie
Why you should stay: Solar-powered 40-acre desert estate for your group glamping trip from LA.
Location: Pioneertown
Sleeps: 9
Minimum stay: 2 nights
Rates from: $550/night
You and your pals will have to divvy up the queen-size beds in the two vintage Airstreams and two safari tents – and the person flying solo gets the extra twin in one of the Airstreams.
With that sorted, enjoy this desert retreat's strong selling points: opportunities for hiking, crafts in the "Art Barn," views of Mt. Gorgonio, and multiple decks and terraces. This is a rustic, off-grid spot, so get ready to cook using the fire pits or gas grill. That said, both Airstreams have small fridges, sinks, and microwaves, and the property has two freestanding full bathrooms.
Check Availability
Related Read: 9 Amazing Scenic Drives Near Los Angeles, California
Find Your Next California Adventure
Sign up for the Weekend Wanderer to join thousands of readers getting epic travel ideas every week.
---