Mount San Jacinto is the idyllic weekend getaway destination for the Greater Los Angeles Area.
There's a wealth of wonderful camping opportunities around Mount San Jacinto. Large campgrounds surround the iconic mountain village of Idyllwild, a town which is a famous retreat for many of Hollywood's biggest names and music's most iconic artists.
Far away from town, deep into the wilderness of San Jacinto, backpackers can pitch their tents in seclusion within ancient groves of pine and cedar.
"The view from San Jacinto is the most sublime spectacle to be found anywhere on this earth," said famed naturalist John Muir.
On the other end of the spectrum, those who prefer comfort over campsites can glamp in style at San Jacinto's base in the town of Palm Springs. One of the most popular routes from the desert to the mountain involves riding on the Palm Springs Aerial Tramway.
However you like to camp, there's a place for you at Mount San Jacinto. This is a world-class mountain worth exploring from its rocky top to its sandy bottom.
The endless desert vistas are breathtaking, as can be the climb to the mountain's peak.
Start planning your trip to Mount San Jacinto today by choosing one of the amazing camping options below.
Mount San Jacinto Campgrounds
1. Dark Canyon Campground
Why you should camp here: A wild and scenic escape that's only minutes from town.
Reservations accepted: No
Best seasons: Summer, fall
Campsite type: Tents, car camping, RV
RV hookups: None
Situated in a deep canyon on the bank of the North Fork of the San Jacinto River, Dark Canyon Campground leaves campers feeling as if they were far from civilization in a remote wilderness, when in fact they're but a 10-minute drive from the mountain town of Idyllwild.
The North Fork of the San Jacinto River is designated a National Wild and Scenic River. As a result, this area has been left in a primitive state to preserve its natural identity for the benefit and enjoyment of future generations.
This means that river access can at times be blocked in order to protect the natural wildlife, such as the recent restrictions placed around the camp to preserve the endangered mountain yellow-legged frog which lays its eggs in river pools adjacent to the campground.
The scenic beauty of this dark chasm and its pristine waters are worth the occassional restrictions that must be put in place. Campers can enjoy the immediate surroundings of the campground, or head down the road to the nearby Seven Pines Trail where a moderate track will take you through the wondrous smells and sounds of an alpine forest.
Backpackers can follow this trail to the Little Round Valley wilderness camp for a truly remote night in the wilds of San Jacinto State Park.
Related Read: The 20 Best Places to Camp in Southern California
2. Fern Basin Campground
Why you should camp here: Hike to the mountain's peak and then rest underneath dappled sunlight at this high elevation campground.
Reservations accepted: Yes
Best seasons: Summer, fall
Campsite type: Tents, car camping, RV
RV hookups: None
A charming, rustic campground within a grove of ancient oak trees, Fern Basin Campground is an excellent option for those looking to spend the daylight hours hiking to Mt. San Jacinto's peak.
Fire rings and picnic tables are the extent of the amenities you can expect to find around the 22 campsites, as well as vault toilets. Town is a mere 10 miles down the road, but you're going to be inclined to head the other direction toward Mt. San Jacinto's summit.
Near the campground is the trailhead for the Marion Mountain Trail which is a steep 11.2 mile round trip to and from the mountain's peak. This trail is the shortest direct route to the summit from any direction.
Fern Basin Campground itself resides at 6,300 feet. Glimpses of the desert below can be caught between the trees, but the best views are, of course, at the top of the mountain where sweeping panoramic views encompass the vast Palm Desert which sits below the San Bernardino and San Gabriel mountains.
Reserve Now
Related Read: 14 Epic Campgrounds Near Los Angeles, California
3. Idyllwild Campground
Why you should camp here: Mount San Jacinto, the town of Idyllwild, and State Park Headquarters are all within walking distance.
Reservations accepted: Yes
Best seasons: Summer, fall
Campsite type: Tents, car camping, RV
RV hookups: Full
One of only two drive-in campgrounds within Mount San Jacinto State Park, Idyllwild Campground boasts a relaxed atmosphere that's within walking distance from the town of Idyllwild's downtown coffee stops and knick-knack shops.
"Great campground! It's got everything you might need and located a five minute walk away from downtown Idyllwild," says Rachel on Hipcamp.
Park headquarters, the local ranger station, and the Idyllwild Nature Center are all fantastic sources of information about the area, and they're all within sight of Idyllwild Campground. Chat with a ranger about current trail conditions, and grab a trail map before you tackle the day's mountain excursions.
With 35 campsites that have access to potable water and hot showers, Idyllwild Campground serves as an excellent basecamp.
You'll be in the perfect position to explore Mount San Jacinto to your heart's content, and then hang back in town in the evening where local brewpubs and under-the-radar musicians create an intoxicating atmosphere that is unmistakably Idyllwild. When the night is done you'll be able to walk back to your campsite for a cozy fireside nightcap.
Reserve Now
Related Read: The 10 Best Camping Spots in Santa Barbara, California
4. Idyllwild Regional Park
Why you should camp here: The on-site hiking trails, nature center, and bouldering opportunities make this an outdoor enthusiast's dream campground.
Reservations accepted: Yes
Best seasons: Summer, fall
Campsite type: Tents, car camping, RV
RV hookups: Water
Located on the edge of town and outside of the state park boundary, Idyllwild Regional Park is a camping resort in close proximity to Idyllwild and Mount San Jacinto.
Beyond the typical campground amenities, Idyllwild Regional Park also features an amphitheater, showers, a nature center, and five hiking trails spread across the property's 200 acres. There's even an on-site meadow that's perfect for midday picnics.
There are 88 campsites, some of which are paved for handicap access. Many camp locations are large, flat, and shaded under a pine tree canopy. The campground's trails weave through uncluttered forest and award hikers and bicyclists with the occasional view of San Jacinto's rocky peak.
All of the conveniences of town and Mount San Jacinto State Park are close to camp. The well-maintained grounds serve as a popular base for hikers and mountain bikers, but climbing and bouldering enthusiasts will find Idyllwild Regional Park riddled with large granite boulders that make for some of the best climbing opportunities within site of town.
Reserve Now
Related Read: 10 Best Camping Spots in Big Sur, California
5. Marion Mountain Campground
Why you should camp here: Alpine campsites with sweeping views of the surrounding mountain ranges.
Reservations accepted: Yes
Best seasons: Summer, fall
Campsite type: Tents, car camping, RV
RV hookups: None
Campgrounds don't get much more scenic than what you'll find at Marion Mountain Campground, where nearly every campsite comes with its own uniquely framed panoramic view.
Set high up at 6,400 feet amid a forest of oak, pine, and cedar, Marion Mountain Campground is home to only 25 campsites. You'll want to reserve one as soon as you can, because they go fast.
This rustic campground is the perfect alpine retreat, especially for those of us who like to stay close to town. Idyllwild is only seven miles down the road.
The popular Marion Mountain Trail starts at the campground. The path climbs directly to the peak of Mt. San Jacinto, but it also crosses a number of other trails, introducing hikers to a network of trails including the country-crossing Pacific Crest Trail.
Reserve Now
Related Read: 11 Best Scenic Drives in Southern California
6. Stone Creek Campground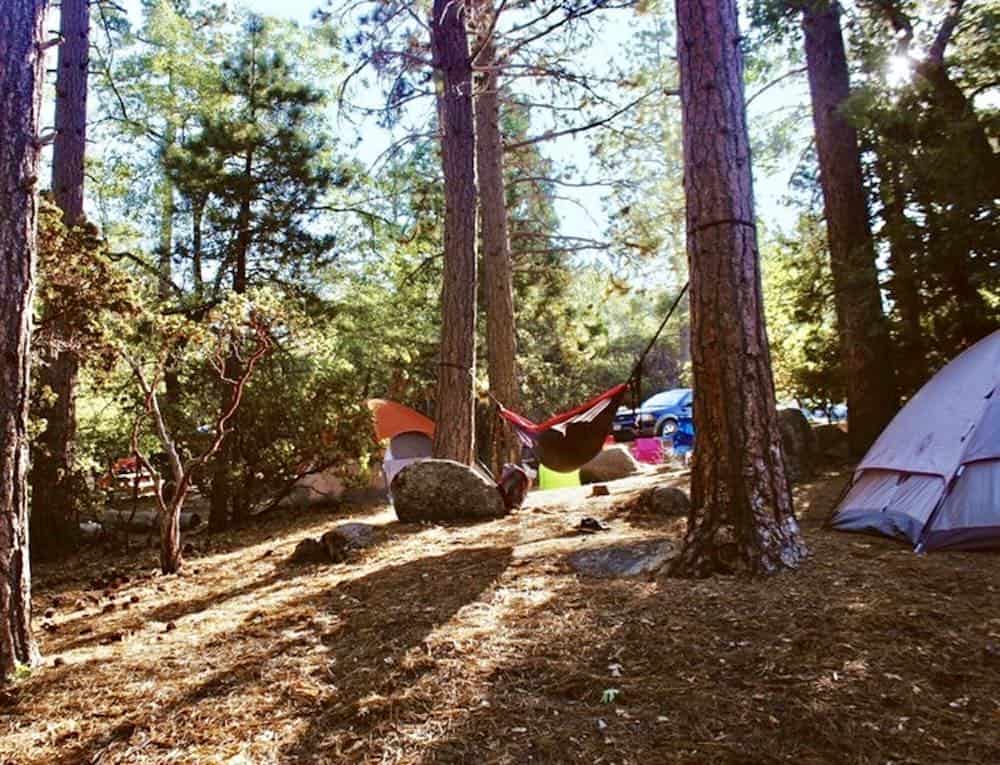 Why you should camp here: Road trippers travelling along the Banning-Idyllwild Panoramic Highway will find this a convenient campground along their route.
Reservations accepted: Yes
Best seasons: Summer, fall
Campsite type: Tents, car camping, RV
RV hookups: Full
The largest campground in San Jacinto State Park, Stone Creek Campground boasts over 50 campsites equipped with fire pits, picnic tables, and barbecue grills. Vault toilets and potable water are within close proximity to each campsite.
Stone Creek Campground lies just off of the Banning-Idyllwild Panoramic Highway, a mountain road that's rife with photo opportunities and trailheads. This campground is minutes away from the town of Idyllwild, making it a good resting point near town.
Continuing down the road you will find plenty of picturesque pullovers and fun day use areas, such as that at Lake Fulmor which is only a few miles down the road.
Equestrian trails and fishing opportunities reside nearby, and a number of backcountry roads veer off from the beaten path, giving those with off-roading vehicles the opportunity to break into the wilderness without having to break a sweat.
Reserve Now
Related Read: 7 Stellar Campervan Rental Companies in Southern California
Private Camping
The campgrounds of Mount San Jacinto State Park and the surrounding wilderness may be perfectly situated to kick off a mountain adventure, but they're not rich with amenities.
If you prefer a little more in the way of creature comforts during your outdoor adventure, check out these private camps which aren't a far drive from the mountain.
Related Read: 6 Serene Cabin Rentals in San Diego to Get Away From It All
7. Camp Owl Pine
Why you should go: Rent out a vintage pop-up trailer that's paired with a private hang deck and hot shower.
Designed to be the perfect couple's retreat, Camp Owl Pine combines the rustic magic of a natural backdrop with the modern conveniences of a vacation resort.
This low-key camp gives you the privacy you're looking for in the mountainside environment you've dreamed of, all of which is only a few steps away from the lights and energy of Idyllwild's downtown.
Adventure calls your name, but when it's time to rest this retreat beckons you to come rest in one of its forest hammocks or on the private hang deck in a butterfly chair with a cooler and lantern at your side. Breathe in the fresh alpine air and relax at Camp Owl Pine in any way you choose.
"A beautiful place with lots of thoughtful touches," says Angie on Airbnb. "There are restaurants playing live music across the street and plenty of hikes close by. It was the perfect romantic trip."
Reserve Now
Related Read: 12 Best Camping Spots in Anza-Borrego Desert State Park
8. Desert Star Glampsite
Why you should go: Soak up the sun in the desert sands and then sleep easy in your own private yurt.
Palm trees and coarse sand set the scene for this oasis under the hot California sun. Beneath San Jacinto and the surrounding mountains lies miles upon miles of scorching desert. If you prefer the heat over an alpine breeze, you'll want to opt for a desert site for your vacation.
Access to San Jacinto is a short drive away from the Desert Star Glampsite. Have your mountain fun, then retreat to where sunlight reigns supreme. The yurt is decorated with colorful rugs and features a plush bed. This is a far cry away from roughing it.
A putting green and patio furniture adds to the relaxing atmosphere, and visitors have access to a full restroom complete with a hot shower.
Reserve Now
Related Read: 12 Best Hikes Near San Diego, California
9. Down-To-Earth Ecoshire
Why you should go: A unique camping experience in a restorative ecovillage that's mission is to turn the desert sands green once again.
This 35-acre retreat welcomes campers who want to learn about permaculture gardening and don't mind a few organically-raised chickens praising the sun at the crack of dawn.
There are 10 different campsites among the living acreage of Down-to-Earth Ecoshire. Camping fees are turned into life as the restorative ecovillage reinvests campground profits into planting trees to revitalize the land.
If you aren't into the environmentally-restorative mindset of the camp hosts you can escape to one of the local wineries which are minutes down the road, or travel a few miles further to San Jacinto for some isolated time with the mountain.
Reserve Now
Related Read: 11 Epic Winter Camping Spots in California
10. High Desert Lookout
Why you should go: Live the country life on a family farm at the base of Mount San Jacinto.
Set in the foothills of Mount San Jacinto near Diamond Valley Lake, High Desert Lookout sets campers on a hill that overlooks the family farm. When you're not out hiking mountains or fishing the lake you can play with the farm's baby goats, then relax under the stars in a clean hot tub.
The seven campsites are spread out to ensure privacy beyond what you would find at a typical campground. The common area features a communal fire pit, and there are ample amenities including WiFi, a full kitchen, and restroom facilities.
Visitors can purchase organic vegetables and farm fresh eggs directly from the farm. The hosts provide firewood and ice, and they have portable fireplaces that you can carry back to your campsite. There's also a full barbecue grill if you fancy grilling dinner for your family.
Reserve Now
Related Read: 8 Epic Weekend Road Trips from Los Angeles, California
11. Sky Valley View Range
Why you should go: Budget-friendly camping with stellar views and friendly hosts.
Pitch your tent on the undesignated desert sands of your choice at Sky Valley View Range. This unpretentious campground has 360-degree views of the surrounding desert and mountain ranges, including a photo-worthy sight if Mount San Jacinto in its entirety.
Hammocks and lawn chairs grace the property for guests to enjoy. Restroom and kitchen amenities are available as well.
Hikers can start an adventure straight from their campsite that leads up into the neighboring hills for some awesome sights, and the nearby Coachella Valley Preserve is known not only for the infamous festival, but also for some popular hiking trails.
Reserve Now
Related Read: 11 Best Campgrounds in Death Valley National Park
Wilderness Camping
Wilderness camping in Mount San Jacinto State Park is permitted with an overnight permit. Due to the park's high elevation and desert locale, the growing season for plant life is extremely short, and so to protect the fragile land all overnight campers must apply for a permit.
Applications for overnight permits can be found at any Mount San Jacinto State Park offices or either of the two park campgrounds. Applications by mail can be completed up to eight weeks in advance. Dogs are not allowed in the wilderness areas of Mount San Jacinto State Park.
Group camping is limited to 15 people and access is restricted to ensure solitude for campers and to protect the sensitive plant life.
There is limited space at the group wilderness campgrounds of Round Valley, Tamarack Valley, Little Round Valley, and Strawberry Junction, so make sure to plan ahead and submit your permit applications as soon as you can.
Mount San Jacinto State Park's website has more information about wilderness camping and how to acquire the proper permits.
Looking to conquer more of California's majestic mountains? We recommend a visit to Mammoth Lakes where you can make basecamp on your way into the Sierra Nevada.
Explore California
Sign up for Weekend Wanderer to join 10,000+ readers getting epic travel ideas every week.
---