Rugged coastline, iron-rung ladder trails, abundant wildlife, and glorious sunrises are just a few reasons why Acadia National Park should be on your bucket list.
Acadia National Park is one of the ten most visited national parks in the United States. Every year, millions of visitors come to see what the hype is all about. And Acadia delivers. It doesn't matter if you come in the dead of winter to go birding or at the height of summer to escape the more humid places of the Northeast — Acadia National Park is magical any time of year.
To get the most out of your visit, though, you should decide what you want to do beforehand. If you're interested in a particular trail, make sure it's open during the time you wish to visit. For example, the Precipice Trail and Jordan Cliffs Trail are usually closed in the spring months while peregrine falcons are nesting. Or if you really want to bike the carriage roads, they close in the spring due to soil erosion.
Check out the suggestions below to gauge what time of year is best for you and your intended activities.
Related Read: Top 10 East Coast Vacation Spots You Never Considered (But Should!)
Travel Tips for Acadia National Park
Find the perfect basecamp for your Acadia adventures by staying at one of these rentals around the area.
Central, coastal Maine is known for some harsh storms no matter the time of year. Winter can bring massive squalls while the summer brings incessant humidity. Be prepared for the weather to change quickly.
Everyone's daypack should be filled with enough water to last you all day and plenty of sun protection. The humidity will make you sweat more than usual which will wipe away sunscreen more quickly than in other places. Reapply often.
Ticks are a real thing in New England and are alive and well in Acadia especially during the springtime. Always bring tick repellent and wear long sleeves and pants.
Services are limited in the winter inside the Park, as many roads are not plowed. Always check the current conditions and road closures before planning a visit.
Expect large crowds and full parking lots in the summer and fall (especially during peak leaf-peeping season). If you don't want to worry about parking, take the free Island Explorer that will bring you to all the spots around the Park and Mount Desert Island.
Cell service is notoriously terrible in the Park no matter your provider, so make sure to grab a paper map or offline map use from an app.
Always Leave No Trace when you do any sort of outdoor recreation and leave a place better than you find it!
Related read: Top 10 Campgrounds to Book for Your Visit to Acadia National Park
Best Time of Year to Visit Acadia
The dramatic sea cliffs, thundering waves, and abundant wildlife are just a few reasons to visit Acadia National Park. It's rugged and rocky coast is offset by the beauty and fluidity of inland creeks and pine trees.
Hiking trails are always crowded most of year so don't expect a lot of solitude especially in the fair-weather months. Regardless of the time you visit, here are the best things to do in each season within the Park.
Autumn: Best Time for a Bike Ride Along the Carriage Roads
Autumn brings more stable weather, less bugs, mud, and humidity, as well as fewer families (kids are back in school after all) to the Maine seacoast. For New Englanders, autumn becomes their pride and joy. Epic leaf-peeping that can be done throughout the region.
Keep in mind that fall begins earlier in Acadia than most of New England. In any given year, peak fall foliage occurs anytime between mid-September and mid-October. Like anywhere else in the country, it's hard to gauge exactly when peak times will happen. It's so dependent on the year's spring warm-up and subsequent drought. Coming to see the colors is so popular that the Maine government has their own fall foliage tracker to keep you updated.
But autumn is also the perfect time to drift back in time by taking a bike ride along Acadia's carriage roads. Technically, you can walk these historic roads but head out on two wheels for the best experience.
The carriage roads were originally given as a gift by John D. Rockefeller, Jr. (the oil tycoon's son) who called Mount Desert Island home. He designed them to curve with the mountains and natural surface. He wanted to be away from automobiles and closer to nature as he traversed his property.
There are over 45 miles of crushed rock surfaces that are ideal for bikes. Be mindful of others while you're riding around since both horses and pedestrians can use these roads. Road etiquette dictates that bikes yield to both.
Insider tip: if crowds are getting to you, head out on these scenic drives within the state.
Related Read: Where to View the Best Fall Foliage in New England
Winter: Best Time to See the Elusive Snowy Owls
Those same carriage roads that you bike in the fall make perfect cross-country ski trails in the winter. Winter is the least popular time to visit Acadia National Park. Most of the roads are closed to cars except Ocean Drive and Jordan Pond Road. You'll have to get bundled and geared up in order to access most of the places within the Park during the colder months.
Winter can be harsh here. Being on the edge of the ocean, the winds are piercing and unforgiving. It does snow quite a bit in the Park but because of those forceful winds, snow gets blown around and granite is exposed throughout the trails. This means using traction like microspikes can be somewhat tricky in the winter months. Come prepared with the right gear. You'll need thermal (non-cotton) layers, insulating layers, and a wind-/waterproof outer layer.
Once you're all bundled up, the adventures are endless. Without the crowds, you're bound to get some great photos. All the roads that are closed to vehicles are open to recreationalists in the winter. You can snowshoe or cross-country ski. There are also several places to snowmobile!
What makes the winter so intriguing is the chance to cross a rare bird off your life list. Grab your binoculars and head out on foot to find the snowy owls that call Acadia home in the winter months. The best spots to view them are on Cadillac or Sargent mountains but there is never a guarantee. Always remember to follow the sixth principle of Leave No Trace and give wildlife the space they need.
Insider tip: winter isn't the only time to see incredible birds. Acadia is also home to nesting peregrine falcons, bald eagles, loons, and dozens of seabirds!
Related Read: 11 Best Places to Snowshoe in New Hampshire
Spring: Best Time to For a Scenic Drive
Like many other spots within New England, springtime in Acadia brings a lot of rain, mud, and, worst of all, ticks! Many trails are closed during the spring rainy months to save them from possible erosion. It's important to check the status of trails and abide by all signs showing trail closures.
Instead of slogging through mud-soaked trails, take a drive to view the sights through a car window. Park Loop Road is the quintessential scenic drive through Acadia National Park. The suggested route is to start at Hulls Cove Visitor Center and then head south where the road turns to one-way. Parking is allowed in the right hand lane so be on the lookout for parked cars to abruptly appear.
The road brings you to all the popular attractions. Park Loop Road winds its way through Sieur de Monts (aka the "Heart of Acadia"), Sand Beach, Thunder Hole, Jordan Pond, and Cadillac Mountain. Sunrise at the summit of Cadillac Mountain is a popular activity and for good reason. You'd be one of the first people in the United States to watch the sun crest over the horizon here.
You can also drive to the northern portion of the Park through Schoodic Peninsula. There is another one-way road that brings you along the rocky cliffs of the peninsula's dramatic coastline.
Insider tip: avoid going during spring break for New England schools which usually falls somewhere between the second and last week of April.
Related Read: 11 of the Best Airbnbs in Bar Harbor, Maine
Summer: Best Time to Check Out Isles and Peninsulas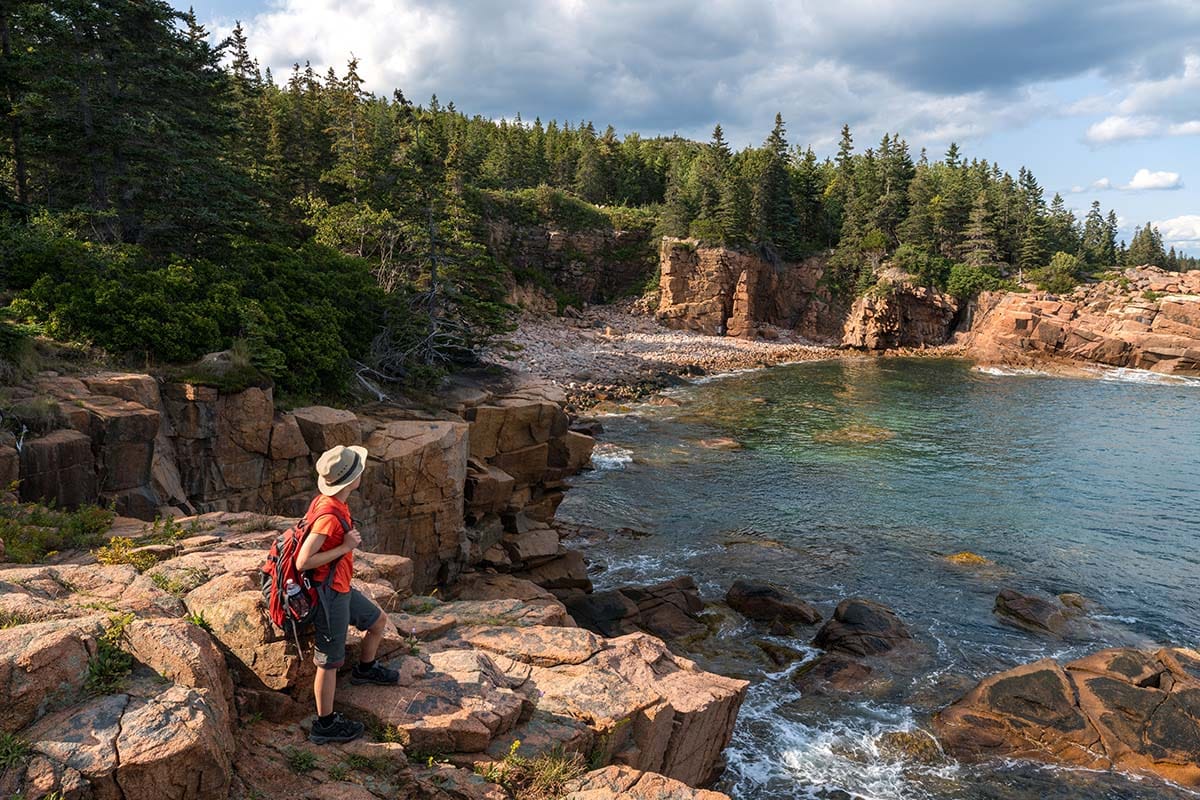 For the average visitor, summer is the best time to visit Acadia National Park. As such, the warmer months are, by far, the most popular time to visit Acadia. All the shops and restaurants in downtown are in full swing, and the visitor centers are open and ready to dish about the best places to visit.
This is also the time of year that taking the Island Explorer is the best way to get around the Park. You never have to worry about parking and can even do some point-to-point hikes (meaning your starting and ending point are different). The best trails are likely also the most crowded ones. Fortunately, if you go before 8 am or after 4 pm, the trails tend to be less busy and you won't be fighting people to get up the trail.
But if you really want to avoid the crowds, head on out to the less popular areas. The Schoodic Peninsula is the only part of the Park that is on the mainland. There is an unmarked trail that heads up the gravel road to Schoodic Head (440 feet above sea level) and provides incredible vistas in all directions.
Acadia National Park is also one of the most dog-friendly national parks in the United States. Your (well-behaved and leashed) four-legged friends are allowed on over 100 miles of hiking trails and the 45 miles of carriage roads that are located within the Park. They are also allowed on the less popular Isle au Haut which can only be accessed by mail boat.
Insider tip: come for the Bar Harbor Fine Arts Festival that usually occurs the second week of August. Some of the best New England artists showcase here.
Explore New England
Get epic travel ideas delivered to your inbox with Weekend Wanderer, our newsletter inspiring more than 10,000 readers every week.
Was this article helpful?
---