Territory Supply is reader-supported and may earn a commission when you book or purchase using our links. Learn more about our editorial policies here.
---
Munds Park is a marvelous gateway in the quiet forest of Northern Arizona.
Located just 25 minutes south of Flagstaff, the cabin rentals in Munds Park are a great affordable alternative to the accommodation options found in Flag. Here you can enjoy the peace and quiet of nature without being too far away from the convenience of town, for a fraction of the price.
The list of things to do near Munds Park is graced by some of America's greatest natural landmarks. While in the region, we highly recommend experiencing the awe-inspiring views of Grand Canyon, taking a stroll through the rippling waves of Antelope Canyon, or admiring the view of Horseshoe Bend from above.
Other nearby attractions include the Lowell Observatory, Slide Rock State Park, and Wupatki National Monument — can't-miss Arizona attractions perfect for families with young kids.
We have a feeling your trip to Munds Park is going to be one to remember!
Related Read: 12 Best VRBOs in Arizona for Your Next Getaway
1. Modern A-Frame Cabin
Why you should stay: Unique A-Frame cabin with stunning architecture inside and out.
Sleeps: 6
Minimum stay: 2 Nights
Pets allowed: Yes
This modern A-Frame Cabin is truly a stunner! Complete with beautiful interior furnishings, a cozy and bright loft, and a large outdoor deck for picnics and gatherings, guests highly enjoy their stay at this unique A-Frame cabin in Munds Park. What makes this stay so special is not only that it has the perfect set up for outdoor adventures, but it also has all of the modern and tech-savvy amenities inside so you can enjoy the best of both worlds.
Gather your family, friends, and favorite pups for your escape to nature in this gorgeously decorated retreat.
Check Availability
2. Dog-Friendly Family Cabin
Why you should stay: A cozy cabin rental that is perfect for your family and your dogs.
Sleeps: 6
Minimum stay: 2 Nights
Pets allowed: Yes
If you're seeking a Dog-Friendly Family Cabin, look no further than this unique a-frame with fantastic mountain views. Inside, the wooden spiral staircase leads you up to a spacious lofted area with two twin beds. The master bedroom and pull out sofa sleeper accommodate four more guests, fostering the perfect space for a family getaway.
Guests have access to a washer and dryer as well as a fully equipped kitchen for nutritious meals at home. Outside, the property is completely fenced in so your fur baby can run and play free without concern.
Check Availability
3. Magical Wooded Chalet
Why you should stay: Pet-friendly and tranquil wooded chalet where you and your dog can run wild.
Sleeps: 8
Minimum stay: 2 Nights
Pets allowed: Yes
Surrounded by a peaceful wood, the Magical Wooded Chalet is a spacious and open cabin oozing with charm. When the sun rises, the entire space fills with natural sunlight through the front wall's floor-to-ceiling windows.
The home can accommodate up to eight guests and is very pet-friendly. Outside the home, the wooden deck runs nearly around the entire house, and the fire pit and hot tub welcome pleasant outdoor gatherings.
Check Availability
4. Treetop Home
Why you should stay: Enjoy the sweeping birds-eye views of Munds Park and sleep peacefully perched high above the trees.
Sleeps: 8
Minimum stay: 2 Nights
Pets allowed: No
Sitting amongst the treetops at the highest point of Munds Park, this Treetop Home awaits you with panoramic 270-degree views of the landscape. The warm and inviting interior is just the ticket for ultimate relaxation in the evening.
Kick back and enjoy the large HD flatscreen TV and playroom with a pool table. You'll also love the fully functional indoor fireplace during cooler weather.
Check Availability
5. Bobcat Retreat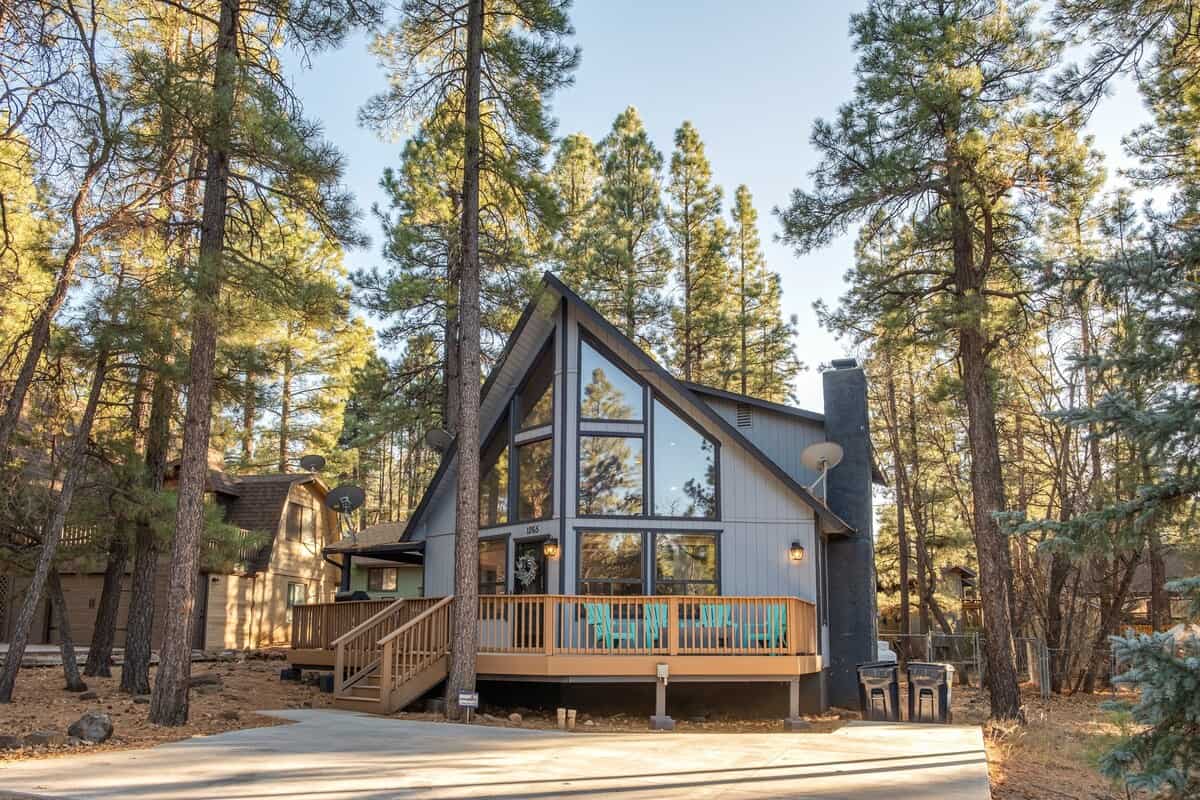 Why you should stay: Recently renovated A-frame with stellar entertainment amenities.
Sleeps: 10
Minimum stay: 2 Nights
Pets allowed: No
This newly redone modern cabin on the east side of Munds Park stands out in more ways than one, starting with its fresh exterior finish. It's the first noticeable sign of the home's impeccable redesign — and floor-to-ceiling transformation from bland to bright and cheery.
Inside, the three bedrooms and loft create living spaces that feel contemporary and comfortable. Don't be surprised when the kids — or adults — don't want to leave the loft and its arcade games and PS3, but a meal at the oversized dinner table for 10 might be enough to sway guests downstairs.
The wrap-around deck and gas fire pit is a peaceful spot to start and end your days in Munds Park, and you'll find this cabin's modern amenities and design perfect for trips up north out of the Valley. The cabin's new to the Airbnb scene, but hosts Nick And Ena nail the essentials for a cozy and clean family atmosphere.
Check Availability
6. Modern Munds Park Home
Why you should stay: A modern homestay with a fantastic location and property guests can't get enough of.
Sleeps: 9
Minimum stay: 2 Nights
Pets allowed: No
This Modern Munds Park Home has everything you'll need for a memorable outdoor adventure. You'll certainly want to take advantage of the large outdoor seating area with charcoal grill, hammock, fire pit, and enough seating for your entire party.
The modern facilities inside foster a comfortable stay where you can whip up a gourmet meal as you please! Previous guests have loved it so much that the property's location has received a solid five-star rating for most of its recent reviews.
Check Availability
7. Cozy Cabin
Why you should stay: Enjoy the peace and quiet of the woods without being too far from town at this cozy cabin.
Sleeps: 7
Minimum stay: 2 Nights
Pets allowed: Yes
The Cozy Cabin in the woods is one of Munds Park's cutest little cabin rentals. This quaint stay accommodates up to seven guests as well as any well-trained dogs for an additional fee.
Here you can find quiet in nature via the front porch chair swing and fire pit as well as access to numerous hiking trails nearby. We love that this property is located far enough into the woods to feel secluded but close enough to town to be convenient.
Check Availability
8. Pinewood Treehouse Chalet
Why you should stay: A spacious pinewood chalet with onsite jacuzzi for utmost relaxation after a day of exploring.
Sleeps: 8
Minimum stay: 4 Nights
Pets allowed: No
The Pinewood Treehouse Chalet is a roomy three-story home with five decks, three bedrooms, one large grill, and one large jacuzzi hot tub.
If that isn't enough to entice you, the cozy indoor fireplace and easy access to Munds Park's golf course at Pinewood Country Club will surely seal the deal. Not to mention the interior decor is as enticing and welcoming as the outside facade.
Check Availability
9. Quaint A-Frame Cabin
Why you should stay: A quant and eye-catching A-frame peacefully tucked into the surrounding tranquil woods.
Sleeps: 6
Minimum stay: 1 Night
Pets allowed: No
This Quaint A-Frame Cabin will transform your Arizona vacation into a cozy and memorable outdoor escape amongst the trees. Recently renovated, this three-bedroom, two-bathroom Munds Park cabin rental is a great alternative to staying in busy Flagstaff or Sedona.
The property overlooks Munds Canyon and has easy access to many different hiking trails around the area. Come enjoy the modern amenities in this quaint cabin.
Check Availability
10. Munds Park Cozy Cabin
Why you should stay: An inviting wooden cabin that sits high above Munds Park offering great views.
Sleeps: 6
Minimum stay: 2 Nights
Pets allowed: No
This Munds Park Cozy Cabin is a perfect option for travelers seeking privacy and a touch of seclusion during their visit to Arizona.
This cabin boasts three decks for wildlife viewing at all angles and is a true cabin experience in the woods with modern amenities for your comfort. Its location is just a short walk from local trailheads and Odell Lake, which is a great spot for local fishing and lake fun.
Check Availability
11. Two-Story Chalet
Why you should stay: An architecturally stunning and unique two-story chalet that will wow you and your family.
Sleeps: 10
Minimum stay: 2 Nights
Pets allowed: No
As wooded chalets go, this Two-Story Chalet in Munds Park is gorgeous. Completely encompassed by tall pine and aspen trees, the floor-to-ceiling windows bring the outdoors inside to the comfort of the cabin.
The vaulted ceiling and open concept layout make this property a charming, appealing stay, and the modern amenities in the kitchen and living room is the cherry on top of a wonderful property.
Check Availability
12. Paradise in the Pines
Why you should stay: Find paradise among the forest at this home away from home cabin stay in Munds Park.
Sleeps: 8
Minimum stay: 1 Night
Pets allowed:
As you step into the Paradise in the Pines, the homeyness of the space fills your senses immediately. In the mornings, the large front deck invites guests to enjoy a cup of coffee as a perfect start to the day.
In the evening, light up a fire in the indoor fireplace and cozy up to your loved ones as you reminisce about the day's adventures. The hosts at Paradise in the Pines do a fantastic job making their guests feel welcomed and comfortable.
Check Availability
13. Three Bears Lodge
Why you should stay: Stay amongst the mountains in this cute little A-Frame cabin.
Sleeps: 8
Minimum stay: 2 Nights
Pets allowed: No
The Three Bears Lodge hosts up to eight guests in its three bedrooms and three bathrooms, this sparkling clean home makes for a fantastic family getaway (no parties or events allowed). Onsite, the property has a wood-burning fireplace, a large deck, and a variety of board games and books.
Not only are the amenities top notch, but the location conveniently places guests within a short walking distance to nearby hiking trails as well as a short drive to the local national forest.
Check Availability
Explore Northern Arizona
Sign up for the Weekend Wanderer to join thousands of readers getting epic travel, hiking, camping and gear ideas every week.
---