Territory Supply is reader-supported and may earn a commission when you book or purchase using our links. Learn more about our editorial policies here.
---
Between the almost-constant sunshine, well-groomed golf courses, and popular attractions like the Grand Canyon and Route 66, Arizona is a great place to vacation. And if you're looking for an off-the-beaten path destination in the Arizona "high country," look to Show Low.
For travelers in need of a quiet getaway, this small town in east central Arizona should be at the top of the to-visit list.
Established in 1870, Show Low's name comes with a unique story. About five years after the town's founding, ranchers Corydon E. Cooley and Marion Clark decided there wasn't room for both of them. The two played a poker game called Seven Up — the lowest card wins — to determine who would leave the region and who could stay.
Much to the chagrin of the two rivals, the game dragged on for hours. "If you can show low," Clark finally said to Cooley, "you win." According to legend, Cooley laid down the deuce of clubs (the lowest possible card) and said, "Show low it is." Today, the city's main street is called "Deuce of Clubs." When you visit, don't forget to look for the statue commemorating the famous card game.
The town came close to facing destruction by the massive Rodeo-Chediski Fire in 2002 — at the time the largest wildfire in Arizona history — but the fire was contained just half a mile from the city's border, leaving Show Low untouched. Over the years, Show Low has been home to a few notable celebrities: Dan Deublein from Beverly Hills, 90210 was born in the city, and Star Trek's George Takei owns a vacation home there.
For tourists, there's no end of things to do in and around Show Low. Enjoy a drink at the Black Horse Brewery, tee off at the Bison Golf Club, and get your wallet ready for shopping at Lazy Bear Decor. You'll also find a plethora of options for outdoor activities such as hiking, fishing, horseback riding, and mountain biking.
When you're ready to book your stay in Show Low, the most fitting way to set the mood is by renting a cabin. Fortunately, we've found 10 of the best cabin rentals in Show Low, Arizona, no matter what your budget.
Related Read: 12 Best VRBOs in Arizona for Your Next Getaway
1. Rosie's Retreat
This two-bedroom, two-bathroom cabin is charming, reasonably priced, and has a long list of five-star reviews. It's also pet-friendly: a large front and side yard with a gate provides a place for your dogs to roam. The cabin sleeps six and is 1,100 square feet — about the size of a large apartment.
Book for a minimum of two nights and enjoy the following amenities: an outdoor grill, air conditioning, a washer and dryer, and internet is included too. A neighborhood playground for the kids sits at the end of the street, and it's a short distance to town, where you'll find plenty of restaurants and shopping options.
2. Rustic Retreat
This cozy three-bedroom, two-bath cabin is surrounded with a screen of beautiful pine trees lending you a little extra privacy. The Rustic Retreat sits at the end of a cul-de-sac and offers a vintage cabin experience — just keep in mind that the cabin does not have air conditioning if staying during summer.
Dogs are welcome but smokers are not. Pay nightly (two night minimum), weekly, or monthly and enjoy this calm and peaceful getaway.
3. Lounging Bear Cabin
The upscale Lounging Bear Cabin — look for the fake bear that perches on the roof — is located in Bison Ridge, a gated community with a fantastic view. The three bedrooms, two bathrooms, and main areas are tastefully decorated and the house itself is professionally designed.
The property stretches over two-thirds of an acre (video here) and is just a ten minute drive from mountain bike trails, horseback riding, restaurants, movie theaters, an indoor pool, and more. The kitchen is well-stocked, the neighbors are friendly, and the one-level cabin is easy to navigate for anyone with mobility issues.
4. Our Cabin Dream
Our Cabin Dream feels safe and secluded in a luxury gated community, but it's still close enough to downtown Show Low for you to enjoy a night on the town — or to swing by Walmart and pick up that toothbrush you forgot to bring — without a long drive.
The cabin's three bedrooms hold five beds and can sleep seven guests (eight if you utilize the couch), but does not allow pets. A raised and covered patio lets you sit among the trees, and inside, floor-to-ceiling windows mean you can still enjoy the view indoors.
Be aware that Our Cabin Dream is perched on the side of a hill, and to enter the garage and front door, you must climb a flight of stairs.
5. Peaceful Cabin with Large Deck
This cabin is perfect for entertaining outdoors: its trademark feature is a huge deck overlooking the backyard that includes a stone fireplace, lounge chairs, a dining table and a stainless steel gas grill — although reviews report this grill is often filthy and unusable.
Indoors, two bedrooms and two bathrooms sleep six people, and an open floor plan lets everyone spread out. Enjoy four parking spaces, a second private porch on the front of the house, and the short ten minute drive to Show Low Regional Airport. The cabin is located near several hiking trails (Fool Hollow State Park, Show Low Lake County Park, and the White Mountains Trail Systems) and is just a five minute drive from town.
6. Waterfront Cabin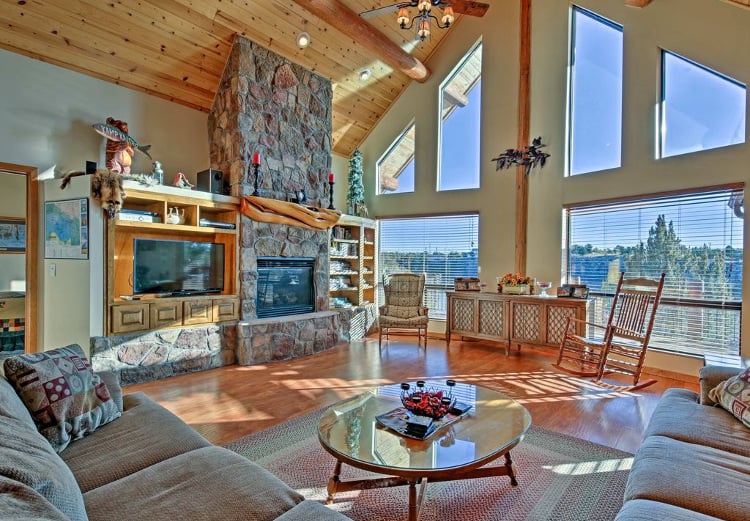 Enjoy your own private lake at this waterfront cabin in White Mountain Lakes (15 minutes from Show Low) that sleeps eight. The roomy deck is a great place to watch the sunset and spot wildlife that frequently turn up in the yard. You can even go fishing at the lake and cook dinner with whatever you catch.
The lake is 300 acres with 200 feet of shoreline (great for paddle boating and kayaking), and inside, the cabin features vaulted ceilings and beautiful exposed wooden beams. There's a deck on the grill and a fire pit in the yard. Nearby attractions include the Silver Creek Golf Club, the Sandbagger Grill, and the Hon-dah Casino.
This waterfront cabin has earned a long list of five-star reviews.
7. Stunning White Mountain Cabin
This White Mountain cabin is different from other cabins in the area: it's on a 5-acre lot and surrounded by the Apache-Sitgreaves National Forest, meaning you can access many hiking trails from the front door. Enjoy the view from the deck — you might see even see wild animals.
The cabin's owners have stocked the cabin for rainy days: You'll have access to a pool table, golf clubs, a keyboard, two fire pits, four TV's, ski equipment, a sled, and more. The cabin can hold twelve and is pet friendly, but keep in mind that the minimum stay is 14 nights, so the price will add up.
8. Rustic Log Cabin in the Pines
Described by many guests as "sparkling clean," this rustic log cabin is located on a cul-de-sac next to the forest. The cabin sleeps 14 and is versatile: book it to use as a hunting lodge or for a family reunion.
The two-level house includes a loft that can double as a play-place for the kids. It's close to town, yet still feels secluded, and isn't too expensive. Book early, because this cabin tends to get snatched up fast.
9. Family Cabin in Torreon
This Torreon cabin has a much higher price point than other options on this list, but the amenities and good reviews to justify the cost. The cabin includes five bedrooms, two bathrooms (plus one half-bath), and large decks. It also features a floor-to-ceiling wood burning fireplace and an open floor plan with upgraded appliances in the big kitchen.
For a small fee, you can bring your pets along. The cabin also comes with a membership to enjoy Torreon's amenities — such as a pool, hot tub, playground, tennis courts, volleyball courts, fitness club, and more. You're also right next to the Torreon Golf Club if you feel like hitting a few rounds.
Torreon is a high-end resort with two golf courses available.
10. Big Buck Lodge
Also located in Torreon, the Big Buck Lodge has three bedrooms and three bathrooms. The golf course is visible from the back deck, and the cabin is surrounded by hills that make for great sledding during the wintertime. Like the Family Cabin, you get a family membership with Torreon when you book the Big Buck Lodge.
The lodge also includes free wifi, a beautiful stone crafted fireplace, and a gas barbecue to help you enjoy your Show Low vacation to the fullest.
Want to explore more of Arizona? Check out our favorite Airbnbs near the Grand Canyon, or the most unique Airbnb options in Arizona. You can also find our favorite Flagstaff hikes and Arizona waterfall adventures.
---