We research, evaluate and select travel destinations based on a number of factors, including our writers' experience, user reviews and more. We may earn a commission when you book or purchase through our links. See our editorial policy to learn more.
Was this article helpful?
---
Find peace and quiet in the charming little mountain town of Pinetop-Lakeside, Arizona.
Immersed in the lush Apache-Sitgreaves National Forest, where old ponderosa pines scent the air, the secluded four-season getaway of Pinetop beckons all who appreciate the great outdoors. Many come to disconnect, recharge, and escape the Arizona desert's heat in the higher altitude of the mountains.
While in Pinetop-Lakeside (often just called Pinetop), there's plenty to do at the Pinetop Country Club ranging from golf and tennis to pickleball or hiking through the surrounding forest. The area's nearby lakes also offer plenty of on-water activities like swimming, fishing, paddleboarding, kayaking, and more.
Here's a list of some of the coziest Pinetop cabin rentals to assist you with your travel planning.
Related Read: 12 Best VRBOs in Arizona for a Perfect Getaway
1. Pinetop Cabin
Why you should stay: Luxury, sophisticated cabin surrounded by the natural beauty of ponderosa pines.
Sleeps: 4
Minimum stay: 2–3 nights
Pets allowed: no
The Pinetop Cabin is an exquisitely decorated home filled with mid-century modern accents, high-end leather furniture, and sophisticated touches that'll momentarily make you forget this is a cabin in the woods. The interior of this two-bedroom is stunning, with gleaming hardwood floors, a tongue-and-groove ceiling, and a gas fireplace.
The head of the (temporary) household will enjoy the plush king bed in the largest suite and the connected bathroom with his-and-hers sinks. The exterior of the home also offers plenty to do for guests, including a fire pit, with a picnic table, outdoor games, and an attached covered deck.
Check Availability
2. Pinetop C.C. Retreat
Why you should stay: A cabin with resort-style amenities such as a private hot tub, double-sided fireplace, and ping pong table
Sleeps: 8
Minimum stay: 2–5 nights
Pets allowed: yes
The owners of the Pinetop C.C. Retreat haven't overlooked a thing. Guests can enjoy the comforts of a high-end stay with the charm of a secluded cabin. The hosts have gone above and beyond to ensure your comfort by installing an indoor private hot tub, providing free firewood, stocking the kitchen with Belgium waffle supplies and spices, and adding a Keurig machine with complimentary coffee.
Aside from the thoughtful attention to detail, the home itself is quite a stunner. Chalet-style windows allow natural light, and gleaming wooden floors and ceilings create a warm and inviting atmosphere. The backyard has everything you need for a cookout and a fenced-in dog run and enclosed deck to ensure your furry friends stay safe.
Check Availability
Related Read: 10 Best Cabin Rentals in Greer, Arizona
3. Lake View Lodge
Why you should stay: Located steps from Jackson Lake, this quaint mountain cottage is an entertainment haven.
Sleeps: 8
Minimum stay: 2–4 nights
Pets allowed: no
The Lake View Lodge is a lovely place to stay with no shortage of family-friendly activities. When you're not off swimming in nearby Jackson Lake, you'll have a blast playing foosball, basketball shoot, air hockey, and giant checkers on the large lawn. After you've indulged your competitive streak, relax out on the spacious deck, hammock, and the comfy living spaces.
The cabin has a rustic-yet-updated feel with bright yellow walls and pops of color that'll immediately put a smile on your face. The well-appointed kitchen has everything you need to prepare your favorite meals during your stay, and the third loft bedroom is fun for kids sharing a room.
Check Availability
4. Modern A-Frame
Why you should stay: An artfully furnished A-frame with an architecturally stunning facade.
Sleeps: 10
Minimum stay: 2 nights
Pets allowed: yes
It's hard not to immediately fall in love with this Pinetop modern A-frame, where floor-to-ceiling windows ensure you always have a great view of the Ponderosa pines. A vintage wood-burning stove in the corner of the living room ensures a toasty space in the winter, and when it's nice outside, guests can spend time on the wraparound deck or by the fire pit under the stars.
Inside, you'll find more than enough space for a group of up to ten people between the three bedrooms, two bathrooms, and the lofted seating area with a T.V. and a generous supply of games. The well-equipped kitchen with wraparound counters and a dining bar create a lovely place for gourmet meals.
Check Availability
Related Read: 10 Best Cabin Rentals in Show Low, Arizona
5. Blue Ridge Chalet
Why you should stay: A lovely chalet with Pinetop Country Club in the backyard.
Sleeps: 6
Minimum stay: 2 nights
Pets allowed: no
Relish the slow life and country living when you stay at the Blue Ridge Chalet. The eye-catching knotty pine ceilings and soft carpeting exude mountain cottage charm, and the two bedrooms and three bathrooms can accommodate up to six guests.
The kitchen has newer appliances with plenty of counter and prep space and an expansive dining room table with seating for ten, though you may want to enjoy your home-cooked meals on the backyard deck or front patio. Upstairs, a wide-open loft provides even more lounge space.
Check Availability
6. Sky-Lite Lodge
Why you should stay: Pet-friendly three-bedroom Pinetop cabin rental with a ping pong table and inviting atmosphere.
Sleeps: 8
Minimum stay: 2–4 nights
Pets allowed: yes
The Sky-Lite Lodge is a charming Pinetop cabin rental within walking distance to the Pinetop Activity Center and Stables, perfect for visitors who plan to go horseback riding. The home features a roomy 1,680 square feet of space and a well-stocked kitchen with a breakfast bar.
There are two skylights in the living room so natural light can pour in, plus a stone wood-burning fireplace and more than enough space for eight guests to comfortably lounge. The home also has three bedrooms, the largest of which has a king bed and ensuite bathroom with a roomy soaking tub – perfect for an indulgent bath after a day of hiking or riding.
Check Availability
Related Read: 7 Tranquil Cabin Rentals in Strawberry, Arizona
7. The Chalet '74
Why you should stay: A recently renovated chalet with 11 beds to comfortably sleep up to 14 guests.
Sleeps: 14
Minimum stay: 3 nights
Pets allowed: no
The Chalet '74 is a cute Pinetop cabin escape with an updated interior that's both minimalistic and colorful. On the ground floor, the kitchen, dining room, and living room are part of an open-concept floor plan to create a feeling of togetherness. Even if some in your group want to relax by the fireplace in the living room while others play board games on the kitchen's large island, everyone will still be together.
Upstairs, you'll walk into a trendy lofted area with a two-person trundle bed and a comfy recliner. As you make the rounds around the property, you'll find a two more bedrooms with various combinations of beds and bunk beds,  plus two single beds in the common spaces. In total, this compact chalet can sleep up to 14 guests.
Check Availability
8. Chic's Coop
Why you should stay: A six-bedroom home perfect for any large family reunion or event.
Sleeps: 20
Minimum stay: 2–3 nights
Pets allowed: no
Planning a family event and in need of a cabin rental that can sleep at least 20? Chic's Coop is a gorgeous listing that boasts four bathrooms, six bedrooms, 14 beds, and 3,400 square feet of space. There's also a spacious living room with high ceilings and a stone fireplace, and an upstairs recreation room with a pool table for your next family game night.
The home is on a full acre with outdoor and lawn games, so kids and adults have plenty of space to play; help yourself to horseshoes, ladder golf, and cornhole in the pristine beauty of the area's national forest. When you've had your fill of game time, fire up the stainless BBQ grill and relax on the deck.
Check Availability
Related Read: 12 Best Cabin Rentals in Prescott, Arizona
9. Christmas Cottage
Why you should stay: Experience the joy of Christmas year-round at this cabin nestled in the White Mountains.
Sleeps: 10
Minimum stay: 2 nights
Pets allowed: no
Tastefully outfitted in pops of red and cozy winter accents, the Christmas Cottage is a chalet-style cabin with impressive windows and a wraparound deck strung with exposed white market lights. The knotty pine ceiling, modern outdoorsy decorations, fireplace, and a pile of fluffy blankets make you feel right at home, especially in the winter.
In the kitchen, a spacious stainless steel fridge and plenty of counter space are at your disposal for home-cooked family meals, and there are a washer and dryer on-site. Between the five beds in two bedrooms and common spaces, the house can accommodate up to 10 guests.
Check Availability
10. The Bent Oak Retreat
Why you should stay: Bright and open cabin on two acres with a fireplace, game room, and jacuzzi bathtub.
Sleeps: 10
Minimum stay: 2-3 nights
Pets allowed: no
Encircled by two acres of ponderosa pines, The Bent Oak Retreat has all of the fixings for a peaceful family escape to the woods. Outside the home are a wraparound deck with outdoor seating, a dining table, a grill, and a fire pit for quality time together. During your stay, you'll have access to the two-car garage to safely park away from the elements.
Inside, vaulted ceilings and large window panes await you in the living room, kitchen, and dining room. The home's four bedrooms and three bathrooms can welcome up to 10 guests. For the lucky couple who gets the pleasure of sleeping in the largest bedroom, a king bed, private bathroom with jacuzzi bathtub, and backyard access are all yours.
Check Availability
Related Read: 11 Best Cabin Rentals Near Payson, Arizona
11. Mountain Cabin Retreat
Why you should stay: An exquisite log cabin with a kid's room and a patio with forest views.
Sleeps: 9
Minimum stay: 2–3 nights
Pets allowed: no
Ditch the Arizona heat and head to this mountain cabin retreat where cooler temps, fresh mountain air, and hotel-style amenities await. Furnished with your family in mind, the hosts have dedicated an entire room to the kiddos outfitted with games and an air hockey table. The living room sets the scene for quality bonding time, with a fireplace, soft furniture, and flatscreen T.V.
Spaced throughout the home are five bedrooms and three bathrooms. Four of the five bedrooms have only one bed (either a king, queen, or twin,) and the fifth bedroom has two twin beds ideal for the little ones.
Check Availability
12. The 1975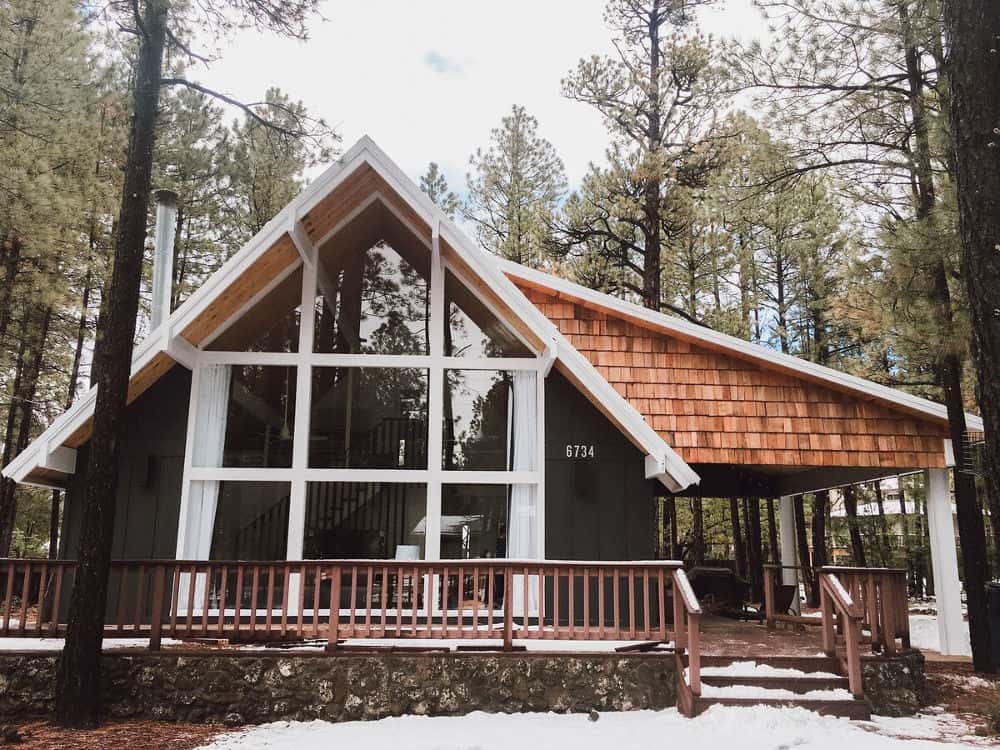 Why you should stay: Luxury A-frame cabin with an interior that looks straight from the pages of a magazine.
Sleeps: 13
Minimum stay: 2 nights
Pets allowed: no
The 1975 is an aesthetically pleasing Pinetop cabin rental recently renovated with hipster-esque and trendy decor. From the well-appointed kitchen to the beautiful and comfortable living spaces, the hosts have expertly crafted a hotel-style experience with high-end materials, textures, and accents that'll please your senses. In fact, you'll also find it on the list of the best cabin rentals throughout Arizona. 
However, the real gem of this cabin is found upstairs in the primary bedroom, where a sparkling clean bathroom complete with skylights, a large soaking tub, and a walk-in shower will make you feel as if you're spending a day at the spa. Designed with enough sleeping space for nine guests, this Pinetop cabin rental is ideal for private events and gatherings.
Check Availability
Follow 'em: Instagram
Plan Your Trip to Pinetop, AZ
With your cabin rental is booked, it's time to dive into the best things to do in Pinetop, Arizona.
Spend the day golfing, playing tennis, dining, and more at the Pinetop Country Club.
Hit the slopes at the nearby Sunrise Ski Resort in the wintertime.
Hike the best local trails like the Country Club Trail, Panorama Trail, Timber Mesa Trail, and Ice Cave Trail.
Birdwatch or take a stroll around the Jacques Marsh Wildlife Area.
Visit local parks and natural areas like Woodland Lake Park and White Mountain Nature Center.
Go swimming and fishing at Pinetop's local lakes like Becker, Hawley, Woodland, or Lyman Lakes.
Take advantage of other popular outdoor activities in Pinetop, like horseback riding, mountain biking, fishing, and ATVing.
Try your luck at the nearby Hon-Dah Casino.
Explore Arizona
Get epic travel ideas delivered to your inbox with Weekend Wanderer, our newsletter inspiring more than 10,000 readers every week.
Was this article helpful?
---