We may earn a small commission when you make a purchase or booking through our links. Read our editorial policy to learn more.
---
Sedona is best known for its unique red rock formations, steep canyon walls and contrasting lush green vegetation. This famous Arizona city draws in millions of visitors each year seeking a retreat into nature and an opportunity to explore the countless walking, biking, and hiking trails throughout Sedona and the surrounding Red Rock Country.
This cute little town is also home to a vibrant art scene that you can feel in the atmosphere as you wander the mini downtown area and take in the local sights and sounds. Even the Airbnb rentals in Sedona ooze charm and charisma, providing prospective visitors with no shortage of fantastic vacation rental options.
During your stay, we recommend dining out at the local popular restaurants and cafes in town as well as checking out the popular architectural landmarks such as the Chapel of the Holy Cross.
Other must-see Sedona attractions include top sites like Cathedral Rock and the Oak Creek Canyon Scenic Drive. There are even vortexes in Sedona that attract spiritual seekers and curious travelers intrigued by the supposed energy centers of the region.
Here are some of our favorite Sedona Airbnbs for your upcoming Arizona adventure!
1. Chic Sedona Studio
Why you should stay: Colorfully chic and unique studio with sweeping rocky views of the local southwest scenery.
Sleeps: 4
Minimum stay: 2 Nights
Pets allowed: No
Colorful and fashionable come together in this Chic Sedona Studio located in the Chapel neighborhood of Sedona. The walls are coated in a vibrant turquoise paint paired exquisitely with high-end furniture in every shade of the rainbow.
Four guests can comfortably sleep here in the master bedroom and on the sleeper sofa, but this space is best for couples seeking a romantic getaway or a small group of friends planning an exciting weekend trip.
Check Availability
2. Adobe Casita
Why you should stay: A comfortable and cute little Adobe home within walking distance to downtown Sedona.
Sleeps: 2
Minimum Stay: 4 Nights
Pets allowed: No
Couples and solo travelers adore this quaint Adobe Casita nestled on the edge of the city center of Sedona. The property is secluded enough for guests to enjoy peace and quiet but still close enough to be within walking distance to the best restaurants in the area.
From the patio, take in stunning views of Snoopy Rock and start up the BBQ for a peaceful evening picnicking outside.
Check Availability
3. Blissful Retreat Cottage
Why you should stay: Retreat into nature at this beautiful, newly renovated cottage only minutes away from Red Rock Crossing.
Sleeps: 6
Minimum stay: 3 Nights
Pets allowed: No
This Blissful Retreat Cottage lies on the edge of the local national forest and is surrounded by a peaceful orchard. From the backyard, guests can access various hiking trails into the forest. Popular Sedona attractions like Red Rock Crossing and Cathedral Rock trails are also just minutes away from the property.
Each bedroom has its own private bathroom, and no detail has been overlooked in this recently renovated New England style cottage.
Check Availability
4. Sedona Nest
Why you should stay: A romantic getaway for two complete with private patio and unobstructed views of red rocks.
Sleeps: 2
Minimum stay: 3 Nights
Pets allowed: No
The Sedona Nest is a comfy one-bedroom apartment located within close proximity to Tlaquepaque Creek, as well as local restaurants and shopping.
Equipped with the essentials for a comfortable stay, the hosts provide a fully-stocked kitchen and all-natural personal hygiene and cleaning products. Come enjoy the epic red rock views from the comfort of your very own private home!
Check Availability
5. Sedona Tiny Home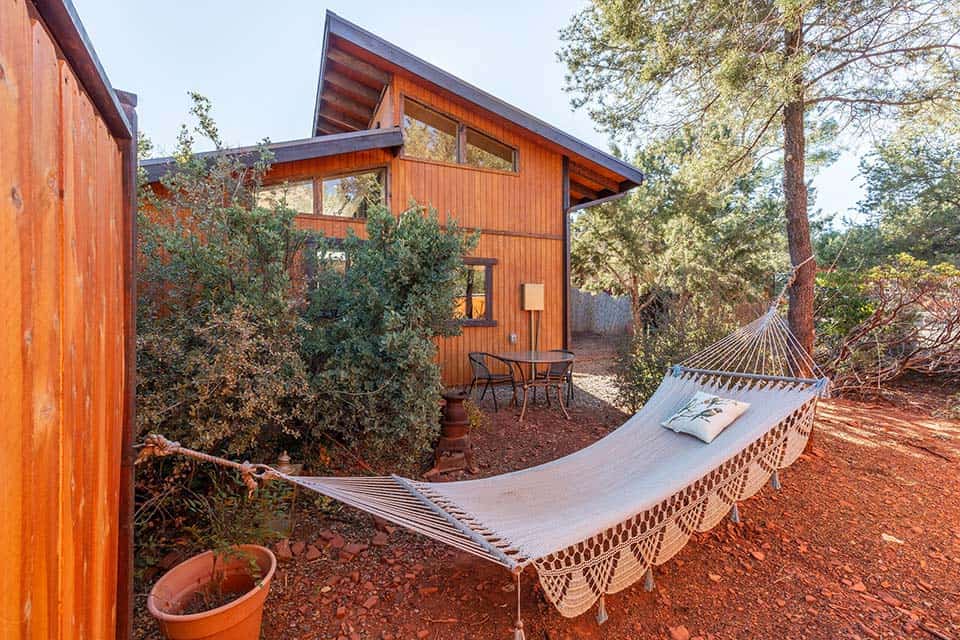 Why you should stay: Take advantage of this rare opportunity to experience life in a new tiny home with awesome views.
Sleeps: 2
Minimum stay: 2 Nights
Pets allowed: No
Jump on the exciting tiny home trend and opt to enjoy your time in West Sedona in this tiny home that offers guests great views in a small but cozy stay!
Rise and shine from a comfortable Tempurpedic queen bed and brew yourself a hot piping cup of coffee from the complimentary organic coffee stash onsite.
Curl up with a good book or loved one in the hammock in the backyard, and enjoy the tranquility found in this trendy Sedona tiny home.
6. Hiker's Haven
Why you should stay: Mountain views and easy access to nearby hiking trails make this Hiker's Haven a gem in Sedona.
Sleeps: 6
Minimum stay: 2 Nights
Pets allowed: No
Calling all hiking enthusiasts! This Hiker's Haven is a mid-century modern Airbnb rental in Sedona that has everything anyone could ever need for a relaxing stay in nature.
The calming blue tones and open concept layout, as well as the stunning updated kitchen, fosters an air of luxury in this three-bedroom, four-bath home. Out front, dramatic views of the red mountains await you.
Check Availability
7. Beautiful Upper-Level Studio
Why you should stay: Immerse yourself in the spirit of the southwest in this beautifully decorated studio with breathtaking views of the red rock landscape.
Sleeps: 2
Minimum stay: 2 Nights
Pets allowed: No
This Beautiful Upper-Level Studio truly embodies the spirit of the southwest from the exterior adobe brick walls to the warm tones of the interior.
As one of the few historical buildings in Sedona, the home was designed by the famous architect Bob McIntyre and has been owned by famous figures in Hollywood.
Guests absolutely adore the views from the outside balcony, the new aromatherapy steam room, and the deluxe hydrotherapy hot tub. Treat yourself with this beautiful vacation rental in Sedona.
Check Availability
8. Newly Remodeled Home
Why you should stay: Recently renovated home that's bright and airy with a detached private apartment for added privacy.
Sleeps: 6
Minimum stay: 4 Nights
Pets allowed: No
This Newly Remodeled Home uniquely sleeps four guests in the main house and an additional two guests in the detached private apartment steps from the front door, perfect for a group of couples visiting Sedona together.
Inside, the large windows allow the sun to endlessly stream in and visitors to enjoy the jaw-dropping views of the red rock cliffs throughout the day. This spotlessly clean Sedona home is a guest favorite and rocks a solid 5-star average review.
Check Availability
9. Red Rock View Home
Why you should stay: You'll find all the comforts of home while surrounded by the massive red rock buttes of the area.
Sleeps: 2
Minimum stay: 3 Nights
Pets allowed: No
The hosts of this Red Rock View Home have created a home-away-from-home vacation experience in their sunny and inviting Sedona Airbnb rental.
Located just a few blocks away from the Uptown district of town, guests can easily and conveniently walk from the property to local shops and restaurants.
The property boasts two decks, an outdoor grill, a fully equipped kitchen, and high-speed internet for utmost comfort during your stay.
Check Availability
10. Garden Park Cottage
Why you should stay: A private apartment with a quaint and cozy cottage feel in central Sedona.
Sleeps: 4
Minimum stay: 1 Night
Pets allowed: No
Garden Park Cottage is a homey guest suite apartment that's attached to the home of the hosts, which allows guests to have any questions or needs easily attended to during their stay.
The apartment has its very own private entrance with an interior that will make you feel like you're actually staying in a cottage in nature.
Nearby are trails for hiking and biking that are within walking distance from the apartment as well as local shops and restaurants. This space is perfect for a romantic getaway or even a family of four on an Arizona family vacation.
Check Availability
11. Serene Zen Haven
Why you should stay: Experience zen in this beautiful and comfortable Sedona haven with panoramic views.
Sleeps: 4
Minimum stay: 3 Nights
Pets allowed: Yes
The Serene Zen Haven is a two-bedroom, 2-bath space where you can find your zen in a highly-desired neighborhood of Sedona that's close to the best establishments in town.
If you're not first captivated by the vaulted ceilings or warm comfort of the home's decor, the stunning red rock views that welcome you should seal the deal.
The hosts have stocked the kitchen with spices, coffee and teas, and all of the supplies you could need for home-cooked meals and have also created a lovely outdoor space that's just begging for a cozy BBQ.
Check Availability
12. Cozy Mountain Casita
Why you should stay: Wake up to the mountains in a charming one-bedroom Airbnb in West Sedona.
Sleeps: 4
Minimum stay: 2 Nights
Pets allowed: No
As Cozy Mountain Casitas go, this lovely vacation rental in Sedona is spotlessly clean and adorably cute. The space can accommodate up to four guests in the one-bedroom queen bed and the pull-out sleeper sofa in the living room.
Organic coffee is fully stocked in the kitchen amongst all the tools needed for some money-saving vacation meal prep. Steps from the front door, you'll find access to one of Sedona's most popular hikes, the Airport Loop Trail.
Check Availability
13. Chapel Vortex Casa
Why you should stay: One of Sedona's most unique vacation rental gems tucked amongst the region's epic red rocks.
Sleeps: 4
Minimum stay: 2 Nights
Pets allowed: No
The Chapel Vortex Casa offers guests one of the best views of Sedona's beloved red rock buttes as it's nestled right into the rocky terrain itself! T
his modern home is absolutely gorgeous inside and out from the stained glass wall in the entryway to the mid-century style decor throughout the house.
From inside, guests are greeted with direct views of Courthouse Butte and the far-reaching scenery. If you're looking for a one of a kind Sedona Airbnb rental, this takes the cake.
Check Availability
14. The Hilltop Lounge
Why you should stay: A centrally located hilltop home with sweeping views and a pet-friendly private yard.
Sleeps: 8
Minimum stay: 1 Night
Pets allowed: Yes
The Hilltop Lounge is the poster child for bright and inviting vacation rental beauty. The impressive views from the near floor to ceiling windows and spacious open-plan layout of the home easily welcomes up to eight guests.
Its central location puts the home between downtown and uptown Sedona, for easy and convenient access to both of the best destinations in town. Not only is it gorgeous, but it's also extremely pet-friendly with a private fenced in yard.
Check Availability
15. Luxury Villa
Why you should stay: Sleep high up on the mesa in a southwest style villa with picturesque views.
Sleeps: 2
Minimum stay: 2 Nights
Pets allowed: No
This Luxury Villa sits atop an impressive mesa (tall flat-topped hill) and overlooks some of Sedona's most iconic landmarks such as Chimney Rock, Thunder Mountain, and the gorge of Oak Creek Canyon.
Photos can't do the view from this one-bedroom villa proper justice and will surely take your breath away. Aside from the view, we have a feeling you'll love the outdoor patio and grill, elegant European inspired decor, and massive luxury bathroom.
Check Availability
More Amazing Arizona Vacation Rentals
Check out more of our of our vacation rentals guides featuring the chillest places to stay in Arizona.
Sign up for our free email to join thousands of readers getting epic travel, hiking, camping and gear ideas every week.
---