We research, evaluate and select travel destinations based on a number of factors, including our writers' experience, user reviews and more. We may earn a commission when you book or purchase through our links. See our editorial policy to learn more.
Was this article helpful?
---
When Sedona Schnebly's postmaster husband T.C. Schnebly bestowed his wife's name on their small town in 1902, only 15 families resided under the red rocks.
It was the era when Congress established the earliest National Parks at the behest of Ferdinand Hayden, John Muir, Theodore Roosevelt and many others. But no one with the wherewithal of Muir or Roosevelt ever passed through Sedona, so the sun-baked buttes and creek-sculptured canyons never received the National Park designation.
Instead, Sedona lives today as a bustling tourist town surrounded by National Forest, but sporting National Park-level beauty and a staggering selection of hiking trails. When you come here to get a piece of red rock country under your feet, many of the views overlook southwestern-style McMansions as well as sandstone spires.
If you're able to look past the neighborhoods and hilltop houses, the views across Sedona are like no other. For those who need to get away from the city altogether, there's plenty of seclusion to be had in the depths of the Red Rock-Secret Mountain Wilderness.
First, we'll cover a few essential tips for hiking in the Sedona area — and don't forgot to pick up a copy of a Sedona Trails Map.
Related Read: 9 of the Best Places to Camp Near Sedona, Arizona
Hiking Tips for Red Rock Country
At an elevation of 4,350 feet, Sedona proper is stuck halfway on the teeter-tooter between the low-elevation desert and the cool forests of the high country. This means the weather can take a turn for the extreme — whether hot or cold — when you're least expecting it.
Heat
Extreme heat is mostly limited to the summer, and daytime highs regularly exceed 100 degrees in June, July, and August — although 100+ heat is possible from May to October. However, out-of-towners from colder and wetter climates can be caught off guard by the warm weather any time of year.
Pack extra water, electrolytes, and snacks to keep your body running smoothly in the sun. Avoid hiking in the mid-day sun in summer, especially during extreme heat.
That shouldn't be much of a problem, as sunrise and sunset are often the most pleasant and beautiful times of the day to hike anyway.
Thunderstorms
Summertime also brings another threat: thunderstorms. Arizona's monsoon season runs from late June to mid September. Monsoon weather includes (but isn't limited to) torrential downpours, flash floods, lightning, hail, and strong winds.
A rain jacket stashed in your pack is smart move any time of year, but is essential during the monsoon season. If rain is in the forecast, avoid hiking in the bottom of narrow canyons — very few people have successfully outrun a flash flood.
Cold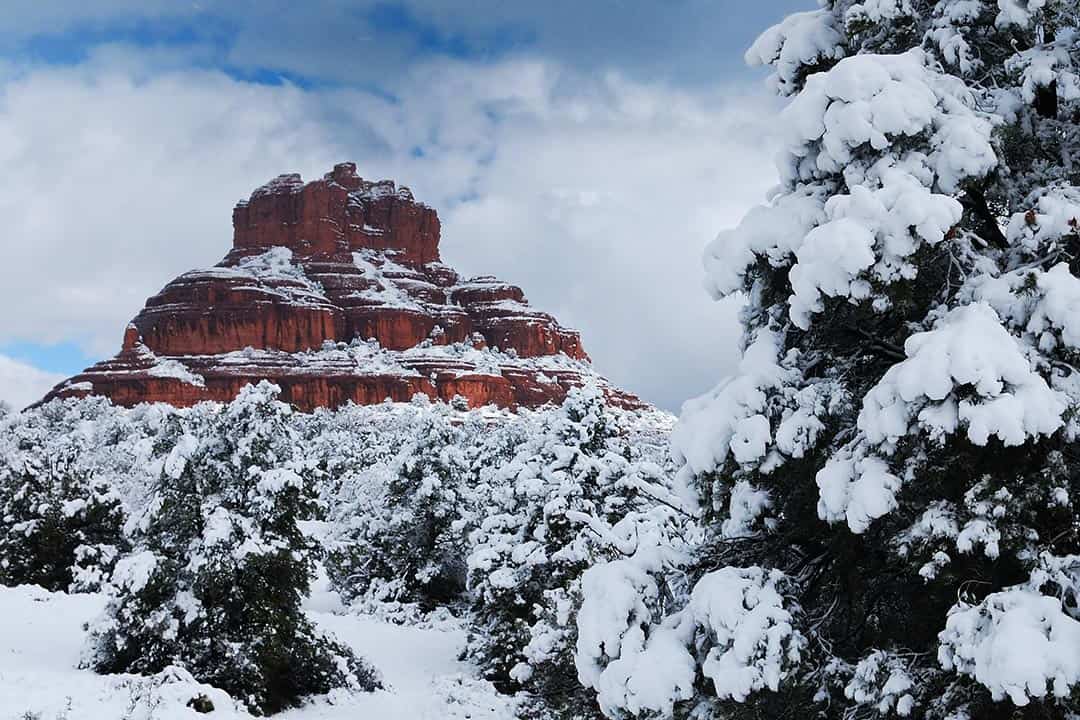 The tops of Bear Mountain and Wilson Mountain, as well as the upper reaches of Oak Creek Canyon, approach or even exceed 7,000 feet in elevation. These areas regularly see snow and can be as much as 15 degrees colder than Sedona proper.
Frigid weather and sudden snowfall aren't just a factor in winter. It's common for a cold snap in May or October to bring snow flurries to the high country.
Even in summer, it can get surprisingly wet and chilly when a thunderstorm pours rain on the forested plateaus — making hypothermia a distinct possibility for an unprepared hiker caught deep in the backcountry.
Plants & Wildlife
Sedona's extreme climate makes for an ecosystem defined by prickly and rugged lifeforms. The spines of cacti, yucca, and agave plants can make for a painful — but not life-threatening — encounter. Unless you're poking around the cactus displays at Cathedral of the Holy Cross, you need not worry about the jumping cholla cacti found further south in the Sonoran Desert.
When exploring the lush riparian zones of Oak Creek, West Fork, or Secret Canyon, remember the adage "leaves of three, let it be." Poison ivy grows copiously in many locations.
Grizzly bears once inhabited the region, but were hunted out by the turn of last century — we're talking 1900, not 2000. Black bears and mountain lions roam the high country forests today, but are rarely encountered.
The bigger concern is the rattlesnakes inhabiting the slickrock terrain surrounding the city. Rattlers are a potential threat throughout the summer, and are especially active when daytime temperatures are in the 80s and 90s.
Just watch where you step or put your hands — especially when scrambling up and down rock faces — and remember: about 90% of rattlesnake bite victims get bit trying to pick up or otherwise harass the snake.
Sedona's ecosystem is also home to a wide variety of wildlife from squirrels, deer, and elk in the high country to lizards and javelina. Like rattlesnakes, most wild animals only attack when provoked, so stay safe by only viewing wildlife from afar.
Related Read: 12 Best Hikes in Arizona, From Desert to Tundra
Sedona's Best Hikes
1. Bear Mountain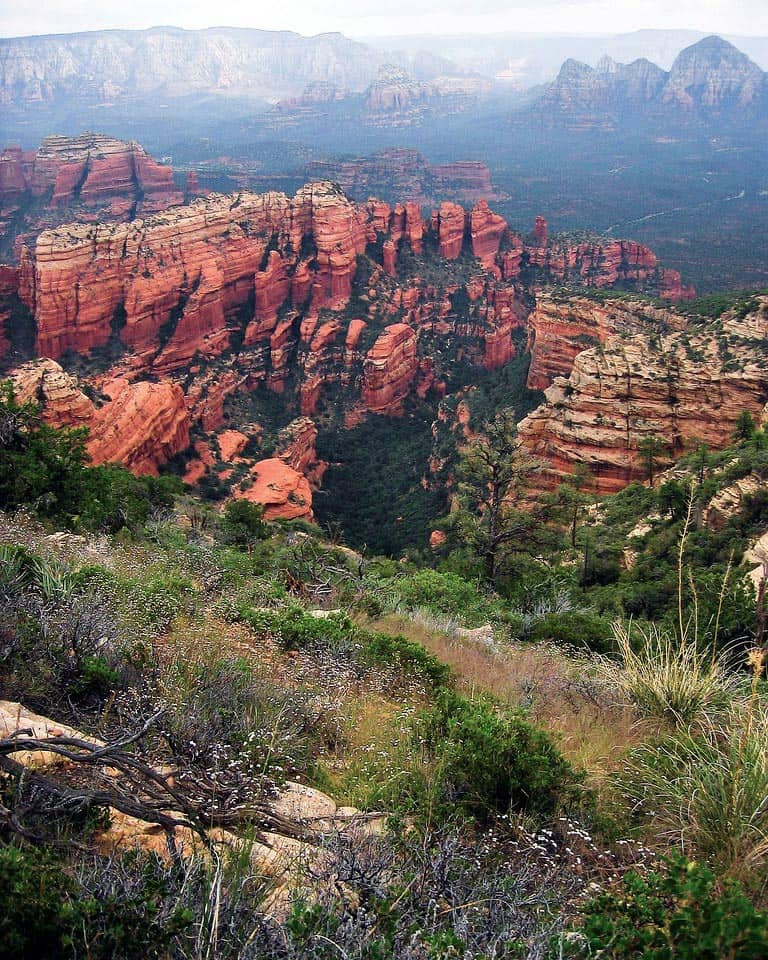 Why you should go: A steep climb up slickrock benches to an outstanding view in West Sedona.
Distance: 5 miles
Elevation gain: 2,100 feet
Difficulty: Challenging
There are only a few really challenging trail climbs in Sedona, and Bear Mountain is one of them. Like the terrain on Wilson Mountain across the way, the hike is defined by ascending two table-like benches of slickrock sandstone.
Get to know the geology of the area and you'll learn that Sedona's sandstone cliffs are made of the Schnebly Hill Formation (classic Sedona red) and Coconino Sandstone (buff tan). Climbing either one is surefire way to get a cardiovascular workout.
On Bear Mountain, the slanting slickrock ascent through the Schnebly provides scenery that looks downright Zion-esque. You'll get a little break as you cross a small bench before taking on the Coconino — culiminating in epic summit views well worth the effort.
Related Read: 15 Best Airbnbs in Sedona for Enjoying the Red Rock Views
2. Doe Mountain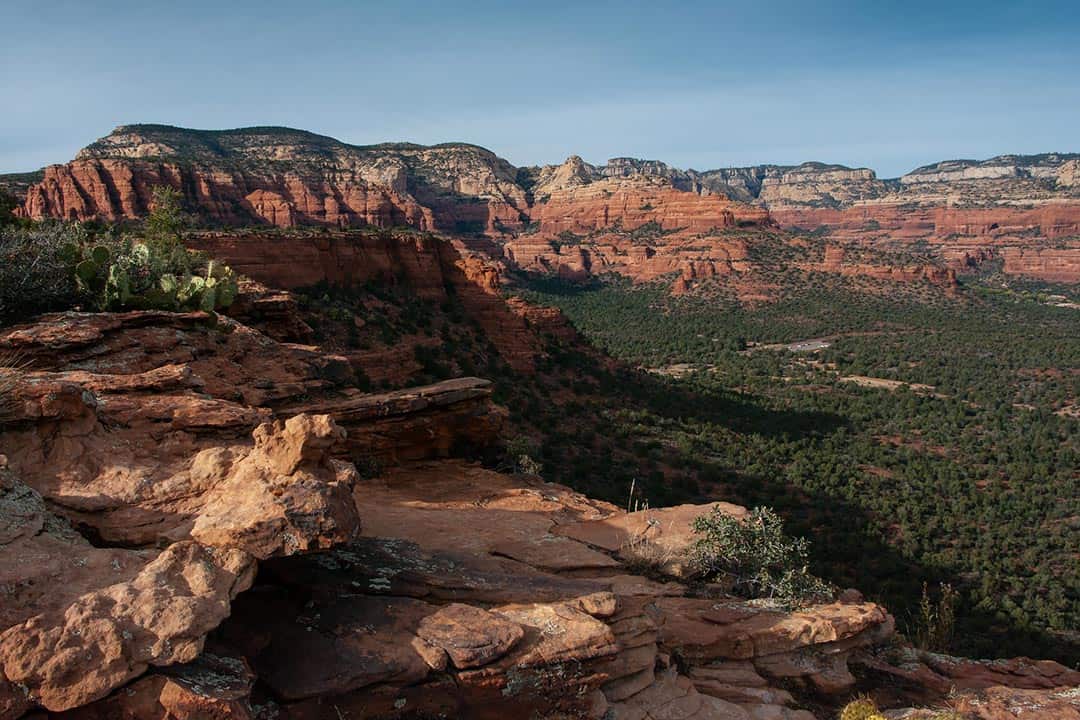 Why you should go: Short ascent to a flat-topped mesa with easy exploration and great vistas.
Distance: 2.8 miles
Elevation gain: 500 feet
Difficulty: Easy / Moderate
It's a hard decision, but if I had to choose my favorite easy Sedona hike, it'd be Doe Mountain. Starting from the same trailhead, this is basically Bear Mountain Lite, but with a little more room for exploration.
There's a bit of a climb to get atop Doe, but it's only two-thirds of a mile. Even out-of-shape couch potatoes can suck it up and reach the top. Once you crest this flat-topped mesa, your best bet is to make a loop around the mountain's edge — this route is reflected in the stats above.
Of course, that's just a suggestion, you can explore the mesa top however you like!
One way or another, there are great views to be had in all directions, but you can't see them all from one spot — and that's part of the beauty of it. Excitement is drawn out as a new jaw-dropping vista is at every turn, enhanced by the scraggly junipers, agaves, and yuccas growing out of the red rock sandstone.
Related Read: 15 Best Things to Do in Prescott, Arizona
3. Wilson Mountain Trail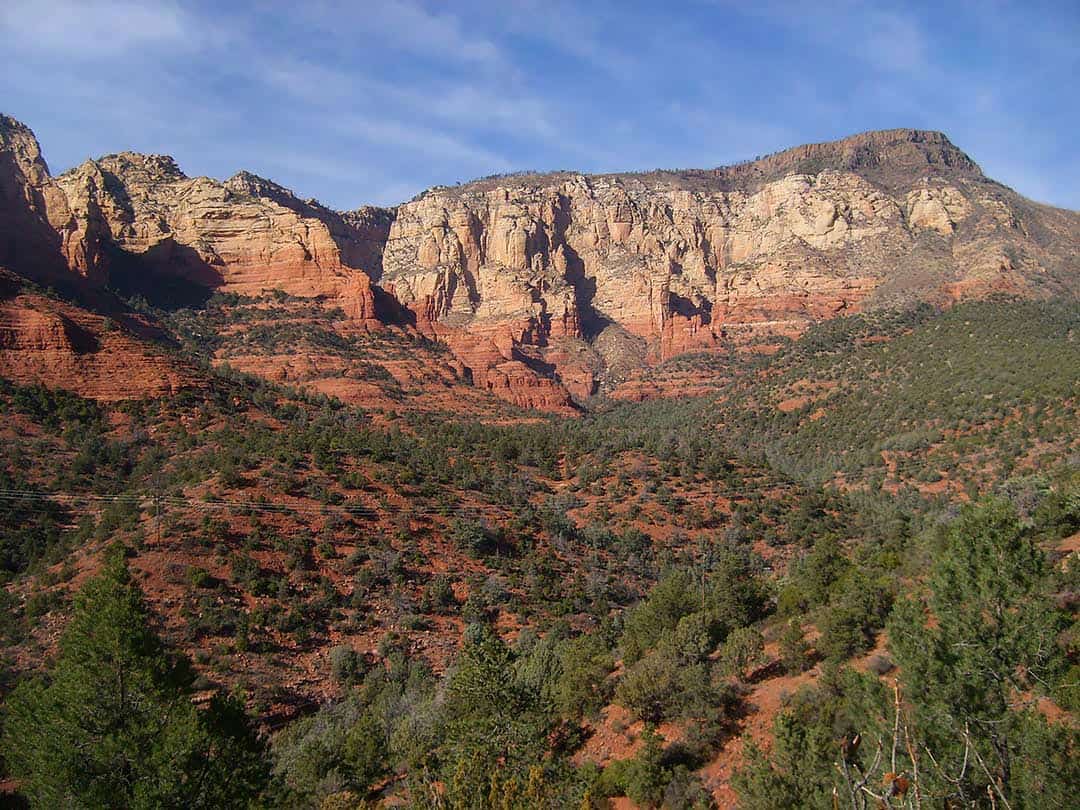 Why you should go: THE classic tough hike in Sedona, and the views won't let you down.
Distance: 12 miles
Elevation gain: 2,700 feet
Difficulty: Challenging
Wilson's south-side trail begins at Midgely Bridge (aka Red Rock Country's biggest parking headache) and climbs the sunny southern slopes of Sedona's biggest mountain. Wilson Mountain South is best left alone in summer because of the hot, sun-exposed climb — unless you start at the butt-crack of dawn, which is it a necessity anyway to get guaranteed parking.
Navigate these logistics, and this is a damned epic hike. Similar to Bear Mountain, you'll climb two benches, but this time created by the Oak Creek Fault. You'll also be trading slickrock for dark lava rock, while retaining the expansive views.
Even reaching the First Bench of Wilson Mountain is an accomplishment, while the formidable will continue on the second ascent. The forest atop Second Bench was torched by the 2006 Brins Fire, making for a drearier atmosphere.
Up here the trail splits, one going to the Sedona viewpoint to the south, the other visiting the Oak Creek viewpoint on the north end. Both spots are amazing, so visit both if you have the time and energy. For the shortest option, skip the north overlook to shave 3 miles of relatively flat hiking off your mileage.
Related Read: 12 Best Hikes in Arizona, From Desert to Tundra
4. North Wilson Mountain Trail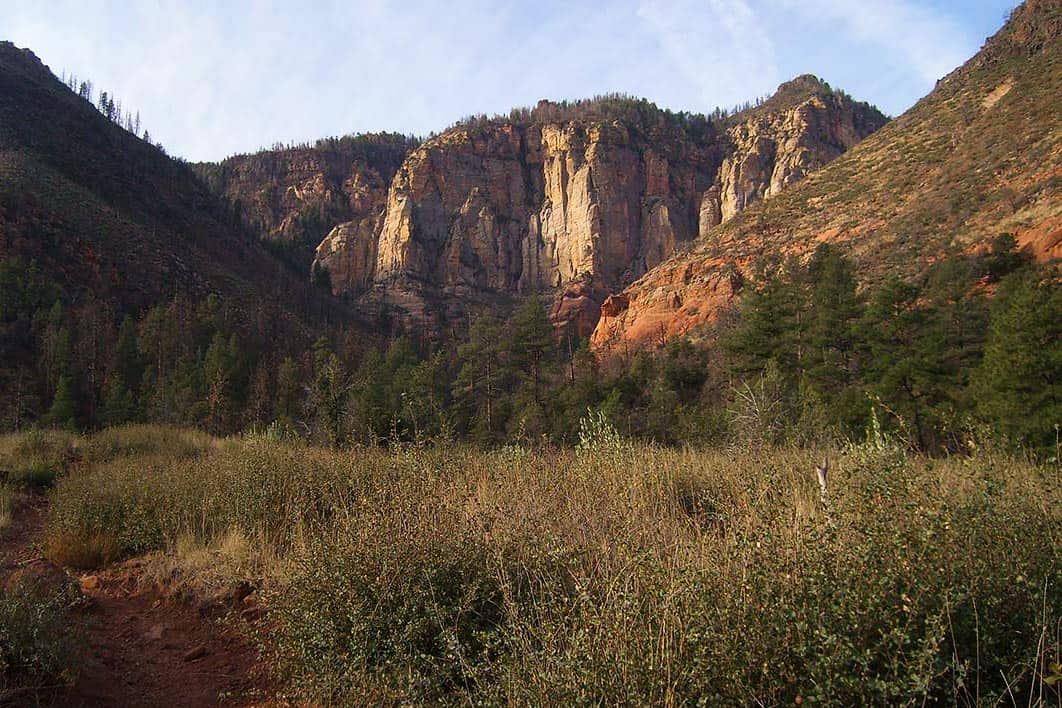 Why you should go: Shaded route to beat the summer heat accessing the same amazing views.
Distance: 10 miles
Elevation gain: 2,500 feet
Difficulty: Challenging
North Wilson is my preferred way to hike Wilson Mountain! Starting on the mountain's northern slopes, the trail meanders up a shaded canyon (great in summer!) before popping up atop the First Bench and connecting with the main trail.
Regardless of the season, this route is a great option because it's about two miles shorter (round-trip) than the longer south trail. It's also less popular, so parking is far less likely to be an issue.
All that, and you still have access to the same stupendous viewpoints. With less distance involved, you're more likely to make it to both vistas, too. North Wilson is just a winner!
5. Capitol Butte
Why you should go: A route-finding challenge culminating in a 180 degree panorama atop Sedona's best summit.
Distance: 3 miles
Elevation gain: 1,700 feet
Difficulty: Challenging
Locals like to call it Thunder Mountain, but I prefer it's official name, Capitol Butte. Either way, this sandstone-clad peak towers mightily right over town. Climbing Capitol is part hike, part class 3 scramble, and a whole lot of route finding.
As such, it's only recommended for experienced backcountry adventurers with a strong sense of direction and ample common sense. A bad decision up here could result in a wide range of potentially deadly consequences.
Hands down my favorite Sedona adventure, navigating this steep sandstone maze is an exhilarating challenge. It's a well-earned summit, with an incredible panorama to soak up as the reward.
Follow the additional info link below for an in-depth description that I wrote up years ago on hikearizona.com under the screen-name hippiepunkpirate. You'll need it to find the social trail accessing the route once you've parked at Dry Creek Vista and made your way down the Lizardhead Trail.
An even more dangerous and challenging class 4 scramble to Capitol's summit is possible via the South Face Route.
Related Read: 7 Spectacular Places to See Arizona's Fall Colors
6. Devil's Bridge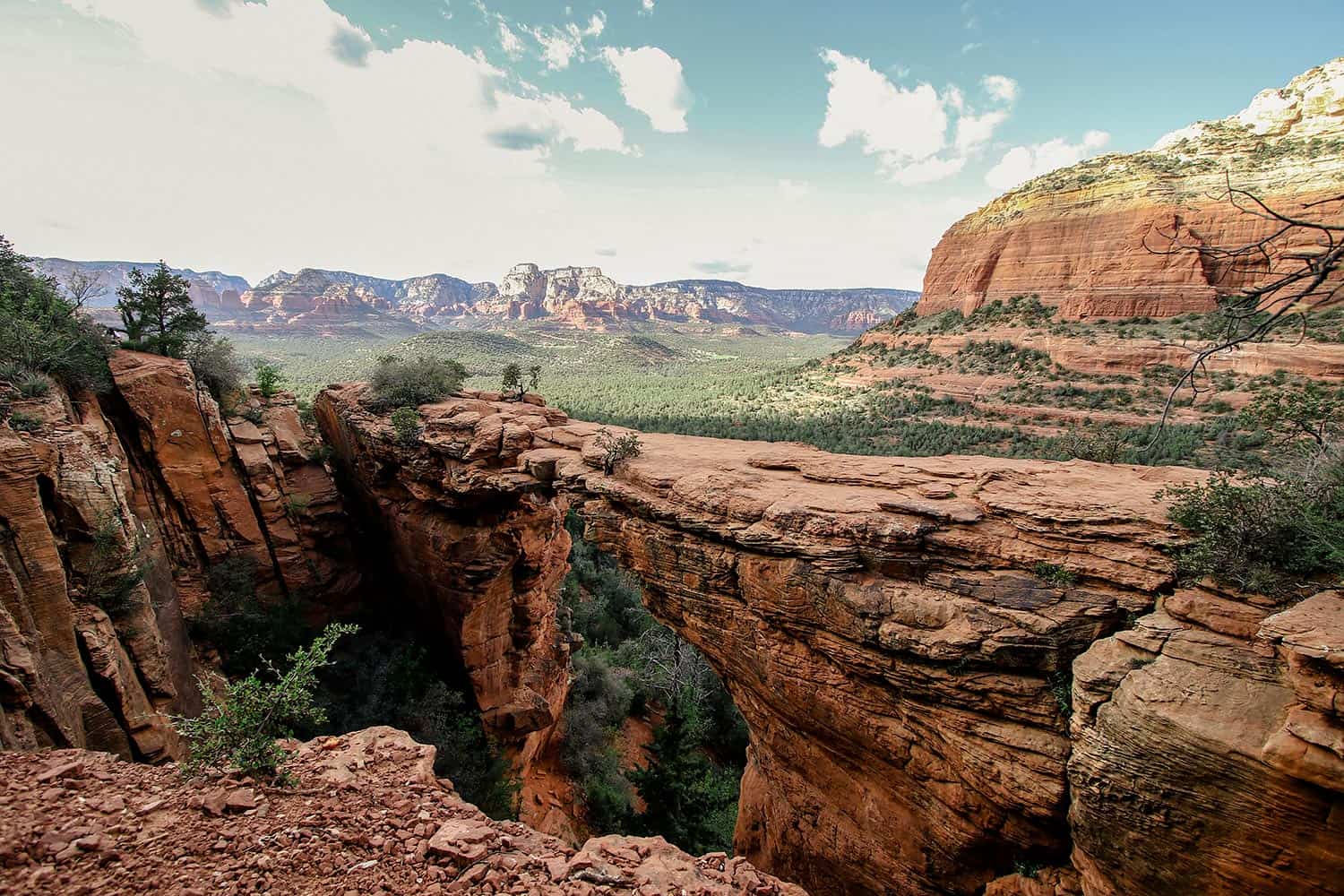 Why you should go: Lay eyes on Sedona's largest and best-known natural arch.
Distance: 4.2 miles
Elevation gain: 560 feet
Difficulty: Easy / Moderate
Cathedral Rock may be the most photographed spot in Sedona, but Devil's Bridge is the most Instagrammable. For selfie-snapping thrill seekers, getting a shot standing dead center of the sandstone span with the photogenic backdrop is the #1 must-do in Sedona.
For the record, the Forest Service recommends against standing on the arch. I walked across it myself as care-free 20-something, but nowadays I speak against it as well, mostly for preservation reasons (if cause its collapse while walking across, you're definitely an asshole).
But I digress, Devil's Bridge is indeed an amazing sight. Thanks to its bulging popularity, there's a new trailhead (Dry Creek Vista Parking Area). It allows for more hikers to access on busy days while offering paved vehicle access too.
It's a longer hike from the new trailhead, but still worth the extra effort. Just come early as even the new parking lot is a risk to fill up before noon on busy days. Bring a truck or SUV you want to begin at the old trailhead.
Related Read: 9 Easy Hikes in Sedona That'll Take Your Breath Away
7. Vultee Arch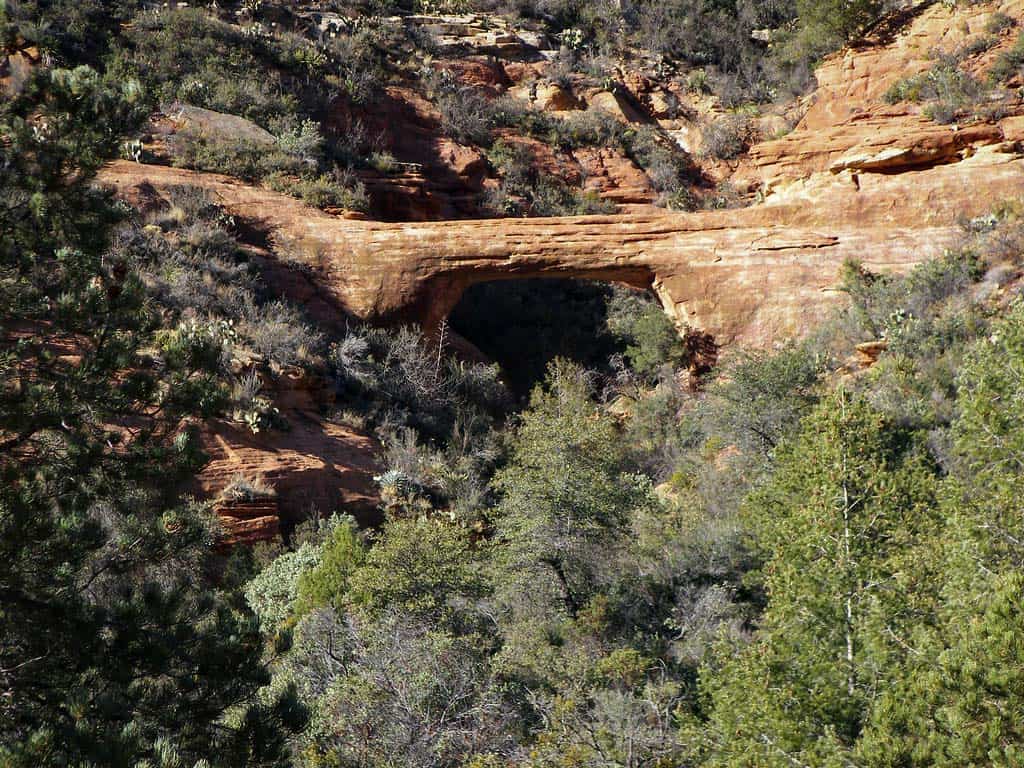 Why you should go: Visit a beautiful, more secluded arch without the Devil's Bridge crowds.
Distance: 4.3 miles
Elevation gain: 1,200 feet
Difficulty: Moderate
Vultee Arch is Devil's more reclusive younger sibling — less talkative, harder to find, but has a lot to offer once tracked down. It's the drive to the trailhead that really makes Vultee a recluse. With so many easily accessible hikes in Sedona, most aren't willing to take 40 minutes of abuse on the rocky and bumpy Dry Creek Road.
For the hearty souls that make the drive, Vultee Arch is a treat. People are few and the wilderness is wild. The city views normally present in Sedona are long gone.
It's an uphill hike to the arch along the bottom of a classic red rock canyon. You can even hike all the way up to Sterling Pass if you like, but be sure to turn left at the fork 1.7 miles in to visit the arch.
You'll likely have this free-standing arch all to yourself. Scramble around a bit for a chance to snag some incredible views if you're comfortable with off-trail exploration.
Related Read: 17 Best Arizona Swimming Holes to Hit This Summer
8. Boynton Canyon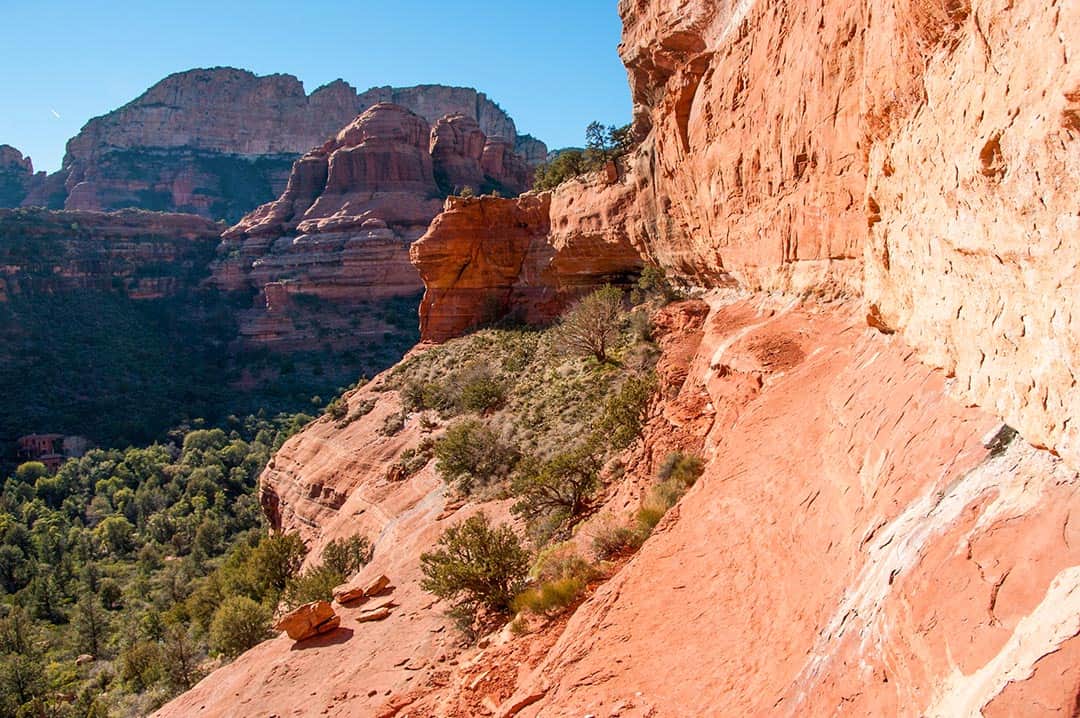 Why you should go: Popular stroll into a stunning red rock box canyon.
Distance: 6.2 miles
Elevation gain: 900 feet
Difficulty: Easy / Moderate
There are less crowded box canyon hikes in the area, but the others are super-short (e.g, Fay Canyon) or not nearly as accessible (e.g. Secret Canyon). As such, Boynton is perfect for a 2-3 hour canyon hike close to town. Just expect a crowd, and plan to come early if you don't want to deal with parking drama.
Beyond crowds, the one other blemish to the Boynton experience is man-made development. Despite its location a few miles north of Sedona proper, the Enchantment Resort encroaches upon the trail for over a mile at the canyon's entrance.
However, once you cross the stream bed at 1.3 miles in, it's all red rock wilderness. The trail continues through the canyon bottom for another two miles, culminating at a viewpoint perched at the base of a sheer cliff.
While you're there, consider the half-mile side trip to the Boynton Vista for a great view of the surrounding red rock amphitheater, plus a visit to one of Sedona's "vortexes".
9. Long Canyon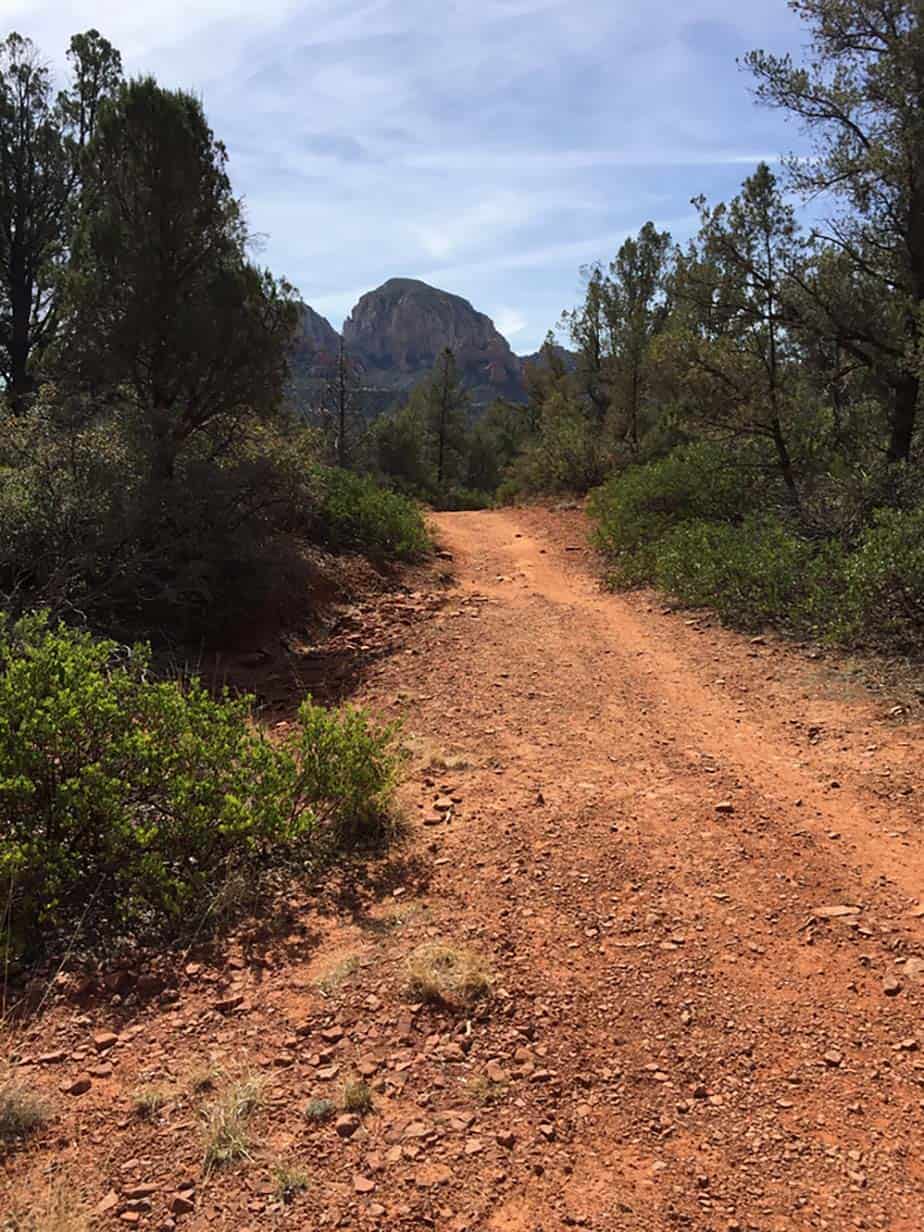 Why you should go: Slow-paced, crowd-buster alternative to Boynton.
Distance: 7.1 miles
Elevation gain: 830
Difficulty: Easy / Moderate
If you've got a little more time to play with, Long Canyon is an excellent alternative to Boynton. It can still get busy, but Long tends to be spared from the hordes on the Boynton side.
Don't worry, the Long Canyon Trailhead offers paved access and is more or less the same distance from town. There's even a golf resort next to the trail for the first mile, just like Boynton! These two trails really are siblings.
What makes Long a bit different is it starts out further from the canyon, so you'll walk over a mile before you get to the dramatic scenery. So if you've got the patience, this is a banger of a red rock canyon.
Once you enter the canyon's broad portal, it's 2+ miles of soaring sandstone walls towering above the trees. Long doesn't reach a true overlook like Boynton, but it penetrates deeper into the evergreen forests on the fringe of the high country.
Related Read: 9 Unique Places to Stay in Arizona for an Unforgettable Vacation
10. Cathedral Rock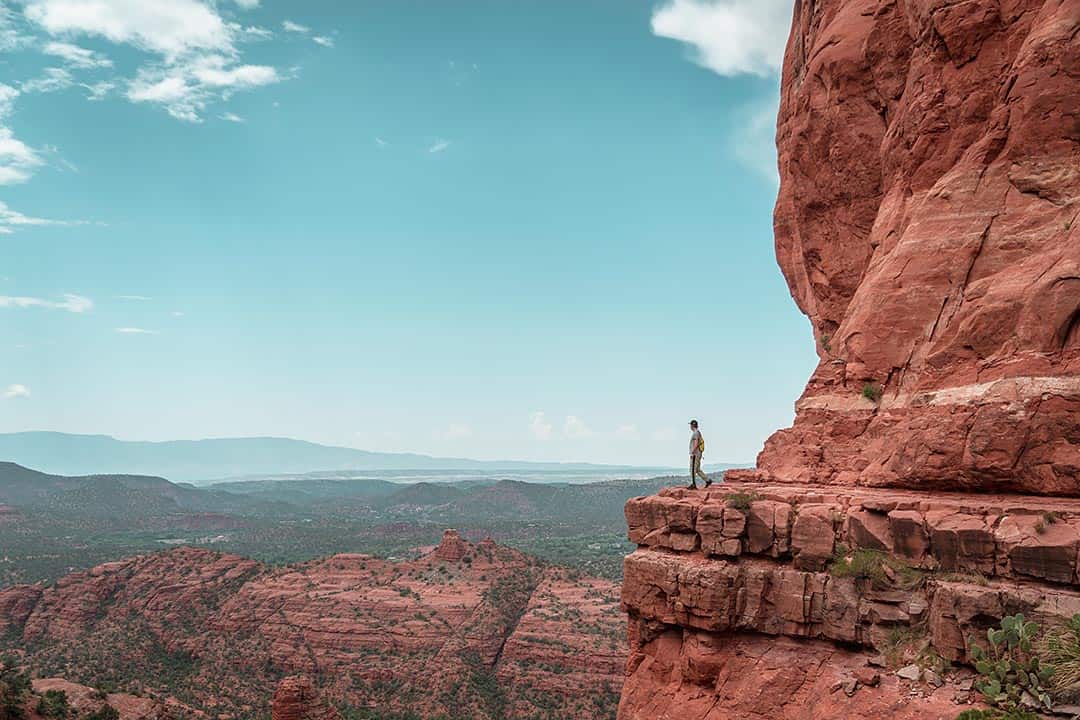 Why you should go: A slickrock scramble to classic views on Sedona's most iconic butte.
Distance: 1.5 miles
Elevation gain: 750 feet
Difficulty: Easy / Moderate
We'll talk about the standard route up Cathedral in a minute, but here's a pro-tip if you've got the time to take on a longer hike while avoiding a parking nightmare. Park at either the Courthouse Vista parking area on highway 179, or go the "back way" at the end of Verde Valley School Road. Utilizing the Templeton Trail, both of these less-traveled alternate routes eventually connect to the upper half of the Cathedral Rock Trail.
Now, if you can score a parking spot at the Back 'O Beyond trailhead, it's the most popular and direct way up. The hike starts on a normal trail but soon turns into slickrock sandstone where you'll follow a series of giant basket-style cairns.
Navigating the slickrock benches is a blast, and the route gets progressively steeper with every turn. Near the top, there's a sandstone chute that's a straight hand-and-foot scramble that'll leave hikers with a fear of heights a little shook. It's worth the struggle because this epic journey is capped with an awesome viewpoint.
11. Courthouse Butte / Bell Rock Loop
Why you should go: Rolling stroll circumnavigating two of Sedona's most recognizable landmarks.
Distance: 3.6 miles
Elevation gain: 350 feet
Difficulty: Easy
In the running for easiest hike on the list, this loop is a great one for novice hikers that want a low-impact red rock stroll. Hike stats are similar whether you park at the Bell Rock Trailhead or the Courthouse Vista parking lot. Just expect crowds and packed parking unless you get a super early start.
There are a lot trail junctions in this area, so pick up a local trail map and don't forget to use it. Clockwise or counterclockwise, this loop offers red rock views every step of the way.
A popular and more adventurous side trip is to take one of the social trails right up the base of Bell Rock and scramble up its terraced ledges. However, achieving the Bell Rock summit requires technical rock climbing gear and skills.
Related Read: 7 Tranquil Cabin Rentals in Strawberry, Arizona
12. Little Horse Trail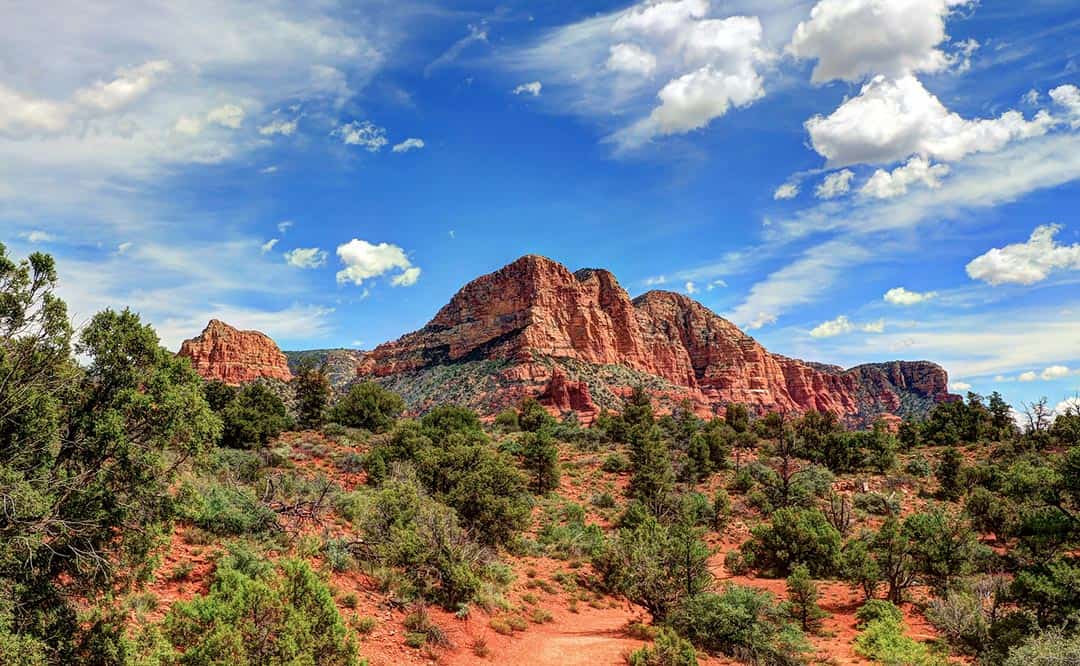 Why you should go: Classic Sedona ramble to a popular viewpoint on an expansive slickrock platform.
Distance: 3.7 miles
Elevation gain: 450 feet
Difficulty: Easy
There are two trails offering access to Chicken Point: Little Horse Trail and Broken Arrow Trail — we'll cover Broken Arrow a little later.
Both routes are short, easy hikes with interesting views along the way, but Broken Arrow is paralleled by a 4×4 trail, so Little Horse is better if you aren't a fan of Jeep Traffic. Either way, the 4×4 trail also ends at Chicken Point — and it's popular with those infamous Pink Jeeps — so don't ever expect to have the place to yourself.
That said, Chicken Point is a truly spectacular spot. It's a big slickrock platform with red sandstone formations swirling around in all directions — it's really a must see.
If you're game to extend your route, bring a map as there's plenty of connecting trails to build a longer hike.
13. Broken Arrow Trail
Why you should go: Alternate route to Chicken Point with an interesting but optional side trip to Submarine rock.
Distance: 3.5 miles
Elevation gain: 585 feet
Difficulty: Easy
When I first hiked Broken Arrow over 10 years ago, the Sedona trail system wasn't as built out as it is today. Following the trail out to Chicken Point was like hiking on auto pilot. On a more recent visit, the numerous trail junctions made it a little more confusing — so bring a trail map!
The Broken Arrow 4×4 trail parallels the hiking trail, so you'll either enjoy watching the jeeps crawl up and down rock staircases or scoff at the extra road noise and dust. Choosing a detour on the High on the Hog Trail offers a a bit of extra separation from the 4×4 road.
While Chicken Point is an awesome destination, you'll want to consider the one mile side trip to Submarine Rock. Visible from the trail proper as well, Submarine Rock's red sandstone slab appears to be a submarine cresting a sea of Pinyon-juniper woodlands.
Related Read: The 8 Best Cabin Rentals in Show Low, Arizona
14. Soldier Pass Trail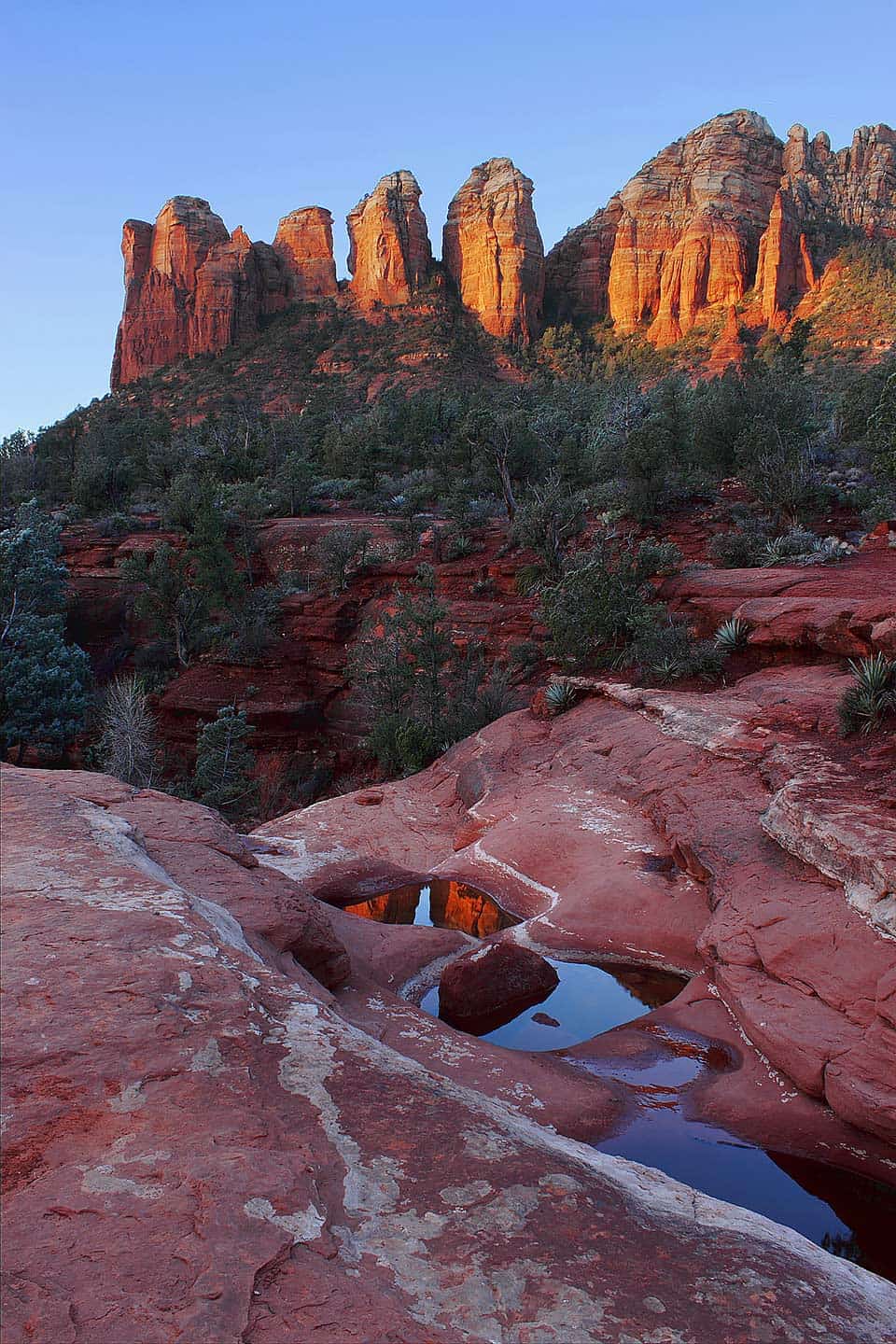 Why you should go: Great trail with numerous landmarks culminating in an Insta-famous arch / cave combo.
Distance: 3 miles
Elevation gain: 500 feet
Difficulty: Easy
One of the first hikes I ever did in Sedona, Soldier Pass holds a special place in my heart. Offering up a trio of famous Sedona landmarks, this one definitely brings a lot of wow factor in a short distance.
First on the docket is the Devil's Kitchen Sinkhole, a quarter-mile from the trailhead. It's a geologic wonder and a photogenic spot, too. A massive hunk of sandstone broken off into the sinkhole resembles a grand piano.
About a half-mile in, a slickrock platform opens up on the left side of the trail. Here you'll find a collection of "potholes" in the sandstone that usually have water — the Seven Sacred Pools. Coffee Pot Rock towers across the wash, making this a great photo op.
At 1.25 miles in, you'll find a side trail breaking off to right and climbing up into the cliffs above. It leads to Soldier Arch, a fin of sandstone just barely splitting off from the surrounding cliffs.
Scramble your way up into the cleft of the arch and you'll find yourself in a hidden "cave" that's blown up on social media in recent years. Every basic bitch and semi-outdoorsy bro wants to get their photo taken up in there.
15. West Fork of Oak Creek
Why you should go: The most popular and (arguably) most beautiful trail in Coconino National Forest.
Distance: 6 miles
Elevation gain: 300 feet
Difficulty: Easy
Just look at the picture above. Don't you wish you were there right now? You can see why West Fork is a popular one. And that classic spot is the beginning of the canyon, just a half-mile from the parking lot. It's the tip of the iceberg with many creek-crossings, red rock wave walls, and stretches of lush forest to be found.
Now here's the buzzkill: be prepared for parking drama. The parking lot (fee required) fills up early and often, especially on weekends. Sometimes it's easier — and always cheaper — to park in one of the pullouts along the highway and hike an extra half mile on the pavement.
I recommend an early start (like before sunrise when the parking lot won't be open yet anyway) to get ahead of the crowds and find some solitude. The stats above describe a hike to the end of the maintained trail and back, but you can make this hike as long or as short as you like — there's plenty of natural turn around points.
You might also consider a West Fork backpacking trip, although you're required to hike at least six miles in before setting up camp. The really ambitious will set up a shuttle and hike the entire 14-mile length of West Fork canyon from top to bottom (top access via FR 231).
Related Read: 12 Epic Outdoor Summer Vacation Spots in the U.S.
16. Cookstove Trail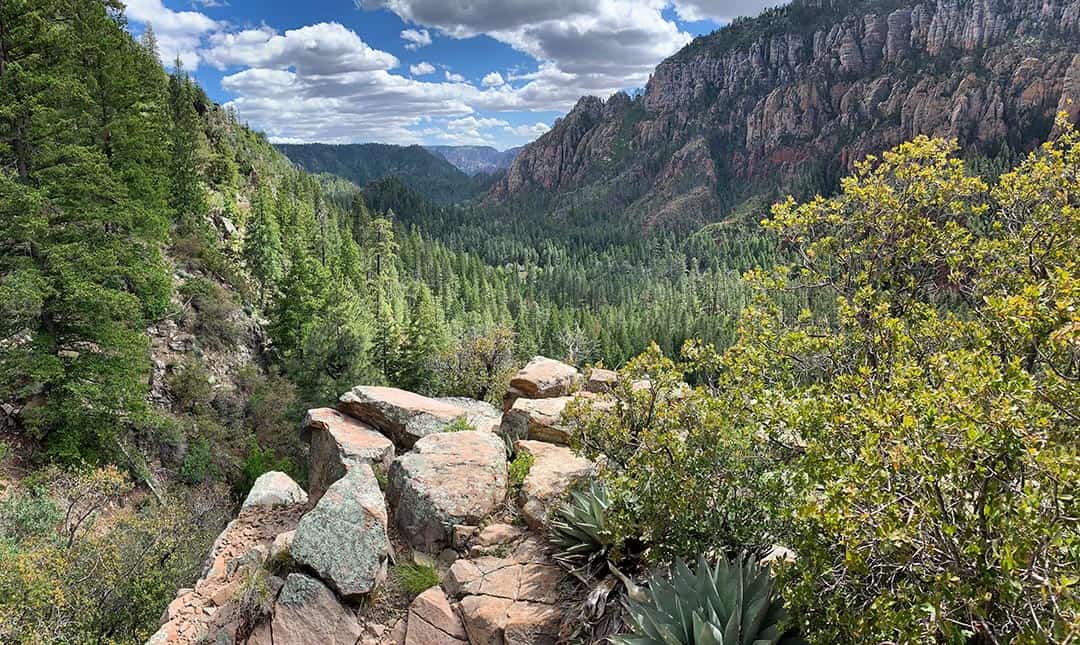 Why you should go: Steep hiking and epic views in the upper reaches of Oak Creek Canyon.
Distance: 1.6 miles
Elevation gain: 700 feet
Difficulty: Moderate / Challenging
When a 1.6 mile hike like the Cookstove Trail enters into the "challenging" category, you know it's pretty much straight up. Experienced hikers and athletes will find it a breeze, but it turns into a long slog for the unprepared.
However, the views are worth the effort, especially from a spot (pictured above) I call "the balcony" about three-quarters of the way up. While the views at the top are mostly obscured by trees, the balcony feels like you're on the edge of the world. Enjoy one of Sedona's best kept secrets!
Explore More of Arizona
Sign up for our free email to join thousands of readers getting epic travel, hiking, camping and gear ideas every week.
Was this article helpful?
---