We research, evaluate and select travel destinations based on a number of factors, including our writers' experience, user reviews and more. We may earn a commission when you book or purchase through our links. See our editorial policy to learn more.
---
For most of us, there's no replacement for a good companion when taking a weekend out-of-town or an extended road trip, especially when that companion walks on all fours and howls at the moon.
Traveling with your furry friend in the Southwest is the best – that is, until it comes time to find a place to stay. Strict no-pet policies may have you turning toward a shady rundown motel to rest your weary head.
That's not exactly the definition of comfort.
Fortunately, Arizona has no shortage of rustic retreats allowing pets. We've rounded up a list of some stellar pet-friendly cabin rentals around the state. Whether you're exploring the Grand Canyon, escaping the city in the Tonto National Forest, or searching for an outdoor getaway, there are plenty of options available to you and your pup.
In fact, there are more than 300 pet-friendly cabin rentals in Arizona, and here are 14 of our favorites.
Related Read: 12 Best VRBOs in Arizona for Your Next Getaway
1. Oak Creek A-Frame
From inside this industrial-designed A-frame, you can hear and see Oak Creek as it meanders just south of Sedona. This may be a tourist hot spot – especially come summer – but you wouldn't know it from the cabin's quiet, family-friendly community.
Spectacular cabin rentals right off the creek are hard to come by, which makes this pet-friendly Airbnb all the more rare. The A-frame's wall of windows and two back doors invite all the natural light and fresh air you'll need, and you'll find in any season indoor and outdoor spaces to leisurely enjoy Red Rock Country.
A wonderful setting on Oak Creek! Removed from the crowds that can plague Sedona, this location offered incredible quiet, beauty, and privacy.
Check Availability
2. Dancing Bear Lodge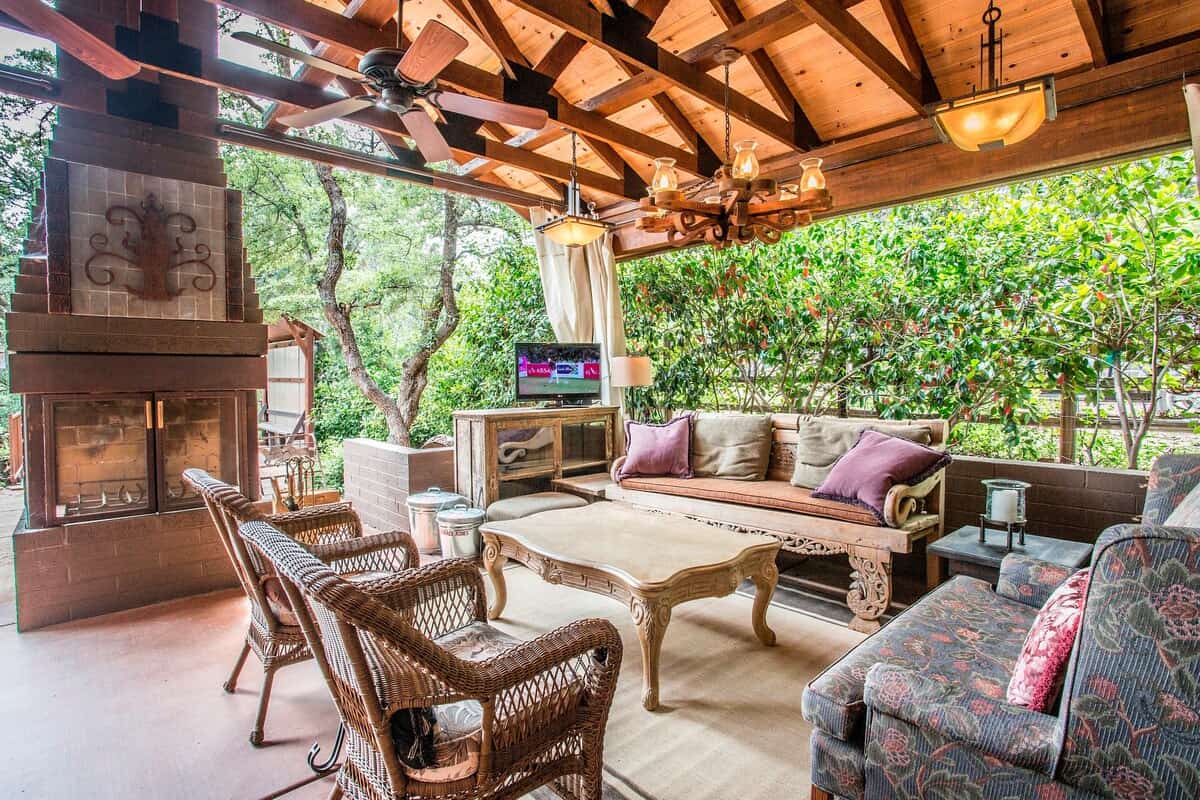 The pictures of Dancing Bear Lodge simply don't do it justice, but fortunately, the reviews do. "I've stayed in Airbnbs all over the world, and this property is hands down the best Airbnb I've ever stayed in," said guest Casey from San Diego.
The cabin's 2,239 square feet of living space is extended further by unique outdoor spaces that essentially act as additional rooms. Take, for instance, the living room-style patio with TV and wood-burning fireplace, a spot that's comfortable nearly all year long. There's a full-sized dining room table for meals under the stars, and to cap things off, a private hot tub sits a short walk away.
Inside, the open-beam structure makes the home feel tall and spacious, and the loft upstairs is drenched in natural light throughout the day. You'd be hard-pressed to find a better combo of views, amenities and space anywhere near Pine.
Check Availability
Related Read: 11 Best Cabin Rentals Near Payson, Arizona
3. Lincoln Log Cabin
This traditionally designed log cabin may look far from civilization, but it sits in a small 12-home community just minutes from downtown Flagstaff. That's great news for dog owners who want forest views and proximity to things to do and eat in town.
A classic A-frame structure naturally lights the cabin in every season, and two decks offer tranquil views in all directions. The interior's finished in a clean, contemporary style that's often hard to come by in Northern Arizona, and the garage is a haven of entertainment, complete with ping pong table, foosball, futon and Instagram backdrop to capture your memories up north.
Check Availability
4. A-Frame Mountain View Cabin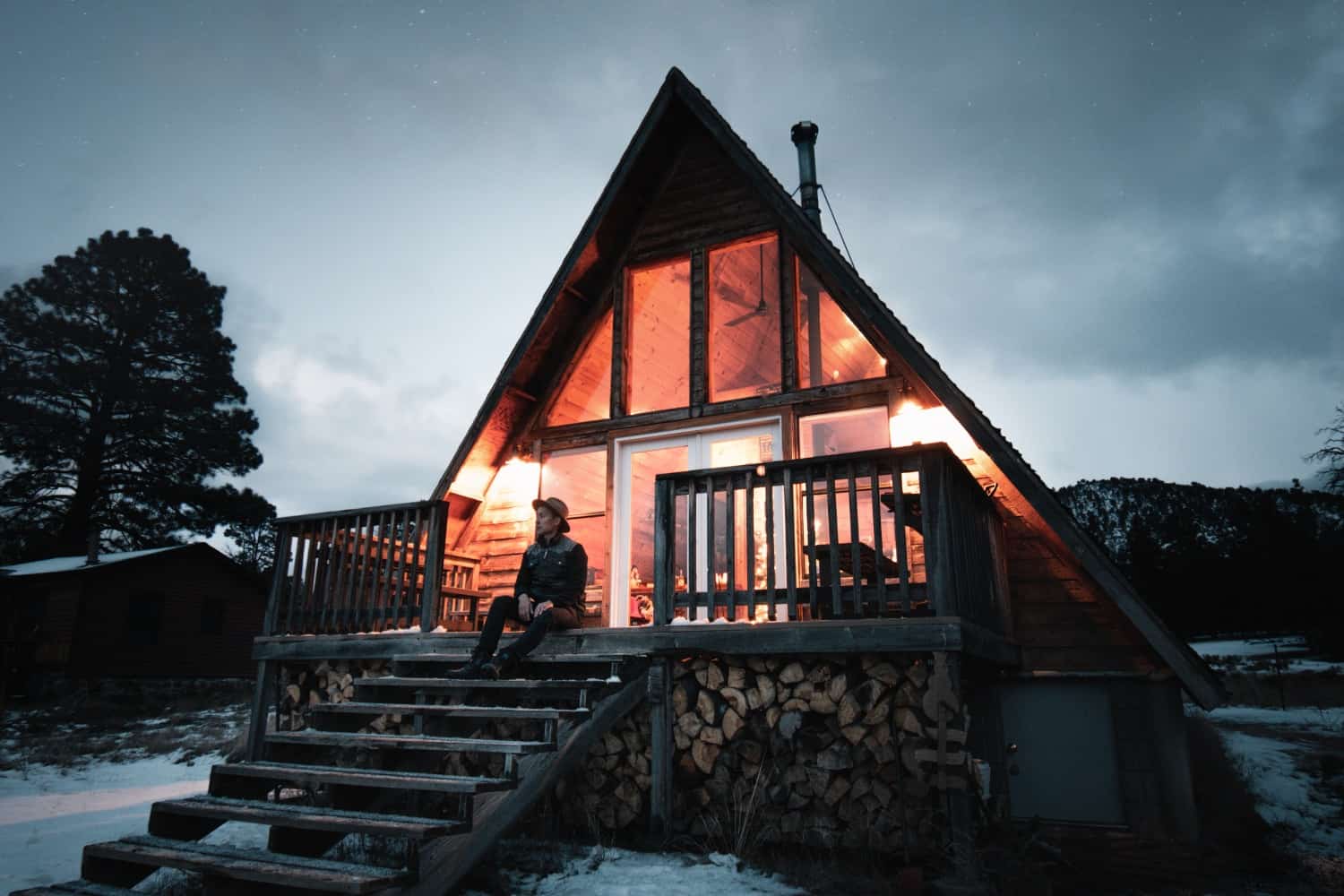 If the 1970s A-Frame Mountain View Cabin looks familiar, it's because it was the set of an American Eagle Outfitters campaign — and at a glance, it's not hard to see why. This picturesque cabin is precisely what you would want from your rustic getaway.
Backing the Coconino National Forest on the eastern outskirts of town, this cabin offers a scenic mountain view from each room as well as all three decks. It features a gorgeous wood interior, beckoning wood stove, a telescope for stargazing, and plenty of space both inside and out for your pet.
While it's tempting to not leave the cabin on your visit, there are plenty of attractions nearby, including a 15-minute drive to downtown and a 90-minute drive to the Grand Canyon.
We included this cabin of our favorite Flagstaff cabin rentals, and more importantly, Travel + Leisure named it as the most wished-for Arizona Airbnb property, so you'll want to make reservations well in advance.
Check Availability
Related Read: 10 Best Hotels in Flagstaff for Every Traveler
5. 3-Deck Chalet
Three levels and three decks make this Pine chalet a dream for large families. And if Grandma needs her own space, throw her downstairs, where the lower level's private entrance allows for the perfect blend of space and solitude.
Upstairs, the living room and loft open up to another large deck, where you'll catch views of the forest and Strawberry Mountain in the distance. The property's on the western edge of town and no stranger to elk and other wildlife, and for more nature viewing, checkout nearby hiking at Pine Canyon Trail or Highline Trail.
Check Availability
6. Drift Fence Cabin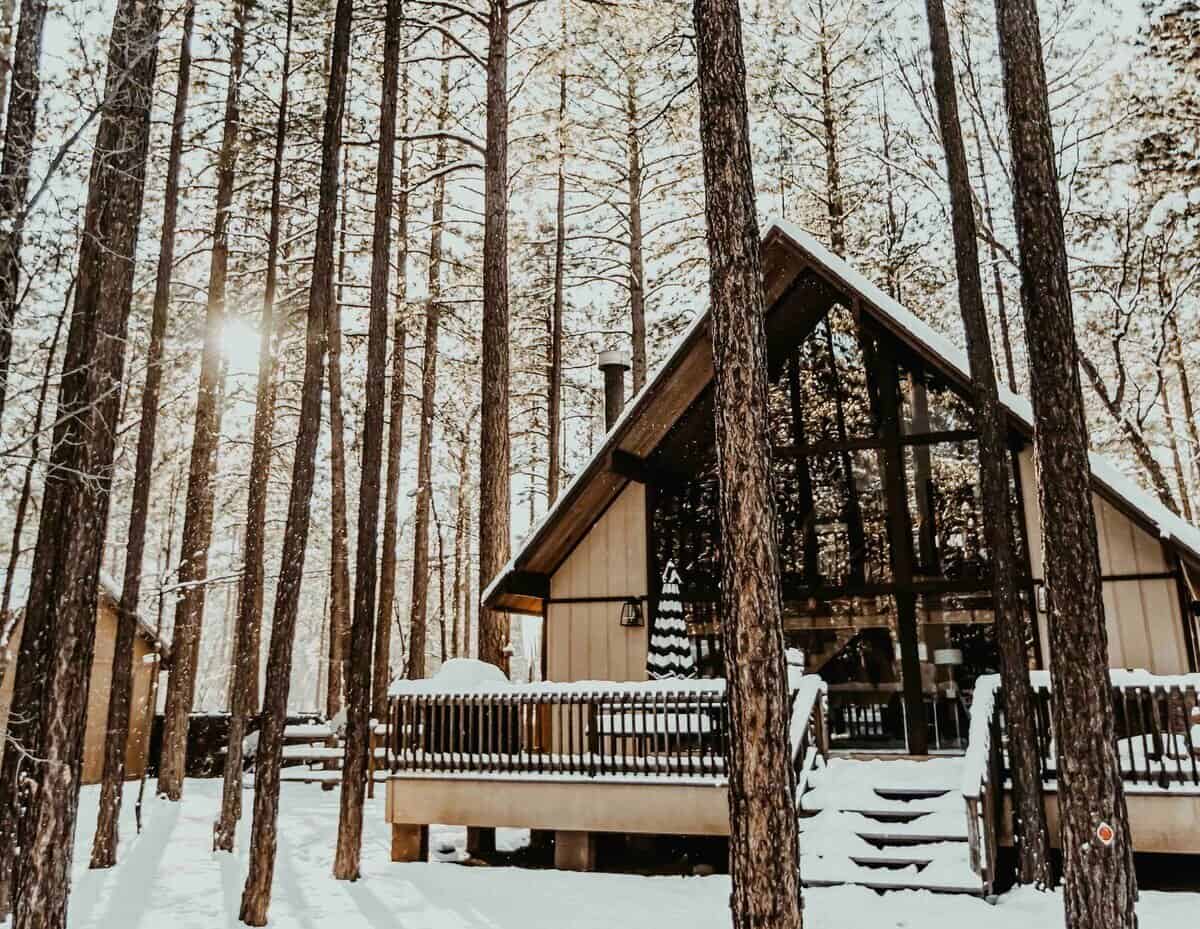 Pinetop Lakes Country Club is a quiet, family-friendly community on the south end of town, and this modern home is located on a cul-de-sac suited for dogs and humans alike. The front deck and fenced backyard offer plenty of space to lounge and play, and the neighborhood offers miles of road and trail for long walks in the woods.
"We fully enjoyed our time at this beautiful cabin! The backyard is spacious, securely fenced (our dog loved the yard), and has plenty of seating."
Inside, you'll find a well-appointed cabin with modern finishes, a pleasant surprise from some of the more aged homes you might find in Pinetop. Here, thoughtful spaces like a reading nook and play loft – complete with board games and toys – make it easy to pass the days in any season. And when it starts to get cold, light up the fire pit out back for warm nights under the stars.
Check Availability
Related Read: 12 Best Cabin Rentals in Pinetop-Lakeside, Arizona
7. C7K Cabin
This family-friendly cabin south of Prescott may be in 19th century mining territory, but it's more than up-to-speed when it comes to modern amenities and entertainment. The home was finished just a few years ago and today plays host to families — kids, dogs, everyone! — looking to get away from Arizona's more crowded cabin destinations.
C7K is cut into the mountainside in a way that highlights views and open skies; watching the sun arc across the sky here is relaxing, but the stargazing is out of this world (excuse the pun).
An open-floor concept accentuates the little nooks and spaces where people and animals alike gather, and the back deck is the perfect place to unwind or dine when the weather's right. And at an elevation of 7,000 feet, it's almost always right.
Check Availability
8. Acre's Away A-Frame
This home's one-acre lot is best viewed from the back deck, a leisurely spot below tall A-frame style windows that light up the interior beautifully. There's a grill, picnic table and seating out back, perfect for summer nights in the pines.
A fenced yard makes this an ideal cabin rental for dogs and kids, and the home's open layout keeps it comfortable for larger groups. If you're downstairs, there's not a bad view in the house, and the wood-burning fireplace and wide windows make for an attractive centerpiece in this farmhouse-styled cabin.
Check Availability
Related Read: The 8 Best Cabin Rentals in Show Low, Arizona
9. 13 Pines
Kachina Village is a small community just south of Flagstaff — close enough to easily cruise into town off the 17, but removed from the bustle of university life. It's home to 13 Pines, a recently remodeled A-frame well-suited for families traveling with dogs or kids.
The interior of the cabin's extremely clean, open and roomy enough for up to six guests. A catwalk leads to a second-floor loft bedroom, and two downstairs rooms round out the floorplan. It's a comfortable home for the weekend, but the outside is what makes it so pet-friendly.
A large, fully fenced yard offers plenty of room for dogs to stretch after a long drive up north, and the handful of the host's guidelines for pets for easy to follow. The neighborhood's quiet and perfect for dog walks, and there's scenic hiking nearby at Pumphouse Wash.
Check Availability
10. Wally Pie Cabin
The corridor between Flagstaff and Williams is home to numerous cabin rentals, but if you're looking for something off the beaten path, head further west to Kingman, where you'll find this cozy A-frame in the Hualapai Mountains.
The cabin is a short drive to Hualapai Mountain Park and Hualapai Peak Trail, an 8-mile loop that gains over 2,000 feet of elevation on its way to the range's highest peak. Finish your days on the home's beautiful back deck, where you can dine at sunset among the pines.
Check Availability
Related Read: 10 Best Cabin Rentals in Greer, Arizona
11. Large Family Cabin
This 6-bedroom, 3,300-square-foot behemoth of a cabin is the perfect setting for family gatherings in the forest. Its large living room floods with natural light through a wall of windows and doors, and the light wood finish keeps things bright throughout the day.
There's no shortage of places to lounge, from the hammocks and tetherball outside to the two kid-friendly bedrooms complete with bunk beds and bean bag chairs. The second-floor loft is a cozy entertainment room and the bottom deck holds a hot tub for R&R in any season.
Check Availability
12. Munds Park Mountain Retreat
Munds Park Mountain Retreat is situated 20 minutes south of Flagstaff right off I-17, making it an incredibly accessible home base. Immaculate and pristine, this bright airy cabin is the perfect retreat for the family wanting the mountain feel while they explore nearby attractions.
It's got a spacious wood floor living area, indoor fireplace, modern kitchen, carpeted bedrooms, wrap around deck complete with an outdoor grill, and large south facing windows so you can take in all the natural beauty day or night.
While staying at this community retreat, guests can get their outdoor fix in with nearby ATV, mountain biking, and hiking trails. Or you can take a short drive down to Sedona and bask in the glory of the red rocks. If good eats and gift shopping is more your thing, Flagstaff is only a short drive away.
Whether you can bring your pet with you on your daily itinerary or not, they'll enjoy this space as much as you.
Check Availability
Related Read: 11 Best Cabin Rentals in Munds Park, Arizona
13. Arizona Rim Retreat
The AZ Rim Retreat is luxury, comfort, and outdoor escape all wrapped into one.
One look at this bright interior and you'll instantly agree this place is penthouse suite status. It's got plush leather seating, ceramic tile flooring, a floor-to-ceiling stone fireplace, and upscale furnishings. Step onto the deck and take a nap in the hammock, relax in the spa, or enjoy cocktail hour around the firepit. All this comes with a million-dollar view.
If you do need to leave to stock up on provisions, the town market is one minute away, so you can get back to living VIP status in no time.
Check Availability
14. Forest Houses Resort
Oak Creek Canyon's Forest Houses Resort is a hidden, family-owned gem tucked away on 20 acres of quiet land off the creek. The property's 16 cabins are all unique, some dating back to the 1940s and '50s. In each, you'll find rustic charm and character that's hard to describe – and difficult to forget.
Things are purposely slow-paced and quiet here, and that's exactly the appeal. My wife's family's visited the Forest Houses for decades — it's one of the first places I met them — and it's a tradition we continue with our kids today.
Check Availability
Plan Your Next Getaway
Get epic travel ideas delivered to your inbox with Weekend Wanderer, our newsletter inspiring more than 10,000 readers every week.
---