We research, evaluate and select travel destinations based on a number of factors, including our writers' experience, user reviews and more. We may earn a commission when you book or purchase through our links. See our editorial policy to learn more.
Was this article helpful?
---
Renting a cabin in Flagstaff is one of the best ways to experience Northern Arizona's draws in any season. Here's where to find the right one for you.
Outdoor beauty, history, eclectic culture: there's no one particular reason that Flagstaff is such a popular destination to visit in Arizona.
Of the millions who visit each year, some folks pass through to the Grand Canyon, while others hang out and explore attractions along I-40 and beyond.
Still others wander north simply to escape the heat and crowds of Phoenix, myself included.
Whatever the reason, finding a place to stay in Flagstaff can be a challenge. Hotels book up fast in every season, and with more than 1,000 vacation rentals to choose from, it's hard to find the hidden gems worth your time and budget.
But as longtime fans both of Flagstaff (go Lumberjacks!) and cabins (go lumber!), we can help.
Here's a look at 10 of the best cabin rentals in Flagstaff, from rustic A-frames to sprawling chalet-style vacation rentals worthy of any Arizona travel bucket list.
Related Read: 12 Best Cabin Rentals in Pinetop-Lakeside, Arizona
1. Cabin on Private 10-acre Ranch
Why you should stay here: Secluded luxury cabin on 10 acres of forest.
Sleeps: 8
Minimum stay: 2 nights
Pets allowed: yes
When we research vacation rentals, we see a lot of would stay here again! type reviews. But rarely do we come across a rental where so many past renters actually stayed again.
"This is the third time we've stayed at this property and we have enjoyed it every time," says Tristan C.
A quick look at this 3-bedroom luxury cabin and you'll understand why. A large stone fireplace, open living spaces and a well-supplied kitchen make this cabin more comfortable than most, and the outdoor area includes a built-in grill, firepit and plenty of seating on the flagstone patio.
Check Availability
Related read: 7 Pet-Friendly Hotels in Flagstaff, Arizona
2. A-frame Cabin on 1.5 acres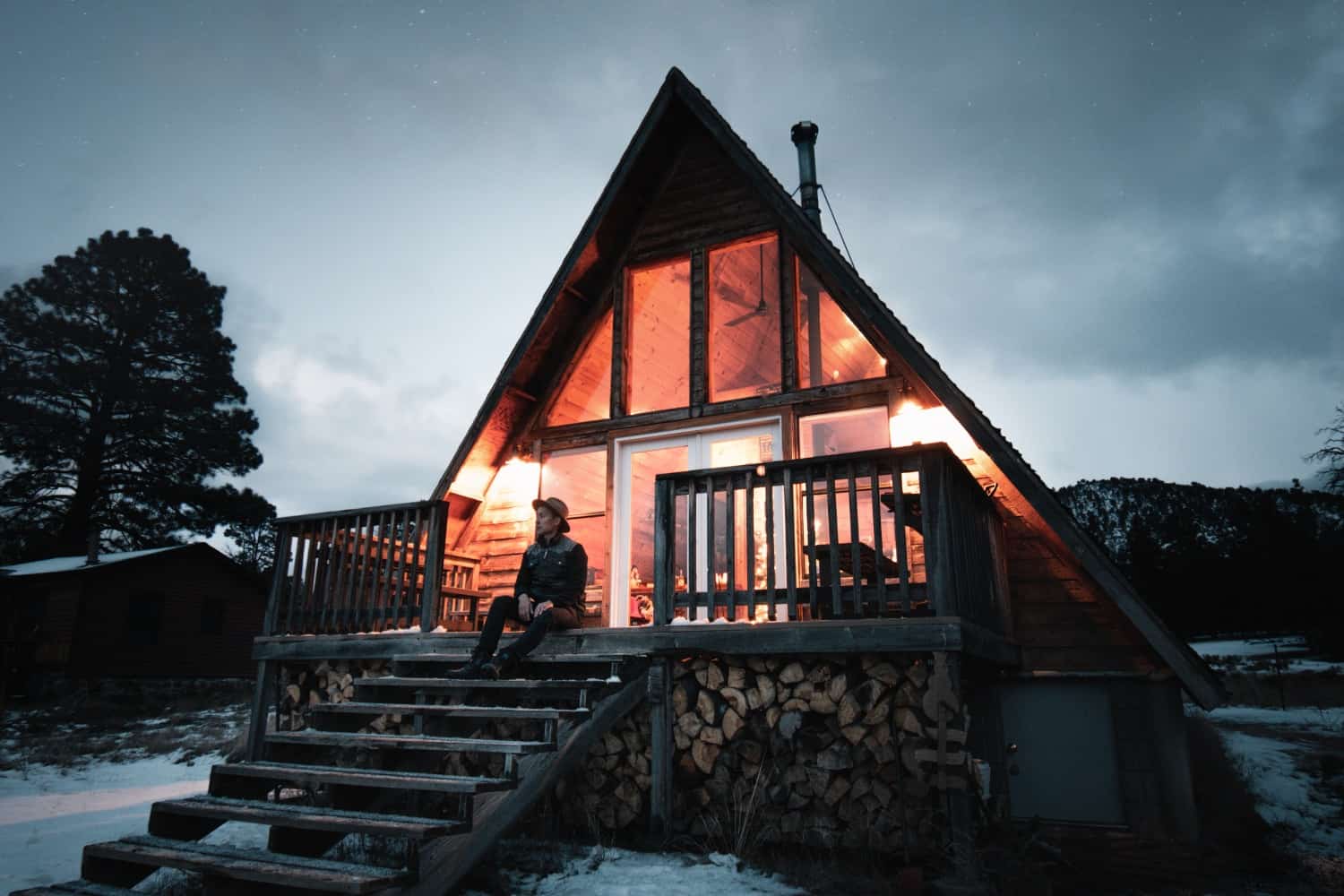 Why you should stay here: Once named the most wished-for Airbnb in Arizona.
Sleeps: 4
Minimum stay: 1 night
Pets allowed: yes
You'd be hard-pressed to find a more popular cabin in the Flagstaff area, and for good reason. This A-frame's been featured in magazines like Travel + Leisure, Real Simple and Sunset Magazine. It was also the backdrop to an American Eagle Outfitters holiday campaign.
But this cabin's more than just an Instagrammable hangout – it has everything you need for a comfortable stay. It's conveniently located near most of Flag's main draws, and if you're looking for a low-key trip, there's enough around the cabin to make it a let's stay in type of vacation.
There's no TV, no internet and no A/C, but board games, horseshoes, mountain bikes and nearby hikes offer plenty of other ways to pass the time. It's the perfect place to unwind and slow down, but it books up quick, so if you see an opening, take it.
"Finding gems like the A-frame can be rare," says interior designer Nicole Herman. "If it is available for the time you need, book it fast!"
Check Availability
Related Read: The 8 Best Cabin Rentals in Show Low, Arizona
3. The Basecamp
Why you should stay here: Incredibly pet-friendly log cabin.
Sleeps: 6
Minimum stay: 2 nights
Pets allowed: yes
Finding the right pet-friendly cabin in Flagstaff can be a chore, but The Basecamp hits all the boxes: fenced yard, doghouse, pet beds, dog bowls and more. The owner, Greg, allows up to three dogs (though no other animals), and even works with larger dogs over 100 pounds, something that can be difficult to find with other cabin rentals.
"One of the best homes I have rented in the past 6 years," says Shelly K. of Kingman. "Greg had welcoming touches, lights on inside in case of dark arrival, twinkle lights in stairs to prevent night-time falls, great snacks."
Check Availability
4. Hidden Hollow Log Cabin
Why you should stay here: A cozy log cabin built to handle family vacations.
Sleeps: 6
Minimum stay: 2 nights
Pets allowed: no
Hidden Hollow's 2,400 square feet excludes one thing: the treehouse out back. That makes it one of our favorite family-friendly cabins in Flagstaff, and past renters agree.
"Our family of five thoroughly enjoyed our stay and the owners have truly thought of everything, even having the 'kids plates' labeled on the shelving," says Kate C. "It made the transition to a new place very easy."
There are two master bedrooms, a kids room with bunk beds and a secret loft, and a not-secret upstairs loft with a futon. The two-acre property backs up to national forest land and two levels of decks offer views in every direction.
So when you need a break from the kids, send 'em to the treehouse or take the upstairs deck for some quiet time (we can dream, can't we?).
Check Availability
Related Read: 11 Best Cabin Rentals Near Payson, Arizona
5. Tiny Mountain View Sauna Cabin
Why you should stay here: A tiny cabin with huge creature comforts.
Sleeps: 4
Minimum stay: 1 night
Pets allowed: yes
This tiny cabin is located on the same property as the first A-frame we featured, and also participated in said American Eagle Outfitters campaign. Aside from that and the stargazing, that's where the cabins' similarities end.
This 1940s-built studio clocks in at 360 square feet, though its open layout and dual decks make it feel larger. Nestled beside the cabin is a Finnish wet and dry sauna that's perfect for any season.
Mahesh, the gracious host of both cabins, leaves instructions on using the sauna, but we imagine it goes something like this: toggle between cabin and sauna. Repeat.
Check Availability
6. Relaxing Family Cabin
Why you should stay here: Conveniently located between Snow Bowl and downtown Flagstaff.
Sleeps: 12
Minimum stay: 1-3 nights depending on season
Pets allowed: yes
If your stay in Flagstaff includes a trip to Snow Bowl, this beautiful cabin is the perfect spot to hole up for a weekend. It's just a few miles from ski resort's entrance (as well as downtown Flagstaff), with hiking and biking trails in walking distance of the property.
The cabin has a warm, spacious layout complemented by a deck surrounding three sides of the house. Renters appreciate the small details and touches around the cabin and its family-friendly vibe.
Check Availability
Related Read: 7 Tranquil Cabin Rentals in Strawberry, Arizona
7. Luxury Mountainaire A-Frame
Why you should stay here: Cozy, tastefully done cabin just outside of town.
Sleeps: 7
Minimum stay: varies by season
Pets allowed: no
This picturesque 2-bedroom A-frame is located in Mountainaire about 15 minutes south of downtown Flagstaff. It's clean, well-decorated and offers plenty of outdoor area to lounge around. It's also a great value compared to some of the more expensive cabin rentals in Flagstaff proper or 15 miles south in Munds Park.
If Flagstaff was a house party, staying in Mountainaire would be like chillin' on the back patio: you're close to the action, but you've also found yourself a nice place to just vibe for the night. That's what you get with this cabin.
Check Availability
8. Luxury Log Cabin
Why you should stay here: Luxurious digs on 8 private acres.
Sleeps: 12
Minimum stay: 3 nights
Pets allowed: no
If your idea of a cabin getaway is less rustic and more ritzy, consider this 4,000-square-foot log home backing up to quiet forest just east of town.
Hikers will dig access to the nearby Arizona Trail, but if you need more space to roam, the cabin's 8 open acres will do the trick.
The interior's just as impressive as the incredible mountain views on the deck, so no matter where you spend your days, you'll experience everything this luxury cabin has to offer.
It's naturally on the pricier side of Flagstaff's cabin rentals, but two master suites make it easier to plan a group trip to lower the cost per person.
Check Availability
Related Read: 10 Best Cabin Rentals in Greer, Arizona
9. A-Frame at Roadrunner Ranch
Why you should stay here: Off-the-grid cabin away from the crowds.
Sleeps: 6
Minimum stay: 2 nights
Pets allowed: yes
To say we have a thing for A-frames would be a gross understatement, and the off-grid A-frame at Roadrunner Ranch joins the ranks as one of our favorite such cabins. It lacks some of the polish of more expensive rentals, but many travelers will find the cabin's eco-friendly features just as welcoming.
It's solar-powered and located on a sprawling 100-acre ranch northeast of Flagstaff – close enough to make trips into town but far enough for unforgettable stargazing. And when they say off-grid, they mean it: there's no cell service or wifi in sight.
Check Availability
10. Arizona Mountain Inn & Cabins
Why you should stay here: 17 traditional cabins on 13 acres near town.
Sleeps: 2-16 depending on the cabin
Minimum stay: 2-4 nights depending on season
Pets allowed: yes
Arizona Mountain Inn & Cabins is the single biggest collection of cabins in town. It's located just off Lake Mary Road, but the grounds feel far more removed from the hustle of Flagstaff. Once you take the small dirt road into their 13-acre spread, you'll feel a world away.
We've stayed here a handful of times and always enjoyed the cabins. They're basic, somewhat dated but always clean and the staff is accommodating. It's also a great family-friendly option, with an old-school playground and plenty of kid-approved walking trails around the property.
Their 17 cabins range from small A-frames to large cabins perfect for families and big groups. You can also reserve a suite in the main bed and breakfast, though these rooms aren't pet-friendly.
Check Availability
Related Read: 11 Best Cabin Rentals in Munds Park, Arizona
Plan Your Flagstaff Trip
When to visit: there's never a bad time to visit Flagstaff, though summer and holiday weekends can get extremely busy. If possible, plan a trip during the week for less traffic on the drive in and fewer crowds around town.
Fall's perfect for hiking and hunting fall colors, and winter's ideal for snow sports and off-season travel. Our favorite time to visit is late summer and early fall, when the air's crisp but still comfortable.
What to do: there are plenty of things to do in Flagstaff, but check out the best Flagstaff hikes to kick things off. If you're planning a day trip to red rock country, hit up some of our favorite Sedona hikes.
Afterward, wind down at some of Flagstaff's best food and drink spots. There's no shortage of coffee options in Flagstaff, and blogger Emily Schroeter recommends Firecreek Coffee Company for its thoughtfully made drinks and friendly vibes.
"They micro-roast their own coffee and hand-make all their syrups, pastries and chai concentrate," says Emily. "They also serve hot breakfast foods that are beyond delicious!"
For adventurous family or couple bonding, check out Flagstaff Extreme Adventure Course.
"It's a great way to get everyone off of technology and enjoying the outdoors together," says author and parenting coach Amy Carney. "It's great for all ages and for team and relationship building."
If you're making the trek up to the Grand Canyon, learn how to avoid the crowds at the South Rim for a more enjoyable visit, and for an even more memorable experience, check out some of the best Grand Canyon hiking tour companies.
Flagstaff's also a great basecamp for visiting nearby attractions like Sunset Crater, Walnut Canyon National Monument, and Wupatki National Monument.
Cabin are amazing, but don't sleep on Flagstaff's best campsites either. And if you're looking for more dog-friendly lodging, check out pet-friendly cabins in Flagstaff on just about any budget. Flagstaff's best hotels aren't too shabby either.
Considering a vacation rental in Red Rock Country? Here's a look at the best Airbnb rentals in Sedona.
Explore More of Arizona
Get epic travel ideas delivered to your inbox with Weekend Wanderer, our newsletter inspiring more than 10,000 readers every week.
Was this article helpful?
---