Territory Supply is reader-supported and may earn a commission when you book or purchase using our links. Learn more about our editorial policies here.
---
People often say that Arizona built its economy on the five "Cs" – copper, cattle, citrus, cotton, and climate – but there could be a sixth: cabins.
Despite its reputation as a desert, Arizona has a surprisingly strong cabin game. The state's nearly 4,000 mountain peaks – 26 of which are over 10,000 feet in elevation – make for prime cabin land, particularly in the high country of Northern Arizona.
Whether you're looking for a remote getaway or something closer to the state's top natural attractions, there are hundreds of cabin rentals in Arizona to consider. Here 13 of the best cabin rentals in Arizona for your trip-planning pleasure.
Related Read: The 12 Best VRBOs in Arizona for the Perfect Getaway
1. Lake View Lodge
Why you should stay: Spacious family cabin backing to a small private lake.
Location: Pinetop
Sleeps: 8
Minimum stay: 2 nights
Pets allowed: no
Lake View Lodge, one of three cabins owned by the Wiggins family, backs to beautiful Jackson Lake on the east end of Pinetop, on the state's eastern side. It's a cozy three-bedroom home in a quiet neighborhood perfect for bike rides and afternoon walks with the fam.
The interior is tastefully decorated and makes great use of living space, but you'll be tempted to spend most of your time outside, where a large deck and grassy area offer the ideal spot to start and end your days.
"The back porch and the hammock was one of our favorite places to rest," said Airbnb renter Melissa. "The lake was lovely and we took walks around the neighborhood in the evenings."
Follow 'em: @wigginsfamilycabins
2. The 1975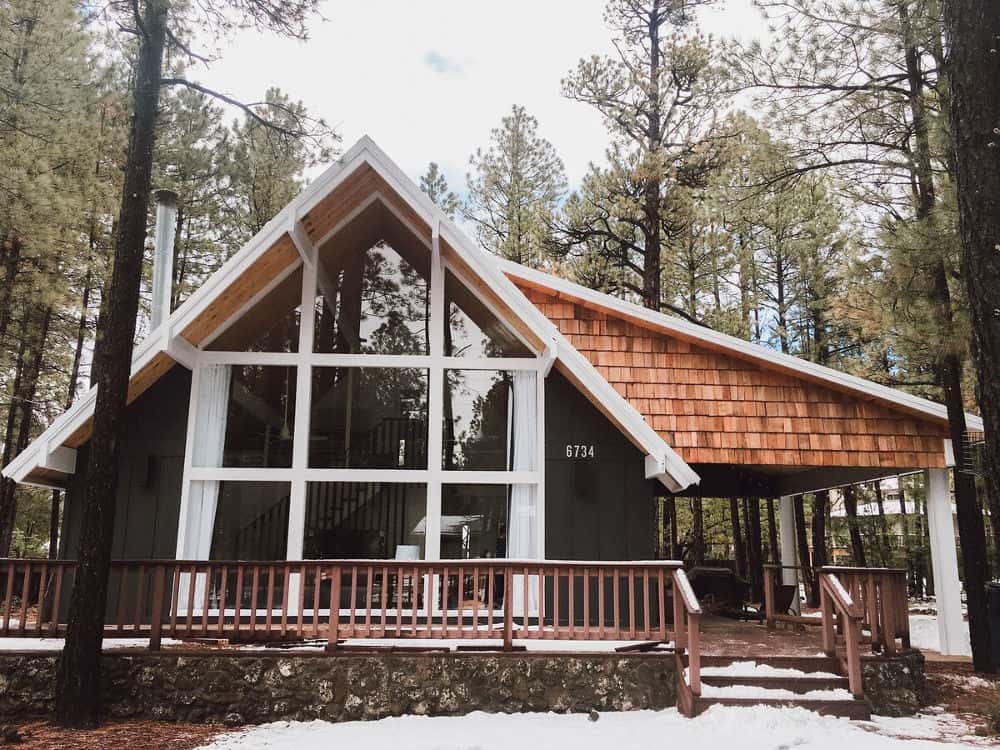 Why you should stay: Fully renovated cabin with immaculately designed spaces and details.
Location: Pinetop
Sleeps: 13
Minimum stay: 2 nights
Pets allowed: no
Don't be fooled by The 1975's name: this cabin is anything but outdated. In fact, this home's full renovation included upgrades from floor to ceiling, and it's easy to see why it's now one of Pinetop's most popular cabin rentals.
The spaces are modern while still warm and inviting, and the owners thoughtfully designed every nook and cranny for a comfortable stay. Everything at The 1975 goes above and beyond, including host Jill, who's always "kind and helpful to work with," according to Airbnb renter Debbie.
The 1975 is also available for weddings and events, and the cabin's reviews are full of comments from renters who've enjoyed the cabin for intimate weddings, employee retreats, and more.
Follow 'em: @getawayframe
3. Mt. Lemmon Getaway
Why you should stay: Stunning views from a southern Arizona cabin perched at 8,300 feet.
Location: Mount Lemmon
Sleeps: 6
Minimum stay: 2 nights
Pets allowed: no
Not all of Arizona's cabin action happens up north: when you see the views from this Mt. Lemmon rental, you'll understand the appeal of a getaway down south. This 2,000-square-foot home is located near Summerhaven and offers sweeping mountain views to the north.
Inside, the cabin's unique structure, wood beams, and stone fireplace give it a ski-lodge feel perfectly suited to cozying up indoors on cold winter days in the mountains. Hiking trails are within walking distance, and there are boutiques and restaurants nearby.
"The location can't be beat and was very peaceful during our stay," said renter Tobi. "The views from the cabin are really spectacular."
4. Luxury Munds Park Cabin
Why you should stay: Luxurious, one-of-a-kind cabin with a resort-style atmosphere.
Location: Munds Park
Sleeps: 14
Minimum stay: 2 nights
Pets allowed: yes
Just south of Flagstaff, Munds Park is a low-key cabin hot spot, home to streets of traditional (if a bit outdated) A-frames from the '70s and '80s. But you'll also find newer homes like this log cabin stunner, a five-bedroom behemoth on a quiet cul-de-sac near quaint Lake O'Dell.
This is the epitome of comfortable forest living, and one of the few cabin rentals you'll find in Northern Arizona with two-zone heat and A/C for all-season comfort. Master suites have their own private wings in the house, so if you're stuck inside with the in-laws, there's plenty of room to spread out (just kidding, in-laws.)
The cabin sits on a full acre with enough room to explore, and it's a short stroll to the lake where you're welcome to use the rentals inflatable kayaks for an on-water adventure.
Check out more Munds Park cabin rentals.
5. Drift Fence Cabin
Why you should stay: Cozy A-frame with clean, modern updates in Pinetop Lakes Country Club.
Location: Pinetop
Sleeps: 10
Minimum stay: 2 nights
Pets allowed: yes
If The 1975 cabin is on the high end of your vacation budget, consider the nearby Drift Fence Cabin. It's upgraded with a similar aesthetic focusing on practical living spaces, functional design and plenty of spots to unwind for the weekend (reading nook, anyone?).
The outside is just as well-thought-out, with a spacious deck, fully enclosed yard, and fire pit out back for warm nights under the stars. And when you're ready to venture out, the cabin's not far from Woodland Lake Park,  and less than an hour from Sunrise Park Resort.
Check out more pet-friendly cabin rentals in Arizona.
6. Arizona Rim Retreat
Why you should stay: A massive deck with every imaginable outdoor amenity.
Location: Pine
Sleeps: 6
Minimum stay: 3 nights
Pets allowed: yes
AZ Rim Retreat's interior is beautiful, sure, but we wouldn't blame you for never spending any time indoors. The culprit: a 2,000-square-foot deck complete with private hot tub, hammock, fire pit, grill, and more
The cabin's main draw features expansive views of nearby Ruin Hill and beyond, and there's plenty of hiking to be had in nearby Apache-Sitgreaves National Forest. 
Tonto Natural Bridge State Park is a 15-minute drive south, and since the cabin is on the north end of Pine, it's easy to explore the charming nearby town of Strawberry.
Check out cabin rentals near Payson, Arizona.
7. Rustic Prescott Cabin
Why you should stay: Beautiful views and comfy digs near Prescott's best natural attractions.
Location: Prescott
Sleeps: 6
Minimum stay: 2–3 nights
Pets allowed: yes
Prescott is an often overlooked destination as it's lower in elevation than Arizona's more popular mountain towns, but it's still home to stellar cabin rentals. One of them is this rustic home with a 1,000-square-foot deck overlooking land in Prescott National Forest.
The cabin includes a wood-burning stove and comfortable amenities, but the real benefits are outside – Lynx Lake is just 10 miles away, and there's no shortage of hiking and off-road trails in the area.
Check out more Prescott cabin rentals.
8. Oak Creek Cabin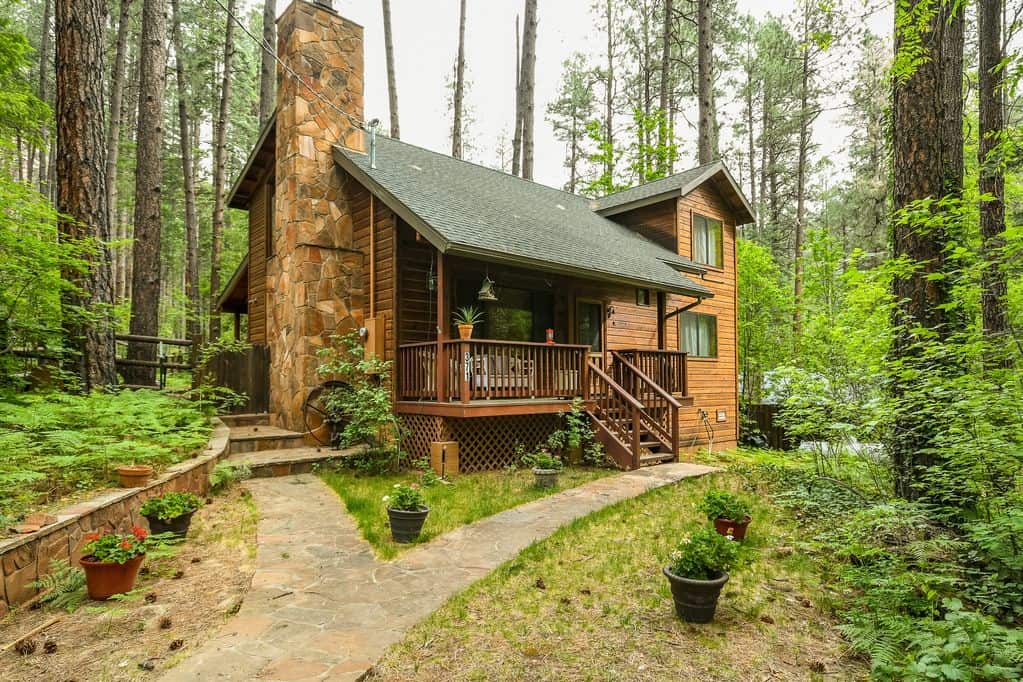 Why you should stay: Mellow vibes in one of Oak Creek Canyon's most sought-after communities.
Location: Oak Creek Canyon
Sleeps: 6
Minimum stay: 2 nights
Pets allowed: no
If you can't snag a cabin at the Forest Houses in Oak Creek Canyon, consider this cozy rental in the nearby Pine Flats community. It's one of the most affordable cabin rentals you'll find in the canyon, and with hiking trails accessible from the back porch and the creek just a short walk away, it's a steal for the price.
It's near some of the area's most popular hikes, including West Fork, but you can avoid the busier hiking crowds by hitting spots like Cookstove Trail. It's also just a short drive south to Sedona's best hikes.
Check out our favorite unique Airbnb rentals in Sedona.
9. Luxurious Northern Arizona Cabin
Why you should stay: Sprawling 3,800-square-foot log cabin on a large, gated lot.
Location: Parks
Sleeps: 8
Minimum stay: 2 nights
Pets allowed: no
Can't decide between Williams or Flagstaff for your next getaway? Stay in between the two at this ranch-style log cabin rental in Parks, some 20 minutes west of Flag. This home's all about wide-open spaces – it's on five well-groomed acres with expansive views of the surrounding forest.
The cabin's living spaces blend modern, luxurious finishes with rustic mountain vibes and the result is something akin to a high-end lodge you'd find on the slopes.
"The property is beautiful, well kept and stocked with nearly everything you will need for a great vacation," said Jonathan S. "The location is stunning with beautiful 360 degree views of the mountains."
10. Creekside Cabin
Why you should stay: One-of-a-kind stay in the heart of Red Rock country.
Location: Sedona
Sleeps: 4
Minimum stay: 3 nights
Pets allowed: yes
You can probably count the number of Sedona's creekside A-frame cabins on one hand, so it's understandable why you'd have to stretch your cabin budget for this unique home. But the splurge can be worth it, and those who've stayed can attest to this rustic-meets-modern cabin's waterfront ambiance.
"Words cannot describe this amazing property," said Jennifer D. "We didn't want to leave! Everything was so perfect down to the last detail."
The cabin is just minutes from Sedona's main drag and half a mile from Red Rock State Park.
Check out our favorite unique Airbnbs in Arizona.
11. Dancing Bear Lodge
Why you should stay: One of Pine's most versatile and popular cabin rentals.
Location: Pine
Sleeps: 10
Minimum stay: 2–5 nights
Pets allowed: yes
Most cabins have a defining feature – a big deck, vaulted A-frame windows – but it's hard to find one that has everything. Dancing Bear Lodge gets about as close as you can, with open living quarters, traditional cabin refinements, and a wrap-around deck with space to eat and unwind. And it's hard not to be drawn in by the oversized outdoor fireplace and cozy covered outdoor seating.
It's one of the highest-rated Arizona cabin rentals on VRBO, with more than 100 perfect reviews. The cabin is a few miles north of Tonto Natural Bridge State Park, a must-do destination if you're staying in the area.
12. Munds Park A-frame
Why you should stay: Traditional A-frame home with modern updates and amenities.
Location: Munds Park
Sleeps: 8
Minimum stay: 2 nights
Pets allowed: no
Munds Park is an A-frame hotbed and home to this quaint, recently renovated cabin rental. It's clean, family-friendly, and offers just enough privacy and space for small groups traveling together. There's also a backyard firepit to help you recreate the fun of being around a campfire (without the need to sleep in the ground.)
It's a great basecamp for exploring both Flagstaff and Sedona. If you're hitting both, opt for the scenic drive through Oak Creek to get off the busy I-17.
13. Bearly-A-Cabin
Why you should stay: Classic cabin setting in a peaceful 'hood just east of Williams.
Location: Williams
Sleeps: 10
Minimum stay: 2-3 nights
Pets allowed: no
There are few things more enjoyable than cabins, and puns are one of them. It's no surprise, then, that Bearly-A-Cabin is on this list of the best Arizona cabin rentals.
But this home's more than just a clever name – it has everything you need for a memorable stay in the woods. A traditional cabin design scheme makes it as cozy as you'd expect, and two decks showcase gorgeous forest views.
The cabin's focal point is a towering stone fireplace flanked by tall A-frame-style windows that creates the perfect vantage point from which to enjoy Williams year-round. 
Check out cabin rentals near Williams, Arizona.
Explore Arizona
Sign up for the Weekend Wanderer to join 50,000+ readers getting epic travel, hiking, camping and gear ideas every month.
---