We research, evaluate and select travel destinations based on a number of factors, including our writers' experience, user reviews and more. We may earn a commission when you book or purchase through our links. See our editorial policy to learn more.
---
This year, pack your 10-gallon hat, saunter your way to the Cowboy State, and rent a rugged-meets-glam airbnb in the heart of the West.
Wyoming is an exciting travel destination for outdoor enthusiasts as it's where the striking peaks of the Rocky Mountains meet the peaceful pastures of the great plains. The state also lays claim to seven national parks and plenty of recreational areas, so there's no shortage of places to play outside.
That also creates plenty of amazing places to glamp in Wyoming while enjoying the beauty of Wyoming's great outdoors. Sure, you could just get a hotel room, but for a truly authentic experience, book one of these places to glamp in Wyoming to really reconnect with nature.
Whether you're dying to ski in Jackson Hole, hike the Grand Tetons, or take in the impressive sights of Yellowstone National Park, one of these stellar places to glamp in Wyoming should help make your getaway extra memorable. Yellowstone visitors may also consider Under Canvas Yellowstone, located just across the Montana-Wyoming border near West Yellowstone, Montana.
1. Glamping Tent
Why you should stay: A pet-friendly glamping tent with a wooden deck near Yellowstone National Park.
Nearest town: Shell
Sleeps: 2
Minimum stay: 1 night
Rates start from: $62/night
Nestled on the outskirts of the Bighorn National Forest is a cute glamping tent decked out in charming red gingham. This glampsite takes tent camping to a new level, outfitted with a queen, memory-foam topped bed, clean linens, Wi-Fi, and electrical outlets. The tent is on a permanent deck to ensure  you stay comfortably separated from the elements.
Guests have access to hot showers and flush toilets in the campsite's bathhouse. Each tent also has a fire pit for roasting marshmallows and grilling meals to help you have a classic camping experience. And if you're looking for pet-friendly places to glamp in Wyoming look no further as dogs are welcome for a $20 fee.
"This place was the perfect stopover on a road trip from the Badlands to Yellowstone. The glamping tent was warm and cozy, as well as fresh and clean."
Check Availability
2. The Little Cabin
Why you should stay: A rustic tiny home with sweeping views of Jelm Mountain.
Nearest town: Laramie
Sleeps: 2
Minimum stay: 1 night
Rates start from: $125/night
The Little Cabin is a classic outdoorsy stay where guests can find a comfortable escape from the chaos of the being in the city (or the 'burbs.) The nearest town is 30 minutes away, which means there's nothing but serene nature views to occupy your mind. Each morning, the hosts deliver breakfast and hot coffee to help you kick-start your day.
This studio cabin comes complete with an outhouse, a fire pit, and even a bubbling hot tub that'll soothe your tired bones after a long day of adventure. There's also a private bathroom available in the property's main cabin filled with free toiletries, towels, and more.
The hosts go above and beyond to provide the essentials to make your time at the Little Cabin comfortable and easy. Download a map in advance, since cell service is about as good as you'd expect for the middle of Wyoming.
Check Availability
Related read: Register Cliff: Where Pioneer Graffiti Becomes an Historic Time Capsule
3. U2 Horse Glamping
Why you should stay: A spacious tent with a deck, outdoor shower, and all the comforts of home.
Nearest town: Buffalo
Sleeps: 4
Minimum stay: 1 night
Rates start from: $119/night
At U2 Horse Glamping, you'll find a homey tent stationed on an elevated wooden platform with sweeping views of the surrounding 20-acre pasture. Wake up each morning to peaceful scenes of the neighboring horses roaming and grazing.
The small town of Buffalo is conveniently just down the road and offers up grocery shopping and dining opportunities. This is one of the most ideal places to glamp for people traveling with kids as the owners can set up a separate teepee in front for the kids.
The tent is furnished with a queen bed, two nightstands, complimentary drinking water, and western touches. This glampsite also features a charcoal grill, outhouse, and private shower that's heated by the sun. This part of Wyoming is a great stopping point for travelers coming from Mount Rushmore and headed to Yellowstone.
Check Availability
Related Read: 12 Best Airbnbs in Wyoming for a Taste of the American West
4. Sheep Wagon #1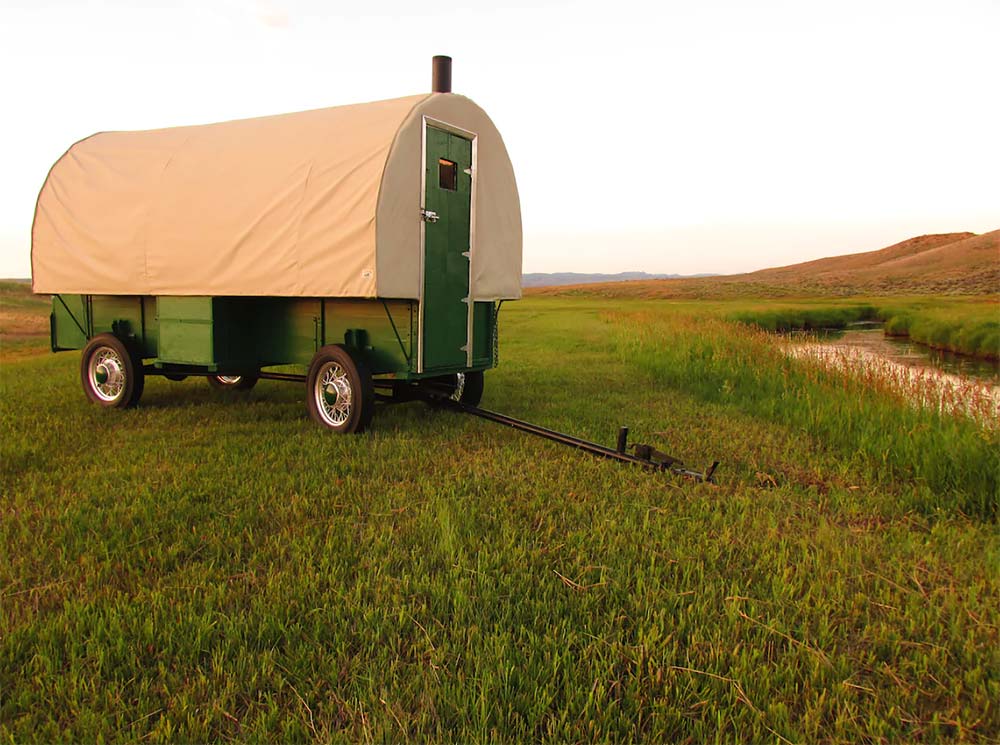 Why you should stay: Sleep in a converted sheepherder wagon.
Nearest town: Shirley Basin
Sleeps: 4
Minimum stay: 1 night
Rates start from: $125/night
For one of the most unique places to glamp in Wyoming, look no further. Sheep wagon #1 is a revamped original wagon once used at sheepherding camps. Today, it houses a full-sized bed, a retractable dining table, Dutch oven, and cookware. This wagon has two insulated boxes to act as refrigerators and extra drawers to stash gear.
The wagon is on a supremely secluded ranch about 40 miles south of Casper, where the stargazing opportunities are unparalleled. The hosts also offer celebratory packages for birthdays and romantic getaways as an add-on to any booking.
Check Availability
5. 1972 Blue Bird Bus
Why you should stay: Retro bus next to a flowing river and lush hills in Southern Wyoming.
Nearest town: Savery
Sleeps: 2
Minimum stay: 1 night
Rates start from: $99/night
This 1972 Blue Bird Bus exudes all the groovy vibes you'd expect of a bus from the 1970s and offers an excellent home base to the Little Snake River Valley. This remote natural oasis provides plenty to do in the way of fishing, hunting, hiking, and glamping near the Colorado border.
The bus is furnished with a king and single bed, a full bathroom, and a dining nook. The sights and sounds of Savory Creek can be enjoyed from the comfort of the bus's yard, where there's a fire pit and grill.
"If you want a unique and special stay that will give you peace and relaxation and time to BE, then this is your spot."
Check Availability
6. Highline Camp Sheepwagon
Why you should stay: A clean and rugged glamping experience in a sheep wagon-turned-tinyhome.
Nearest town: Saratoga
Sleeps: 2
Minimum stay: 1 night
Rates start from: $95/night
The Highline Camp Sheepwagon is another of the most unique places to glamp in Wyoming, near the Saratoga Hobo Hot Springs. This charming little wagon rests on next to a swimming pond a 4,000-acre ranch, so expect plenty of beautiful sunrises that gracefully reflect off of the water.
The hosts also offer free use of fishing rods and their paddle boat for anyone who wants to indulge in a bit of water fun. And don't forget to swing by the hot springs in Saratoga at least once while you're there.
This historic wagon comes complete with a double bed, propane cooking burners and heater, and free drinking water. There is a clean outhouse a few feet from the wagon, but this rugged stay does not have running water or electricity.
Check Availability
7. Fireside Resort
Why you should stay: A high-end glamping resort on a spacious property with a community hot tub.
Nearest town: Wilson
Sleeps: 4
Minimum stay: 2 nights
Rates start from: $209/night
The Fireside Resort  is a camping resort that boasts a comfortable place to reconnect with nature, and comfortable glamping. Guests can choose between four different but equally beautiful cabin styles or an RV for more of a camping experience. Every rental has modern touches and finishes for a high-end glamping experience. It's pricey, but you get a sixth night free if you stay for five (as of Feb. 2021.)
There's also a spacious hot tub on the resort's property, and each cabin has a fire pit and camp grill. Their pet-friendly cabins and RVs are located about two hours south of Yellowstone and about 30 minutes from the Grand Teton Headquarters. And it's very close to Jackson Hole. It's one of the best places to glamp in Wyoming for a group since everyone can rent their own cabin but still stay on the same property.
Check Availability
Follow 'em: @firesideresort
8. Glamping of Jackson Hole
Why you should stay: A sprawling glampground with fresh farm-to-table meals.
Nearest town: : Jackson Hole
Sleeps: 2 adults
Minimum stay: 2 nights
Rates start from: $250/night
Glamping of Jackson Hole is a beautiful property neat the quiet Bridger-Teton National Forest. They offer six safari-style camp tents spaced out to maximize privacy and create a sense of seclusion. Each tent measures 14 feet by 16 feet and is furnished with a luxurious memory foam mattress, soft linens, and solar lighting.
The glampground's bathroom facilities feature eco-friendly composting toilets and hot showers. Included with your booking are freshly prepared meals utilizing local ingredients. While there are plenty of things to do at the resort, such as horseback riding and mountain biking, Jackson hole is only 20 minutes away so you can grab a beer at the Million Dollar Cowboy Bar.
Follow 'em: @glampingofjacksonhole
Check Availability
Explore More of the West
Get epic travel ideas delivered to your inbox with Weekend Wanderer, our newsletter inspiring more than 10,000 readers every week.
---