Waterfalls are prolific throughout Oregon, and some of the best are hidden away in unlikely places.
When talk of Oregon waterfalls finds its way into a conversation, the mind instinctively turns toward the Columbia River Gorge.
Indeed there are a plethora of stunning waterfalls along the length of the gorge, but there are many more equally striking waterfalls spread all throughout Oregon, from the coast to the desert. Yes, that's right — there are even waterfalls in the desert.
In this article, we'll detail many of the best waterfall hikes in Oregon, each one more spectacular than the last. Below these, you'll find even more Oregon waterfalls to explore in our region-specific hiking guides.
Trail of Ten Falls Loop
Why you should go: Walk over, under, and around ten different waterfalls in Oregon's largest state park.
Distance: 7.8 miles
Elevation Gain: 1,300 feet
Difficulty: Moderate
Referred to as the crown jewel of Oregon State Parks, Silver Falls State Park centers around an isolated temperate rain forest that's rich with moss-clad douglas fir and numerous breathtaking waterfalls.
"One of America's most impressive waterfall day-hikes," says Steve on Oregon Hikers.
The Trail of Ten Falls Loop hugs the North and South Forks of Silver Creek. Though not a strenuous hike, the rocky trail and ever-present moisture makes for tricky footing. It's best to take your time on this hike, tread carefully, and observe the breathtaking waterfalls.
Beginning at the parking area at South Falls Lodge, the loop can be taken in either direction with the western route starting off at a grand viewpoint of South Falls, one of the most impressive waterfalls of the entire hike. The eastern route winds through the rain forest toward North Falls, a plunging waterfall that drops into a large grotto.
The trail circles behind and underneath North Falls, providing a wondrous perspective that's equally as amazing as it is rare to experience. More spectacular sights can be found further along the route.
This loop can be shortened via two different cutoff trails, so don't let the mileage keep you from enjoying this scenic hike.
Additional Information: Oregon Hikers
White River Falls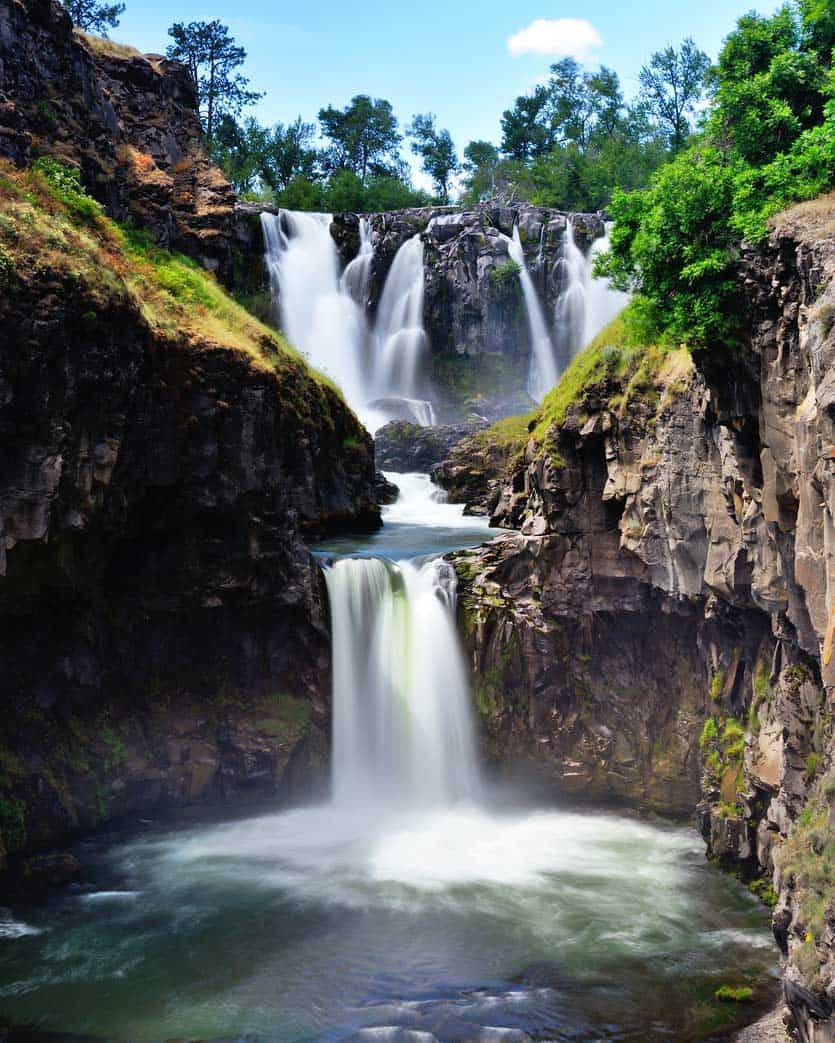 Why you should go: A wide, multi-tiered waterfall reminiscent of the famous Niagara Falls.
Distance: 0.7 miles
Elevation Gain: 141 feet
Difficulty: Easy
Tucked away in a remote location east of Mount Hood near the small, unincorporated community of Tygh Valley, White River Falls is a mesmerizing series of waterfalls that's a short walk from a backcountry highway.
Glacier melt empowers the falls during the spring when the White River's water levels are at their highest. The rushing fury carries with it silt and mud from upstream, creating a frothy, multi-colored draping waterfall.
In the later summer months when the stream weakens, White River Falls turns into a gentle, tumbling waterfall. The pools below the falls become crystal clear when water levels drop. Many people enjoy swimming under the falls when the August heat fills the White River chasm.
Additional Information: Oregon State Parks
Watson Falls
Why you should go: Walk through a mist-laden forest over tumultuous rapids toward a seriously tall waterfall.
Distance: 0.6 miles
Elevation Gain: 524 feet
Difficulty: Moderate
Watson Falls is one of the tallest waterfalls in Oregon at 272 feet. The plunging waters fall over striking basalt cliffs onto water-beaten lava rock which is sharply contrasted in color by the bright, green moss and other plant life which surrounds the pool and clings to the moist cliff face.
The short hike to the falls crosses over rumbling rapids via sturdy wooden bridges. Umpqua Hot Springs, which we featured in our article on Oregon hot springs, lies nearby, as does the popular Toketee Falls. See them all on a day trip up the Umpqua River.
Additional Information: AllTrails
Sahalie – Koosah Falls Loop
Why you should go: See these two powerful waterfalls from both sides of the river, and from vantage points both above and below the falls.
Distance: 2.2 miles
Elevation Gain: 357 feet
Difficulty: Easy
Sahalie and Koosah Falls are two outstanding waterfalls that are the result of two enormous lava flows colliding to dam up Clear Lake. The rushing waters of the McKenzie River are crammed into a tight channel that explodes with power at the overhangs of each waterfall.
This gorgeous loop hike travels along the scenic McKenzie River Trail through thick forest that is flush with ferns, huckleberry, and mushrooms. You'll get to see both falls from various angles.
Additional Information: AllTrails
Drift Creek Falls
Why you should go: Discover this hidden treasure that is both one of the most awe-inspiring and least visited Oregon waterfalls.
Distance: 3.0 miles
Elevation Gain: 490 feet
Difficulty: Moderate
On a map, Drift Creek Falls appears to reside but a short drive from the coastal town of Lincoln City. In reality, this well-hidden waterfall actually lies down a series of degrading gravel roads that must be traversed slowly and can become impassable when heavy snow falls on the Oregon Coast Range.
"In 2010 a huge rock face broke away, revealing beautiful columnar basalt, giving it the iconic look that it has today," said Franziska on Hike Oregon.
Those who make it to the trailhead are in for a treat. This well-graded trail winds downhill under a dark canopy of towering pines toward an impressive suspension bridge that crosses a deep chasm.
From the suspension bridge, hikers can witness the fury of Drift Creek Falls as it plummets toward the rocks far below. The trail continues down a series of switchbacks to the waterfall's base.
When you've had your fill of awe, prepare for an all uphill return journey to your car.
Additional Information: Hike Oregon
Munson Creek Falls
Why you should go: Take a short and easy hike to the tallest waterfall on the Oregon Coast.
Distance: 0.5 miles
Elevation Gain: 59 feet
Difficulty: Easy
This simple stroll through the woods ends at the tallest waterfall on the Oregon Coast. The 319-foot drop of Munson Creek Falls is astounding, and the pile of fallen logs at its base puts visitors face to face with how destructive and dangerous nature's beauty can be.
The immediate area surrounding the falls is indefinitely closed due to the danger of falling objects, but the sights from the trail are worth undertaking this tiny trek if you happen to find yourself near Tillamook.
Additional Information: Tillamook Coast
Lemolo Falls Trail
Why you should go: Nature's beauty wears its Sunday best at Lemolo Falls, boasting vibrant colors and sweet, moist air.
Distance: 3.2 miles
Elevation Gain: 285 feet
Difficulty: Moderate
Existing in perhaps the most verdant and lush setting on this list, Lemolo Falls is a beautiful sight in its own right, but the fairy-tale landscape which surrounds the waterfall may steal the show.
The trail toward the falls is steep and slippery in places, especially if you take the short spur to the base of the waterfall. There are actually two trails that reach the falls, one on either side of the river, but they do not connect at any point.
Additional Information: AllTrails
Tumalo Falls
Why you should go: The quintessential waterfall experience in an idyllic Oregon mountainscape.
Distance: 5.6 miles
Elevation Gain: 314 feet
Difficulty: Moderate
When you picture a waterfall in your mind, you're seeing Tumalo Falls. This is what the idea of a waterfall looks like because it is the pristine example of one. Go ahead, use your imagination! See a waterfall? That's it, that's Tumalo Falls.
A curtain of water pours down between two sheer rock face cliffs which are surrounded by an evergreen forest. Tumalo Falls fills Tumalo Creek, a shallow stream that babbles over large rounded rocks, filling the air with its smell and sound.
Additional Information: AllTrails
Explore More Oregon
Check out more of our hiking guides featuring more beautiful Oregon terrain.
Sign up for our free email to join thousands of readers getting epic travel, hiking, camping and gear ideas every week.
---