Not only is Scottsdale known as the "most livable city," it's also home to some of the most beautiful urban hiking in the state.
Whether it's long treks in the McDowell Mountain range, strolls for the whole family, training on the trails or community building, recreational parks in and around Scottsdale are catering to all of it. Among the state's top hiking destinations, Scottsdale stands out with some of the best hiking trails in Arizona.
Regardless of what you are seeking, the desert ecosystem — full of various cactus, wildflowers, and wildlife — is waiting to greet you.
Tips For Safe Desert Hiking
Any person who lives in the Valley, or has visited during the summertime, is fully aware of the desert's sweltering heat. Regardless of when you choose to step foot on the trail, there are several precautions to consider, especially if it's summer.
A general rule of thumb is that if you get halfway through your water, your best bet is to turn around. No matter what time of year, risks of dehydration are always present.
Be sure to bring electrolytes with you. If you, or someone you are hiking with, starts to stumble or seems out-of-sorts, those are signs of dehydration and overheating. If you're still on the trail, find shade immediately and take sips of water. Luckily, most of these trails are popular, so don't hesitate to ask fellow hikers for water if you run out.
If the temperature is over 85 degrees, leave your furry friends at home and little ones with someone you trust. Just because the weather doesn't feel too bad for you, children and dogs overheat more quickly than adults. Some of the following recreational parks do not even allow dogs on the trail, so be sure to double check before you leash your pup.
This hiking guide breaks down a number of parks that are situated in and around the city of Scottsdale. Each park has its own hours and policies (i.e. allows or doesn't allow mountain biking and horseback riding) so check their website if there is anything you are unsure about.
If you haven't heard, the app Maprika is a great tool to keep track of where you are on the trail. There is an archive of official maps in various recreational parks around the world that you can download, and while you're hiking, it will show you where you are on the trail relative to the map.
Now, let's get to hiking.
Related Read: 17 Refreshing Arizona Swimming Holes for Summer Fun
Camelback Mountain
Let's kick off this guide with one of the most notorious mountains in the area — Camelback Mountain. Gaining the summit is an initiation for locals and visitors alike.
The mountain is filled with various cactus, like saguaro, cholla, and ocotillo, as well as desert trees and bushes like Palo Verde and creosote.
If you have friends or family visiting from out of town, trekking one of the two trails is a great way to spend your time, and for your loved ones to see the beauty of the Valley.
These trails are heart-pumpers, so if you're looking for a solid workout that doesn't require being indoors, Camelback is the mountain for you. Dogs are not allowed on either of these trails.
1. Echo Canyon Trail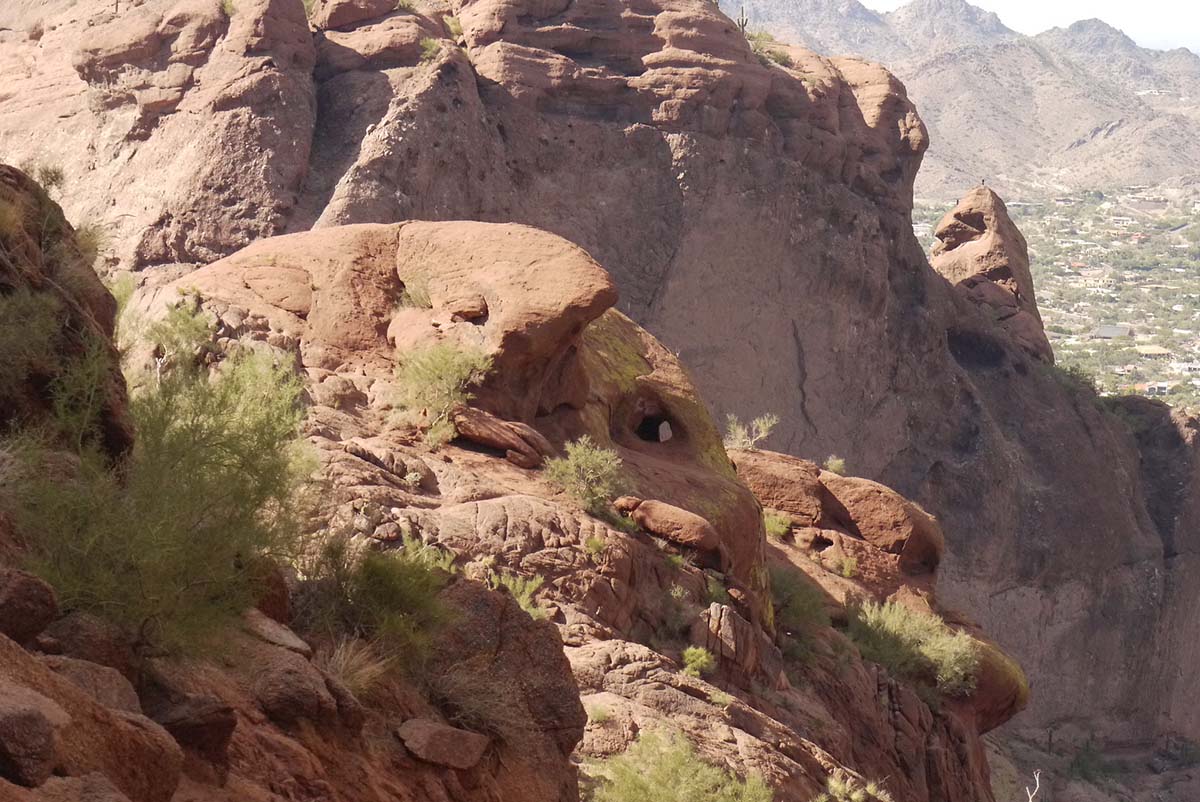 Why you should go: Tough hike to the summit of the most famous mountain in the Valley.
Distance: 2.3 miles
Elevation Gain: 1,300 feet
Difficulty: Challenging
Echo Canyon is the shorter trail of the two, clocking in at just over a mile one way, but is incredibly steep. You can expect plenty of steep sections, scrambling, and even using rails to help you ascend a couple of areas.
But as any hiking enthusiast knows, there is nothing more satisfying than conquering a tough trail. No matter what time of year, bring plenty of water.
2. Cholla Trail
Why you should go: Reach the Camelback summit with slightly less blood, sweat, and tears.
Distance: 2.8 miles
Elevation Gain: 1,150 feet
Difficulty: Challenging
While the Cholla trail is slightly longer and less strenuous than Echo, you're still in for a workout once you reach the saddle, after about a mile.
From there, you will be called on for some scrambling and climbing. But up to that point, the trail is moderate enough you'll actually be able to hold a conversation with your fellow hikers.
McDowell Sonoran Preserve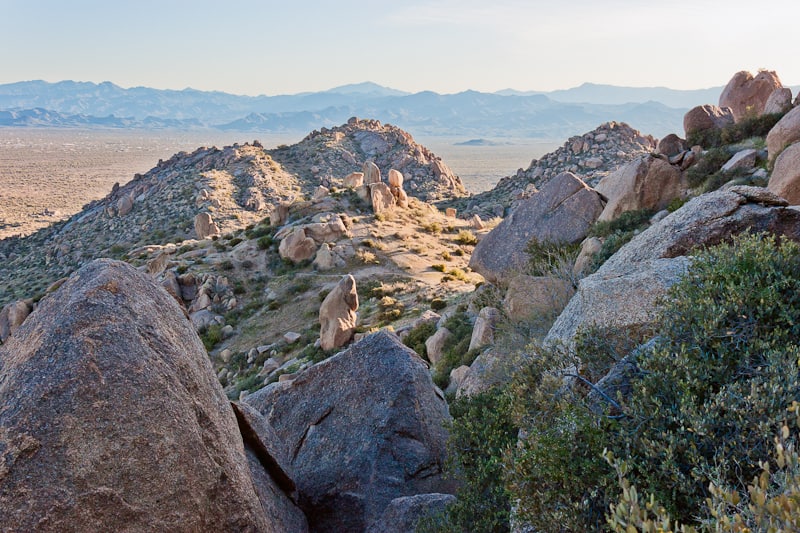 The McDowell Sonoran Preserve is the hiking mecca of Scottsdale with over 300 miles of trails. There are eight main trailheads, several of which also offer access to the McDowell Mountain Regional Park. It's the largest urban preserve in the country.
Teddy bear cholla, buckhorn cholla, jojoba, and the classic saguaro scatter the mountainsides. In the springtime, wolfberries, Mexican poppies, lupine, and more come into full bloom.
The preserve is also partnered with the McDowell Sonoran Conservancy — the nonprofit entity of the preserve. The organization helps fund educational programs, conducts wildlife surveys and field studies, and has more than 400 volunteers involved who focus on patrolling trails, guiding, and pathfinding.
With the array of trails in the preserve, you can build your own hike and make your adventure unique to you. Your pups are allowed in the preserve, but as we've stated before, we do not recommend hiking with your dogs if the weather is above 85 degrees. Expect to share the trail with mountain bikers and horseback riders. Bikers should yield to you as a hiker, but you as the hiker must yield to horses.
Related Read: The 7 Best Caves in Arizona for Subterranean Exploration
3. Tom's Thumb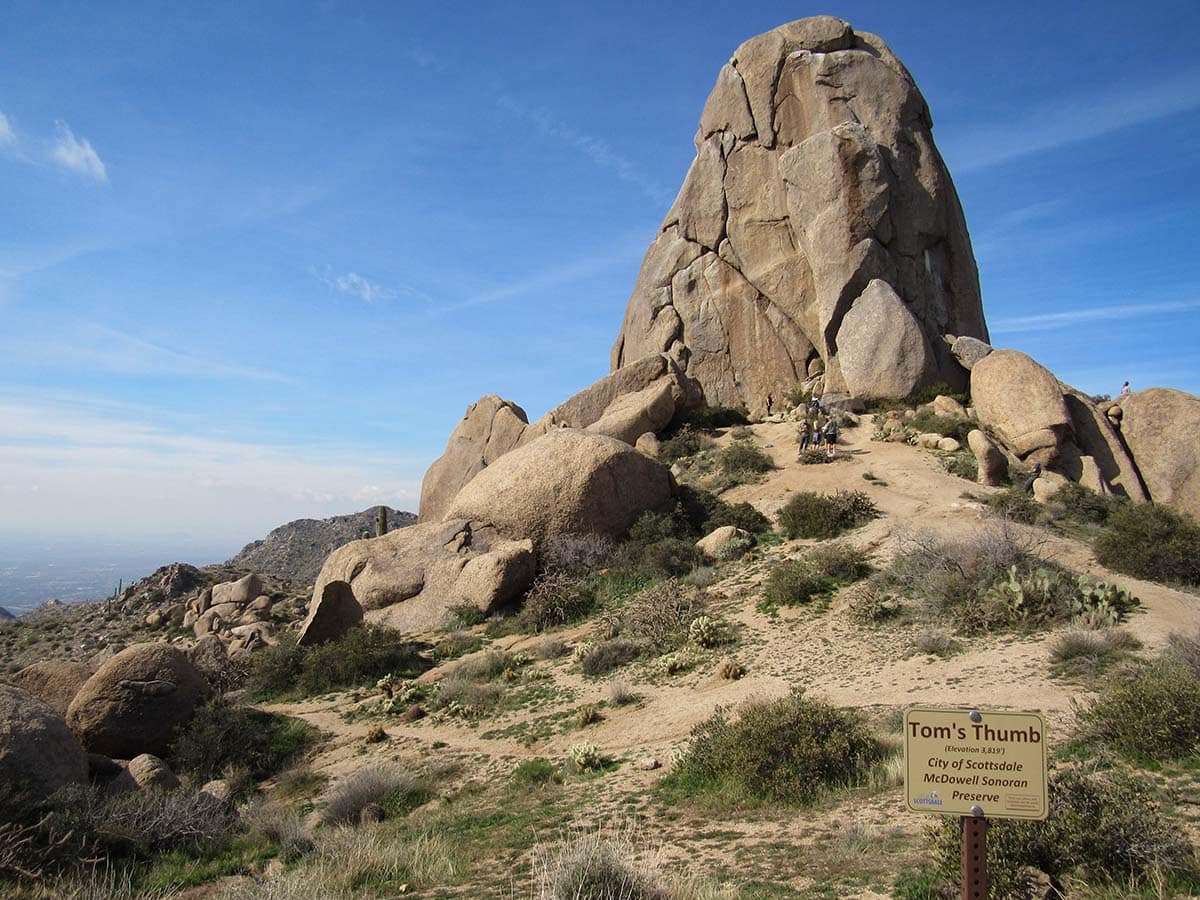 Why you should go: Conquer the preserve's most iconic hike and get an up-close encounter with Tom's Thumb.
Distance: 4.7 miles
Elevation Gain: 1,400 feet
Difficulty: Challenging
The Tom's Thumb trail has the most foot traffic than any other trail in the preserve, which probably has to do with how much this trail has to offer.
Trail runners will find it fitting for their training needs. But even if you're not into that kind of thing, it is without a doubt a good workout with plenty of beautiful lookout points, which can be used for respite or a spot to turn around if you choose not to go all the way to the Thumb.
If you do reach the top, you get an up close and personal view of Tom's Thumb, which can be seen from several parts of the Valley on a clear day. If you're looking for even more of a challenge, start from the Gateway Trailhead.
4. Granite Mountain Loop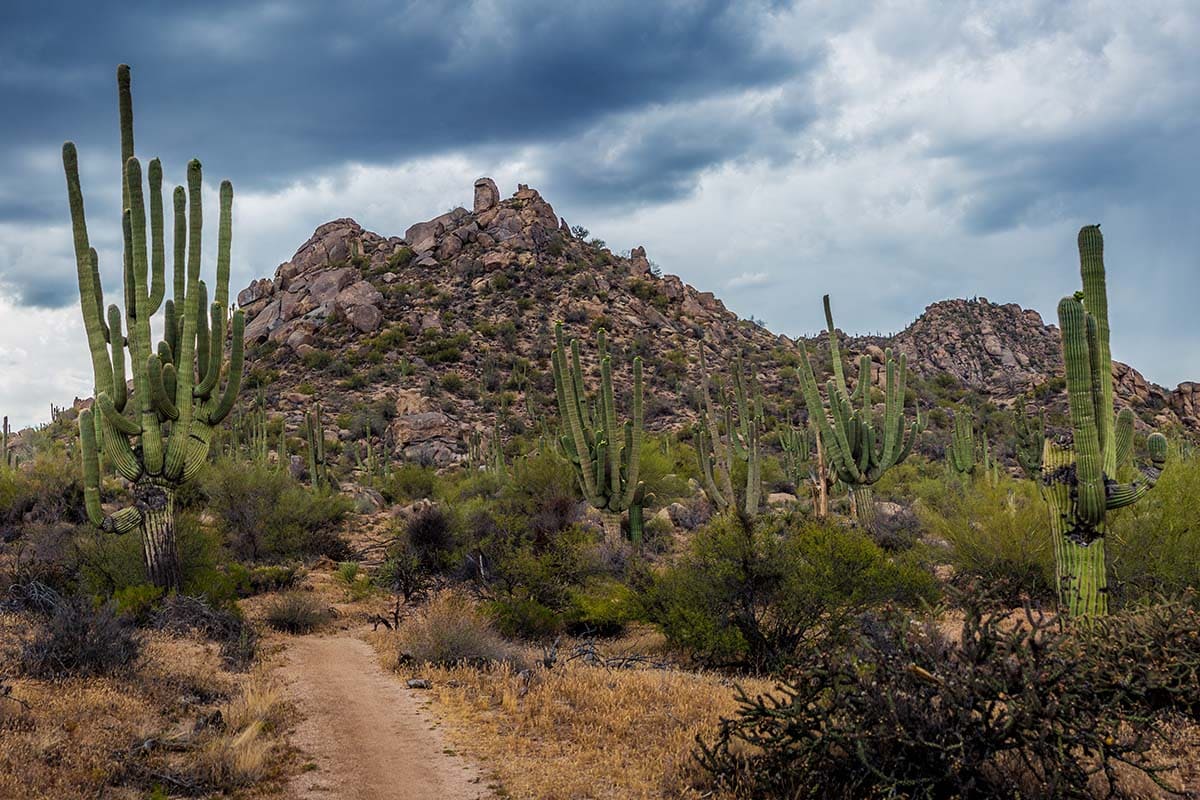 Why you should go: An approachable hike for novice hikers that is on the outskirts of town but still drowns out the city noise.
Distance: 5 miles
Elevation Gain: 320 feet
Difficulty: Easy
Come wildflower season, the Granite Mountain Loop trail is an excellent hike to see the desert blooming with globe mallow, fairy duster, chuparosa and more.
You'll also get views of Four Peaks, Weavers Needle, and the White Tank Mountains. While this trail immerses you in nature, in the sense that it doesn't offer urban city views, it can still be a popular hike.
5. Sunrise Peak Trail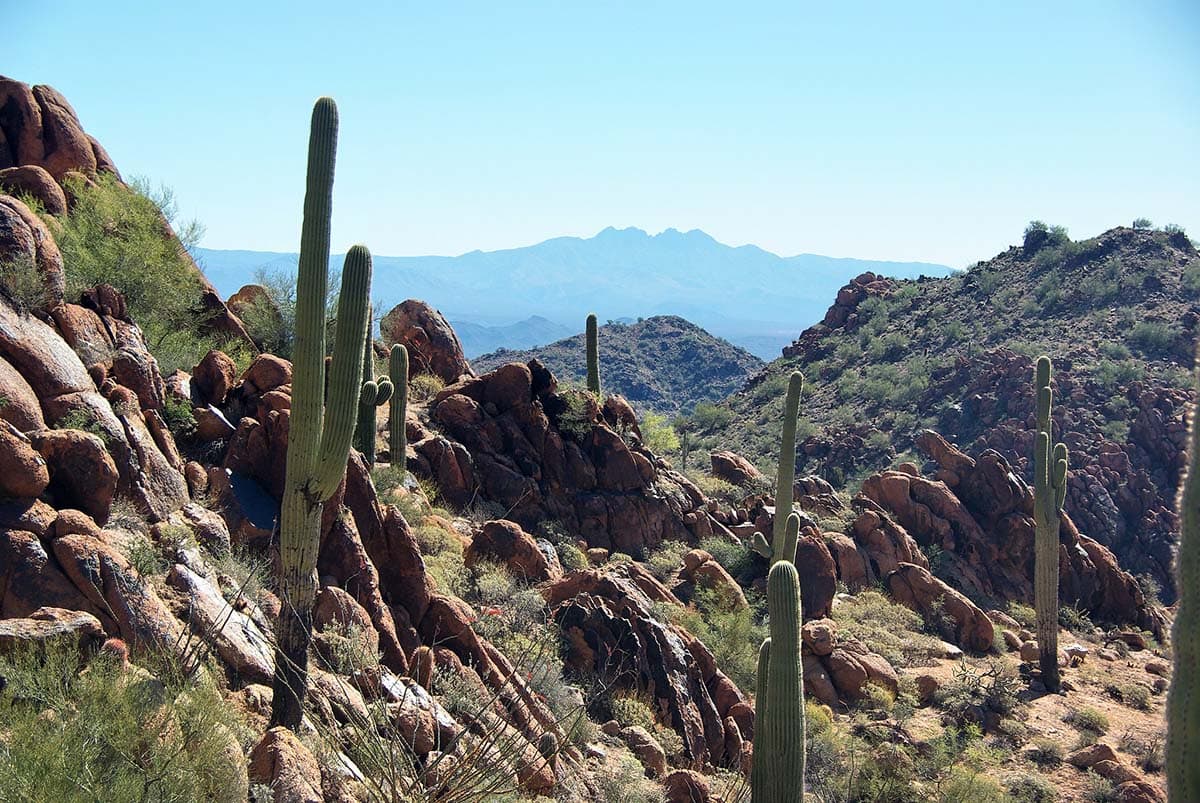 Why you should go: Gaze across the Valley at Camelback Mountain, Piestewa Peak, and South Mountain from atop Sunrise Peak.
Distance: 3.6 miles
Elevation Gain: 1,100 feet
Difficulty: Challenging
Sunrise Trail will get your blood pumping and can be another conquered summit to add to your list. You can expect switchbacks and a steady incline up to the peak. About one mile in, the climb gets more challenging as the views get significantly better.
In addition to Camelback Mountain, Piestewa Peak, and South Mountain, you'll also get views of the Superstition Wilderness and several other peaks within the McDowell range.
6. Bell Pass/Windgate Loop
Why you should go: To escape the city and the crowds without having to leave the Valley entirely.
Distance: 10 miles
Elevation Gain: 1,750 feet
Difficulty: Moderate / Challenging
You can tackle this trail two ways — start at Windgate and work clockwise to Bell Pass for a more strenuous hike, or work counterclockwise for a more intermediate trek. Regardless of which path you choose, a 10-mile hike is going to get you in the zone.
Don't get discouraged by the crowds at Windgate, either. It's a popular trailhead, but the masses will thin out the deeper into the hike you get. Before you know it, you'll be alone with your thoughts. During your trek, keep an eye out for kivas — ceremonial sites for the Natives that used to occupy the area.
Pinnacle Peak Park
Across the way from the Scottsdale McDowell Sonoran Preserve is Pinnacle Peak Park, also owned and operated by the City of Scottsdale. Within its 150 acres, the park offers one main trail that only accommodates hikers, joggers, and climbers. Horseback riding, mountain biking, and dogs are not permitted.
In addition to self-guided adventures, the park also hosts events like astronomy night, native plant drives, and moonlight hikes. Pinnacle Peak Park is a hub for the Scottsdale hiking community and accomodates hundreds of visitors in a day during peak season.
Pinnacle Peak Park gets its uniqueness from the decomposed granite that makes up the mountain. It's a desert wonderland waiting to be explored.
7. Pinnacle Peak Trail
Why you should go: To wind through a spectacular granite boulder field on a satisfying trail that doesn't leave you winded by the end.
Distance: 3.5 miles
Elevation: 1,300 feet
Difficulty: Moderate
This one-and-only hiking trail in Pinnacle Peak Park is a blend of ups, downs, and leveled trekking. There are great opportunities for spotting wildlife here, like jack rabbits and road runners.
Depending on the time of day you choose to hike, you may even see coyotes and mule deer. They're usually out and about during dusk and dawn. Keep in mind that this trail is not a loop trail, but rather an over, around, and back trail. When you reach the long descent, just remember you still have to hike out the same way you came.
Cave Creek Regional Park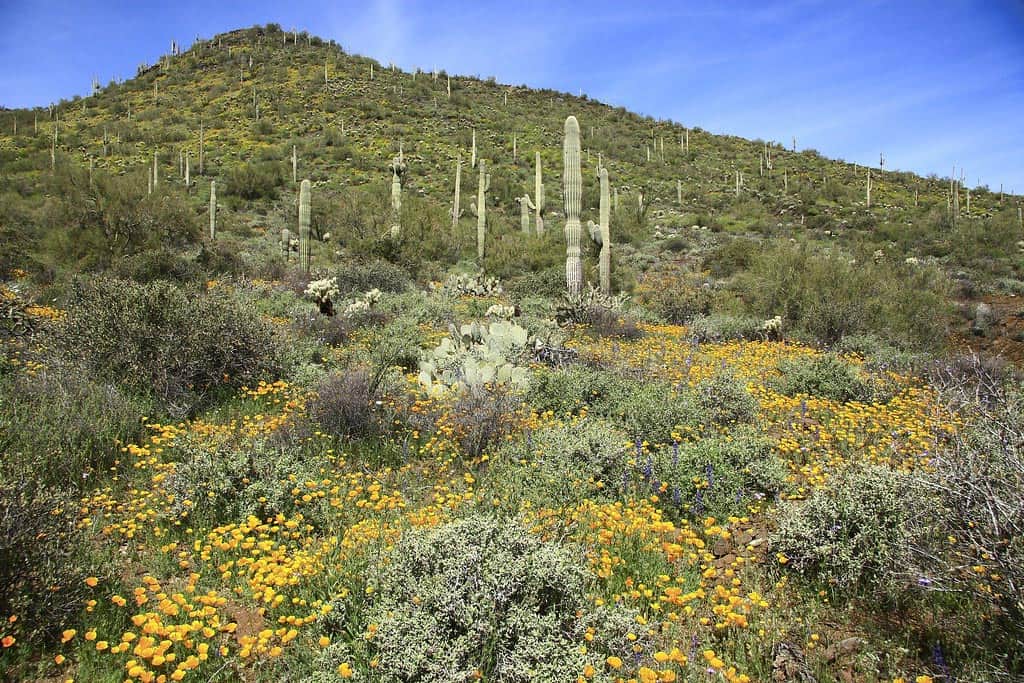 Cave Creek Regional Park gets its name from the seasonal creek that runs right through the preserve. The "Cave" of Cave Creek is a large cave that was used as shelter by early settlers. The Hohokam Tribe lived in the region from 800 A.D. to 1400 A.D., and you will most likely come across remains of their lifestyle, like irrigation ditches, petroglyphs, and stone huts.
The park is almost 3,000 acres with eight different trails — several of which can be linked to build your own trail how you see fit. There is an entrance fee of $7, but it's well worth it once you begin meandering through this Sonoran Desert oasis. This park allows mountain biking, horseback riding, and pups.
8. Slate Trail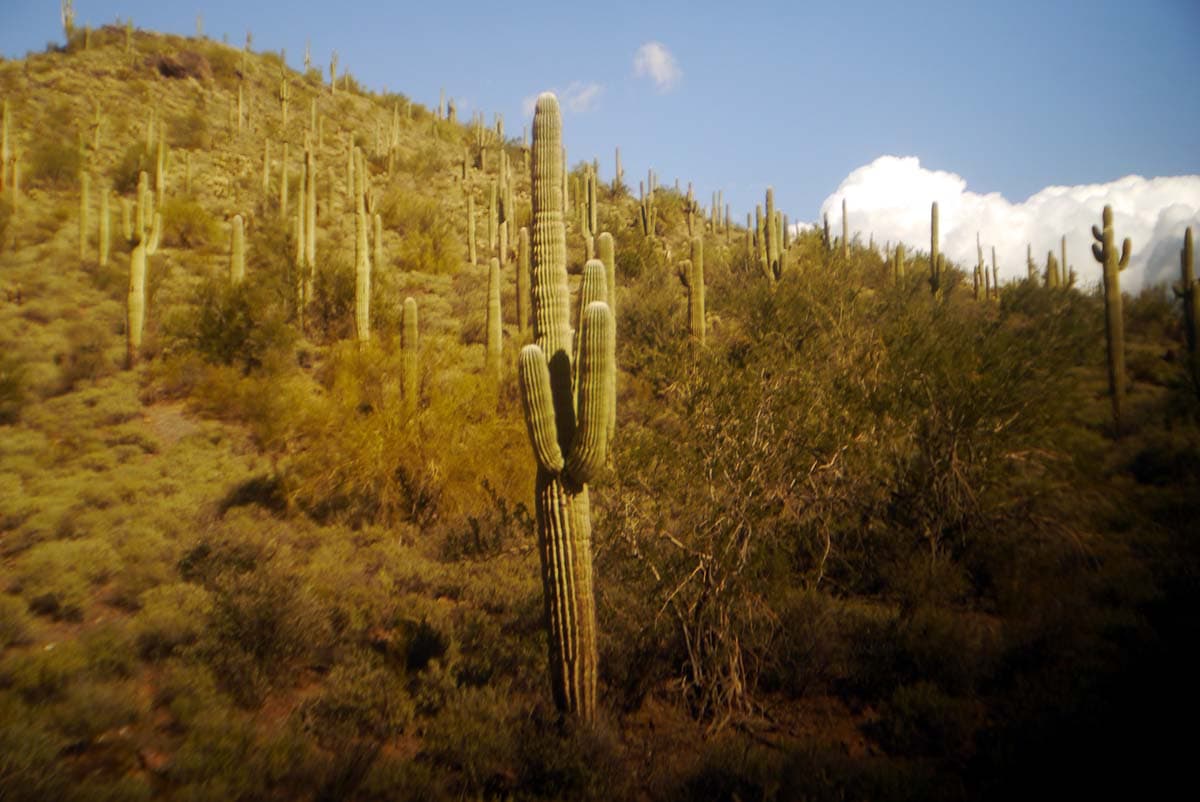 Why you should go: A less-traveled trail ideal as a hike for the whole family.
Distance: 4 miles
Elevation: 300 feet
Difficulty: Easy
The Slate Trail is a rocky one but remains leveled out (no mountain climbing here). If you're a wildflower chaser, definitely put this trail on your list for when the season rolls around. This trail also connects to the Go John Trail (listed below) and the Quartz Trail if you want to kick it up a notch and make it a loop. This trek does not offer shade, though, so keep that in mind for the timing of when you choose to do this hike.
9. Go John Trail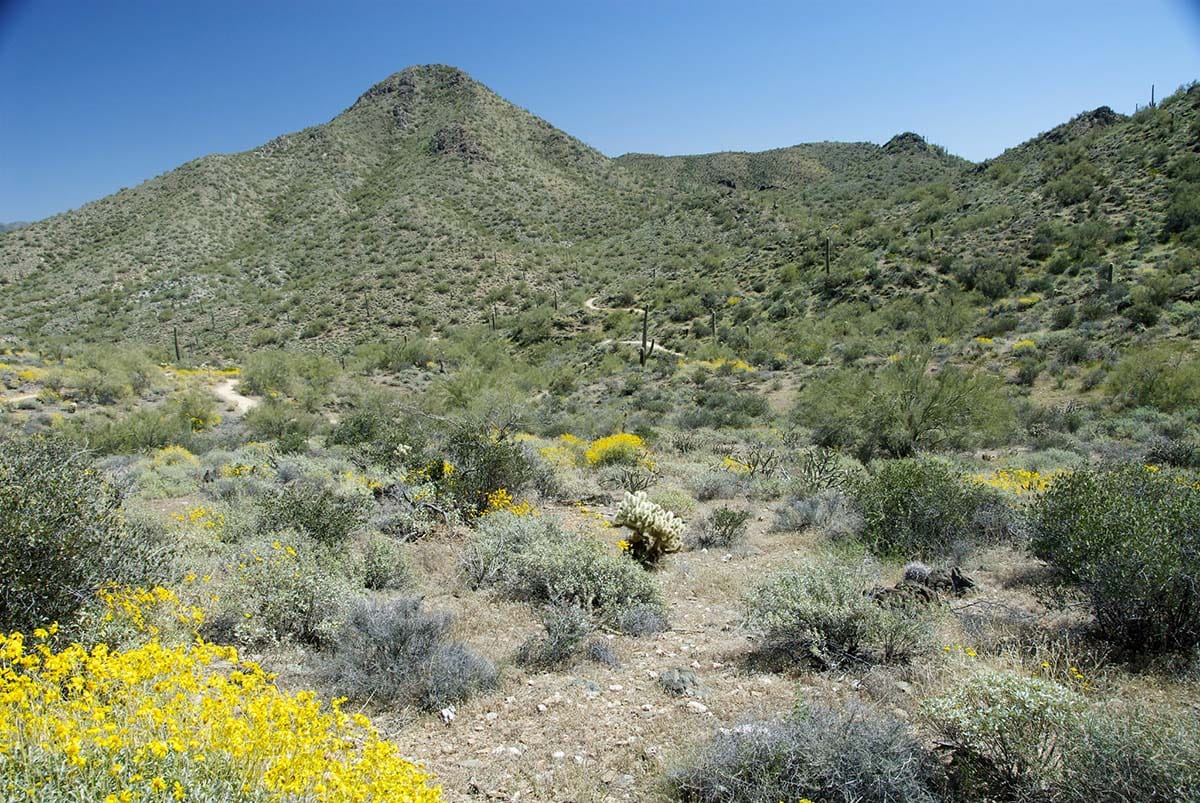 Why you should go: A go-to wildflower hike in February and March.
Distance: 6 miles
Elevation Gain: 850 feet
Difficulty: Moderate
The Go John Trail offers some interval terrain that will get you into the hiker flow. And after those six miles, you'll be ready for a proper, post-trek meal. If you'd like to hike alongside the springtime blossoms, head out on this trail in March.
Also, keep an eye out for a rock formation that's been dubbed "the waterfall." If you didn't already take a guess, there is an area where a series of rocks resemble what looks like a waterfall, but without the water.
10. Black Mountain Trail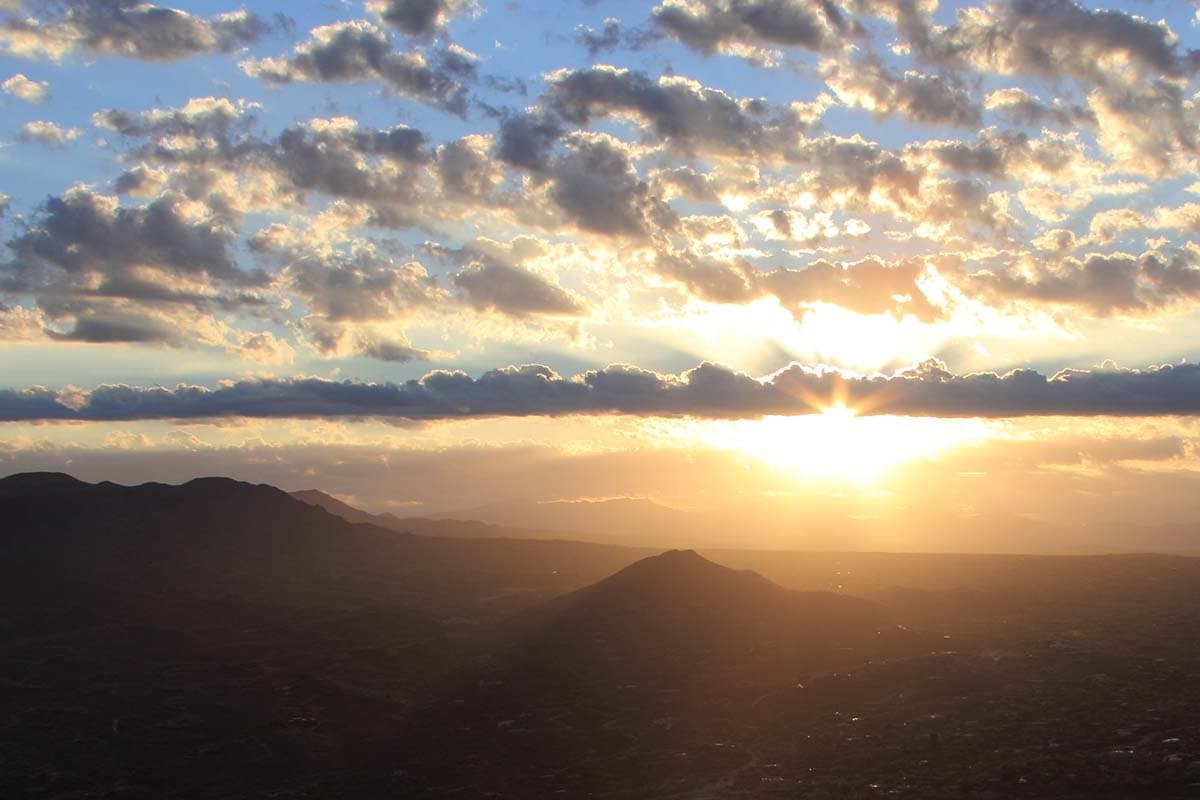 Why you should go: This summit trail will get you in shape for your next big backpacking trip.
Distance: 2.2 miles
Elevation Gain: 1,200 feet
Difficulty: Challenging
Not everyone wants to get a workout with weights at a gym, and that's where treks like the Black Mountain Trail come in handy. This hike is comparable to Echo Canyon at Camelback Mountain with half the amount of people. There's scrambling and panoramic views that make it all worth it.
In case you have a 4-day backpacking trip in the Grand Canyon coming up, this hike will help you mentally and physically prepare. Pay extra attention to signage to ensure you don't wander off onto private property. This trail is outside of Cave Creek Regional Park, but is located in the general region.
McDowell Mountain Regional Park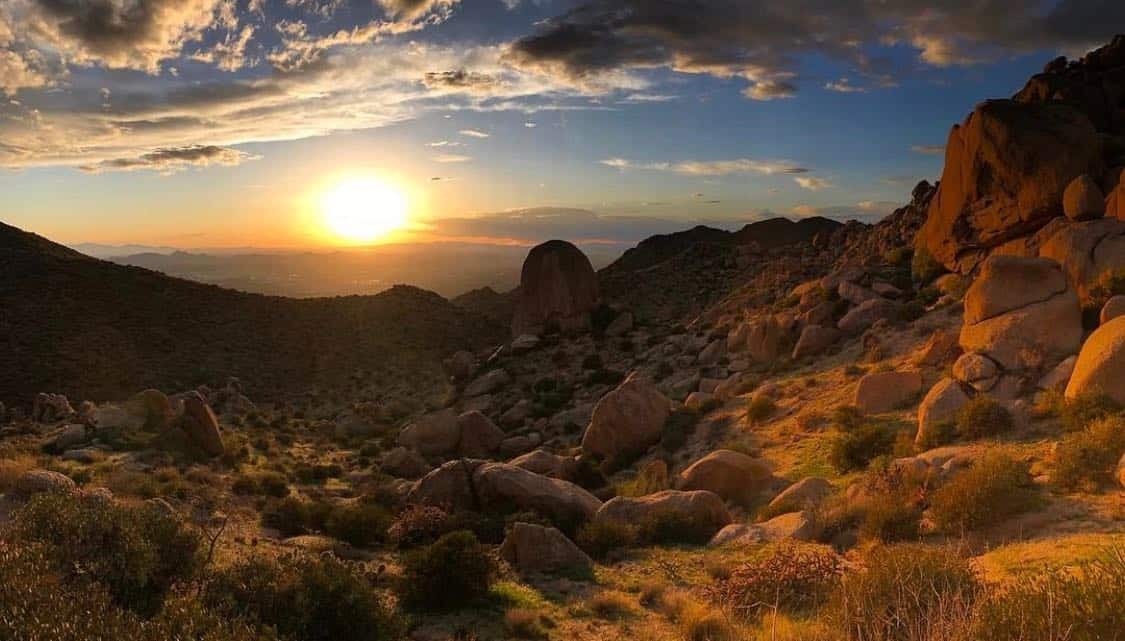 Out of all the regional parks in Maricopa County, McDowell Mountain Regional Park is the largest at over 21,000 acres. With over 40 miles of hiking trails, this is known as the regional park with the most captivating views. This park allows mountain biking, horseback riding, and your four-legged friends.
Located on the east side of the McDowell Mountains, this park is adjacent to the busier McDowell Sonoran Preserve.
Like the Cave Creek area, the park was once home to the Hohokam Tribe nearly 2,000 years ago. While trekking through this park, keep your eyes peeled for petroglyphs and other remains of their hunting and gathering sites.
11. Scenic Trail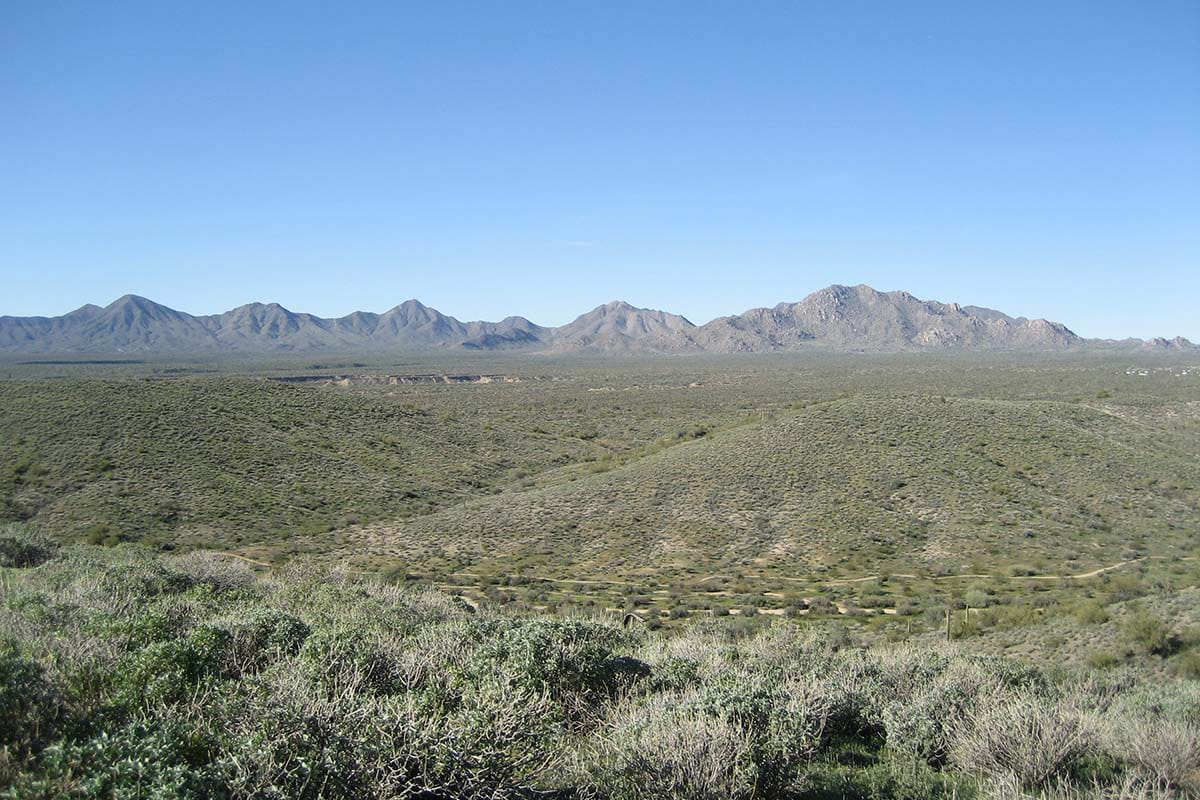 Why you should go: Walk through a geological paradise.
Distance: 3.5 miles
Elevation Gain: 350 feet
Difficulty: Moderate
At one point in time, the Verde River flowed through the wash that is now the Scenic Trail. The river carried indigenous rock from southern Arizona and northern Mexico, making this trail not only a haven for geologists, but also for environmental historians. This trail is a mix of Verde Valley lusciousness and classic desert that all Phoenicians know and (hopefully) love.
12. Pemberton Trail
View this post on Instagram
Why you should go: Defeat the longest hike in McDowell Mountain Regional Park.
Distance: 15.3 miles
Elevation: 850 feet
Difficulty: Challenging
If you're the type of person that enjoys losing yourself in the depths of the mountains, look no further than the Pemberton Trail. Or, if you're a trail runner, or you're seeking a workout and don't want to opt for a summit trail, this ones for you.
The Pemberton Trail is a loop trail that you can tackle from either direction, but because of its length, it'll be strenuous regardless of the course you choose. You're probably going to starving after this trek, so it may be wise to stop in Fountain Hills for some grub after you're done. If you don't want to do the loop, that's cool, too. There are plenty of exits along the way.
13. North Trail
View this post on Instagram
Why you should go: To appreciate the beauty of an area that didn't get torched by the Rio Fire.
Distance: 3.1 miles
Elevation: 150 feet
Difficulty: Easy
The North Trail is carved out in an area of the park that was not affected by the Rio fire in 1995. It was one of the largest wildfires the Valley has seen — burning nearly 23,000 acres of desert landscape. Any outdoor enthusiast knows that nature does heal.
It's a relief to see new growth in areas that used to be nothing but chard. But this process takes time. The North Trail is a reminder of what the environment looked like before the flames. It's also an easy trek if you're not trying to work yourself out, but just need some fresh air and a stroll.
Hike More in Arizona
Get epic travel ideas delivered to your inbox with Weekend Wanderer, our newsletter inspiring more than 10,000 readers every week.
---