We research, evaluate and select travel destinations based on a number of factors, including our writers' experience, user reviews and more. We may earn a commission when you book or purchase through our links. See our editorial policy to learn more.
---
When you're picturing the Alpine Lakes Wilderness, the name says it all.
The Alpine Lakes Wilderness encompasses 390,000 acres of some of the most enthralling wilderness Washington has to offer. Located in the Central Cascades, the Alpine Lakes Wilderness features over 700 lakes, 615 miles of trail, and a 67 mile stretch of the legendary Pacific Crest Trail.
Rock climbers swarm here for the famous Cashmere Crags, and backpackers are drawn by the majestic landscape of The Enchantments.
If you happen to strike out on The Enchantments lottery, don't worry — you're still in luck. Choose any of the other Alpine Lakes Wilderness hikes and you'll find yourself a winner.
Following is a list of our favorite hikes in the Alpine Lakes Wilderness. Whether you have time for a quick afternoon stroll, all-day hiking adventure, or multi-day backpacking expedition, you're sure to find a winner with any of these scenic trails.
Related Read: The Ultimate Portland to Seattle Road Trip Itinerary
Best Day Hikes in Alpine Lake Wilderness
Don't forget to pick up an Alpine Lakes Wilderness map before you head out into the thick of it.
1. Snow Lake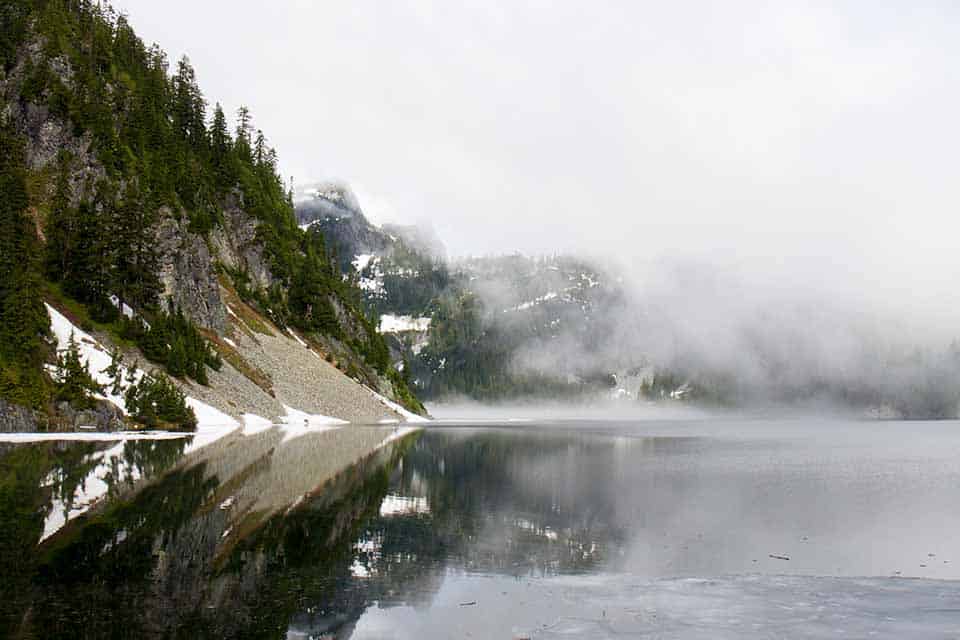 Why you should go: Visit one of the most popular and scenic lakes in the Alpine Lakes Wilderness.
Distance: 6.4 miles
Elevation gain: 1,669 feet
Difficulty: Moderate
Don't let the crowds turn you away from this uber-popular destination. Snow Lake is a vision to behold and one worth waking up at dawn to explore.
The trail to the lake is well maintained and very much an alpine lover's dream. You'll wind through old-growth forest and mountainous snowfields, with each unique landscape eliciting its own wonderment.
Don't expect the whole route to be easy going, though. The hike out will require some work on your part as you switchback through rocky slopes. Fortunately the switchbacks don't last long before you reach your final destination, so it's a quick grind that's easily doable for most hikers.
Related Read: 11 Backpacking Trips in the U.S. That Should be on Your Bucket List
2. Denny Creek Trail To Keekwulee Falls
Why you should go: A gentle stroll to a natural waterslide and waterfall that the kids will be crazy about.
Distance: 3.8 miles
Elevation gain: 1,108 feet
Difficulty: Easy
Load up the family wagon and spend the day picnicking at Denny Creek. This spot is a family favorite thanks to its easy-breezy trail grade and refreshing swimming hole.
About a mile from the trailhead you'll find a spot for water play. Granted conditions are right, you can take a dip in the creek and slip on down the natural waterslide. Just be mindful of your step and the current.
If the kiddos aren't too tuckered out, press on for more family fun at Keekwulee Falls. Less than a mile from the natural waterslide, Keekwulee Falls is best enjoyed in the afternoon when a healthy dose of direct sunlight means waterfall rainbows may be in sight.
Related Read: 10 Scenic Drives in Washington State That'll Blow Your Mind
3. Granite Mountain
Why you should go: An exhilarating trek up the south side of a mountain to a panoramic view and a lookout tower at 3,800 feet.
Distance: 8.1 miles
Elevation gain: 3,730 feet
Difficulty: Challenging
Granite Mountain isn't for the faint of heart. This heart-pumping trek switchbacks up a steep ascent of nearly 3,800 feet before reaching the summit.
Gaze out into the distance and you'll have views of Rainier and the Olympic Peninsula on a clear day.
As you climb to the top, you'll be traveling along the south face of Granite Mountain through avalanche tracks and a sensitive alpine ecosystem. Watch your footing and stay on the trail.
If you happen to be hiking early in the season, be prepared to encounter snowy slopes.
Best suited for the experienced hikers, Granite Mountain is a solid day romp for those seeking exhilarating terrain.
4. Lake Ingalls
Why you should go: Hike through a range of ecosystems before reaching the deep blue waters of Lake Ingalls.
Distance: 9 miles
Elevation gain: 2,500 feet
Difficulty: Moderate / Challenging
Lake Ingalls may cover a lot of ground for a day hike, but the scenery will have you forgetting all about your weary feet. As one of the most popular hikes in the Alpine Lakes Wilderness, Lake Ingalls certainly won't disappoint.
Hikers will encounter a variety of alpine ecosystems, ridgetop views, and of course the deep blue lake — but not without a steady climb first.
As you break from the forest, you begin your switchback through open meadows. Views of Mount Stuart and Esmeralda Peaks will greet you along the way, luring you to continue steadily to the lake.
Related Read: 9 Amazing Lake Camping Sites in Washington
Alpine Lakes' Best Backpacking Trails
5. The Enchantments
Why you should go: The holy grail of the Alpine Lakes Wilderness.
Distance: 26 miles
Elevation gain: 6,500 feet
Difficulty: Challenging
It would be utter blasphemy not to mention The Enchantments in any conversation about the Alpine Lakes Wilderness trails. Number one on this bucket list, The Enchantments are what legends are made of.
Words don't do The Enchantments justice. The pristine beauty of this hike is as majestic as it is daunting. Perhaps this is why many of the places possess mystical names like Dragontail Peak.
There are only a handful of routes you can take, all of which demand every ounce of strength you've got. One of the most strenuous portions is Aasgard Pass, where you'll gain around 2,000 feet in less than a mile.
The extraordinary Enchantment Lakes Basin is worth every huff and puff of the way. Glacier worn rocks, pristine lakes, craggy snow covered peaks, subalpine larches, and salt loving mountain goats all reside here.
If you happen to strike it rich in the lottery, grab your backpacking gear and prepare for an epic journey. If you couldn't get an overnight pass, you can still experience this area with a worthy hike out to Cholchuck Lake.
6. Deep Lake
Why you should go: A waterfall-fed lake with the rugged Cathedral Rock towering in the background.
Distance: 14.5 miles
Elevation gain: 2,150 feet
Difficulty: Moderate
Deep Lake is a promising overnighter for alpine lake enthusiasts and backpackers with a couple trips under their belt.
Starting at the Cle Elum River crossing, you'll begin your journey through old-growth forest. As the trees thin, views of the rugged Cathedral Rock and Granite Mountain appear upon the horizon.
Press onward to a section of the PCT before reaching your final destination.
Take a dip in the cool water and pitch your tent lakeside. The towering peak of Cathedral Rock sets the mood for the pristine waterfall-fed Deep Lake resting below.
For those looking to extend their journey, pack about nine more miles into the trip by trekking out to Waptus Lake.
Related Read: The 14 Best Hikes in North Cascades National Park, Washington
7. Upper Wildcat Lake
Why you should go: Visit Snow Lake, Gem Lake, Lower Wildcat Lake, and Upper Wildcat Lake on an epic two-day trek.
Distance: 17 miles
Elevation gain: 4,000 feet
Difficulty: Challenging
Push past the hoards of hikers flocking to Snow Lake and find peace trekking out to Upper Wildcat Lake.
Nestled among a rugged landscape, Upper Wildcat Lake offers more solitude along a less traveled path.
Along the way you'll pass by Gem Lake tucked below Wright's Mountain. Rest here for the night or continue on. As you pass the lake, you'll wander through meadows, tread a narrow switchback, and traverse a talus slope.
At mile eight you'll reach a remote basin, where you'll find the forested Lower Wildcat Lake. While it may be tempting to stay, the apex of your journey is right around the corner.
8. Spectacle Lake
Why you should go: A relatively easy trek out to a picturesque alpine lake with spots for lakeside camping.
Distance: 22 miles
Elevation gain: 1,500 feet
Difficulty: Easy-Moderate
At a single glance, it's not hard to see what all the fuss is about. The sparkling Spectacle Lake presents quite the scene resting among the snow capped peaks of Chikamin Peak and Lemah Mountain.
Beginner backpackers will appreciate the relatively gentle grade out to the lake. While there are several ways to get there, we recommend starting at the Pete Lake Trailhead.
You're likely to find a good amount of company here as Pete Lake is about four miles in. As the crowds thin out past the lake, you'll encounter Lemah Creek. If the water is safe for crossing, ford the creek and continue to the Spectacle Lake spur.
Not far from the spur, you'll reach Spectacle Lake. Several social trails lead to campsites, with the south side offering some of the best.
Related Read: The 17 Best Hikes in Crater Lake National Park, Oregon
9. Jade Lake
Why you should go: A moderate trek out to a striking turquoise blue glacier-fed lake.
Distance: 21 miles
Elevation gain: 4,500 feet
Difficulty: Moderate
Jade Lake is one of several lakes tucked away in Necklace Valley. The road out is rough, the lake is small, and water is frigid — which is precisely why you should hike there.
While Jade Lake doesn't draw in the crowds quite like Snow Lake, it's just as spectacular nonetheless.
En route, you'll wander along decent tread that meanders through cedar groves, rocky slopes, and at times swampy terrain.
A vibrant turquoise blue, Jade Lake's jarring color is a striking contrast to the craggy peaks. Take a dip if you dare. This alpine lake is glacier fed.
While you're here, you can extend your trip and explore the other lakes in the valley.
10. Cathedral Pass & Deception Pass Loop
Why you should go: A short yet challenging overnighter to the scenic Hyas Lake and cloud-piercing Cathedral Rock.
Distance: 13.7 miles
Elevation gain: 3,067 feet
Difficulty: Challenging
Don't be fooled by the mileage — hiking Cathedral Pass and Deception Pass comes with a challenge. If you're game, read on.
Beginning at Tuquala Meadows, you'll climb gently through the forest to Hyas Lake. Grab a snack and take in the view because the smooth sailing won't last. Difficult creek crossings, snowy terrain, and grueling switchbacks all lie ahead.
Like any great backpacking trail, the reward is worth the grind. The cloud piercing Cathedral Rock and Mount Daniel are certainly the highlights, while the alpine meadows, river valley, and tranquil Hyas Lake aren't too shabby themselves.
If you find descents hard on the knees, consider opting to do the loop clockwise. Just be prepared to tackle the 2,000+ foot ascent from Cathedral Rock Trail to the PCT Junction.
Related Read: 16 Best Hikes Near Spokane, Washington
11. PCT Section J: Snoqualmie to Stevens Pass
Why you should go: A grueling and remote photographic section of the PCT that crests the Cascades.
Distance: 67 miles
Elevation gain: 16,000 feet
Difficulty: Challenging
The Snoqualmie to Stevens Pass section of the PCT is purely breathtaking. For 67 miles you'll traverse the Alpine Lakes Wilderness while encountering numerous lakes, meadows, jagged peaks, and old-growth forest.
Be prepared, however, for a notable amount of elevation change. Cresting the Cascades will cost you 16,000 feet in elevation, so this section is best left for experienced backpackers.
Also, keep in mind that Section J is remote. No roads cross the trail here, which means no resupplying. Plan on taking enough food for a five day journey, give or take. As it's a section hike, you'll also need to plan for a shuttle vehicle or pickup if you don't want to retrace your steps.
Hiking Tips For The Alpine Lakes Wilderness
Permits
Day use and overnight wilderness permits are required for several of the hikes in the Alpine Lakes Wilderness. Day use permits are free and are self-registered at the trailhead.
For overnight permits, check with the ranger station or reserve a wilderness permit online at Recreation.gov.
If you're planning on backpacking The Enchantments from May 15 through October 31, you can obtain a permit on Recreation.gov or the Wenatchee River Ranger Station daily lottery.
Maps
As a Washington resident, Green Trails maps have become my bible for navigating the outdoors. These maps incorporate an incredible amount of detail, from topo to forest roads to trails.
I recommend packing map 176s Alpine Lakes West-Stevens Pass and any map covering the surrounding terrain your hiking may entail.
Plants & Wildlife
The Alpine Lakes Wilderness is home to a variety of ecosystems, including fragile alpine habitats. It's important to be mindful of your step and stay on the trail to help preserve these sensitive habitats.
Also, be on the lookout for mountain goats. Native to the Cascades, relocation efforts have been underway to remove invasive Olympic mountain goats to the Cascade region, increasing their population size.
If you encounter a mountain goat, keep your distance. Over the years they have become habituated to humans and can be aggressive.
Keep Exploring Washington
Sign up for Weekend Wanderer to join 10,000+ readers getting epic travel ideas every week.
---