Hosting 100+ miles of the Continental Divide Trail and astounding mountain scenery, Wyoming's Wind River Range offers more to explore beyond the Tetons, Medicine Bows, and Yellowstone National Park.
The Wind River Range is located in western Wyoming, just south of the Tetons and Jackson Hole. Composed mostly of National Forest land and the Wind River Reservation, the Winds are protected by three quarters of a million acres of public lands.
The Wind Rivers humbly hide 30 peaks over 13,000 feet, including Wyoming's tallest mountain — Gannett Peak. The ancient mountain range boasts the most extensive glacial network in the lower 48 states, featuring 130 glaciers and 1,300 pristine alpine lakes filled with trout.
The town of Pinedale is the gateway into many of the Wind River trailheads. It's conveniently situated right in the middle of the range, providing ample opportunities to stock up on food, water, and supplies in this beautiful part of the country.
Ready to lace up your boots and hit the trail? Here's our take on the best day hikes in the Wind River Range.
Related: 10 of the Best Airbnbs in Jackson Hole, Wyoming
Rainbow Lake Trail
Why you should go: Start at 10,000 feet and explore Rainbow Lake on this easy-going trail.
Distance: 4.4 miles
Elevation gain: 507 feet
Difficulty: Easy
The Rainbow Lake Trail begins at Dream Lake, which is right along the Continental Divide Trail. The sight of the Continental Divide towering over the picturesque Dream Lake is fantastic, so plan to spend a few minutes here soaking in the views before you start your adventure.
The quick-and-easy trail slowly gains elevation until you reach Rainbow Lake. The trail then follows a loop around the lake before returning back to the original junction. Given the easy elevation gain and well maintained trail, this is a great choice for families.
Rainbow Lake is a popular fishing destination, so hikers typically bring along fishing poles to spend a relaxing afternoon on the water.
More Information: Hiking Project
Additional Read: 11 Amazing Wyoming Cabin Rentals To Warm Your Soul
Lower Green River Lakeside Circuit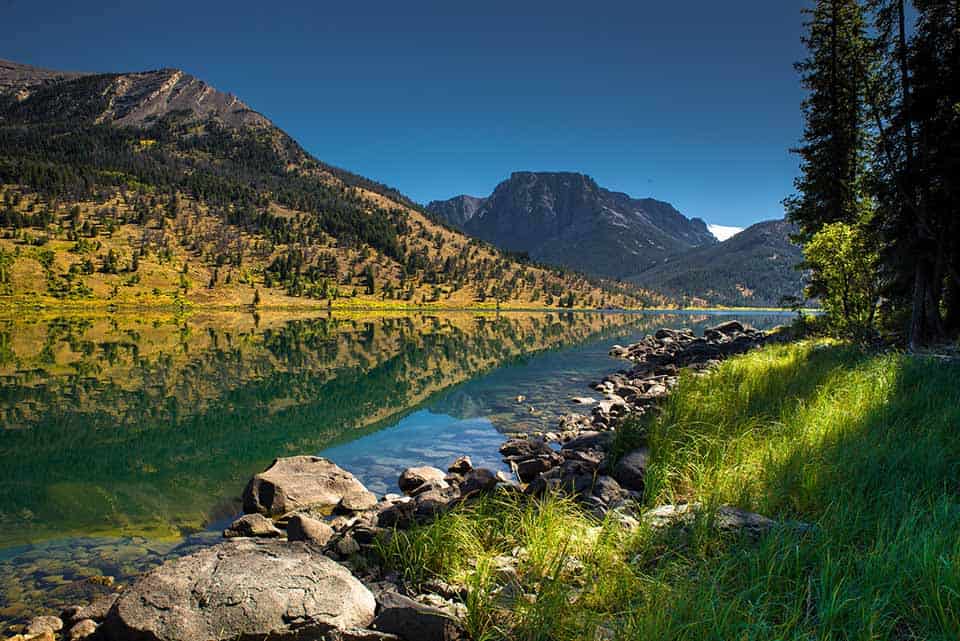 Why you should go: No need for lengthy trips here — views of Squaretop Mountain and alpine lakes are easily accessible from the Lower Green River Trail.
Distance: 6.5 miles
Elevation gain: 574 feet
Difficulty: Moderate
It's easy to reach the Lower Green River Lakeside Circuit from Dubois, and you'll enjoy stellar views from start to finish on this scenic trail. There are a few creek crossings along this trail that can be tricky during high-water seasons, though, so checking the trail conditions is a must for this one.
One section of this trail lies along the Highline Trail/Continental Divide Trail, delivering epic views of the iconic Squaretop Mountain, White Rock, and Lower Green River Lake.
Note that on AllTrails, you can hike this as an out-and-back trail by following the Lower Green River Lake Trail. To create a loop, you'll just want to follow the Lakeside Trail back to the trailhead.
The Lakeside Trail takes you deep into the forest of the Wind River Range, giving you a broad perspective of the magnificent range.
More Information: Hiking Project
Additional Read: The 11 Best Airbnbs Near Grand Teton National Park
Big Sandy Lake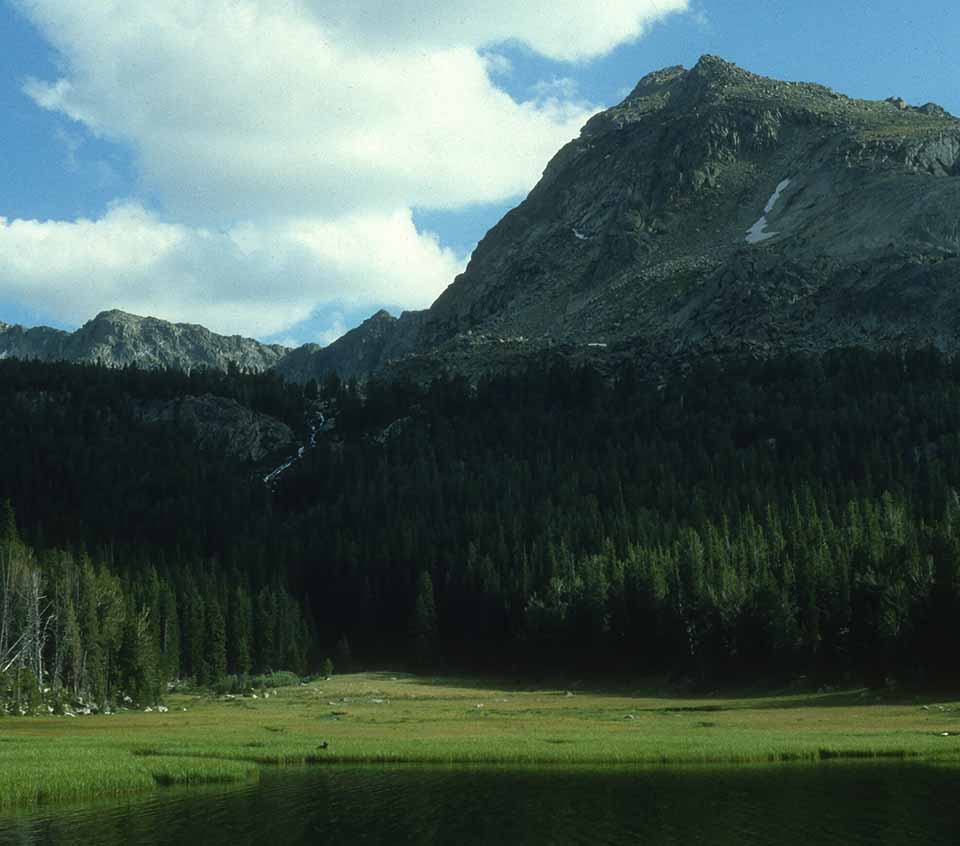 Why you should go: Explore one of the Winds' most popular trails to reach Big Sandy Lake.
Distance: 11.5 miles
Elevation gain: 889 feet
Difficulty: Moderate
Don't let the length of the Big Sandy Lake Trail deter you! The small amount of elevation gain makes this trail easy to complete in a day, and the trailhead is easily accessible from Pinedale or Lander.
An easy six mile hike to Big Sandy Lake provides spectacular views along the way. Fishing and backpacking are popular here, so bring your pack, tent, and fishing pole to make this a fun overnighter.
The Big Sandy Trailhead is the gateway to several popular backpacking trails, so you will pass more hikers here than in other areas. It's worth sharing the trail with more hikers, though, as the dramatic peaks surrounding the Big Sandy Lake Trail will not disappoint!
More Information: AllTrails
Additional Read: 12 Best Airbnbs in Wyoming for a Taste of the American West
Slide Creek Falls Via Slide Lake Trail
Why you should go: Discover a hidden treasure while enjoying sweeping views along the Slide Lake Trail.
Distance: 3.5 miles
Elevation gain: 498 feet
Difficulty: Easy
Slide Lake Trail is a wonderful, well-maintained trail that's the perfect addition to any adventure itinerary. Snow sticks around here pretty late, and the lake can be icy until then, too, so be sure to check trail conditions before heading out to avoid a snowy surprise.
Slide Creek Falls is a unique waterfall that's not very known unless you look at a topo map. The falls run right along the Slide Lake Trail, so no extra hiking is required to reach this — though you'll definitely want a top map to help you find the waterfall.
Slide Lake Trail features beautiful views throughout. The small lake draws far fewer anglers than other hikes in the area, meaning hikers here will enjoy a quieter, more secluded trail.
More Information: AllTrails
Lozier Lakes/New Fork Trail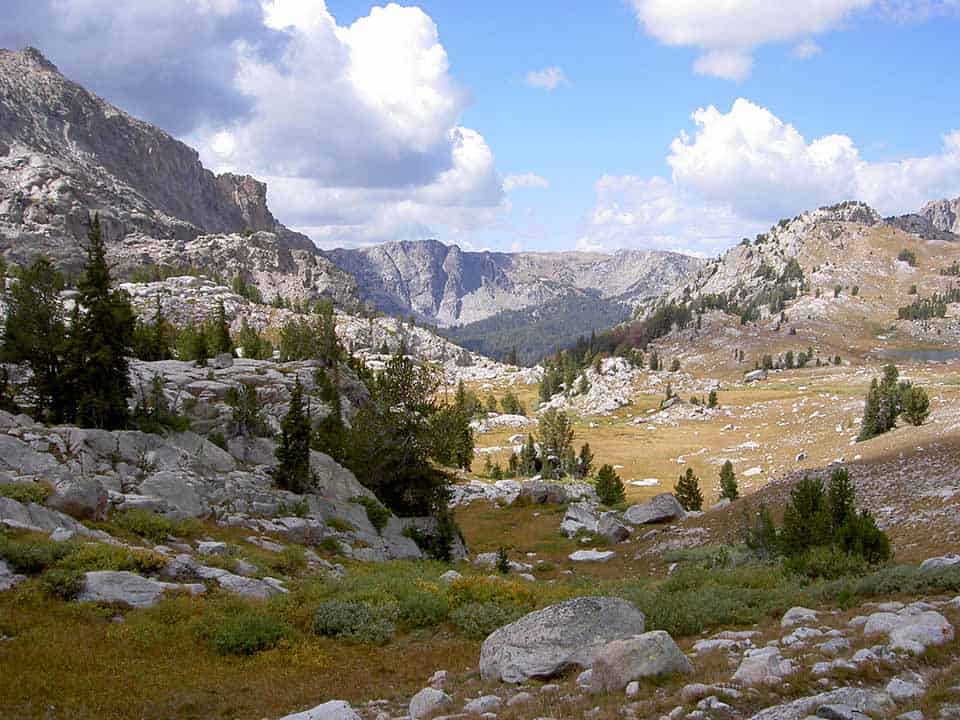 Why you should go: Dive deep into the Winds to gain views of its well-known high peaks and crystal alpine lakes.
Distance: 8.7 miles
Elevation gain: 1,890 feet
Difficulty: Moderate-Difficult
Best reached from Pinedale, this trail goes by a few names. Most commonly referred to as New Fork Trail, the trailhead sign actually says Lozier Lakes, and the Forest Service labels it as Clark Creek #7185.
No matter what you call it, this trail is undeniably beautiful. The large amount of elevation gain is absolutely worth the trek. With alpine lakes above the timberline surrounded by nothing but dramatic mountain peaks, I don't know of another day hike that even comes close to New Fork Trail
More Information: Hiking Project
Pole Creek Trail To Photographer's Point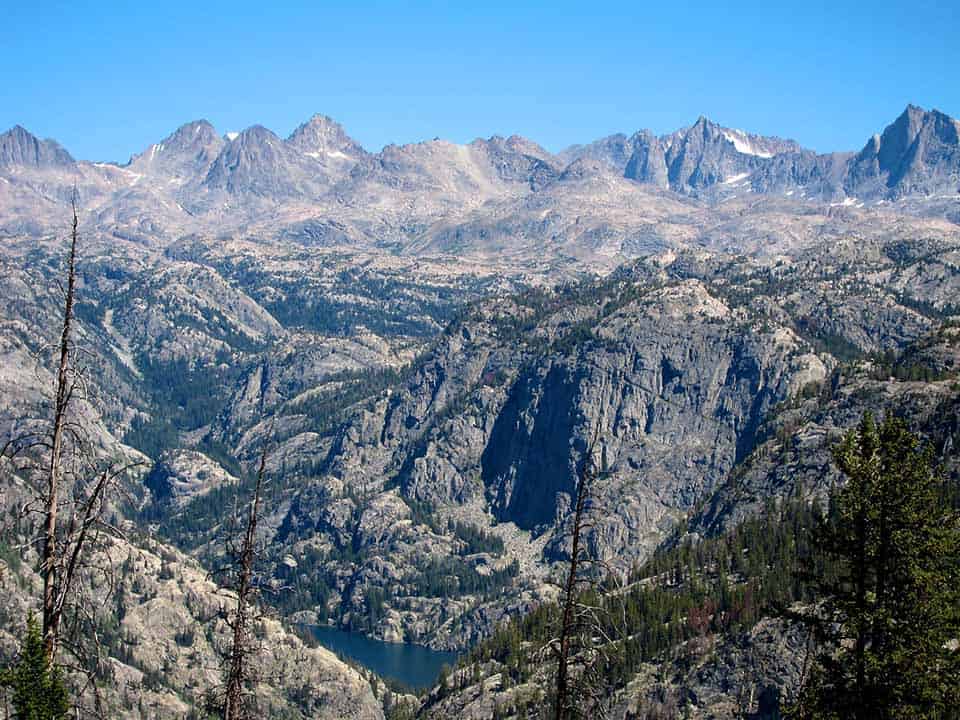 Why you should go: Arguably the most popular day hike in the Wind River Range, Photographer's Point never fails to impress with its stunningly picturesque scenery.
Distance: 9 miles
Elevation gain: 1,890 feet
Difficulty: Moderate
If you only have time for a single day hike through the Wind River Range, follow the Pole Creek Trail to Photographer's Point. Labeled "Pinedale's most popular day hike," this hike is a guaranteed winner if you can handle the distance.
Why is this hike so popular? It's in the name! Vast views of the Wind River Range's glaciers and towering peaks proudly give this lookout its name, where photographers come from all over the world to capture Wyoming's iconic steep and jagged peaks.
From the Pole Creek Trail, you will see a trail that diverts and is labeled as Photographer's Point. Pole Creek Trail is another trail that takes off from the Big Sandy Trailhead and is the gateway to the Cirque of the Towers area.
Backpacking is popular from this trailhead and you'll almost always find photographers at the lookout, so trail traffic will be heavier here than other areas.
More Information: Visit Pinedale
Tips For Hiking The Winds
Day Hikes and backpacking routes are abundant throughout the Wind River Range, but the amount of use these trails see remains small compared to Wyoming's better-known parks. While hiking here, it's imperative to follow Leave No Trace principles to create a minimal impact on this wild terrain.
Dogs are allowed on National Forest trails as long as they are on leash. Pick up all dog waste as well as any human trash.
Groups must stay under 15 people. When hiking in a group, you should always stay on the trail to avoid creating erosion. If you find yourself off-trail with a group, everyone should spread out while walking. This will avoid creating a new "social" trail that leads hikers astray.
The trails of the Wind River Range begin at a higher elevation than other ranges throughout the Mountain West. Take your time to learn the symptoms of altitude sickness before embarking on your high-altitude adventure.
Higher altitude also means more inclement and unpredictable weather. Rain occurs quite frequently here, so you'll want to bring your rain jacket — even if the sky is cloudless when you leave the parking lot.
Snow usually doesn't melt until mid-May and returns in October, so it's a relatively short hiking season around here. I highly recommend checking trail conditions before committing to a trail. You can do this by contacting the National Forest Service or looking at online reviews on sites such as AllTrails or Hiking Project.
Wildlife Warning
Wildlife is abundant here, and that includes grizzly bears. Make noise as you're hiking to avoid bear encounters, never hike alone, and bring bear spray or other protection.
Mosquitoes are treacherous here in the Winds during the warmer months. September is when temperatures begin to drop low enough to get rid of the little buggers. If you can't plan your trip in September, I recommend wearing long layers and applying a healthy dose of DEET.
As mentioned earlier, there are plenty of alpine lakes to go around this beautiful mountain range, creating world-renowned fly fishing. Many short hikes here will lead up to a lake, giving you the chance to bring the fishing pole along and enjoy a few hours of fishing before heading back to the trailhead.
Hike the Rockies
Check out more of our hiking guides featuring the most epic terrain in the Rocky Mountains:
Sign up for our free email to join thousands of readers getting epic travel, hiking, camping and gear ideas every week.
---