We research, evaluate and select travel destinations based on a number of factors, including our writers' experience, user reviews and more. We may earn a commission when you book or purchase through our links. See our editorial policy to learn more.
---
The next time you're looking to book a Colorado vacation, consider staying in a tiny home for a dose of pint-sized perfection.
From rustic and minimal to modern and off-grid, these tiny homes have something to delight and inspire you.
Plus, thanks to their prime locations and relatively affordable rates, you can be assured of a great adventure no matter where in the Centennial State you choose to stay.
Related Read: 9 Best Resorts in Colorado for Rocky Mountain R&R
1. WeeCasa Resort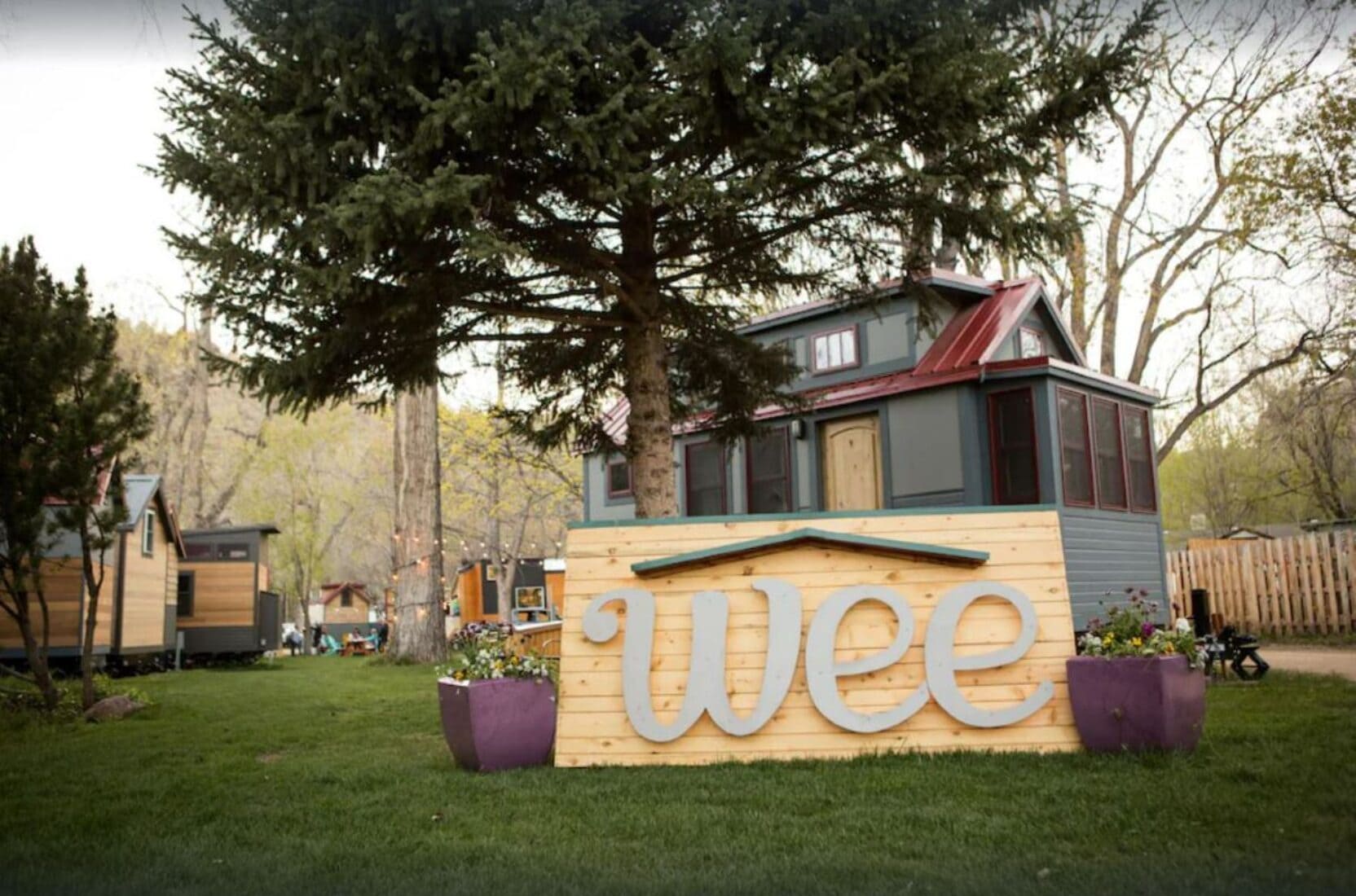 Why you should stay: Step into a carefree community that's all about the tiny home lifestyle.
Location: Lyons
Sleeps: 2
Minimum stay: 2 nights
Rates from: $169/night
This tiny home at WeeCasa Resort gives you the best feelings of a great outdoors adventure without any of the trouble of tent camping. These neat little home features all the comforts and amenities of a house, miniaturized and tucked into a memorable setting. And all this is just a three-minute walk from the shops and restaurants of downtown Lyons. This cute small town also has a variety of year-round festivities ranging from concert series to local markets.
Be sure to check out the St. Vrain River which flows through the backyard of the tiny home resort, a perfect spot for fly fishing or simply relaxing at the riverside beach. If you're into white water sports, bring your kayak for a spot of paddling. Great hiking and mountain biking trails can be found nearby at Hall Ranch. And you're only a 25-minute drive from Rocky Mountain National Park.
Check Availability
Related Read: 12 Magical Cabin Rentals in Manitou Springs, Colorado
2. The Trolley Car
Why you should stay: A tram-turned-tiny home in a delightful historic district.
Location: Colorado Springs
Sleeps: 2
Minimum stay: 1 night
Rates from: $148/night
The Trolley Car, as the name implies, was once-upon-a-time a functional train car. Though it retains a few thoughtful touches that give a nod to its transportation history, the spacious tiny home has been renovated from roof to rails. From the full-size bathroom to the fully stocked kitchen, this cozy tiny home doesn't skimp on the amenities.
The Trolley Car is located right up the road from downtown Old Colorado City, within easy walking distance of cafés, shops, restaurants, galleries, and more. This historic district dates back to 1859 and features plenty of attractions and entertainment to fill your stay. If you're looking to hit the trails, Garden of the Gods and Red Rock Canyon Open Space are a short drive up the road.
"What an amazing transformation of a Trolley into a great place to stay. They really did a first-class job of making you feel welcome. Lovely decor, snacks & breakfast food, and all within walking distance of great restaurants and shopping."
Check Availability
Related Read: 7 Cabin Rentals in Aspen, Colorado for Every Budget
3. The Golden Egg Cottage
Why you should stay: A cozy cottage designed with every detail in mind.
Location: Colorado Springs
Sleeps: 4
Minimum stay: 2 nights
Rates from: $99/night
The splendidly designed Golden Egg Cottage packs a big punch into a little space. The thoughtful furnishings and cute design make this tiny home feel like a luxury retreat. Whether you are enjoying your time in the comfortable living room or kicking up your feet on the patio, the space is arranged to make you feel at home.
The quiet neighborhood is located just west of downtown Colorado Springs — the perfect central location for all kinds of adventures. You can opt for a relaxing stroll or bike ride to nearby Boulder Park, or pop into downtown to hit up the shops, restaurants, and bars. For some fun family adventures, head to Cave of the Winds or Cheyenne Mountain Zoo.
"Adorable little spot in a nice neighborhood. The cottage is very well-designed and so cute. Lovely patio overlooking the garden & chicken coop for morning coffee or an evening glass of wine."
Check Availability
Related Read: 12 Best Places to Visit in Colorado for Unforgettable Adventures
4. Tumbleweed Tiny Home
Why you should stay: A miniature mountain chalet in a beautiful high alpine setting.
Location: Fairplay
Sleeps: 3
Minimum stay: 1 night
Rates from: $110/night
The Tumbleweed Tiny Home has a modern and minimal mountain rustic vibe. The tiny home is bright and inviting thanks to the many windows, pine wood interior, and other cozy touches. No matter what season you choose to visit, you'll be treated to some sweeping South Park views.
And if you're looking for a mountain getaway that delivers on world-class hiking, fishing, and hunting without having the crowds of the ski resort towns, Fairplay is a great small town in Colorado to explore. What it lacks in touristy amenities it makes up for in big views and lots of public lands to explore. And, should you desire a day in a "big" mountain town, you are less than an hour's drive from both Buena Vista and Breckenridge.
Check Availability
Related Read: 10 Relaxing Cabin Rentals in Breckenridge, Colorado
5. Slice of Heaven Tiny Home
Why you should stay: Who says shipping containers can't be chic?
Location: Denver
Sleeps: 2
Minimum stay: 1 night
Rates from: $108/night
This trendy tiny home is a stylishly redesigned shipping container that will make you feel like you've stepped into a Modern Living magazine. From the interior decor to the french doors that open to your own private yard, this gorgeous tiny home is clearly intended to make your stay extra special.
Located within walking distance of restaurants, shops, and cafés, this tiny home is conveniently located if you want to explore the Denver area. You are a short drive from all the activities of LoDo. Or if you want to get out of the city for an afternoon, head west to Golden or Morrison for some Front Range foothills exploration.
"This tiny home is the perfect AirBnB for two visiting beautiful Colorado! It's only a 15 min bike ride from downtown Denver (rent a Lime/Lyft bike to get there!) and is surrounded by fun restaurants and bars if you'd rather stay by the home."
Check Availability
Related Read: 12 Extraordinary Cabin Rentals in Colorado
6. Tiny Treat
Why you should stay: Riverside tiny-home living right downtown with prime access to outdoor adventures.
Location: Buena Vista
Sleeps: 4
Minimum stay: 1 night
Rates from: $149/night
The Tiny Treat is aptly named as a stay at this adorable tiny home is the perfect vacation indulgence. The interior is decked out with both modern amenities and vintage touches that make the space feel extra special. Plus, with views of the Collegiate Peaks out the window, you can't beat the setting.
The tiny home is located four blocks away from the Arkansas River where you can stroll the scenic river path or bring your kayak or SUP to get out on the water at the Buena Vista Whitewater Park. South Main Town Square is a short walk away where you can find everything from gelato and espresso to pizza and local brews. If you want to venture further abroad, the area is renowned for its hiking, biking, bouldering, trail running, rafting, fishing, and wildlife viewing.
Check Availability
Related Read: 8 Beautiful Cabin Rentals in Buena Vista, Colorado
7. The Canyon Chalet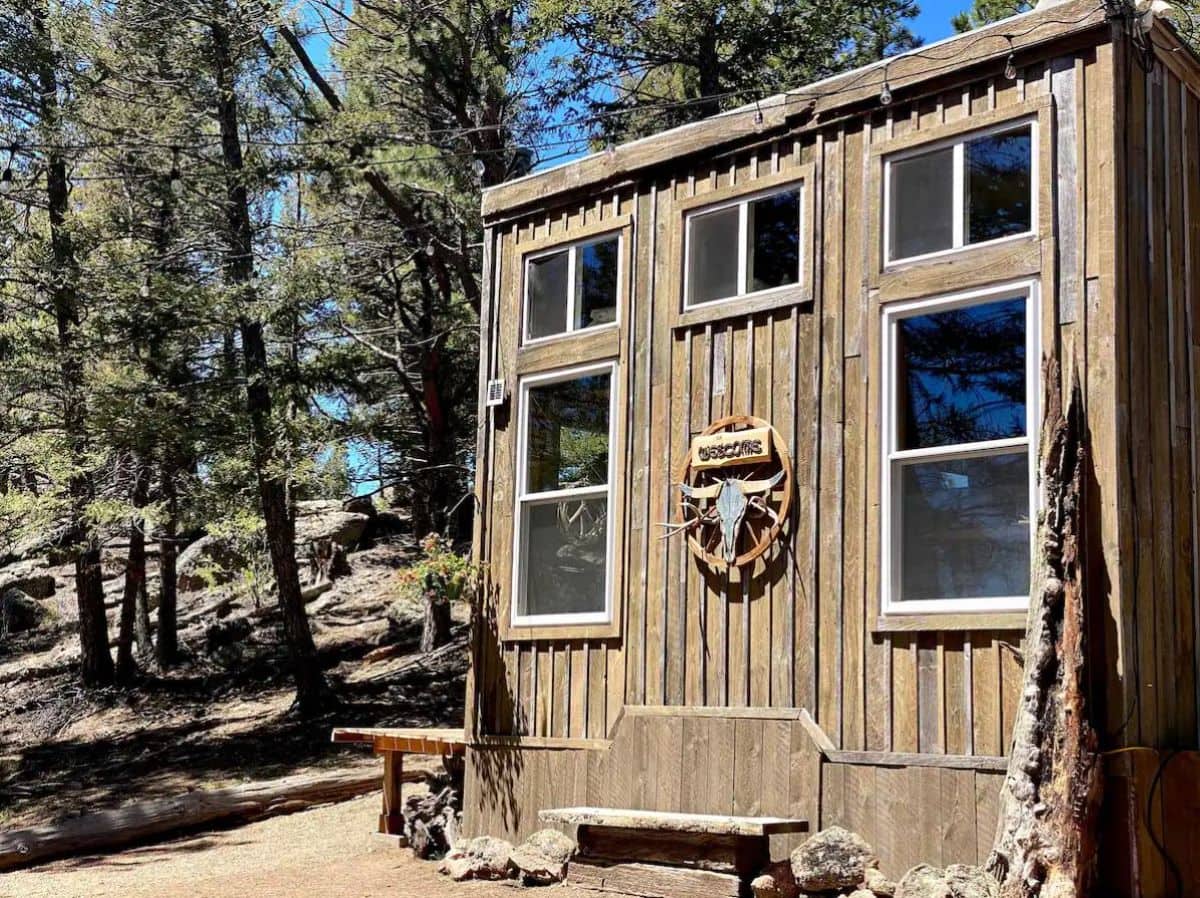 Why you should stay: Enjoy an off-grid excursion that will have you trading screen time for mountain views.
Location: Lake George
Sleeps: 2
Minimum stay: 1 night
Rates from: $128/night
The Canyon Chalet is a great spot if you're looking to unplug and get away from the daily grind. This off-grid tiny home is rustic but in a charming way. Just note that there is no plumbing or running water though potable water and a composting toilet are provided. But if you're comfortable with that level of glamping, this tiny home puts you right in the heart of the great outdoors. Additionally, dogs are welcome, so you can bring your fur family along to this tiny home, too.
The four acres of private property are surrounded by Pike National Forest. Whether you're stargazing by the fire pit by night or exploring on foot during the day, you'll certainly appreciate the peaceful setting. Should you desire to plan additional activities, you have your pick of small or large towns in the area to go explore. Though you might find that once you escape to the chalet, you will be perfectly content to stay there.
"Nothing short of perfect. Beautiful views, peaceful location. The house is unique and memorable."
Check Availability
Related Read: 7 Incredible Glamping Destinations Near Denver, Colorado
8. Cub Cottage
Why you should stay: You'll find it easy to make yourself at home at this bear-y cute cottage.
Location: Colorado Springs
Sleeps: 4
Minimum stay: 2 nights
Rates from: $108/night
Cozy up in this tiny home neighborhood for your perfect mountain retreat at the Cub Cottage. From the quaint bear-themed decor to the cozy "sitting room," this tiny home combines a countryside feel with mountain vibes for a fun weekend getaway. In the warmer months, you can enjoy making use of the outdoor patio complete with a grill and fire pit. The view of Pikes Peak isn't too shabby either.
From your base camp in Woodland Park, you have lots to explore in the vicinity, too — from hiking trails and scenic drives to historic sites and bustling downtowns. For a unique outing, plan a stop off at the Rocky Mountain Dinosaur Resource Center, a fun museum for people who like fossils or dinosaurs, or take a walk on the wild side at Colorado Wolf Adventures.
Check Availability
Related Read: 12 Best Cabin Rentals Near Colorado Springs, Colorado
9. Mystic Valley Sculpture Park Tiny A-Frame
Why you should stay: Stay at an artistic retreat in a fun alternative to tent camping.
Location: Mosca
Sleeps: 2
Minimum stay: 2 nights
Rates from: $85/night
This tiny A-frame is the perfect way to go glamping without the hassle of setting up a tent. The tidy, colorful a-frame is just big enough to sleep two, and you'll have access to a private deck with a fire pit and picnic table as well as a shaded common area with bar stools and a larger dining table. Come ready to pack out your trash and pack in your water as amenities are limited on the property.
You won't mind roughing it a little bit as the stunning location in the remote San Luis Valley delivers some big views. The side of the a-frame opens up to a view of Mount Blanca, and you can spot the Great Sand Dunes from the deck. Added to the natural beauty, the 40-acre property is a work-in-progress sculpture park with over 20 colorful sculptures dotting the landscape, making for some great photo ops right out your front door.
Check Availability
10. Snow Cross Tiny Home
Why you should stay: Step into your own tiny paradise — complete with a private turf game court.
Location: Red Cliff
Sleeps: 3
Minimum stay: 2 nights
Rates from: $176/night
This beautiful tiny home sits on 30 acres in the heart of the Rocky Mountains. Even though you are less than half an hour from the ski resorts at Vail and Copper, you'll feel world's away at this off-grid escape. And don't think that just because you are off-grid you'll be roughing it. Thanks to solar power, this tiny home comes with Wifi, television, and hot water.
In the summer you can enjoy the backyard turf game court or head out hiking on the many trails in the surrounding national forest. In the winter, bring your snowshoes or hit up the local resorts to carve some turns on the slopes. No matter the season, you'll be guaranteed big mountain views and a peaceful retreat at this well-appointed tiny home.
Check Availability
More Colorado Getaways
Sign up for Weekend Wanderer to join 10,000+ readers getting epic travel ideas every week.
---