We research, evaluate and select travel destinations based on a number of factors, including our writers' experience, user reviews and more. We may earn a commission when you book or purchase through our links. See our editorial policy to learn more.
Was this article helpful?
---
Do an online search, and you'll see that one state always tops the lists for being the most pet-friendly state in the country: Washington.
Over half of the rental units in Washington allow pets and 63 percent of Washingtonians live with a furry, feathered, or scaley friend. Teeming with wild areas to explore, from islands in Puget Sound to mountainous regions east of Seattle and down to the Columbia River Gorge, there are plenty of trails to blaze with a dog by your side.
The only downside of having a dog in the family is watching his or her tail sag and smile disappear when the suitcases come out. Luckily, there are plenty of amazing pet-friendly cabins in Washington State that not only allow dogs, but consider them VIPs: Very Important Pets. When packing for your next trip, you can tell your pup, "you get to come, too," and watch her jump into the backseat, tail wagging and ready to go.
Related Read: 9 Amazing Lake Camping Sites in Washington
1. Tye Haus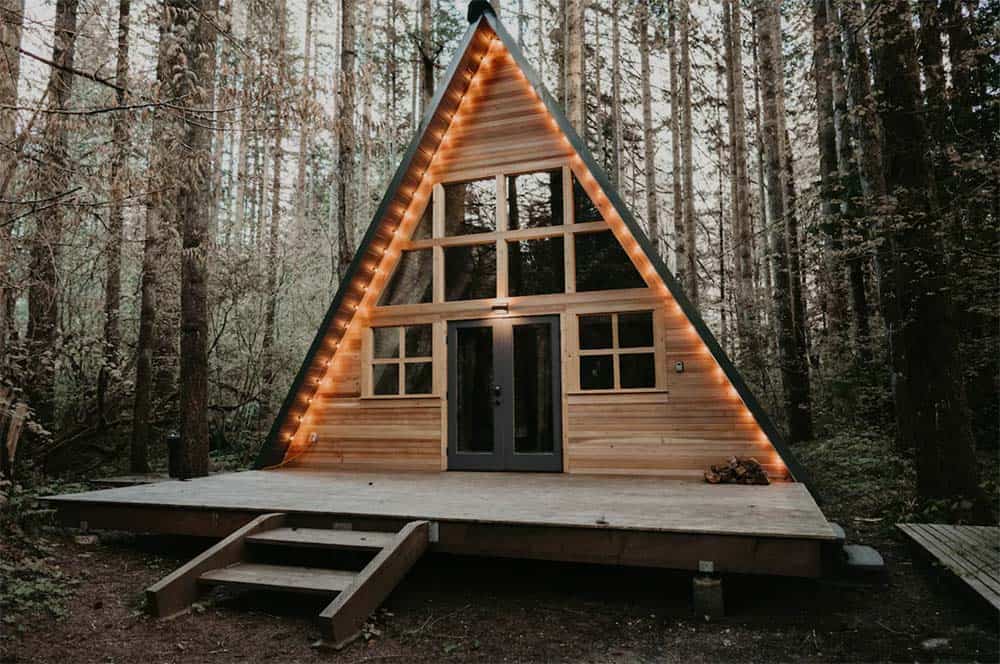 Why you should stay: This mountain cabin gets an "A" plus — as in A-frame.
Location: Skykomish
Sleeps: 4
Minimum stay: 1 night
Rates from: $220/night
Located just minutes from the Stevens Pass Ski Resort, the Tye Haus A-Frame cabin practically begs visitors to explore all the hikes, mountain biking, fishing, and other outdoor adventures the Central Cascade Mountains have to offer. As part of the Timber Lane Village community, the cabin has access to a private beach on the South Fork of the Skykomish River.
While the cabin looks rustic, it really isn't. There's high-speed internet, a library of movies, a Smart TV, updated furnishings and amenities, and a hot tub so you can relax after a long day of play. And because this is a list of the most pet-friendly cabins in Washington, you can of course bring your pup along – just remember that the stairs to the loft may be a little steep for older dogs.
Check Availability
Related Read: 11 Best Glamping Spots in Washington for a Natural Getaway
2. Das Tree Haus
Why you should stay: Achtung! This Leavenworth cabin is worth your attention.
Location: Leavenworth
Sleeps: 2
Minimum stay: 2 nights
Rates from: $242/night
Surrounded by Ponderosa Pines, Das Tree Haus has sweeping views of the Wenatchee River and Icicle Ridge from it's treehouse perch. Snuggle in to enjoying the quiet mountain retreat with the electric fireplace, hot tub, and wrap-around porch. Pups are $25 a night extra, and quiet hours start at 10 p.m. so you can count on getting a good night's sleep.
Twenty-five minutes to the south, the town of Leavenworth took inspiration from the 1960s – and from Germany. The town sits in a glorious location at the foothills of the Cascade Mountains and looks like a reimagined Bavarian alpine village. The town boasts plenty of German-inspired food, festivals, and, of course, plenty of beer.
Check Availability
Related Read: 9 Best Hikes in Washington State for Epic Outdoor Adventures
3. Luxury Beach Cabin
Why you should stay: Ultimate design and beachfront opulence with a Northwest twist.
Location: Long Beach
Sleeps: 10
Minimum stay: 2 nights
Rates from: $452/night
The Long Beach Peninsula is 28 miles of uninterrupted beach at the southern end of Washington State. And this large luxury beach cabin uses exposed wood, a stone fireplace, and a cathedral ceiling to create a bit of grandiosity in what's otherwise a sleepy little throw-back community. The home sleeps up to ten people providing space for an intimate getaway with a group of friends or family. Sure, it's one of the more expensive pet-friendly cabins in Washington, but it does have a seven-person hot tub and arcade games.
Long Beach is a perfect family vacation spot with many outdoor recreational opportunities like kayaking in the Bay, biking along the Discovery Trail, hiking out to the oldest working lighthouse on the West Coast, or giving surfing a try. The wind picks up each August for the Washington State International Kite Festival, and all are welcome to watch the colorful dance of nylon and string.
Check Availability
Related Read: The 10 Best Scenic Drives in Washington
4. Sunrise Cliff House
Why you should stay: Veer onto the slow lane to chillax on Lopez-Island time.
Location: Lopez Island
Sleeps: 6
Minimum stay: 1 night
Rates from: $151/night
Wake up and gaze at views of the Lopez Sound from the wrap-around porch of Sunrise Cliff House. You might even spot a bald eagle or luck into seeing an orca pod swim by.
The high-bank waterfront property opens onto a private beach for the residents of the Sunrise community. On Lopez Island, visitors can disconnect from the busyness of urban life and reconnect to nature and the natural world.
"Great location. Quiet. Amazing Views. Cozy living room with wood stove and plenty of fire wood. Beach is a quick walk away. Great place to bring a dog as well. Highly recommend this house. Great value!"
Check Availability
Related Read: 10 Marvelously Unique Places to Stay in Washington State
5. The Evergreen Tangerine
Why you should stay: Sneak away to the secret southernmost island in Puget Sound.
Location: Anderson Island
Sleeps: 6
Minimum stay: 2 nights
Rates from: $87/night
The Evergreen Tangerine is located smack dab in the middle of Anderson Island and is one of the few properties on the island that allows dogs. Not many folks in the Pacific Northwest have ever heard of Anderson Island, located just a short 20-minute ferry ride from Steilacoom, Washington. So shhhh, don't tell anyone how this stunning tiny island boasts two lakes (one for motorized boats and the other for human powered ones), spots for sailing and kayaking, and hikes overlooking the Sound for humans and canines alike.
The home is a newly built and close to the Riviera Golf Course and Josephine Lake, which sports many public swimming holes, ideal on a warm summer day (or for an adventurous winter one). There's little else to do on Anderson Island, other than enjoying the natural splendor and relaxing into the slower island lifestyle.
Check Availability
Related Read: 14 Best Airbnbs in Washington For Unique Evergreen State Getaway
6. Carson Ridge Luxury Cabins
Why you should stay: Dial up the romance in a rustic and luxurious Columbia Gorge cabin.
Location: Carson
Sleeps: 2
Minimum stay: 1 night
Rates from: $219/night
The Carson Ridge Cabins use the stunning backdrop of the mighty Columbia River Gorge to foster grand expressions of love. The property has 10 artfully designed cabins – two of which are pet-friendly – featuring soaking jetted tubs for two, picture windows, hot breakfasts, and cozy fireplaces to spark a dreamy getaway.
Fantastic recreation is just a hop, skip, and a jump away from these great cabins, including opportunities for white water rafting or windsurfing and kite boarding on the Columbia River. For one of the best wildflower hikes in Oregon, check out,  Dog Mountain, and if you've never been to the area, be sure to stop by at least one of the nearby stunning waterfalls.
Check Availability
Related Read: 12 Romantic Getaways in Washington to Take Your Sweetheart
7. Orcas Island Getaway @ Bracken Fern
Why you should stay: Easy comfort close to all the wonders of Orcas Island.
Location: Eastsound, Orcas Island
Sleeps: 4
Minimum stay: 2 nights
Rates from: $140/night
Expect to enjoy the simple pleasures of a clean, well-appointed vacation cabin at the Orcas Island Getaway @ Bracken Fern. The recent remodel, hot tub, and convenient location – walking distance to the center of the village of Eastsound – will make easing into a San Juan Island holiday a breeze.
Orcas Island is 57 square miles of rolling hills and countryside to explore by bike, kayak or hike through the lush forested landscape. You might stumble on pristine orchards, tasty farm-to-table restaurants, and the thriving art scene between outdoor adventures. As you may be able to guess from the island's name, this is one of the best pet-friendly cabins in Washington if you and Fido want to keep an eye out for passing whales.
Check Availability
Related Read: 10 Magical Treehouse Rentals in Washington
8. Iron Springs Resort
Why you should stay: Hidden beachfront cabins far away from the crowds.
Location: Copalis Beach
Sleeps: 8
Minimum stay: 2 nights
Rates from: $189/night
Iron Springs Resort is a quintessential Washingtonian resort with few tourists and even fewer amenities other than the stunning view. The sweet collection of cliffside beachfront cabins south of Olympic National Park provide easy access to miles of deserted beaches to fly kites, take long walks or go for long stick-throwing sessions, and snuggle behind picture windows as storms roll in.
Iron Springs Resort caters to dogs and their humans. Each cabin comes with special dog towels, there's an on-site dog-washing station, and canine companions are gifted with treats and a branded tennis ball at check-in.
Check Availability
9. Canyon Creek Cabin #1
Why you should stay: This stunning asymmetrical A-frame will help you find your center.
Location: Granite Falls
Sleeps: 6
Minimum stay: 1 night
Rates from: $249/night
Tucked into the foothills of the North Cascades, Canyon Creek Cabin #1 honors its 1970's roots with touches of modern updates, creating a wood-paneled paradise. The cabin's charm comes from unique features like the hammock-clad reading nook, hot tub, and wrap-around deck. The comforting rush of a river-sized creek runs behind the cabin and the sounds of the natural world add to the charm. It's one of the best dog-friendly cabins in Washington, but it's dogs only, so leave the kittens and mini-pigs at home.
Starting from the close-by town of Granite Falls, the Mountain Loop Highway sends travelers on the most quintessential Northwest scenic road trip. Along the 50-mile loop, you'll find opportunities for hiking, exploring the old mining town of Monte Cristo, and general fun-time adventuring.
Check Availability
Follow 'em: @canyoncreekcabins
More Incredible Getaways
Sign up for the Territory Supply Newsletter and join thousands of readers getting epic travel and Airbnb ideas every week.
Was this article helpful?
---