From stunning granite formations to vast aspen forests and above-treeline views, the Lost Creek Wilderness offers up an unforgettable backdrop for a day hike or backpacking trip.
The 119,790-acre wilderness is home to a wide variety of landscapes with elevations that range from 8,000 feet up to 12,400 feet in the Platte River, Kenosha, and Tarryall Mountains. The 105-miles of trails within the Lost Creek Wilderness (LCW) take you through ponderosa, bristlecone, lodgepole pine, aspen, spruce, and fir forests as well as up to alpine tundra. Seeing the unique red granite domes and arches is certainly a draw, as is the chance to spot wildlife like black bears, bighorn sheep, deer, elk, and bobcats.
The wilderness area is vast, and many of the trails are long and remote. Though you can certainly do shorter, easier out-and-back hikes from the many trailheads that access Lost Creek, this is one wilderness area that will reward hikers who are looking to put in miles–whether you're planning a long day hike or a backpacking trip with a few overnight stops. If you really want to get into the heart of Lost Creek, be prepared for challenging, high mileage days and a lot of time on your feet. The rewards are well worth your efforts.
Know before you go: Bring plenty of water, especially in the summer and fall, as many of the streams are seasonal, and there are long stretches without access to water. In the spring, though the lower elevations may be clear of snow, as you climb into the mountains, be prepared to hit snowpack as late as the end of May or early June. Wilderness permits are required for day hikes and backpacking, and you can find free, self-issuing permits at the wilderness boundary. The closest towns are Bailey, Deckers, Fairplay, and Lake George.
Related Read: 11 Beautiful National Forests in Colorado for Outdoor Recreation
1. Lower Goose Creek Trail to Shaft House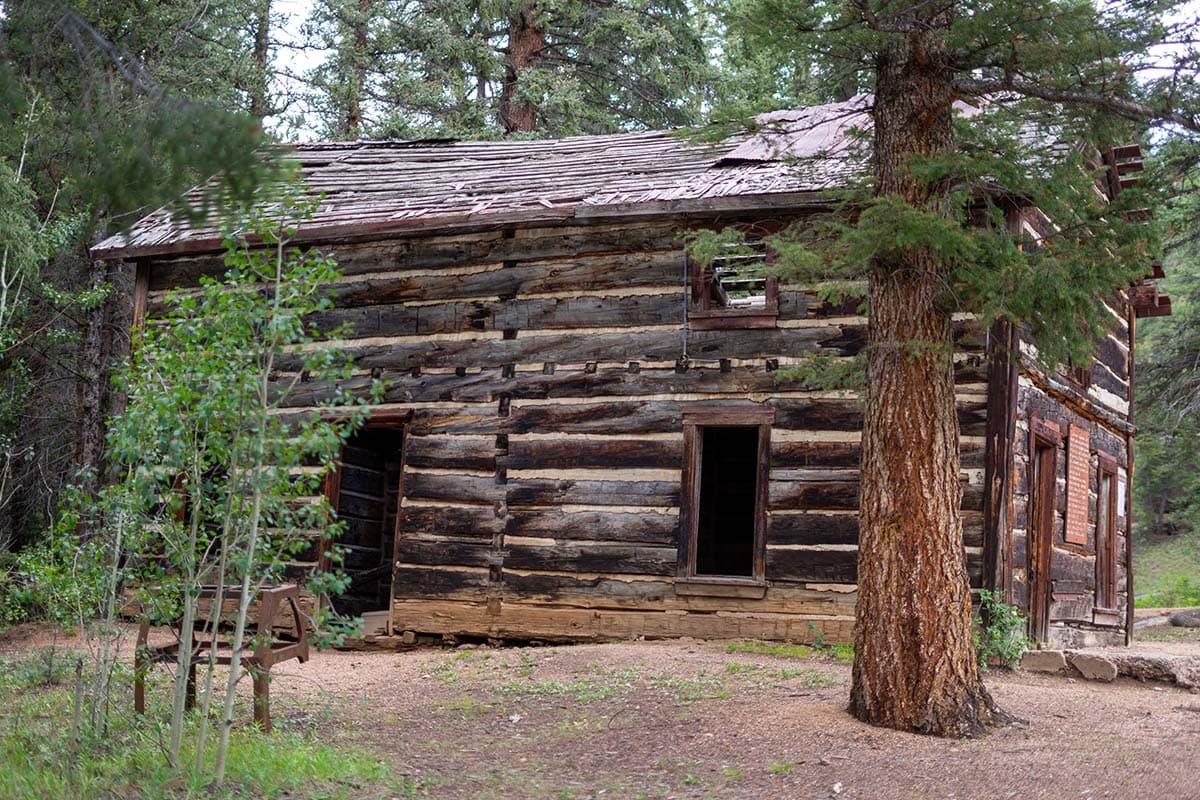 Why you should go: Enjoy a popular day hike to several historic buildings and learn how the wilderness got its name.
Difficulty: Moderate
Distance: 9 miles
Elevation gain: 1,374 feet
From the Goose Creek Trailhead, pick up the wide and well-traveled Goose Creek Trail heading north. This popular day-use area sees a good amount of foot traffic including families and anglers looking to spend time on Goose Creek. The trail crosses and then follows along the stream for the first two miles, giving you plenty of opportunities for a scenic stop-off to enjoy the rills and pools of this mountain creek.
Continuing on, the trail heads nearly due north, trending uphill with some small ups and downs thrown in to keep things interesting. As you hike further away from the stream, you'll trade the lush riparian landscape for ponderosa pines and evergreen forests which offer some much-appreciated shade in the summer months.
Around 4 miles into the hike, look for a spur trail on the left, heading west toward the creek. This short trail will lead you to several historic buildings, including the remains of an old shaft house. The buildings and leftover machinery date back to the late 1800s when a company unsuccessfully attempted to seal off the underground channel of Lost Creek to create a reservoir. The wilderness's namesake creek can be found northwest of the shaft house before it disappears underground and re-emerges as Goose Creek.
Related Read: The 6 Best Camping Spots Near Twin Lakes, Colorado
2. Ben Tyler Trail Out-and-Back
View this post on Instagram
Why you should go: Get a workout on this forested climb — you'll be rewarded with some stellar views.
Difficulty: Moderate/Difficult
Distance: 11.8 miles
Elevation gain: 3,402 feet
For this out-and-back option along the Ben Tyler Trail, park off the small pull-out trailhead along Hwy 285 just past the town of Shawnee. Note that the parking area is small, so you will want to get there early on peak summer weekends.
From the North Ben Tyler Trailhead, the trail climbs steeply up a series of switchbacks. Get used to the incline as you'll be climbing, albeit more gradually in most places, pretty much the entire way out. The trail levels out a bit after you cross Ben Tyler Creek and winds through a forested gulch–if you visit in the fall, there are several large groves of aspens that are particularly magnificent. Along the climb, you'll also be treated to views down Ben Tyler Gulch as you gain some elevation.
At just under 5 miles, after climbing another series of switchbacks, you'll come to a junction with the Craig Park Trail. Just beyond this junction, continuing to the west on the Ben Tyler Trail will take you on a climb to the trail's high point at just over 11,000 feet where you can enjoy some above tree-line views from your vantage point in the Kenosha Mountains. From here, you can flip around and retrace your steps for a roughly 12-mile round-trip hike.
The entire length of the Ben Tyler Trail totals nearly 11 miles one-way and ends at a junction with the Colorado Trail. If you can arrange a shuttle, you can hike the full length to the western Ben Tyler Trailhead. You can also plan an overnight stop somewhere along the length of the trail as there are several spots for dispersed camping. Or for a shorter day out, just flip around whenever you hit your desired mileage.
Related Read: 7 Beautiful Hikes Near Red Rocks Amphitheatre, Colorado
3. Lizard Rock to Lake Park Lollipop Loop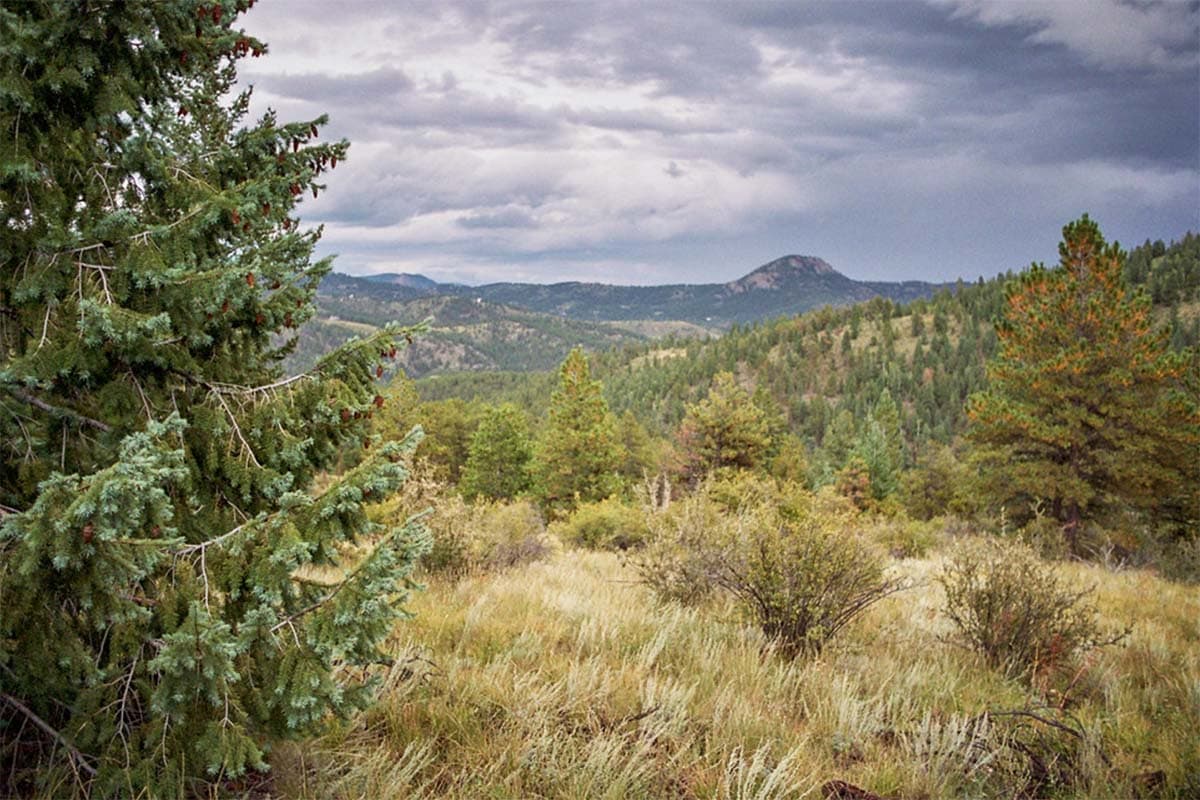 Why you should go: Find serenity — and wildflowers — in stunning alpine meadows.
Difficulty: Moderate/Difficult
Distance: 14.2 miles
Elevation gain: 3,641 feet
If wildflowers and fall colors are a draw, the Lizard Rock to Lake Park lollipop loop is a great way to see some of the best that Lost Creek Wilderness has to offer. From the Spruce Grove Trailhead, you'll start the hike on Lizard Rock Trail which climbs steadily up to Hankins Pass. Near the end of the trail, you'll cross the wilderness boundary, near the trail's namesake rock formation.
After a short jaunt heading east on Hankins Pass Trail, you'll turn north on the Lake Park Trail. This trail continues a gradual climb, winding through red granite formations before descending slightly to Lake Park, a wetland valley at nearly 11,000 feet where you'll enjoy wildflowers and fall colors, in season.
The final climb up the Lake Park Trail connects you to the Brookside-McCurdy Trail where you'll head south on a mostly forested return to the junction with Lizard Rock Trail. Note, that while you can backpack this loop, water is scarce along the route and dispersed campsites with flat ground are a bit tough to find. With a little prep, you can add an overnight stop, but do your homework first.
Related Read: 8 Best Mountain Towns in Colorado Offering Year-Round Adventure
4. Ute Creek Trail to Bison Peak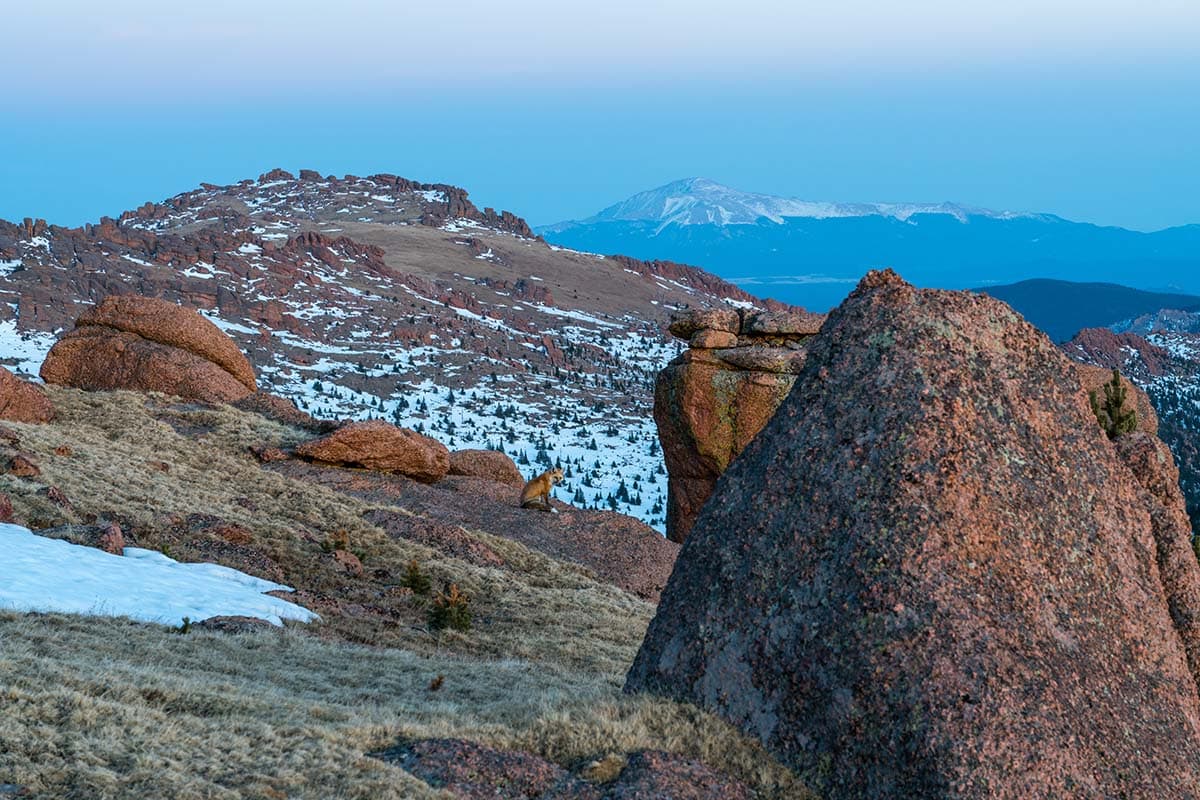 Why you should go: See outstanding vistas and otherworldly rock formations in the Tarryall Mountains.
Difficulty: Difficult
Distance: 11.2 miles
Elevation gain: 3,911 feet
If you're seeking a solid climb and some rewarding scenery for your efforts, plan a hike to the base of LCW's highest point — 12,432-foot Bison Peak. You'll start from the Ute Creek Trailhead, located off Tarryall Road on the southwestern side of Lost Creek Wilderness, on the Ute Creek Trail. This trail, compared to others in the wilderness area, sees less traffic though you'll still want to arrive early on peak summer weekends.
The trail crosses Tarryall Creek and begins to climb almost immediately, following along the Ute Creek drainage. Though the grades are gradual at first, consider them a warm-up, as the trail quickly gets steep as you go. At about 4 miles, you will come to Bison Pass and the intersection with the Brookside McCurdy Trail. Take a right here to head east toward Bison Peak.
From here, the trail continues to climb until you come out of the trees to a relatively wide, open alpine tundra studded with red rock formations. From this saddle, a cairn marks the cutoff to the peak. The final climb involves some easy off-trail route finding along the open summit plateau. You can choose your own adventure to either top out on the rocks that mark the summit (via some easy scrambling) or to take a more meandering route to roam around the twisted and stacked rock gardens.
Once you're done exploring, simply head back the way you came. Though this hike is doable in one long day with an early start, if you backpack in you can pitch your tent among the rock gardens near the summit for some truly spectacular stargazing.
Related Read: 7 Incredible Glamping Destinations Near Denver, Colorado
5. Refrigerator Gulch Loop
Why you should go: Experience a sampling platter of all the best scenery in Lost Creek Wilderness.
Difficulty: Difficult
Distance: 23.1 miles
Elevation gain: 5,860 feet
If you want a long loop that takes you to the quintessential spot in LCW, the Refrigerator Gulch Loop will drop you in among the aspen forests and granite formations of Refrigerator Gulch. Though this 20+ miles loop won't be easy, you can complete it in a long day — or ease up your mileage by making this a backpacking trip.
Starting from the popular Goose Creek Trailhead, if you choose to do the loop clockwise, you can get the big climb up to Hankins Pass through Lake Park and to McCurdy Peak done first. These first 7 miles are an unrelenting climb but offer plenty of scenery to take your mind off the burn.
And once you are on the McCurdy Park Trail, you'll quickly forget your tired legs. This remote trail passes through some of the most stunning scenery in LCW with towering granite outcrops, aspen-forested slopes, scenic streams, and lush mountain meadows complete with beaver ponds.
Once you connect back to the Goose Creek Trail, the going gets easier as the trail heads south, trending downhill to connect you back to the trailhead. Definitely plan a backpacking trip for this one if you want to spend some well-deserved time taking in all the scenery.
Explore Colorado!
Get epic travel ideas delivered to your inbox with Weekend Wanderer, our newsletter inspiring more than 10,000 readers every week.
Was this article helpful?
---