We research, evaluate and select travel destinations based on a number of factors, including our writers' experience, user reviews and more. We may earn a commission when you book or purchase through our links. See our editorial policy to learn more.
Was this article helpful?
---
Get a birds-eye view of the Pacific Northwest with a stay in one of these  magical treehouse rentals in Washington.
Treehouses recall a sense of nostalgia and adventure reminiscent of our youth, and today, they're becoming more and more popular in the world of Airbnbs and vacation rentals. But these treehouse rentals aren't the bare-bones, homemade buildings you found in the woods as a kid.
Instead, these unique accommodations feature hotel-style amenities like hot tubs, rain showers and full kitchens with artistically modern design. And they're all perfectly perched high above the ground.
Treehouse rentals in Washington state range from rustic options that'll bring you closer to nature to high-end glamping options with plush mattresses and luxe amenities. So whether you plan to hike Mount Baker, explore the busy streets of Seattle, or escape to a secluded wood, there's a treehouse rental in Washington perfect for your next trip.
Related Read: 23 Incredible Treehouse Airbnb Rentals in the U.S.
1. The Pleasant Bay Lookout
Why you should stay: Sleep fully immersed in the forest overlooking the Salish Sea.
Location: Bellingham
Sleeps: 2
Minimum stay: 1 night
Rates start from: $125/night
Although The Pleasant Bay Lookout isn't technically a treehouse, its position high above the forest creates the same effect. While this specific Washington Airbnb is just a single room with a queen-size sleeper sofa, its glass wall, private balcony, and epic views make the space feel larger than life.
The Lookout doesn't have the typical amenities one would expect of ordinary lodging like a private bathroom or kitchen. However, guests are welcome at any time to use the hosts' community bathroom and kitchen, both just a few feet from the entrance. There's even a private hot tub you can jump into at the end of the day after exploring nearby places like Whatcom Falls Park, Larrabee State Park, and Mt. Baker.
Check Availability
Follow 'em: Instagram
2. The Osprey Treehouse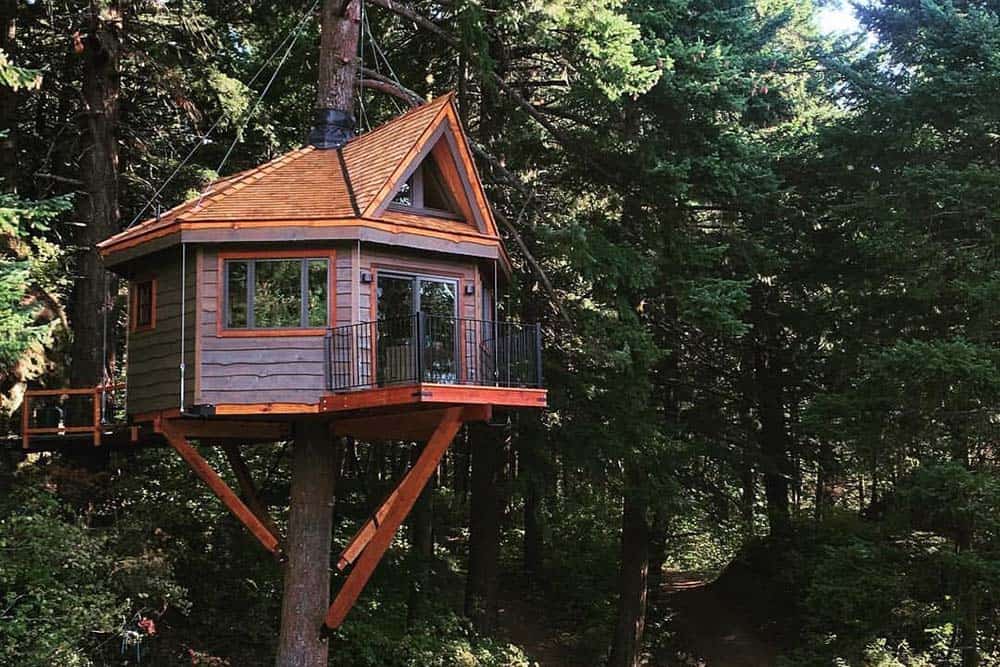 Why you should stay: Take in stunning water and cliff views of the Columbia River Gorge from a 20-foot-high octagonal treehouse.
Location: Stevenson
Sleeps: 2
Minimum stay: 1 night
Rates start from: $235/night
The Osprey Treehouse is a cute tiny home held in place by an epic 3.5-foot-wide Douglas fir tree. Its entrance is conveniently accessed via a walking trail and catwalk, so you don't need to climb steep stairs or ladders to get inside. This beauty features a deck, kitchenette with breakfast bar, sink, mini-fridge, and more, as well as a full bathroom.
Near the Osprey, the cliff riddled shores and private beaches of the Columbia River are within walking distance, where you can spend hours marveling at the view and enjoying easy access to the water. This Washington treehouse is also close to local breweries like Walking Man and Backwoods Brewing Co, and plenty of popular local restaurants.
Check Availability
Related Read: 10 Scenic Drives in Washington State That'll Blow Your Mind
3. Secluded Treehouse
Why you should stay: Tiny home perched 18 feet up surrounded by the quiet of Ponderosa pines.
Location: Goldendale
Sleeps: 3
Minimum stay: 1 night
Rates start from: $133/night
Less than four hours from Seattle and two from Portland lies this secluded treehouse surrounded by the miles and miles of tranquil woods. To get inside, you'll climb the stairs to an elevated sitting deck with patio seating and a grill. A second staircase takes you to the all-glass front door. With keyless entry, check-in is a breeze, and the warm and cozy home is all yours.
Although small, the home has everything you need for a comfortable stay, including a kitchenette with cold running water, a flush outdoor toilet, heat, and electricity. Though some people may consider it a downside, the home is fairly wooded, and that means there's a great chance of seeing wildlife wander by beneath your feet. If you're lucky, you may even spot an elk or bear.
Check Availability
Related Read: 9 Best Hikes in Washington State for Epic Outdoor Adventures
4. The Squirrel's Nest Treehouse
Why you should stay: Trade the busy streets of Seattle for a beautiful treehouse 23 miles from downtown.
Location: Redmond
Sleeps: 4
Minimum stay: 1 night
Rates start from: $199/night
The Squirrel's Nest Treehouse is a bright and airy tiny home 15 feet above ground with an all-natural wooden interior and windows that allow natural light to brighten up the abode. Stand-out features include the home's two balconies tucked in the firs with hammock chair seating, an electric fireplace, and a workstation with Wi-Fi.
For your comfort, there's a fridge, toaster, and coffee-making supplies in the home. While there's no bathroom inside, there's a half-bath available on the ground level, though it doesn't have hot water or a shower. The property also has walking trails and Snoqualmie Falls is just 13 miles away. This makes a great place to stay for a night or two during a longer Washington state vacation.
Check Availability
Related Read: 11 Epic Glamping Spots in Washington State
5. The Klickitat Treehouse
Why you should stay: Spacious and modern treehouse with a cozy interior and epic Mt. Adams views.
Location: White Salmon
Sleeps: 6
Minimum stay: 1 night
Rates start from: $350/night
As treehouses go, The Klickitat Treehouse is a spacious stunner with two stories, two bedrooms, and impeccably modern design. It has all the comforts of home, even while stationed 20 feet off the ground. Thanks to the full kitchen with oven and stove top, you can whip up a professional dinner. And not too many other treehouses have a flushable toilette inside, let alone a roomy walk-in shower. The home really feels like it should be on the cover of an architectural magazine.
If the Mid-Century-Modern-meets-Scandinavian-inspired decor doesn't steal your heart, the fabulous Mt. Adams and valley views from the floor-to-ceiling windows and large wraparound deck will. There's also an outdoor shower attached to the deck as well as a fire pit with tree trunk seating down below.
Check Availability
Follow 'em: Instagram
6. Emerald Forest Treehouse
Why you should stay: Magical luxury treehouse with a hot tub, suspension bridge, and crows' nest deck.
Location: Redmond
Sleeps: 4
Minimum stay: 1 night
Rates start from: $425/night
Built by "Treehouse Masters" star Pete Nelson, this luxury treehouse just outside of Seattle and the Emerald Forest is a heavenly treehouse Airbnb. The home is high in the air but has traditional — and not-so-traditional — resort-style amenities like a projector screen. And the complimentary breakfast is delivered via zipline mid-morning.
This treehouse is behind the hosts' main home and accessed by a suspension bridge. A lovely wraparound deck encircles the tiny house, and the 40-foot-high lookout deck is a crowd fave. Inside, calming tones and natural wood finishes create a cozy atmosphere, and there's both a private shower and roomy hottub on the deck.
Check Availability
Related Read: 12 Romantic Getaways in Washington to Take Your Sweetheart
7. Sasquatch Cabin
Why you should stay: Romantic two-story treehouse with a soaking tub and fireplace.
Location: Snohomish
Sleeps: 3
Minimum stay: 1 night
Rates start from: $200/night
If you're looking for one of the most romantic treehouse rentals in Washington, look no further than the Sasquatch Cabin. This treehouse was made for special occasions with its magical string lights, four-poster queen bed, and soaking tub. To get to the entrance, follow a boardwalk between the trees and ascend a cool spiral staircase.
The property also has a picturesque log gazebo for lounging in the fresh, pine-scented air. Other amenities include a half bath, kitchenette, and a lofted single bed for a third guest. This cozy tiny home is 15 miles from the Puget Sound and about a 20-minute drive from the charming small town of Snohomish. If you prefer to explore at a slower pace, the hosts have bikes available for rent and can recommend some under-the-radar area trails.
Check Availability
8. A Little Slice of Heaven
Why you should stay: Stunning handcrafted treehouse overlooking Lake Stevens.
Location: Lake Stevens
Sleeps: 2
Minimum stay: 2 nights
Rates start from: $197/night
Aptly named, A Little Slice of Heaven is a quaint treehouse secured by 100-year-old cedars that cut through the interior; the space perfect blends inside and out. At the front of the home, big windows illuminate the living space and let in the views of Lake Stevens, which is just across the street. There's even a little balcony where you can sit and relax.
At night, there's a lofted bedroom accessible via a tall ladder, though you'd be forgiven for fall asleep on the downstairs sofa that looks out of the home's windows. The kitchen is stocked, and there's a high-end bathroom with a rain shower. Guests have access to two kayaks (and life jackets) for a peaceful paddle around the lake.
Check Availability
Related Read: 10 Marvelously Unique Places to Stay in Washington State
9. Adams Cove Treehouse
Why you should stay: Cozy treehouse conveniently near the state's top national parks.
Location: Olympia
Sleeps: 2
Minimum stay: 2 nights
Rates start from: $175/night
Adams Cove treehouse is a quiet little Airbnb nestled in 10 acres of woods. The front door is up a gentle set of stairs and leads into a spacious first floor with an electric fireplace, kitchenette, and living room with a balcony. Up a ladder, a separate bedroom with a queen bed and a second balcony awaits for a but more privacy than you'd normally find in a treehouse.
Olympia, the state's capital, is only about a 15-minute drive away. The city has farmer's markets, great museums and galleries, and even wildlife and nature reserves you can access right from the city, Seattle may get most of the attention in Washington, but real PNW residents know Olympia is where it's at.
Check Availability
10. Sir Cedric Cedar Treehouse
Why you should stay: A castle-style treehouse complete with homey touches.
Location: Ferndale
Sleeps: 2
Minimum stay: 2 nights
Rates start from: $175/night
Sir Cedric Cedar Treehouse is a classic cabin stay, with the added bonus of being supported by an impressive cedar tree and having a front door straight from the pages of a medieval storybook. Aside from the basics, the host goes above and beyond to provide goodies such as an "emergency" s' mores kit, first-night breakfast supplies, coffee and teas, board games, and more to keep you busy.
Other noteworthy amenities include an open-air shower, a lovely balcony overlooking the scenery, and a fire pit underneath the house. Many people choose Sir Cedric's as a home base to hike Mt. Baker, which is about 90 minutes away.
The charming coastal town of Bellingham is only 15 minutes away, offering plenty to do if you start to feel a touch of cabin fever. The nearby area also has some pretty amazing mountain biking trails, in case you're feeling the need to burn a few calories before exploring Bellingham's restaurant scene.
Check Availability
Explore More of the PNW
Sign up for our free email to join thousands of readers getting epic travel and Airbnb ideas every week!
Was this article helpful?
---