We research, evaluate and select travel destinations based on a number of factors, including our writers' experience, user reviews and more. We may earn a commission when you book or purchase through our links. See our editorial policy to learn more.
Was this article helpful?
---
Utah is a fascinating place to vacation, especially given the state's varied landscapes. It has the perfect environment for everything from epic ski trips to desert backpacking.
And honesty, the two aren't even that far from one another.
Throw in not one but five amazing national parks, several national monuments, and a ton of quirky attractions and things to do (llama trekking, anyone?) and it's no surprise that a host of unique lodging options have popped up around the state.
Utah has plenty of types of lodging to choose from, some of which are minimalist tiny homes and some of which are massive dream homes positioned for the best sunset views. These unique places to stay in Utah may be a little pricier than your average hotel, but they'll add that certain je ne sais quoi to your Utah getaway or staycation.
These 11 incredibly unique stays will add a bit of spice to your trip, no matter what you have planned.
Related Read: White Rim Road: An Overland Adventure in Canyonlands, Utah
1. Escalante Cliff House
Why you should stay: A large and elegant space in the desert above Escalante.
Nearest town: Escalante
Sleeps: 12
Minimum stay: 2 nights
Rates from: $250/night
The Cliff House was built in 2019 and sits on 160 acres of private land. The house overlooks the Escalante River Valley and was designed to ensure you'll always have a desert view as you move through the house. The central living area has 180-degrees views of the valley with a gorgeous (albeit not usable) stone fireplace.
If you're looking to spend time outdoors, the large roof deck has uninterrupted desert views and is the perfect spot to enjoy both sunrise and sunset. With eight beds and three baths, there's plenty of space for large groups, even if everyone wants to be in the grand kitchen at the same time. And the house has Wi-Fi, so the kids can stream Disney Plus while the parents watch something a little less kid-friendly.
The desert around Escalante is stunning. From slot canyons to petrified forests to learning at the Escalante Heritage Center, there's plenty to do. Visit Lower Calf Creek Falls to take a dip and cool off or explore Escalante Natural Bridge, a natural rock bridge as long as it is high. If you choose stay closer to home, the 160 acres surrounding this unique place to stay include the Escalante River, petroglyphs, pictographs, and even Ancestral Pueblo ruins.
Check Availability
Related Read: 11 of the Best Glamping Destinations in Utah
2. Amangiri
Why you should stay: Crème-de-la-crème desert resort with custom outdoor adventures.
Nearest town: Big Water
Sleeps: 2+
Minimum stay: 1+ nights
Rates from: $2,200/night
Tucked into the desert on the border with Arizona, Amangiri Resort is an amazing experience. It's near several fabulous outdoor recreation areas, including Grand Canyon, Zion, and Bryce Canyon national parks, Grand Staircase-Escalante National Monument, and Glen Canyon National Recreation Area. When you book a stay, the Amangiri team will create for you a custom itinerary of private dining experiences, desert safaris, sunset horseback rides through the desert, canyoneering experiences, and hot air balloon, plane, and helicopter rides. And the lux spa isn't too shabby, either.
Amangiri is one of the more unique places to stay in Utah thanks to its multiple lodging options. You can choose from several types of suites or the four-bedroom Mesa House. Private pools and terraces, epic views, air-conditioning, and underfloor heating ensure you're comfortable no matter which option you pick (and what time of year you visit).
If you'd rather have a more secluded space, stay at Camp Sarika — a quiet retreat a few miles into the desert from the main Amangiri lodge. The camp offers several private pavilions, each with a private plunge pool. It's a great way to have your own space while still being afforded all the luxury of the larger resort.
Check Availability
Follow 'em: @Amangiri
3. Sundance Log Cabin
Why you should stay: Comfortable cabin loaded with amenities five minutes from epic skiing.
Nearest town: Sundance
Sleeps: 16
Minimum stay: 2 nights
Rates from: $545/night
Only 1.2 miles from Sundance Resort, this beautiful house in the style of a rustic cabin can sleep your whole family on your next ski trip. In the heart of the Wasatch Mountains and only about an hour from Salt Lake City, this is a great space to enjoy mountain recreation.
There's a large kitchen, a dining room, a living space with an oversized fireplace, and a recreation room for playing games, playing pool, or watching movies. But the real star of the show is probably the outdoor spaces that offer places to lounge next to the river, a hot tub, a patio and fire pit, a gazebo, and a second-level deck that runs the length of the home.
Sundance provides a plethora of entertainment. In the winter, of course, there's expert skiing and snowboarding, nordic skiing, and snowshoeing. Come summer, the activities shift to non-snow activities like hiking, biking, ziplining, and horseback riding, plus quirkier options like panning for gold or disc golfing.
Check Availability
Related Read: 14 of the Best Utah Cabin Rentals
4. Capitol Reef Resort
Why you should stay: Modern lodging near one of the least-crowded Utah national parks.
Nearest town: Torrey
Sleeps: 2+
Minimum stay: 1 night
Rates from: $89/night
Just outside Capitol Reef National Park, the Capitol Reef Resort offers sublime access to one of the premier national parks in the desert.
Of course, you can explore the park on your own, but if you'd like to have a little support, you can sign up for any of the resort's varied adventures. They offer horseback trail rides, jeep safari tours on backcountry roads, guided hikes with pack-llamas that carry your gear and food, and tours to learn about the region's geology, biology, or history.
The resort is a beautiful spot to unwind after touring the park and you can choose from a variety of accommodations. If you'd like solid walls, you can choose between rooms in the hotel or opt for one of several luxury cabins complete with Wi-Fi, refrigerators, A/C, and heat.
However, if you'd rather have a more unique places to stay in Utah, book a glamping experience in one of the resort's conestoga wagons or teepees. They even have private baths.
Check Availability
Related read: The Meditative Joys of Llama Trekking with Blue
5. Crooked Bindi Ranch
Why you should stay: Quiet, private, and remote glamping experience in Moab.
Nearest town: Moab
Sleeps: 2
Minimum stay: 1 night
Rates from: $200/night
Moab is the crown jewel of the Utah desert. Home to everything from Arches National Park to hiking to mountain biking to OHV experiences, Moab can accommodate any kind of adventurer. And if you want to continue the adventure in the evenings, book this luxury tent on Crooked Bindi Ranch's 80 private acres. The property is nine miles from Moab and four from Arches National Park, so access to all the region has to offer is just a short drive away.
Even though there are two tents on the property, they're distanced so guests can enjoy all the serenity this location has to offer. Tucked into the rocky landscape, you'll have nearly everything you could want, including a hot shower, sink and flush toilet, outside deck, and plush sleeping accommodations. However, there's no fridge, Wi-Fi, or cell service, so plan accordingly.
Check Availability
Related Read: 6 Epic Glamping Destinations Near Moab, Utah
6. Zion National Park Lodge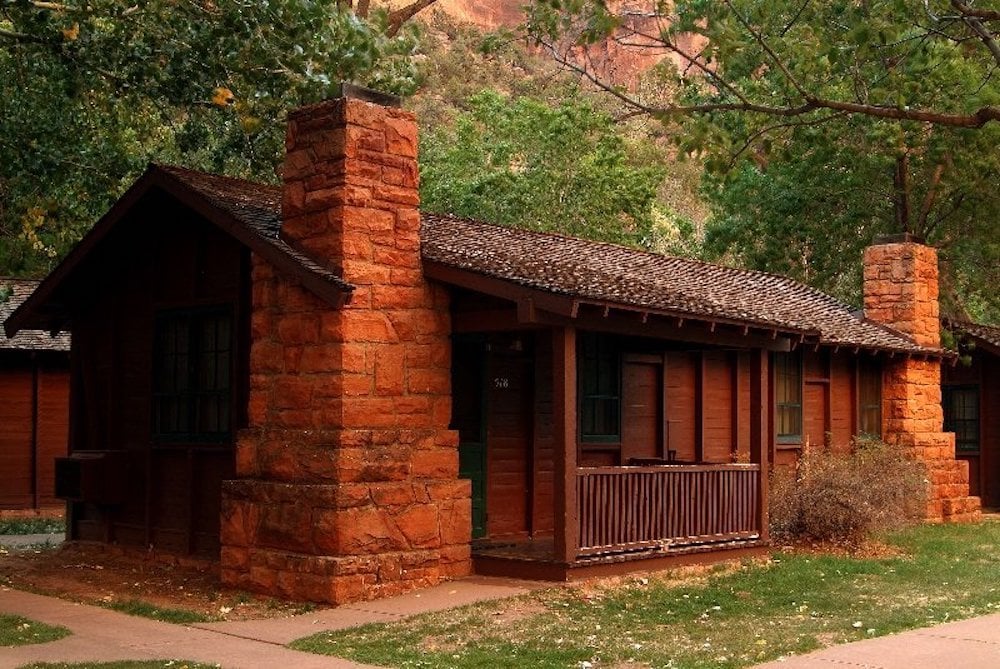 Why you should stay: Enjoy Zion National Park at the only in-park lodging.
Nearest town: Springdale
Sleeps: Up to 6
Minimum stay: 1 night 
Rates from: $179/night
Zion National Park is certainly one to check off the bucket list. It's a hiker's paradise, with everything from easy paved routes to intense, highly exposed clambers up to valley overlooks, such as Angel's Landing. If you'd rather get your feet wet, take a trip up the famous Narrows, an amazing river-filled slot canyon where the hike can be as long or short as you want.
Zion Lodge is in the heart of Zion Canyon and staying there is a pretty special experience. Though a fire destroyed the original lodge in 1966, it was rebuilt quickly and restored again in 1990. The lodge has 76 hotel rooms and 40 historic cabin so it's quite roomy, though it does fill up quickly. Book as soon as possible — you can always cancel it if your trip changes.
Rooms are standard but comfortable, with a full bath and a fireplace or balcony, depending on the space. With Zion literally outside your front door, this is one of the most memorable and most unique places to stay in Utah.
Check Availability
Related Read: The 14 Best Hikes in Zion National Park, Utah
7. Tin Cabin
Why you should stay: Be one of the only people who can say they've slept in a tin can.
Nearest town: Antimony
Sleeps: 4
Minimum stay: 2 nights
Rates from: $173/night
In the mountains of southern Utah near Otter Creek Reservoir is this unique stay in the tiny town of Antimony. The Tin Cabin is a strange dichotomy, with a seemingly rundown and rustic metal exterior but a modern, wooden interior.
Originally a granary silo, this structure was modernized and updated to host guests. The tin house has a full kitchen, loft, clawfoot tub and shower, air conditioning, and even a TV.
Convenient to the state park and reservoir, this is a great stay for anyone looking to get out on the water and do a little fishing. This is also a prime area for ATV exploration and hunting. Of course, like most areas in southern Utah, you're only a short drive from Zion and Bryce Canyon national parks.
Check Availability
Related Read: 12 Stunning & Secluded Cabin Rentals in Utah
8. East Zion Resort
Why you should stay: Varied glamping, treehouse, and tinyhouse options for big groups
Nearest town: Orderville
Sleeps: Up to 5
Minimum stay: 1 night
Rates from: $129/night
Southern Utah is a veritable playground for the adventurous, and the East Zion Resort is no different. Fortunately accommodations are as varied as the recreation. One option is a tiny house with modern amenities like laundry and smart TVs — each has an outdoor patio or rooftop deck.
If you're looking for something a little more unique, check out one of the property's treehouses, all of which are as modern and luxurious as any tiny house. Or if you'd rather keep your feet on the ground and feel a little more connected to nature, the yurts and upscale tents offer cozy glamping experiences, complete with private bathrooms and patio areas. This is probably the best unique place to stay in Utah for big groups as everyone can book the type of lodging they want while staying just a short walk from one another.
There's plenty to do on-site if you want an easy day near home and away from the crowds of the park. Take a horseback ride on trails that take you high above the valley, book a sunset UTV tour for the experience of a lifetime, or test your mettle on the local via ferrata as you navigate cables and rung ladders at jaw-dropping heights.
Check Availability
Follow 'em: @EastZionResort
9. Dreamkatchers Lake Powell Bed & Breakfast
Why you should stay: Traditional bed & breakfast inn with stunning desert views.
Nearest town: Big Water
Sleeps: 2 to 3
Minimum stay: 1 night
Rates from: $153/night
Located just north of the Arizona border, Dreamkatchers Lake Powell Bed & Breakfast is the perfect place if you want an amenity-rich stay near Amangiri without the Amangiri prices. And this is a real deal bed and breakfast where your gracious hosts will cook you, well….breakfast — and not just a bowl of Wheaties and a banana either. The best part of the property is the rooftop terrace where you can soak in the hot tub or sit out in a lounger and contemplate the beauty of the distant desert cliffs, which are especially stunning at sunset.
When your not relaxing at the pad you can spend your days exploring the slickrock playgrounds like the Paria Rimrocks Toadstools and Horseshoe Bend (just across the border near Page, Arizona), dipping your toes in Lake Powell at Lone Rock Beach, or enjoying any of the endless other outdoor attractions in the area.
Check Availability
Related Read: 9 Great Hikes in Grand Staircase-Escalante National Monument, Utah
10. Guardian Angel Tiny House
Why you should stay: Desert living on a tiny house resort in the greater Zion area.
Nearest town: Virgin
Sleeps: 4
Minimum stay: 1 night
Rates from: $439/night
Tucked away from the bustle of Zion National Park, Guardian Angel is secluded and has wonderful views but is still close enough to visit the park. If you're looking for activities outside of park grounds, Falls Park in Virgin is a fantastic river for tubing. You'll also be minutes away from some of the state's best hiking and mountain biking trails and can rent bikes in nearby Virgin.
If you've ever wanted to sleep in the middle of the desert, this tiny house is your spot. There's a full kitchen and bathroom, Wi-Fi, a TV, and plenty of space to sleep four. The fire pit and hot tub make this a fantastic spot to unwind at the end of a long day. The outside deck is the perfect spot for sipping your coffee in the morning or relaxing in the evening, enjoying the sunrise and sunset views in the process.
Check Availability
Follow 'em: @ZionsTinyOasis
11. Peery Hotel
Why you should stay: A historic stay in downtown Salt Lake City.
Nearest town: Salt Lake City
Sleeps: Up to 4
Minimum stay: 1 night
Rates from: $146/night
If you're looking for a place to stay before or after your vacation to Utah, the Peery Hotel is a great option. The centrally located hotel is a prime spot to enjoy everything the city has to offer. This unique place to stay in Utah was built in 1910 to accommodate early prospectors rushing to the city, though it was updated to its current chic style in 1999.
The rooms at the Perry are a classic but modern with plenty of space, Tempur-Pedic beds, and standard hotel features. There are two on-site restaurants, though you'll probably want to spend a few nights checking out some of the cool restaurants in Salt Lake City.
Check Availability
Follow 'em: @PerryHotel
Find Your Next Utah Adventure
Sign up for the Weekend Wanderer to join thousands of readers getting epic travel and gear ideas every week.
Was this article helpful?
---