Forget Moab – head down to southern Utah for the real basecamp to your outdoor adventures.
Actually, don't forget about Moab. But do add Escalante into the mix.
Escalante may be small with just about 800 people living in town, but it packs a big punch. It's the gateway to one of the most unique landscapes in the United States: Grand Staircase-Escalante National Monument.
Escalante is unique as it's within a national monument and so close to two national parks; both Bryce Canyon and Capitol Reef national parks are only about an hour away. If you're looking for an ideal road trip to get you between the two, take a look at this itinerary and see for yourself.
If adventuring is really what you're after while visiting Escalante, make sure to hit up these nine hikes within Grand Staircase-Escalante National Monument. But be sure to find time to explore all the things to do in Escalante below in between your peak bagging and sunrise hiking.
Related Read: 9 Great Hikes in Grand Staircase-Escalante National Monument, Utah
1. Walk Along a Reef in the Desert
Capitol Reef National Park, that is. Most people don't realize that you don't have to be in an ocean to visit a reef. Simply put, a reef is a ridge of jagged rock made of some sort of substrate. Most think of coral, but a reef can also be made from sand or, in this case, rock.
A unique oasis of sandstone cliffs and soaring white domes, Capitol Reef is often the often-overlooked national park of the Beehive State. It's not apparent as to why many bypass the incredible rising monoliths and white sandstone rock formations of this beautiful park. Those cliffs resemble the U.S. Capitol building (hence the name) and created a transportation barrier for settlers in the 1800s.
Must- do items include driving the entire length of Highway 24 through the park. Make a pit stop at Panorama Point just off the highway before hiking out to the petroglyphs. Round out your day with a slice of pie from the Gifford Homestead.
2. Squeeze Through a 10-inch Wide Slot Canyon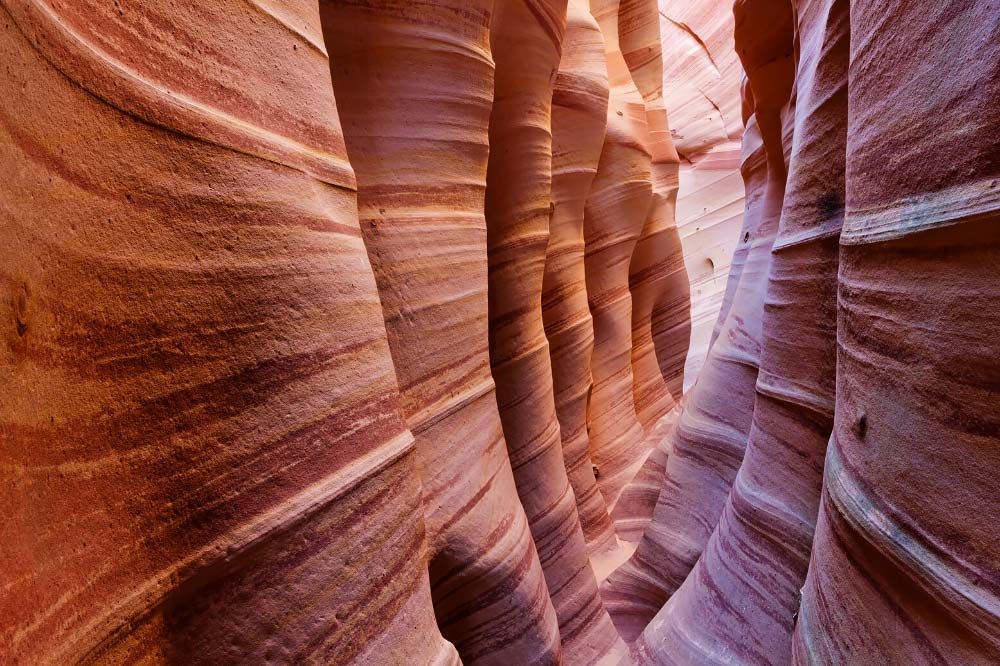 It's easy to see where Zebra Slot Canyon gets its name. With striped red, orange, and white sandstone walls, this slot canyon should not be missed when traveling through southern Utah. This hike isn't a good fit if you're afraid of enclosed spaces since the walls close in to just 10 inches wide in some parts. The canyon is filled with water (usually calf-high) for a large portion of the year. Due to flash flood danger, never attempt this canyon when rain is in the forecast.
Pro tip: Take your backpacks (or child carriers) off when traversing through the canyon. You will likely have to slide through sideways in a few spots.
3. Walk the Old Cattle Road to an Epic Waterfall
Some of the first white settlers drove their cattle to feeding grounds along this trail to Lower Calf Creek Falls. As you walk the 3.5-mile trail along Calf Creek, you'll easily see why ranchers used this "road." The trail itself is fairly flat but in the middle of summer (when most venture here), it gets hot quickly. Bring plenty of water for the walk to the 126-foot plunge where you can wade in the chilly water below.
Pro tip: head up the scramble to reach the less visited Upper Calf Creek Falls for another waterfall.
4. Ride Along the Hogback
If you didn't get a chance to head into Zion National Park while in southern Utah, this highway is the road-equivalent to Angels Landing. Highway 12 was completed in 1940 by the Civilian Conservation Corps and links Cannonville to Torrey. Escalante sits just about a third of the way in on the southern end.
The most thrilling part of the road is just north of Escalante when the land on either side of the road suddenly gives way. It creates a narrow ridge where cars seem to be floating through the air. White knuckles and tense shoulders will likely greet you on the other side of the Hogback, but the views are astonishing. Make sure to take care here since there are many S-curves with zero guardrails.
Related Read: 7 Incredible Scenic Drives In Utah
5. Do a Jig in The Dance Hall
Breakdancing or the Waltz more your thing? It doesn't matter what style of dance you're drawn to when visiting this incredible amphitheater. It's surprisingly not a heavily trafficked trail, so you'll likely dance as if no one's watching — because there literally won't be anyone.
It's only a quick .2-mile hike to the rock and the 270-degree views inside the curved rock are breathtaking.
6. There's Nothing Scary About This Petrified Forest
Legend states that petrified wood is haunted and causes bad luck if taken from their resting grounds. But perhaps that's only the forest rangers making sure you don't take any home with you — remember, leave no trace.
Escalante Petrified Forest State Park is chock full of these incredible geological wonders. The many areas to hike, camp, and picnic are surrounded by the stumps from eons ago.
Related Read: 11 Fun Family-Friendly Hikes Near St. George, Utah
7. Figure Out Why It's Called the "Hole-in-the-Rock Road"
Hint: there's a hole… in a rock. You'll find many trailheads along this winding dirt (sometimes washboard) road. As you drive across what seems like an endless plateau, it might not look like there's an opportunity to adventure around every turn. But there most definitely is.
Trails and parking areas to slot canyons, natural bridges, and arches are scattered throughout the entirety of the road. Some of the best hikes are within this list, but also check out Peek-A-Boo and Spooky slot canyons (they're perfect for kiddos.)
8. Explore Devil's Garden
Devil's Garden might be only a few acres, but it's the perfect spot to stretch your legs and explore. This place is good for any age and skill level, even for kids who would rather spend the day playing on their phones. It doesn't take much time to explore; due to its small size, you'll see the entirety of it in about a half hour.
Visiting is one of the best things to do in Escalante if you have just a bit of time to kill or want a fun spot for a picnic lunch.
9. Dine with the Devil
After you're done romping around Devil's Garden, you might as well keep the theme going. Head to Hell's Backbone Grill for a foodie experience like no other. In the small town of Boulder, this restaurant will keep you coming back for more vacations to southern Utah. It was as a James Beard Foundation finalist in 2017-2019 and a nominee in 2020.
It also holds the highest Zagat ratings in all of Utah (woah!) and follows Buddhist principles. This means the chef/owners are committed to sustainability, environmental ethics, and social/community responsibility. They don't take reservations, so try to go early or midweek to ensure you can snag a table.
10. Cross a Natural Bridge
To round out this list of amazing things to do in Escalante, head back to Capitol Reef National Park. If you only have time to see one thing at the park, Cassidy Arch Trail is it. This moderate hike is ideal for most ages and abilities, although take care around the arch itself: a slip there is a sure way for someone to get hurt.
The trail itself has little elevation gain (only about 600 feet) over the 1.6 miles to the arch. If you're not afraid of heights, you can head right on out to the arch itself and snag yourself a once-in-a-lifetime photo!
Explore More in Utah
Sign up for Weekend Wanderer, our free email newsletter offering thousands of readers epic travel ideas every week.
---