We research, evaluate and select travel destinations based on a number of factors, including our writers' experience, user reviews and more. We may earn a commission when you book or purchase through our links. See our editorial policy to learn more.
---
Home to five of the country's most impressive national parks, Utah promises a stunning four-season escape to snow-capped mountains, lush pine forests, and desert red rocks — all in one state.
From hiking to biking, skiing and snowshoeing, adventure junkies and nature-lovers have no shortage of incredible things to do in Utah. It's no wonder visitors and locals have fallen in love with Utah's natural beauty.
But before you embark on your big journey to the Beehive State, check out 14 of our favorite cabin rentals in Utah. Whether you're looking for a magical cottage in the woods or a cozy cabin surrounded by impressive red rocks, the cabin vacations are endless in Utah.
Related: 10 Spectacular Yurt Rentals in Utah
1. Sundance Log Cabin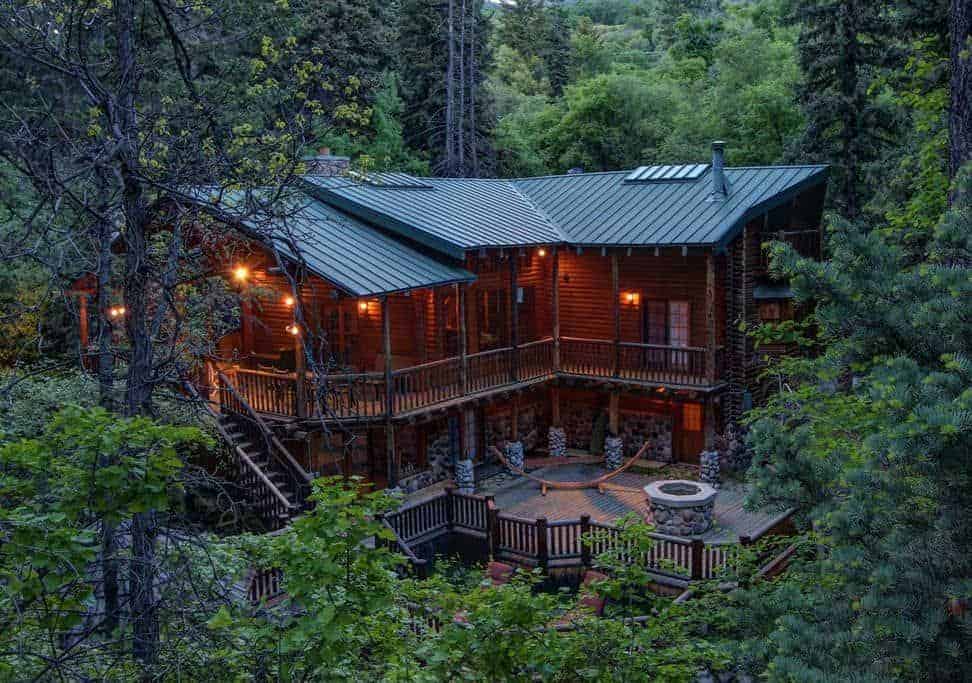 Why you should stay: A beyond stunning log cabin surrounded by mountain views, fresh pine-scented air, and a pretty stream.
Location: Sundance
Sleeps: 14
Minimum stay: 2-5 nights
Pets allowed: yes
The moment you lay eyes on this exceptional log cabin out of Sundance, you'll forget this is just a Utah cabin rental and not a luxurious resort getaway in the woods.
The home's log and stone facade sets the scene against towering pines and the surrounding Wasatch Mountains. Multiple large decks overlook a stream and a fanciful standalone gazebo and hot tub for your enjoyment.
Inside, a wood-burning fireplace and warm tones create a welcoming atmosphere you can feel the moment you step through the door. There are more than enough bedrooms and sleeping spaces for up to 14 guests and a dining table that can seat 12 and an island for four more. You'll be hard-pressed to find a more enchanting cabin in Utah.
Check Availability
2. The Carriage House
Why you should stay: Experience romance within walking distance of the Sundance Mountain Resort.
Location: Sundance
Sleeps: 4
Minimum stay: 1-2 nights
Pets allowed: yes
The Carriage House is a bewitching cabin rental that boats delightful outdoor amenities and features. Soak in the private hot tub thoughtfully placed above the home's nearby stream and rinse off in the steaming outdoor shower when you're finished.
Take your pick of lounging space from two outdoor circular decks with a fire pit and comfy seating.
The home's interior has mountain-inspired decor that marries perfectly with the floor to ceiling gleaming wooden accents. There is one bedroom and one bathroom for up to four people, plus everything you need to get some work done in the stowaway office if needed.
Check Availability
3. Storybook Stone Cottage
Why you should stay: An oh-so-magical cottage next to a bubbling stream, featuring a relaxing hot tub near Sundance.
Location: Sundance
Sleeps: 5
Minimum stay: 2-5 nights
Pets allowed: yes
Straight from the pages of a fairytale, the Storybook Stone Cottage is an enchanting cabin nestled amongst old pines along a mountain stream that runs through the backyard. Cross over the picturesque stone bridge to reach the detached birdhouse for the kiddos or the peaceful hot tub and fire pit.
Inside, heated floors and a large stone fireplace welcome cozy evening snuggles, and the well-appointed kitchen is sure to please all cooking enthusiasts. The home has two bedrooms and enough sleeping space for up to five guests, although I love it as a romantic getaway for two.
Check Availability
4. Park City Retreat
Why you should stay: Hit the slopes and have a relaxing stay at this cute 3-bedroom cabin in Old Town, Park City.
Location: Park City
Sleeps: 7
Minimum stay: 2-4 nights
Pets allowed: no
Just minutes walking distance away from the Creole ski run at the world-famous Park City Mountain Resort, this Park City cabin was made for ski and snowboard aficionados. Its prime Old Town location also places it next door to some of the area's best dining options and nightlife, making it an all-round fantastic place to stay.
As you step into the home, you're greeted with everything you need for a memorable weekend getaway with friends or family. There are three bedrooms and two baths and enough beds and sleeping spaces to accommodate up to seven guests comfortably. You'll also enjoy the magnificent mountain view from the elevated outdoor balcony.
Check Availability
Related Read: 10 Awesome Things to Do in Winter in Park City, Utah
5. Hideaway Cabin
Why you should stay: Charming mountain escape with a wraparound deck, hot tub, and a nearby private fairytale park.
Location: Sundance
Sleeps: 7
Minimum stay: 2-5 nights
Pets allowed: yes
Hidden away in an unsuspecting part of the woods, the hideaway cabin is another beautiful Utah cabin rental that won't disappoint. Decorative wood panels cover the tall ceilings throughout the home, and a unique spiral staircase takes you to the upstairs bedroom and lofted seating area.
Recap the day's events next to the indoor fireplace or soothe your tired body in the hot tub on the wraparound deck overlooking the stream. The cabin is just a five-minute walk from Sundance Resort as well as The Hollow, a cute private park with fairy lights, seating, and a ton of charm.
Check Availability
6. Lakefront Cabin
Why you should stay: Striking cabin for ten on the Scofield Reservoir with a private dock.
Location: Scofield
Sleeps: 10
Minimum stay: 3 nights
Pets allowed: no
Create lifelong memories at this fun Lakefront cabin in Scofield, just two hours southeast of Salt Lake City. This cabin's located right on the Scofield Reservoir's shores, where you can wake up to the sun rising over the waters and swim, fish and boat to your heart's content from your very own private dock in the afternoon.
Inside, cathedral-style windows brighten up the spacious living room and let in the sparkling lake views of the reservoir. The stone fireplace reaches up to the ceiling to create a stunning focal point in the home. This elegant log cabin has it all.
Check Availability
7. Creekside Chalet
Why you should stay: Unique mountain chalet with a private hot tub, a fireplace, and mountain views.
Location: Alta
Sleeps: 10
Minimum stay: 2-7 nights
Pets allowed: no
The Creekside Chalet in Alta is an iconic and unique Utah cabin experience. From the doorway, witness the stunning beauty of the surrounding mountains and Little Cottonwood Canyon Creek as it bubbles past the property. During your stay, you'll be a mere 500 feet away from the Alta Ski Area, making it the perfect location for snow lovers.
This historic cabin was one of the first structures in the area, but you wouldn't know by looking at it today. It's been completely renovated and updated with rustic wood finishes and comfy furniture that'll have you feeling right at home. Outside, jump in the hot tub on the deck and indulge in ultimate relaxation in nature.
Check Availability
8. Mountain Cabin
Why you should stay: A sprawling 5,000-square-foot cabin with luxury amenities that sleeps up to 40 guests for your next Utah gathering.
Location: Heber City
Sleeps: 40
Minimum stay: 2-7 nights
Pets allowed: no
With 5,000 square feet of space, seven bedrooms, 4.5 bathrooms, and a variety of beds, it's safe to say this mountain cabin in Heber City is massive and ready to host your large family reunion.
If that wasn't enough, this home also features a foosball table, pool table, ping pong table, sand volleyball court, private hot tub, and more. There's enough entertainment in this one cabin to last a lifetime!
When you finally manage to leave the house, you'll want to put on your hiking boots and head to Wasatch Mountains State Park or Jordanelle State Park to take a scenic stroll through the area's rolling mountains. If you're a history buff, the Heber Valley Railroad is a fun day trip with the fam.
Check Availability
9. The Cozy Cabin
Why you should stay: A four-season getaway amongst the towering pines of the Wasatch Mountains and near the town of Brighton.
Location: Brighton
Sleeps: 8
Minimum stay: 2-5 nights
Pets allowed: no
The Cozy Cabin is an outdoor lover's dream where there's a never-ending list of beautiful things to see and do year-round. During winter, a visit to The Cozy Cabin means ski trips to nearby Brighton Ski Resort and Solitude Ski Resort or a trip to the Nordic Center where cross country skiing and snowshoeing are all the rage.
In the summer, guests can visit Silver Lake for excellent trout fishing and fantastic hiking trails.
The rugged decor makes you feel one with nature, while the cozy features like the wood-burning fireplace, spacious kitchen, and cathedral style ceilings create a warm and inviting space. The three bedrooms have been decked out in the softest linen, and there are enough beds for a party of eight.
Check Availability
10. Promontory Ranch Cabin
Why you should stay: Resort-style amenities like a heated swimming pool and hot tub just minutes from the best of Park City.
Location: Park City
Sleeps: 6
Minimum stay: 3 nights
Pets allowed: no
The Promontory Ranch cabin is an elegant Utah cabin rental that puts you smack dab in the middle of some killer resort amenities. Everything from a championship golf course, world-class ski resort, relaxing spa, and a heated swimming pool and hot tub await you during your stay.
There's nothing better than indulging in the finer things in life after a busy and active day skiing, hiking, or just enjoying the great outdoors.
You'll also find a bit of luxury inside the cabin like stainless steel Viking appliances, an attractive wood-burning stone fireplace, a Jacuzzi bathtub, and more. There are a total of three bedrooms for up to six guests, as well as a lofted entertainment room for game nights.
Check Availability
11. Pioneer Cabin 2
Why you should stay: Pet-friendly authentic log cabin perched high in the La Sal Mountain Range.
Location: Moab
Sleeps: 6
Minimum stay: 2-3 nights
Pets allowed: yes
Pioneer Cabin 2 offers six guests a secluded two-bedroom stay, 18 miles outside of Moab. This open-concept, two-story log cabin has an upper and lower deck, gas grill, picnic tables, and a fire pit for evening s'mores under the stars.
The premises is encompassed by sweeping views of six visible mountain peaks that make up the La Sal Mountains. During your stay, venture to downtown Moab where fantastic eateries and shops await you. Arches National Park and Canyonlands National Park are all easily visited in a day.
This part of eastern Utah is also home to fantastic Moab hiking and biking trails such as the Moab Canyon Pathway, Klondike Bluff Trails, Slickrock Bike Trail, and more!
Check Availability
12. Pink Cliffs Vista
Why you should stay: Take in stunning 360-degree views of Dixie National Forest.
Location: Duck Creek Village
Sleeps: 8
Minimum stay: 3-4 nights
Pets allowed: no
Pink Cliffs Vista is a luxurious cabin perched high above the pines of Duck Creek Village. Guests love to stoke a roaring fire in the great room where impressive views and the sun shines in on tall vaulted ceilings.
The gourmet kitchen begs for home-cooked meals, and the outdoor seating area encourages meaningful conversation and family gatherings.
Up to eight guests can enjoy this spacious home located in southern Utah near the Arizona border. From the property, you can easily visit Zion and Bryce Canyon, which are only 30 miles away. If you're up for an adventurous day trip, you can also visit the Grand Canyon after an easy two-hour drive.
Check Availability
13. The Grand Canyon Cabin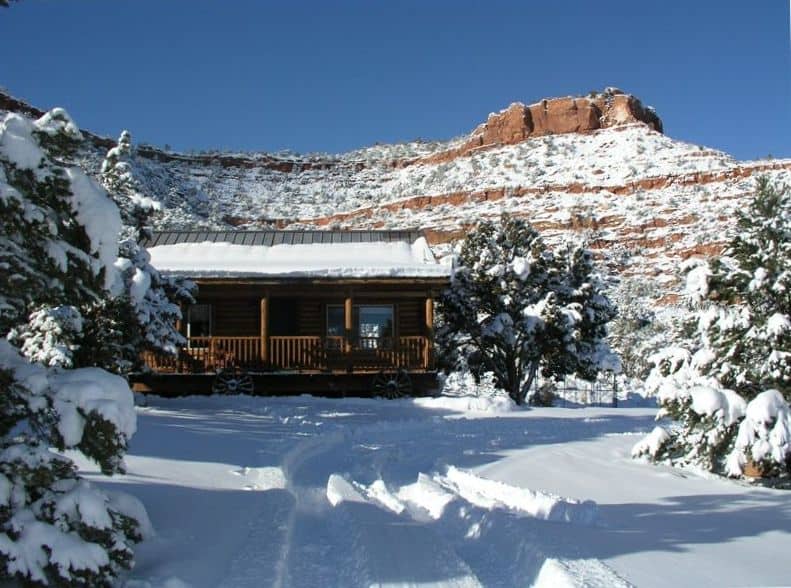 Why you should stay: Sleep surrounded by Navajo sandstone red cliffs between Zion National Park, The Grand Canyon, and other NPS sites.
Location: Kanab
Sleeps: 3
Minimum stay: 3 nights
Pets allowed: yes
Experience the beauty of Kanab at The Grand Canyon Cabin, a scenic escape to Southern Utah's best attractions like Zion and Bryce Canyon National Park.
Inside, you'll find one bedroom, one bath, and a spacious deck with spectacular outdoor views that's perfect for couples or a traveling group of three.
This quaint cabin is situated on two acres of private land, located in the Ranchos area of town just a few minutes from the main streets. Kanab is a historic place nicknamed "Little Hollywood," where countless western film sets still stand today, and visitors enjoy the charm of cowboy country.
Check Availability
14. Eden A-Frame Cabin
Why you should stay: A beautifully remodeled cabin tucked into the foothills of Eden, Utah, just miles from Powder Mountain.
Location: Eden
Sleeps: 8
Minimum stay: 2 nights
Pets allowed: no
Located in a little town of 600 people, this Eden A-frame cabin is a hidden gem in Utah. The cabin's A-frame design creates eye-catching shapes and lines inside the home, where a fully-stocked kitchen and soft, plush beds stand ready to host your group of up to eight guests.
Although small, Eden offers visitors the chance to ski one of America's largest skiable areas, Powder Mountain, a resort with over 150 trails. Also close to the property is the famous Nordic Valley Ski Resort and Pineview Reservoir, hosting exciting snow and water activities for active travelers. Escape the city life and experience rural bliss in Eden, Utah.
Check Availability
Plan Your Trip to Utah
Now that we've inspired your deepest sense of southwest wanderlust with our stunning Utah cabin rentals recommendations, it's time for the good stuff: the best attractions in Utah!
Don't forget your camera, a sturdy pair of boots, and a reliable water bottle – you're going to need them.
Explore the West
Sign up for our free email to join 10,000+ readers getting epic travel, hiking, camping and gear ideas every month.
---