We research, evaluate and select travel destinations based on a number of factors, including our writers' experience, user reviews and more. We may earn a commission when you book or purchase through our links. See our editorial policy to learn more.
---
Once you've seen the landscapes of Canyonlands National Park, odds are a day hike through the amazing rock formations just isn't going to cut it.
Luckily, you can plan a multi-day overnight outing for backpacking trip just as epic.
Canyonlands National Park is one of Utah's Mighty Five, but even though this national park is popular, it doesn't (yet) have the crowds of Zion or the lines of Arches. That's because this park, which spans 257,640 acres, gets fewer total visitors to Utah's other favorite spots. In 2019, Zion recorded ​​4,488,268 visitors and Arches tallied 1,659,702 visitors.
By contrast, Canyonlands — the biggest of the three parks by acreage — had only 733,996 visitors. That's a lot fewer people spread over a lot more ground. This means more remote areas, trails that are harder to access, and plenty of solitude for your explorations. Backpacking in Canyonlands is a good way to feel like you have Utah all to yourself.
Related read: White Rim Road: An Overland Adventure in Canyonlands, Utah
Backpacking in Canyonlands: Need to Know
The Colorado and Green rivers divide the park into three districts: Island in the Sky, The Needles, and The Maze.
Island in the Sky, which is about a 40-minute drive from Moab, is the most accessible district. This is the most popular area for day hikers and non-hikers as you can admire the views from the scenic paved road on top of the mesa.
The trails in this area dramatically dive or climb along the landscape, offering stunning views in the process. There is little vegetation and very little water, unless you plan on hiking all the way down to the rivers. Most designated campsites are along White Rim Road, so you might be sharing your overnight stop with bikepackers or overlanders also out on the rim, although there are larger at-large backcountry zones if you're feeling more adventurous.
The Needles is a bit more remote, roughly 75 miles south of Moab. Named for the colorful towering spires of Cedar Mesa sandstone, this is one of the more popular backpacking areas in the park. The Needles has both developed and primitive campsites you can book in advance as well as several backcountry zones.
Generally, the terrain is gentle along the canyon bottoms and along the rims. The exception to this is any time the path hits a canyon headwall, which usually climb steeply up over saddles to reach parallel canyons or high plateaus. These steep sections can have ladders, big steps, scrambling bits, narrow spots, and drop-offs, and will generally require some coordination, fitness, and comfort with heights to navigate.
The Maze is the most remote and rugged district of Canyonlands and, as such, is best left to only experienced backcountry travelers. In addition to the rough 4WD roads requiring high clearance, there are very few marked trails.
Visitors will need to be proficient backcountry navigators, self-reliant, and able to self-rescue should things go south. If you are comfortable with this kind of remote backpacking experience, The Maze offers no shortage of places to explore — and plenty of solitude to boot.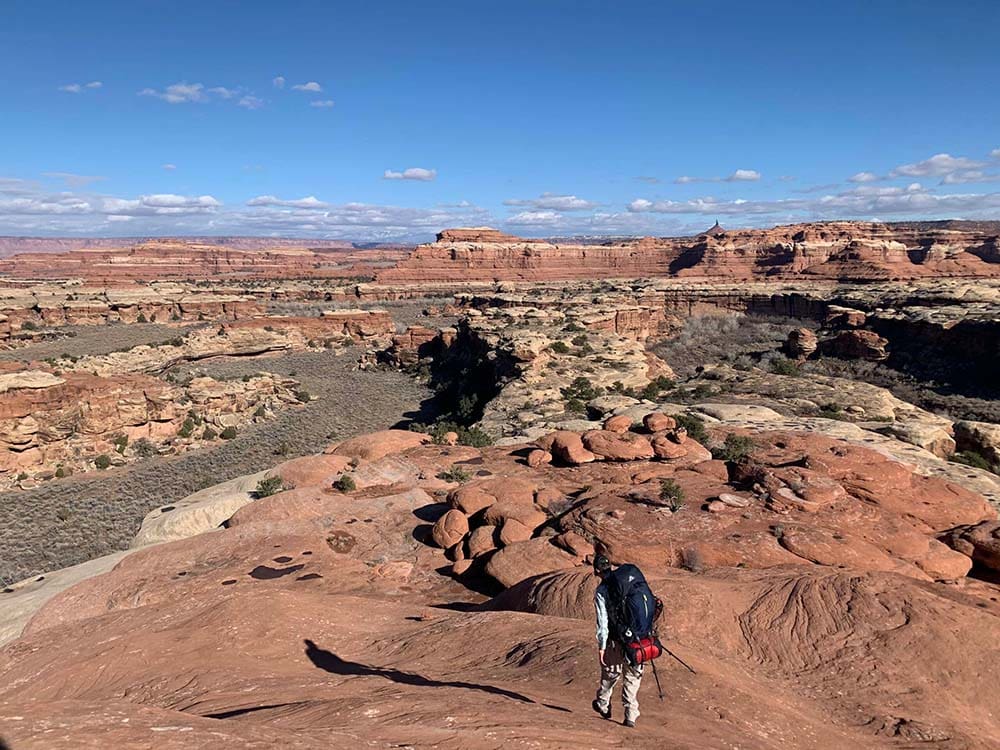 The Best Time for Backpacking in Canyonlands
Spring and fall tend to be the best time to plan a backpacking trip to Canyonlands National Park. These shoulder seasons have milder weather than the winter and cooler temperatures than the summer. But be aware that this is a high-altitude desert landscape. Days can be hot and nights cold regardless of the time of year, so plan accordingly. Always have a warm layer with you. The area does not receive much annual precipitation, though you will need to be conscious of any potential storms – narrow slots and canyons are at high risk for flash flooding.
Related read: 9 Best Hikes in Canyonlands National Park for Every Adventurer
Canyonlands Permits and Reservations
Regardless of whether you plan to camp at a designated site or in a backcountry zone, you'll need either a backcountry permit or a campsite reservation.
Many of the designated campsites scattered throughout Canyonlands can be reserved in advance. If you're planning on finding a dispersed site in one of the backcountry zones, a backcountry permit will cover your nights out.
Safety in Canyonlands
It should go without saying, but always bring enough water. In fact, bring way more than you think you'll need. There are very few water sources along most routes.
Additionally, you'll likely need some basic wayfinding skills (following cairns on unmarked slick rock) and be prepared to do some easy scrambling (remember: this gets harder with a 30-pound pack). Make sure you research the route and are comfortable with whatever obstacles you might encounter, including ladders, tight squeezes through narrow passages, cliff crossings, and moving up and down steep canyon headwalls. If you're heading to the more remote districts of the park, be prepared to be self-sufficient. Bringing a personal locator beacon is not a bad idea.
Related Read: 11 of the Best Glamping Destinations in Utah
Canyonlands Backpacking Routes
1. Lost Canyon Loop
Why you should go: A beginner backpacking route through amazing otherworldly terrain.
District: The Needles
Distance: 8.2 miles
Elevation gain: 784 feet
Difficulty: Easy
This beautiful loop has relatively beginner terrain and takes you on the front side of The Needles to views of stunning rock spires. When hiked clockwise, this loop leads to Lost Canyon (a scenic drainage with varied vegetation) before going down into Squaw Canyon, a rocky drainage with some fun slickrock sections and views of cool rock formations in the distance.
The main challenge of the loop comes at the climb at the end of Lost Canyon – it's steep in places with some big steps. But overall, it's one of the milder canyon traverses as there are no ladders or exposed sections and less elevation gain than other canyon crossings in The Needles. The route is marked by cairns and will involve some easy rock scrambling. You can make tricky sections easier by removing your pack and hoisting it up or down ahead of you to take some weight off.
Along the way, you have the option to book a campsite near Lost Canyon (three sites) or the two sites along Squaw Canyon. You can opt for a single night out or book two nights to shorten the each day's mileage. The sites are well marked with boundary posts with flat areas for your tent at each site. Though there may be seasonal water flow in Lost Canyon, especially in the early spring, this is not a reliable water source (so pack in whatever water you need).
More information: AllTrails
2. Murphy Trail Loop
Why you should go: Views, views, and views. And did we mention: there are veiws.
District: Island in the Sky
Distance: 10.1 miles
Elevation gain: 1,614 feet
Difficulty: Moderate
This Island in the Sky loop is one of the more popular day-hiking options for visitors looking to escape the crowded viewpoints along the paved scenic road. You likely won't be alone on the route, which descends from the mesa to White Rim Road before climbing a wash to some steep switchbacks leading back to the start. Go counterclockwise for a steeper descent and a more gradual ascent. You'll be finishing your route with a 1,000-foot climb, so save some energy for the end.
The highlight of this route is definitely the expansive 360-degree views. On a clear day, you'll be treated to vistas with so many layers of rock formations that it nearly looks fake — from the red rocks of Canyonlands to the sandstone fins near Moab and the often snow-capped La Sals in the distance. The downside of this route is that you'll have no shade, no water, and very little privacy along the way. Plan accordingly; you'll likely not want to visit in the peak of summer.
One option for your overnight stop-off is at Murphy Hogback along White Rim Road. The Murphy Campground has three large group sites and a pit toilet but no water. Your neighbors might have driven in on White Rim Road, so this won't be exactly a true "backcountry" experience. But on a clear night, the view of the Milky Way will more than make up for the inconvenience of a few neighbors. If you're comfortable finding your own campsite, you can pick up a backcountry permit and aim for the at-large backpacking zones on either side of White Rim Road.
More information: AllTrails
3. Chesler Park Loop with Druid Arch
Why you should go: The highlights of the otherworldly Needles packed into one big, customizable loop.
District: The Needles
Distance: 21.5 miles
Elevation gain: 3,349 feet
Difficulty: Moderate
The various loops that make up the trail system in The Needles district means that you can mostly customize your route based on distance and difficulty. This particular loop hits some of the highlights of The Needles, including the stunning red and tan spires of Chesler Park and the impressive tower of Druid Arch. Don't forget your camera!
The terrain along these loops in The Needles varies between easy-going singletrack and sandy washes along the canyon bottoms to rocky, steep climbs interspersed with a few spicy sections. In this areas, be prepared to navigate narrow ledges, tight squeezes, and big rock ledges. You'll want to be comfortable doing some easy rock scrambling with your pack as well as getting up and down steep sections.
Nothing along the route is truly exposed or very technical, but you may need to take your time (and take your pack off) to navigate some of the sections. For the out-and-back sidetrip to Druid Arch, you can stash your pack and just carry the essentials to make the hike easier. It's worth the extra mileage to see this massive arch up close.
Along the route, you have several great options for campsites, all of which are marked and must be reserved in advance. If you're willing to pack in the miles each day, you can do the loop with just one overnight. There's no water (or any other amenities) along the route so be sure to pack in everything you'll need.
More information: AllTrails
4. Syncline Loop
Why you should go: Hike through a "geologically significant area" (a.k.a.: some really cool rocks).
District: Island in the Sky
Distance: 8.6 miles
Elevation gain: 1,630 feet
Difficulty: Moderate/Difficult
If you're seeking a desert adventure and want to take in Canyonlands' coolest features, then this loop around Upheaval Dome in Island in the Sky is going to tick all those boxes. The route doesn't look too difficult in terms of distance or elevation gain when you look at the states, but the variable terrain and occasional route-finding kick the difficulty up a notch.
Go clockwise to have the steep, rocky bits on your descent and make the uphill more gradual. Unless you have bad knees. Then, flip it. You'll want to be comfortable wayfinding with the help of rock cairns as the trail is primitive in places.
You'll hike alongside Upheaval Dome — an unusual circular crater with colorful layers of rock and sediment. And along the way, you might spot desert bighorn sheep and other desert wildlife. The trail is exposed and can get quite hot so be sure to bring plenty of water. Skip this one in the dead of summer.
The one designated campsite at the far side of the trail is the halfway point. The Syncline campsite is primitive with no water. Alternatively, you can hike a little further along the Upheaval Canyon Trail to find a camp spot in the at-large backpacking zone. If you'd like to add on some additional mileage, a 1.5-mile out-and-back spur trail takes you into the heart of the crater. Ditch your pack at your base camp to make that sidetrip more comfortable.
More information: AllTrails
5. Salt Creek Canyon
Why you should go: A one-way ticket past arches, spires, pictographs, and pinnacles.
District: The Needles
Distance: 25–30 miles (depending on your endpoint)
Elevation loss: 1,932 feet
Difficulty: Difficult
This trail is best backpacked as a point-to-point journey starting at the Cathedral Butte trailhead and hiking north (and downhill) toward The Needles. Along the way, you'll be treated to outstanding canyon scenery and optional hikes to particularly impressive arches and pictographs.
The trail generally follows the Salt Creek Canyon bottom. Depending on the season, it can get a bit overgrown in spots, so be ready for some bushwhacking and route-finding. Apart from that, the going is relatively easy along wide and sandy washes, generally trending downhill.
You'll have the option to end your hike at Peekaboo Camp (if you've arranged for a pickup) or continue on the Peekaboo Springs Trail for some more adventurous hiking – two ladders and some steep, cliffy sections – to reach the Squaw Flat Trailhead.
There are four designated campsites along the southern portion of the trail. Once you pass the split to Angel Arch, you'll enter an at-large backpacking zone extending to Peekaboo Camp. Salt Creek Canyon is one of the few places in Canyonlands where you might find running water, depending on the time of year. It is also one of the places where you're required to use a bear bin. If you plan to do this as a one-way backpack, you'll either need to leave a vehicle, sort out a ride, or book a shuttle.
More information: Grand Canyon Trust
6. Chocolate Drops and Harvest Scene
Why you should go: Solitude and self-sufficiency on a truly remote backpacking adventure.
District: The Maze
Distance: Varies
Elevation gain: Varies
Difficulty: Extremely Difficult
If you've done any online research about backpacking in Canyonlands, you've likely seen warnings about how remote and potentially dangerous a trip to The Maze can be. This is not to discourage you from going, but to encourage you to spend time researching, planning, and preparing to ensure you're safe in Canyonlands' most remote reaches.
That being said, the options in The Maze for experienced backpackers are vast. If you're comfortable with route-finding and off-trail navigation, you'll be right at home in the canyons, grabens, and confluences of the aptly-named Maze. The park's official map shows a spider web of 4WD roads (most are very rough; some are seasonally closed) and very few marked trails. Once in The Maze, you'll be setting your own itinerary.
Two particularly cool (and often photographed) spots to incorporate into your route are the Chocolate Drops (distinctive rock formations near The Maze Overlook) and the Harvest Scene, a distinct and memorable pictograph on a large rock panel.
These trails may be more well-worn compared to the rest of The Maze, but the rest of the area should deliver plenty of solitude and desert wilderness. You'll still need a permit for backpacking in the area and can choose a low-impact campsite anywhere within the designated backcountry zones.
More information: Give the Hans Flat Ranger District a call at ​​(435) 259-2652 and purchase a current topo map
Discover More in Utah
Sign up for the Weekend Wanderer to join thousands of readers getting epic and gear travel ideas every week.
---