We research, evaluate and select travel destinations based on a number of factors, including our writers' experience, user reviews and more. We may earn a commission when you book or purchase through our links. See our editorial policy to learn more.
---
Utah is well known for its rugged and beautiful backcountry, from the stunning red rock canyons and deserts of southern Utah to the snow-capped Wasatch Mountains around Salt Lake.
And if you want to get out into Utah's great outdoors, but don't necessarily want to rough it, booking a yurt is a great option.
These top yurt rentals in Utah are tucked in some of the more remote corners of the state that make for great jumping-off points to explore Utah's "Mighty Five" national parks (Zion, Bryce Canyon, Capitol Reef, Arches, and Canyonlands), or one of the state's many equally stunning state parks.
Related Read: 10 Incredible Winter Hikes in Utah
1. Desert Yurt
Why you should stay: A secluded experience near the Utah-Arizona border.
Location: Apple Valley
Sleeps: 2
Minimum stay: 1 night
Rates from: $150/night
Located among the sagebrush and juniper trees just south of Zion National Park, this desert yurt is a fantastic stay for those looking for seclusion in Southern Utah. Inside you'll find simplicity, with a queen bed, a dining table for two, and a gas-powered cast iron stove that keeps this 16-foot-wide yurt toasty in the colder months.
Outside you'll be treated to red rock views and the calm of the surrounding pinyon-juniper woodlands. Enjoy the peace and quiet of the campsite or head out for adventures in some of Utah's finest slickrock country.
Check Availability
Related Read: 15 Refreshing Waterfall Hikes in Utah
2. Monte Cristo Yurt
Why you should stay: Get back to the basics with lots to do from your front door.
Location: Hyrum
Sleeps: 10
Minimum stay: 1 night
Rates from: $90/night
If your idea of the perfect yurt stay involves miles of open space and not a single other structure in sight, the Monte Cristo Yurt is the kind of remote experience you're looking for. This 24-foot yurt has plenty of space and just the right kinds of amenities. You won't be worrying about Wi-Fi when you circle up around a crackling fire or put your feet up under the stars. This is one of the more basic yurt rentals in Utah; you'll need to bring your own sleeping bags and potable water.
The yurt is on a beautiful plot of land surrounded by a grove of trees. From your front door, you have access to miles of recreation in any season. Head out hiking, biking, horseback riding, snowshoeing or cross-country skiing. If motorized travel is more your style, the National Forest trails are also open to dirt biking, ATVs, and snowmobiles.
Check Availability
Related Read: 8 Cozy Cabin Rentals Near Moab, Utah
3. The Cliff Dwelling Yurt at East Zion Resort
Why you should stay: A fully pampered stay with fabulous views.
Location: Orderville
Sleeps: 5
Minimum stay: 1 night
Rates from: $179/night
This top-of-the-line yurt is outfitted with all the luxuries of home, from two king-sized beds to a fire pit and gas grill. With the all-out extravagance of air conditioning, it's a great place to stay even in the hot summer months. Plus, you can enjoy the added bonuses that come with staying at a resort like a public pool and hot tub.
The resort is within an easy drive of many of southern Utah's world-class attractions. In under an hour, you can get to Zion National Park or Bryce Canyon National Park. Or pack a lunch and head out to the Grand Canyon, about 90 minutes away. After a day out exploring, put your feet up on the back deck to catch a stunning sunset from your hillside accommodations.
Check Availability
Related Read: 11 Beautiful Glamping Spots Near Zion National Park
4. Zion Backcountry Yurt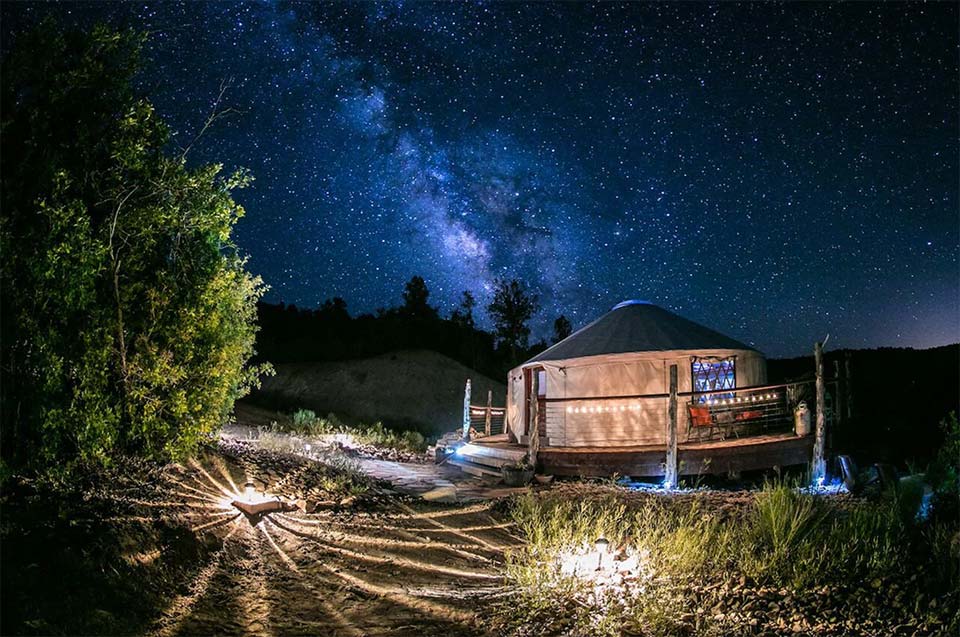 Why you should stay: A secluded and scenic stay in the heart of Zion.
Location: Orderville
Sleeps: 11
Minimum stay: 1 night
Rates from: $215/night
This spacious yurt is large enough for you to bring your whole crew. The yurt is well off the beaten path and offers an entire mountainside all to yourself. In this peaceful setting, you can enjoy slowing down and getting back to nature, all while still having hot water and an indoor fireplace. It's also one of the cheapest yurt rentals in Utah if you come close to packing the house.
When you're not soaking up the view from the deck or reveling under the stars around the fire pit, you can plan a full day of epic adventuring in the Zion Narrows. The yurt is located just a couple minutes from the upper trailhead, just be sure to square away your hiking permit or guide service before you head into the canyon.
"A perfect experience. Better than you can imagine. You won't want to leave. The yurt and the view along with all the amenities is absolutely amazing!"
Check Availability
Related Read: A Winter Guide to Visiting Zion National Park
5. Ute-Luxury Yurt
Why you should stay: Luxury lakeside glamping you have to see to believe.
Location: Bear Lake
Sleeps: 12
Minimum stay: 2 nights
Rates from: $225/night
This outstanding yurt feels more like a full-fledged house than a glamorous tent thanks to the full-size kitchen, gas fireplace insert, flat-screen television, and second-story loft area. With space for all the kids and even for Fido (dogs allowed with a small additional fee), you can be sure that the entire family will love a stay at this magnificent yurt.
The Oso Blue Yurt Resort is just a mile from the stunning blue waters of Bear Lake and a short drive from the town of Garden City. The lake, which is notably referred to as the "Caribbean of the Rockies," not only makes a fabulous backdrop but is also a prime spot to spend a day out on the water boating, jet skiing, paddle boarding, or kayaking to your heart's content. Pick your water sport of choice!
Check Availability
Related Read: 12 Best Spots to See the Fall Colors in Utah
6. Angel Valley Ranch Yurt
Why you should stay: A secluded paradise with wildlife for neighbors.
Location: Duck Creek Village
Sleeps: 8
Minimum stay: 2 nights
Rates from: $287/night
Enjoy a peaceful stay at this private paradise. You won't be roughing it at this custom, off-the-grid yurt, which has everything from a full bath to a 50-inch television, and even Wi-Fi. But you'll likely be even more enamored with the great outdoors in this stellar location. It's on a private ranch where you can catch glimpses of pink cliffs through the trees or pull up a folding chair for an evening around the outdoor fire pit. Or soak up the shade of the many tall aspens that create a golden canopy in the fall.
When you're ready to explore the area, you don't have to go far for some great activities. A few minutes up the road, you can head out fishing, canoeing, or kayaking at Navajo Lake, or take a hike to Cascade Falls. For a longer day out, pack a lunch and head out to Cedar Breaks National Monument or Zion National Park for a little extra Utah splendor.
"What a fantastic yurt! It's way out there, but if quiet and solitude is what you are looking for with a touch of class, this is it."
Check Availability
Related Read: 12 Best Cabin Rentals in Duck Creek, Utah
7. Moenkopi Yurt
Why you should stay: Sweeping views and trails leading straight to Moab's best vistas.
Location: Moab
Sleeps: 6
Minimum stay: 1 night
Rates from: $120/night
The Moenkopi Yurts of Dead Horse Point offer a great getaway close to everything that Moab has to offer. The yurts have all the basics plus a few nice add-ons like air conditioning and electricity. And from here, you can easily pop into town for a bite to eat in Moab, get behind the wheel of an off-road rental, mountain bike the famous Slickrock trails, or simply get out and enjoy the outstanding views of Canyonlands or Arches National Park. It's a great price for a yurt rental in Utah, let alone in Moab. The yurts are managed by the state parks so be sure to read up on what you can and can't do in advance.
The vantage points from Dead Horse Point State Park offer spectacular views of the La Sal Mountains and the canyon country around Moab – scoot out to the rim for some truly breathtaking views of the Colorado River some 2,000 feet below. The state park offers miles of hiking and mountain biking trails as well as some great picnic areas. And fortunately, you can take the private spur trail right from your yurt to access the Intrepid Trail System for some of those epic views.
Check Availability
8. Pinyon Pine Yurt Escape
Why you should stay: A cozy getaway perfect for a romantic escape.
Location: Hatch
Sleeps: 2
Minimum stay: 1 night
Rates from: $106/night
Quiet, beautiful, and secluded, this private studio yurt sits on a hill with a fabulous view of red rock cliffs and the Sevier River. With the added luxury of your own private bath, you might not want to leave this little yurt at all, though you really should check out the area.
You're a short drive from the dining and shops of Hatch, Panguitch, and Bryce Canyon City. If the great outdoors is more your style, take a drive to Bryce Canyon National Park, Kodachrome Basin State Park, and Zion National Park, though you're also only an hour from Kanab. Be sure to book a few extra days to really get to know the area.
"What a COOL stay! The yurt is so neat and incredibly cozy. On top of it all, if you have a clear night, you can see the Milky Way – one of the most exciting things I've seen!"
Check Availability
9. Gold Basin Yurt
Why you should stay: A powderhound's paradise.
Location: Moab
Sleeps: 8
Minimum stay: 1 night
Rates from: $275/night
Unique as it's only available in the winter, this remote yurt is at an elevation of 10,000 feet and provides access to prime ski touring and snowshoeing in the backcountry of the La Sal Mountains. Though you're only an hour outside Moab, up at this altitude, you'll be transported to a winter paradise. Enjoy the limitless winter recreation right out the front door. The trail to this Utah yurt rental us only about 1.5 miles long, so not everyone needs to be a backcountry skier or boarder — snowshoers can come, too.
The cozy yurt has all the basic amenities along with a wood-burning stove to keep you toasty on cold nights. Come prepared to shovel snow and be self-sufficient for your stay. Bring your warm layers, a sense of adventure, and keep your fingers crossed for some fresh powder.
Check Availability
Related Read: 10 Refreshing Swimming Holes in Utah
10. Big Water Yurt
Why you should stay: A backcountry yurt for advanced skiers and riders.
Location: Salt Lake City
Sleeps: 8
Minimum stay: 1 night
Rates from: $75/night
The Big Water Yurt, which is the owners only set up in the winter, is a great way to get out into the Wasatch Mountains on skis or a splitboard. The yurt itself, though basic, has almost everything you need, which is good news since it is only accessible by the 4.5-mile-long Millcreek Ski Trail. You'll have to haul everything you need up with you.
The yurt in up Millcreek Canyon, a short drive from Salt Lake in the heart of the Wasatch Mountains. And since you'll be visiting in the off-season, you might get to enjoy a bit more peace and quiet than is usual for this popular location. This yurt is primarily for backcountry skiers; you should be avalanche-aware and now how to read the terrain before heading out.
Check Availability
11. Cedar City Yurt
Why you should stay: A charming escape just rustic enough to remind you you're glamping.
Location: Cedar City
Sleeps: 9
Minimum stay: 1 night
Rates from: $95/night
Tucked in a grove of trees, this Mongolian-style yurt has a simple charm sure to enchant the entire family. The yurt has all the basics plus some nice extras like the wood-burning stove. The kids will love the board games and yard games, and be sure to pack s'mores stuff for an evening 'round the campfire.
Bring your mountain bike or ATV to explore the dirt roads and trails in the area. Or pop into nearby Cedar City, home to the Utah Shakespeare Festival, for museums, art galleries, breweries, and restaurants. If you're looking to put in some miles on the trails, you are within easy driving distance of more than a few national parks and forests.
"Super cute & unique place! A lot of space and beautiful view of the stars and mountains."
Check Availability
Explore More in Utah
Sign up for Weekend Wanderer to join thousands of readers getting epic travel ideas every week!
---