We research, evaluate and select travel destinations based on a number of factors, including our writers' experience, user reviews and more. We may earn a commission when you book or purchase through our links. See our editorial policy to learn more.
---
Utah is well-known for being a magnet for outdoor enthusiasts, offering everything backcountry skiing and climbing near Salt Lake City to mountain biking and off-roading in Moab and epic hiking in the state's five national parks.
No matter where you're headed, consider upping your lodging with a stay at one of these fantastic places to glamp in Utah. Whether you want the royal treatment in a decked-out five-star tent or you prefer to rough it in a covered wagon, you can make your Utah adventure even more memorable with one of these outstanding airbnbs. Glamping is really having a moment in the state, so you won't be disappointed no matter what rental you pick.
Related Read: 10 Spectacular Yurt Rentals in Utah
1. Under Canvas Zion
Why you should stay: Fancy five-star tents in a resort-like atmosphere.
Location: Virgin
Sleeps: 2+
Minimum stay: 1 night
Rates from: $329/night
Located on 196 acres outside of Zion National Park, these luxurious tents are tents in name only. The safari-inspired dwellings feature amenities like wood floors, king-size beds, private bathrooms, wood-burning stoves (with complimentary firewood), and private decks with lounge chairs. During your stay, you can book add-on guided adventures or culinary packages to take your glamping to the next level.
As stunning as these high-end tents are, they pale in comparison to the remote desert landscape. At the end of the day, the wide-open skies, towering sandstone cliffs, and impressive red rock desert will still be the main reasons that your glamping stay is one you won't soon forget.
Check Availability
2. Zion Backcountry Yurt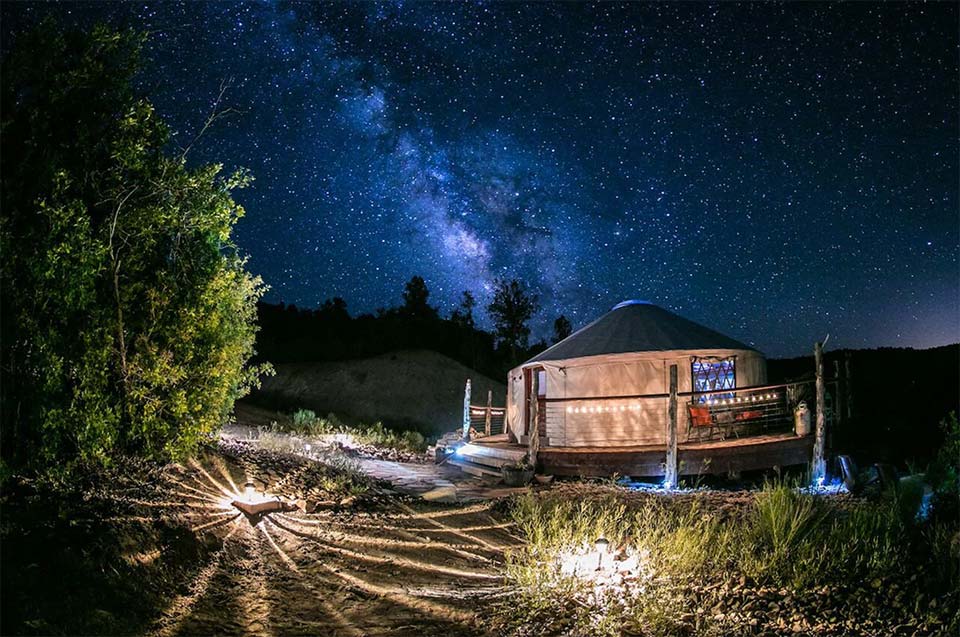 Why you should stay: A starry night sky like you wouldn't believe.
Location: Orderville
Sleeps: 11
Minimum stay: 1 night
Rates from: $215/night
If you're looking for a backcountry glamping experience, this yurt on the east side of Zion National Park has all the amenities and none of the crowds. The location has very little noise or light pollution and no cell service, treating you to a real middle-of-the-wilderness experience. Believe it or not, it sleeps 11 guests, so it's one of the most affordable places to glamp in Utah if you pack the house.
During your stay, you can enjoy the panoramic view off the back deck or put your feet up by the fire pit for some out-of-this-world stargazing. You're less than an hour's drive away from outstanding hiking in Zion with The Narrows, Englestead Hollow Canyon, and Orderville Gulch right up the road.
Check Availability
Related Read: 11 Beautiful Glamping Spots Near Zion National Park
3. Guardian Angel Tiny House
Why you should stay: A beyond comfortable tiny home with views worth staying for.
Location: Virgin
Sleeps: 4
Minimum stay: 1 night
Rates from: $349/night
This luxurious tiny home is sleek, modern, and bright, with all the amenities you could want tucked in its cozy interior — but the outdoor spaces might just steal the show. The deck, firepit, and hot tub provide fabulous lounge areas with views of the limestone bluffs and peaks that stretch for miles.
This home is one of four tiny homes that make up the Tiny Oasis, a miniature neighborhood just 15 minutes from Zion National Park (also check out the Ark Tiny House and the Mother Eve Tiny House). Bring your hiking boots or your mountain bike to explore some of the great trails in the area. And if you want to head into town, nearby Springdale has your choice of restaurants, shops, and entertainment.
Check Availability
Related Read: 11 Fun Family-Friendly Hikes Near St. George, Utah
5. Under Canvas Moab
Why you should stay: Enjoy the finer things in life with views of the iconic La Sal Mountains.
Location: Moab
Sleeps: 2+
Minimum stay: 1 night
Rates from: $249/night
Recently recognized as one of the "Top 15 Resort Hotels in the West" by Travel + Leisure, Under Canvas Moab is the ultimate glamping getaway if you're looking to stay near Arches National Park. Make this your base camp for all kinds of desert adventures, from hiking to rock-climbing to four-wheeling. But of course, the scenery is so beautiful at camp, you might just be content lounge at your tent and enjoy the views.
At Under Canvas, you have the choice between three types of tents — Stargazer, Deluxe, and Suite. The Stargazer and Deluxe are similarly nice, but Stargazer offers a viewing window over the bed for — you guessed it! — gazing up at the night sky. For families, the Suite is the best option and sleeps up to four people.
Check Availability
Related Read: 6 Epic Glamping Destinations Near Moab, Utah
6. Conestoga Ranch Tents & Wagons
Why you should stay: Treat yourself to rustic luxury and stunning lake views.
Location: Garden City
Sleeps: 2
Minimum stay: 1 night
Rates from: $200/night
This top-of-the-line glamping experience truly meshes nature and luxury. If you want to go camping but don't want to sacrifice any of the comforts of home, Conestoga Ranch offers a variety of accommodations ranging from unique covered-wagon stays to luxurious grand tents with en-suite bathrooms. It's a great spot if you have multiple people in your group who want to stay together but have different budgets.
As for the nature half of things, the ranch is a few hours from Salt Lake City on the scenic route to Grand Teton and Yellowstone national parks. The ranch offers hiking, horseback riding, yoga, and water activities. Make sure you book enough time at the ranch to visit Bear Lake, the gem of the region known as the "Caribbean of the Rockies" for its remarkable blue-green water.
Check Availability
6. Angels Landing A-Frame
Why you should stay: Get the best of indoor-outdoor living in this dreamy getaway.
Location: Hildale
Sleeps: 2
Minimum stay: 1 night
Rates from: $88/night
This unique A-frame has a convertible door that allows you to transform your bedroom from a traditional tiny home into an open-to-nature experience. The chic furnishings and awesome deck space are only topped by the jaw-dropping view. If you have a dog, your pup similarly gets their own five-star accommodations at the miniature dog house A-frame.
You're close enough to Hildale to pop into town for the bakery, breweries, and grocery markets, but far enough away that you can count on plenty of peace and quiet. This makes a great jumping-off point to explore the outdoor attractions of either Utah or Arizona, and you can easily fill your days with hiking and biking.
Check Availability
Related Read: 12 Best Airbnb Rentals Near Zion National Park, Utah
7. Hudson's Tiny A-Frame Shed
Why you should stay: A private "shed" in a sweet location.
Location: Fairview
Sleeps: 2
Minimum stay: 1 night
Rates from: $69/night
This adorable A-frame offers a remote glamping experience. The shed is off-the-grid, so don't expect electricity or running water. However, when you put your feet up by the fire pit to enjoy one of the area's extraordinary sunsets, you won't feel like you're missing out on much.
The private tiny home is located on six acres of wooded property. Just outside your door, you can find hundreds of miles of multi-use trails for hiking, biking, and off-roading in the mountains. Head up Fairview Canyon to Electric Lake or Mammoth Lake for some great fishing spots. It's a great location, so it's just an added bonus that it's one of the cheaper places to glamp in Utah.
"Super sweet little spot. Isolated for a quiet getaway. Very charming."
Check Availability
8. The Boundary Cabin
Why you should stay: Feel like a lux pioneer in this rustic-meets-glam cabin.
Location: Kane County
Sleeps: 2
Minimum stay:1 night
Rates from: $150/night
If you've ever wanted to stay at a rustic lodge, this is your chance. You'll get own miniature lodge at the Boundary Cabin. This beautifully finished cabin has the added luxury of a private full bathroom and full queen bed. You might spot wildlife from the back porch or community fire pit, which is also great for stargazing.
This cozy cabin is on a 6,000-acre ranch and is only one mile from the east entrance of  Zion National Park. With miles of trail to explore practically outside your front door, you'll likely only scratch the surface of all the area has to offer.
Check Availability
Related Read: The 14 Best Hikes in Zion National Park, Utah
9. The Domes at Canyonlands
Why you should stay: A unique stay for anyone wanting to explore Canyonlands National Park.
Location: Monticello
Sleeps: 4
Minimum stay: 1 night
Rates from: $120/night
This simple but comfortable geodesic dome has all the creature comforts you might want while glamping, like a queen-size bed, full bathroom with shower, Wi-Fi, and a convenient kitchenette. The quaint dome feels cozy as can be, and since it's part of the Domes at Canyonlands, it's one of the best places to glamp in Utah for groups as everyone can snag their own dome.
The spectacular Needles district of Canyonlands National Park and the outdoor adventure hub of Moab are only an hour drive away. With so much hiking, biking, climbing, off-roading, and other outdoor adventures at your fingertips, you could easily book an extended stay at this dome and never run out of things to do.
Check Availability
Follow 'em: @stayatthedomes
10. Covered Wagon at Zion Wildflower Resort
Why you should stay: Relive a little piece of the Old West.
Location: Virgin
Sleeps: 4
Minimum stay: 1 night
Rates from: $119/night
If you ever wondered what it might be like to circle up the wagons, just book a stay at this canvas-covered wagon to experience your own pioneer-inspired adventure. It's part of the Zion Wildflower Resort and offers a simple and streamlined stay with access to all the resort's shared amenities.
Located on the northeastern edge of Zion National Park, you're close to the national park and surrounding areas. Head out on one of Zion's world-famous trails or visit the nearby Kolob Reservoir for kayaking, canoeing, fishing, and summertime swimming. Cabins and tents are also available in case the wagon isn't your thing.
"Such a cute stay with amazing views! Not far from Zion. Loved staying in a wagon, such a unique experience, wish we stayed longer!"
Check Availability
Related Read: 9 Great Hikes in Grand Staircase-Escalante National Monument, Utah
11. Josey Wales Tent
Why you should stay: Good ol' fashioned camping — if your average campsite had Wi-Fi and cushy beds, of course.
Location: Kanab
Sleeps: 2
Minimum stay: 1 night
Rates from: $175/night
This spacious tent will give you all the upsides of camping – think solitude, stunning scenery, and star-filled night skies — with none of the downsides. Along with the tent — which has electricity and a king-size bed — you also get access to the shared main lodge for additional amenities like a kitchen, dining room, and washrooms.
Located just north of the Utah/Arizona border, you'll be deep in the the southwestern desert. Spend your days exploring the stunning sand dunes at nearby Coral Pink Sand Dunes State Park, hike a slot canyon, or simply soak up the outstanding scenery of the towering sandstone cliffs. Head into downtown Kanab for dinner or happy hour at one of the town's top restaurants.
"Unbelievable experience. The space is so well thought out and everything is intentionally designed and laid out. Such a perfect combination of nature, seclusion, and comfort."
Check Availability
Related Read: The 11 Best Things To Do in Kanab, Utah
12. Escalante Willow Yurt
Why you should stay: A delightful yurt in the heart of the Utah wilderness.
Location: Escalante
Sleeps: 4
Minimum stay: 1 night
Rates from: $274/night
If you're looking for a best-of-all-worlds glamping outing, the Willow Yurt will not disappoint. This large yurt has a private bathroom, television, mini-fridge, and coffee maker. You'll enjoy soaking in the views on the deck from the Adirondack chairs.
The yurt is just north of the town of Escalante. From here you have access to some of the most stunning public lands in southern Utah including Bryce Canyon National Park, Kodachrome Basin State Park, and Grand Staircase-Escalante National Monument. It's one of the best places to glamp in Utah if you're trying to tick a few major sites off your outdoor bucket list.
"We absolutely loved our yurt! It was clean and beautifully decorated. The space is quiet and peaceful, great for a get-away, but still close enough to Escalante for restaurants and activities."
Check Availability
Explore More
Get epic travel ideas delivered to your inbox with Weekend Wanderer, our newsletter inspiring more than 10,000 readers every week.
---