We research, evaluate and select travel destinations based on a number of factors, including our writers' experience, user reviews and more. We may earn a commission when you book or purchase through our links. See our editorial policy to learn more.
Was this article helpful?
---
Peter Pan might just be a Colorado resident, because there's no shortage of dreamy landscapes that look as if they've been plucked from a storybook.
Colorado is full of mountains and alpine vistas, but it's home to an abundance of trees. So much so, that many of thought to take advantage of the solid tree trunks to build some houses high up in the branches.
You could live your childhood dreams too by staying at one of the dreamy treehouses scattered throughout the Centennial State. Use them as a basecamp for your outdoor adventures or a romantic getaway for you and your Wendy or, perhaps, find your inner Lost Boy and sleep in the trees. Find the magic in your own fairytale in any of these rentals nestled high in the trees.
Related Read: 12 Amazing Cabins in Colorado with Hot Tubs
1. Gold Nugget Treehouse
Why you should stay: hiking trails that start right on the property.
Nearest town: Gold Hill
Sleeps: 2 guests
Minimum Stay: 1 night
Rates from: $119/night
There is no shortage of amenities even when staying in this rustic treehouse in a small town. Gold Nugget is situated in the historic town of Gold Hill which, you guessed it, used to be an old gold mining camp. The Gold Hill Store has everything you need for your stay so stop by and say hello.
There is a strong sense of community in town and almost everyone will give you a nod or a wave as you pass by. The folks at Gold Hill Inn welcome you with open arms so make sure to reserve a table for a glorious six-course meal. If you need a bit more hustle and bustle, you can always drive into Boulder which is only 10 miles from your rental.
Check Availability
Related Read: 11 of the Best Airbnbs in Boulder, Colorado
2. Rocky Mountain Treehouse
Why you should stay: why settle for one wraparound porch when you can have two!
Nearest town: Carbondale
Sleeps: 6 guests
Minimum Stay: 2 nights
Rates from: $348/night
Speaking of Peter Pan, this treehouse rental is oddly reminiscent of the Captain Hook's ship when looked at from certain angles (minus the angry pirate). Its ample windows bring in so much light that you'll forget that you're 25 feet off the ground nestled in spruce trees. Inside there are nooks and crannies galore to hide away from Mr. Smee and the rest of Captain Hook's crew.
You can even get lost in your own wild story with the plethora of books on the shelf next to the wood-burning stove. Or perhaps you'd rather rock to the rhythm of the wind just like the chimes on the porch in your private hammock. After a day of romping around the woods with the rest of the Lost Boys, relax in the inviting private hot tub with a glass of wine.
Check Availability
Related Read: 6 Cozy Treehouse Rentals in Ohio
3. Little Red Treehouse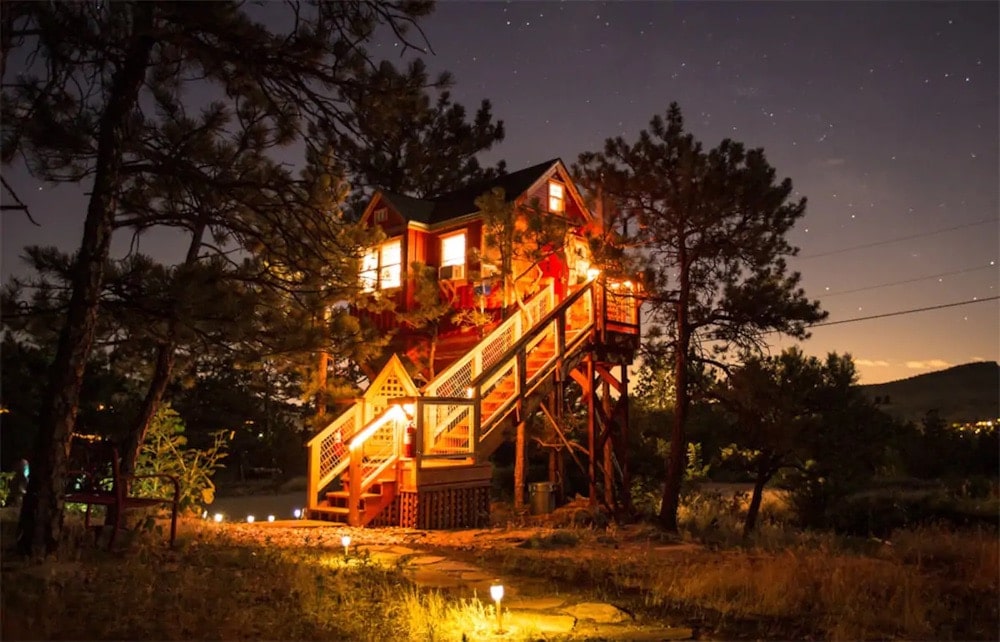 Why you should stay: a haven for those wanting to rekindle a flame.
Nearest town: Lyons
Sleeps: 2 guests
Minimum Stay: 1 night
Rates from: $250/night
Follow your inner childhood dreams (and the solar garden lights on the path) to this wistful rental in a secluded part of the Rocky Mountains. The Little Red Treehouse doesn't quite describe the essence of the home though; to be fair, it is little and it is red but it's so much more than that. It's full of charm and uniqueness with a cozy loft bedroom, an outdoor breakfast bar, and even a hummingbird feeder that has frequent guests.
Plus, it's so close to Rocky Mountain National Park and all the surrounding amenities that you'll never find your bored. Make sure to check out these rad hikes and things to do around the area.  Luckily, it doesn't matter what time you visit the area because this landscape is gorgeous in any season!
Check Availability
Related Read: 7 Cabin Rentals in Aspen, Colorado for Every Budget
4. Off the Grid in the Sangre de Cristos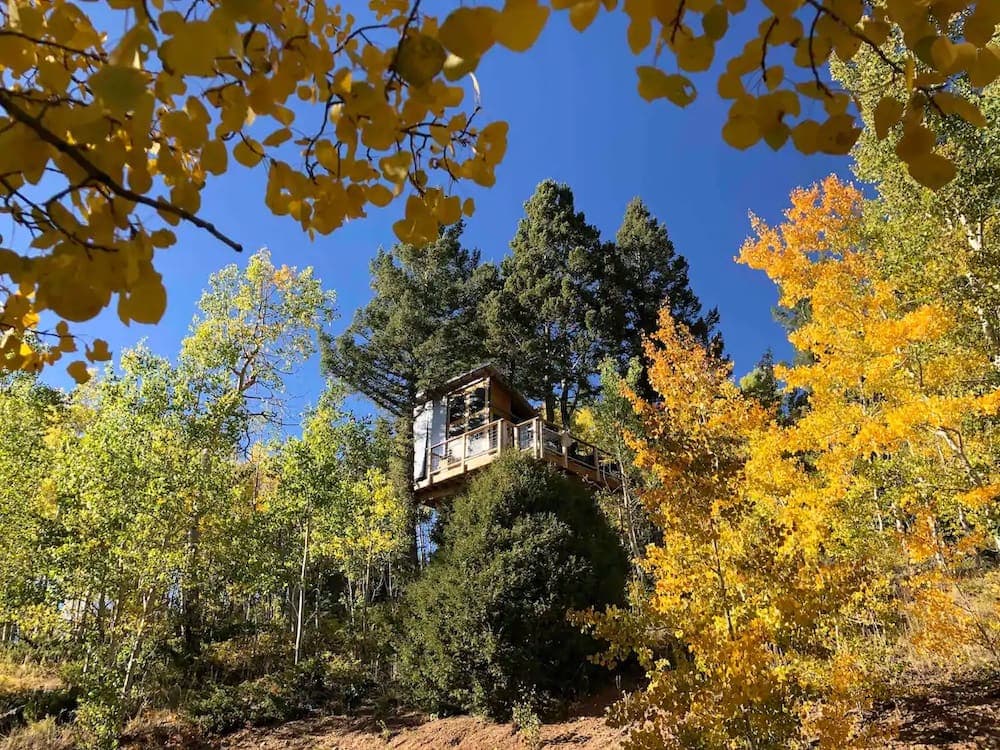 Why you should stay: you'll be catching your breath the entire time not just from the elevation but also the sheer beauty.
Nearest town: San Luis
Sleeps: 4 guests
Minimum Stay: 2 nights
Rates from: $116/night
Lounging on the private deck of this incredible treehouse makes you feel as if you're setting sail on a golden sea. It's surrounded by aspen trees that turn a flaming yellow and fiery orange/red in the autumn. Sitting at 10,000' above sea level, your tiny house among the trees will literally and metaphorically lift anyone's spirits.
The hosts even have graciously made a very livable outside. With a propane stove and fire pit, you'll never tire of sitting on the porch looking at the majestic mountains across the valley.
Check Availability
Related Read: 11 Perfect Romantic Getaways in Colorado
5. Luxurious Mountain Lodge
Why you should stay: it's huge; like, literally the hugest treehouse ever constructed.
Nearest town: Breckenridge
Sleeps: 6 guests
Minimum Stay: 3 nights
Rates from: $652/night
No need to leave the kids at home for your next vacation —even though you might really want to. This treehouse lodge sits on top of western cedar trees and sprawls throughout 3 bedrooms, 3.5 bathrooms, and even a separate game room with a pool table.
But even with all that room, there's a coziness to the atmosphere within those walls. A cedar tree works its way up through the living area but refrain from trying to climb it. Instead, try your luck on any of these hikes in the area and then soak your blistered feet in your personal saltwater hot tub.
Check Availability
Related Read: The 10 Best Dog-Friendly Colorado Cabin Rentals
6. Quaint Downtown Treehouse
Why you should stay: sunsets don't get much better than from this deck.
Nearest town: Montrose
Sleeps: 2 guests
Minimum Stay: 1 night
Rates from: $60/night
Built by the hands of the hosts and their daughters, you can tell every inch of this cozy treehouse has a purpose. Its rustic qualities remind me of a crow's nest on a large ship. Instead of rocking on the ocean waves though, you can sway in the two hammocks that come along with the rental.
You can sit back and put your feet up watching an old movie or head into town since this rental is just steps away from downtown restaurants. For delicious meals, head to Trattoria di Sophia and for brews, Two Rascals Brewing is where it's at!
Check Availability
Related Read: 9 Woodsy Cabin Rentals Near Durango, Colorado
7. A Magical Hideaway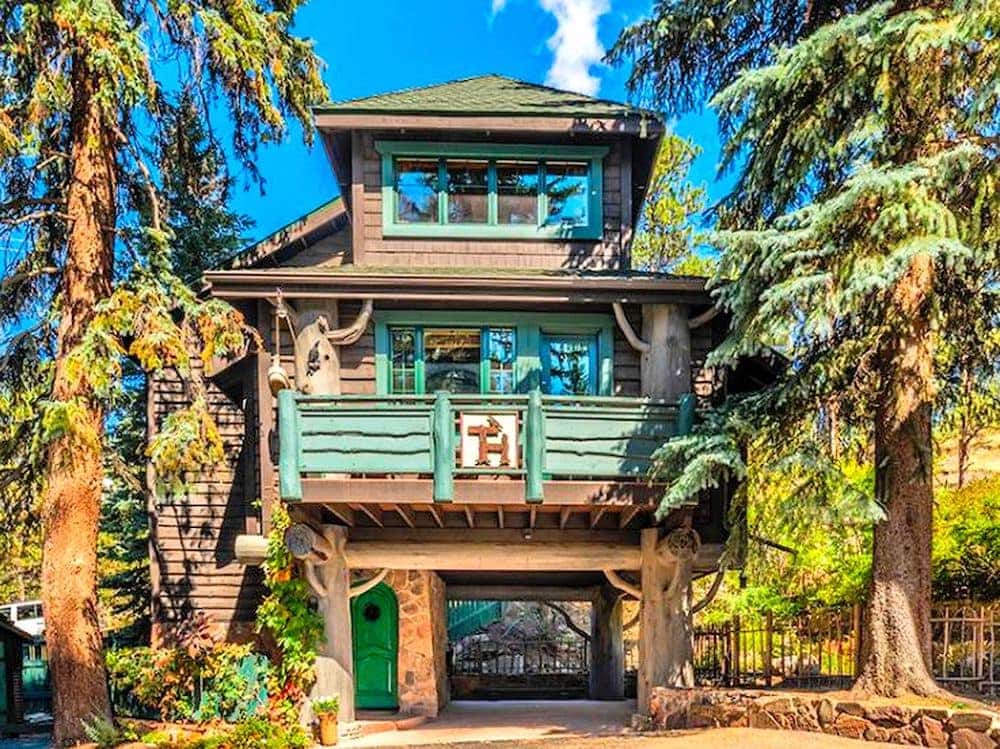 Why you should stay: what other treehouse do you know that has THREE levels?
Nearest town: Evergreen
Sleeps: 2 guests
Minimum Stay: 2 nights
Rates from: $560/night
This little slice of heaven has gotten a LOT of media attention…and rightly so. The minute you walk into the incredible ground floor, you know you're in for a treat. Couples will never want to leave this space as it exudes classic romance.
Not only is there a deep, soaking jacuzzi tub and a lounge chair right in the bathroom, there's even a chandelier over the master bed. A chandelier?! And since the place only allows 2 guests at a time, you will likely be spending a lot of time in that bed (wink wink). Just make sure not to hit your head when you get out of it.
Check Availability
Related Read: 10 Unique Places to Stay in Colorado
8. Working Ranch Treehouse
Why you should stay: get some fresh eggs every morning from the chickens on the property.
Nearest town: Larkspur
Sleeps: 6 guests
Minimum Stay: 1 night
Rates from: $213/night
Feel like Hansel and Gretel in this cottage among the trees — although, don't worry, there's no scary witch or oven for that matter. But there is a barbecue, mini fridge, and induction hot pad so you won't starve — beef can be delivered straight to your place while you stay.
You might just need a hearty meal at the end of the day too since you can be a ranch hand for a day (subject to availability) right on the property. If working the land isn't your thing, you can always use one of the complimentary kayak for use at Monument or Palmer Lakes which are located just down the street.
Check Availability
Related Read: 12 of the Best Airbnbs in Crested Butte, Colorado
9. Secluded Wooded Cabin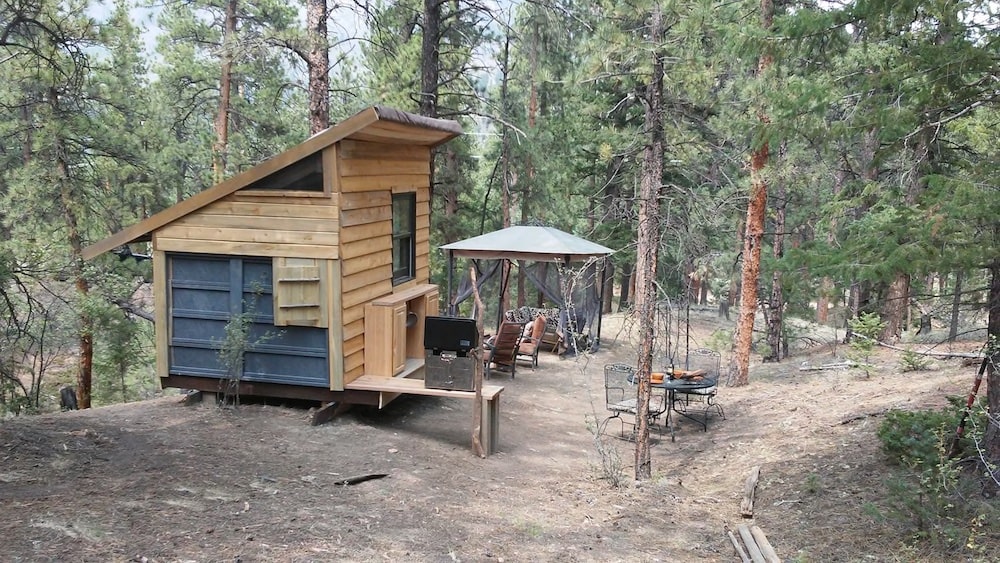 Why you should stay: there's an outdoor sofa complete with chairs and a fire pit. Yes, please!
Nearest town: Bailey
Sleeps: 3 guests
Minimum Stay: 1 night
Rates from: $139/night
This unique "treehouse" is technically a treehouse but only sits a few feet (three to be exact) off the ground. The thing is it doesn't have to be high off the ground to take in the views surrounding its walls. There are several windows in the small rental to bring the outdoors in, including incredible images of the mountains and night sky.
The outdoor kitchen provides a bit of fun and unique cooking (especially if it rains) to your stay. It even comes with a portable oven! Bonus: your four-legged friends are allowed to stay too!
Check Availability
Related Read: 9 Best Resorts in Colorado for Rocky Mountain R&R
10. Jersey Jim Fire Lookout
Why you should stay: be the first to spot fires in these historic droughts in the southwest. Wait, is that why you should stay there? OK, there's just amazing views.
Nearest town: Mancos
Sleeps: 4 guests
Minimum Stay: 1 night
Rates from: $50/night
Instead of sleeping in the evergreens, try a night in an authentic fire tower in the heart of the San Juan National Forest (head here for some camping ideas). The Jersey Jim Fire Lookout was named after an early cattleman/rancher who ran Jersey cattle in the area. It was used as a fire lookout by the US Forest Service from the 1940s to the 1970s. Check out the map that's still in the center of the room that they used back then.
To book this place, you'll have to do it old-school style by calling the Foundation. Do it as soon as the phone lines open for the season (first business day of March) because the entire season is usually booked within a few days.
Check Availability
11. Zen Treehouse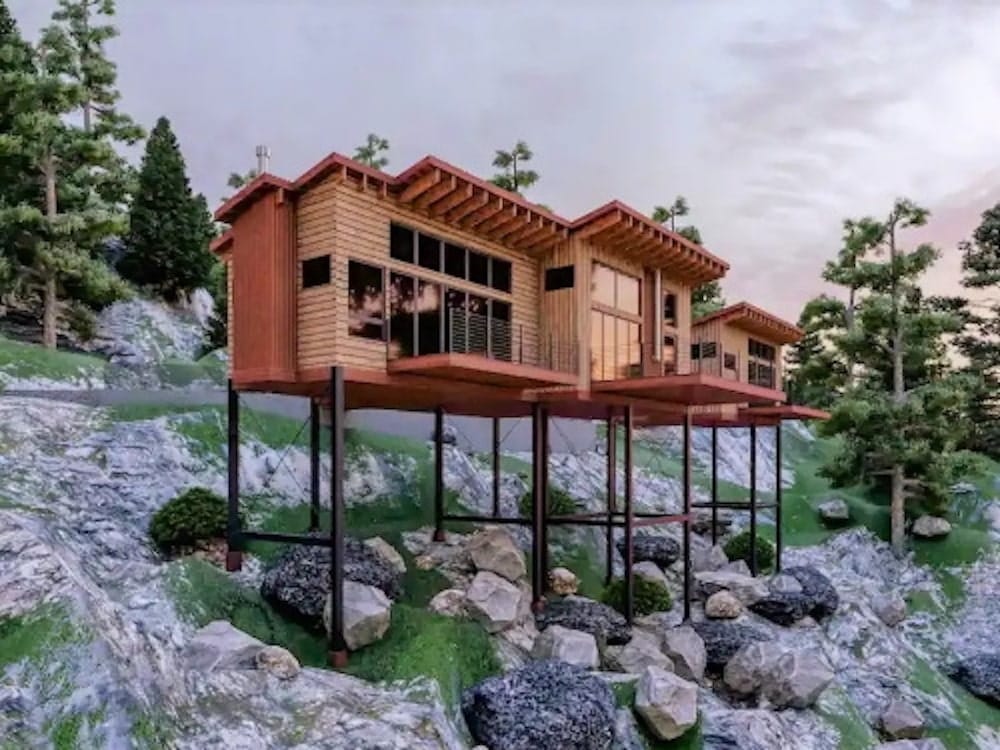 Why you should stay: it's basically a five-star hotel in the trees.
Nearest town: Bailey
Sleeps: 6 guests
Minimum Stay: 2 nights
Rates from: $749/night
Even though this luxurious new treehouse isn't open for guests yet, it's worthy of a spot on our list because it's just THAT GOOD.  There are three decks (yup, three!) to allow as much outdoor living area as possible. The two bedrooms in the home also have their own private bathrooms and lush king beds.
Construction is still underway but it already looks to be like the most luxurious mountain getaway ever. To get some updates and watch the construction process, you can head to their YouTube channel to find out more.
Check Availability
Related Read: 8 Beautiful Cabin Rentals in Buena Vista, Colorado
More Incredible Stays
Sign up for Weekend Wanderer to join thousands of readers getting epic and gear travel ideas every week.
Was this article helpful?
---