We research, evaluate and select travel destinations based on a number of factors, including our writers' experience, user reviews and more. We may earn a commission when you book or purchase through our links. See our editorial policy to learn more.
---
Banff National Park is a mountain mecca for seasoned adventurers and first-time tourists alike.
It boasts easy access to stunning alpine lakes, dozens of trails through glacially-carved valleys, and some of the coolest mountain towns on the planet.
But with so much to do and so many seasons to explore, Banff can leave a lot of travelers scratching their heads when it comes down to when to visit. That's why we've compiled our list of the most epic (and most secluded) times to explore this amazing spot in the Canadian Rockies. Buckle up and get ready for tea house hikes, backcountry horseback rides, and some of the most scenic skiing in the country.
Travel Tips for Banff
The high season for Banff National Park is considered to be July and August, due to the abundance of long, warm, sunny days and kids being out of school. Plan well in advance (and book your lodging early!) if you intend to visit during these months.
Due to its northern latitude, the weather in Banff gets chilly at night and can change quickly in any season. Packing warm layers and a lightweight rain jacket is essential.
The general climate to expect in Banff is: spring (3 to 50 degrees Fahrenheit), summer (32 to 64 degrees), fall (3 to 53 degrees), and winter (–9 to 24 degrees).
Unlike many remote American national parks, Canada has more luxury accommodations and small mountain towns inside their parks. This makes it easy for travelers to find scrumptious dining options or splurge on a lakeside getaway without ever leaving the park.
You'll likely begin your journey by flying into Calgary, 90 minutes from the park proper. Consider renting a car to easily get to all the wonderful hikes and vistas that Banff has to offer.
Buy bear spray after you arrive (you cannot board an airplane with it–even in your checked luggage), if you plan on self-guiding day hikes or overnight treks.
For safety, download all the trail maps you'll need before heading out by purchasing a pro subscription on an app like AllTrails.
Even though it's an international destination, be sure to follow Leave No Trace Principles like you would on any outdoor-focused U.S. trip. Check for fire bans in effect before camping or backpacking, and pack out all your trash in the backcountry!
The Best Time of Year to Visit Banff
Make no mistake, Banff is the most visited national park in Canada for a reason — it's stunning no matter what season you go. That being said, here are our top picks for when it's best to visit Banff, ranked from top to bottom.
Summer: The Best Time for Hikers and Paddlers
If you've ever researched backpacking trips in the Canadian Rockies or drooled over pictures of brilliant turquoise Lake Louise, it'll be no surprise that summer is our favorite season for visiting Banff National Park.
Hikers and overnight trekkers who visit during this time will find themselves in heaven, with day trips to historic tea houses, leg-busting trails to incredible alpine lakes, family-friendly strolls, and spectacular backpacking excursions all within the park's boundaries.
Perhaps the best base camp for your do-it-all adventure mentality is the gorgeous Fairmont Chateau Lake Louise, set on the banks of the park's most iconic lake. From here, visitors have access to phenomenal hiking, backpacking, biking, and paddling (their boathouse offers rentals for lake enthusiasts). Plus, there's no better way to wind down after a day of exploring than with a sumptuous spa treatment or delicious fine dining.
Summer is also the perfect time to go for a dip or kayak around in one of the park's magnificent glacially-fed lakes, since the long northern days are warm and chilly lakes are refreshing. Banff Canoe Club rents canoes, kayaks, and stand-up paddleboards that guests can take with them for the day or paddle down Forty Mile Creek into Vermillion Lakes, right from the shop. Boats are also available for rent at conifer-lined Lake Minnewanka. Bow Lake is another epic option for travelers who'd prefer a scenic drive to their lakeside lounging, rather than a hike.
More adventurous souls looking to spice up their vacation with a jolt of adrenaline might also enjoy a day of guided rock climbing (all levels available) on the towering peaks that Banff is famous for.
Winter: The Best Time for Skiers and Skaters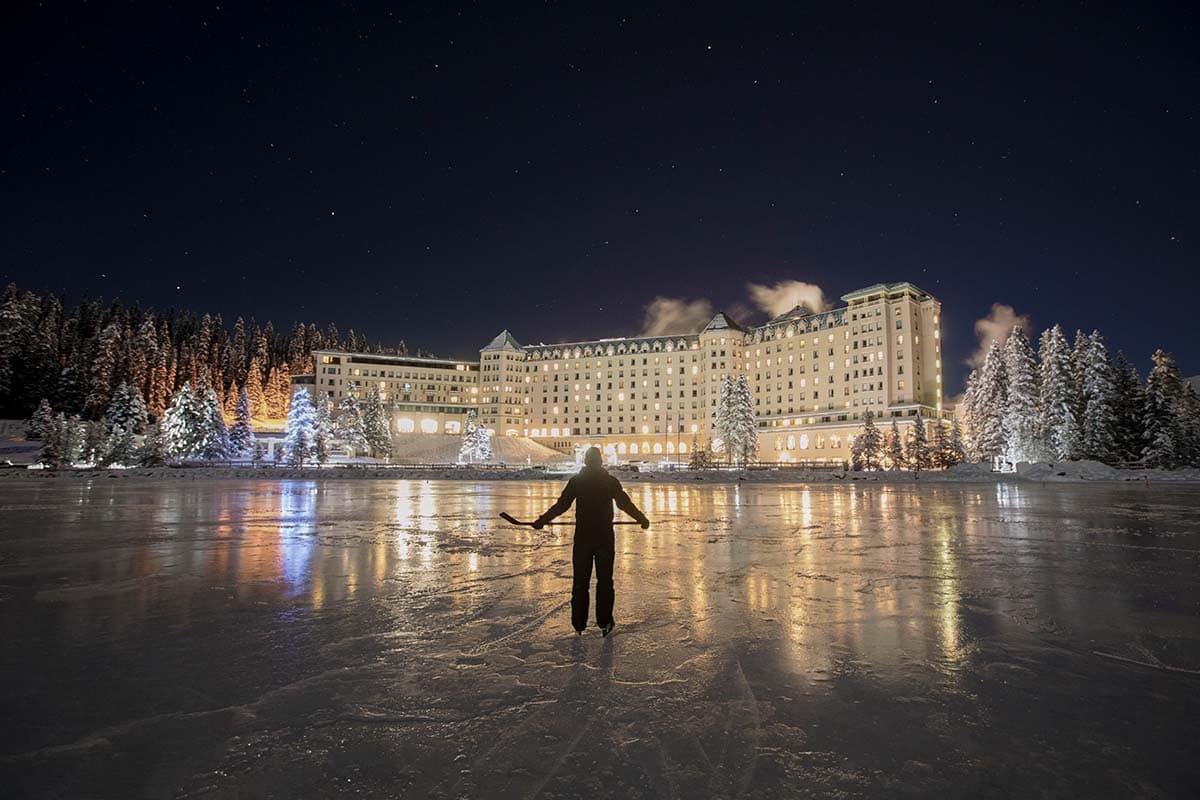 Sure, it's the literal polar opposite of summer, but Banff's bevy of snow-centric activities (and handsome in-park lodges to warm up in afterwards) make this park a much more comfortable and luxurious winter stay than its American counterparts.
Right across from the glorious Fairmont Chateau Lake Louise is the picturesque Lake Louise Ski Resort, framed with incredible views of the craggy Canadian Rockies. Winter travelers can also get their downhill action on at the much larger Mount Norquay, near the main town of Banff.
If you're into playing in the snow but not so into the leg burn of downhill skiing and snowboarding, you could instead opt to rent ice skates or cross-country skis at the Fairmont Chateau Lake Louise, which has an all-natural ice skating rink, steps away from the hotel, right on the frozen lake.
Add diversity to any winter trip to Banff with a guided snowshoe hike or a bout of fat tire biking. When you're tuckered out for the day, warm up in the Fairmont Banff Spring's elegant Willow Spring Spa (and hot tubs) or Banff Upper Hot Springs.
Fall: The Best Time for Leaf Peepers and Photographers
With the larch trees turning eye-catching shades of honey and marigold, fall in Banff National Park is sure to delight hikers and photographers alike. Plus, both will have the coveted opportunity to explore the area's many hiking trails, sans crowds.
For the best leaf-peeping action in the park, there's no better trail than the 11-mile slog up to Healy Pass. Along the way, adventurers will pass through alpine tundra and colorful fall foliage, gaining nearly 3,000 feet before reaching the turnaround point. Not interested in that big of a day out? The 5.3-mile Larch Valley Hike is similarly stunning and more family friendly.
With so much transformation happening over the fall months, it's also a great time to spread out and cover more ground on a scenic drive along the 227-kilometer Icefields Parkway (named one of the 50 drives of a lifetime by National Geographic). This marvelous journey connects Banff to Jasper National Park, winding past towering mountains, curving under dozens of glaciers, and paralleling the Continental Divide. It's also a great road from which to spot the park's notorious wildlife, from elk to mountain goats to bears.
If you'd rather slow down, enjoy the scenery, and make a few stops for wildlife, the Bow Valley Parkway is another one of the best drives in Banff. It spans a lovely 50-kilometer stretch between Banff and Lake Louise, with great places to pull off and explore, like Johnston Canyon and Baker Creek Mountain Resort.
With generally warm weather still on the menu, autumn is also a fantastic time for equestrians looking to horseback ride through this stunning locale. Banff Trail Riders and Banff Adventures both offer single and multi-day trips (to beautiful backcountry lodges) for individuals and groups who want to play cowboy in the Northern Rockies.
Lastly, fall is a great time to go on a wildlife-watching tour. The bears are fattening up, elk are rutting, and burrowing mammals haven't yet hidden beneath the snow. Pro tip: go in the evening to enjoy a phenomenal sunset show and for an even better chance at catching large ungulates in the wild.
Spring: The Best Time for Solitude
With winter ski crowds dying down and the summer rush not yet arrived, spring is ideal for mountain-loving solitude seekers looking to luxuriate in Banff's storied scenery and lodges.
Many of the area's top hotels offer discounted rates when it's not the high season, meaning you can stay inside the park, with all the panoramic, in-room vistas that entails, on the cheap. Enjoy the historic, newly renovated Willow Stream Spa at the Fairmont Banff Springs or grab a soothing massage at Cedar & Sage Co.
For those who don't mind a little hard pack and corn snow, Banff is also home so some seriously epic spring skiing, with Mount Norquay, Sunshine Village, and Lake Louise Ski Resort all in close proximity to one another. Just be sure to start early to get those groomed runs in and plan to be off the slopes by 2pm for après ski snacks and libations.
For a little in-the-snow action without the stress, expense, and know-how of skiing and snowboarding, try a family-friendly jaunt to the tubing hill or consider a late season snowshoeing hike. Or, if exercise isn't your vibe, ride the high-tech Banff Gondola to the summit of Sulphur Mountain and gaze out (or dine in at Sky Bistro) amidst the splendor of six different mountain ranges.
Explore More
Get epic travel ideas delivered to your inbox with Weekend Wanderer, our newsletter inspiring more than 10,000 readers every week.
---