Sedona is a magical corner of the southwest that's a welcoming destination for novice hikers seeking easy yet breathtaking views.
Long established as a mecca for the spiritual and nature-obsessed, Sedona is an enchanting destination that looks quite literally out of this world. With its remarkable red rock formations, supposed energy vortexes, and superb culinary scene, there's plenty to draw you in. And if you're looking for an adventure that combines scenic views with outdoor adventure, hiking in Sedona is a perfect choice, even for those with limited experience.
While moderate to challenging trails like Cathedral Rock and Soldier Pass deserve their reputation for being some of Sedonda's top trails, don't fret. Even the hikes marked as easy are incredible in their own right. Just bring plenty of water, arrive early to beat the crowds, and always check if you need a permit to enter a natural area (like the Red Rock Pass or America the Beautiful Pass).
No matter if you're looking for a quick escape or a full-day adventure, Sedona's easy hiking trails offer a perfect opportunity to explore the great outdoors.
1. Devil's Bridge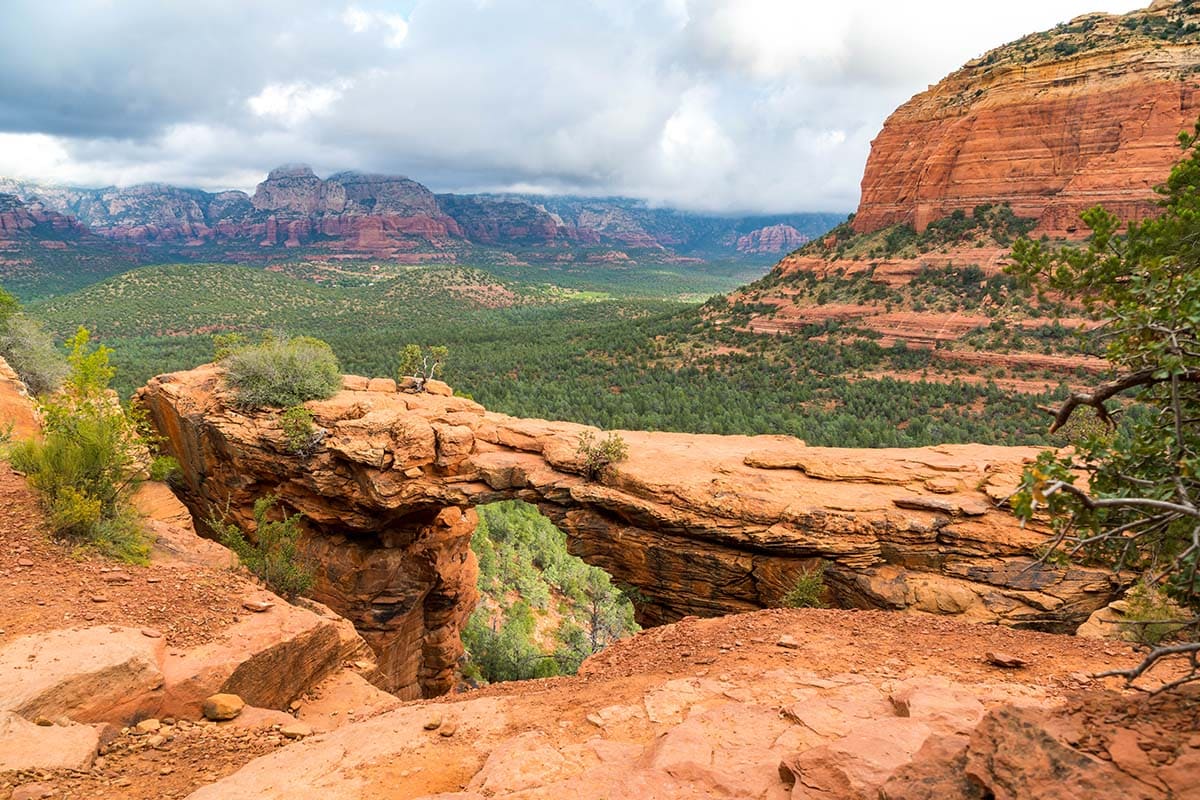 Why you should go: An exciting hiking trail where you can witness Sedona's largest natural sandstone arch.
Distance: 4.2 miles
Elevation gain: 560 feet
Difficulty: Easy to moderate
The Devil's Bridge is one of Sedona's most photographed locations, and the relatively easy trek to get there makes it all the more enticing. Those with a high-clearance vehicle can shorten their journey by driving about two miles into the rough terrain — although parking is limited and often full at the closer trailhead — so many opt to walk the entire route. Not far into your hike, you're given a choice to continue to the base of the bridge or onwards and upwards for the view from above.
No matter what you choose, hikers are rewarded with incredible views of the arch itself and the surrounding desert expanse. And if you want any shot at nabbing a good parking space, arrive early in the morning.
Related Read: These Scenic Train Rides in Arizona Will Blow Your Mind
2. West Fork of Oak Creek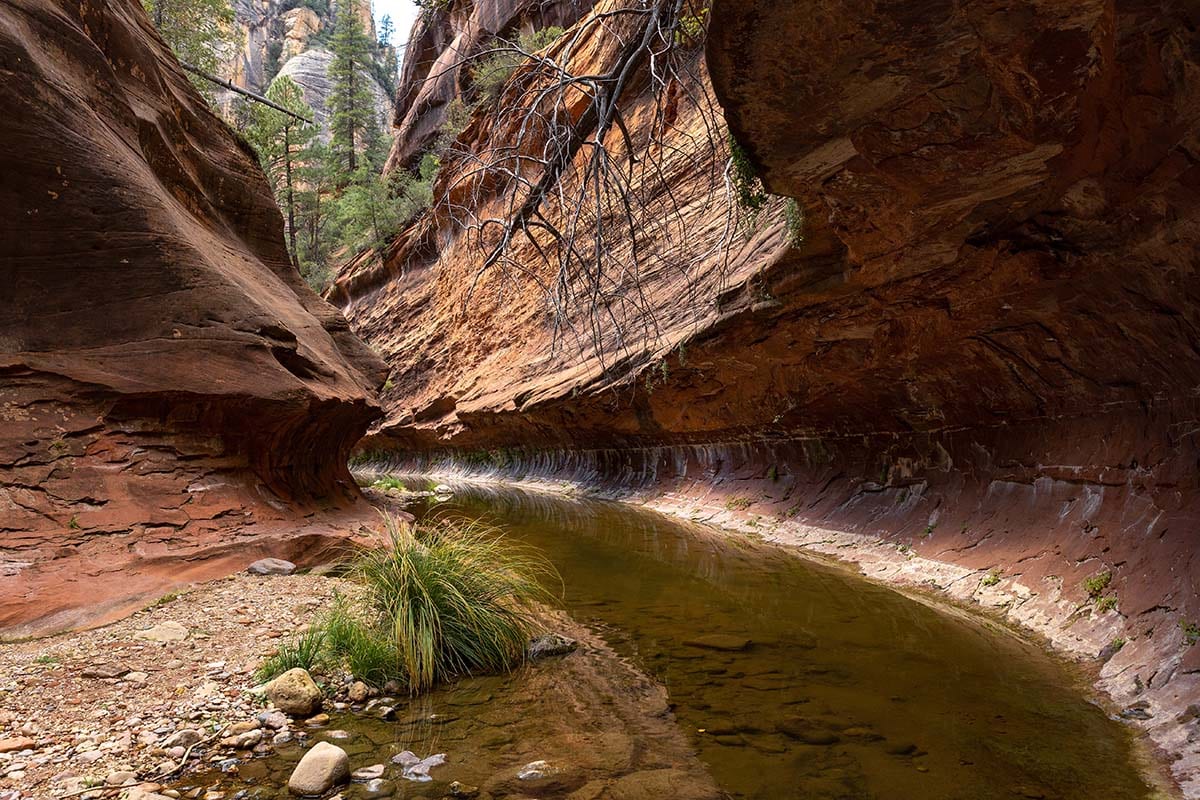 Why you should go: A beautiful hiking trail in the Coconino National Forest away from the crowds.
Distance: 6.5 miles
Elevation gain: 564 feet
Difficulty: Easy
Nestled in the forested upper reaches of Oak Creek Canyon, the West Fork of Oak Creek trailhead is about 20 minutes from downtown Sedona. Even with its location well outside the city proper, this is one of the most popular hikes in the Coconino National Forest, and the trailhead often fills up — even on weekdays. However, it's so popular because the scenery is incredible! This lovely path is best known for towering cliffs and the eye-catching subway rock tunnel that marks the end of the maintained trail.
Water crossings also make this trail a bit more exciting, most of which can be crossed on stepping stones (but waterproof shoes are recommended). While the distance above reflects hiking to the famous red rock tunnel pictured above, many hikers turn around earlier — even at the first wet creek crossing not far from the trailhead. No matter how far you go, West Fork is a stunning must-see canyon.
As for fees, a normal Red Rock Pass does not work here. It's $12 per vehicle, or $3 per person if you park along  the highway nearby and walk in.
3. Doe Mountain
Why you should go: A steady climb up a beautiful mesa where you can spot iconic red rock formations.
Difficulty: Easy to moderate
Distance: 2.8 miles
Elevation gain: 500 feet
About 15 minutes outside Sedona lies Doe Mountain, a striking flat-topped butte that is insanely fun to hike. The trail starts off strong with climbing switchbacks that slowly lead you to the top. While this short-lived climb is sure to get your heart racing, you'll soon forget the effort at the top.
From atop Doe Mountain's cliffs, you can marvel at the surrounding landscape including mountains, canyons, valleys, and more. Most notably, you can see Boynton Canyon, another easy Sedona hike on this list. Like most of the trails in the area, visitors need the America the Beautiful Pass or the Red Rock Pass to access the trailhead.
Related Read: The 7 Best Caves in Arizona for Subterranean Exploration
4. Boynton Canyon Trail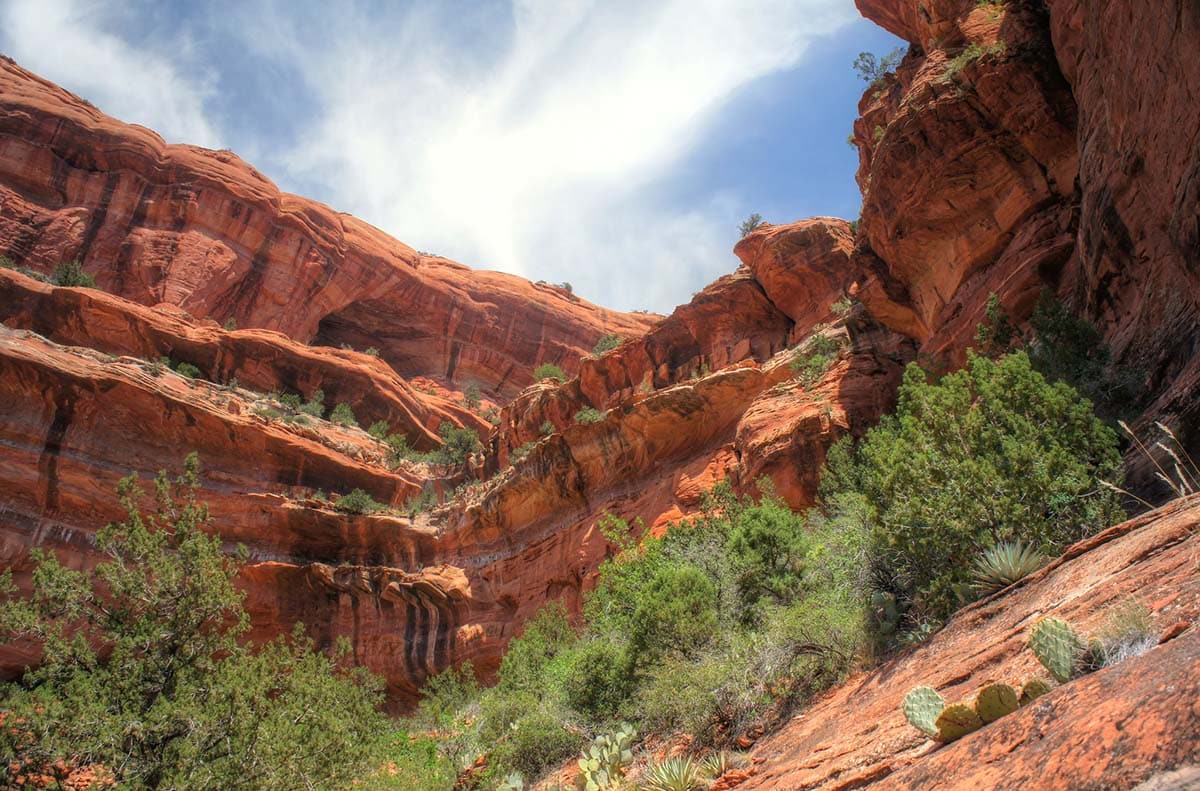 Why you should go: An easy-to-access trail that boasts views of the Boynton Box Canyon.
Difficulty: Easy to moderate
Distance: 6.1 miles
Elevation gain: 500 feet
While this trail borders on moderate, the Boynton Canyon Trail is well worth the heart-thumping journey to reach the canyon view at the trail's end. Part of the popularity is hikers looking to visit another of Sedona's most photographed and beautiful natural landmarks: the Subway Cave. However, the reaching Subway Cave is definitely a more challenging excursion, requiring scrambling and a lot of extra effort.
Before reaching the coveted canyon view, the trail meanders through open desert plains framed by red rock buttes before entering a shady stretch scented by pines. From here, you'll begin your steady climb. The trail also features a "vortex" said to release a balancing, spiritual energy. Regardless of what tempts you to hike Boynton Canyon, you'll be awestruck at the bright red canyon views and pops of green that fill the valley. The trailhead is about a 15-minute drive from downtown Sedona.
5. Courthouse Butte Loop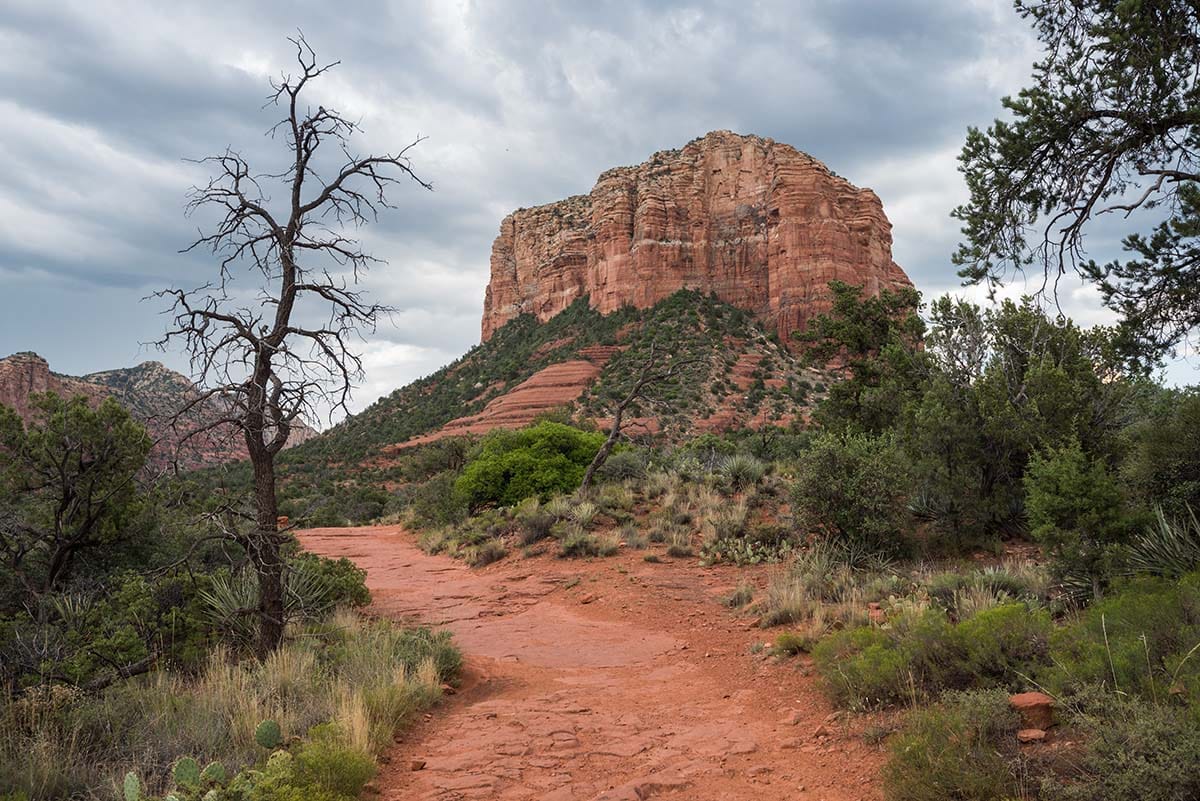 Why you should go: A loop trail that offers exciting views of Bell Rock and Courthouse Butte.
Difficulty: Easy
Distance: 4 miles
Elevation gain: 384 feet
The Courthouse Butte Loop is a relatively flat and easy hike in the Munds Mountain Wilderness near the Village of Oak Creek. As you complete the loop, the impressive Bell Rock butte towers high above the trail, starkly contrasting the blue sky that usually accompanies Sedona's 300 days of sunshine. Hikers also pass along the Courthouse Butte, a dramatic rock formation that stands over 1,000 feet above the valley floor.
There are two access points to the loop, via Courtyard Vista and Bell Rock Pathway, and you can complete the hike clockwise or counterclockwise. Once you finish, if you have the energy to spare, consider heading up to the top of Bell Rock, overlooking the surrounding desert valley.
Related Read: 30 Incredible Flagstaff Hikes
6. Coffee Pot Rock & Sugarloaf Mountain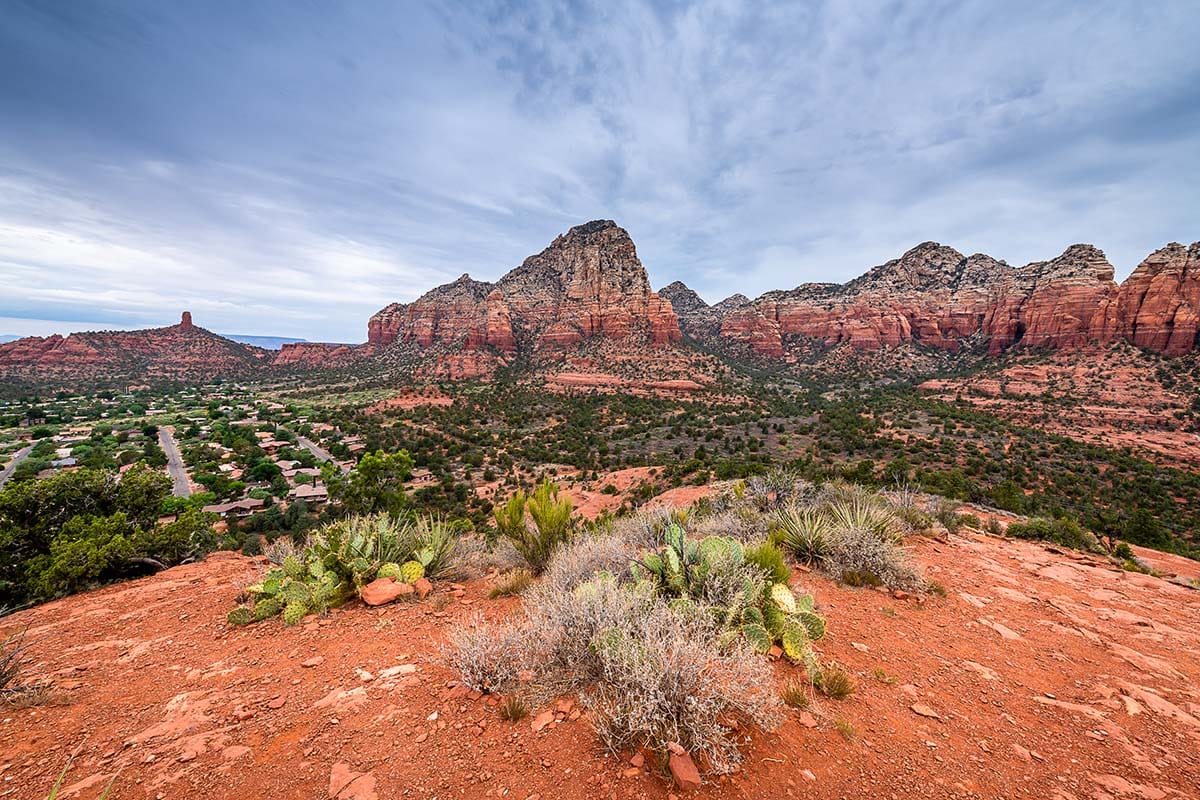 Why you should go: A well-maintained loop named after a clifftop that resembles a coffee pot.
Difficulty: Easy
Distance: 2.67 miles
Elevation gain: 292 feet
The Teacup Trail to Coffeepot Rock is an excellent hike under three miles and features a limited incline, making it ideal for those hiking with kiddos or seeking something relaxed. This hike starts at the Sugarloaf Trailhead and eventually splits to the left. As you continue, there are other splits where you can take your pick from a few different trails to make a loop below the rock formation.
Throughout your hike, you're treated to views of Sedona and the region's vast red rock country. Since this hike is relatively short and easy, many hikers continue their trek up to the top of Sugarloaf Mountain. The addition of summiting Sugarloaf adds about a quarter mile one way, making it an easy addition to an already laid-back hike.
7. Little Horse Trail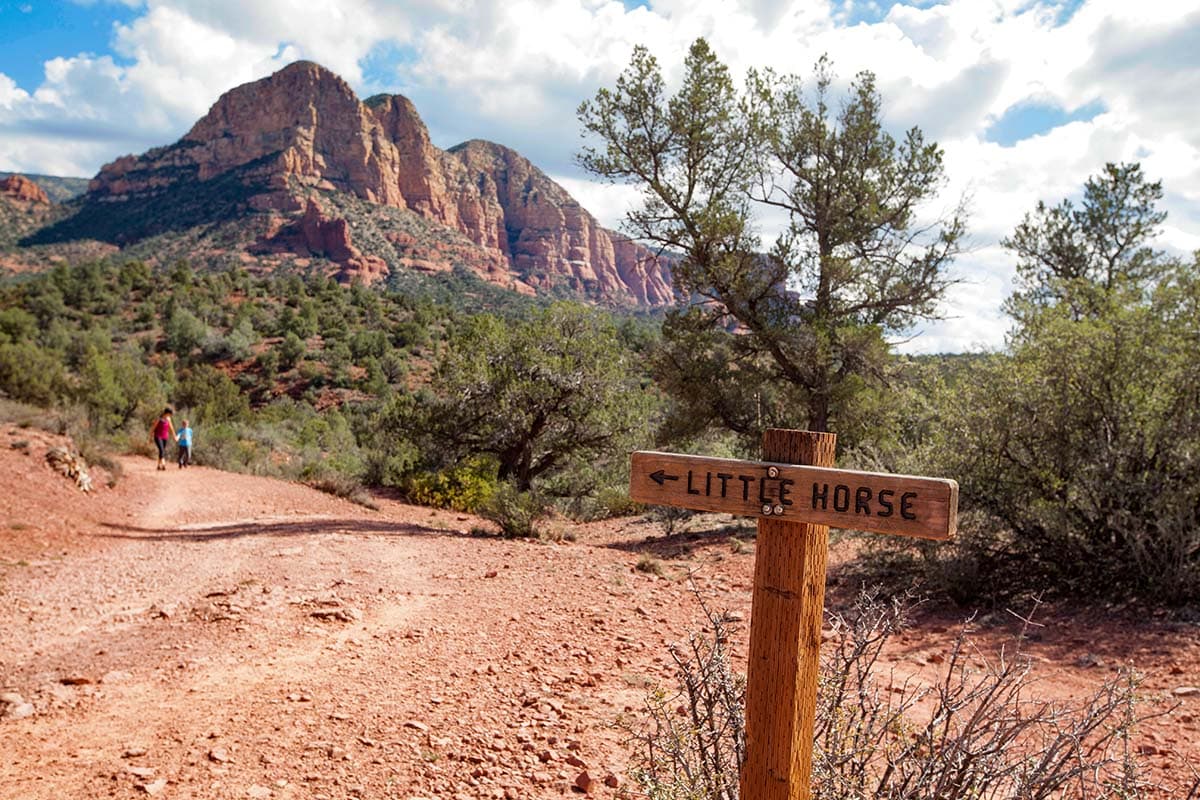 Why you should go: A dog-friendly trail that loops to a breathtaking lookout point 10 minutes from downtown Sedona.
Difficulty: Easy
Distance: 4.3 miles
Elevation gain: 565 feet
The Little Horse Trail is an easy yet exciting trek that leads to the famed Chicken Point Overlook. Beginning as the Bell Rock Trail, Little Horse branches off after about a quarter mile. From here, the trail rises and dips before a final steady climb takes you up to Chicken Point Overlook.
At the top, you're greeted with an incredible panoramic vista of epic red rock spires from a sandstone cliff bursting with color. Along the way, you'll also pass the Chapel Trail, another worthwhile hike leading to the rocks dubbed "Madonna and the Nuns".
8. Adobe Jack, Coyote, & Crusty Loop
View this post on Instagram
Why you should go: A short but memorable hike that's family-friendly and passes a so-called energy vortex.
Difficulty: Easy
Distance: 1.9 miles
Elevation gain: 128 feet
Adobe Jack is great for families and hikers visiting with little ones who wish to experience red rock country with minimal climbs and smooth trails.
The trail begins with a slight descent into a gorge and features small (usually dry) creek crossings and views of the Mogollon Rim. Pops of green stand in stark contrast to the bright red trails, creating a surprisingly lush desert environment.
9. Soldier Pass Trail to Seven Sacred Pools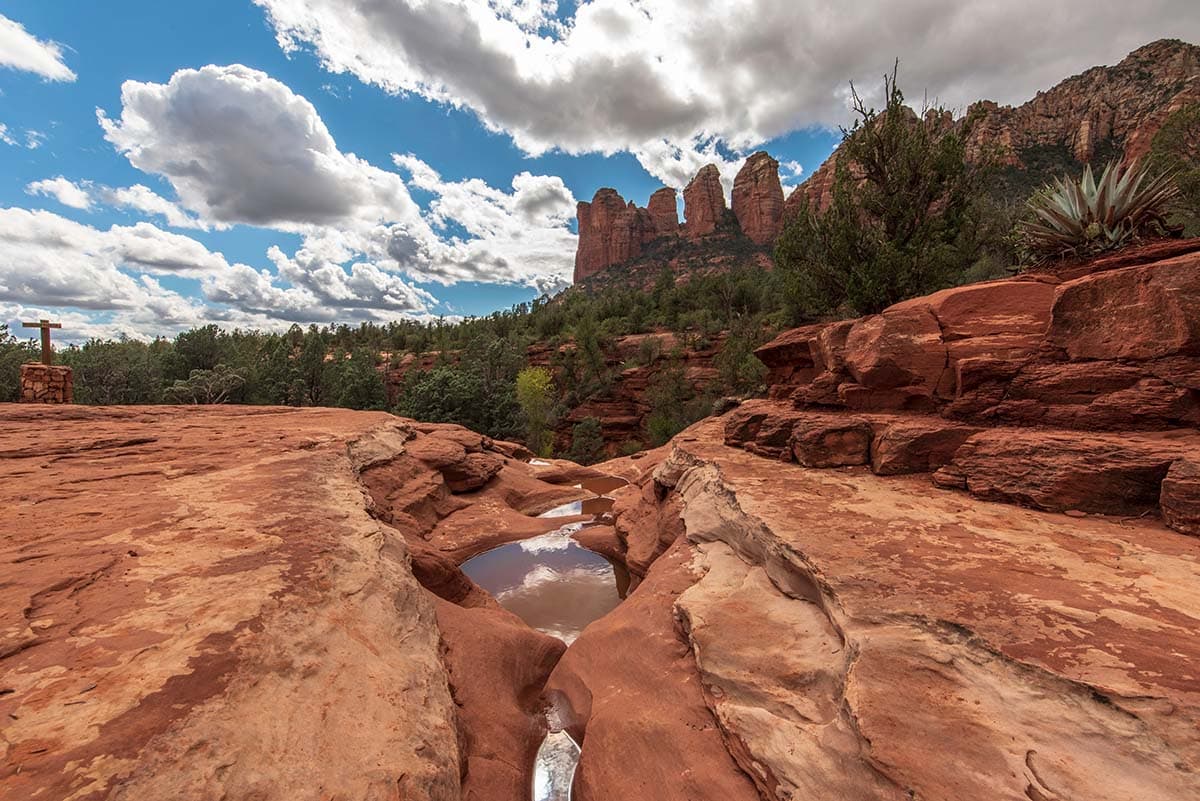 Why you should go: Scenic hike that passes a unique sinkhole and visits small potholes below Coffee Pot Rock.
Difficulty: Easy
Distance: 1 mile
Elevation gain: 150 feet
This hike utilizes the Soldier Pass Trail to reach the Seven Sacred Pools. After a quarter mile you'll pass the Devil's Kitchen Sinkhole, an impressive geologic formation below Morning Glory Spire, a towering red rock butte.
Continue another quarter mile to the Seven Sacred Pools. Here you'll find dramatic desert views that set the backdrop for these famous natural pools formed in the red rock. The pools aren't nearly large enough to swim in — they're more like deep puddles in the sandstone, which are also called potholes. The pools are located just downhill from the trail as it traverses a slickrock bench, so keep an eye out for the trail sign as they are otherwise easy to miss.
Explore Arizona
Get epic travel ideas delivered to your inbox with Weekend Wanderer, our newsletter inspiring thousands of readers every week.
---