We research, evaluate and select travel destinations based on a number of factors, including our writers' experience, user reviews and more. We may earn a commission when you book or purchase through our links. See our editorial policy to learn more.
Was this article helpful?
---
Whether you're planning a ski vacay or a cultural getaway to hit the artsy hotspots — or you just want some of that famed green chile — book a cabin near Taos to complete your New Mexico retreat.
With options to stay close to town or to escape into the mountains at the nearby resort towns of Taos Ski Valley and Angel Fire (both under an hour's drive from Taos), you can find the perfect cabin retreat. And plan to stay a while in the land of enchantment.
You'll have plenty to explore and the Sangre de Cristo Mountains around Taos won't disappoint. Come in the autumn and you'll have the opportunity to enjoy New Mexico's fall colors too.
Related Read: 9 Beautiful Hikes Near Albuquerque, New Mexico
1. Modern Angel Fire Ski Cabin
Why you should stay: If you were any closer to the slopes, you'd be sleeping on the chairlift.
Sleeps: 10
Minimum stay: 7 nights
Rates from: $350/night
A powder hound's paradise, this modern cabin features ski-in/ski-out access to Angel Fire Resort. In the summer, the resort is a great spot for hiking and mountain biking, too. And if the proximity to mountain adventures doesn't have you sold, the back deck complete with a private hot tub should quickly make up your mind.
The resort town of Angel Fire offers plenty to do on its own while still being conveniently located if you want to spend the day or evening in Taos. From the cabin, the trip down Highway 64 into Taos makes for a pleasant scenic drive, worthy of its own afternoon outing, too.
"Beautiful, secluded, clean, and a postcard view everywhere you look!"
Check Availability
Related Read: 9 Best Hot Springs in New Mexico for Soaking Your Worries Away
2. Modern A-Frame Cabin
Why you should stay: Soak in the natural beauty from the comfort of a private hot tub.
Sleeps: 9
Minimum stay: 3 nights
Rates from: $329/night
If you want the best of all worlds for your stay in Taos Ski Valley, this updated and spacious A-Frame meshes fun and relaxation in a picture-perfect setting. From the decks and hot tub to an oh-so-cozy living room with a wall of windows, you can kick back in comfort and make the most of the mountain scenery.
Plus, in addition to the on-property amenities, you are minutes from the ski slopes at Taos Ski Valley, where you can get out and carve some runs in the winter. If AT touring is more your style, you can find plenty of backcountry stashes for some fresh powder, too.
In the summer, the area offers prime hiking and mountain biking. And you're a short drive from Taos, should you want to hit up the art galleries, shops, and dining.
Check Availability
Related Read: 10 Rad Weekend Road Trips from Albuquerque, New Mexico
3. Taos Ski Valley Chalet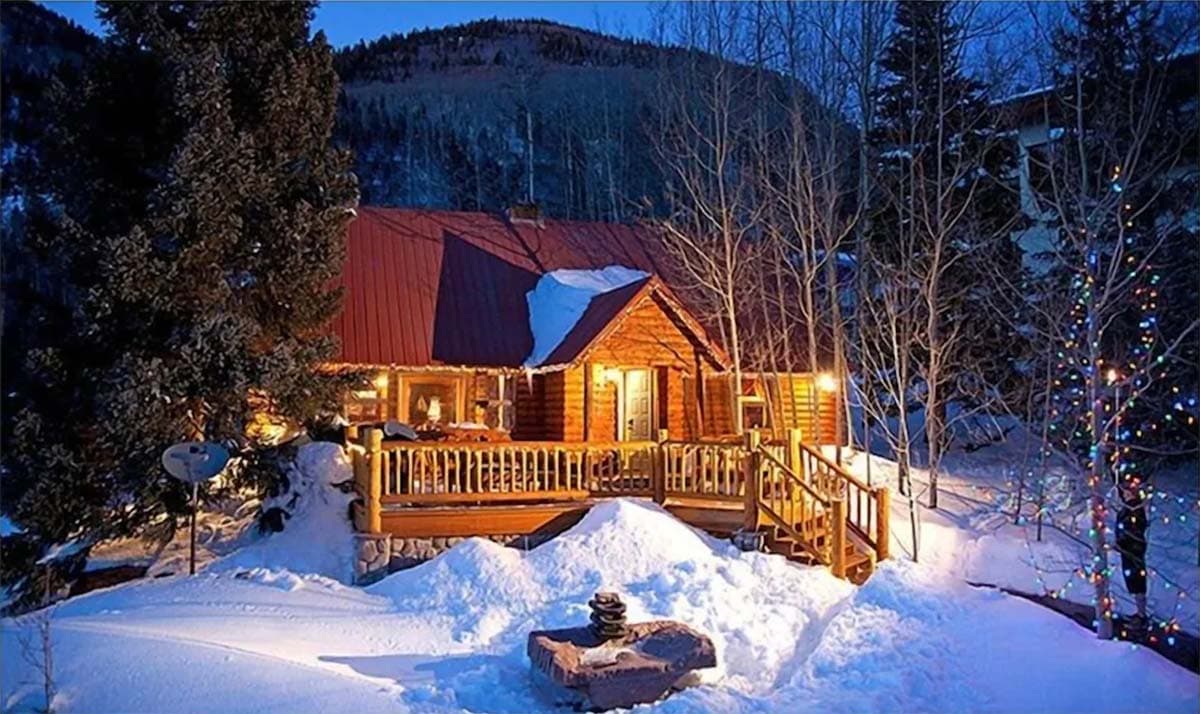 Why you should stay: Get pampered and go play at this luxurious rustic cabin.
Sleeps: 10
Minimum stay: 3 nights
Rates from: $495/night
If your idea of a cozy cabin retreat means a chunky log home complete with bunk beds and cute wildlife decor, the Taos Ski Valley Chalet will be the new home-away-from-home that you may never want to leave. It also boasts a prime location near the slopes, making it a great family getaway for a skiing holiday.
The luxury cabin offers all the modern amenities you could want to feel pampered during your stay—plus a few extras like the concierge who will be happy to arrange for your lift tickets and ski rentals. And after a day out lapping the hill, ease into the hot tub to relax any sore muscles and enjoy the mountain ambiance.
Check Availability
Related Read: Take the Scenic Route on an Epic Denver to Albuquerque Road Trip
4. Spruce Haos
Why you should stay: Unwind in a secluded paradise at this custom-built cabin.
Sleeps: 9
Minimum stay: 3 nights
Rates from: $300/night
The beautiful details of the Spruce Haos cabin are on full display everywhere you look in this charming A-frame. From the custom touches to the colorful accents, this cabin will make you feel right at home. The real draw might be the location, as the cabin is close to Taos Ski Valley but feels worlds away thanks to the forested property and dirt road access.
In the winter, you can easily get to the ski slopes. In the summer, find a nearby trailhead and pick a hike to explore the area on foot. And, of course, if you want to do some art gallery browsing, downtown Taos is a short 30-minute drive away.
"If ever considering a trip to Taos, stay at the Spruce Haos," said Scott, from Atlanta. "Location was unreal for ski in/ski out and home was incredibly cozy!"
Check Availability
Related Read: 11 Awesomely Unique Places to Stay in New Mexico
5. Angel's Envy
Why you should stay: A mountain escape with room for the entire family — plus a few.
Sleeps: 13
Minimum stay: 3 nights
Rates from: $522/night
Spacious and homey, Angel's Envy cabin is a great spot for a family retreat any time of the year. The cabin features all the amenities you (and your kids) could want while still offering a secluded mountain feel. Regardless of the season, you'll enjoy the views—and find plenty to keep the family busy.
Angel Fire Resort is a short drive up the road, and you have access to a host of great hiking trails including one that leaves right from the backyard.
And speaking of backyards, the cabin has a great one with spacious decks, a hot tub, plenty of seating, and a fire pit. Between roasting s'mores and playing yard games, you might find it is easier to entertain the kids than you thought.
Check Availability
Related Read: 7 Awesome Scenic Drives in New Mexico
6. Canyon View Taos
Why you should stay: Relax at this peaceful cabin overlooking Taos Canyon.
Sleeps: 5
Minimum stay: 3 nights
Rates from: $147/night
If you want a cabin near Taos that will feel miles away from the city, the Canyon View Taos cabin can deliver. The secluded property is located next to Carson National Forest where you can get even further into the woods. Hiking trails are just minutes away, and you have miles of trails to choose from to get back to nature.
And the cabin is less than six miles from downtown Taos. You can easily take a drive into town to stop off at Taos Plaza to check out the restaurants, galleries, and shops. Art and history lovers will enjoy browsing the local galleries and museums.
"Absolutely serene winter vacation spot right in the middle of a National Forest," said Anthony, from Gulfport, MS. "Just adorable cabin perfect size for our family."
Check Availability
Related Read: 12 Enchantingly Romantic Getaways in New Mexico
7. Cimarron House
Why you should stay: The perfect family retreat for nature lovers young and old.
Sleeps: 10
Minimum Stay: 2 nights
Rates from: $272/night
The homey feel of the Cimarron House will have you settling in and putting up your feet as soon as you walk in the door. From the spacious living area complete with a wood-burning stove to the shaded back deck and quiet neighborhood, you'll find this is one mountain cabin made for relaxation.
And since you are located minutes from Angel Fire Resort, you'll have your pick of activities during your stay whether you want to go skiing, hiking, fishing or simply head out for a stroll to enjoy the scenery like nearby Monte Verde Lake.
And should you want to head into Taos, a short drive will take you from your mountain retreat into the "big" city.
Check Availability
Related Read: 8 Secluded New Mexico Cabins for a Relaxing Getaway
8. El Prado Mountain Retreat
Why you should stay: Treat yourself to a say at a one-of-a-kind cabin with a few extravagant extras.
Sleeps: 16
Minimum stay: 3 nights
Rates from: $499/night
Outstanding mountain views? Check. Patio hot tub? Check. Home movie theater? Also, check. The El Prado Mountain Retreat delivers on the luxury cabin vibes with some stunning extras and a killer location. Whether you're enjoying a fire in the great room or watching the moon rise from the hot tub, this cabin is sure to delight you in any season.
And if you want to be close to Taos, it's the prime location, too. While the property feels remote, you are a short drive from both Taos and Taos Ski Valley so you can opt for either outdoor adventures or hitting the town for some window shopping and local eats.
Check Availability
Related Read: 11 Magnificent Hikes Near Santa Fe, New Mexico
9. Casa de Toro
Why you should stay: Part cozy chalet, part cute cabin, plus a river for added charm.
Sleeps: 6
Minimum stay: 3 nights
Rates from: $400/night
For the perfect combination between ski chalet and luxury mountain cabin, book a stay at Casa de Toro. This cozy home has lots of custom touches that make it unique.
In the spring and summer, you can enjoy the sound (and sight) of the Rio Hondo running through the yard. When the temps drop, grab your favorite beverage and sit out in the hot tub to enjoy the snow falling.
In addition to excellent access to the ski resort, you are also minutes from Carson National Forest and Wheeler Peak Wilderness Area. If you enjoy hiking, backpacking, mountain biking, or fishing, you'll have your pick of spots for your favorite activity, many of which are off the beaten path.
Check Availability
Related Read: 12 Chill Vacation Rentals in Albuquerque, New Mexico
10. Busch Cabin
Why you should stay: A cute as a button cabin and guest house in a scenic spot.
Sleeps: 7
Minimum stay: 3 nights
Rates from: $250/night
What could be better than eight acres of your own private cabin paradise? Not much, the Busch Cabin and guest house would argue. This cozy cabin sits on forested acreage with the Rio Fernando running through the front yard for some added ambiance.
And you are less than 10 miles from the Taos Plaza, the heart of downtown where you can hit up a cafe, sightsee, check out the local artists at the galleries, and get a bite to eat. If sticking to the woods and mountains is more your style, you can pick up some great hiking trails in Carson National Forest right out the back door.
"The cabin is just lovely and we had so many outdoor activities to enjoy," said Allegra, from Torrance, CA. "It is a beautiful place."
Check Availability
Explore New Mexico
Get epic travel ideas delivered to your inbox with Weekend Wanderer, our newsletter inspiring thousands of readers every week.
Was this article helpful?
---